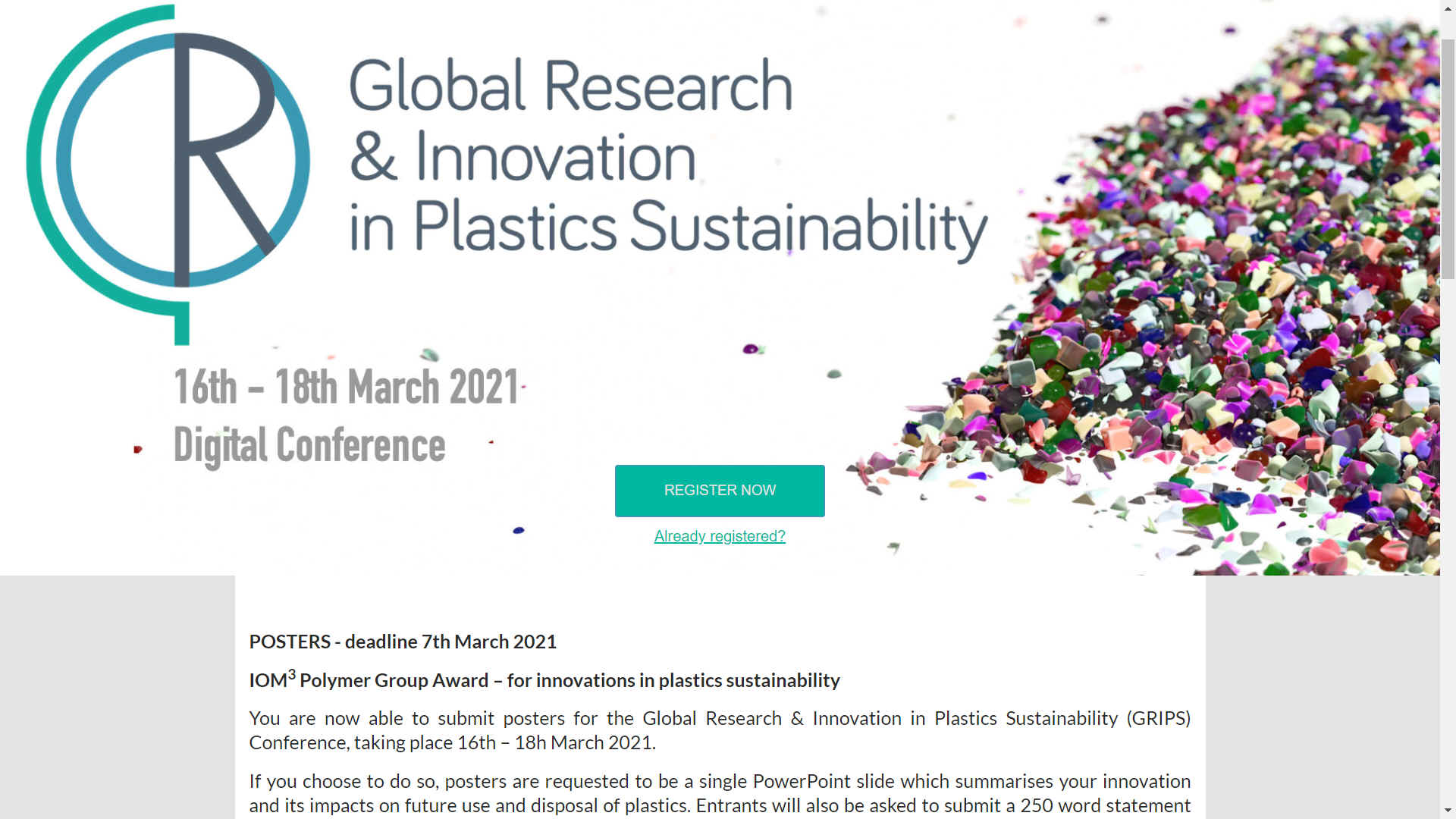 GETTING A GRIP ON PLASTIC - Is a conference on plastic research and innovation.


Implications of Plastics in the Environment - Wednesday, March 17, 10:15 AM-11:15 AM GMT

Description: The effect of microplastics in the environment and strategies to mitigate.

SPEAKERS

John McGeehan - Director, Centre for Enzyme Innovation, University of Portsmouth

John McGeehan is a Professor of Structural Biology focused on the global challenge of plastic pollution and leads a team of scientists researching natural enzyme discovery and engineering. Their work revealed the detailed workings of an enzyme that can digest polyethylene terephthalate (PET), and more recently, demonstrated that engineering these enzymes can increase efficiency. Found in single-use drinks bottles, packaging, clothing and carpets, PET can take centuries to decompose, and together with other plastics, is accumulating in our environment at a staggering rate.
A biological catalyst that can break down PET into its original building blocks opens new opportunities for recycling towards a circular plastics economy. Their work on PET-digesting enzymes has been widely covered in the media following two key papers in 2018 and 2020 in the journal PNAS, and the project received the Times Higher Education STEM Research Project of the Year in 2019. The group is rapidly expanding due to a £6m grant from Research England which has allowed the recruitment of 15 additional researchers for the new Centre for Enzyme Innovation. Current projects include the discovery and engineering of a wide range of enzymes that can break down natural and synthetic polymers.


Denise Mitrano - ETH Zurich

Denise M. Mitrano is an Assistant Professor at ETH Zurich in the Environmental Systems Science Department. As an environmental analytical chemist, her research focuses on the distribution and impacts of anthropogenic materials in technical and environmental systems. She is particularly interested in developing analytical tools to systematically understand the mechanisms and processes driving the fate, transport and biological interactions of particles, such as engineered nanomaterials and nano- and microplastics. In this context, her research group uses these results to assess risks of anthropogenic materials. An interest in a "safer by design" approach for both nanomaterials and plastics is exemplified by working on the boundaries of environmental science, materials science and policy to promote sustainability and environmental health and safety of new materials.
Tamara Galloway - Professor of Ecotoxicology, University of Exeter

Tamara is Professor of Ecotoxicology at the University of Exeter and also holds an Honorary Chair at University of Exeter Medical School. Her research focus is in understanding how organisms adapt and survive in polluted environments and she studies the health effects of some of the most pressing priority and emerging pollutants: including complex organics, plastics additives, micro- and nano-particles.
She is an expert member of several (inter)/national committees charged with environmental protection and the promotion of translational research, She is listed by Clarivate from 2017 as one of the world's most highly cited researchers. Her research has won numerous awards, including NERC award for Research with Outstanding Societal Impact in 2018, and an OBE and Queen's Anniversary Prize in 2019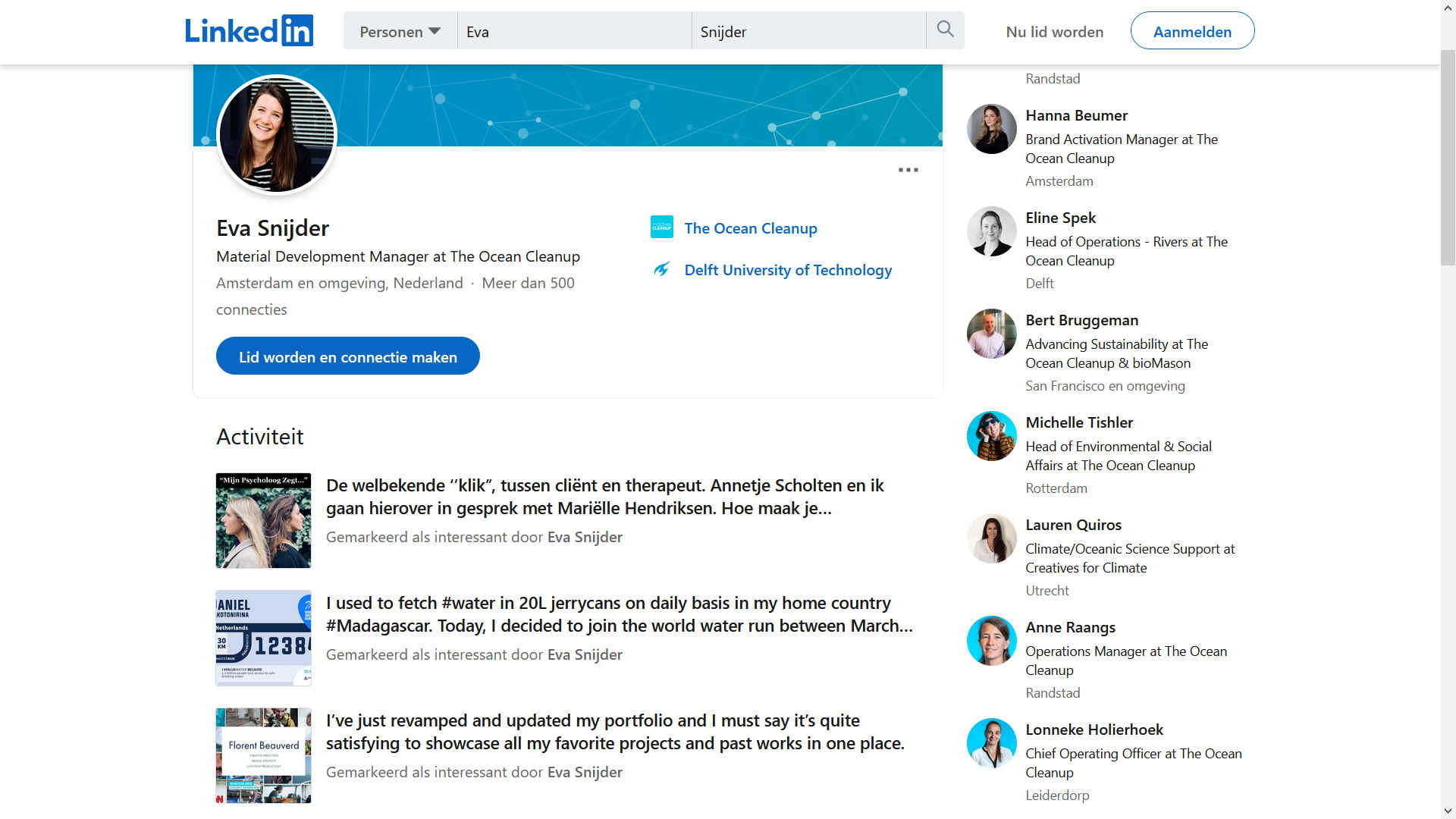 Eva Snijder - The Ocean Cleanup
Eva joined The Ocean Cleanup Project in April 2018, now with them for 3 years.

2015 - 2018 - Delft University of Technology
Master of Science (MSc)Chemical Engineering

2011 - 2015 - Chemical Product Engineering track

Thesis: Finding factors that govern the Fermi-level in Methylammonium Lead Iodide Perovskites using Kelvin Probe measurements
Delft University of Technology grafisch
Bachelor of Science (BSc)Molecular Science and Technology

2004 - 2010 - Minor: Medicine for technical students - Medical Delta (Erasmus MC, LUMC and TU Delft)

Thesis: Photocharging of Bismuth Vanadate Photoanodes - Surface or bulk effect?
Cals College Nieuwegein grafisch
Tweetalig VWONature & Health/Nature & Technology

Bilingual education (Dutch/English): IB English A2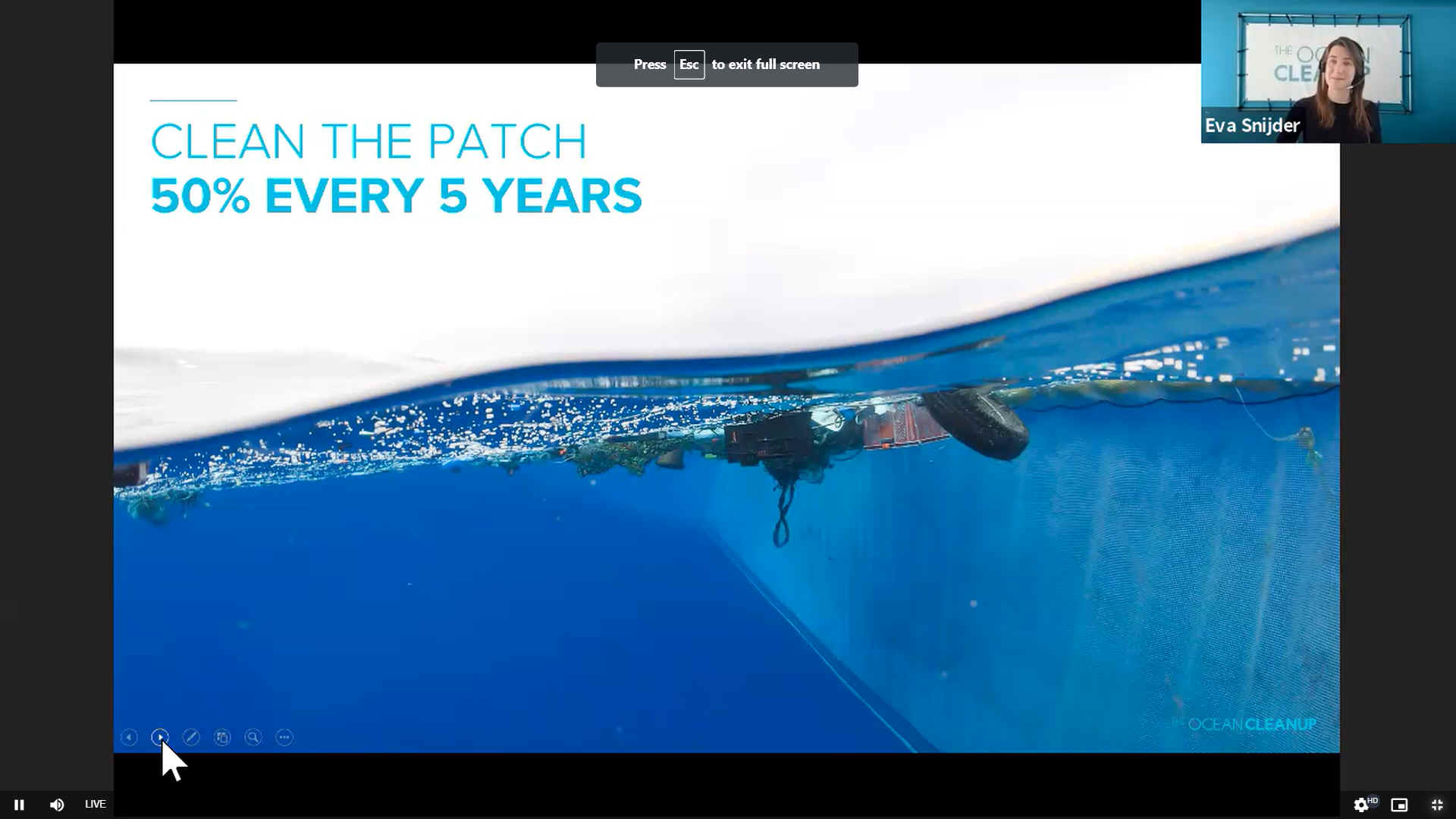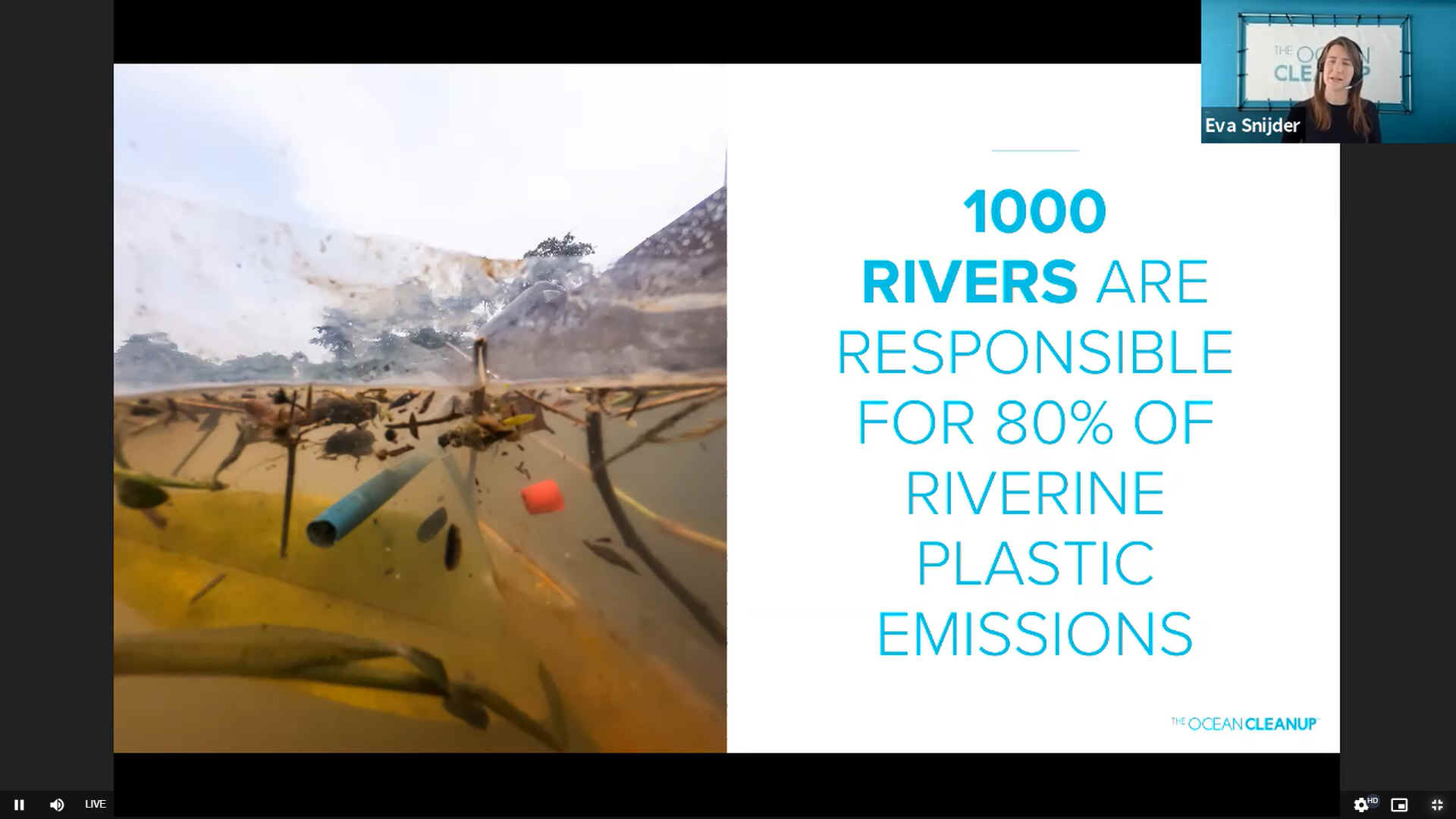 Global Research and Innovation in Plastics Sustainability (GRIPS) is a conference, exhibition and showcase held on 16th – 18th March 2021 online. GRIPS is a virtual event for all those involved in the sustainability of polymers, plastics and elastomers.
In relation to the 7Seven Point Plastic Plan proposed in March of 2021 by the Cleaner Ocean Foundation's policy advisers, research into alternative methods of packaging and filming is essential for the Seven Articles to work effectively. Hence, the Foundation wholeheartedly supports such intervention by the Knowledge Transfer and UK Circular Plastics Network. The hope is that supermarkets may have the means to transform their thinking, along with drinks companies and appliance manufacturers.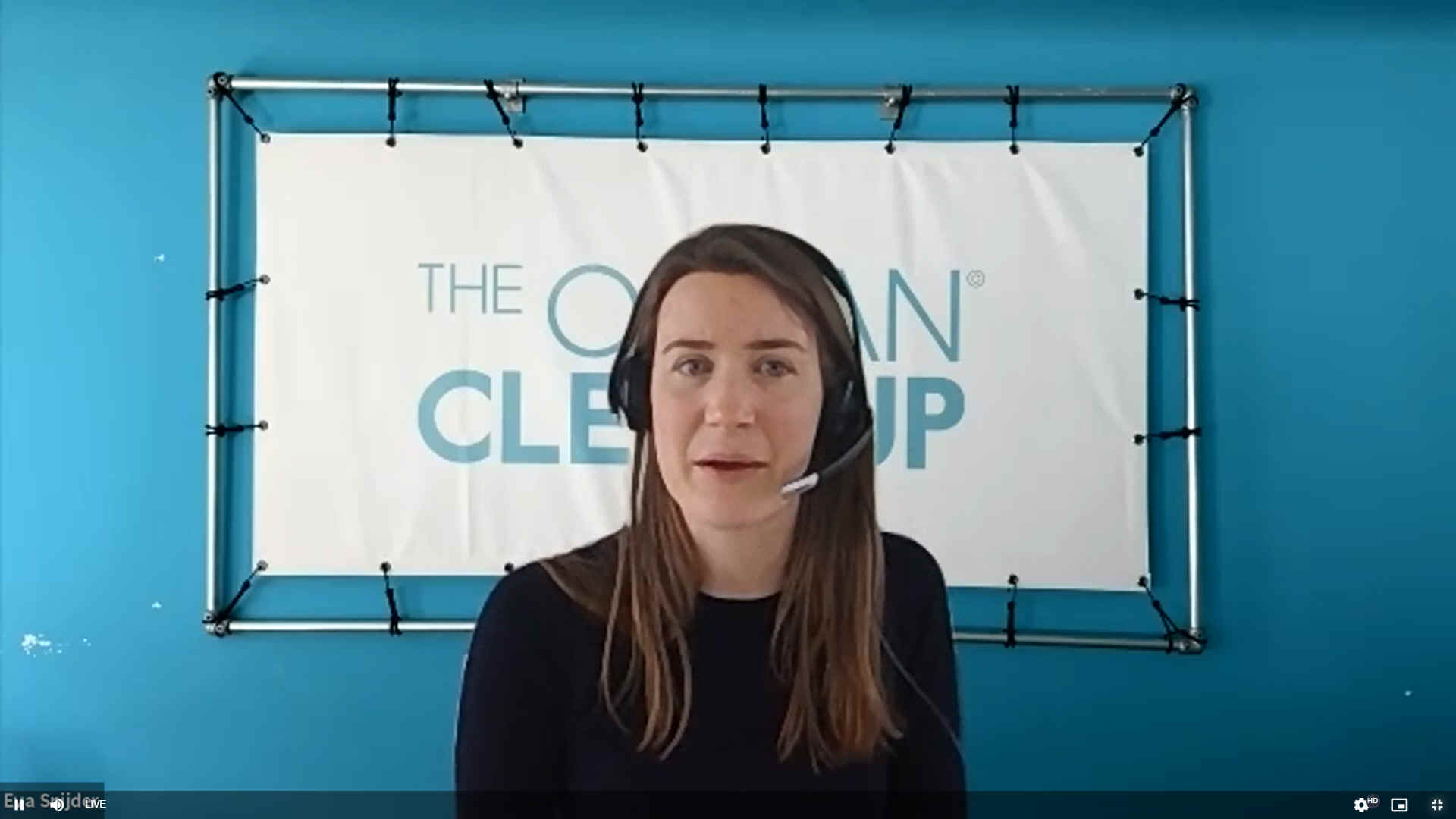 Q&A - Upcoming questions - Sorted by vote
Why is there no plastic offset system, like the Kyoto carbon trading system - to help reduce reliance on conventional mainstream plastics like PET. Or has this been suggested before, and if so, what is the state of play?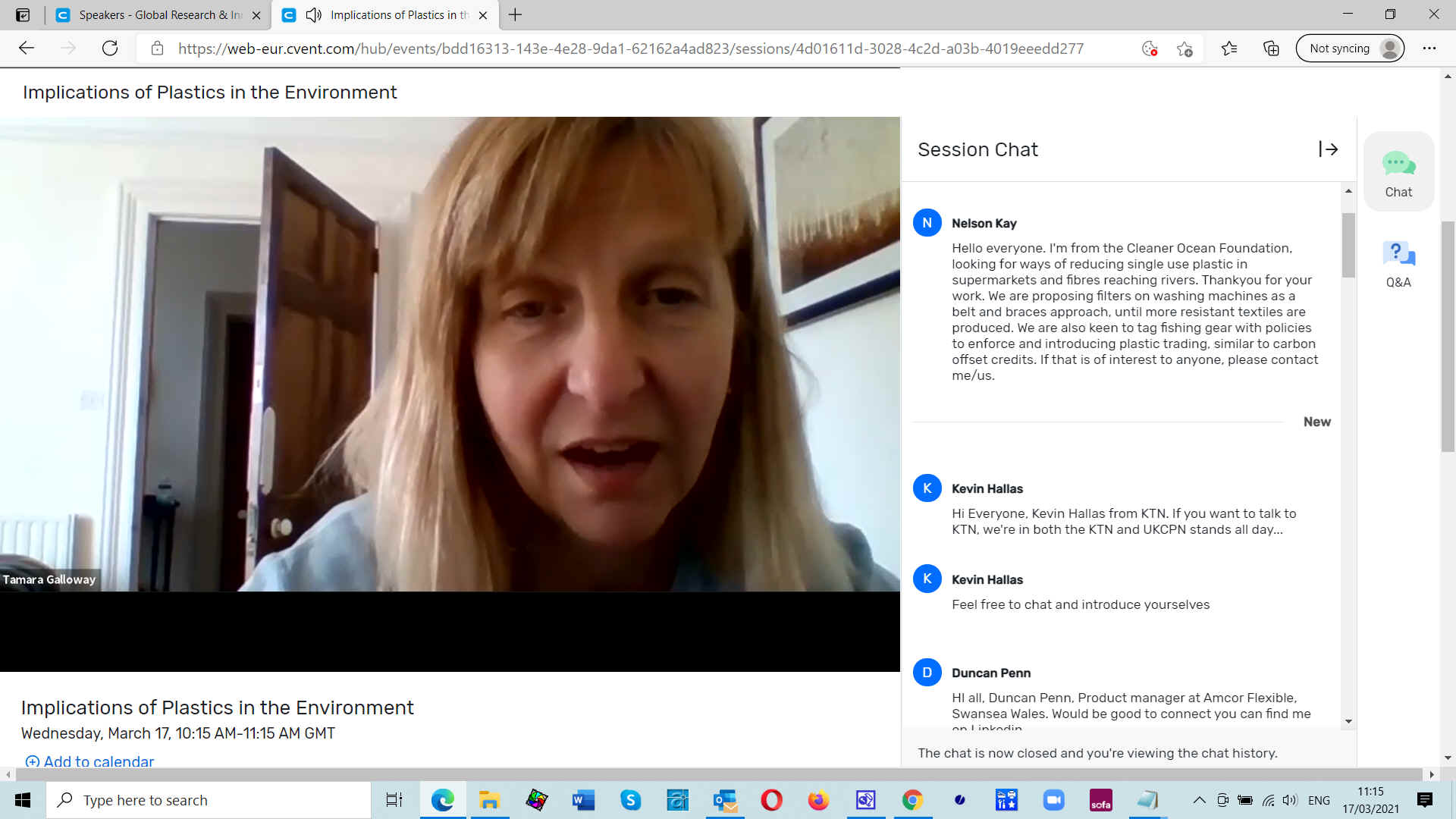 SPONSORS
EXHIBITORS






CONTACTS
Aileen Woodley | Events Manager, KTN
aileen.woodley@ktn-uk.org
OCEAN CLEANUP PROJECTS A - Z
* Adidas
* Algalita research foundation
* Aliance to end Plastic Waste AEPW
* Baltimore Mr Trash river cleaning barge
* Boyan Slat's ocean booms
* CLAIM H2020 EU marine plastic project
* Earth Day - Fact sheet ocean plastic
* Fionn Ferreira's ferrofluid extraction of microplastics
* FlashLight Press Michelle Lord & Julia Blatt
* GRIPS - Global Research & Innovation in Plastics Sustainability
* Interceptor tethered river cleaning barges
* Junk Raft - plastic awareness voyage
* Miss Ocean - Plastic Awareness Events
* 4Ocean recycled plastic bracelets
* Nike - Sneakers from recycled materials, ocean spills
* Plastic Oceans Org
* Seabin
* SeaVax autonomous drones
* Surrey University PIRATE & Triton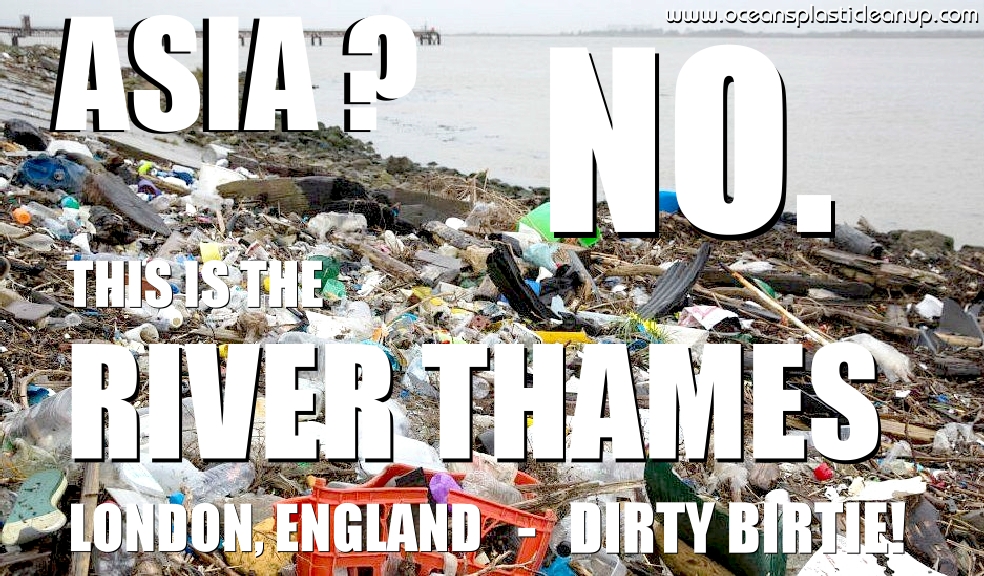 CAMPAIGN FOR ZERO WASTE - Supermarkets and oil companies have a lot to answer for. Politicians must explain why they let the retailers and fossil fuel industry get away with a practice they know to be harmful to marine life. Companies are largely driven by money and greed, their shareholders often kept in the dark. All the while millions of seabirds are dying, polar bears are playing with plastic and even shellfish have become inedible in some locations. This is morally unsound!
The River Thames is one of the filthiest rivers in the world in terms of microplastics and fibers. Yet nobody from the UK Government has made contact with the Foundation in over four years - even to test the water - nor Bluebird Marine in the two preceding years 2015-16. It speaks for itself that they must be happy as pigs in ---t!
GRIPS are not alone in the fight against ocean plastic. These emerging technologies could all play a part in containing the mountain of plastic that is accumulating on the oceans floors, by recovering floating debris before it sinks. New ideas are welcomed.
LINKS & REFERENCE
https://matter.industries/news-stories
https://nl.linkedin.com/in/eva-snijder-391b24157
GLOBAL RESEARCH & INNOVATION IN PLASTICS SUSTAINABILITY -
BIODEGRADABILITY - CAPTURING FUGITIVE PLASTIC - EMERGING POLICIES - KEYNOTE SPEAKERS - MICROFIBRES - MITIGATION IMPLICATIONS