BORIS JOHNSON - 1st PLASTIC FREE PM ?
Please use our A-Z INDEX to navigate this site, where page links may lead to other sites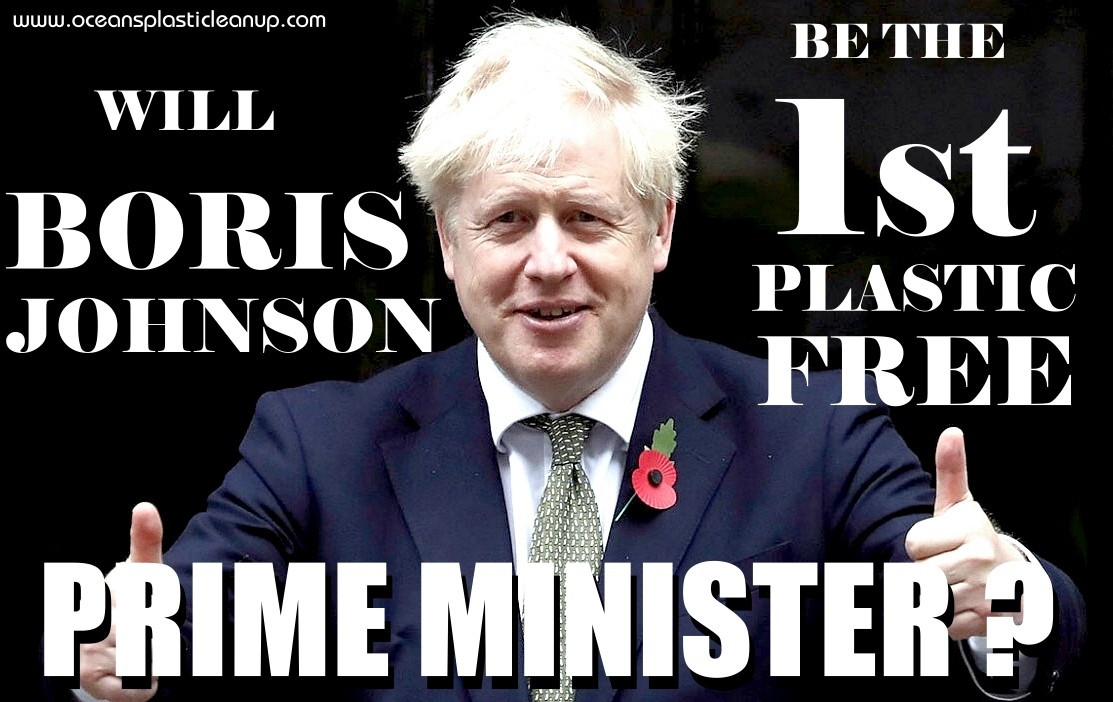 HOPING FOR MORE FROM THE UK - There are many reasons for reducing reliance on plastics. In the end we hope that a sustainable economics argument may hold sway over political convenience for a Conservative government that has been traditionally short term-ist in its policies, with reference to Margaret Thatcher's antics and the sell off of social housing that created a renting generation of financial slaves. We'd urge you, the voters to share your thoughts with the #PM in the hope of a change of heart @ 24 March 2021.
We need to explain to Boris that exporting waste to developing countries to be burned, is counter productive in climate terms and that it is morally wrong to take advantage of poorer communities to dump on them, as is opening a deep coal mine to cause yet more lung problems for mine workers, when we have massive renewable resources to tap into, such as offshore wind, for green hydrogen generation.
The small matter of nuclear arms proliferation is also of some concern, where the German Foreign Minister, Heiko Maas, this month took the unusual step of criticizing the decision to increase the UK's nuclear arsenal, in public.
Of the states described in the Integrated Review as threats to British security, Russia has said the increase threatens global stability, and Iran accuses the UK of hypocrisy. The UN Secretary-General has expressed a personal view that the move was in violation of Britain's obligations under Article Six of the Non-Proliferation Treaty.

Japanese peace movement 'Gensuikyo' has written to the Prime Minister, protesting against the increase, from 'the only A-bombed nation'. If you don't have the weapons, you cannot cause such atrocities. In the age of precision targeting with drones, we simply do not need nuclear weapons.
It's an odd situation to say the least, where Boris is pushing for zero carbon motoring (big applause), but on other fronts is going backwards. Increasing nuclear weapons is a prime example of un-sustainability, and will raise the National Debt further still, hence the UK's carbon footprint, and may be seen as the PM having his hands in the pockets of arms manufacturers. We already have thermonuclear annihilation capability. We no longer have an Empire Boris. Let's stop pretending that we do, and let's stop pretending that we still need aircraft carriers. That is old hat showboating. Somebody please buy the PM some tin soldiers, to help him play out his fantasies, other than in the bedroom department where he is reportedly Johnson by name and Johnson by nature. An upstanding chap just keeping his end up.
The UK and Commonwealth have so far paid lip service to plastic with a £0.05p bag tax, that unfortunately, was not directed to plastic research or clean up projects, but was allowed to go to thousands of unrelated good causes. This was a major policy oversight in our view on the part of the then environment Secretary of State. How such a blunder occurred, where the opportunity to do some good was staring the ministers in the face, is strange to say the least.
We need more action in terms of applying the policy brakes. To this end The Cleaner Ocean Foundation has put together a (draft) 7 Point Plastic Plan, that they hope will be taken seriously by the UN's members in all things sustainable, especially the World Health Organization and Food and Agriculture Organization. As per SDG14: Life Below Water. The Plan also impinges on SDG13, where much plastic is burned to dispose of, causing huge CO2 plumes in developing countries.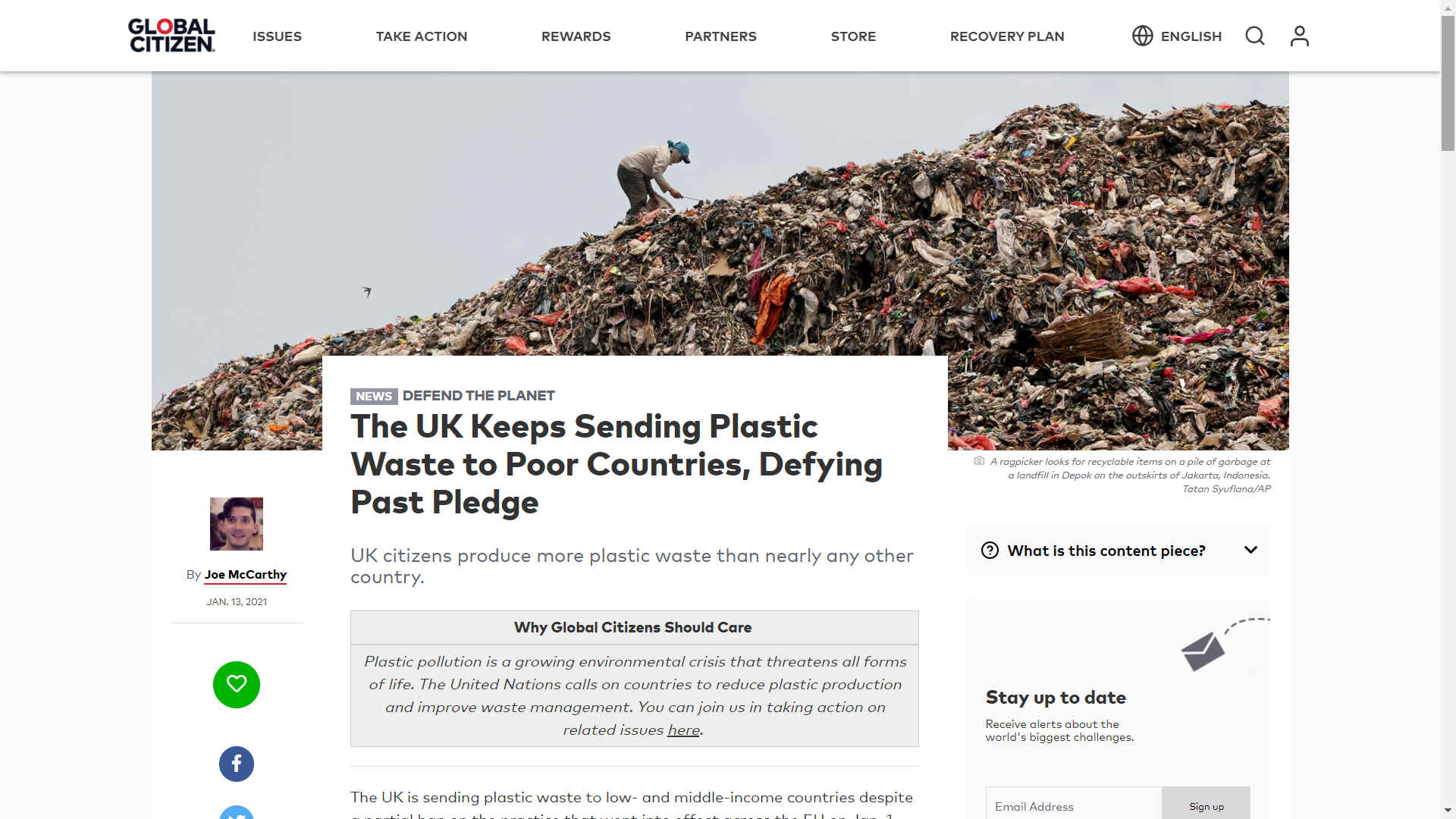 GLOBAL CITIZEN 13 JANUARY 2021 - UK citizens produce more plastic waste than nearly any other country.

The UK is sending plastic waste to low- and middle-income countries despite a partial ban on the practice that went into effect across the EU on Jan. 1, according to the Guardian.

The EU-wide ban, which prevents shipments of plastic waste to countries outside of the Organization of Economic Cooperations and Development, was developed while the UK was still a part of the political bloc. The UK government had said that it wouldn't backslide on environmental commitments after its departure from the EU, but the ongoing shipment of plastic waste shows that it's already falling behind its peers.

The country says that it will keep sending shipments of plastic waste to countries that had previously agreed to take it, claiming that countries can reject the arrangement at any time. Environmental advocates told the Guardian that the continuation of the practice shows that the UK isn't yet serious about curbing its plastic waste.

The UK has the second-highest per capita rate of plastic consumption in the world, but the country has failed to develop sufficient infrastructure for recycling and disposing of all this plastic.

As plastic waste accumulates, particularly the hard-to-recycle kind, the country simply puts it into shipping containers and pays other countries to take it and figure out how to recycle or dispose of it.

In September 2020 alone, the UK sent more than 7,000 metric tons of plastic waste to countries such as Malaysia, Pakistan, Vietnam, Indonesia, and Turkey, according to the nonprofit Last Beach Clean Up.

This plastic waste often ends up going to landfills or getting burned in ways that contaminate sources of air, water, and food. In Malaysia, for example, illegal plastic-burning factories have become a menace to communities.

China used to be the largest recipient of excess plastic waste, but the country cracked down on the practice in 2018. Since then, countries like the UK, the US, and Canada have scrambled to find other dumping grounds.

Many of these countries have since restricted the practice as well after getting inundated with junk plastic. Both the Philippines and Malaysia have sent shipping containers full of plastic waste back to where they came from.

"Malaysia will not be the dumping ground of the world," Yeo Bee Yin, Malaysia's environment minister, said at the time. "We will fight back. Even though we are a small country, we can't be bullied by developed countries.

"What the citizens of the UK [and other countries] think they have sent for recycling are actually being dumped in our country," she added. "Malaysians have a right to clean air, clean water, and a clean environment to live in, just like citizens of developed nations."

Low-income countries such as Bangladesh, Laos, Senegal, and Ethiopia have emerged as the new dumping grounds due to lax environmental laws, according to the Guardian.

Environmental groups have long warned that the plastic pollution crisis has been spiraling out of control. Many countries have vowed to reduce plastic production, and global conventions have been convened to improve international recycling and waste management.

But plastic production is expected to increase by 40% over the next decade.

While the EU will seek to take responsibility for the amount of waste it generates, countries such as the UK will continue to pass the responsibility elsewhere.

"We had assumed the UK would at least follow the EU, and so it is a shock to find out now that instead they choose to have a far weaker control procedure, which can still permit exports of contaminated and difficult-to-recycle plastics to developing countries," Jim Puckett, director of the Basel Action Network, told the Guardian.

He added: "They are talking the talk, but they have failed to walk the walk."
Potentially the first Plastic-Free Prime Minister, Boris Johnson (popularly called Bojo) could help make a big difference in supporting proposals like this at UN level, and, for example, cleaning up one of the dirtiest rivers in Europe, the Thames.
It's like our signature river is revealing the state of play in the UK, alongside our potholed roads.
This is our 7 Point Ocean Plastic Plan:

7SPP ARTICLES (DRAFT)
1. Supermarket packaging transformation (back) to paper predominantly
2. Glass bottles, metal cans, waxed cartons over plastic, unless genuinely biodegradable
3. Monitoring rivers and strict enforcement against micro-fiber spillages from treatment plants
4. Trackers for fishing nets and strict enforcement for dumping, unless accidents reported
5. Recycling of plastic to 95% with controlled incineration of non-reusable elements
6. Filtration on domestic machines to remove microfibers from clothing
7. Introduction of plastic credit (incentives) trading scheme to drive the clean up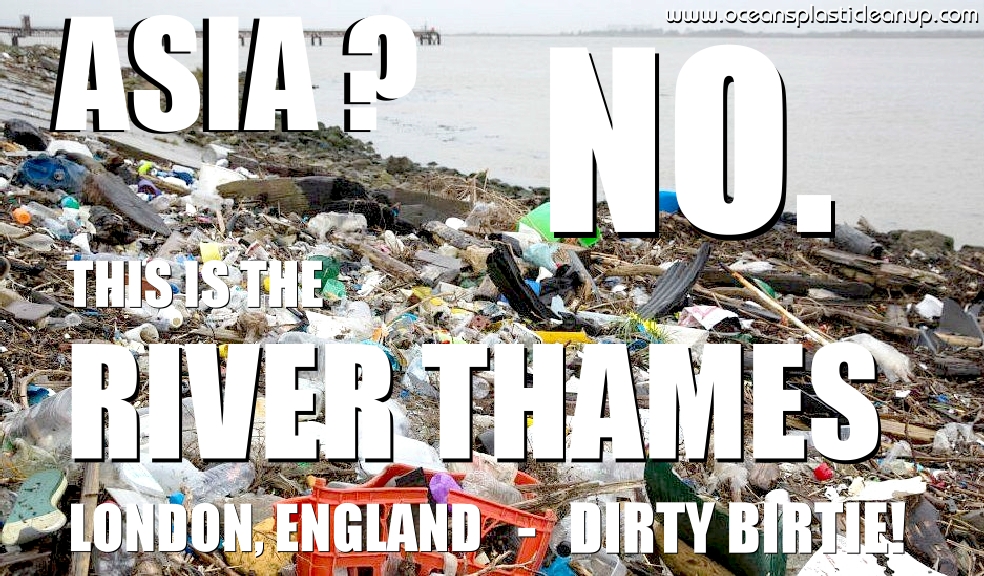 DIRTY BIRTIE - The UK has one of the filthiest rivers in Europe. Hardly leading the charge, or setting a good example. In their defence this river has always been the Achilles heel of British efforts to clean up their act. But is that any excuse for a nation with a proud maritime tradition of excellence? Three years later and Theresa May's plan from 2018, does not seem to have made any difference in March 2021. In fact the Thames is evidence that the problem is now worse than before. Better check those policies again chaps, or the prize for being 1st, or even for remaining in the running, may elude you!
Green groups said Mrs May's proposals should have legal force. Labour's Jeremy Corbyn said 25 years was "far too long" to take action, and seems to have been proved right in that targets set too far ahead are in effect a delaying mechanism/tactic, buying polluters and polluting policies time - that the planet and ocean can ill afford.

Some campaigners have warned about the loss of European environmental standards once the UK leaves the EU, but Mrs May promised a new "world leading" body to hold the government to account on environmental issues.

However the chairwoman of the Commons Environmental Audit Committee, Labour's Mary Creagh, said a new Act of Parliament was needed after Brexit.

"We don't want to go back to being the 'dirty man of Europe'," she added.

Green campaigners said Mrs May's plans could simply be shelved if they become inconvenient and the promise to stop "avoidable" plastic waste is too vague.

"Britain's natural environment needs a 25-month emergency plan more than it needs a 25-year vision," said Greenpeace UK's executive director John Sauven.

"If the government's aim is to get through to young voters, they need to offer change that happens before these youths turn middle-aged."

Greenpeace questioned why there was no mention of deposit return schemes for bottles - which the government has said it will consider - while Friends of the Earth said a "clear timetable" not "woolly promises" was needed.

Sue Hayman, Labour's environment spokeswoman, said the Conservatives had a record of "failure and broken promises" on the environment.

She said the "weak" proposals would mean the problem with plastic waste was "kicked into the long grass".

The Liberal Democrats said it "beggared belief" that a target of 2042 had been set for removing plastic waste and that action was needed now.
GLOBAL CITIZEN JUNE 2019 - Greenpeace has discovered that the River Mersey, based in the north east of England, likely has up to six times the number of pieces of plastic per square kilometre than the Great Pacific Garbage Patch.

The environmental charity estimated that there are 2 million pieces per km² in the Mersey, based off a search that found 875 pieces in just 30 minutes. That's all in contrast the historic rubbish patch— located between Hawaii and California — that holds between 334,271 to 1,000,000 pieces of plastic.

The study suspects there may be a reason for this, too: there's a factory right on the river that's run by a plastic producing company called Basell Polyolefins UK. It produces tiny plastic pellets called "nurdles" that are used to make most plastic products.

The Greenpeace investigation also found microplastics in each of the 13 UK rivers that were tested. Nearly half contained microbeads, a type of microplastic, often found in hygiene products like shampoos, that was banned in Britain last year.

It discovered that the Thames was the second-most polluted river in the UK, finding 108 pieces of plastic, followed by the River Aire in Yorkshire (63), the Severn (42) and the Trent (35).

It's estimated that Britain produces approximately 1.7 million tonnes of plastic annually. Globally, 320 million tonnes gets produced each year — a figure that's set to double by 2034, according to Surfers Against Sewage. Yet 90.5% of all plastic has never been recycled.

THE ARGUS 27 JANUARY 2021 - Caroline Lucas slams PM over plastic waste exports

A Brighton MP has called on the Prime Minister to stop plastic waste being sent from the UK to developing countries.

Caroline Lucas accused the government of reneging on environmental pledges made in their election manifesto.

Speaking during Prime Minister's Questions today, she called for the "damaging and unethical practice" to stop. She said it followed "hot on the heels" of planning permission being granted for the UK's first new deep coalmine in 30 years.

Ms Lucas said: "There is a yawning gulf between the government's green rhetoric and its action. "Ministers have broken yet another election manifesto promise and will keep sending plastic waste to developing countries where it is regularly dumped or burned."

Ms Lucas referenced a petition started by a 9-year-old under the name Lizzie A, which has now been signed more than 90,400 times.

She said: "Nine-year-old schoolgirl Lizzie knows this is wrong and she has a simple message for the Prime Minister, 'Protect our oceans and people living in poorer countries by banning these dirty plastic exports now'.

"Will he listen to Lizzie and the 90,000 signatures to her petition, and stop this damaging and unethical practice? Yes or no?"

The petition says: "The UK currently is the second largest exporter of plastic waste to poorer countries. Since we have exited the EU, we no longer are bound by their rules. They have banned export of plastic waste from January 1, 2021, however the UK hasn't. This isn't okay - please join me in doing something about it."

Mr Johnson said he "must absolutely contest and deny" Ms Lucas's comments in the House of Commons regarding the Tory party's green credentials.

He said: "She talks about coal mines and she may not know that in 1970 this country got 90 per cent of its energy from fossil fuels from coal and we now get five per cent.

"That is thanks to the green, active, technologically optimistic policies driven by Conservative government, and I'm very proud of that. "I'm also proud of what we are doing to ban plastic and ban the export of plastic waste around the world, which is in our Conservative party manifesto, Mr Speaker, which we will fulfil."

Ms Lucas has since responded on social media, saying "the only way the PM can be 'proud' of what is in his manifesto on banning plastic waste is if he acts on it". "The EU has already done it, and we were promised better," she said.

The Green MP later told The Argus: "First, successfully reducing dependence on coal over the past 50 years is no reason for now giving go-ahead to first deep coal mine in 30 years and second, while I'm pleased to hear he plans to stand by the Conservative manifesto commitment to ban the export of plastic waste, the key question is when?"

In October last year, planning permission was granted for the UK's first new deep coalmine in 30 years. The site, named Woodhouse Colliery, is set to be built in Cumbria despite the protests of climate campaigners from groups such as Extinction Rebellion.

West Cumbria Mining (WCM) plans to mine under the seabed to extract about 2.7m tonnes of metallurgical coal annually, focusing on supplying UK and European steel-making plants.

Following the granting of planning permission for the site, WCM chief executive Mark Kirkbride said: "Today marks another very important milestone in our journey to develop a world class mine in Cumbria and is the culmination of six years of dedication and determination by the WCM team to realise our vision.

"Woodhouse Colliery will bring significant local benefits to Whitehaven, Copeland and Cumbria in terms of jobs and investment, at a critical time given the impacts of Covid-19 upon employment and economics both locally and nationally.

"I am proud to be part of a scheme which will have such a positive impact on the local community as well as the long-term financial benefits the mine will bring to Cumbria and the UK."
FORMER PM - THERESA MAY - ON CONSERVATIVE PLASTIC PLAN 10 JAN 2018
Launching the 25 Year Environment Plan, the PM will set out the government's determination to leave our environment in a better state than we found it.

She will outline steps for a cleaner, greener Britain – with avoidable plastic waste eliminated by the end of 2042.

To help achieve this, the government will extend the 5p carrier bag charge to all retailers in England. To date, we have used nine billion fewer plastic bags as a direct consequence of introducing the charge.

The government will also work with supermarkets to encourage them to introduce plastic-free aisles in which all the food is loose.

This will give consumers the choice to make greener decisions and promote the use of less damaging plastic packaging.

To encourage industry to take more responsibility for the environmental impacts of their products and make them easier to recycle, the government will also look at how the tax system or charges could further reduce the amount of waste we create. A call for evidence on how to reduce the use of single-use plastics will begin next month.

In addition we will to inject new funding into plastics innovation through a bid into the government's £7 billion research and development pot.

It is estimated that 8.3 billion tonnes of plastic have been produced since the 1950s.

Research indicates that without urgent action to cut demand this is likely to be 34 billion tonnes by 2050.

In the UK alone, during its recent Great British Beach Clean Up, the Marine Conservation Society found 718 pieces of litter for every 100 metre stretch of beach surveyed, and of this rubbish from food and drink made up at least one fifth.

In a speech, Theresa May is expected to say:

We look back in horror at some of the damage done to our environment in the past and wonder how anyone could have thought that, for example, dumping toxic chemicals, untreated, into rivers was ever the right thing to do.

In years to come, I think people will be shocked at how today we allow so much plastic to be produced needlessly.

In the UK alone, the amount of single-use plastic wasted every year would fill 1,000 Royal Albert Halls.

This plastic is ingested by dozens of species of marine mammals and over 100 species of sea birds, causing immense suffering to individual creatures and degrading vital habitats. 1 million birds, and over 100,000 other sea mammals and turtles die every year from eating and getting tangled in plastic waste. One in three fish caught in the English Channel contains pieces of plastic.

This truly is one of the great environmental scourges of our time.

Today I can confirm that the UK will demonstrate global leadership. We must reduce the demand for plastic, reduce the number of plastics in circulation and improve our recycling rates. To tackle it we will take action at every stage of the production and consumption of plastic.

Demonstrating global leadership the UK will also do more to help developing nations tackle pollution and reduce plastic waste, including through UK aid.

Mrs May is expected to add:

I want the Britain of the future to be a truly Global Britain, which is a force for good in the world. Steadfast in upholding our values – not least our fierce commitment to protecting the natural environment.

When we host the Commonwealth Heads of Government Meeting in April we will put the sustainable development of our oceans firmly on the agenda.

We will work with our partners to create a Commonwealth Blue Charter and push for strong action to reduce plastic waste in the ocean.

We will direct our development spending to help developing nations reduce plastic waste, increase our own marine protected areas at home, and establish new Blue Belt protections in our Overseas Territories.

The Prime Minister will also announce plans to help more children engage with the environment. This will be delivered through £10m for school visits and a Nature Friendly Schools programme to create school grounds which allow young people to learn more about the natural world, targeting schools in disadvantaged areas first.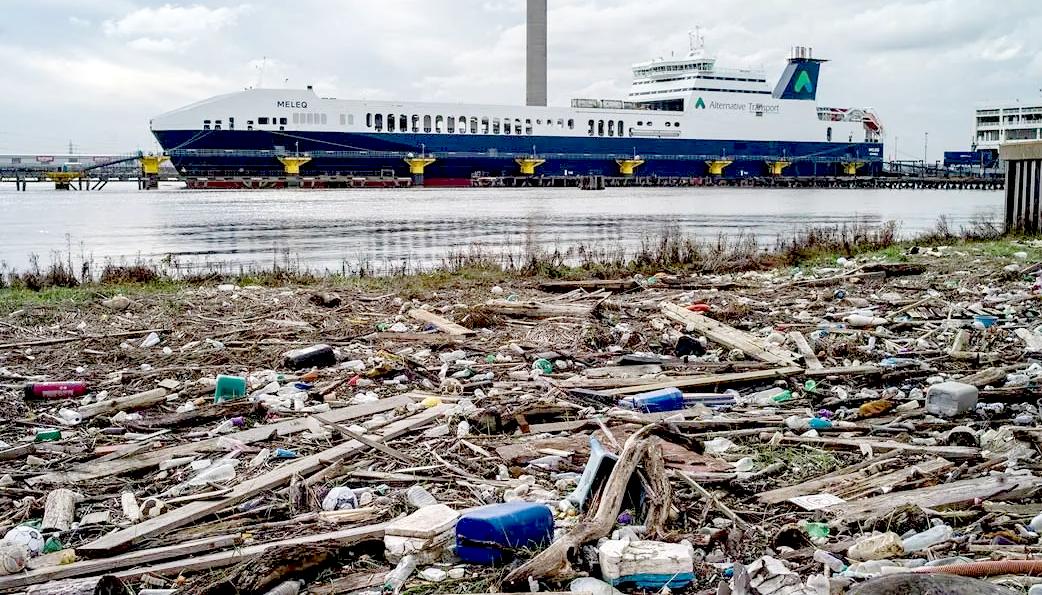 BBC SCIENCE & ENVIRONMENT 21 July 2020 - River Thames 'severely polluted with plastic'

The River Thames has some of the highest recorded levels of microplastics for any river in the world.

Scientists have estimated that 94,000 microplastics per second flow down the river in places.

The quantity exceeds that measured in other European rivers, such as the Danube and Rhine.

Tiny bits of plastic have been found inside the bodies of crabs living in the Thames.

And wet wipes flushed down the toilet are accumulating in large numbers on the shoreline.

Researchers at Royal Holloway, University of London, are calling for stricter regulations on the labelling and disposal of plastic products.

They warn that careless disposal of plastic gloves and masks during the coronavirus pandemic might make the problem of plastic pollution worse.

"Taken together these studies show how many different types of plastic, from microplastics in the water through to larger items of debris physically altering the foreshore, can potentially affect a wide range of organisms in the River Thames," said Prof Dave Morritt from Royal Holloway.

"The increased use of single-use plastic items, and the inappropriate disposal of such items, including masks and gloves, along with plastic-containing cleaning products, during the current Covid-19 pandemic, may well exacerbate this problem."

The scientists point out that the Thames is cleaner than it used to be with respect to some pollutants, such as trace metals.
What plastics were found in the River?

Many forms of microplastics were found in the Thames, including glitter, microbeads from cosmetics and plastic fragments from larger items.

The bulk of the microplastics came from the break-down of large plastics, with food packaging thought to be a significant source.

"Flushable" wet wipes were found in high abundance on the shoreline forming "wet wipe reefs".

Study researcher, Katherine McCoy, said, "Our study shows that stricter regulations are needed for the labelling and disposal of these products. There is great scope to further research the impacts of microplastics and indeed microfibres on Thames organisms."

Where does the plastic come from?

Fibres from washing machine outflows and potentially from sewage outfalls, plus fragments from the breakup of larger plastics, such as packaging items and bottles, which are washed into the river.

Katharine Rowley of Royal Holloway said it's unclear why there's such a high density of plastic in the River Thames, but called for people to think about the plastic they use and throw away.

"People can make much more of a difference than they might think," she said.
What is the plastic doing to wildlife in the river?

Some animals living in the river are ingesting microplastics, including two species of crab.

Crabs contained tangled plastic in their stomachs, including fibres and microplastics from sanitary pads, balloons, elastic bands and carrier bags.
- Seeking the 'plastic score' of the food on our plates
- Birds 'ingesting hundreds of bits of plastic a day'
- Microplastics are 'littering' riverbeds.
"Upon bringing these crabs back to the labs at Natural History Museum, it was shocking to find that they were full of plastic," said study researcher, Alex McGoran.

"Tangles of plastic were particularly prevalent in the invasive Chinese mitten crab and we still don't fully understand the reason for this."

Clams near the wet wipe "reefs" contained synthetic polymers, some of which may have originated from the wet wipes and other pollutants found on the site such as sanitary items.
How do the findings compare with other rivers?

Much of the work on microplastics has been carried out in seas and oceans rather than rivers.

By comparison, the Thames has higher quantities of microplastics than levels recorded in the Rhine in Germany, the Danube in Romania, the River Po in Italy and the Chicago River in the US.

However, levels appear lower than those reported for China's Yangzte river.

Other scientists previously tested river sediments at 40 sites throughout Greater Manchester and found "microplastics everywhere".

The latest research was carried out in collaboration with the Natural History Museum and Zoological Society, London.

Dr Paul Clark of the Natural History Museum said, "What our students have shown in this collaboration is that although the Thames is certainly cleaner with regards some chemical pollutants, eg. heavy metals, the River is severely polluted with plastic. And once again our wildlife is threatened."

The research is reported in two papers in Environmental Pollution and in one paper in Science of the Total Environment.
By Helen Briggs - BBC Environment correspondent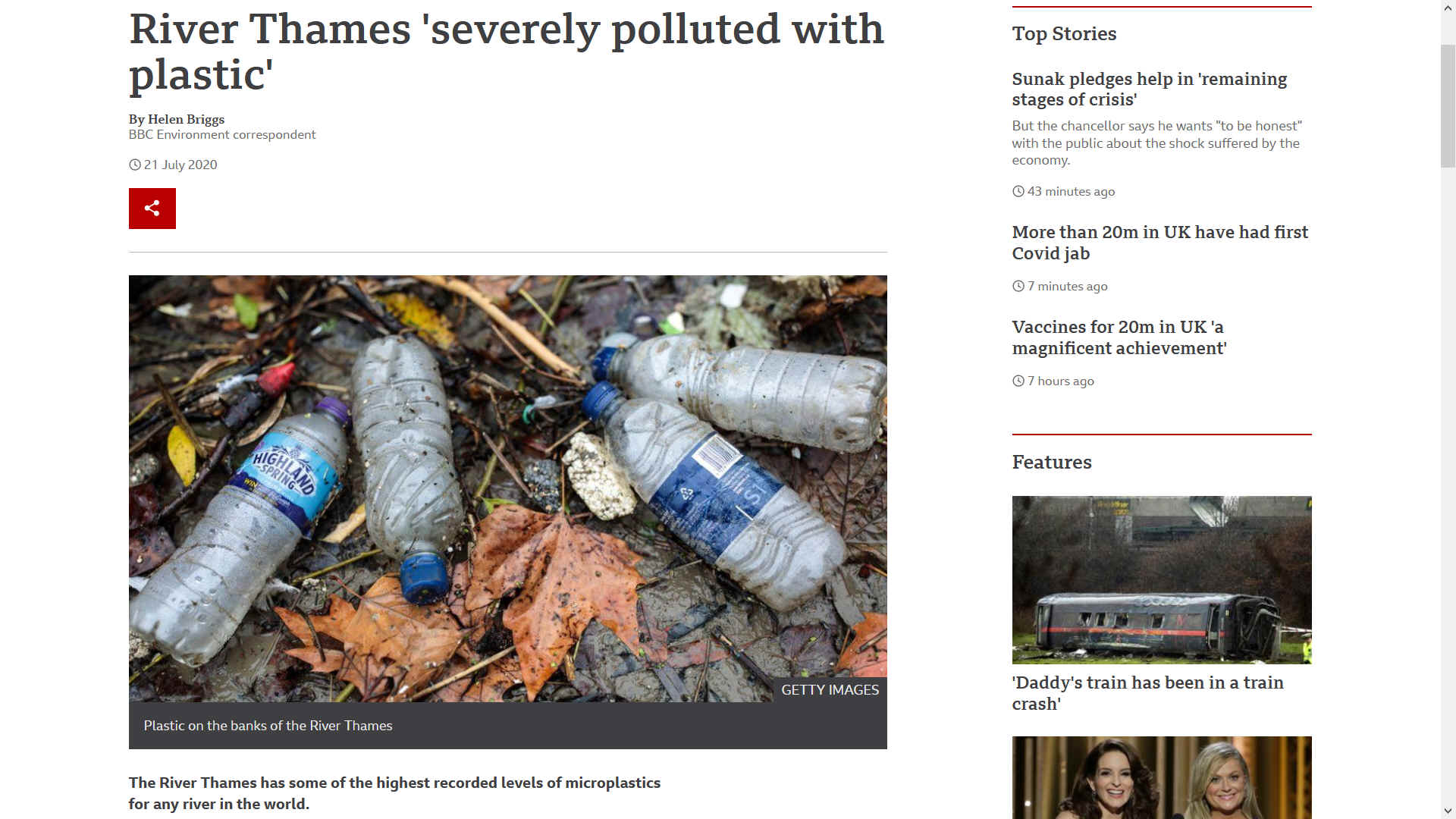 US LOBBY PARTNERS
A US lobby group consisting of 20 Convening Partners and over 550 Endorsing Partners has put an Eight Point Plan to President Joe Biden, differing in approach markedly from our own, but making equally valid observations.

1. Use the purchasing power of the federal government to eliminate single-use plastic items and replace them with reusable products.

2. Suspend and deny permits for new or expanded plastic production facilities, associated infrastructure projects, and exports.
In the next 10 years, the petrochemical industry plans to increase plastics production by at least 35%, with more than 300 new projects slated for the United States alone. Using cheap fracked gas, the new and expanded facilities planned by the industry produce raw material for an endless deluge of throwaway plastic, approximately 40% of which is discarded within minutes. This dirty industry disproportionately fouls the air and water of poor communities and communities of color.

3. Make corporate polluters pay and reject false solutions. Plastic producers must be held accountable for the plastic pollution they have created.
Voluntary measures like Operation Clean Sweep, small scale financial contributions like the industry-backed ALLIANCE to End Plastic Waste, and the plastics industry's promotion of "chemical recycling" and "waste to energy" are all dangerous distractions from the massive, global plastic pollution problem we need to face. We need to place the responsibility where it belongs: on the industry that generates the waste.

4. Advance environmental justice in petrochemical corridors.
Petrochemical companies continue to locate new and expanded plastics facilities near existing fossil fuel infrastructure, which means they are targeting the Gulf Coast, Appalachia, the Ohio River Valley, and other communities that already shoulder a heavy burden of oil, gas, and plastic industry pollution. Across the United States, these facilities are often located in and have a disproportionate impact on low-income and minority neighborhoods.

5. Update existing federal regulations to curtail pollution from plastics facilities by using best available science and technology.

6. Stop subsidizing plastics producers.

For too long, the United States has subsidized the fossil fuel industry. It's time to stop the flow of financing to the petrochemical industry and the oil and gas industry that supplies its feedstocks.

7. Join international efforts to address the global plastic pollution crisis through new and strengthened multilateral agreements.

For many years, the U.S. government has hindered the work of a growing number of countries to enact new and strengthen existing global governance structures to address the plastic pollution crisis. It is time for the U.S. to become a proactive partner with key allies to address the global plastic crisis by targeting production, consumption, and disposal.

8. Reduce and mitigate the impacts of discarded and lost fishing gear.

Abandoned, lost or otherwise discarded fishing gear, including gillnets and fishing traps/pots causes ecological and economic harms. This fishing gear is often called "ghost gear" because long after it is lost it entangles, captures, and kills sea turtles, seabirds, marine mammals, and fish. It changes the marine environment, poses navigational hazards, introduces plastic into the marine food web, and creates a persistent marine debris and pollution problem, with high cleanup costs.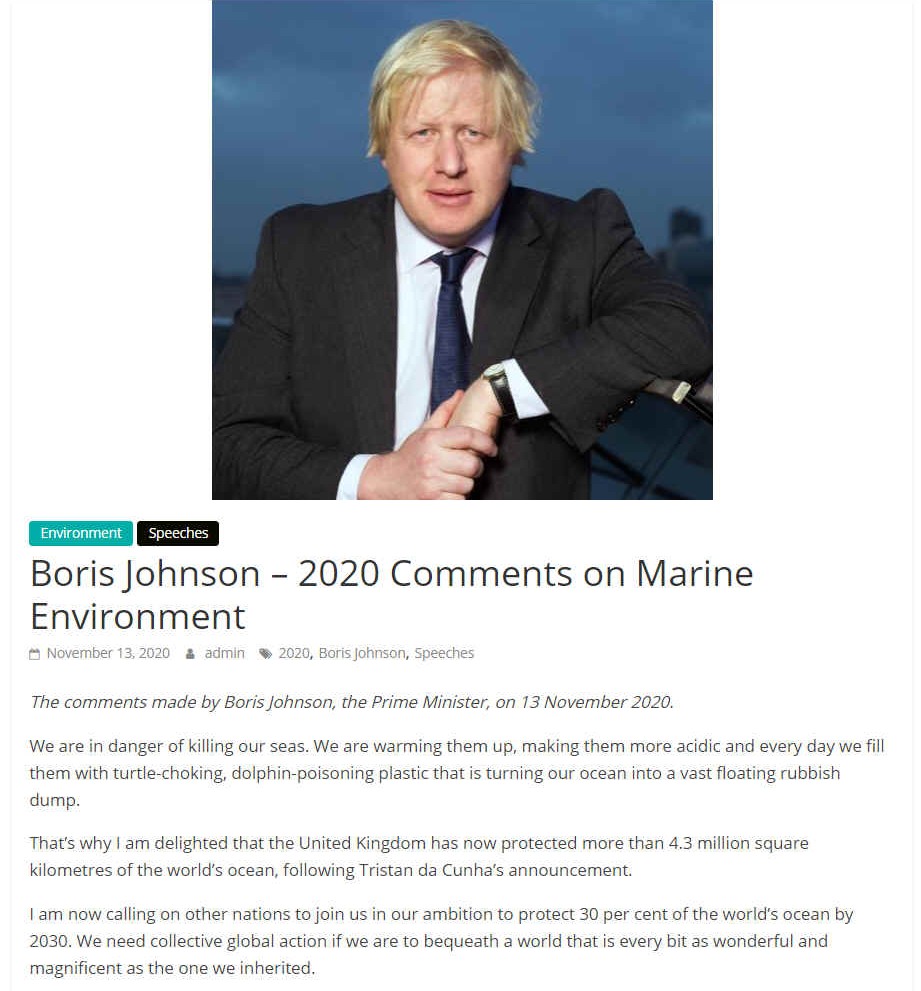 UKPOL – November 13, 2020 Comments on Marine Environment - We are in danger of killing our seas. We are warming them up, making them more acidic and every day we fill them with turtle-choking, dolphin-poisoning plastic that is turning our ocean into a vast floating rubbish dump.

That's why I am delighted that the United Kingdom has now protected more than 4.3 million square kilometres of the world's ocean, following Tristan da Cunha's announcement.

I am now calling on other nations to join us in our ambition to protect 30 per cent of the world's ocean by 2030. We need collective global action if we are to bequeath a world that is every bit as wonderful and magnificent as the one we inherited.
FOODPRINT JANUARY 2021 - Will Joe Biden tackle single-use plastics?

The amount of plastic flowing into the ocean each year will triple — to 29 million tons — without drastic action.

When then Presidential-candidate Joe Biden told the crowd at an Iowa campaign stop in 2019 that plastic should be phased out, the announcement was met with applause. He promised then to "[treat] the climate crisis like the existential threat that it is" and as his administration gets underway, voters expect him to deliver, calling on Biden to be the first #PlasticFreePresident.

"Now we have a president who is concerned about environmental issues and wants to be engaged in the global community," says Sarah J. Morath, a law professor at Wake Forest University and author of the forthcoming book, "Our Plastic Problem: Costs and Solutions." "There is a potential to enact legislation and be involved in efforts at the international level to address environmental issues."

A coalition of 550 conservation groups, including Greenpeace, Beyond Plastics, Surfrider Foundation and the Center for International Environmental Law, just released a Presidential Plastics Action Plan that includes eight actions the federal government could take to help mitigate plastic pollution. The action items include eliminating subsidies for plastic producers, suspending permits for new or expanded plastic production facilities, and supporting public health and fair labor initiatives in communities that suffer adversely from plastic production.

The group, part of a Break Free From Plastic movement, calls on the president in this action plan to "transform our extractive, throwaway economy to a regenerative inclusive one," in order to charter a path toward a pollution-free future.

Getting back on the right track

The need to address plastics pollution is dire, according to new research from the Pew Charitable Trusts that found the amount of plastic flowing into the ocean each year will triple — to 29 million tons — unless drastic action is taken.

The coronavirus pandemic exacerbated the issue. In addition to the need for single-use personal protective equipment, including 129 billion face masks and 65 billion gloves used each month, more consumers ordered takeout and had their groceries delivered during the pandemic. Compounding the problem, several cities and states reversed or delayed efforts like plastic bag bans — and, so far, most have not reinstated their bans.

The collapsing oil market also contributed to an increase in single-use plastics, which made manufacturing virgin plastics cheaper than recycling. By 2030, the production and disposal of plastics is expected to generate 1.34 gigatons of emissions per year, which is the equivalent of operating 295 coal-powered plants.

Even though the United States is the biggest global producer of plastic waste, generating about 42 million metric tons that flows into the ocean annually, the Trump administration ended efforts to eliminate the sale of plastic water bottles in national parks, propped up petrochemical companies through repeated rollbacks of environmental regulations, withdrew from the Paris climate agreement, and blamed Asian countries for ocean plastic pollution.

"We've seen how much the Trump administration reversed in four years . . . when everything was going in the wrong direction and it feels like we missed out on all of the progress we should have been making and even lost ground," says Maine Congresswoman Chellie Pingree. "I think Biden can get us on the right track, especially if we get started early and have four years of changing our behavior [and] our standards."

In 2020, legislators introduced the Break Free From Plastic Pollution Act to mandate reductions in single-use plastics. Pingree, who co-sponsored the legislation, believes federal laws are essential for curbing plastics pollution, explaining, "plastics have become such a dire issue that I think if we don't have some federal intervention, we're not going to solve the problem quickly enough."

Legislation is not enough

While federal legislation can help address plastic pollution, companies must also do their part to tackle the issue, according to Sybil Bullock, global brand audit coordinator for Break Free From Plastic.

As part of the 2020 Brand Audit Report, volunteers in 55 countries collected almost 350,000 pieces of plastic waste and cataloged those marked with clear consumer brands to come up with its top global polluters list, which included companies like Coca-Cola, PepsiCo, Unilever, Nestle and Philip Morris International.

Like other organizations working to reduce plastic pollution, Break Free From Plastic wants companies to set clear, measurable targets for reducing single-use plastics and reinvent their packaging to eliminate these items from the waste stream altogether — and some companies are making an effort.

"Even if [consumers] were to avoid buying plastic and recycle as much as possible, it will never be enough at the rate that corporations are continuing to extract massive amounts of fossil fuels to manufacture a growing amount of single-use plastics," Bullock says. "These corporations have huge budgets, massive research and design teams and . . . the power to redesign the way you deliver your products."

Several of the "top polluters" listed in the Break Free From Plastic report are participating in Loop, a service that uses refillable packaging to provide zero-waste versions of popular brands. PepsiCo plans to roll out a new recyclable, PET-free paper bottle manufactured from sustainably sourced pulp; Poland Spring, a Nestle brand, is collaborating with researchers at the University of Maine to develop bio-based packaging for its bottled water and startup Notpla developed a pod made from plant materials like seaweed that could replace single-serving condiment packets.

"Despite Trump [pushing deregulation] . . . businesses have still been focused on reducing their carbon dioxide emissions," Morath notes. "If businesses continue to focus on reducing their plastic waste or thinking about alternative feedstocks or reducing packaging on their own . . . it will make it easier for the government to partner."

Both the Presidential Plastics Action Plan and the Break Free From Plastic Pollution Act address the need for private companies to step up and suggest legislative actions that can force their participation, including holding plastics manufacturers accountable for waste through fines and investigating (and prosecuting) violators.

Pingree points to the "extended producer responsibility" clause as one of the most important elements of the Break Free From Plastic Pollution Act, explaining, "it puts the onus back on the entities that either use plastic packaging or are manufacturing it."

Holding polluters (and presidents) accountable

Voters are aware of the issues, too. In fact, consumer demand has driven much of the innovation aimed at addressing single-use plastics waste. One global report found that 43.3 % of consumers believed manufacturers should take the lead when it comes to reducing plastic waste; additional research showed that 74% of consumers are willing to spend more for products with sustainable packaging.

The market demand — and a willingness to vote on environmental issues — could help spur legislation, Pingree notes.

"Sometimes Congress follows what big companies do . . . as businesses set examples, it makes it easier for members of Congress to go along with that because they can say, 'Oh, this company has already proven it's economically viable,'" Pingree notes.

Biden has been vocal about the need to address climate change, lending hope that he could become the #PlasticFreePresident. His pick for the first national climate advisor, Gina McCarthy, the former president and CEO of the Natural Resources Defense Council, has also spoken out about the need to address climate change, writing, "The climate crisis is already hitting us hard, and it will hit us even harder unless we take bold action now."

Making a significant dent in plastic pollution will require strong federal legislation, including the passing of the Break Free from Plastics Pollution Act and executive orders to tackle the issues laid out in the Presidential Plastics Action Plan. Even so, it could take longer than one — or two — terms in office to address plastic pollution.

"The plastic pollution crisis is a structural failure," Bullock says. "We cannot anticipate bolder, more serious commitments from these companies without bold serious commitment from the government to help us hold these companies accountable."

By JODI HELMER (article originated from FoodPrint Janaury 2021)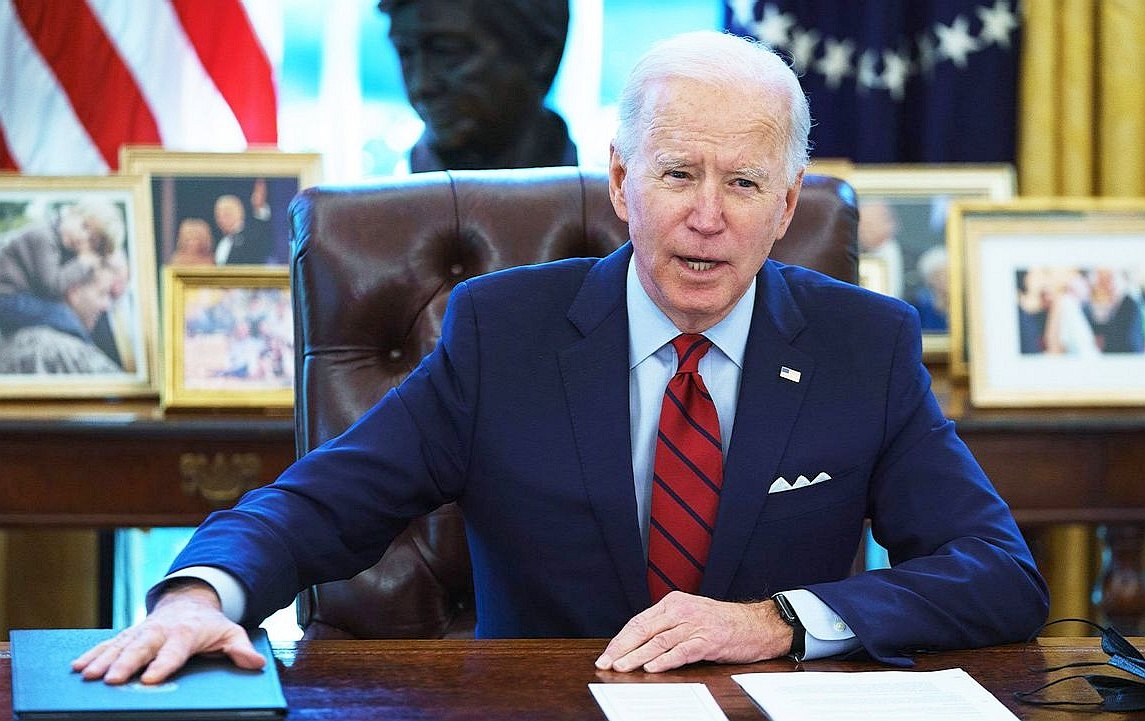 OCEAN HEALTH - Looking better now than he did many years ago, President elect, Joe Biden comes into the frame promising to get the Paris climate agreement back on the rails. Nice one Joe. We have high hopes that he'll also want to secure fish health as part of food security plan.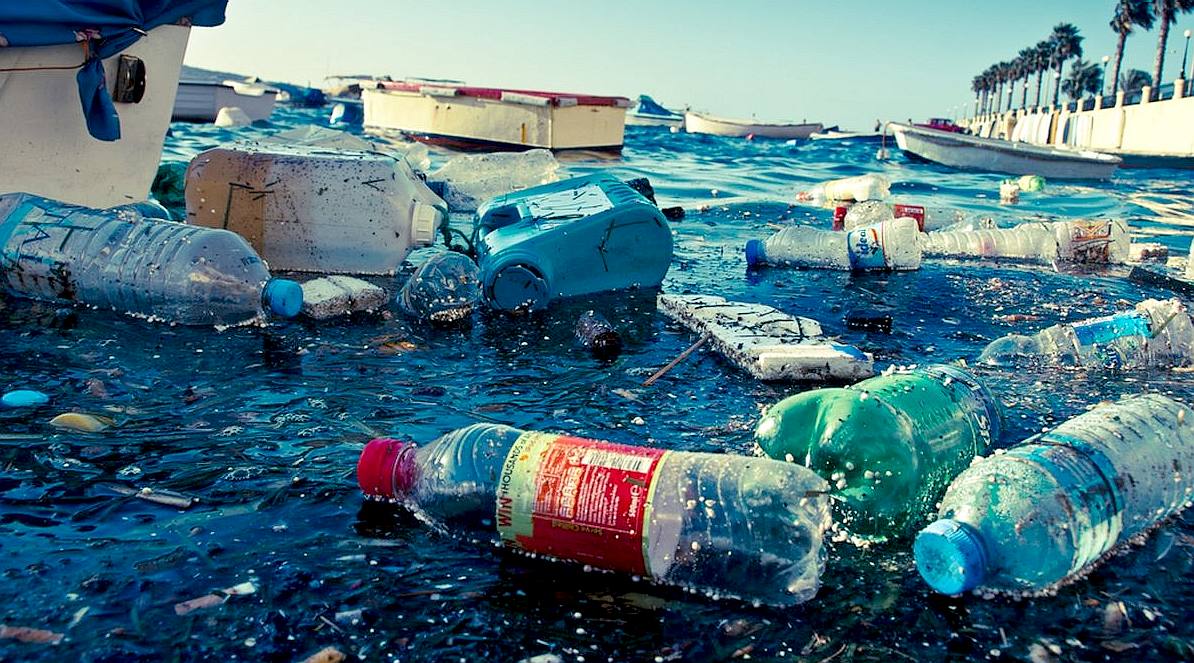 WHAT A WASTE - Governments are unwilling to commit resources to recover the millions of tons of toxic plastic that is already in our oceans, even where it threatens long term food security and biodiversity.

LOS ANGELES TIME 3 JANUARY 2021 - PLASTIC TRASH IS NOT JUST LITTER, IT'S CLIMATE CHANGE TOO

President-elect Joe Biden will have a long to-do list the moment he takes over the White House this month. Plastic trash should be one of his priorities. Here's why.

Single-use plastic is a climate change issue — as well as an observable, measurable menace to the environment that has only been exacerbated by the pandemic and the need for plastic protective gear. Most plastic is made from fossil fuels, and millions of tons of greenhouse gas emissions are released from the extraction of these resources, and the manufacture and incineration of plastic.

The end life of plastic is just as concerning. Very little of the plastic produced has been recycled, less than 10%. Even more of it has been burned. But the vast majority has been left to molder in landfills and, increasingly, pollute the environment. We hear mostly about ocean plastic and the harm done to marine life that mistakes plastic bags and bits for food. But microplastic is even more worrisome. Plastic doesn't biodegrade but instead breaks down into tiny particles, which have been found in every corner of the planet, on land and in the air, in drinking water and food sources, and, ominously, in the placentas of unborn fetuses.

We don't yet have good data about what that means for human health, but considering the toxins used in manufacturing plastic — benzene, lead, endocrine-interrupting phthalates, just to name a few — it can't be good.

Yet, frustratingly, Congress and past presidents have not given this global environmental disaster the attention it requires. Instead, they have viewed single-use plastic — which constitutes about 40% of plastic used each year — as a litter issue that local governments must solve through better recycling and waste management policies. That attitude must change, because the recent global breakdown of the market for recyclables has made it clear that recycling has never been, nor ever will be, able to keep up with plastic trash use.

What can be done?

That has long been on the minds of environmentalists, who have been lobbying for federal action to reduce disposable plastic for years. To that end, more than 600 environmental, social justice and community organizations have signed on to a sweeping plan that focuses on executive action that Biden can take immediately. So far, Congress has been unwilling to consider serious action on reducing plastic production, perhaps cowed by the powerful petrochemical lobby. The only significant plastic-reduction legislation last year, the Break Free From Plastic Pollution Act, could not even get a hearing in the Senate.

Meanwhile, things are about to get worse. The petroleum industry is pivoting to increased plastic production, with some 30 new plastic-making facilities in the works in the U.S., according to the Center for Biological Diversity. (Among the reasons community and social justice organizations have become involved is that industrial pollution disproportionately affects low-income communities.)

The plan outlines eight steps that include directing federal agencies to use the power of procurement to reduce the amount of disposable plastic they buy, denying permits for expansion of plastic-making facilities and joining international efforts with new or strengthened multilateral agreements aimed at reducing single-use plastic. It's a good blueprint, but Biden's team should also look to California for inspiration.

California has been the leader on reducing plastic waste and was the first state to ban single-use plastic bags (a ban that was temporarily rescinded last year as a pandemic measure) and may well be the first state to transform the way goods are packaged. The state Legislature came tantalizingly close to passing the groundbreaking California Circular Economy and Plastic Pollution Reduction Act in 2020, which would have required that products sold in plastic packaging in the state have a proven recycling or composting rate of 75% by 2032. The proposal is still very much alive, and if the Legislature doesn't pass it in 2021 — though it should — a similar proposal is likely to be on the 2022 statewide ballot.

But California, while influential, can't solve this crisis alone. The U.S. has been a leader in producing plastic trash; it should be a leader in reducing it as well.
OCEAN HEALTH - We have high hopes that the most powerful world leaders will be pushing to secure fish health as part of their food security plans. This of course means ridding us of the plastic menace with a Plan that is technically workable, enforceable and economically sound. Ladies and gentlemen, we give you the 7Seven Point Plastic Plan.
LINKS & REFERENCE
https://www.totum.com/news/river-thames-found-to-have-one-of-highest-levels-of-plastic-pollution-in-the
https://www.bbc.co.uk/news/science-environment-42651480
https://www.gov.uk/government/news/prime-minister-launches-25-year-environment-plan
https://www.bbc.co.uk/news/science-environment-53479635
https://www.latimes.com/opinion/story/2021-01-03/editorial-single-use-plastic-trash-federal-priority
https://foodprint.org/blog/single-use-plastics/
https://www.theargus.co.uk/news/19043415.caroline-lucas-slams-pm-plastic-waste-exports/
http://www.antiatom.org/english/
https://www.ukpol.co.uk/boris-johnson-2020-comments-on-marine-environment/
https://www.ukpol.co.uk/boris-johnson-2020-comments-on-marine-environment/
https://www.theargus.co.uk/news/19043415.caroline-lucas-slams-pm-plastic-waste-exports/
https://www.totum.com/news/river-thames-found-to-have-one-of-highest-levels-of-plastic-pollution-in-the
https://www.bbc.co.uk/news/science-environment-42651480
https://www.gov.uk/government/news/prime-minister-launches-25-year-environment-plan
https://twitter.com/hbriggs
https://www.bbc.co.uk/news/science-environment-53479635
https://www.latimes.com/opinion/story/2021-01-03/editorial-single-use-plastic-trash-federal-priority
https://foodprint.org/blog/single-use-plastics/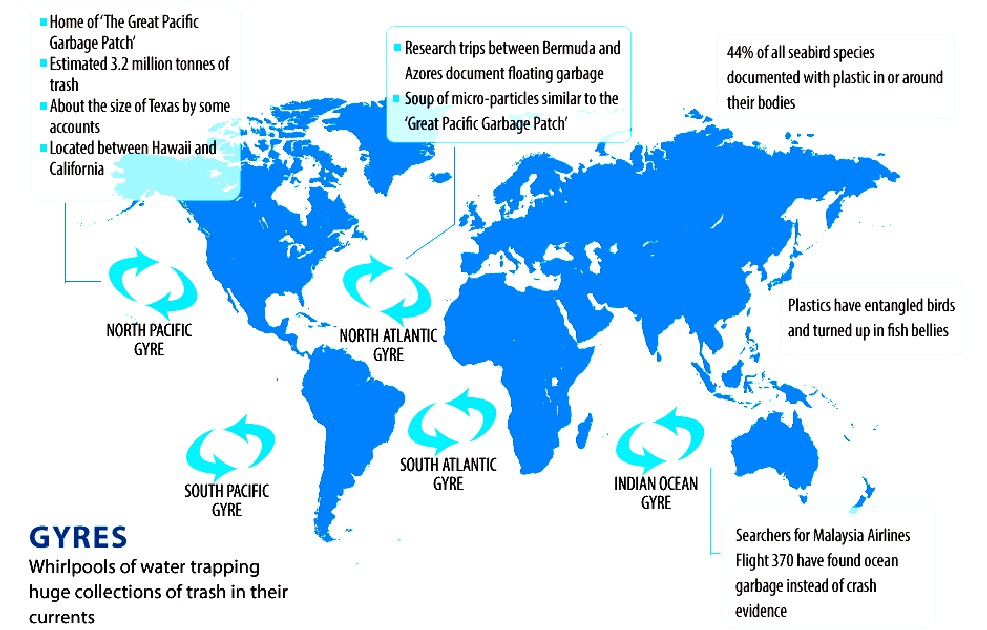 BUILD UP - Plastic has accumulated in five ocean hot spots called gyres, see here in this world map derived from information published by 5 Gyres. unfortunately, with projects like SeaVax being refused funding, there is little hope that our ocean might be flushed clean. What we might hope for is that the United Nations opts for measures to (effectively) ban plastics for single use packaging.
This website is provided on a free basis as a public information service. copyright © Cleaner Oceans Foundation Ltd (COFL) (Company No: 4674774) 2021. Solar Studios, BN271RF, United Kingdom. COFL is a not for profit company without share capital.