BEACHES & CLEANING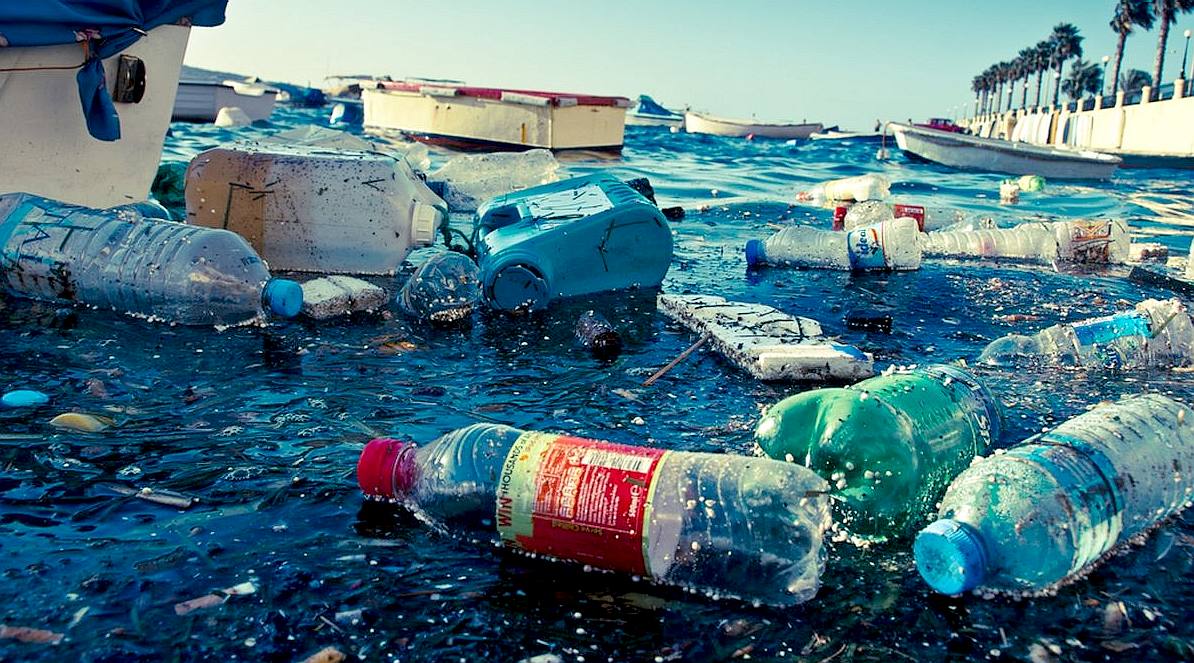 Beach cleaning is a modern phenomenon brought about by members of the public who are so concerned about plastic litter, that they are prepared to give up their time to walk our shores with picking sticks and (ironically) plastic sacks, to rid sections of beaches of whatever the tide and tourists have delivered in the preceding weeks.
At the Foundation we think that is amazing. With the combined efforts of other more 'mass cleanup' projects, we may eventually beat back the tide of plastic that is set to choke marine life, with more plastic in the oceans than fish by 2050, according to authoritative study by the Ellen MacArthur Trust.
Growing from individual volunteers efforts, a number of charities have sprung up all over the world to organise big beach cleaning parties, again all volunteer driven. But even so, compared to the 8 million tons per year emanating from our rivers and coastlines, they cannot hope to keep pace with the output of modern society. Even the efforts of 4Ocean @ 250 tons over 2.5 years is barely scratching the surface.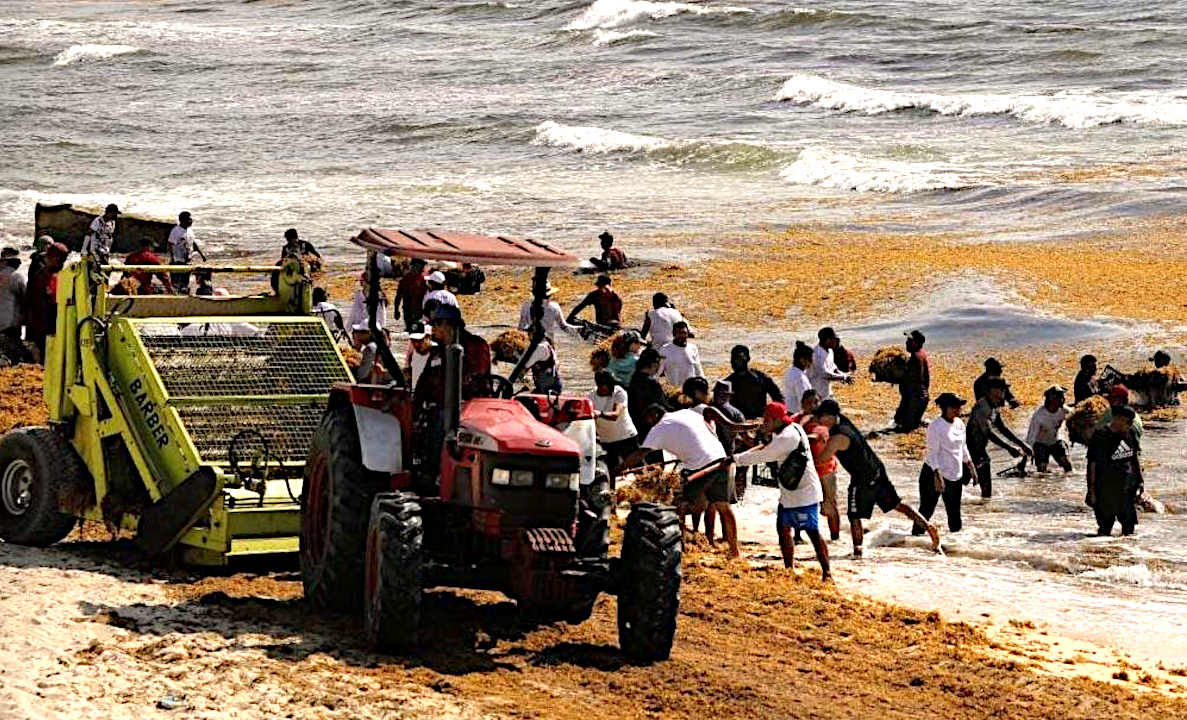 AUGUST 2022 - When it come to beach cleaning, marine litter almost pales into insignificance compared to sargassum in the Caribbean Sea and Gulf of Mexico areas, with the Sargasso Sea producing colossal seaweed blooms of over 24 millions tons this year, an increase over 18 million tons in 2021. It would take a fleet of 300 specially adapted SeaVax-Sagasso™ machines, trawling the North Atlantic, operating at a speed of one load per hour, to deal with such quantities. Clearly, that is not going to happen, where (by way of example) the world would not pay to clean the ocean of plastic, using equivalent fleets. The only sparkle on the brown tinged horizon is that sargassum can be a cash crop. Even so, the sums being bandied about don't come close to managing this crisis. The islanders might form cooperatives, using emergency status to generate sufficient funds to pay for machine like the SeaVax-Calypso™ - to keep their white sands pristine - instead of a rotting health hazard.
BEACH CLEANING STATISTICS
If we multiply the collection ratio by the number of organizations around the world @ 4 big beach cleans per country per year we can begin to see the scale of the problem.
As a toe in the water exercise, we estimated that roughly 150 tons of marine litter is picked up per country (reported and unreported) every year, multiplied by 100 (of 192 coastal) countries = 150,000 tons, as one fiftieth of the incoming or 2%. Boyan Slat's drifting scoops add another 8.33%, taking us to 10.5% if we include other efforts such as the SeaBin.
That is not bad going. Hence, beach cleaning is very likely making a big difference. But 89.5% is flushed out to sea to eventually settle on the ocean bottom, much of it having been ingested by marine life.
For this reason it is vital to note the statistics and ratio of volunteers to plastic collected to define a world wide strategy that is both enduring and cost effective in climate change terms, as well as in added value to the ocean economy.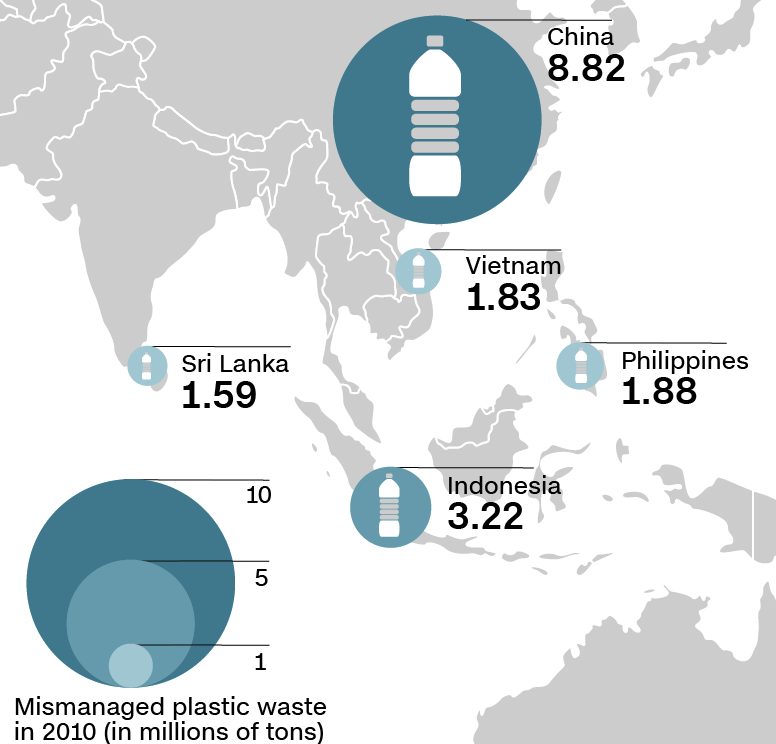 TOP TEN - 1. China 2. Indonesia 3. Philippines 4. Vietnam 5. Sri Lanka 6. Thailand 7. Malaysia 8. Egypt 9. Nigeria 10. Bangladesh
OCEAN CRUSADERS
The Australian 'Ocean Crusaders' clean beaches and islands so that their wildlife is safe, also for the benefit of humans when they are cleaner and safer.

These community Beach and Island Clean Ups are usually large scale events. We often join forces with other groups as many hands make light work. Ocean Crusaders try to run events on an annual basis. Events include:

* 4WD Qld Associations Fraser Island Clean Up – Ocean Crusaders conducts the audit on the debris as 900 volunteers from 4WD clubs clean the beach. In 2018 900 volunteers removed nearly 7 tonne in just 6 hours.

* Moreton Island Clean Up – This is a joint venture between many companies that run tourist activities on the island. We clean the Eastern Beach

* Surfrider Foundations Double Island Point Clean Up occurs twice a year and we join them as we remove debris washed up and left by campers.

* Orpheus Island (off Townsville) – Is part of the Great Barrier Reef Marine Debris Project run by our friends at Tangaroa Blue. We clean Orpheus and the Fantome Island, camping on the island and cleaning every day before washing off in the crystal clear waters off Yanks Jetty.

* Green Island Clean Up (Moreton Bay) – is a regular clean up for Ocean Crusaders that sees volunteers head to the island for a morning of debris removal.

* St Helena Island Clean Up (Moreton Bay) – sees volunteers clean the island and have a quick tour through the historic ruins before returning to the mainland where we host the Moreton Bay Environmental Expo showcasing all the local environmental groups looking after our bay.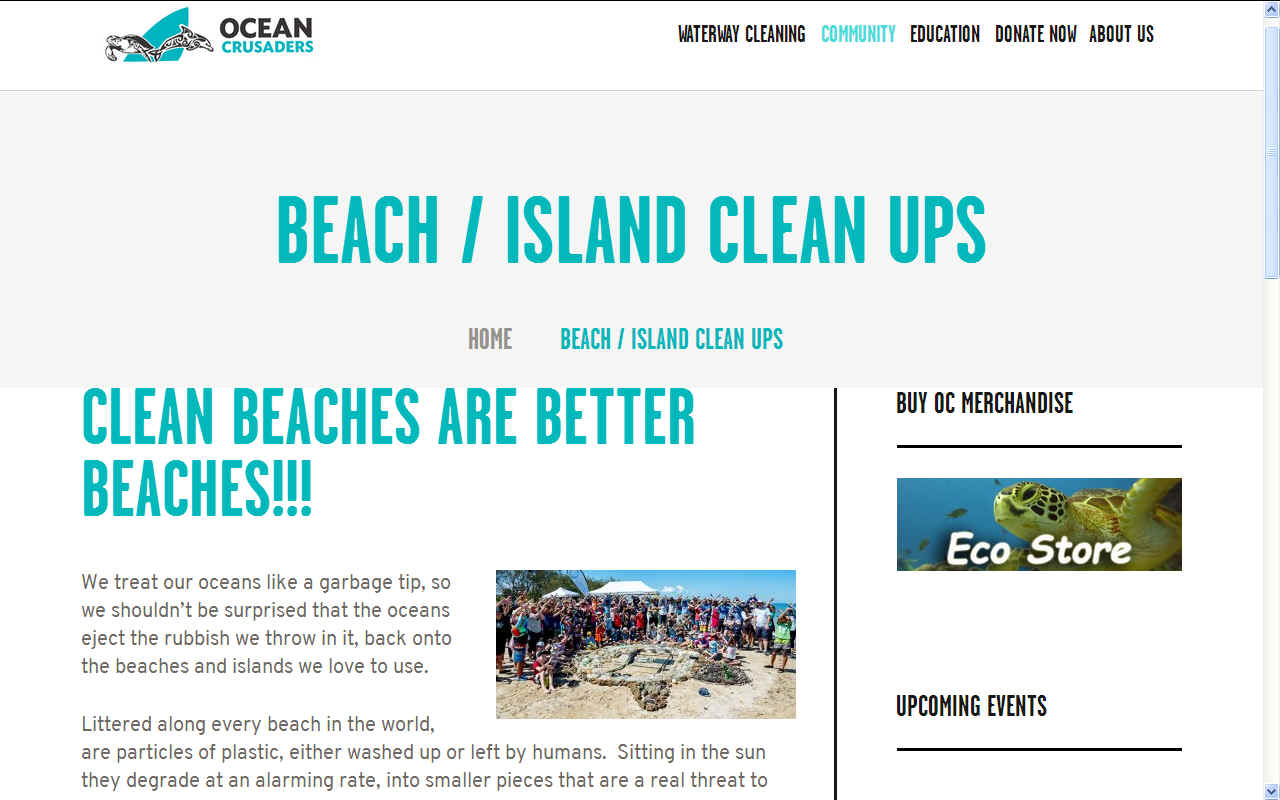 FAST FOOD SLOW DEATH - It's not just fast food, it is our exploitative society that is poisoning the planet, without thought for the consequences. We've been living at artificially low prices at the expense of killing other life on earth. Eat cheap now and suffer expensively later, with health services picking up the tab and costing the taxpayer more than if we'd dealt with ocean dumping up front. We are talking here about the consequences of eating toxic fish. Technically, it is possible to remove plastic from seawater. There are two projects currently trying to achieve this, the Ocean Cleanup Projects of Boyan Slat and his giant floating booms, and the Cleaner Ocean Foundation and SeaVax.
CARBON & PLASTIC FOOTPRINTS
In collecting plastic from our beaches would it be better to use diesel powered cleaners or humans?
Diesel engines add to global warming and spew particulates, whereas humans eat food and drive cars to get to the beaches, so adding to global warming.
Then we might consider electric cleaners that are solar powered !!!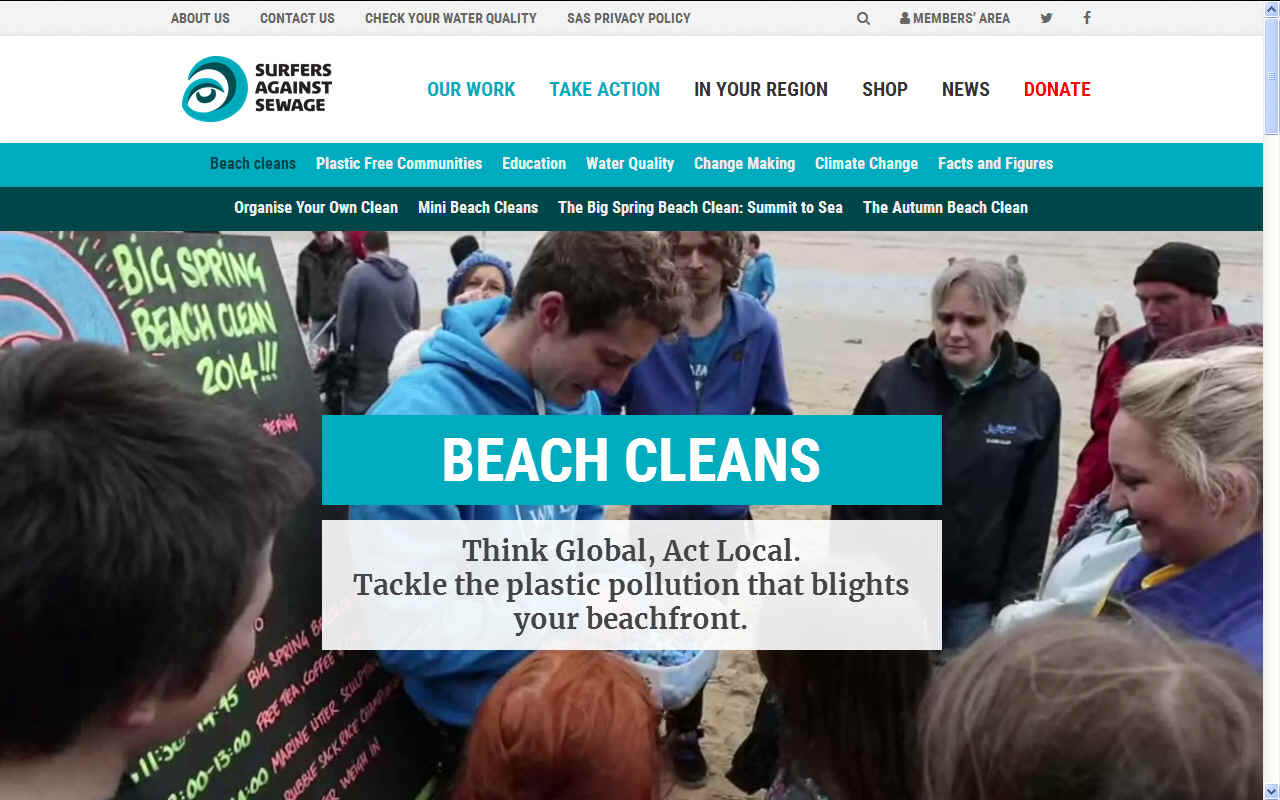 SURFERS AGAINST SEWAGE
Surfers Against Sewage host two huge volunteer led Beach Clean events every year - the Big Spring Beach Clean and the Awesome Autumn Beach Clean. Thanks to 35,500 people volunteering the 2018 Big Spring Beach Clean saw this group remove over 63 TONNES of marine plastic pollution and litter from 575 beaches across the UK.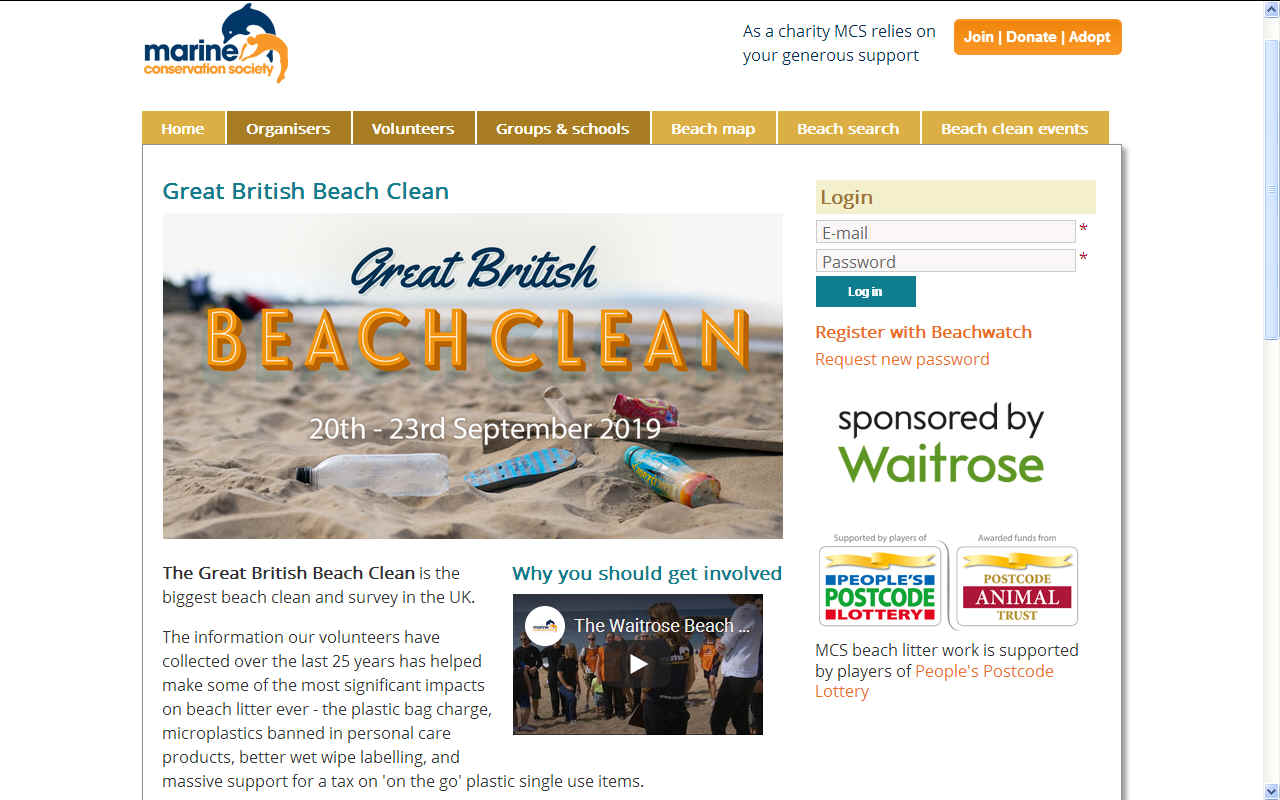 MARINE CONSERVATION SOCIETY - GREAT BRITISH BEACH CLEAN
According to their website between the 14th and 17th of September 2018, thousands of people headed to hundreds of UK beaches with one thing in mind – to make a dent in the amount of litter covering our coastline.

Just short of 15,000 volunteers - double the number in 2017 – cleaned up and surveyed 494 beaches around the UK coast (155 more than in 2017), making the 2018 Great British Beach Clean the biggest ever.
Finally, beach cleaning is cool and mainstream - and we're delighted - we've waited 25 years for this moment!

Our volunteers picked up 8,550 kgs of litter across the whole of the UK – that's about three times as heavy as the tongue of a blue whale – the largest animal ever known to have lived on earth!

There were, on average, a staggering 600 items of litter on every 100 metres of beach that were cleaned and surveyed.

So what's next? The public know how important pollution-free beaches and seas are, now we must ride on this momentum and ensure governments make the right decisions when it comes to stemming the single-use plastic tide.
BEACH CLEANING IN THE USA
Beach Clean-Ups help the Local Economy – Beaches are an ideal tourist attraction. By helping maintain the highest standards, and keep our beaches clean, we can ensure that tourists continue to visit local beaches.
The revenue generated from the support of tourists is essential to the local population, whose main source of revenue revolves around tourism and fishing. Coastal tourism and commercial fishing are a vital part of the Texas economy, contributing about $8.9 billion per year.

Beach Clean-Ups help keep the Ocean clean too –

Due to tide patterns in the Gulf of Mexico, trash dumped anywhere in the gulf is likely to end up on a Texas beach. During periods of high tide, the ocean may also sweep some of the trash or debris that has been left on the beach back into the sea. This in turn puts marine wild life in danger.
Beach clean-ups help reduce this risk towards the survival of marine wild life, and helps the overall marine system remain a little safer and healthier for all.

Beach Clean-Up Volunteers can make a Global difference –

Volunteers through state programs, such as the Texas General Land Office's "Texas Adopt-A-Beach" program, can record information such as the source and type of debris collected on data cards provided by Ocean Conservancy. The data that has been collected over time has been instrumental in the passage of international treaties and laws aimed at reducing the amount of offshore dumping.

Beach Clean-Ups and Texas – The first beach clean-up to be sponsored by the state of Texas occurred in 1986. Since then, over 400,000+ people have volunteered to clean up beaches across Texas, through the "Texas Adopt-A-Beach" program, and have collected over 8,000 tons of trash over a span of twenty-six years.
Among the earliest and most renowned beach cleanup in Texas was one organized by Linda Maraniss, a former employee of Ocean Conservancy (then known as the Center for Environmental Education). Being appalled at the amount of trash she saw on a trip to the beaches of South Padre in 1986, she would team up with like-minded people to organize a beach cleanup. In a mere two hours, 2,800 Texans would pick up 124 tons of trash along 122 miles of coastline.

First state-wide Beach Clean-Up in the World – In 1984, Judy Nielson, an employee of the Oregon Department of Fish and Wildlife (ODFW), would attend a conference on plastics in the marine environment. This conference led her to conceive the idea of statewide volunteer beach cleanups to raise awareness of the proliferation of plastic debris in the environment.
The world's first statewide volunteer beach cleanup would be held on October 13, 1984, under the title "Plague of Plastics". Local coastal garbage haulers would volunteer to haul all the collected debris to local landfills at no charge. In all, 2,100 volunteers removed 26.3 tons of debris at that first beach cleanup.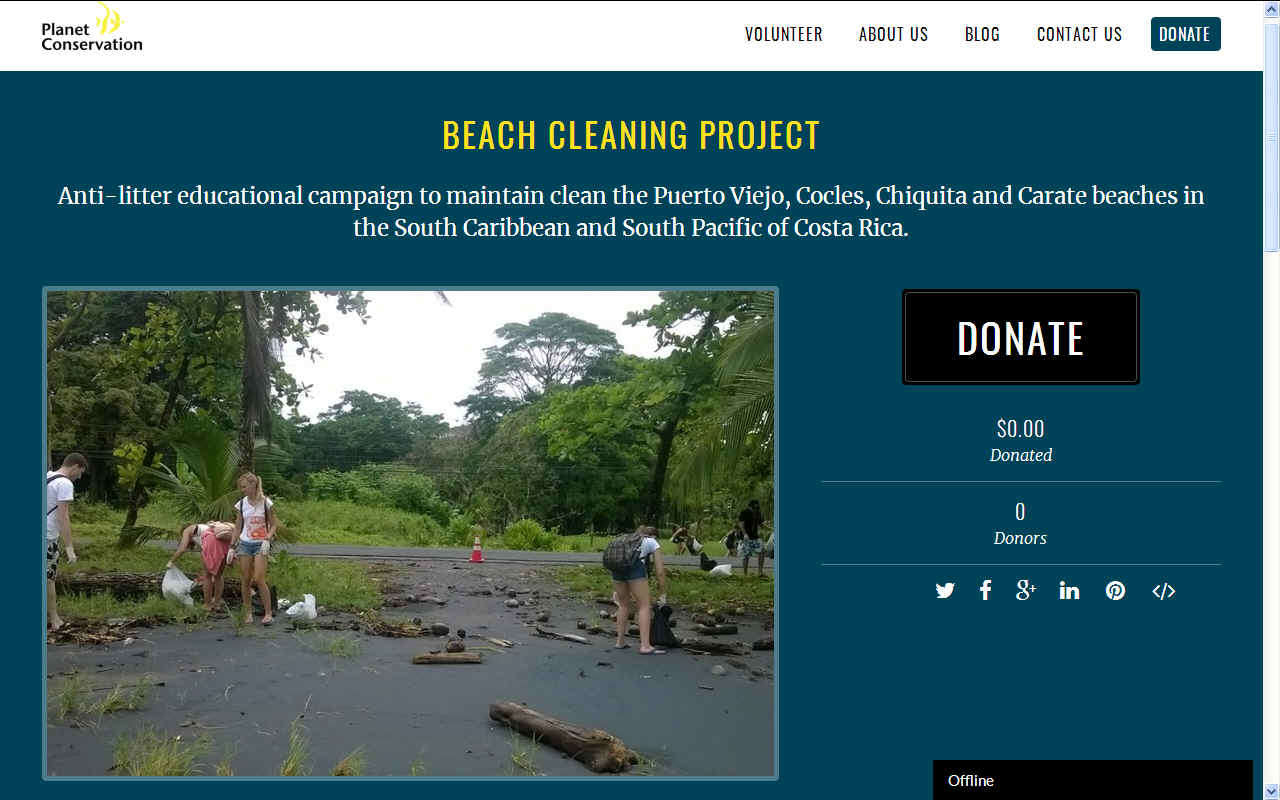 PLANET CONSERVATION ANTI LITTER CAMPAIGN 2017

The proposed project is a long-term anti-litter educational campaign, which addresses the litter problems on the Puerto Viejo, Cocles and Chiquita beaches in the South Caribbean of Costa Rica, and the Carate beach in the South Pacific by targeting both residents and visitors of these areas.
THE FIVE Rs

Refuse, Reduce, Reuse, Recycle, and Repair
BEACH CLEANING A - Z
CLEETHORPES JUNE 8 2019 - WORLD OCEANS DAY 2019
LINKS & REFERENCE
https://www.terracycle.com/en-GB/brigades/beach-plastic-programme
https://www.planetconservation.org/campaigns/beach-cleaning-project-2017/
http://oceancrusaders.org/beach-cleaning/
https://www.countryfile.com/go-outdoors/beach-cleaning-events-to-join-in-the-uk/
http://www.beachcleaner.com/
http://www.beachcleanercayman.com/about-us/
https://beachclean.net/about
https://www.nationaltrust.org.uk/features/beach-cleans
https://www.mcsuk.org/beachwatch/greatbritishbeachclean
https://www.sas.org.uk/our-work/beach-cleans/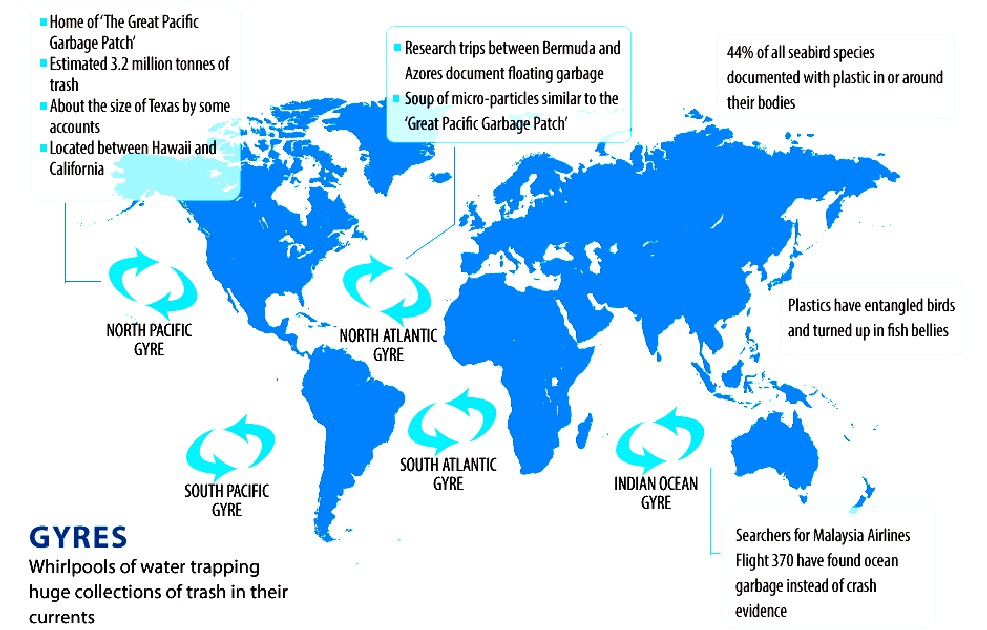 BUILD UP - Plastic has accumulated in five ocean hot spots called gyres, see here in this world map derived from information published by 5 Gyres. All that plastic just floating around is a huge waste of resources in a sustainable sense, where we should be aiming for a circular economy.
PLEASE USE OUR A-Z INDEX TO NAVIGATE THIS SITE
ABS - BIOMAGNIFICATION - CANCER - CARRIER BAGS - COTTON BUDS - DDT - FISHING NETS - HEAVY METALS - MARINE LITTER - MICROBEADS
MICRO PLASTICS - NYLON - OCEAN GYRES - OCEAN WASTE - PACKAGING - PCBS - PET - PETROLEUM - PLASTIC - PLASTICS - POLYCARBONATE
POLYOLEFINS - POLYPROPYLENE - POLYSTYRENE - POLYTHENE - POPS - PVC - SHOES - SINGLE USE - SOUP - STRAWS - WATER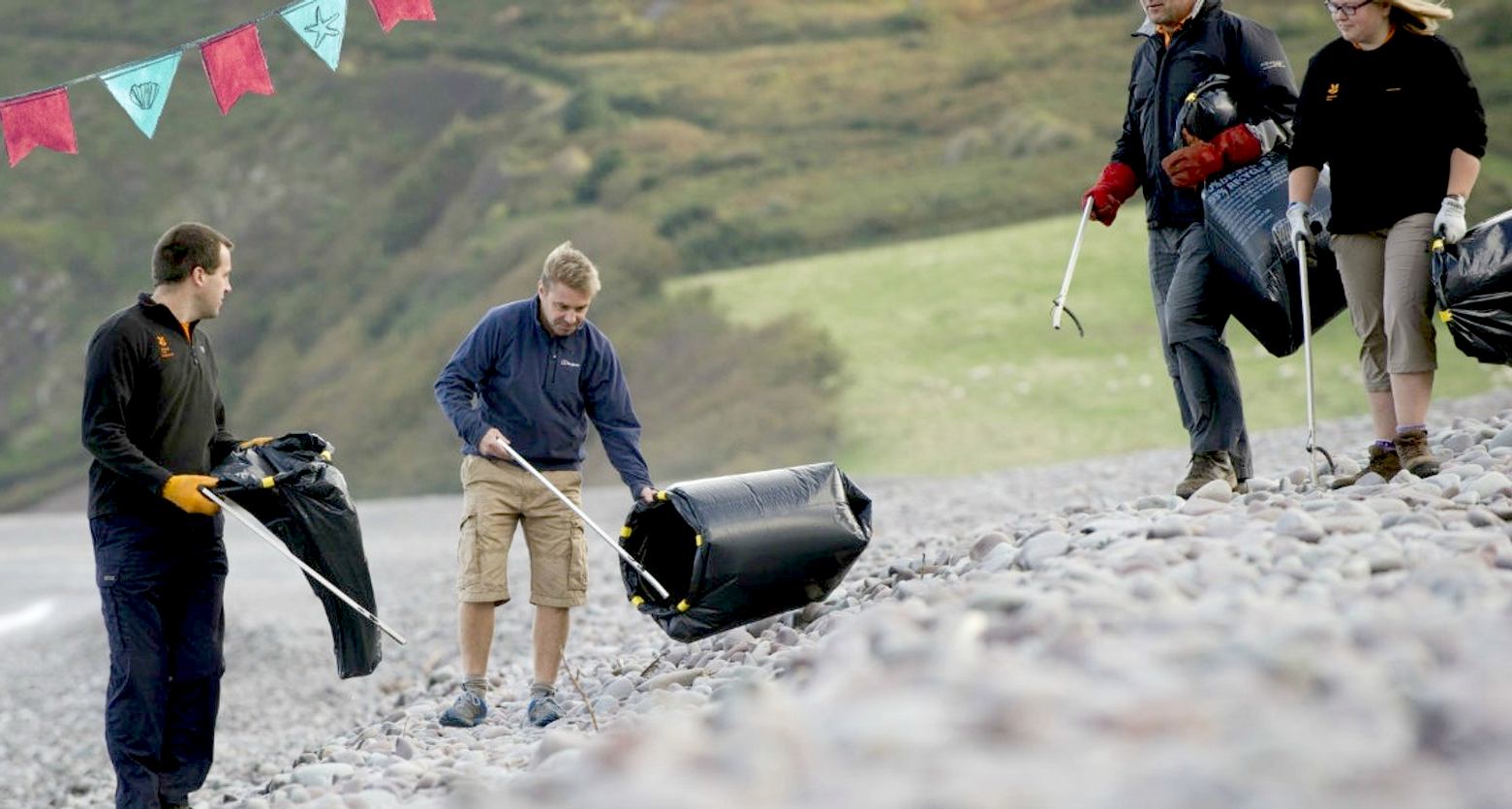 BIOMASS - BUILDING MATERIALS - CANCER - CLOTHING & SHOES - CO2 SEQUESTRATION - COSMETICS
FERTILIZERS - FOODS - MEDICINES - MINERALS - PACKAGING - SUPPLEMENTS - VITAMINS
This website is provided on a free basis as a public information service. copyright © Cleaner Oceans Foundation Ltd (COFL) (Company No: 4674774) 2022. Solar Studios, BN271RF, United Kingdom. COFL is a company without share capital.