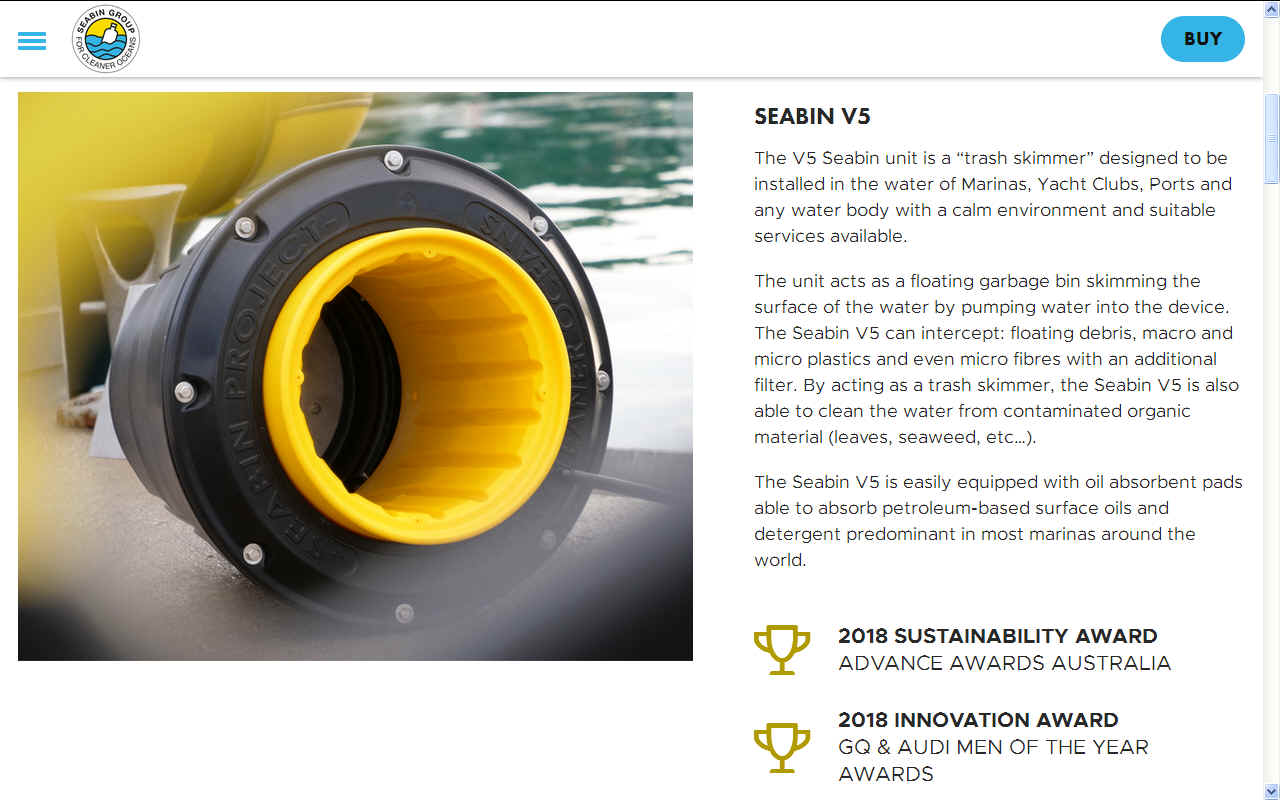 OCEAN SALVAGE - The V5 Seabin unit is a "trash skimmer" designed to be installed in the water of Marinas, Yacht Clubs, Ports and any water body with a calm environment and suitable services available.

The unit acts as a floating garbage bin skimming the surface of the water by pumping water into the device. The Seabin V5 can intercept: floating debris, macro and micro plastics and even micro fibres with an additional filter. By acting as a trash skimmer, the Seabin V5 is also able to clean the water from contaminated organic material (leaves, seaweed, etc…).

The Seabin V5 is easily equipped with oil absorbent pads able to absorb petroleum-based surface oils and detergent predominant in most marinas around the world.
A BIG HELP
According to their website, one Seabin can capture an estimated 1.4 tons of debris a year at a cost of $1,095 dollars. Assuming that energy is from wind turbines and solar farms, it would also be climate friendly.

Water is sucked in from the surface and passes through a catch bag inside the Seabin, with a submersible water pump capable of displacing 25.000 Lph (liters per hour), plugged directly into either a 110V or 220V outlet. The water is then pumped back into the marina leaving litter and debris trapped in the catch bag.

The Seabin can catch an estimated 3.9 Kgs of floating debris per day or 1.4 tons per year (depending on weather and debris volumes) including micro plastics down to 2 mm small.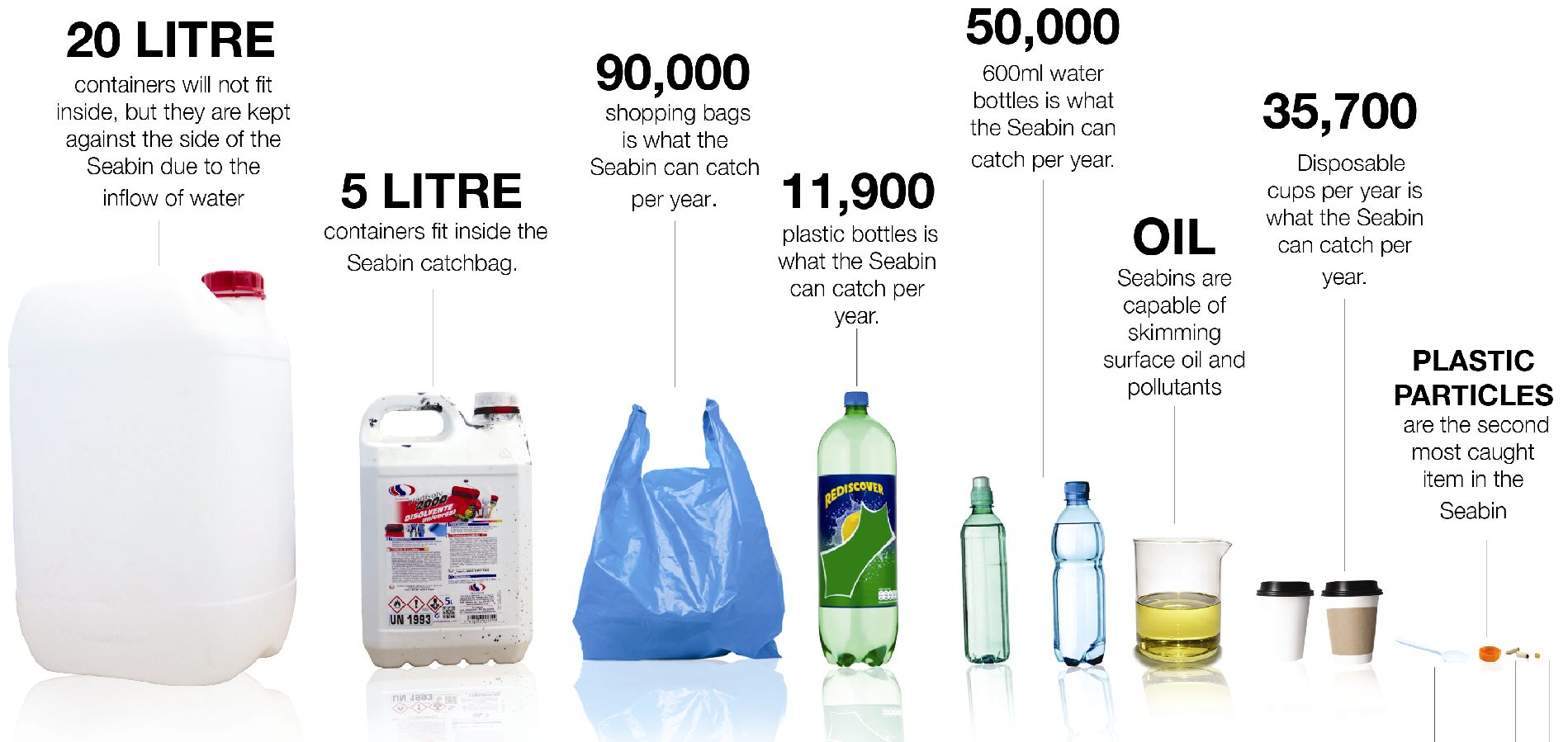 WHAT CAN IT HANDLE - Up to 5 litre plastic container, PET soft drink bottles and disposable Styrofoam (expanded polystyrene) cups. Not bad!
OCEAN CLEANUP PROJECTS A - Z
* Adidas
* Algalita research foundation
* Aliance to end Plastic Waste AEPW
* Baltimore Mr Trash river cleaning barge
* BAN - Basel Convention Action Network
* Boyan Slat's ocean booms
* CLAIM H2020 EU marine plastic project
* Earth Day - Fact sheet ocean plastic
* Fionn Ferreira's ferrofluid extraction of microplastics
* FlashLight Press Michelle Lord & Julia Blatt
* GRIPS - Global Research & Innovation in Plastics Sustainability
* Interceptor tethered river cleaning barges
* Junk Raft - plastic awareness voyage
* Kids Against Plastic Tat KAPTAT
* Miss Ocean - Plastic Awareness Events
* 4Ocean recycled plastic bracelets
* Nike - Sneakers from recycled materials, ocean spills
* Plastic Oceans Org
* Seabin
* SeaVax autonomous drones
* Surrey University PIRATE & Triton
* WRAP - Waste & Resources Action Programme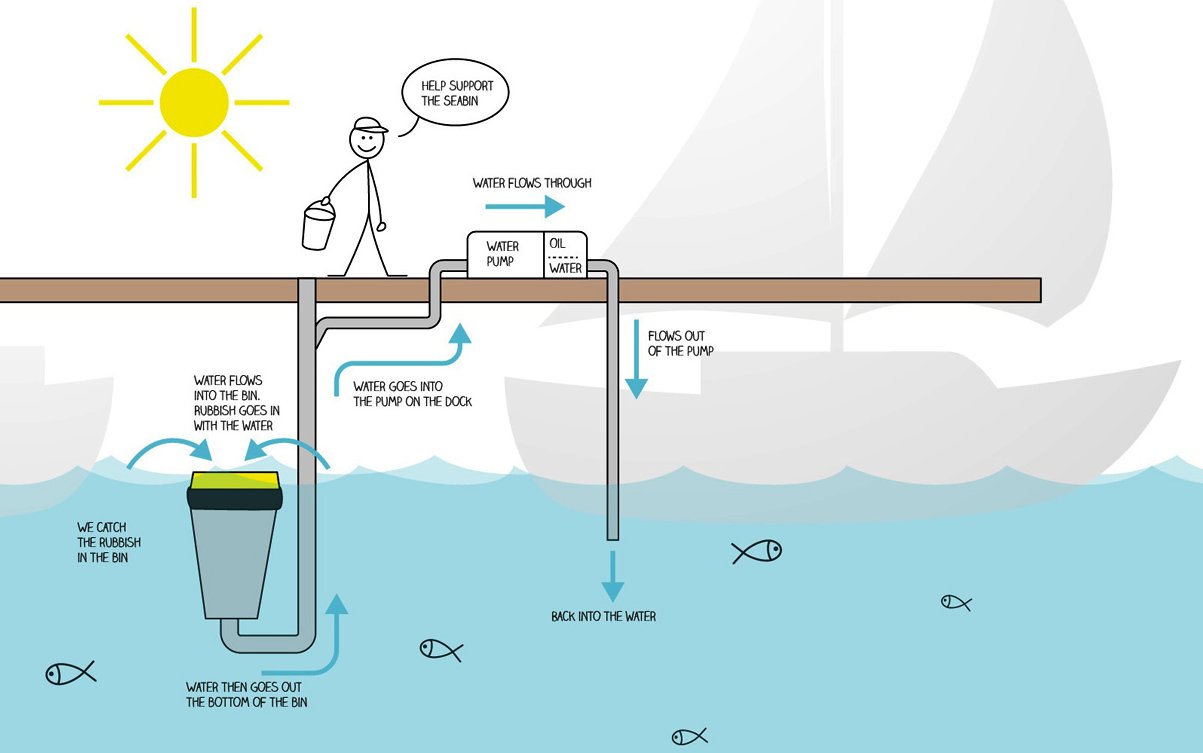 SeaBin are not alone in the fight against ocean plastic. These emerging technologies could all play a part in containing the mountain of plastic that is accumulating on the oceans floors, by recovering floating debris before it sinks. New ideas are welcomed.
LINKS & REFERENCE
https://seabinproject.com/

DAILY CATCH - These units can capture cigarette butts and micro fibers, with oil a possibility with the right filters.