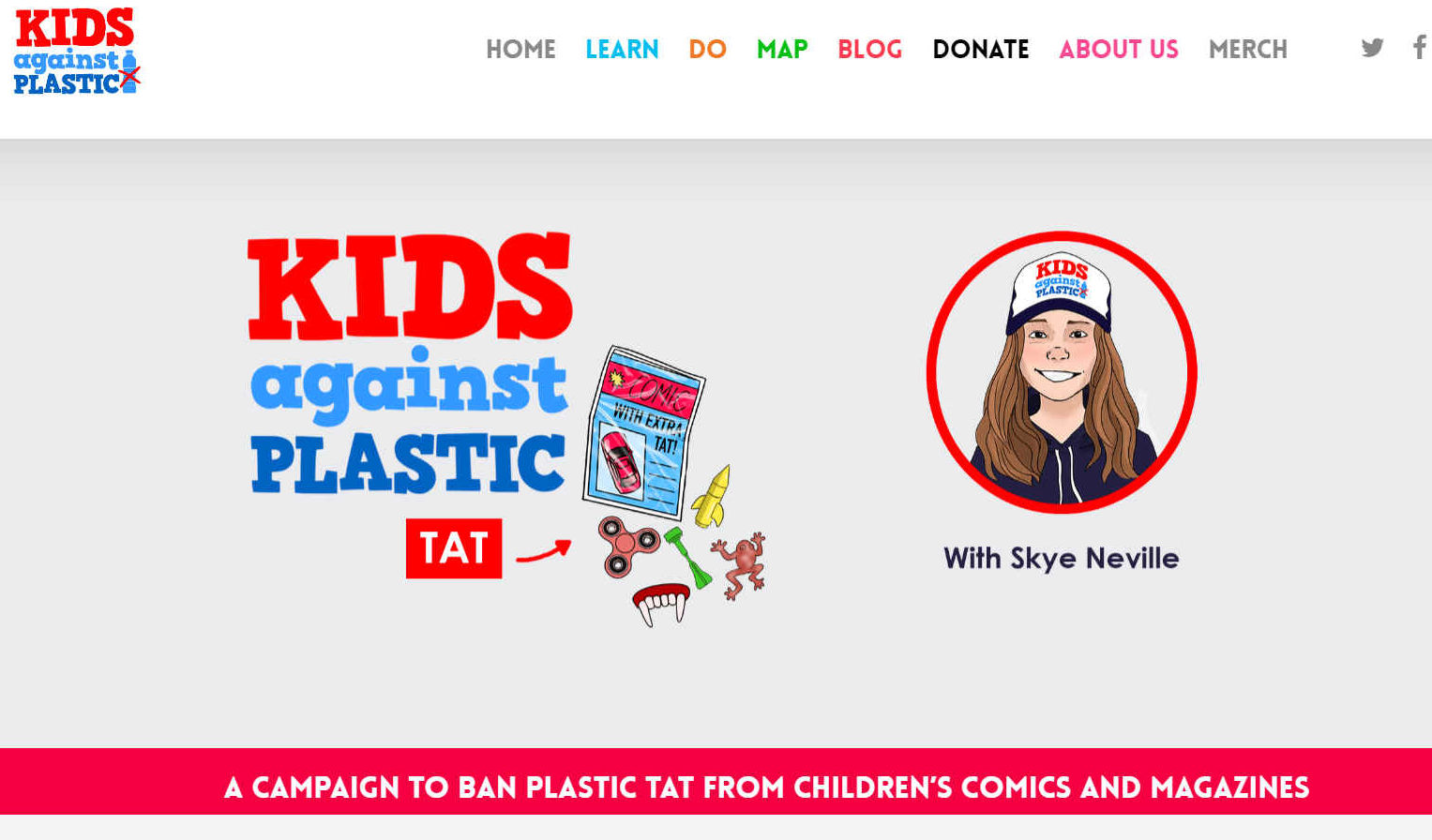 Gifts that come with comics and magazines are not free. They are enticements that are worked into the purchase price, to help the publishers make a profit. There is nothing wrong with creative marketing, but when it hurts the planet, readers may want to think about that. Publishers could offer other frills, not made of a material that kills marine life, or ends up in landfill sites.
KAPtat is short for Kids Against Plastic tat, with tat being the pointless throwaway plastic toys that magazine publishers add to their comics and magazines.

Not only are the toys themselves pretty rubbish – hence the term 'tat' – they are made from cheap plastics that are not commonly recycled and often end up in landfill, incineration or littered in the environment. Due to the significant numbers of comics and magazines sold – and therefore tat produced (from oil) – they also impact on the climate crisis.

Kids Against Plastic's very own CCO (Chief Campaign's Officer), Skye Neville, is leading the fight against plastic tat, and Kids Against Plastic are proud to be supporting her.
Kids Against Plastic aims to help young people (and not so young people) to learn about environmental issues such as plastic pollution and the Climate Crisis.

Through free resources, initiatives and the awesome KAP Club, we try to inspire and empower others into action.

ABOUT KIDS AGAINST PLASTIC
Founders, Amy and Ella Meek (sisters) set up Kids Against Plastic (KAP) back in 2016, after studying the UN's Sustainable Development Goals and discovering the issue of plastic pollution. Their mission to make a difference started out as a home-school project and has since become an award-winning charity.

Since starting KAP, Amy and Ella have worked hard to inspire children, engage politicians, business leaders and academics, and to motivate individuals, families, schools, cafes and businesses to become more discerning users of single-use plastic – or become 'Plastic Clever', as they call it. The Plastic Clever positive award scheme has been adopted by over 1300 schools and over 50 cafes, businesses, and festivals around the UK. The girls have also talked at various events internationally (including giving their own TEDx talk in 2018 and speaking at the Young Activists Summit in the UN Geneva in December 2019), as well as at schools around the UK. Plus, they have collected over 100,000 pieces of plastic litter along the way!

Amy and Ella were the first ever recipients of the Pride of Britain Green Champions award in 2021, were recognised with BEM honours in the 2022 New Years Honours list, and have two books published by Dorling Kindersley: Be Plastic Clever, and Be Climate Clever. Through the book, their campaigning, and activism, they hope to inspire other young people to find, and use, their voices to bring about the positive changes they want to see in the world.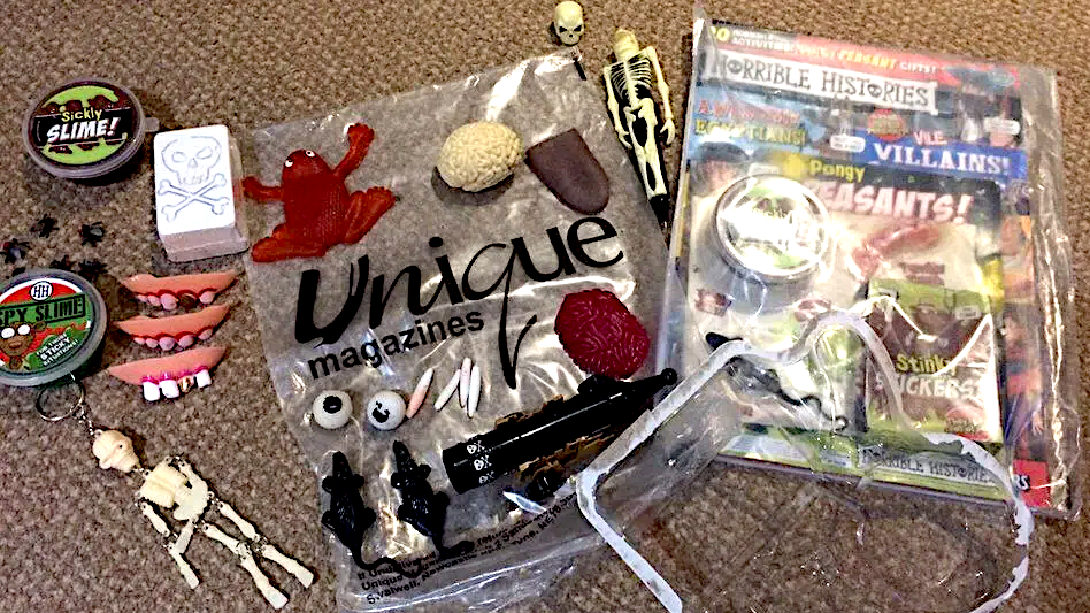 Some examples of the plastic toys sold with comics and magazines, all collected by Skye Neville, who enjoys a good read, but not the packaging that comes with it. This is a virtual Hall of Shame.
Although the British comics industry had long offered free gifts on "boost" issues to promote their titles, it was some supermarket chains that demanded they feature on every issue, leading to unwelcome polybags and other plastic detritus on shelves – and creating a barrier to reading before buying.

(Fortunately, title's such as BEANO and The Phoenix have resisted this push, meaning the former has been able to keep its cover price relatively low in comparison to potential rivals. Waitrose was one of the first retailers to stock The Phoenix on its shelve).

Waitrose says it was inspired to act after hearing about the campaign by Skye Neville, a 10-year-old girl from Gwynedd, who has launched her own campaign to persuade publishers to end the practice.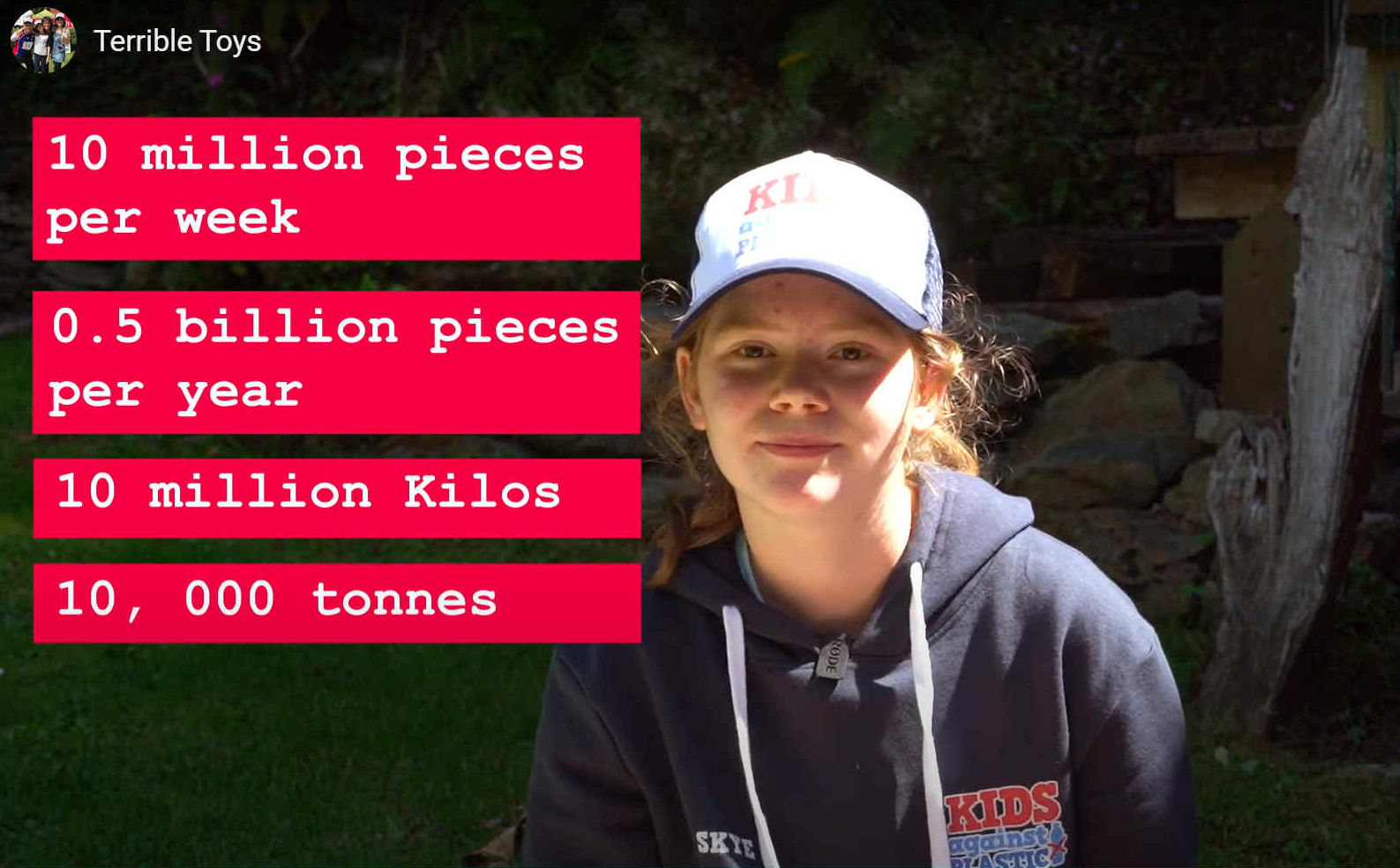 This is an example of Red Growth, the opposite of Blue Growth. A practice that is not sustainable, using up fossil fuels to heat the climate, and poisoning fish stocks, so representing a significant risk to food security.
Skye's campaign against plastic toys already has support from politicians, Surfers Against Sewage, Kids Against Plastic and the Welsh government, who say her efforts could help Wales to become waste free. Earlier this month, Dwyfor Meirionnydd MP Liz Saville Roberts also tabled an Early Day Motion before the UK Parliament, in an effort to further highlight Skye's campaign.

The retailer, which has over 300 stores across the UK, has highlighted that the free plastic toys have a very short lifespan and cannot be easily recycled, and has decided to lead the way in removing them from its supermarket shelves over the next eight weeks and instead calling for magazine publishers to replace plastic toys with more sustainable alternatives.

The ban will not include educational or reusable craft items, such as colouring pencils and pens or collectable models which are intended to be used multiple times.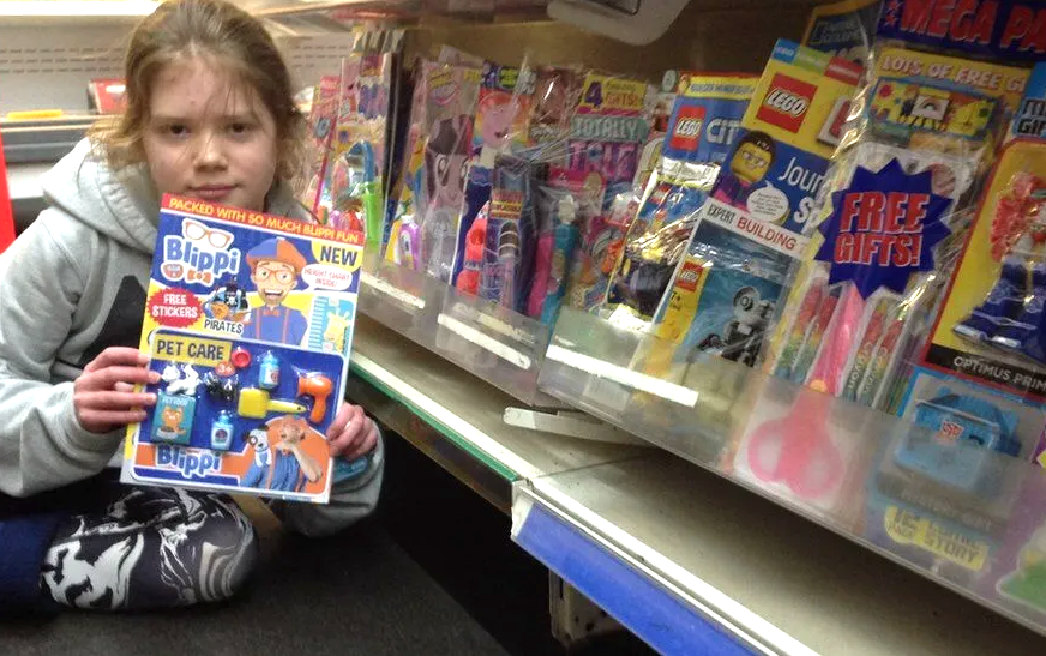 "I really enjoy reading the magazines, I particularly like Horrible Histories," says Skye, "but I just want the magazine, I don't want or need the cheap plastic toys which are either played with for a few minutes or break on the first use and then thrown away. Any 'gifts' that the magazines offer should be sustainable and ethical so that we can protect our planet for us and future generations."
Marija Rompani, Partner & Director of Ethics & Sustainability, Waitrose said: "While we know these magazines are popular with children, some of the unnecessary plastic attached to them has become really excessive.

"Many in the younger generation really care about the planet and are the ones inheriting the problem of plastic pollution. We urge publishers to find alternatives, and other retailers to follow our lead in ending the pointless plastic that comes with children's magazines."

In 2019, Waitrose also announced it would stop selling Christmas crackers containing plastic toys from 2020 as part of plans to cut down on single-use plastic. Instead crackers are now filled with toys made from recyclable materials and do not use plastic glitter.

Waitrose is tackling single-use plastic across its entire business and is on track to making all own-label packaging widely recycled, reusable or home compostable by 2023.

The supermarket recently ranked first in Greenpeace's annual league table, for the second year in a row, which looks at how supermarkets are reducing use of single-use plastics. [We've not noticed any change - it's plastic as usual]

Skye has written to many publishers asking them to end the practice, highlighting titles such as Peppa Pig, LOL Dolls, My Little Pony and Mr Men.

"These toys will be made in China, wrapped in plastic, put on a pallet wrapped in more plastic," she told the BBC earlier this month, "sent across the world, unwrapped, stuck on a magazine and covered in more plastic, and then shipped to houses.


"The carbon footprint is big and you are putting it straight in the bin to pollute the planet."

Children's plastics campaign's have been successful in the past. In 2019, responding to a huge online campaign, Burger King stopped including plastic toys in their children's meals and McDonald's gave children options of books with Happy Meals, after a campaign by two sisters. [Burger King and McDonalds are doing well, and customers have noticed - nice one]

Kennedy Publishers, publishers of titles such as Barbie, Box of Bing, Mr. Men and others, say they are "working very hard to make their magazines environmentally friendly", and their magazines are made from paper from sustainable forests, while the packaging is made using recyclable materials. In a letter to Skye, the publisher also said the plastic toys were recyclable in "some areas" and were an important part of the magazine and not intended for single use.

But Skye told the BBC she would like to see the toys removed altogether and all magazines made from paper, unwrapped or wrapped in paper, to reduce excess packaging. We presume that fully compostable, biodegradable packaging would also be acceptable.

"If you saw it in a toy department you wouldn't buy it," said Skye, who keeps the toys in a box to show people how many she is sent, rather than throwing them away.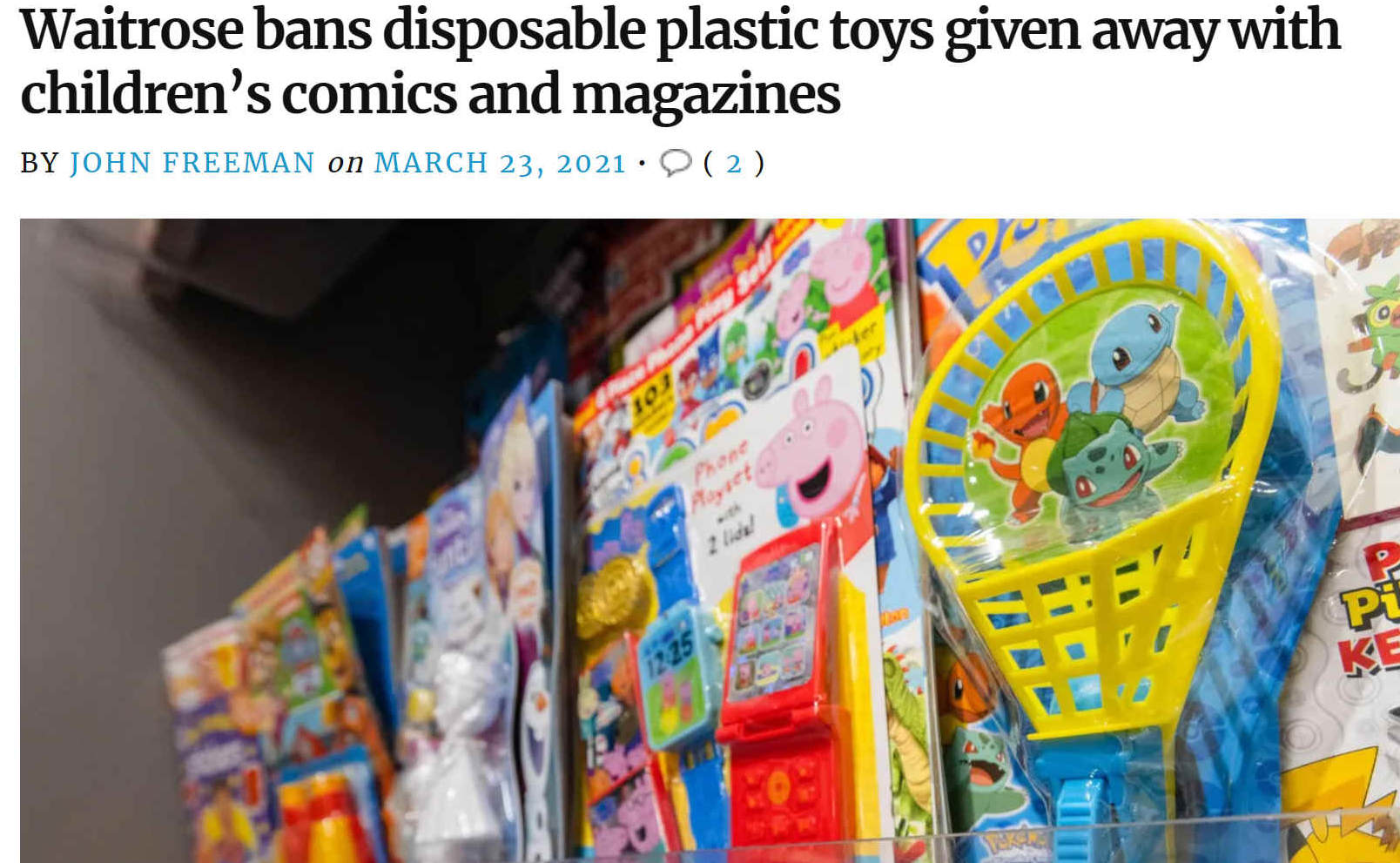 OCEAN CLEANUP PROJECTS A - Z
* Adidas
* Algalita research foundation
* Aliance to end Plastic Waste AEPW
* Baltimore Mr Trash river cleaning barge
* BAN - Basel Convention Action Network
* Boyan Slat's ocean booms
* CLAIM H2020 EU marine plastic project
* Earth Day - Fact sheet ocean plastic
* Fionn Ferreira's ferrofluid extraction of microplastics
* FlashLight Press Michelle Lord & Julia Blatt
* GRIPS - Global Research & Innovation in Plastics Sustainability
* Interceptor tethered river cleaning barges
* Junk Raft - plastic awareness voyage
* Kids Against Plastic Tat KAPTAT
* Miss Ocean - Plastic Awareness Events
* 4Ocean recycled plastic bracelets
* Nike - Sneakers from recycled materials, ocean spills
* Plastic Oceans Org
* Seabin
* SeaVax autonomous drones
* Surrey University PIRATE & Triton
* WRAP - Waste & Resources Action Programme
As you can see from the list above, Skye Neville and Kids Against Plastic, are not alone in the fight against plastic waste in our oceans ....
LINKS & REFERENCE
www.kidsagainstplastic.co.uk
https://www.kidsagainstplastic.co.uk/do/kaptat/