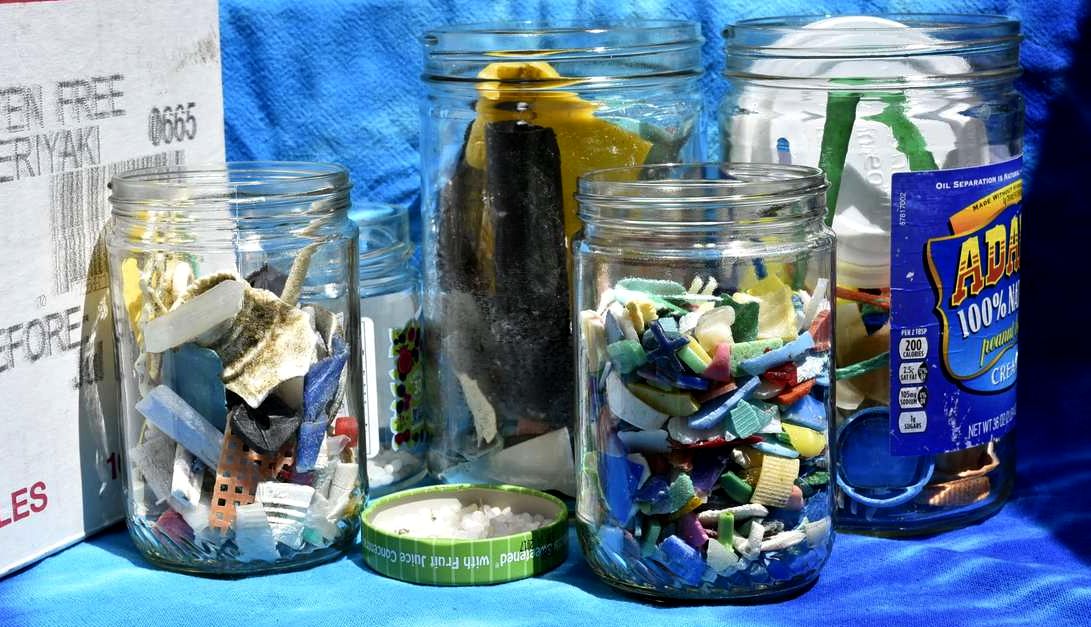 .....
According to their website, right now an estimated 12.7 million tonnes of plastic – everything from plastic bottles and bags to microbeads – end up in our oceans each year.
That's a truck load of rubbish a minute.

Travelling on ocean currents this plastic is now turning up in every corner of our planet – from Cornish beaches, to uninhabited Pacific islands. It is even being found trapped in Arctic ice.

Our oceans are slowly turning into a plastic soup and the effects on ocean life are chilling. Big pieces of plastic are choking and entangling turtles and seabirds and tiny pieces are clogging the stomachs of creatures who mistake it for food, from tiny zooplankton to whales.
Plastic is now entering every level of the ocean food chain and even ending up in the seafood on our plates.

But it doesn't have to be this way. Greenpeace is campaigning to end the flow of plastic into our oceans.

We are calling on big corporations to act to reduce their plastic footprint – and stop producing excessive plastic packaging that is designed to be used once then thrown away.

We are also calling on governments to act to tackle this problem, by creating closed loop systems that allow us to recover and reuse materials rather than waste them.

It's not too late – if we act together now we can protect the world's precious oceans for future generations.
RIVER MERSEY JUNE 2019

With 2 million microplastics per square kilometre the River Mersey was proportionally more polluted than even the Great Pacific Garbage Patch – widely considered to be the most polluted expanse of water on earth. When processing the samples, I remember thinking that this was an outrageous amount of microplastics, just hundreds and hundreds of microplastics nestled among the twigs, leaves and feathers that were also making their way down the river.

During this campaign we witnessed voles eating plastic, swans using it to build their nests, and caddisfly larva using it to make their protective casings.

Here's a quick summary of our findings:

All 13 UK rivers tested contained microplastics.

A total of 1,271 pieces of plastic, ranging in size from straw and bottle-top fragments to tiny microbeads less than 1mm across.
The River Mersey was proportionally more polluted than the Great Pacific Garbage Patch – containing equivalent to 2 million pieces of microplastic per square km.
Five out of 13 rivers contained microbeads – which were partially banned in 2017!
More than half the rivers tested contained plastic pellets called 'nurdles', which are used as a raw material in the production of plastic products.

How did we do it?

We used a manta net (resembling a manta ray, hence the name) to collect surface water samples across 13 rivers in England, Wales, Northern Ireland and Scotland. We tested a minimum of two locations on each river and once the sample was retrieved and jarred up, they were sent for analysis at our Greenpeace laboratory at the University of Exeter.
OCEAN CLEANUP PROJECTS A - Z
* Adidas
* Algalita research foundation
* Aliance to end Plastic Waste AEPW
* Baltimore Mr Trash river cleaning barge
* BAN - Basel Convention Action Network
* Boyan Slat's ocean booms
* CLAIM H2020 EU marine plastic project
* Earth Day - Fact sheet ocean plastic
* Fionn Ferreira's ferrofluid extraction of microplastics
* FlashLight Press Michelle Lord & Julia Blatt
* GRIPS - Global Research & Innovation in Plastics Sustainability
* Interceptor tethered river cleaning barges
* Junk Raft - plastic awareness voyage
* Kids Against Plastic Tat KAPTAT
* Miss Ocean - Plastic Awareness Events
* 4Ocean recycled plastic bracelets
* Nike - Sneakers from recycled materials, ocean spills
* Plastic Oceans Org
* Seabin
* SeaVax autonomous drones
* Surrey University PIRATE & Triton
* WRAP - Waste & Resources Action Programme
CONTACTS
.....
LINKS & REFERENCE
https://greenpeace.org.uk/what-we-do/oceans/plastics/
https://plasticoceans.ca/
https://plasticoceans.org/projects/
https://ocean-plastic.com/