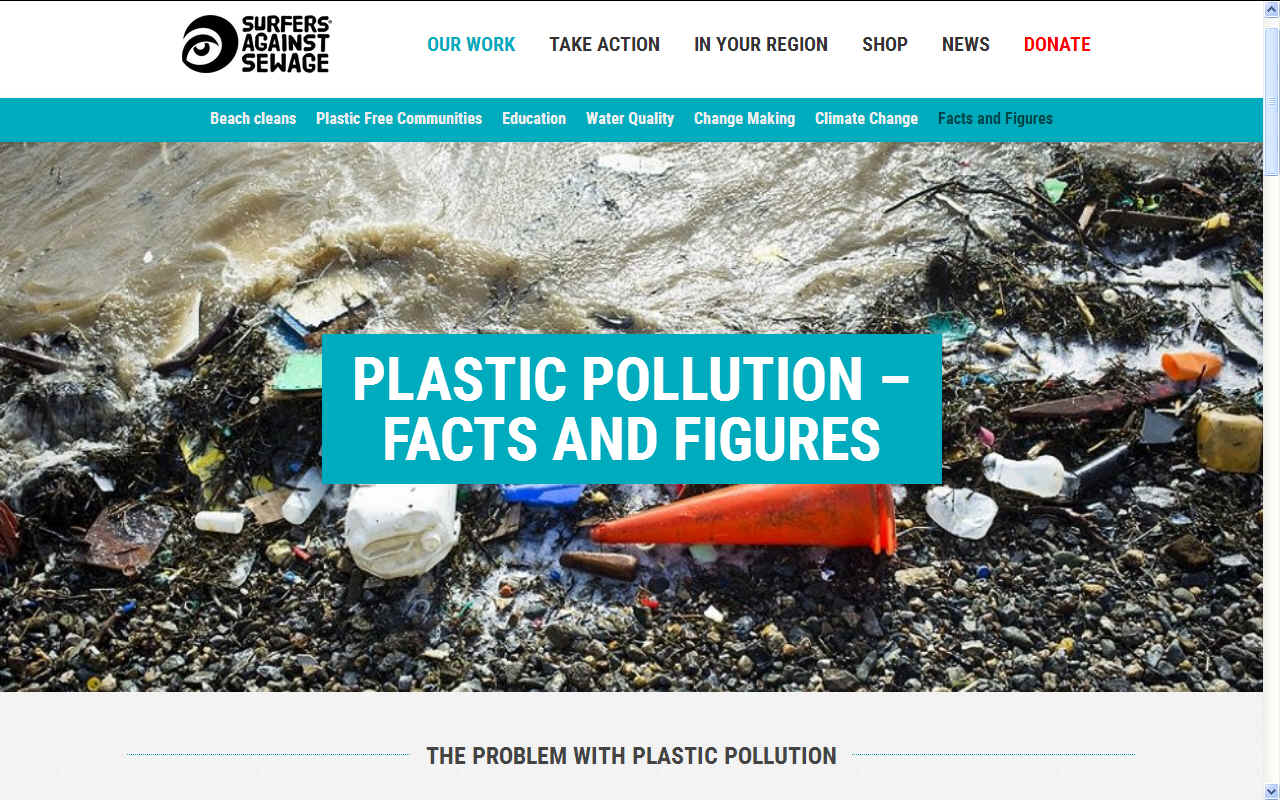 CONSTANT VIGILANCE - Beach cleaning operations and Plastic Free towns in the UK
According to their website, plastic pollution can now be found on every beach in the world, from busy tourist beaches to uninhabited, tropical islands nowhere is safe. We doubt anyone would argue against that.
Surfers Against Sewage (SAS) is a marine conservation charity working with communities to protect oceans, waves, beaches and marine life. It was created in 1990 by a group of Cornish surfers from the villages of St Agnes and Porthtowan on the north coast of Cornwall.

Set up as a single-issue campaign group in 1990, Surfers Against Sewage led a nationwide campaign for improved water quality. Their campaign's success was helped by the privatisation of English water companies in the late 1980s and key pieces of EU legislation including the Bathing Water Directive.

In 2012, Surfers Against Sewage was recognised as a national marine conservation charity focused on the protection of waves, oceans, beaches, marine wildlife and coastal communities.

In 2018 it was one of the seven charities nominated by Prince Harry and Meghan Markle to receive donations in lieu of wedding presents.

CAMPAIGNS

Today the organisation represents an ever-expanding supporter base and campaigns on a diverse range of issues. SAS campaigns for both the UK's coastal environment and the health of all surfers and other recreational waters users. Recently, SAS has expanded its remit into the protection of the wave resource and surfing spots through the Protect Our Waves (POW) campaign. Since 1990, SAS has secured a multitude of campaign successes on behalf of all water users.

Plastic Free Coastlines

More recently, Surfers Against Sewage have turned their attention to battling the new sewage - plastic pollution. Through national initiatives such as the Big Spring Beach Clean and the Autumn Beach Clean Series they hope to empower communities to protect their coastlines. Further up in the chain of events, SAS are using their Waves All-Party Parliamentary Group (APPG) to encourage politicians to explore and introduce policies to prevent plastic emissions from entering the environment.

Protect Our Waves

SAS launched the Protect Our Waves campaign to increase public awareness to the importance of waves in the socioeconomic fabric of many UK coastal communities. Behind the scenes SAS has been consistently representing surfers and waveriders on rights of access, and ensuring the wave resource is recognised and valued.

Beach Bum Survey

Surfers Against Sewage helped recruit participants for a University of Exeter study on the prevalence of antibiotic-resistant E. coli in surfers and body boarders. The work was published in Environment International in January 2018.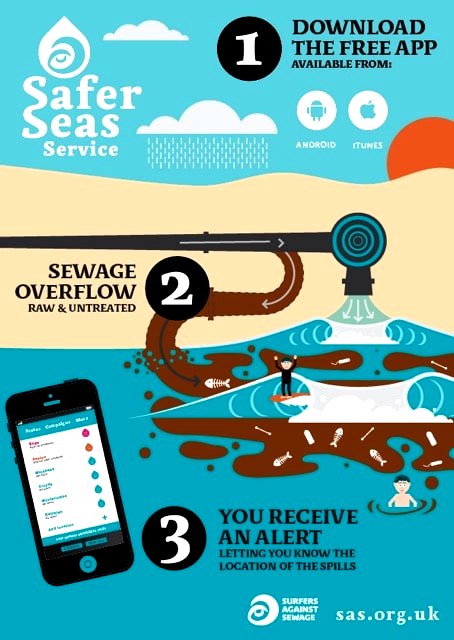 PLASTIC POLLUTION FACTS

Scientists have recently discovered microplastics embedded deep in the Arctic ice.

In 1950, the world's population of 2.5 billion produced 1.5 million tons of plastic; in 2016, a global population of more than 7 billion people produced over 320 million tons of plastic. This is set to double by 2034.

Every day approximately 8 million pieces of plastic pollution find their way into our oceans.

There may now be around 5.25 trillion macro and microplastic pieces floating in the open ocean. Weighing up to 269,000 tonnes.

Plastics consistently make up 60 to 90% of all marine debris studied.

Approx 5,000 items of marine plastic pollution have been found per mile of beach in the UK.

Over 150 plastic bottles litter each mile of UK beaches.

Recent studies have revealed marine plastic pollution in 100% of marine turtles, 59% of whales, 36% of seals and 40% of seabird species examined.

100,000 marine mammals and turtles and 1 million sea birds are killed by marine plastic pollution annually.
INFOGRAPHIC - Showing sources of plastic pollution that ends up in our oceans, coming mainly from land, via rivers, into the oceans.



THE PROBLEM WITH PLASTIC POLLUTION
1. What is plastic pollution?

2. How does it get in the sea?

3. How much plastic pollution is there?

4. How long does it last?

5. What harm does plastic pollution do to the environment?

6. It doesn't affect me directly though does it?

7. Can't we scoop it all out of the sea?

8. What is the Great Pacific Garbage Patch?

9. Plastic isn't all bad is it?

10. What is a Deposit Return Scheme (DRS) & does it work?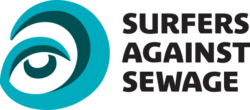 CONTACTS
Surfers Against Sewage
Wheal Kitty Workshops, St Agnes, Cornwall, TR5 0RD

Tel: 01872 553 001
Pollution reporting hotline: 0800 80 70 60

Registered in England & Wales No. 2920815
Registered Charity in England & Wales No. 1145877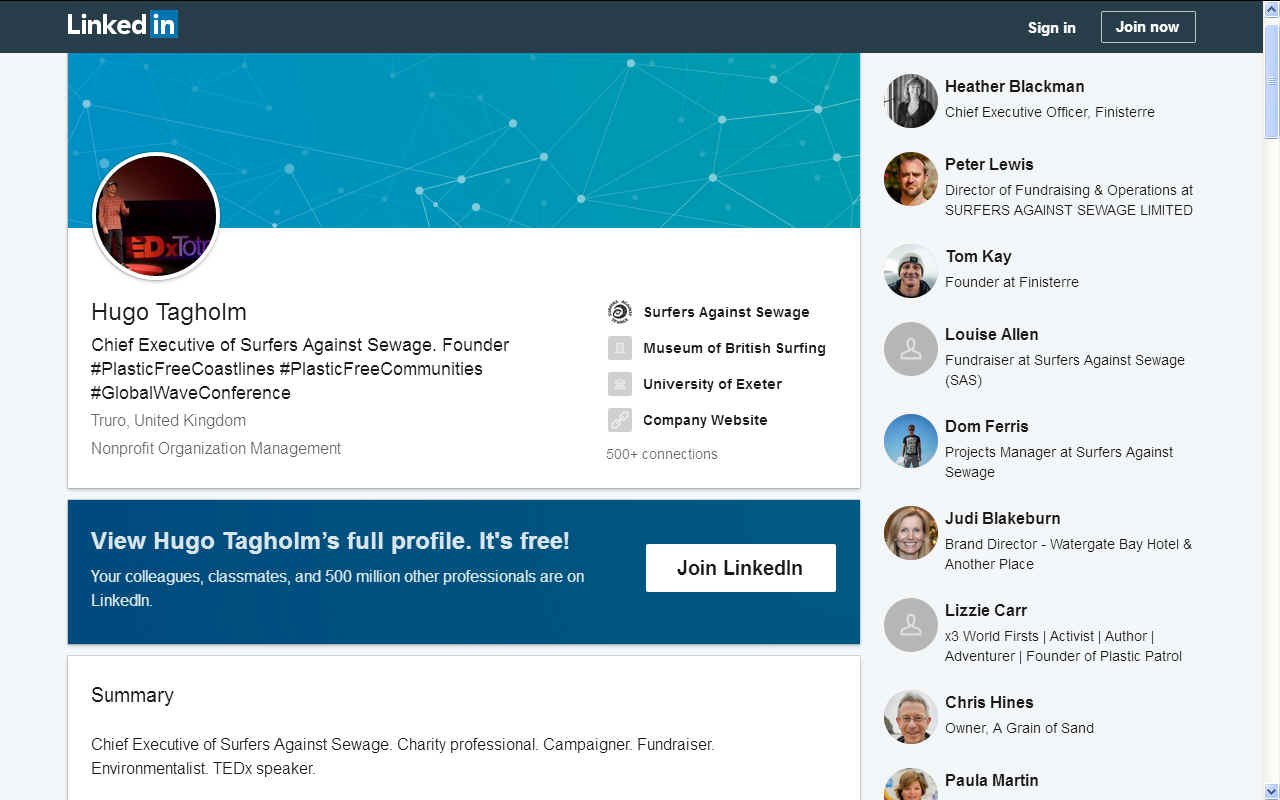 OCEAN CLEANUP PROJECTS A - Z
* Adidas
* Algalita research foundation
* Aliance to end Plastic Waste AEPW
* Baltimore Mr Trash river cleaning barge
* BAN - Basel Convention Action Network
* Boyan Slat's ocean booms
* CLAIM H2020 EU marine plastic project
* Earth Day - Fact sheet ocean plastic
* Fionn Ferreira's ferrofluid extraction of microplastics
* FlashLight Press Michelle Lord & Julia Blatt
* GRIPS - Global Research & Innovation in Plastics Sustainability
* Interceptor tethered river cleaning barges
* Junk Raft - plastic awareness voyage
* Kids Against Plastic Tat KAPTAT
* Miss Ocean - Plastic Awareness Events
* 4Ocean recycled plastic bracelets
* Nike - Sneakers from recycled materials, ocean spills
* Plastic Oceans Org
* Seabin
* SeaVax autonomous drones
* Surrey University PIRATE & Triton
* WRAP - Waste & Resources Action Programme
Surfers Against Sewage are not alone in the fight against ocean plastic. Constant surveillance combined with emerging technologies could all play a part in containing the mountain of plastic that is accumulating on the oceans floors, by recovering floating debris before it sinks. New ideas are welcomed.
LINKS & REFERENCE
https://www.linkedin.com/in/hugo-tagholm-2a544235
https://www.instagram.com/surfersagainstsewage/
https://www.facebook.com/SurfersAgainstSewage
https://www.plymouthherald.co.uk/news/surfers-against-sewage-issues-pollution-3221430
https://en.wikipedia.org/wiki/Surfers_Against_Sewage
https://www.sas.org.uk/our-work/plastic-pollution/plastic-pollution-facts-figures/