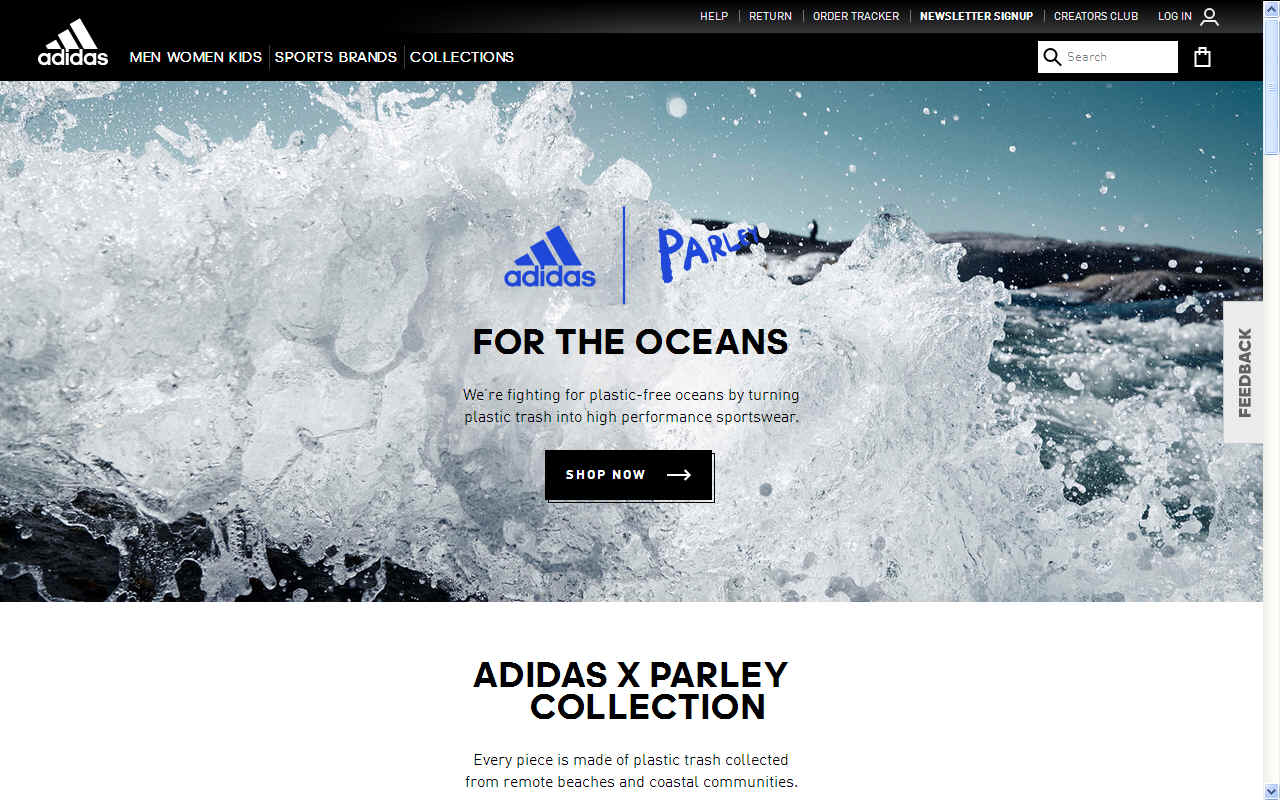 SUSTAINABILITY ROADMAP FOR 2020 - According to their website: "We have a long track record in sustainability and are proud of our accomplishments, but we will never rest on our laurels. We constantly strive to improve our sustainable performance while acting upon our leadership role and listening to the expectations of our stakeholders and consumers. One example is our extended Sustainability Roadmap, which pushes the limits of our own ambitions further than ever before. A direct outcome of our business strategy 'Creating the New', it translates our overall sustainable efforts into tangible goals that have a direct impact on the world of sport we operate in.

As a global sports company, we believe that through sport we have the power to change lives. This is supported by research we have conducted. It shows that our consumers believe that sport makes us healthy and happy, that it creates value and empowers people. An impressive 92% even say that sport has a positive impact on our society. But for sport to change lives, it needs a space to exist, a field to play on, an ocean to surf or a mountain to climb – and these spaces are increasingly endangered due to man-made issues including human rights violations, pollution, growing energy consumption and waste. Based on our love of sport and responsibility as a globally operating company, we want to be the guardians of these spaces. Thus, we have developed a holistic approach that seriously tackles the challenges that endanger the spaces of sport and simultaneously our planet and people.

Our Sustainability Roadmap identifies six strategic priorities to address the issues and challenges of the spaces where sport is made (all places where products are created, designed, manufactured and shipped), sold (own retail, wholesale and e-commerce) and played (from the indoor court to the outdoor pitch all over the world). Following the entire lifecycle of sport, our most holistic approach to date supports us in creating responsibly across our entire supply chain, with tangible and measurable goals, and ensures that sport remains a source of happiness for all people."
Another manufacturer that is helping to bring back ocean plastic into the system responsibly is Adidas. If every maker of shoes and clothing were to engage in similar fashion, the impact could be considerable. Beach cleaning operations typically provides the plastic from beaches around the world that experience high concentrations of washed up waste.
In years to come the introduction of machines to stem the tide of plastic more effectively, could mean a massive supply of recovered plastic for manufacturers to tuck into. When that day comes, marine life might breathe a sigh of relief, just as much as the many who eat seafood that is at the moment contaminated with carcinogenic toxins.
FOOTWEAR NEWS Jan 25, 2019

Adidas Plans to Make a Whopping 11 Million Pairs of Sneakers in 2019 With Recycled Ocean Plastic

Adidas announced in 2016 that it would place on the market, in 2017, 1 million pairs of sneakers made with Parley for the Oceans recycled ocean plastic. While that seemed like a lofty goal then, it's minuscule compared to the brand's plans for 2019.

"With Adidas products made from recycled plastic, we offer our consumers real added value beyond the look, functionality and quality of the product, because every shoe is a small contribution to the preservation of our oceans," Adidas executive board member Eric Liedtke said in a statement. "After 1 million pairs of shoes produced in 2017, five million in 2018, we plan to produce 11 million pairs of shoes containing recycled ocean plastic in 2019."

This news comes on the heels of another environmentally focused milestone for Adidas. In December, the company signed the Climate Protection Charter for the Fashion Industry at the UN Climate Change Conference in Katowice, Poland. By signing, the Three Stripes agreed — along with more than 40 other firms — to address the climate impact of the fashion sector and agreed to reduce greenhouse gas emissions by 30 percent by 2030.

In a statement, Adidas also said that, by 2024, it would use only recycled polyester in its products and on its applications wherever possible. The company noted that it only sources sustainably produced cotton, as part of the Better Cotton Initiative, and hasn't used plastic bags in its stores since 2016.

"Sustainability at Adidas goes far beyond recycled plastic," Adidas executive board member Gil Steyaert said in a statement. "We also continue to improve our environmental performance during the manufacturing of our products. This includes the use of sustainable materials, the reduction of CO2 emissions and waste prevention. In 2018 alone, we saved more than 40 tons of plastic waste in our offices, retail stores, warehouses and distribution centers worldwide and replaced it with more sustainable solutions."

Adidas has several sneakers using Parley recycled ocean plastic available via Adidas.com. These now include the Ultra Boost, NMD_CS1, Deerupt Runner and a pair of tennis styles (Solecourt Boost and Adizero Ubersonic 3).

By Peter Verry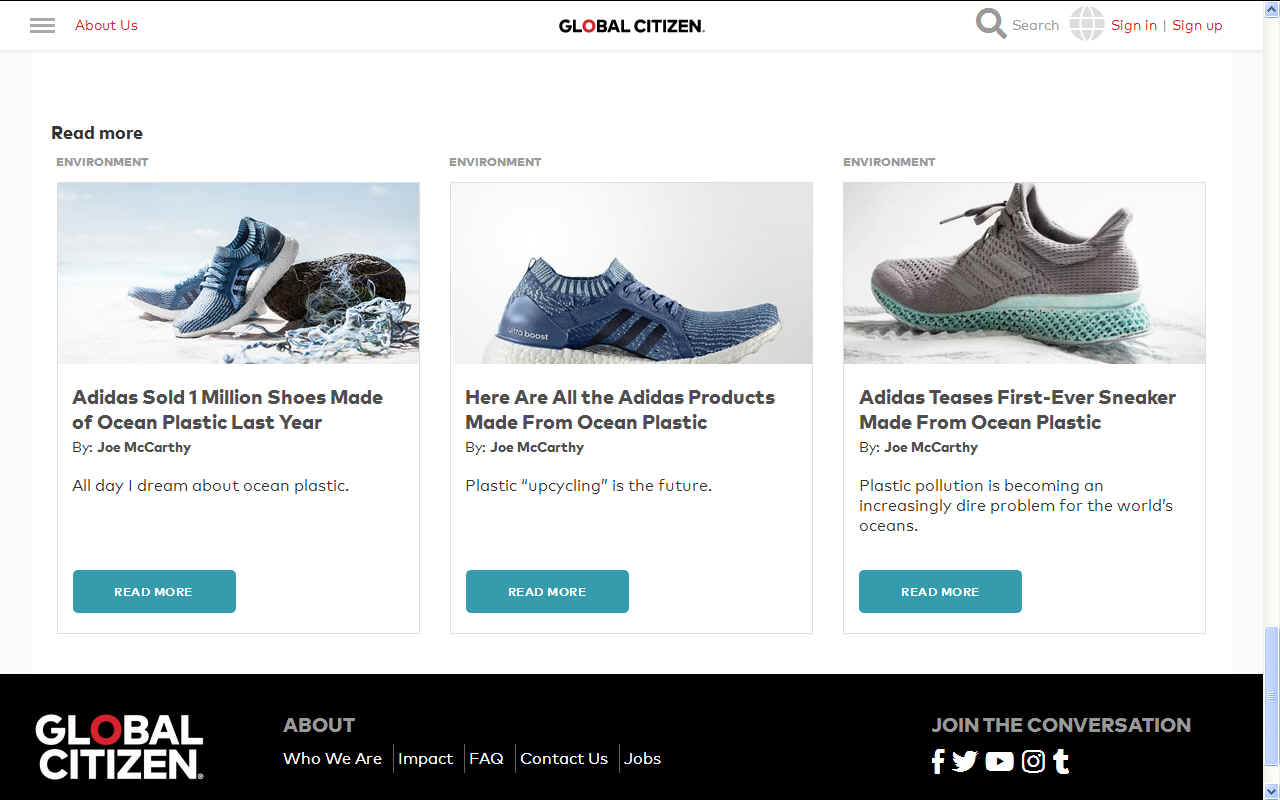 GLOBAL CITIZEN NOVEMBER 2016 - Adidas Shoes Made From Ocean Plastic Are Finally Here
It's no secret that the oceans are filled with plastic. Adidas is doing something about it.

Adidas' latest running shoe is subtle and soft-looking, with stitching that evokes the sea. It's also made almost entirely from plastic recovered from the ocean.

Last year, Adidas teased a prototype of a shoe that it was working on to clean up the oceans and adjust its supply chain to better reflect the constraints of climate change.

Partnering with Parley for the Oceans, a non-profit committed to reducing plastic waste in the oceans, Adidas developed a finished product earlier this year with 95% ocean plastic recovered from near the Maldives.

And the shoe isn't just a gimmick. It represents real change for the brand.

Soon, 7,000 pairs of the "UltraBOOST Uncaged Parley" will be on sale for $220 each. In 2017, the brand aims to produce 1 million pairs of the sneakers from more than 11 million plastic bottles. Eventually, Adidas strives to eliminate virgin plastic from its supply chain altogether and hopes to expand its plastic cultivation to much more of its product line.

As Adidas notes on the product page, the shoes are " spinning the problem into a solution. The threat into a thread."

This initiative gives consumers everywhere something to root for. It allows them to show their appreciation for the oceans and could potentially spur other companies to see the ocean's waste problem as an opportunity for innovative environmentalism.

It's no secret that the world's oceans are filled with plastic and that this is harming marine life.

Each year, 8 million tons, or 16 billion pounds (7.2 billion kilograms) of plastic enter the world's oceans. There are about 5.25 trillion pieces of plastic in the oceans today. Big pieces of plastic are routinely ingested by animals who then face a range of health problems. As plastic breaks down it leaches toxic chemicals into the water and deteriorates into small debris that blanket the ocean's floors and are ingested by organisms up and down the food chain.

On its own, Adidas is merely chipping away at the problem, but the huge multinational corporation is shining a light on the problem and is lending credibility to clean-up efforts.

When supply chains become circular and self-sustaining, the environment is protected from overexploitation and pollution. If this became the norm, then environments everywhere would be saved. And then there'd be a lot more space to test out these sneakers.

By Joe McCarthy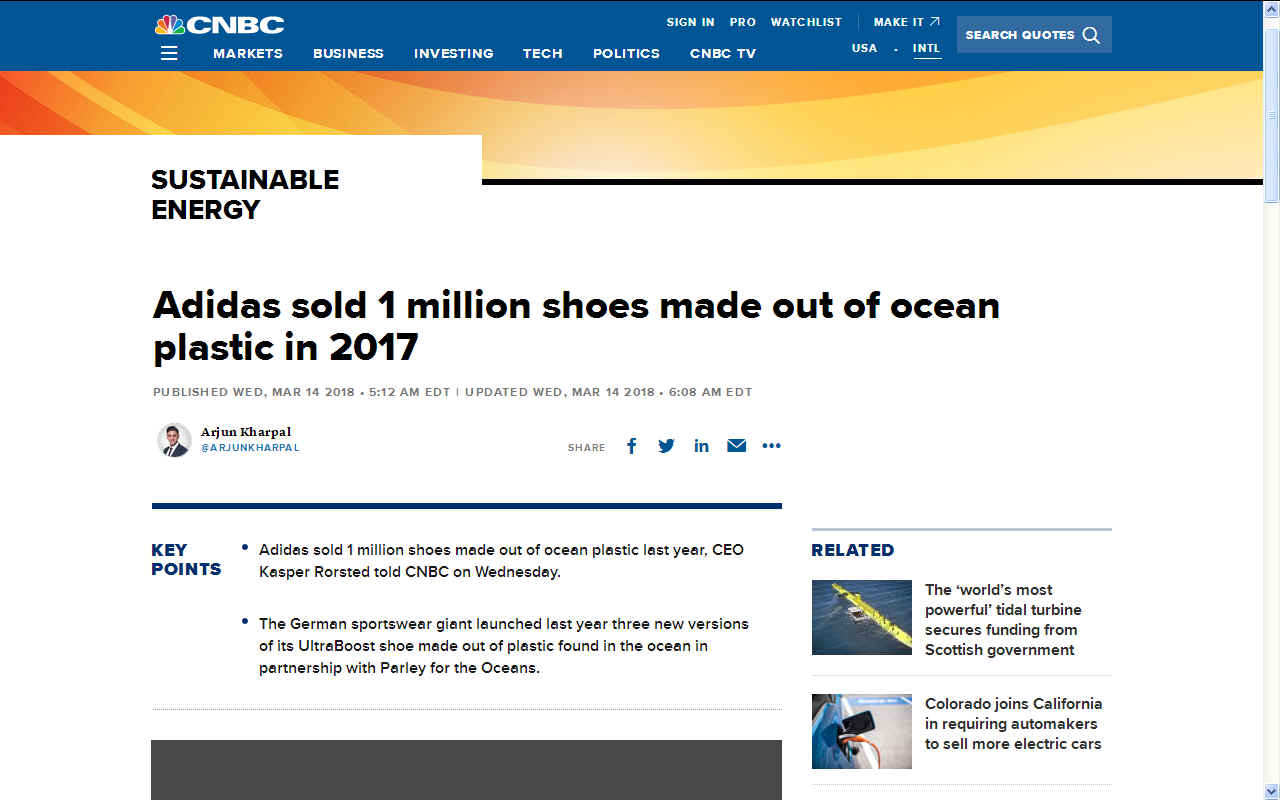 CNBC NEWS 14 MARCH 2018 - Adidas sold 1 million shoes made out of ocean plastic in 2017
Adidas sold 1 million shoes made out of ocean plastic last year, CEO Kasper Rorsted told CNBC on Wednesday.

The German sportswear giant launched last year three new versions of its UltraBoost shoe made out of plastic found in the ocean. It teamed up with environmental initiative Parley for the Oceans to create the shoe.

At the time, Adidas said it it wanted to create a million pairs of the UltraBoost shoes.

"We last year sold 1 million shoes made out of ocean plastic," Rorsted told CNBC in a TV interview.

Each pair of shoes reuses 11 plastic bottles.

Adidas reported quarterly earnings on Wednesday in which it said it expected another year of sales and profit growth, but at a slower pace than in 2017. By Arjun Kharpal
OCEAN CLEANUP PROJECTS A - Z
* Adidas
* Algalita research foundation
* Aliance to end Plastic Waste AEPW
* Baltimore Mr Trash river cleaning barge
* BAN - Basel Convention Action Network
* Boyan Slat's ocean booms
* CLAIM H2020 EU marine plastic project
* Earth Day - Fact sheet ocean plastic
* Fionn Ferreira's ferrofluid extraction of microplastics
* FlashLight Press Michelle Lord & Julia Blatt
* GRIPS - Global Research & Innovation in Plastics Sustainability
* Interceptor tethered river cleaning barges
* Junk Raft - plastic awareness voyage
* Kids Against Plastic Tat KAPTAT
* Miss Ocean - Plastic Awareness Events
* Nike - Sneakers from recycled materials, ocean spills
* 4Ocean recycled plastic bracelets
* Plastic Oceans Org
* Seabin
* SeaVax autonomous drones
* Surrey University PIRATE & Triton
* WRAP - Waste & Resources Action Programme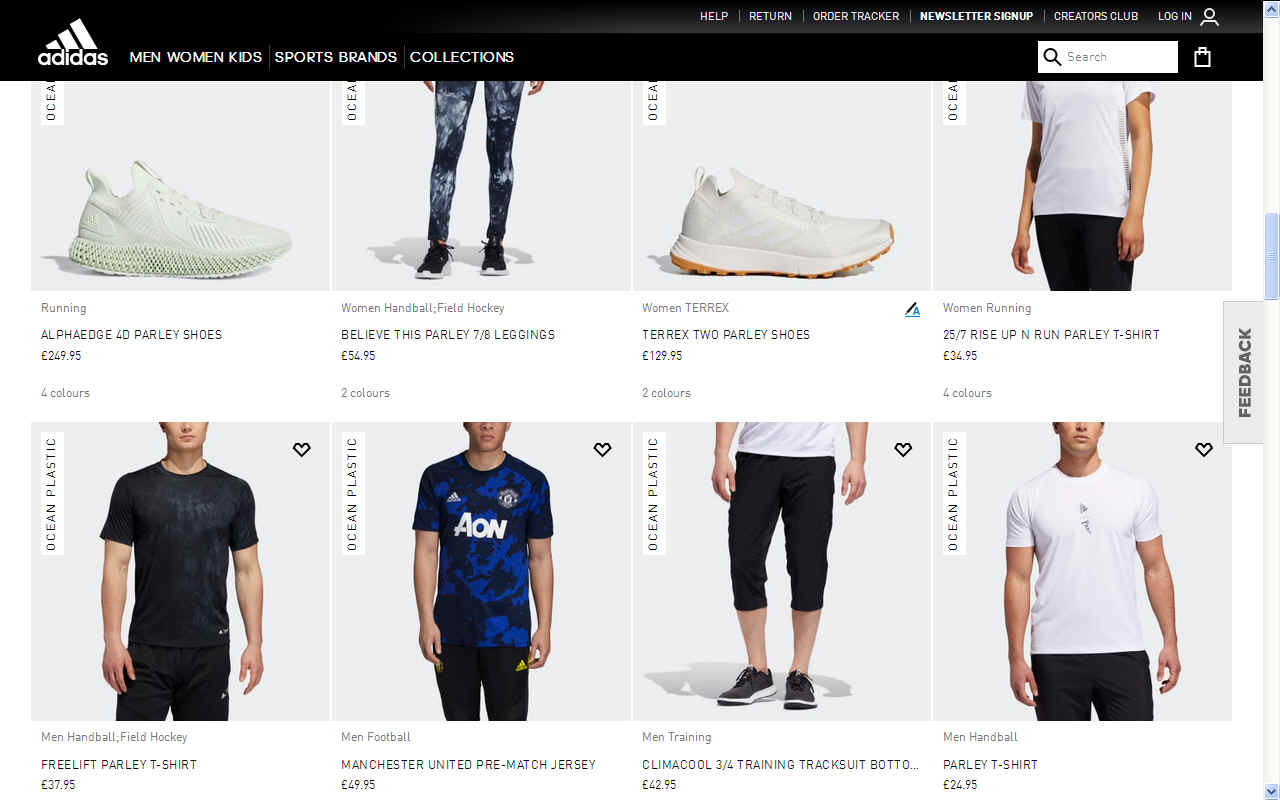 CONTACTS
Adidas AG
Adi-Dassler-Strasse 1
91074 Herzogenaurach
Germany

p+49 (0) 9132 84-0
f+49 (0) 9132 84-2241

LINKS & REFERENCE
https://www.cnbc.com/2018/03/14/adidas-sold-1-million-shoes-made-out-of-ocean-plastic-in-2017.html
https://www.globalcitizen.org/en/content/adidas-shoes-made-from-ocean-plastic-are-finally-h/
https://www.adidas.co.uk/ocean_plastic
https://footwearnews.com/2019/focus/athletic-outdoor/adidas-parley-for-oceans-recycled-plastic-shoes-1202735137/
https://www.adidas.co.uk/parley