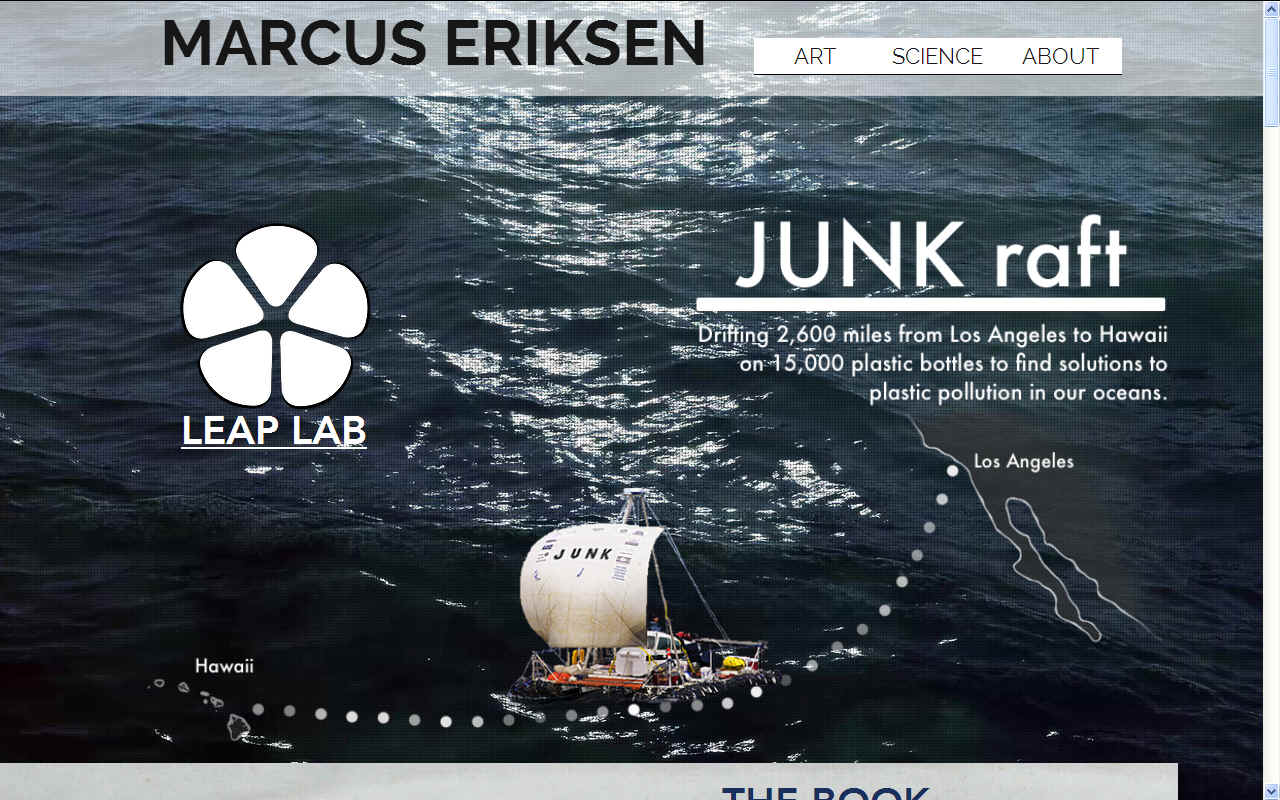 POLY KON-TIKI - In 1947 Thor Heyerdahl built the Kon-tiki Raft from balsa wood logs to prove his theory of colonization of the Polynesian Islands from the Americas. Junk-Raft looks remarkably like the Kon-tiki concept, except that a light aircraft body replaced the timber hut, and plastic bottles in fishing net replaced the balsa floats.
The JUNK Raft Project was organized by Dr. Marcus Eriksen, Joel Paschal and Anna Cummins in Long Beach, California in 2008, to bring attention to the issue of plastic pollution in the Great Pacific garbage patch.
The project was launched with the Algalita Marine Research Foundation, after founder Captain Charles J. Moore encountered the patch in 1997.
Organizers hoped to "creatively raise awareness about plastic debris and pollution in the ocean," specifically the Great Pacific Garbage Patch trapped in the North Pacific Gyre, by sailing 2,600 miles across the Pacific Ocean on a 30-foot (9.1 m) raft made from an old Cessna 310 aircraft fuselage and six pontoons filled with 15,000 old plastic bottles.
Crewed by Dr. Marcus Eriksen of the Foundation and film-maker Joel Paschal, the raft set off from Long Beach, California on 1 June 2008, arriving in Honolulu, Hawaii on 28 August 2008.
On the way, they gave valuable water to record-holding ocean rower Roz Savage, also on an environmental awareness voyage, when her supplies dwindled.

The construction of the JUNK Raft began in April 2008 and was finished the following month. The huge undertaking of constructing a seaworthy raft from "junk" was aided by volunteers from the environmental education programs of Bell Elementary School, Green Ambassadors, Muse Elementary School, Santa Monica High School, and Westbridge School for Girls.
The volunteers lent a hand by cleaning bottles, fastening bottle caps, and stuffing them into the recycled fisherman's net pontoon forms
OCEAN ACTIVISM
"Hey babe, we're sinking," was the first thing I said to Anna after three days of storms at the start of our voyage to Hawaii riding 15,000 plastic bottles. We had left Los Angeles, using a Cessna aircraft as our cabin, probably the first airplane to float across the ocean. It was a homemade raft made of, and appropriately named, "J U N K".

It was the summer of 2008 and everyone was making wild speculations about how to clean up that fictitious island of trash in the North Pacific. There was no data about plastic pollution in the ocean south of the equator. We began the 5 Gyres Institute to bust that myth and do some science.

It took us five years to sail around the world on real research vessels, sailing through each of the five subtropical gyres, discovering a smog of microplastics that permeate all oceans, from the Arctic to Antarctica and every waterway between them.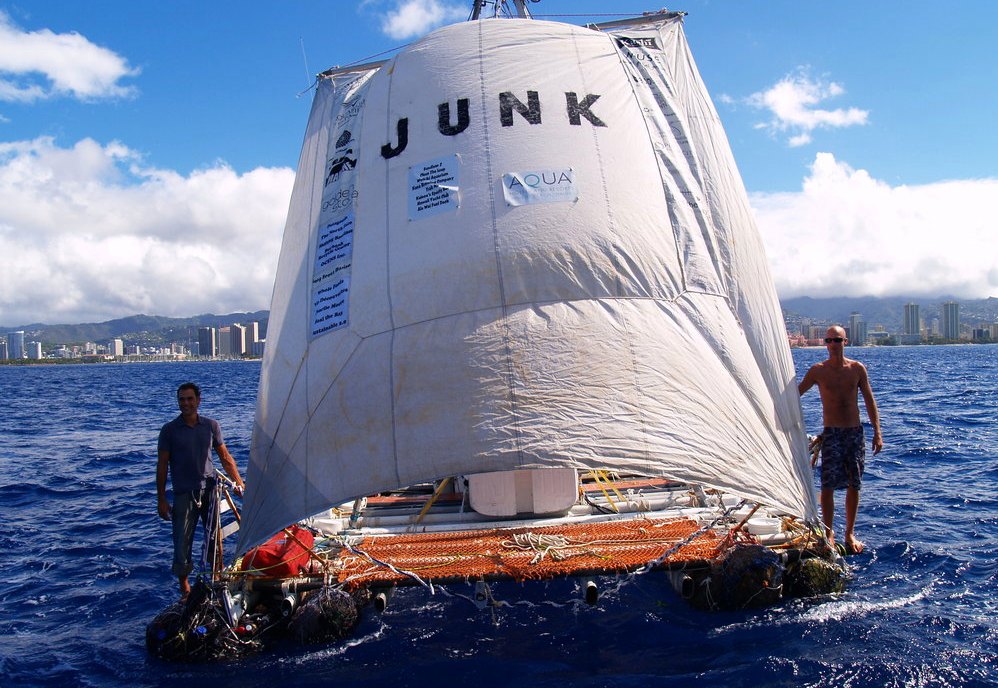 OCEAN ACTIVISM - In 2008, two sailors drifted across the N. Pacific to Hawaii on a raft made from 15,000 plastic bottles tied in old fishing nets stuffed under a Cessna 310 Aircraft. They called it JUNK, and the purpose of the 88 day, 2600 mile voyage was to build awareness and help build a movement to save our seas from plastic pollution.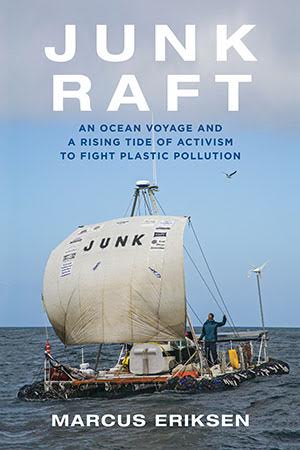 2008 - 2018 - Marking the 10-year anniversary of the Junk Raft's landing in Hawaii, Eriksen's book and documentary captures his 88 days at sea with co-navigator Joel Paschal, as they sailed from California to Hawaii on a raft made of 15,000 plastic bottles. The purpose of the 2,600-mile voyage was to build public awareness about the Great Pacific Garbage Patch, the global issue of marine plastic pollution and the growing movement to reduce single-use plastics in Hawaii and around the world.

"When Marcus completed his voyage on the Junk Raft in 2008, he became known as an intrepid eco-adventurer who helped publicize the Garbage Patch and the issue of marine plastic pollution," says Stuart Coleman, Surfrider's manager and co-founder of BooksAndSpirits.com, one of the event sponsors. "In the 10 years since that epic voyage, he has become one of the leaders of the international plastic pollution movement. So we are thrilled to have him back in Hawaii for the 10th anniversary of that voyage."
JUNK RAFT - Marcus set sail on three-month voyage aboard JUNK RAFT, a boat kept afloat by 15,000 recycled plastic water bottles, raising awareness about plastic pollution and inspiring the launch of The 5 Gyres Institute.

A grassroots movement has now emerged and is aligned into massive global coalitions demanding the same things: better waste management and corporate responsibility to make smarter products and packaging. We do not accept plastic pollution in our oceans, across our land, or piled up in impoverished communities.

But there's a great divide between how industry sees the future and what the movement demands. This book is not only a story of adventure, but a vision of how we bridge that divide. It's a story about how we save our seas, and ourselves.

the journey and the back story that led to it. Marcus Eriksen, and Co-navigator Joel Paschal and project leader Anna Cummins,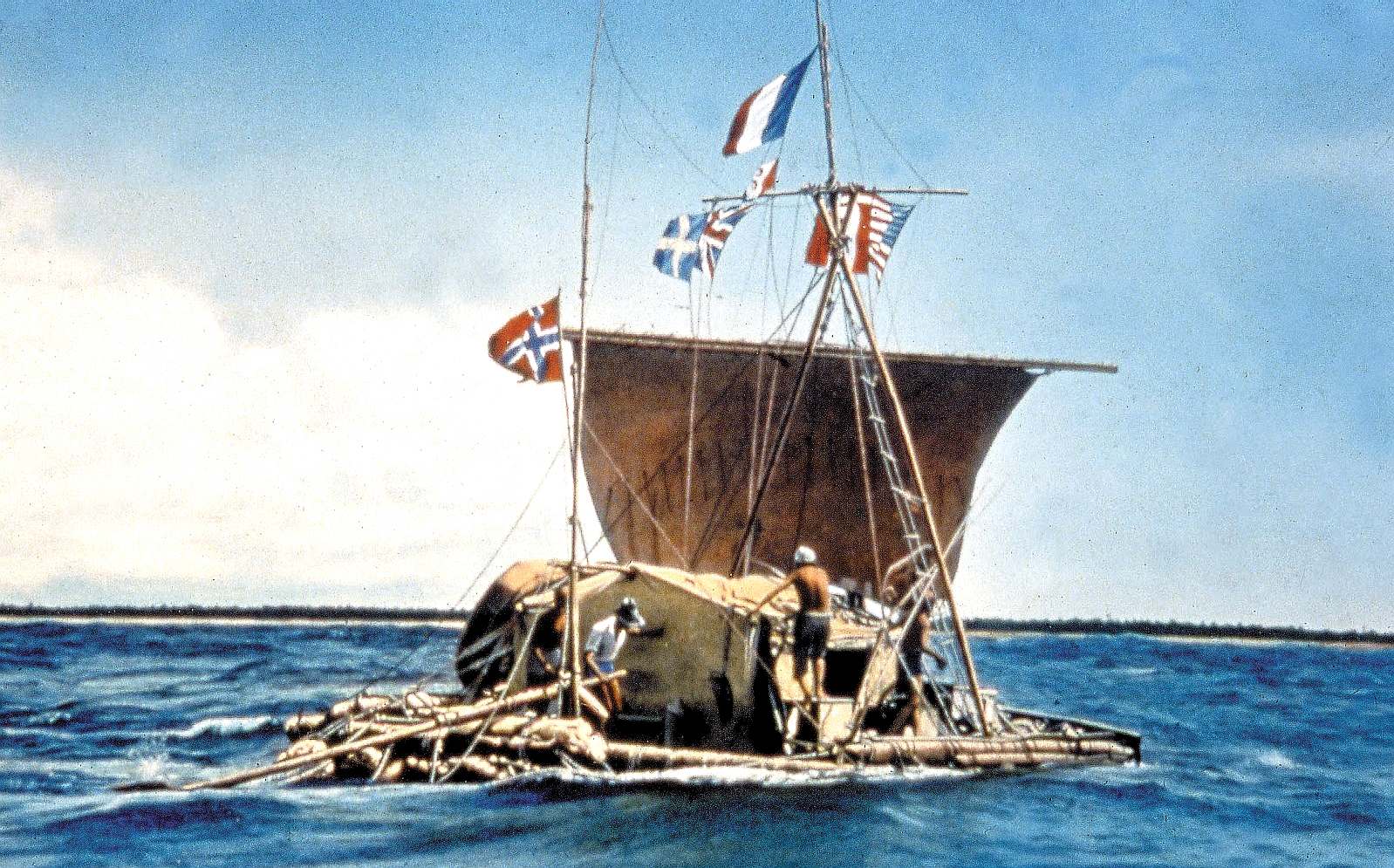 KON TIKI - The raft expedition of Thor Heyerdahl in 1947 inspired many to use rafts and sails to highlight political or social issues. It is a cost effective way of generating good press, by way of ocean activism. Apart from inspiring others, Thor Heyerdahl was also famous for his Ra project in 1970.
CONTACTS

The 5 Gyre Institute is a 501(c)(3) nonprofit organization in special consultative status
with the United Nations Economic and Social Council since 2017.


5 Gyres
5792 West Jefferson Boulevard,
Los Angeles, CA, 90016,
United States
info@5gyres.org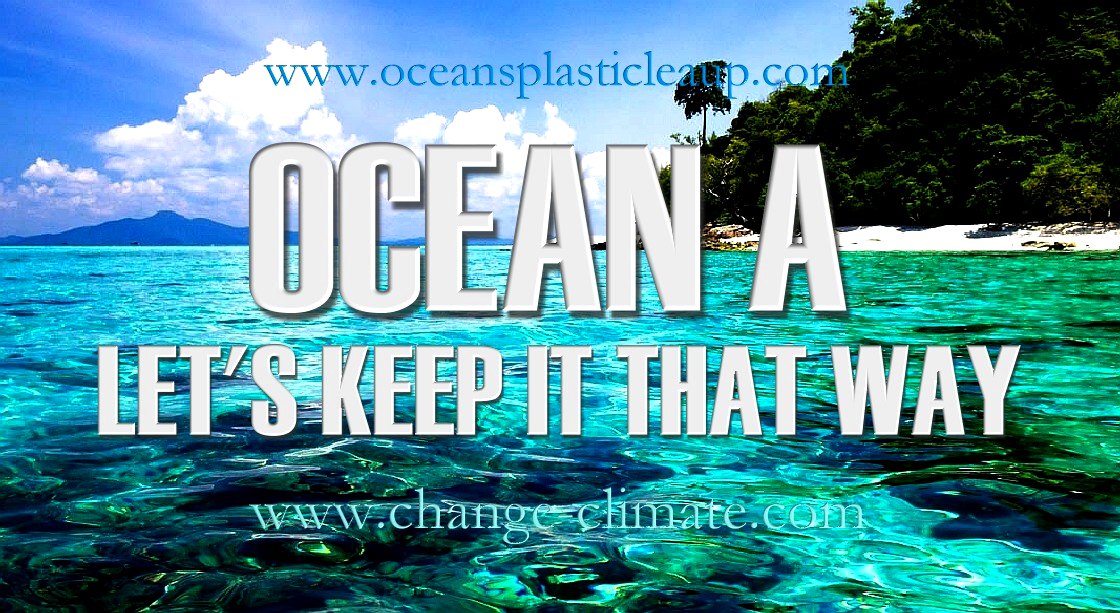 OCEAN CLEANUP PROJECTS
* Adidas
* Algalita research foundation
* Aliance to end Plastic Waste AEPW
* Boyan Slat's ocean booms
* Fionn Ferreira's ferrofluid extraction of microplastics
* Junk Raft - Plastic awareness expedition
* 4Ocean recycled plastic bracelets
* Plastic Oceans Canada
* Plastic Oceans Org
* Seabin
* SeaVax autonomous drones
* Surrey University PIRATE & Triton
As you can see from the list above, the crew of the Junk Raft expedition are not alone in the fight against plastic waste in our oceans ....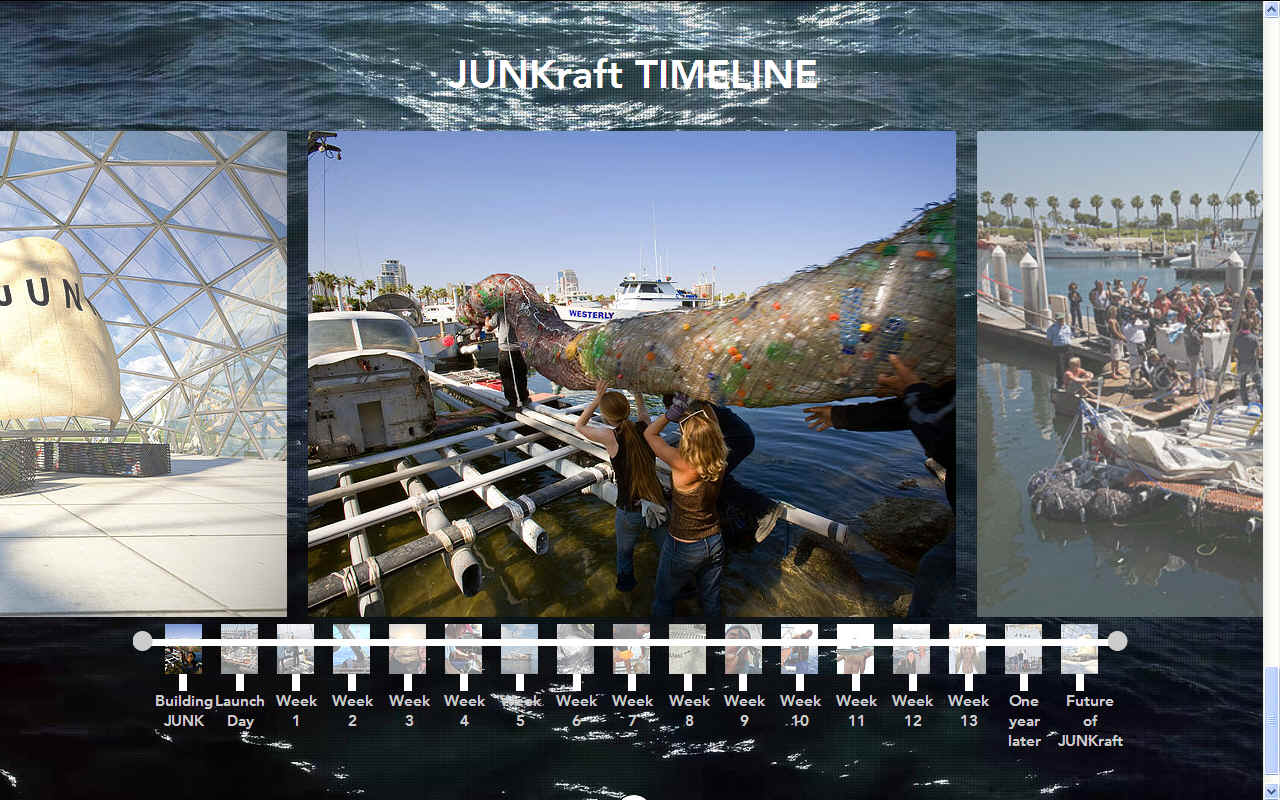 LINKS & REFERENCE
https://www.theguardian.com/environment/2009/oct/11/sailing-plastiki-david-de-rothschild
https://www.plasticpollutioncoalition.org/blog/2017/8/14/the-true-story-of-junk-raft-and-the-rise-of-activism-to-fight-plastic-pollution
https://www.hawaii.edu/news/2018/08/21/eriksen-junk-raft-lecture/
https://www.marcuseriksen.com/home
https://en.wikipedia.org/wiki/Plastiki
http://theplastiki.com/
https://www.5gyres.org/