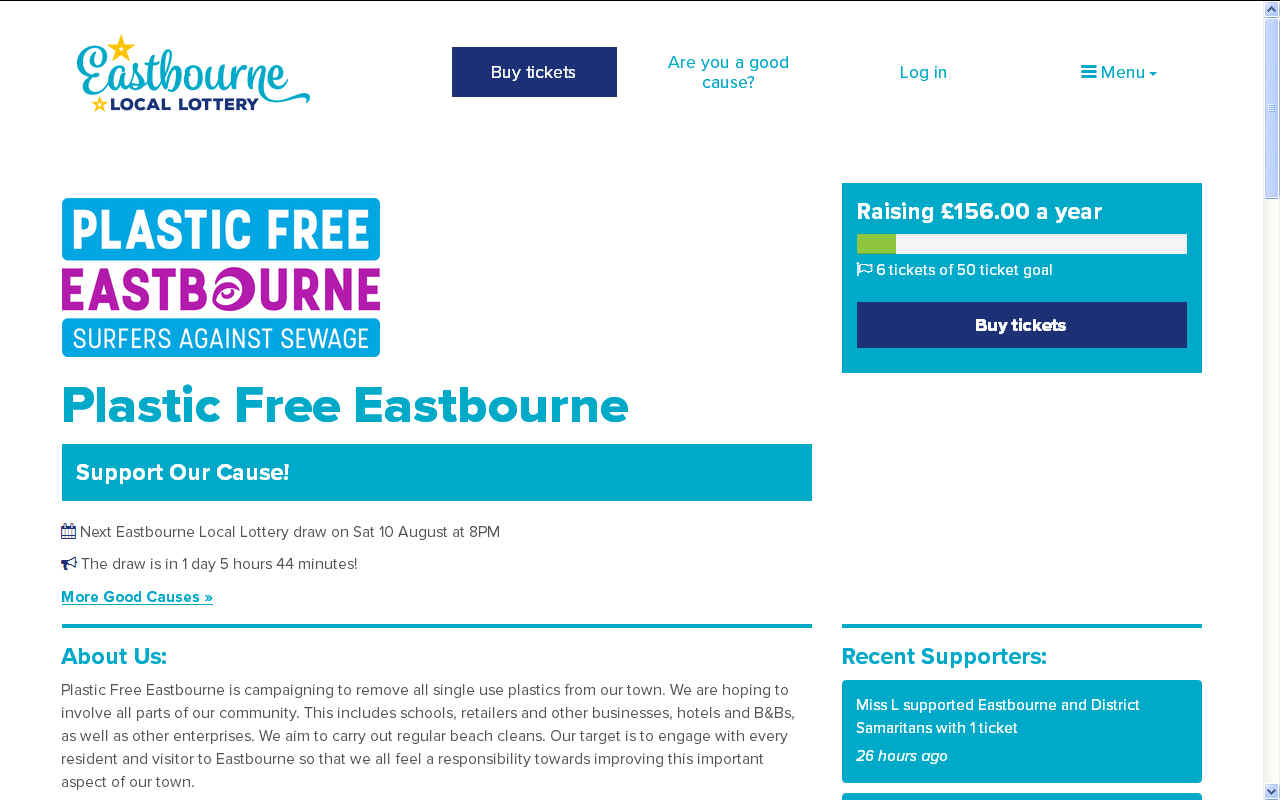 UK CAMPAIGN LEADER - Plastic Free Eastbourne is campaigning to remove as much single use plastics from the town of Eastbourne in Sussex as practical. This group of campaigners are hoping to involve all parts of the community. This includes schools, retailers and other businesses, hotels and B&Bs, as well as other enterprises.
They aim to carry out regular beach cleans. Their target is to engage with every resident and visitor to Eastbourne so that all feel a responsibility towards improving this important aspect of a coastal location with a lot to offer. They need your help to continue to progress and even broaden their campaign!
Plastic Free Eastbourne is a campaign to keep the town's beaches and parks free of litter, focusing on reducing plastic water bottles and urging local schools, retailers, hotels and businesses to reduce single use plastic in their operations wherever practical.
The focus for 2020 and beyond is to work harder at influencing the town to take steps to reduce their plastic and carbon footprints, working as a team: Team Eastbourne!
Oliver Sterno is the main driver of this campaign working with the support of Eastbourne Borough Council and other groups in support of Surfer's Against Sewage.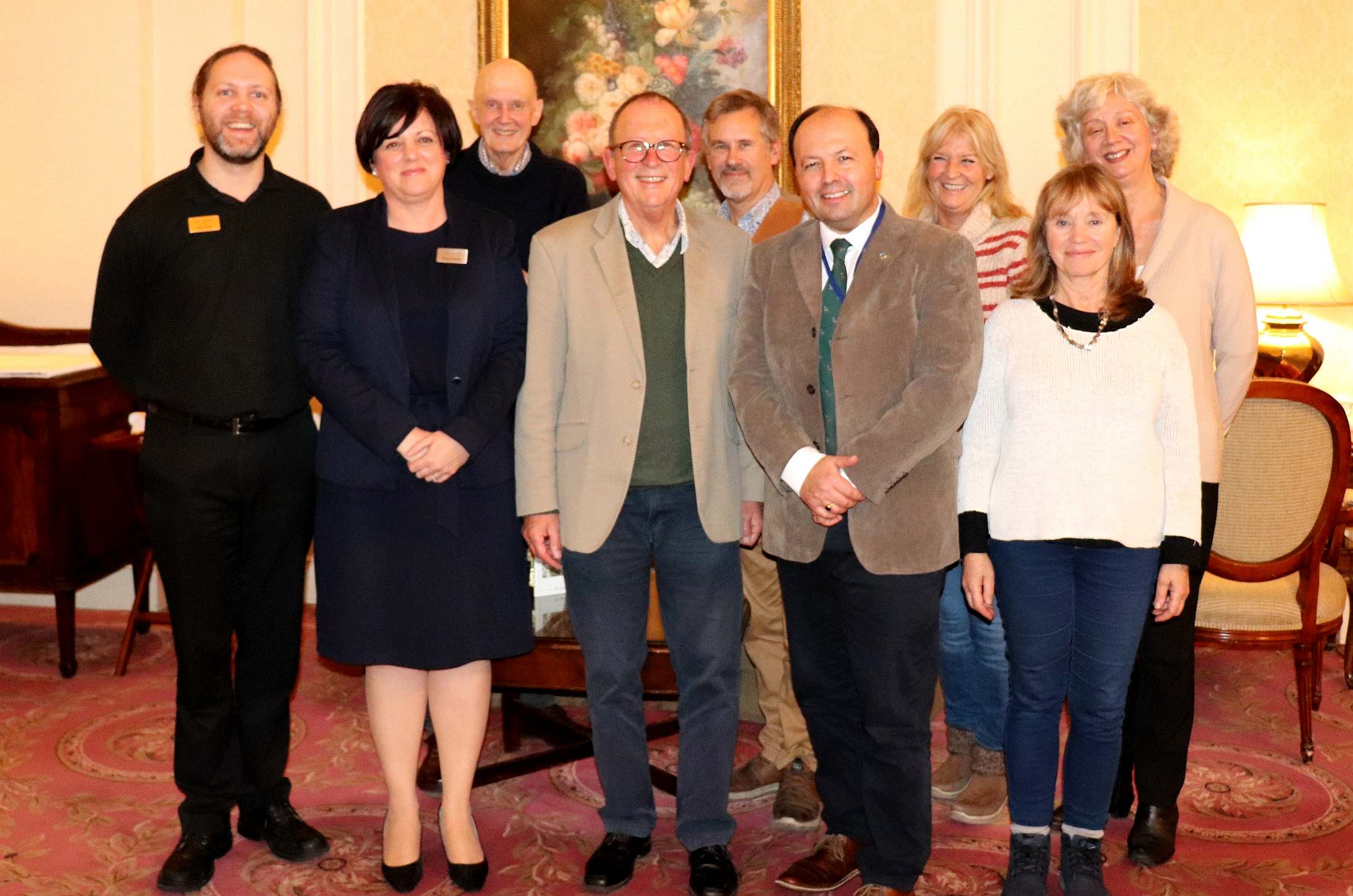 FLAGSHIP EMPLOYER - The campaign for a plastic free town welcomes the Grand Hotel, King Edward Parade, BN21 4EQ, as a local employer joining in the fight against unnecessary plastic pollution for a sustainable future. Photo Cleaner Ocean Foundation (Nelson Kay).
STEERING GROUP MEETING 6 DEC 2019, GRAND HOTEL, EASTBOURNE
The December Steering Group meeting was attended by:
Astrid Thirlway (Grand Hotel); Sue Dixon (Group Secretary); Heidi Lane (Crown & Anchor), Jane Wilde (Green Campaigner) - Gonzalo Alvarez (United Nations); Paul King, Andrew Durling (CIC director); Nelson Kay (Photos) and Oliver Sterno (Group Founder). Not in any particular order.
The objective of this meeting was to get to know the Grand Hotel as a flagship employer in the town and learn of their ambitions. Eastbourne is a town dependent on coastal tourism, where the quality and diversity of accommodation is paramount to make the town the attraction it is.
The campaign recently became 34 champions strong with the joining of the Hydro Hotel, Mount Road Eastbourne BN20 7HZ and Jonathan Owen (General Manager).
Plastic pollution in the form of litter and ocean waste could harm the local economy in terms of blue growth and sustainability, where the United Nations are promoting sustainability, a theme adopted by the G20 and European Union. The United Kingdom is thrusting ahead with targets imposed by the Climate Change Act 2008, making Britain the only country in the world at present with statutory targets - the one hiccup being that there is no published mechanism for achieving the 2050 zero carbon target. Hence, it is important for everyone to look at their geographical location and identify problem areas.
As a town, Eastbourne is a shining beacon, helping the UK to meet its commitment to sustainability, in terms of plastic recycling and reductions, due to the efforts of like minded people who care about the environment. These include:
#1 Number Ninety One B&B; #2 Southcroft Guesthouse; #3 The Sheldon, Guest House; #4 Smith and Ouzman, Printers; #5 Bella Vista Guesthouse; #6 The Cherry Tree, Guest House; #7 Tennis in the Park, Café; #8 Freaks Popcorn, Mobile; #9 Sofilia Café; #10 Lansdowne Hotel; #11 Go Plastic Pallets; #12 Natural Fitness and Therapy Centre; #13 The Grove Experience, Hair Stylist; #14 Eastbourne Volunteers; #15 The Crown and Anchor; #16 Allchorn Maritime Heritage Centre; #17 JCS Meats and Provisions; #18 Weston's Yummy Fudge; #19 SHW, Estate Agent); #20 Gingerbread Kitchen; #21 CPI Antony Rowe, Printer; #22 Gildredge Park Bowling Club 12 6 19; #23 Towner Art Gallery 3 7 19; #24 Eastbourne Triathlon 2 8 19; #25 Leaf Hall 2 8 19; #26 Make Studios 16 8 19; #27: Devonshire Collective CIC.
Huge thanks to every one in the town pledging to review their services and keep a weather eye out for ways to reduce plastic use. This includes council officials and political parties across across the board - where on this subject (at least) there is a meeting of minds. Please note that these awards are for individual hotels, B&Bs and businesses, rather than chains or groups.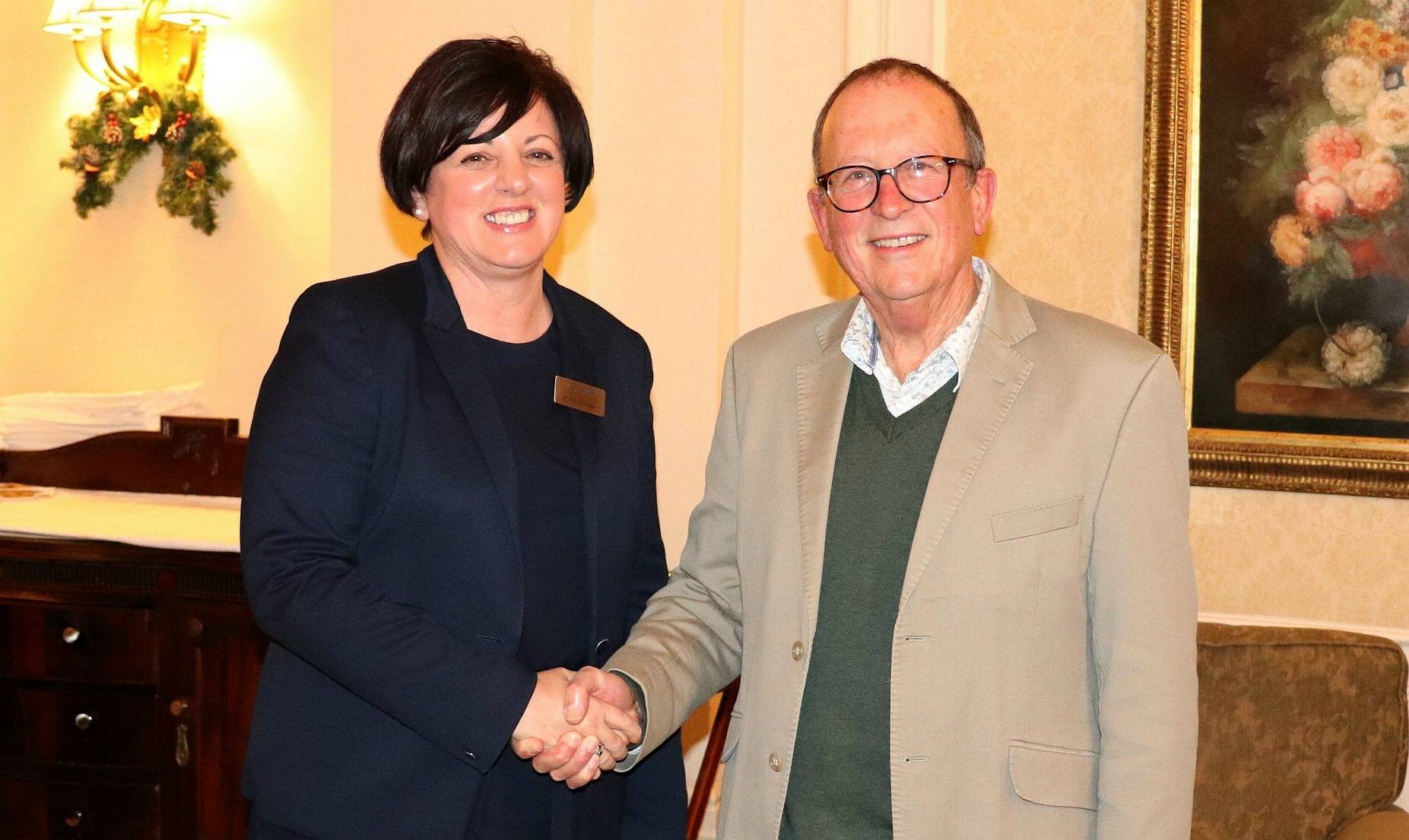 WORKING FOR THE FUTURE - Astrid Thirlway and Oliver Sterno have looked at ways of making the Grand Hotel (more) sustainable in a changing world, where this is an ongoing agenda. It is a big challenge for any organisation, large or small. Everyone plays an important part, with larger national concerns bearing greater responsibility within the UK and international corporations now looking at their operations in circular economy terms.
SOME SUGGESTED ACTIONS FOR HOTELS
- Review guest amenities as to single use conditioner, shower gel, shampoo, etc

- Replace plastic pens in bedrooms with pencils
- Removed Plastic Straws and replaced with Paper ones
- Source paper butter pack replacements for breakfasts, etc

- Use reusable cleaning fluid dispensers instead of single use sprays

- Where practical for suppliers (Butcher, Fish, Dry stores) seek deliveries without plastic wrapping
STEERING GROUP MEETING 14 NOV 2019, TOWN HALL, EASTBOURNE
At the Steering Group meeting Oliver was supported by Sue Dixon and Andrew Durling. Those in attendance included Heidi Lane, Christina Ewbank (Chamber of Commerce) and Johnathan Dow (Link Councillor) and Nelson Kay (Cleaner Ocean Foundation).
It was reported that the group had become a Community Interest Company. They had attracted 32 Champions in the Eastbourne district, with the Crown & Anchor public house and Lansdowne hotel hosting events without charge as a major contribution to making the town plastic free. Both of these local businesses making great strides to be plastic free in operations.
Local fund raising had been successful in funding posters in parks and elsewhere, designed to make the public aware of litter that could find its way into the sea. But was in any event an eyesore that made the town less attractive to visitors.
REFILL 2019 - ENTERPRISE CENTRE
Mr Sterno was the organiser of the Refill event earlier in 2019, fully backed by Liberal Democrat MP Stephen Lloyd and other political parties. Sterling work Oliver with thanks to all who backed the concept.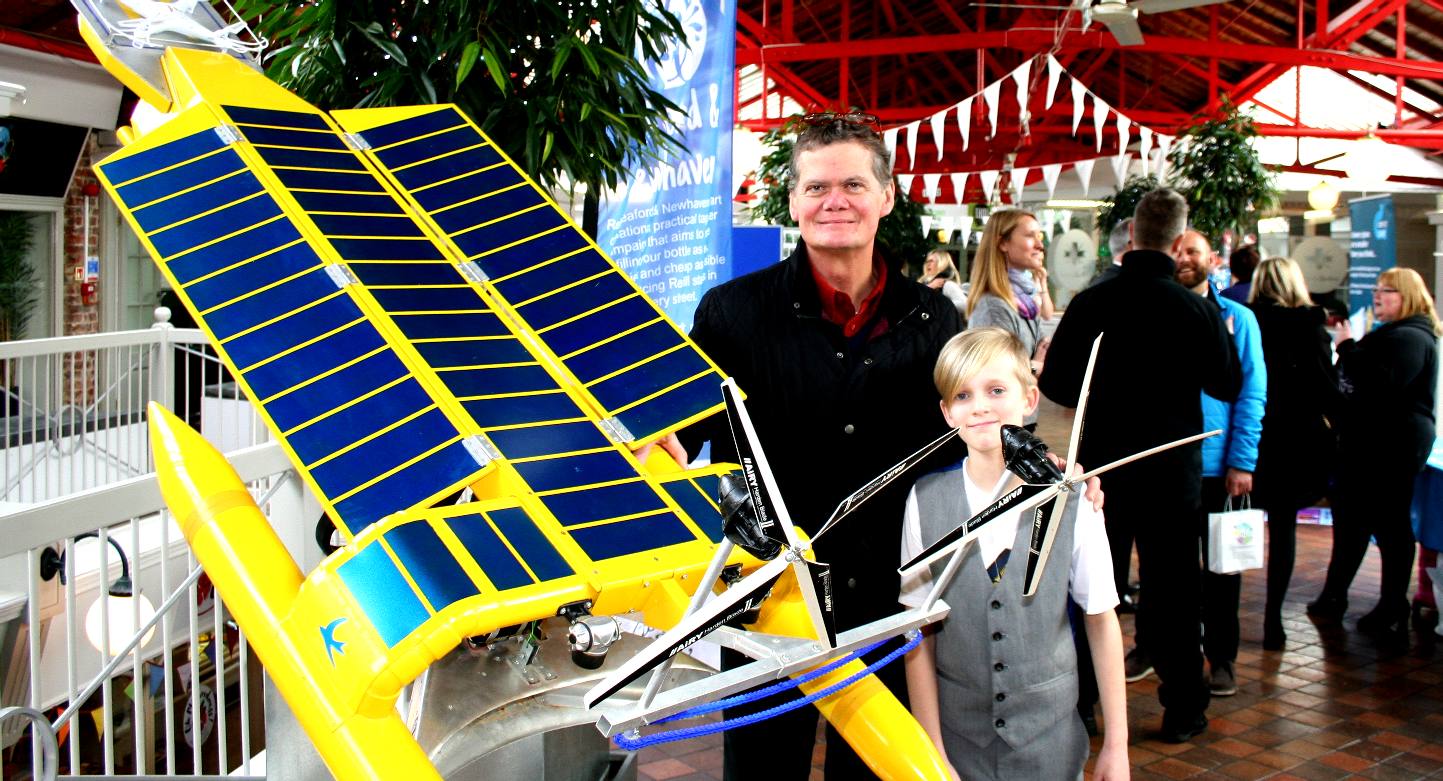 PLASTIC FREE EASTBOURNE 4 AUGUST 2019

At their monthly meeting in Eastbourne's Crown and Anchor public house, the guest speaker was Wayne Dixon, appearing with his trusty dog, Koda. With grateful thanks to the publicans who support this charity for the use of their premises.
Wayne told the gathering about the variety and quantity of litter that he'd picked up on his travels around the British coast. He is supported by Keep Britain Tidy and other who empty Wayne's bag when it gets full. We are talking about 50 tons of trash here. No mean feat.
Wayne keeps a log of his travels and may one day write a book so that we can all read about his fantastic adventures. We cannot wait, so put pen to paper soon Wayne.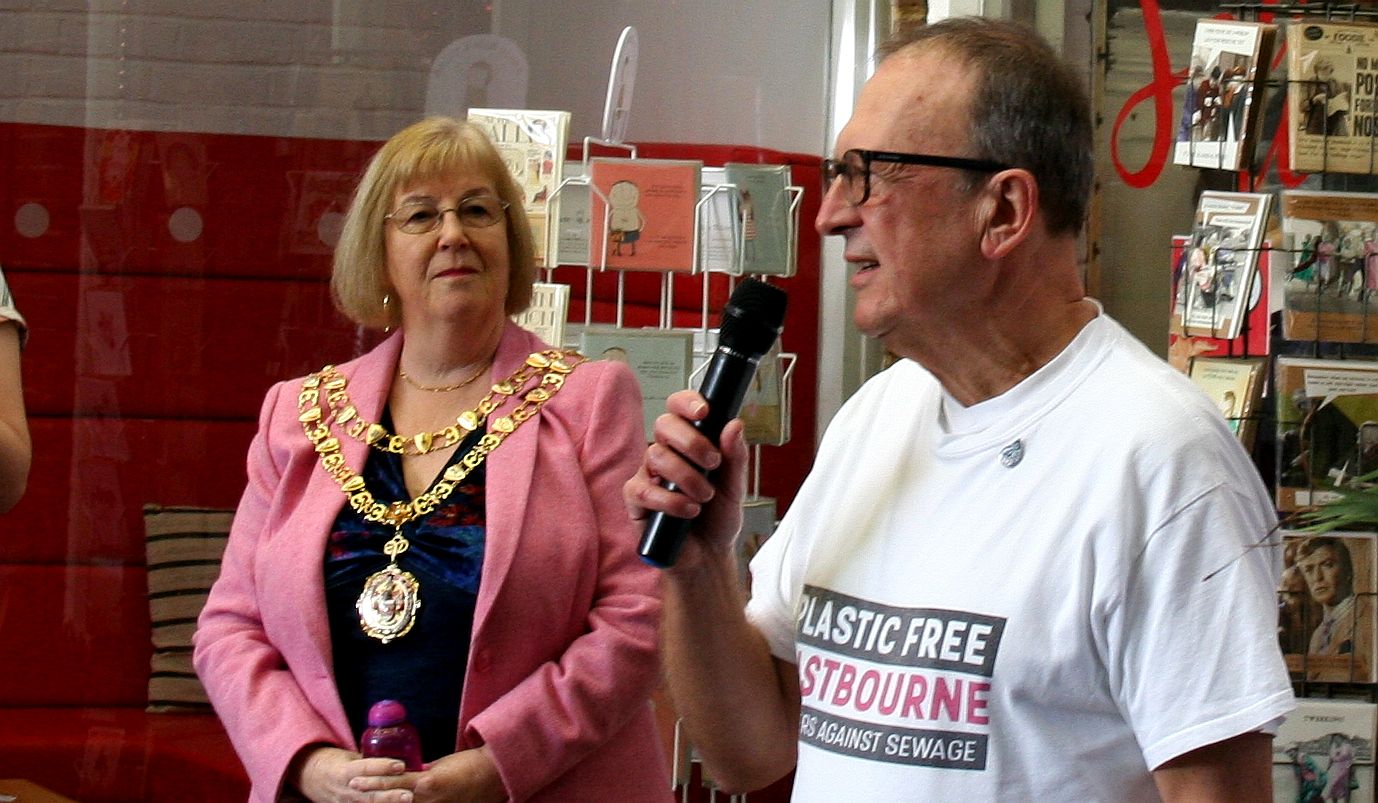 GRAND OPENING - Councillor Gill Mattock opened the Refill event to the applause of a crowd of visitors at the Enterprise Centre. Oliver Sterno is seen here introducing the Mayor of Eastbourne, a town that has pledged to clean their parks and beaches of plastic, if humanly possible. Mr Sterno is heading up a park cleaning campaign in addition to his work introducing the Refill scheme to the town, with help from businesses like the Enterprise Centre and cooperation between park managers and friends.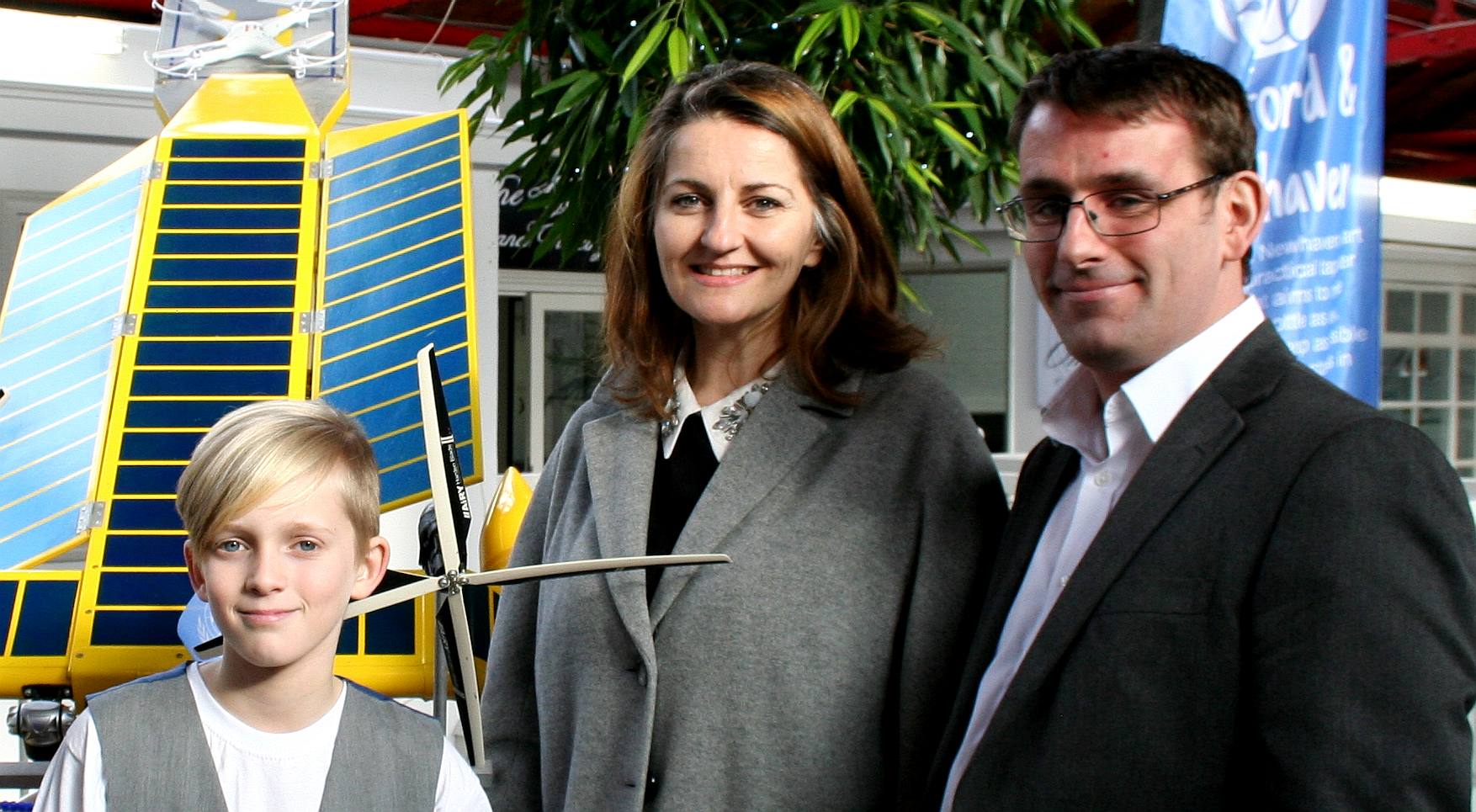 CAROLINE ANSELL - Plastic waste is an all-party problem, an issue that is so big in terms of food security and marine conservation that everyone agrees we must do something to stem the tide. In the UK, our Parliament has already banned single use plastic in the House of Commons. Caroline Ansell (centre) is a local politician and former Conservative MP for Eastbourne, also very concerned at the problems we are facing globally. The United Kingdom is nowhere near as bad as some overseas polluters, but even here we have beaches strew with plastic after each storm washes up another batch. Chris Close (SeaVax project director -right) spoke to ITV at this event about the difficulty obtaining funding for high tech research that is undertaken by not for profit organisations. Copyright photograph © 26-01-19 Cleaner Ocean Foundation Ltd, all rights reserved.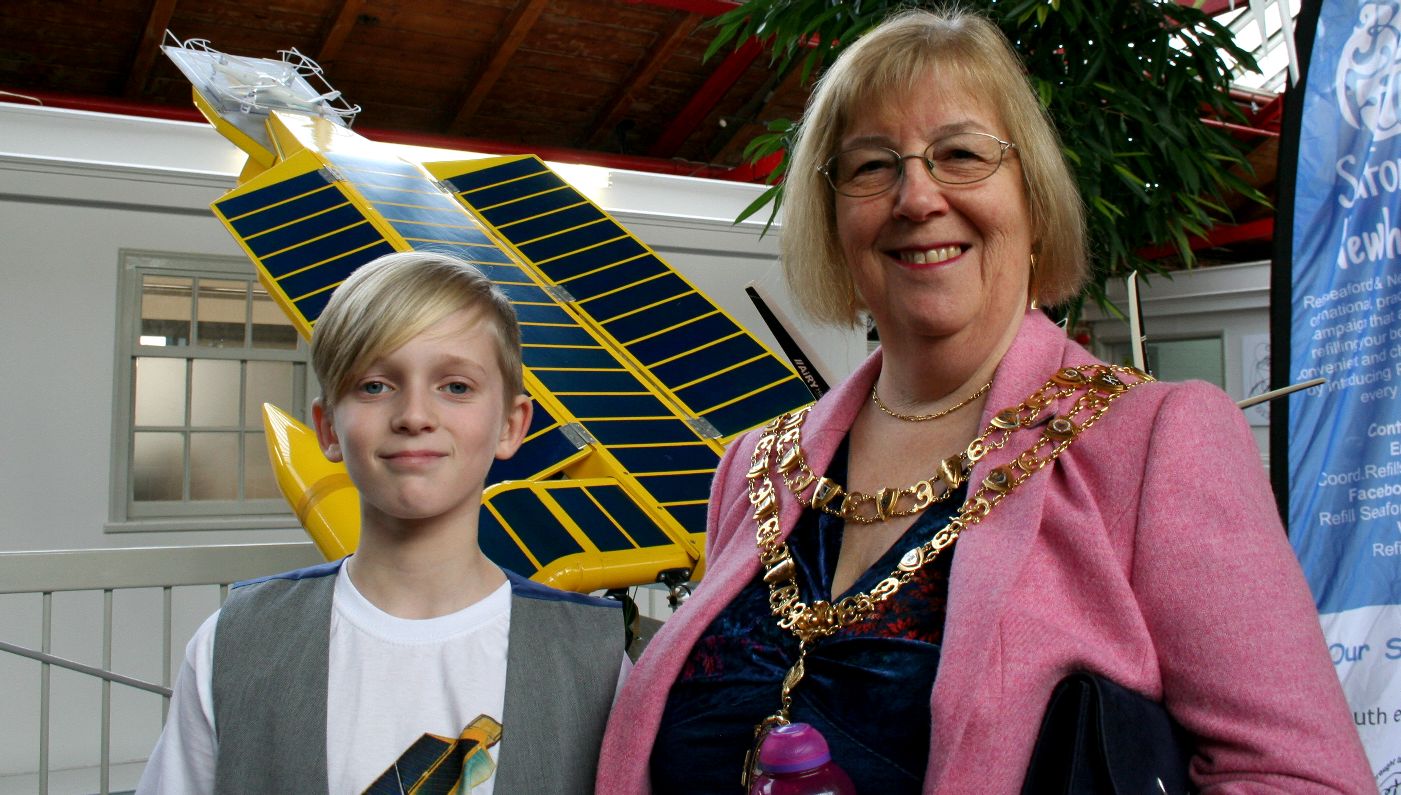 OCEAN PLASTIC CLEANER - Conservation is the name of the game in Eastbourne, the aim being to save our heritage for future generations. Councillor Gill Mattock, Mayor of Eastbourne, is pictured here with Ryan Dusart, at just 10 years old - the youngest member of the SeaVax team of volunteers. The SeaVax, seen in the background, is a giant solar and wind powered ocean going dustcart, designed to filter plastic from seawater without harming marine life. SeaVax is a robotic ship that works in fleets with satellite coordination to form an effective ocean plastic recovery system to stem the 8 to 12 million tons of waste that humans are pouring into the oceans every year. Being solar and wind powered, SeaVax is climate friendly. Global Warming is high on the agenda at Davos and is getting a lot of attention from protesting schoolchildren like Greta Thunberg.
HAPPY BEACH CLEANING DAYS

...
CONTACTS

.....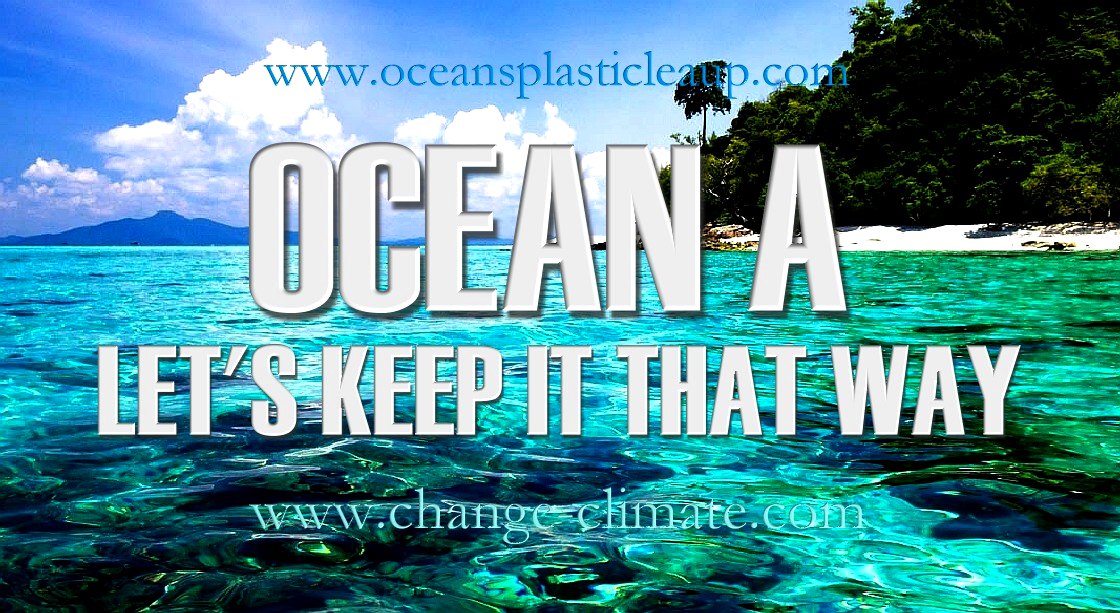 OCEAN CLEANUP PROJECTS A - Z
* Adidas
* Algalita research foundation
* Aliance to end Plastic Waste AEPW
* Baltimore Mr Trash river cleaning barge
* BAN - Basel Convention Action Network
* Boyan Slat's ocean booms
* CLAIM H2020 EU marine plastic project
* Earth Day - Fact sheet ocean plastic
* Fionn Ferreira's ferrofluid extraction of microplastics
* FlashLight Press Michelle Lord & Julia Blatt
* GRIPS - Global Research & Innovation in Plastics Sustainability
* Interceptor tethered river cleaning barges
* Junk Raft - plastic awareness voyage
* Kids Against Plastic Tat KAPTAT
* Miss Ocean - Plastic Awareness Events
* 4Ocean recycled plastic bracelets
* Nike - Sneakers from recycled materials, ocean spills
* Plastic Oceans Org
* Seabin
* SeaVax autonomous drones
* Surrey University PIRATE & Triton
* WRAP - Waste & Resources Action Programme
As you can see from the list above, Eastbourne Borough Council and Oliver Sterno are not alone in the fight against plastic waste in our oceans ....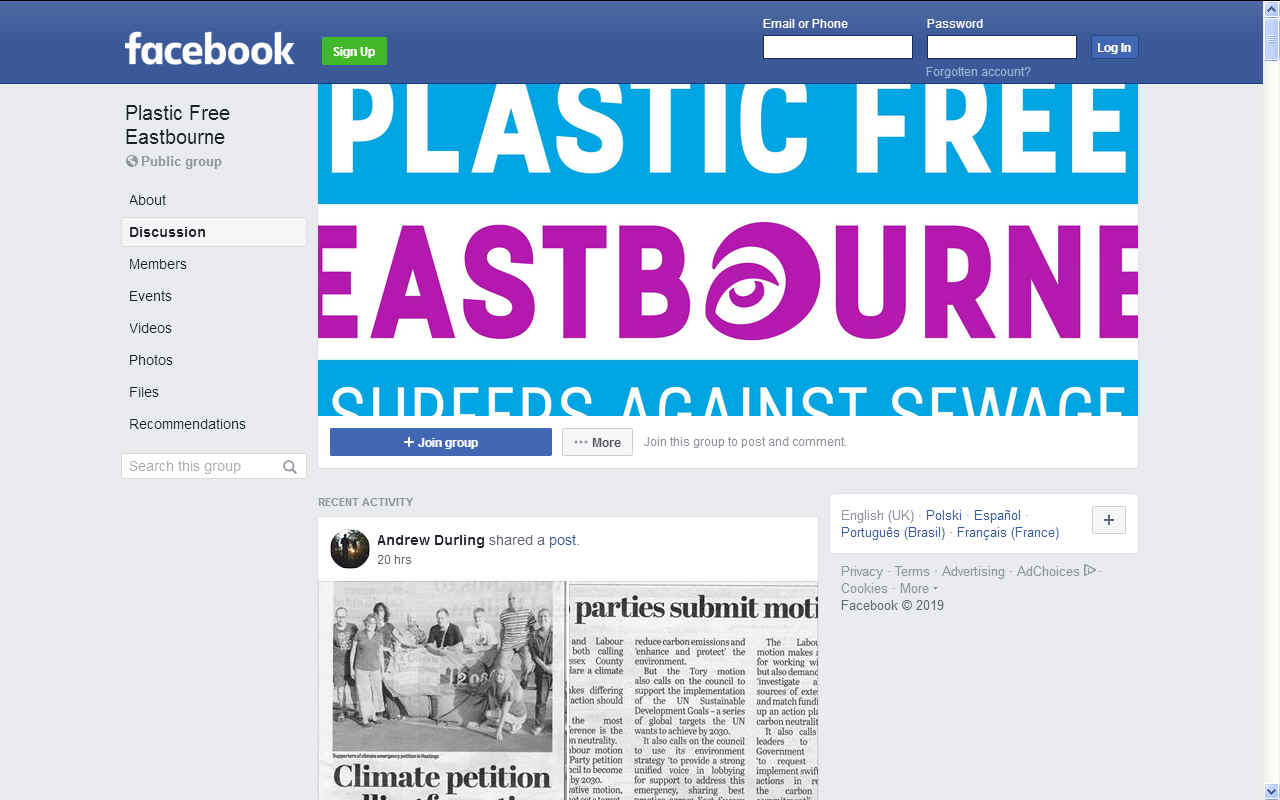 CLIMATE CHANGE PETITION - Supported by Plastic Free Eastbourne, this is a petition to urge East Sussex County Councillors to declare a climate change emergency.
LINKS & REFERENCE
https://www.eastbournelocallottery.co.uk/support/plastic-free-eastbourne
https://actionnetwork.org/petitions/declare-a-climate-emergency-in-east-sussex/
https://www.facebook.com/groups/1757121661014177/