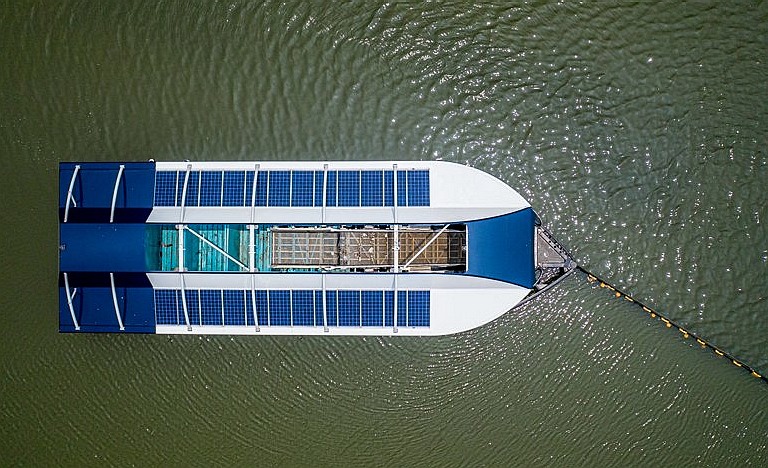 The Cleanup Project have changed tack from ocean cleaning with their drifting boom, introducing a barge based on a catamaran hull that is tethered in rivers and uses solar panels to run an escalator conveyor belt that lifts litter and plastic from the river surface directing into skips nestled between hulls of the barge. This is similar to the Baltimore waterwheel Mr Trash, in principle, that twin hulled barge also being solar powered and having a similar dumpster based system of containers for emptying.
The concept is not a hundred miles away from the SeaVax plastic cleaner, that was first shown in London in 2015, except that it is not a powered vessel as in mobile, so cannot empty itself, and it cannot target micro plastics like the Pilot Litter Picker (PLP) derived from the SeaVax. The Interceptor uses a shuttle system to signal to shore that it is time for it to be emptied. The PLP knows when it is full and can either park itself by a dockside for emptying, or empty itself into shuttles that go to harbour to empty. This would all depend on the geographical and logistical circumstances of any operation.
The ocean cleanup has already installed two interceptor systems in Klang, Malaysia, and Jakarta, Indonesia. A third interceptor is to be deployed in the Mekong delta in Vietnam, and a fourth is headed for Santo Domingo in the Dominican republic. Thailand has signed up to deploy an interceptor near Bangkok, and the ocean cleanup is in talks to have one deployed in LA county in the USA.

A single interceptor currently costs 700,000 euros (approximately $777,000 USD) but as production increases, Slat has said the cost will lessen. Potentially then, this could be a cost effective way of reducing the build up of plastic in the five Gyres. Now all we need is a way of reducing micro plastics from entering the oceans via rivers.
Obviously, river cleaning works, or Baltimore would not be installing their fourth Mr Trash system.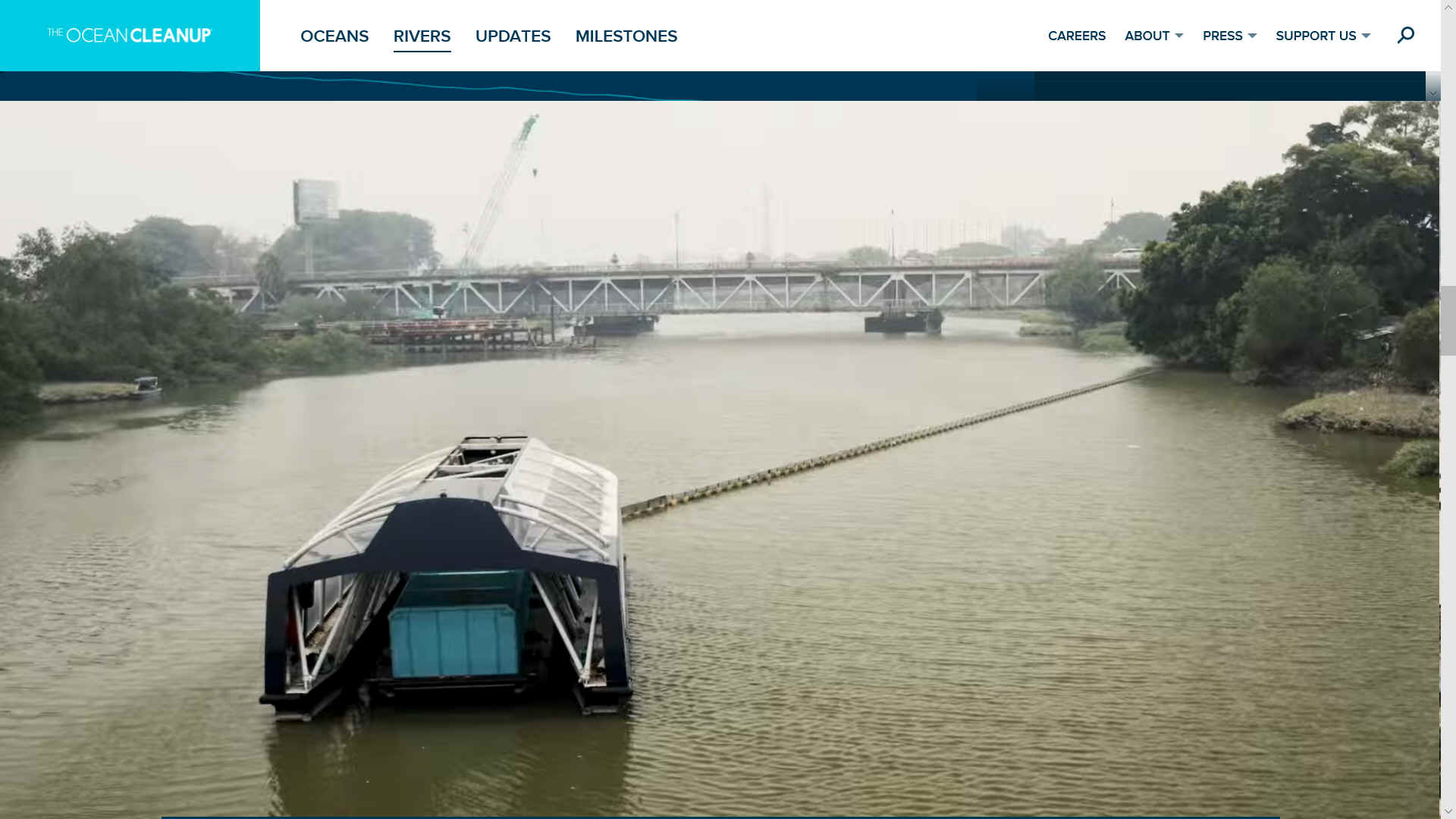 SOLAR POWERED BARGE - On Oct. 26, 2019, Slat revealed his organization's new innovation' "The Interceptor," at a launch event on a river in the Netherlands. The company built a stage on the water so that the audience could actually see how the Interceptor works.

How Does The Interceptor Work?

The Interceptor is basically a static catamaran hull that has a long floating barrier to guide trash into its opening. This barrier doesn't interfere with other vessels or marine life as it only takes up a part of the river. It's anchored to the riverbed in a position that allows the natural current of the waterway to push debris towards the opening of The Interceptor, where it then piles onto a netted conveyor belt.

back into the river. The shuttle then pours the waste into six on-board dumpsters, which have a capacity to hold 50 cubic meters of trash. That means it's capable of collecting between 50,000 kg and 100,000 kg of trash per day. Once the dumpsters are nearly at capacity, an automated text message is sent to local operators, who then collect the barge, empty the dumpsters to a waste management facility, and then return the barge back to the Interceptor.

Additionally, the system is entirely solar-powered, equipped with lithium-ion batteries, free of exhaust fumes, quiet, and it can run autonomously 24/7.

The Ocean Cleanup has already built four Interceptors, two of which are installed in Indonesia and Malaysia. The other two will be used in Vietnam and the Dominican Republic. Plus, there are two more that are currently being built, which will be installed in Thailand, and California.

Furthermore, the company aims to install an Interceptor in each of the 1,000 world's most polluting rivers by 2025. This will make a massive difference in protecting our oceans and the sea creatures that inhabit it.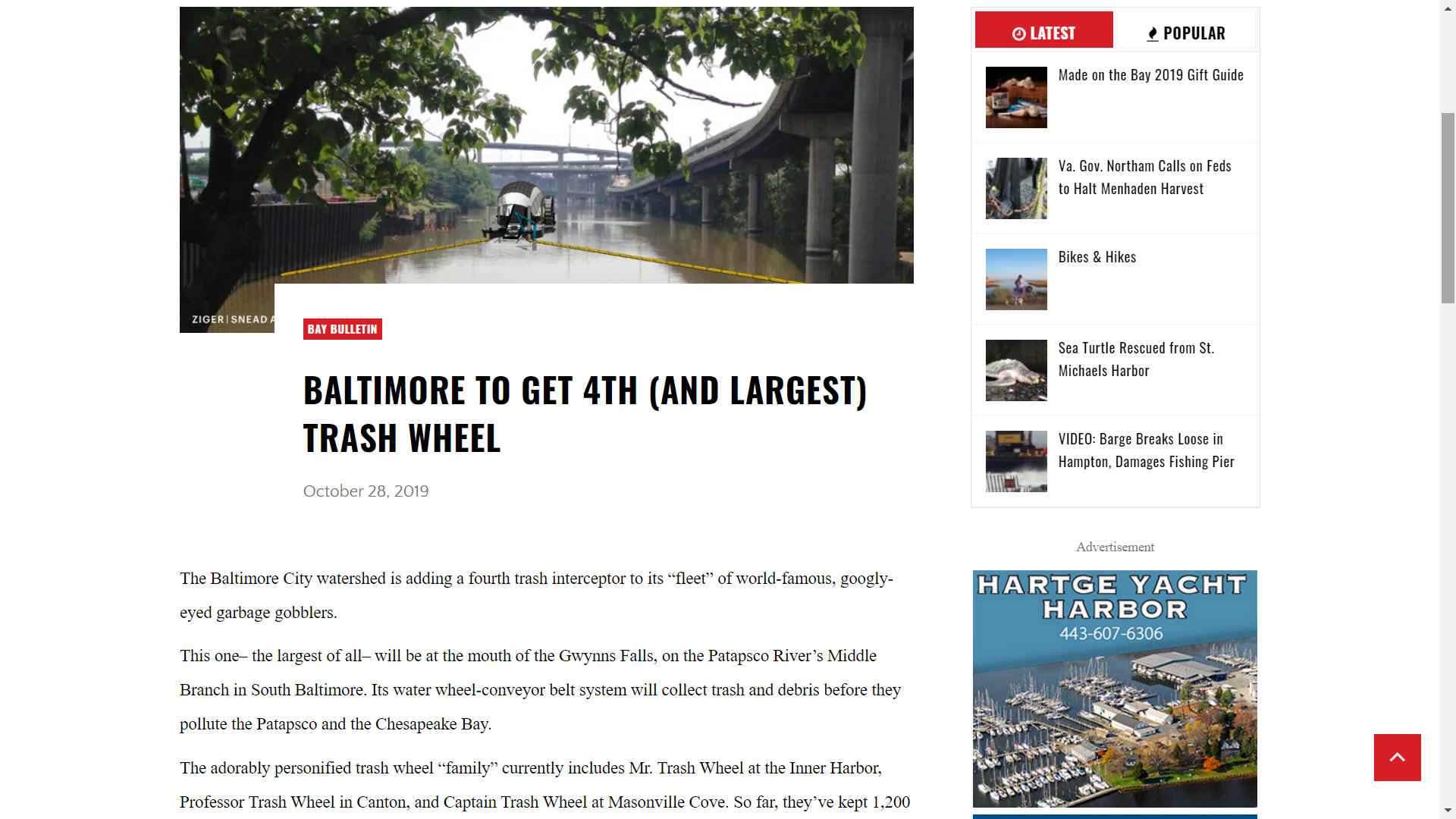 OCTOBER 28 2019 BALTIMORE TO GET 4TH (AND LARGEST) TRASH WHEEL - The Baltimore City watershed is adding a fourth trash interceptor to its "fleet" of world-famous, googly-eyed garbage gobblers.
NNN OCTOBER 2 2019

A waste collection system tasked with eliminating plastic from oceans has on Wednesday begun raking up debris from the Great Pacific Garbage Patch.

Boyan Slat, the founder of The Ocean Cleanup project, at a press conference in Rotterdam said the project has started after a year of testing and one major setback.

"Today, I am very proud to share with you that we are now catching plastics.''

Slat, 25, said the passive clean-up system is able to capture plastics of all size and classes, including micro-plastics.

He said the project, founded in 2013, aims to install floating devices to catch plastic debris in five garbage patches formed by ocean currents.
According to him, the first device was placed in the biggest, the Great Pacific Garbage Patch, around 2,000 kilometres off the coast of California.

Slat explained that the method involves two plastic pipes around 600 metres long floating on the surface of the water, forming a U-shape with a 3-metre long underwater screen beneath.

He further explained that the rubbish is washed into the U-shape, and can then be collected.

Slat said the structure was pulled out of San Francisco Bay into Open Ocean in September 2018.

He said the vessel soon had to be towed back to land after a design flaw resulted in problems in retaining the plastic collected.

Slat said those technical challenges had been addressed and that the process of designing a second system that can operate without human aid for even longer periods of time than the first model was under way.

HLM/ABI By Hadiza Mohammed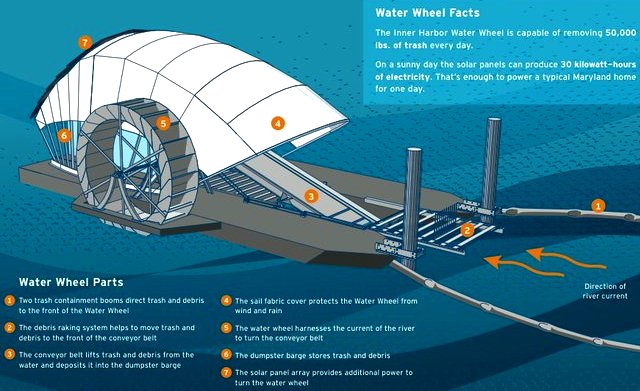 MR TRASH 2014 - This is the solar and water-wheel powered barge in Baltimore harbor. Two floating booms direct river debris to the front of the water wheel. A raking system helps move trash onto a conveyor belt that dumps it into a skip at the rear. A solar panel array keeps the wheel moving when the river flow is reduced. All in all a nice bit of engineering.
Boyan Slat CEO Ocean Cleanup is quoted as saying: 'to truly rid the oceans of plastic, what we need to do is two things. Oone, we need to clean up the legacy pollution, the stuff that has been accumulating for decades and doesn't go away by itself. but, two, we need to close the tap, which means preventing more plastic from reaching the oceans in the first place. rivers are the arteries that carry the trash from land to sea.'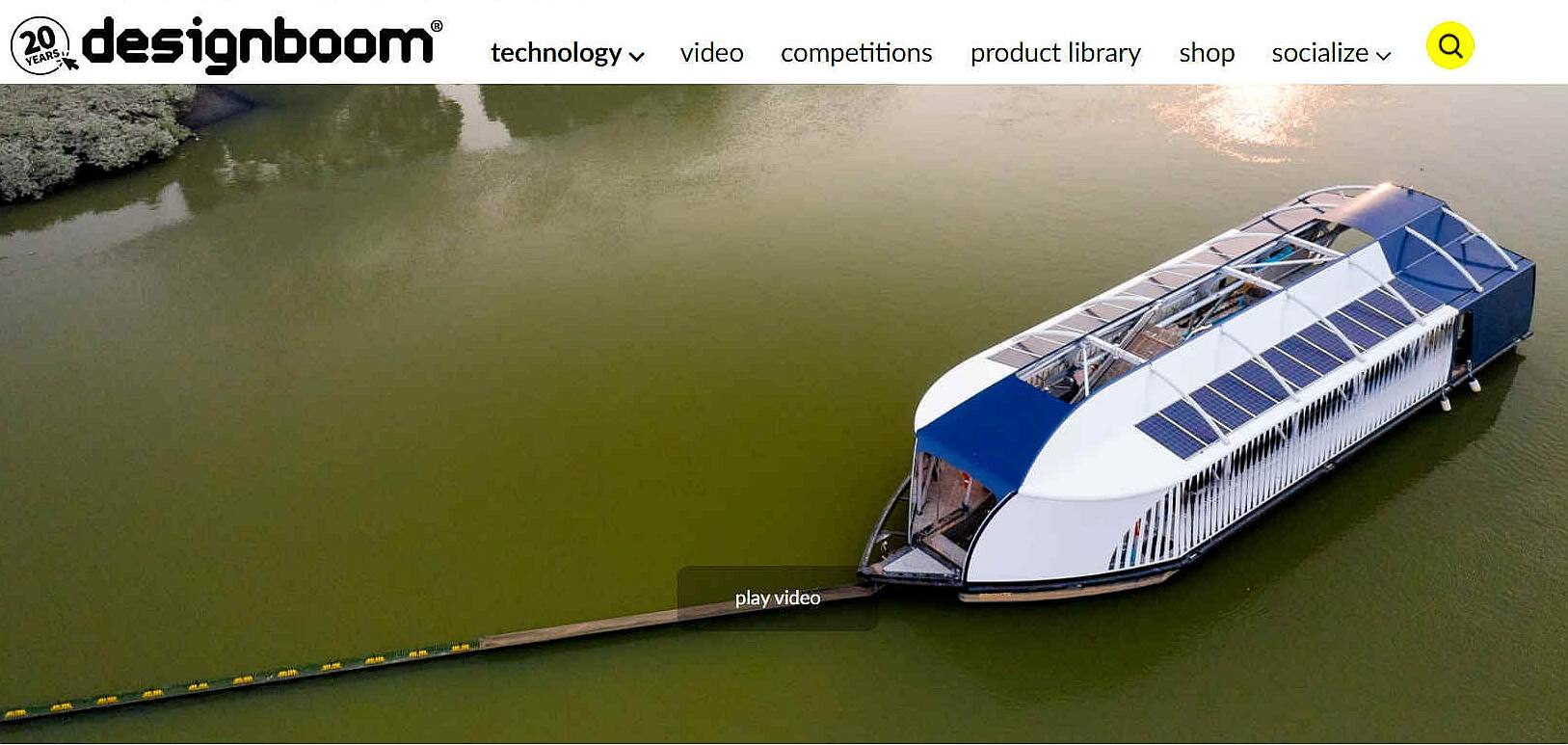 We think that the public would like to know how much plastic is collected and how much was the total cost in diesel fuels to be able to calculate the boom drift project's carbon footprint.
The Ocean Cleanup is non-government engineering environmental organization based at Delft, Netherlands, that develops technology to extract plastic pollution from the oceans.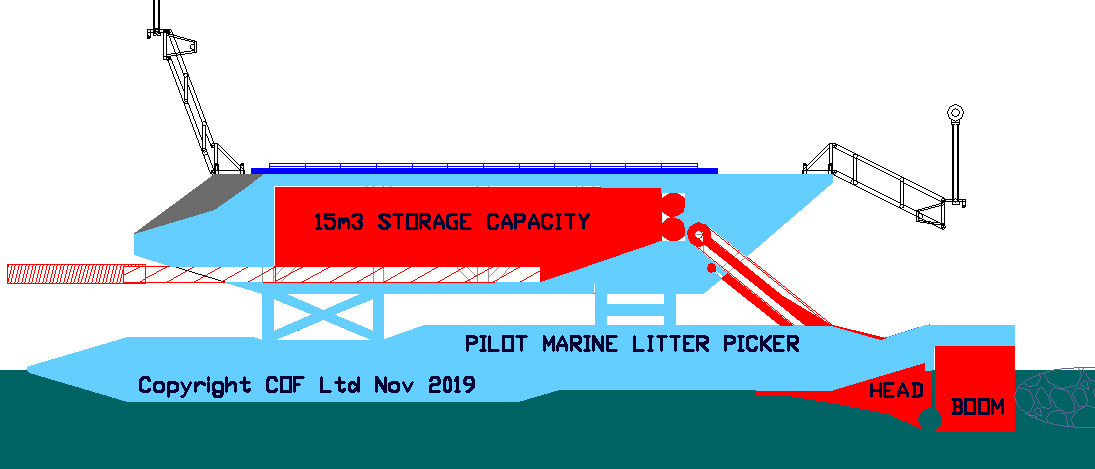 PILOT MARINE LITTER PICKER - This machine is essentially a 16 meter version of the 44 meter SeaVax with a 15 cubic meter hopper (see a 35m3 version below). It is the only design in the world capable of extracting micro plastics from rivers at the time of writing. In this diagram we are looking through the superstructure. We can see a boom ahead of the cleaning head on the right, guiding litter into the filtration head, where it is lifted up into the large storage chamber, then carried to a harbour for offloading. The vessel is designed to navigate itself to a designated location, with input from human operators as may be required, where a dockside treatment or container storage system allows speedy turnarounds. Copyright © diagrams 21 November 2019. All rights reserved, Cleaner Ocean Foundation Ltd.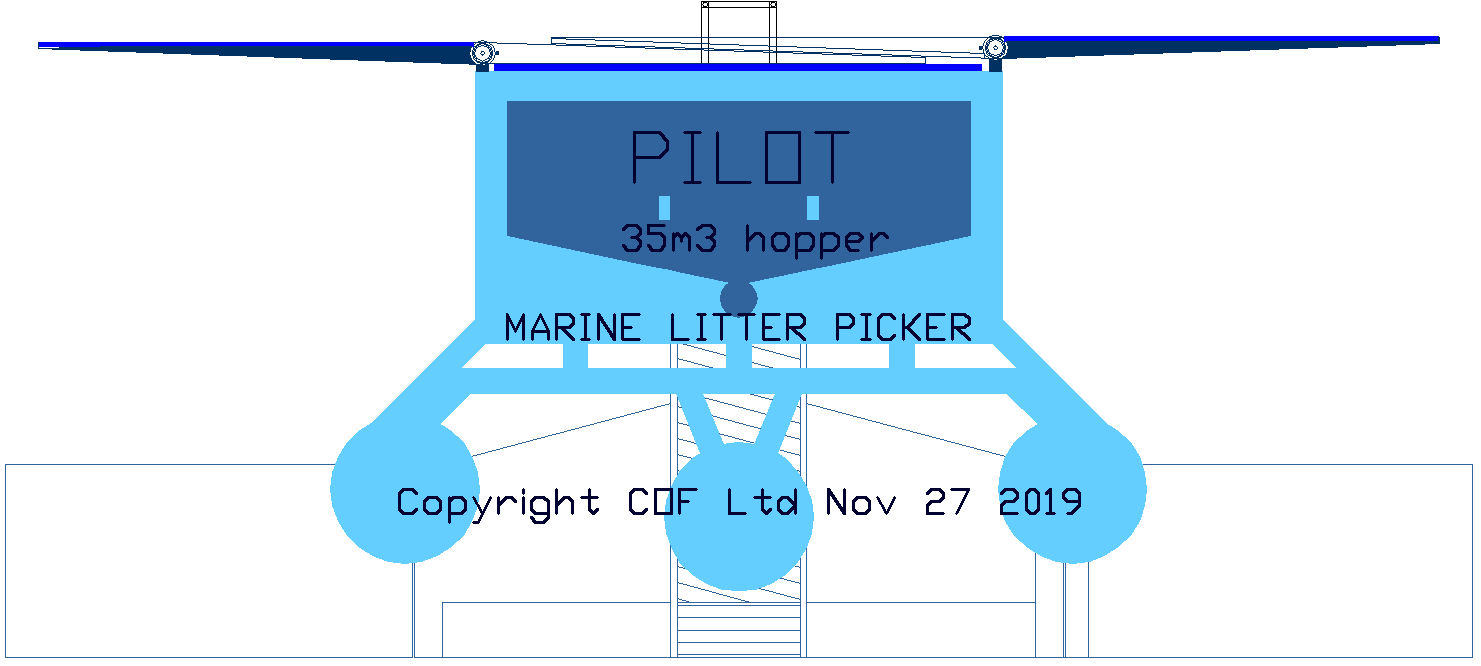 PLATFORM DESIGN - In this diagram we see enlarged solar wings to generate 13kW of energy, also meaning we might accommodate a storage hopper of 35 cubic meters. With twin 5kW wind turbines, we are looking at 23kW peak filtration power. Thirty-five meters of compressed waste is equal to around 50 meters of typical skimmed waste. Extra energy is required for micro plastic handling.
Boyan Slat is not alone in the fight against ocean plastic. These emerging technologies could all play a part in containing the mountain of plastic that is accumulating on the oceans floors, by recovering floating debris before it sinks. New ideas are welcomed.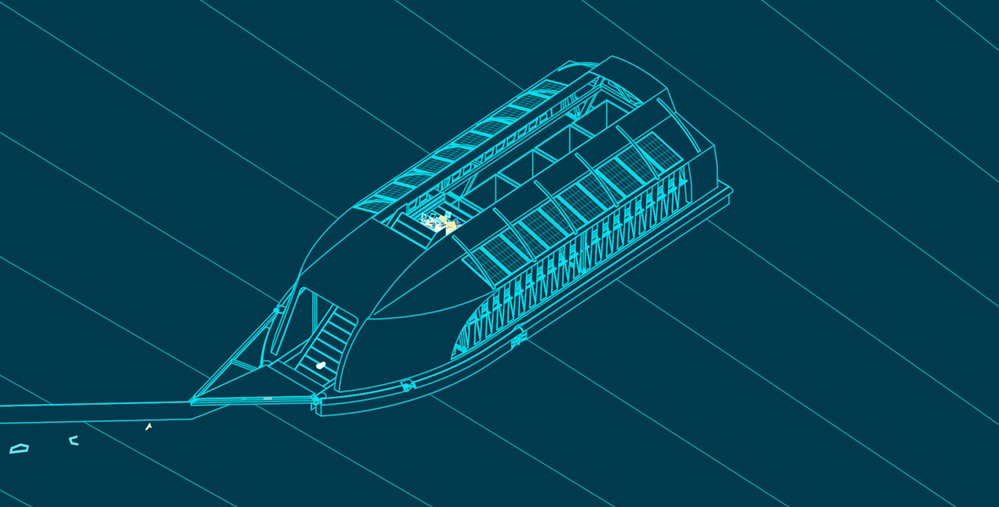 PROJECT HISTORY 2012 - 2021
2021 - Qualified success Sept 16 (Reuters)
OCEAN CLEANUP PROJECTS
* Aliance to end Plastic Waste
* Boyan Slat's ocean booms
* 4Ocean recycled plastic bracelets
* Seabin
* SeaVax autonomous drones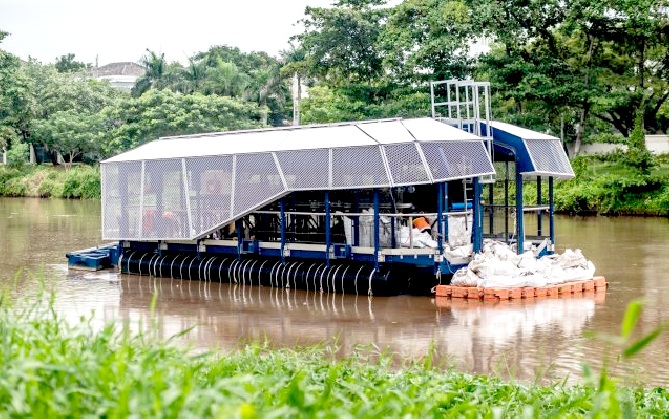 LINKS & REFERENCE
https://www.designboom.com/technology/the-ocean-cleanup-interceptor-river-plastic-pollution-10-30-2019/
https://chesapeakebaymagazine.com/baltimore-to-get-4th-and-largest-trash-wheel/
https://theoceancleanup.com/rivers/
https://www.intelligentliving.co/the-interceptor-the-ocean-cleanup-project-removing-plastic-from-rivers/
https://theoceancleanup.com/
RIVER BARGES - Now being targeted with a tethered barge and a shuttle service to take skips (dumpsters) that are full back to shore for processing.
| | | | |
| --- | --- | --- | --- |
| RIVER | COUNTRY | POPULATION | PLASTIC |
| - | - | - | - |
| | Brazil/Peru/ Ecuador | - | 1 |
| | Russia/China | - | 2 |
| | | - | 3 |
| | Bangladesh | - | 4 |
| | | - | 5 |
| | West Central Africa | - | 6 |
| | Nigeria/Cameroon | - | 7 |
| | | - | 8 |
| | India/Bangladesh | - | 9 |
| | | - | 10 |
| | | - | 11 |
| Hai He (Sea) | | - | 12 |
| | | - | 13 |
| | | - | 14 |
| | Myanmar | - | 15 |
| | Nigeria | - | 16 |
| | Pakistan/Himalayan | - | 17 |
| | Russia/China/Kazakhstan | - | 18 |
| | Israel | - | 19 |
| | Nigeria | - | 20 |
| | Siberia | - | 21 |
| | Columbia | - | 22 |
| | | - | 23 |
| | Philippines | - | 24 |
| | | - | 25 |
| | Thailand/Laos/Vietnam | - | 26 |
| | Guinea/Nigeria | - | 27 |
| | | - | 28 |
| | S America/Brazil | - | 29 |
| | Philippines | - | 30 |
| | Java/Indonesia | - | 31 |
| | | - | 32 |
| | | - | 33 |
| | Java/Indonesia | - | 34 |
| | Taiwan | - | 35 |
| | | - | 36 |
| | | - | 37 |
| | | - | 38 |
| Yellow/Huang He | | - | 30 |
| Zhujiang/Pearl | | - | 40 |