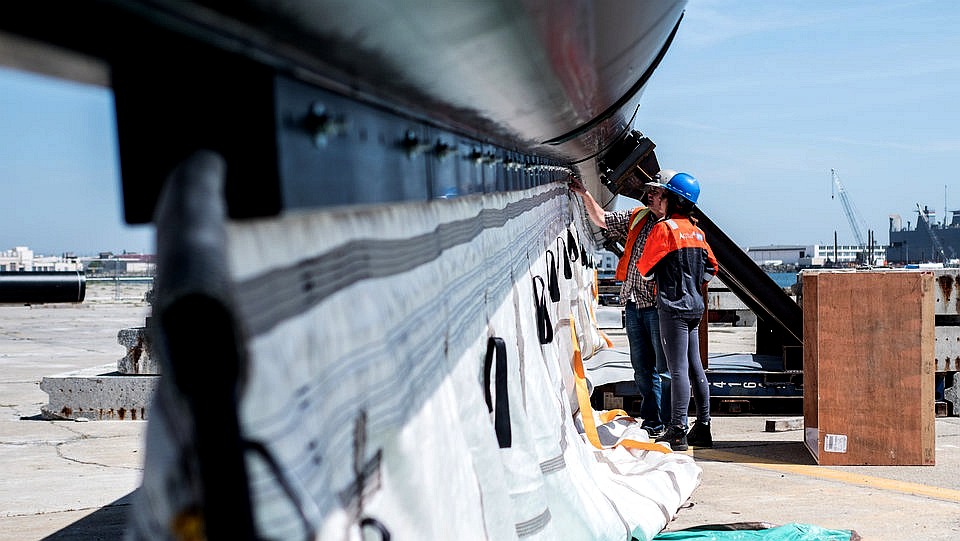 It will be interesting to see the results obtained from the sea trials in 2019. We are sure there is bound to be ongoing development. Perhaps we might see a small fleet deployed? The one thing we are not privy to is the quantity and makeup of the plastic collected. Such data will be telling.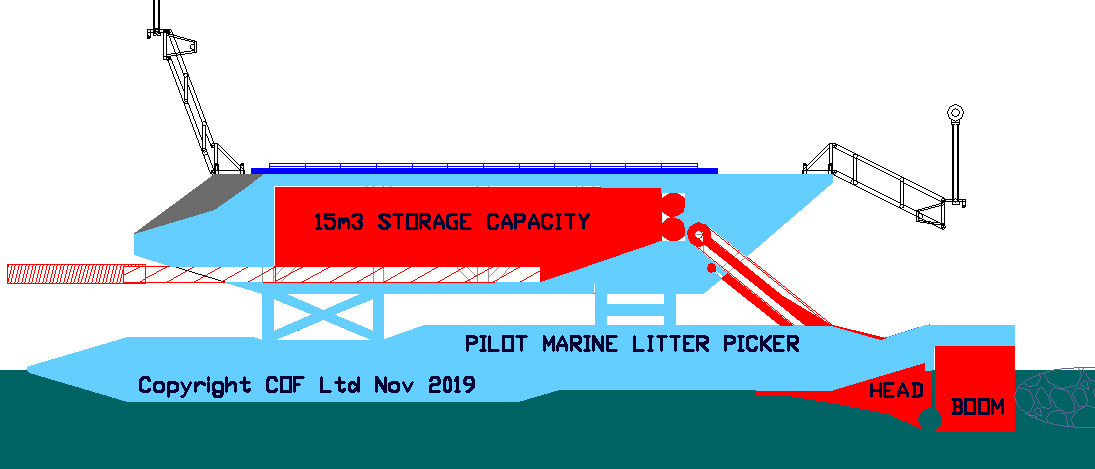 PILOT MARINE LITTER PICKER - This machine is essentially a 16 meter version of the 44 meter SeaVax. It is the only design in the world capable of extracting micro plastics from rivers at the time of writing. In this diagram we are looking through the superstructure. We can see a boom ahead of the cleaning head on the right, guiding litter into the filtration head, where it is lifted up into the large storage chamber, then carried to a harbour for offloading. The vessel is designed to navigate itself to a designated location, with input from human operators as may be required, where a dockside treatment or container storage system allows speedy turnarounds. Copyright © diagrams 21 November 2019. All rights reserved, Cleaner Ocean Foundation Ltd.
Meantime, it says a lot that the Cleanup Project have changed tack to look at cleaning rivers, this time with a concept that is not a hundred miles from the SeaVax plastic cleaner (except that SeaVax is mobile), that was first shown in London in 2015, but is more or less a derivation of the twin hulled barge in Baltimore harbour, known as Mr Trash, complete with booms and solar power.
NNN OCTOBER 2 2019

A waste collection system tasked with eliminating plastic from oceans has on Wednesday begun raking up debris from the Great Pacific Garbage Patch.

Boyan Slat, the founder of The Ocean Cleanup project, at a press conference in Rotterdam said the project has started after a year of testing and one major setback.

"Today, I am very proud to share with you that we are now catching plastics.''

Slat, 25, said the passive clean-up system is able to capture plastics of all size and classes, including micro-plastics. (details awaited)

He said the project, founded in 2013, aims to install floating devices to catch plastic debris in five garbage patches formed by ocean currents.

According to him, the first device was placed in the biggest, the Great Pacific Garbage Patch, around 2,000 kilometres off the coast of California.

Slat explained that the method involves two plastic pipes around 600 metres long floating on the surface of the water, forming a U-shape with a 3-metre long underwater screen beneath.

He further explained that the rubbish is washed into the U-shape, and can then be collected.

Slat said the structure was pulled out of San Francisco Bay into Open Ocean in September 2018.

He said the vessel soon had to be towed back to land after a design flaw resulted in problems in retaining the plastic collected.

Slat said those technical challenges had been addressed and that the process of designing a second system that can operate without human aid for even longer periods of time than the first model was under way.

HLM/ABI By Hadiza Mohammed
We think that the public would like to know how much plastic is collected and how much was the total cost in diesel fuels to be able to calculate the boom drift project's carbon footprint.
The Ocean Cleanup is non-government engineering environmental organization based at Delft, Netherlands, that develops technology to extract plastic pollution from the oceans.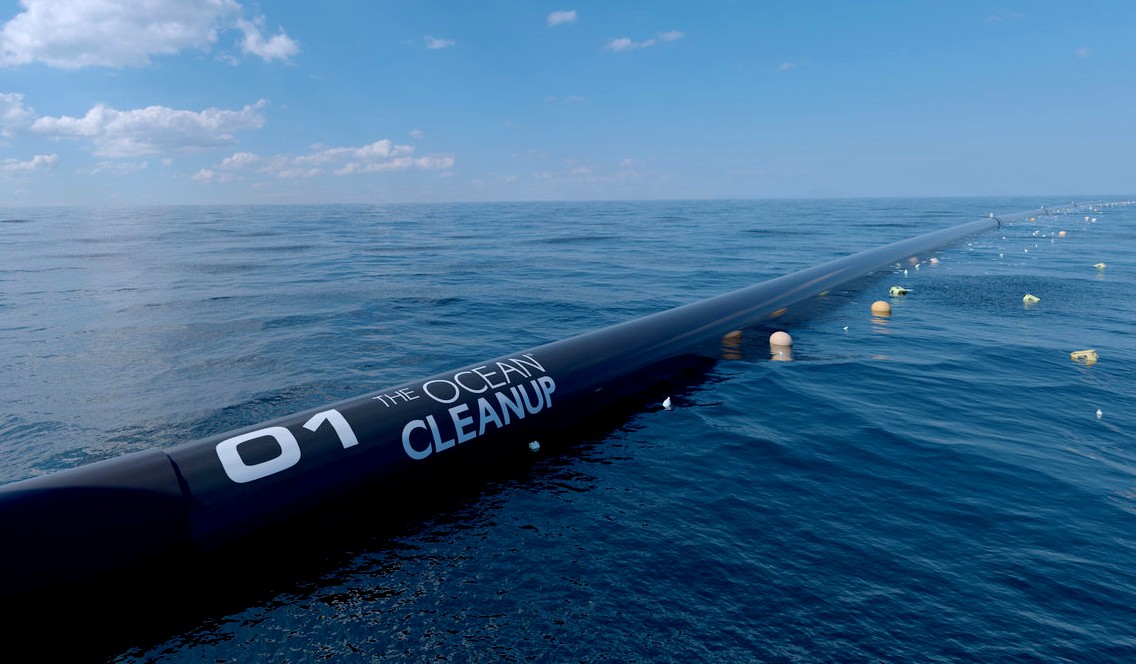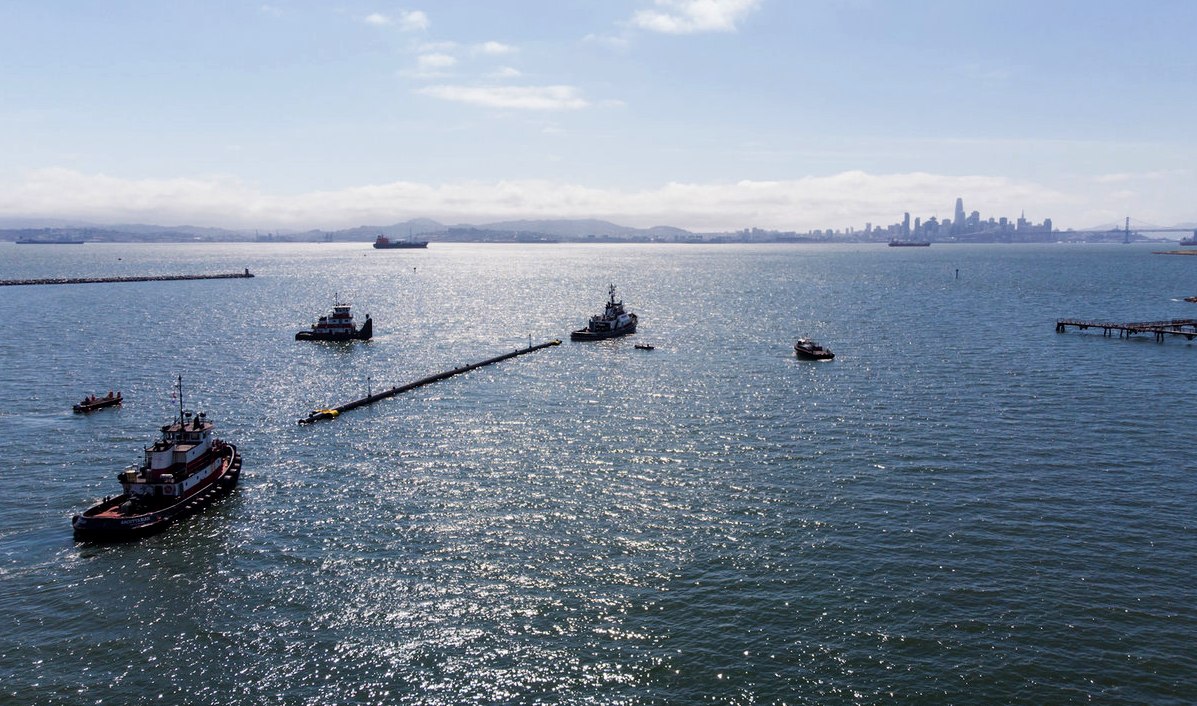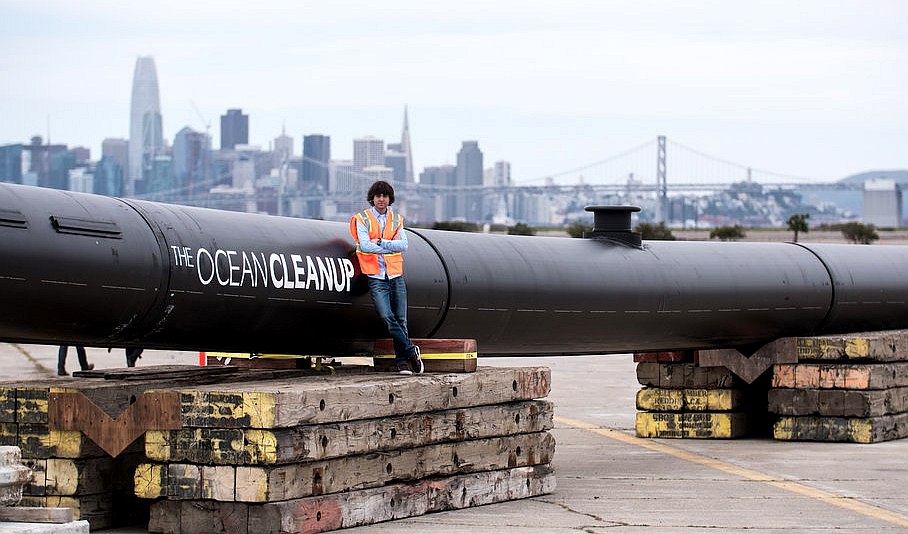 Boyan Slat is not alone in the fight against ocean plastic. These emerging technologies could all play a part in containing the mountain of plastic that is accumulating on the oceans floors, by recovering floating debris before it sinks. New ideas are welcomed.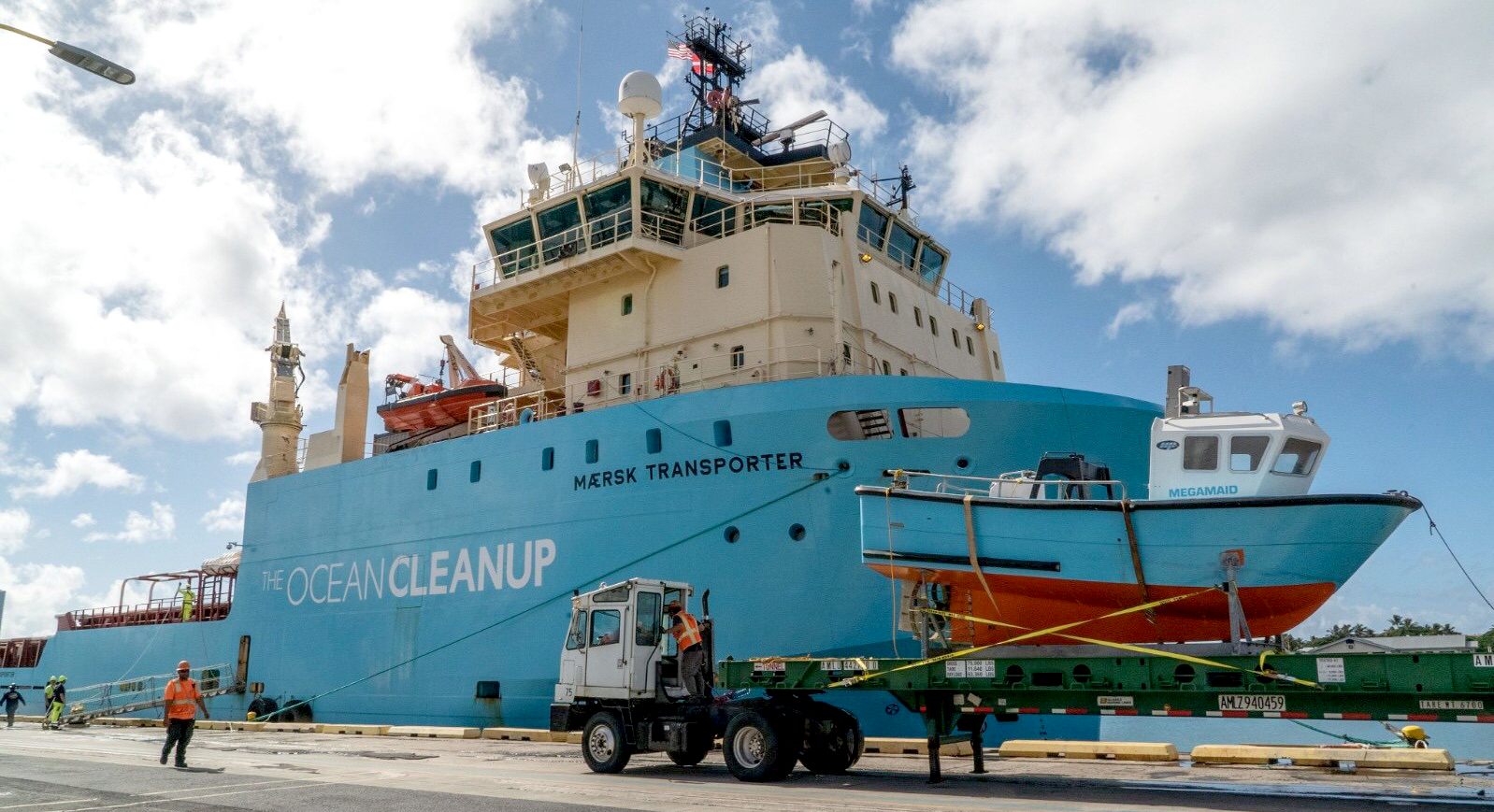 PROJECT HISTORY 2012 - 2021
2021 - Qualified success Sept 16 (Reuters)
OCEAN CLEANUP PROJECTS
* Aliance to end Plastic Waste
* Boyan Slat's ocean booms
* 4Ocean recycled plastic bracelets
* Seabin
* SeaVax autonomous drones
LINKS & REFERENCE
2 October 2019 https://nnn.com.ng/ocean-cleanup-project-scoops-up-first-batch-of-plastic-in-pacific/
https://theoceancleanup.com/
8 September 2018 The World's First Ocean Cleanup System Launched from San Francisco
22 March 2018 Great Pacific Garbage Patch Growing Rapidly, Study Shows
21 December 2017 Research Shows How Plastic at Sea Turns into Toxic Fish Food
7 June 2017 First Estimate to Quantify Global Plastic Input from Rivers into Oceans
11 May 2017 The Ocean Cleanup Announces Pacific Cleanup to Start in 2018
WIND AND WAVES - The floating boom systems are designed to capture plastics ranging from small pieces just millimeters in size, up to large debris, including massive discarded fishing nets (ghost nets), which can be tens of meters wide.

Models show that a full-scale cleanup system roll-out (a fleet of approximately 60 systems) could clean 50% of the Great Pacific Garbage Patch in just five years.

The system consists of a 600-meter-long floater that sits at the surface of the water and a tapered 3-meter-deep skirt attached below. The boom floater provides buoyancy to the system and prevents plastic from flowing over it, while the skirt stops debris from escaping underneath.

It's a giant version of fishing nets as used for centuries by fishermen. A secondary net and modified fishing vessels then capture and land the plastic on a vessel where it is transported to land for recycling.