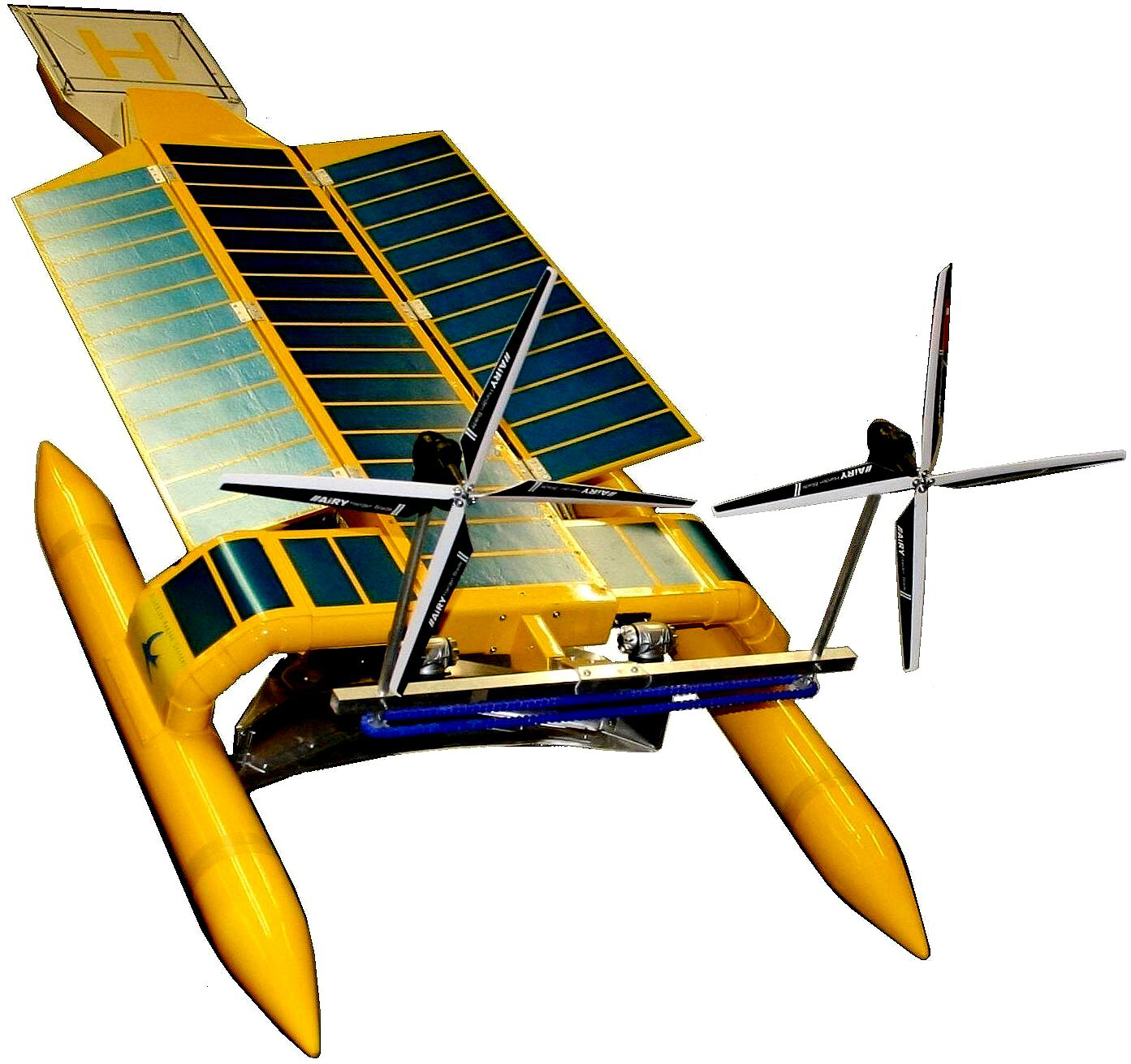 LITTER CLEANER - This 44m machine is designed to be operated in fleets to target ocean waste in blue water and in rivers. This present proposal is for a pilot derivation of the above machine, limited to around 16 meters in length, with an active cleaning head spanning 6.75 meters. This 1:20 model did not feature moveable wind turbines and the solar wings had limited angular movement. The proposed Pilot vessel will be around 7.5 times the size of this proof of concept machine.
Work Package 2 is to design and fabricate the 'filtration head' and marine litter collection and transport system for the effective harvesting and onboard storage of marine litter, to include a transfer system to road vehicles as may be needed for re-processing arrangements on land, preferably on a dockside or close by.
The head design will incorporate sensors to enable the machine to differentiate between biota and marine litter - and so apply the appropriate filtration apparatus intelligently as part of an automated system.
Part of this stage will be the sourcing of suitable off the shelf components that may be adapted cost effectively, such as FerryBoxes that monitor the state of the ocean.
The collection head of this machine might genuinely (and routinely) handle marine litter a meter in size, and keep working until the storage area is full.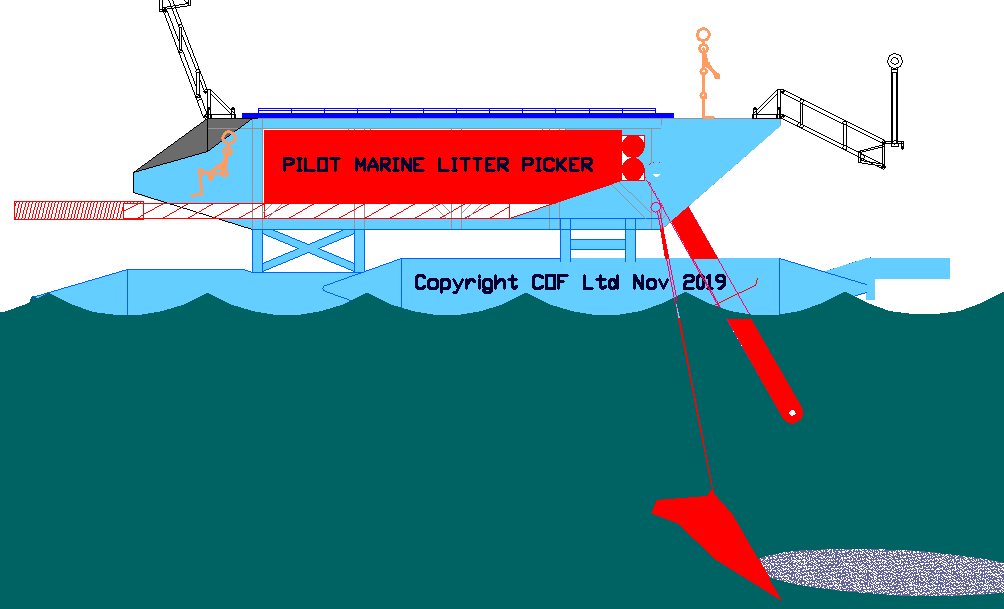 DEEP CLEAN - In this diagram we see the selective filter cleaning head lowered to a depth of 8 meters to deal with deeper micro plastics. Surface plastic may still be collected with the conveyor system when in this dual operational mode. This use increases energy requirement making it especially important to make the most of solar and wind energy. The Foundation is the only organization targeting plastics in this way. Copyright © diagrams 25 November 2019. All rights reserved, Cleaner Ocean Foundation Ltd.
But potentially of more importance, where tethered barge systems are now coming online in rivers all over the world (Baltimore, USA, Klang, Malaysia, Jakarta, Indonesia, Mekong delta, Vietnam, Santo Domingo, Dominican Republic, Bangkok, Thailand and LA County, USA) their conveyor belt systems cannot deal with microplastics. Nor are these barges mobile to be able to transfer onboard stored litter remotely, but reliant on shuttles and skips (dumpsters). Not that there is anything wrong with adapting off-the-shelf technology, save where it involves diesel powered vehicles in the chain.
The effective area of sweep of the Pilot vessel open-mouthed and without additional booms, is 12 meters, where the vessel is located offshore or near a river mouth. Whereas the cleaning mouth is 5.75 meters wide and the conveyor and compactor are one meter wide. Compacting the litter means that a smaller vessel might provide the same capacity as much larger barges.
Other river based tethered systems employ booms that are unconnected to their target vehicles upstream, to direct litter to the mouths of their conveyor systems. The original system like this was installed in Baltimore harbor around 2014 called Mr Trash. Baltimore are now installing their 4th machine because the wheels are doing so well at keeping their harbour clean of floating litter, but they needed extra capacity.
Tethered barges might be equipped with the proposed micro plastic cleaning head once it is developed. Or, those areas identified as litter hot-spots, might swap their barges for a Pilot Litter Picker, by way of enhancing their cleaning abilities.
A mobile system might be shared between areas to reduce cleaning costs.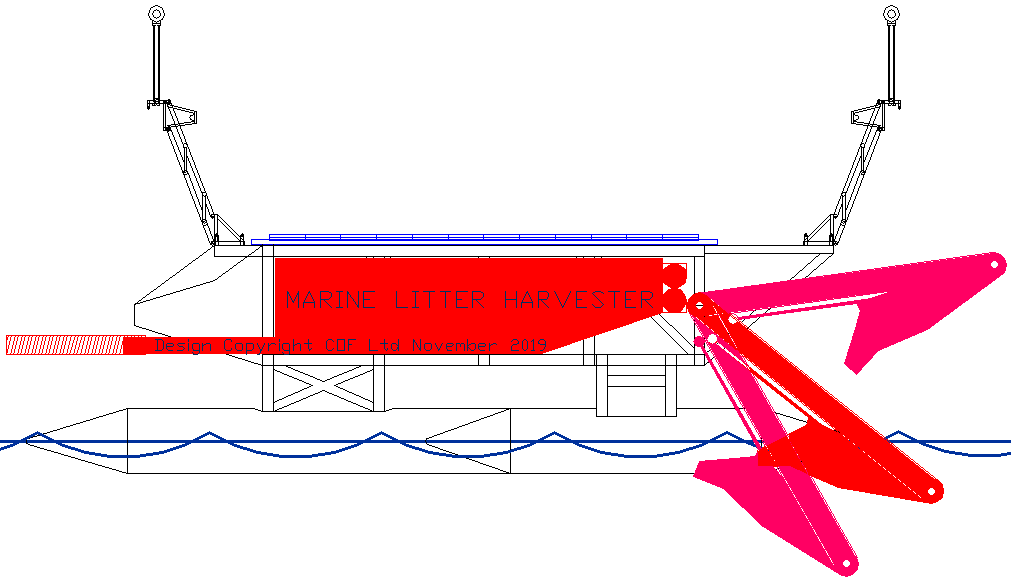 COMBINED HARVESTER - This diagram shows the storage chambers nestled inside the superstructure, offloading tube (seen here extended) for dockside transfers and the collector head at three different heights:
1. raised completely out of the sea for transit,
2. normal operations down to 1 meter, and
3. lowered for collecting microplastics in rivers and shores.
PLAN VIEW - Proceeding east (right), the Pilot marine litter cleaning machine scoops up surface debris, lifts it into a shredder head via an escalator, then stores up to 15 cubic meters or ten tons of compressed waste until docking, when the machine pumps the waste to a dockside treatment facility using the extendable pipe at the opposite end of the vessel. Waste plastic may be turned back into new products and useful chemicals, including fuel. Copyright © diagrams 21 November 2019. All rights reserved, Cleaner Ocean Foundation Ltd.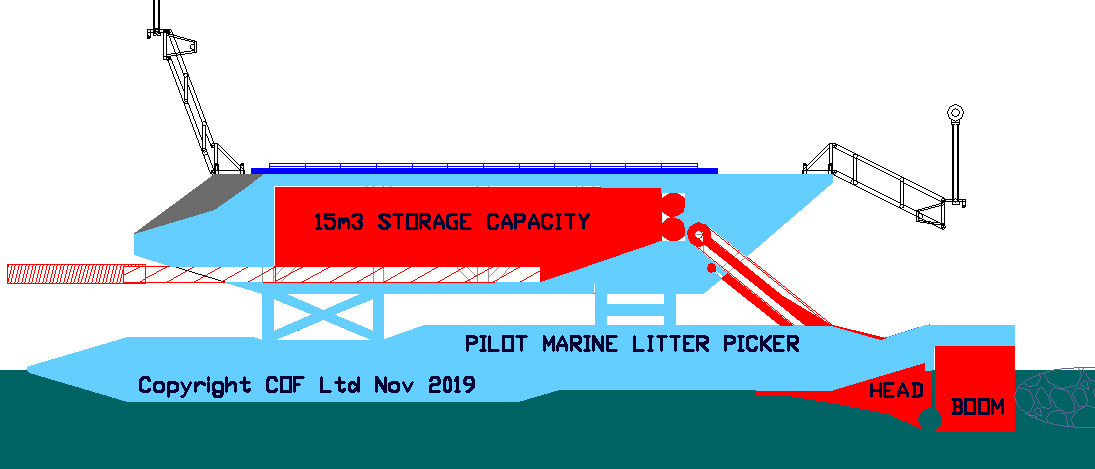 SIDE VIEW - The same machine looking through the superstructure, we can see a boom ahead of the cleaning head on the right, guiding litter into the filtration head, where it is lifted up into the large storage chamber, then carried to a harbour for offloading. The vessel is designed to navigate itself to a designated location, with input from human operators, where a dockside container system allows speedy turnarounds. Copyright © diagrams 21 November 2019. All rights reserved, Cleaner Ocean Foundation Ltd.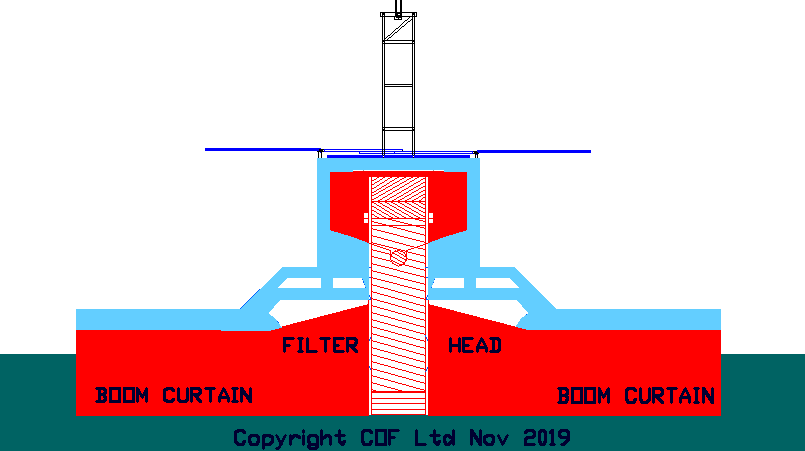 FRONT (END) VIEW SURFACE MODE - In this diagram, the Pilot litter picker is traveling towards the viewer - or placed in a tidal stream so that the current works to collect the target litter. Using an optional fold out boom system, the scoop head is around 12 meters wide. Not bad for a portable and mobile system. If used in a fixed location, additional booms can be attached to soak up even more litter. The booms are designed to go to a depth of 1.5 meters, unlike Boyan Slat's 3.0 meter giants. The big brother of this machine could have deeper booms. If static, the offloading system may need extension ducting. Copyright © diagrams 21 November 2019. All rights reserved, Cleaner Ocean Foundation Ltd.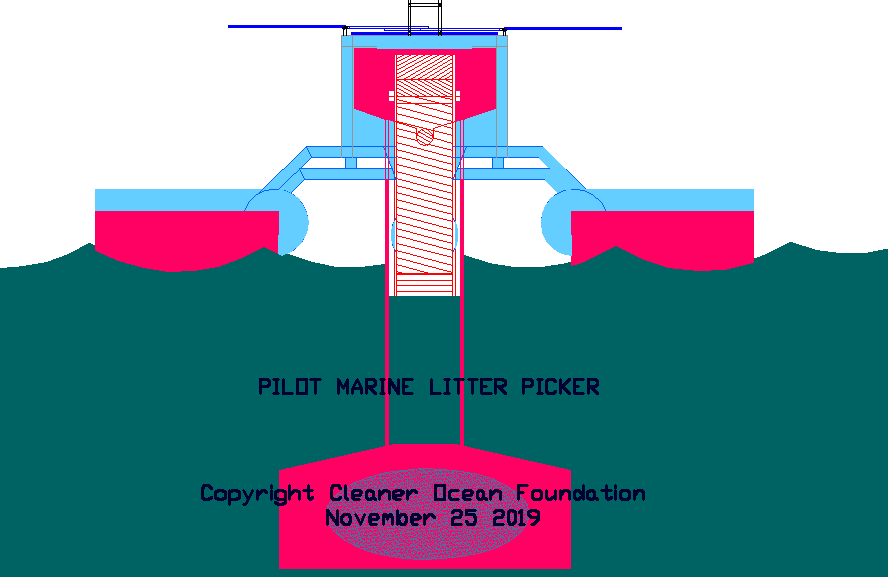 FRONT VIEW SUBSURFACE MODE - As with the diagram above, the Pilot litter picker is traveling towards the viewer - but here we see the filtration head lowered to harvest plastics in rivers or deeper in harbours and marinas. Copyright © diagrams 25 November 2019. All rights reserved, Cleaner Ocean Foundation Ltd.
One part of the EC's requirement that is particularly difficult to achieve is being able to retrieve plastic from ...
"The environmental impact, notably on biota, has to be minimized and assessed." This is why we see the inclusion of sensors and systems to identify biota as an integral component of the collector head.
PROJECT WORK PACKAGES -
3. PROGRAMMING
7. OPERATIONS
8. RECYCLING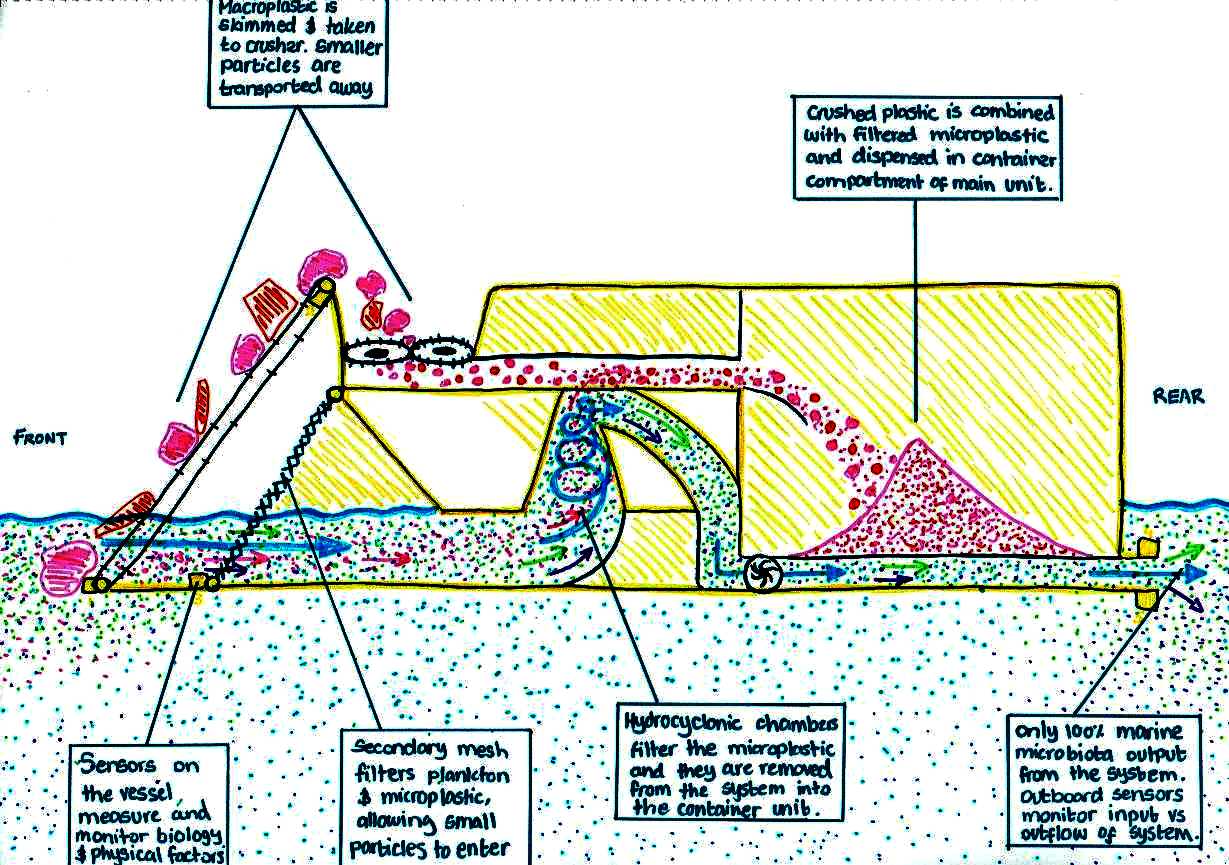 INFOGRAPHIC - If only it was this simple. A lovely drawing first published in 2018 that helps people understand what is involved without looking at the complications. Great art. Copyright © Cleaner Ocean Foundation. All rights reserved.
Divided into ten Work Packages (WPs), COF's project structure aims to harness the potential of each individual partner and at the same time promote collaboration within a consortium of expert organizations, while also covering all its research, technology and management objectives.
The lead partner for WP2 is Cleaner Ocean Foundation Ltd of Solar House, Herstmonceux in Sussex, England.
TECHNOLOGY SUPPLIERS
| | | |
| --- | --- | --- |
| No | COUNTRY | DESCRIPTION |
| - | - | - |
| 1 | Denmark | Optimal routing for wind/solar |
| 2 | France | Automation energy harvesting |
| 3 | UK | Engineering & design |
| 4 | Spain | Micro plastics |
| 5 | Turkey | Automation litter harvesting |
| 6 | Spain | Platform design |
| 7 | Greece | Naval architects |
| 8 | Germany | Commercialization finance |
| 9 | Netherlands | Remote navigation |
| 10 | Spain | Water treatment |
| 11 | Spain | Solar panel design |
| 12 | Portugal | Comms |
| 13 | Turkey | Energy management |
| 14 | UK | Plastic recycling |
| 15 | Switzerland | Friction reducing coatings |
| 16 | UK | Wind turbines |
| 17 | Spain | Solar energy systems |
| 18 | Spain | Object recognition |
| 19 | France | Earth observation prediction |
| 20 | UK | Litter harvesting machinery |
| - | - | - |
| - | - | - |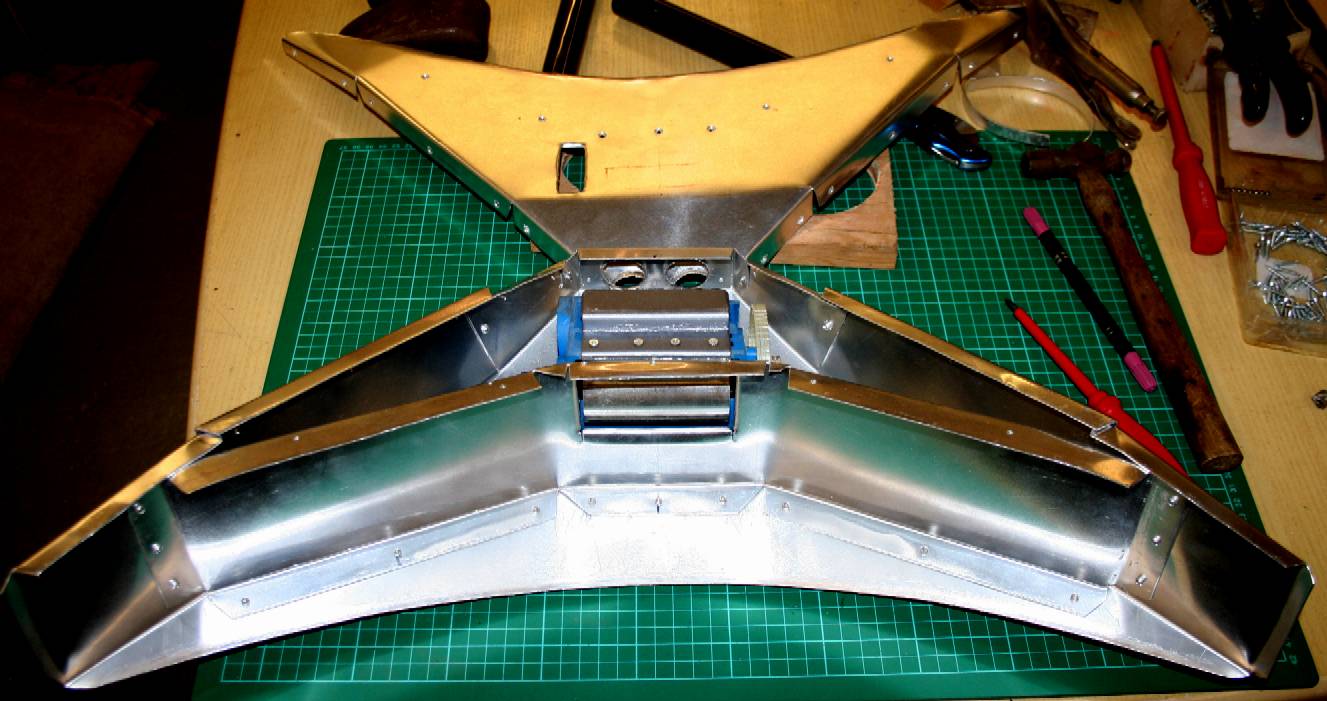 2016 TEST HEAD - Construction of an alloy collector head from early experiments showing the inline shredding filter that is to be replaced with a more efficient system as part of the proposed development - including scaling up. This component was only for macro and micro plastics of one size. The proposed pilot vessel will be able to cope with different sizes of small plastics, all the way up to large objects. The development of this concept to cope with micro and macro size particles is crucial to the effective operation of any water filtration machine. Otherwise, clean up operations could harm marine life. Hence, the need to be able to identify biota, such as not to harvest that while trawling for plastic. We are the only organization that has extracted micro plastics from water in volume.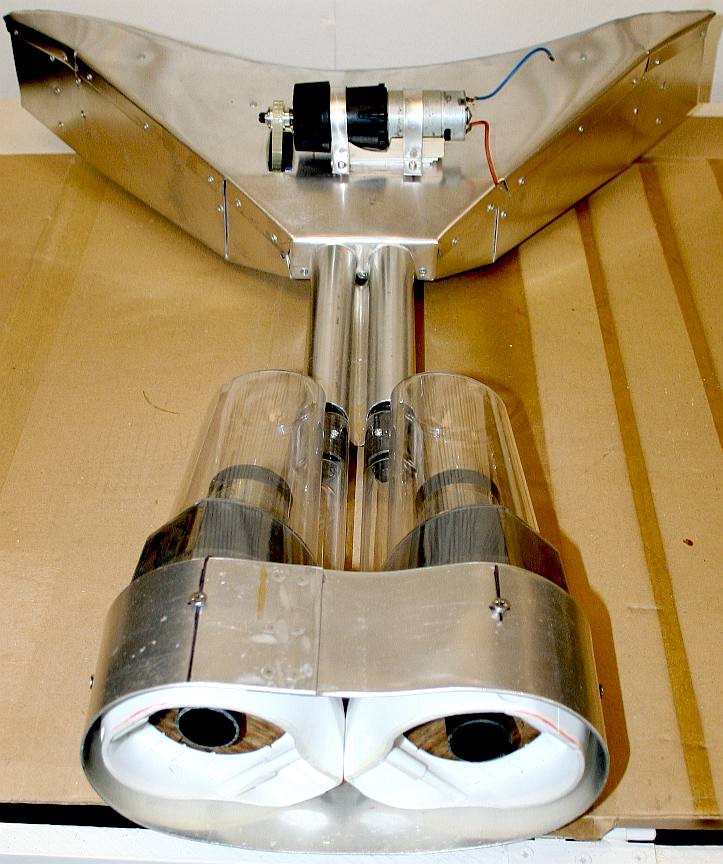 FILTRATION - The prototype alloy collector head and hydrocyclonic filters in series. Twin pumps (not shown) pulled water through the system as needed. This head was fitted to the proof of concept model at the top of this page for tank and other tests. There will be other filtration stages ahead of any version of this system, to include identification sensors, to deal with bigger plastic objects upfront, and prevent marine biota from entering the works, where plastic is the target.
PARTNERS WORKING ON THIS WP
TBA, post Agreement as set out in Letter of Intent for the purposes of cementing the consortium.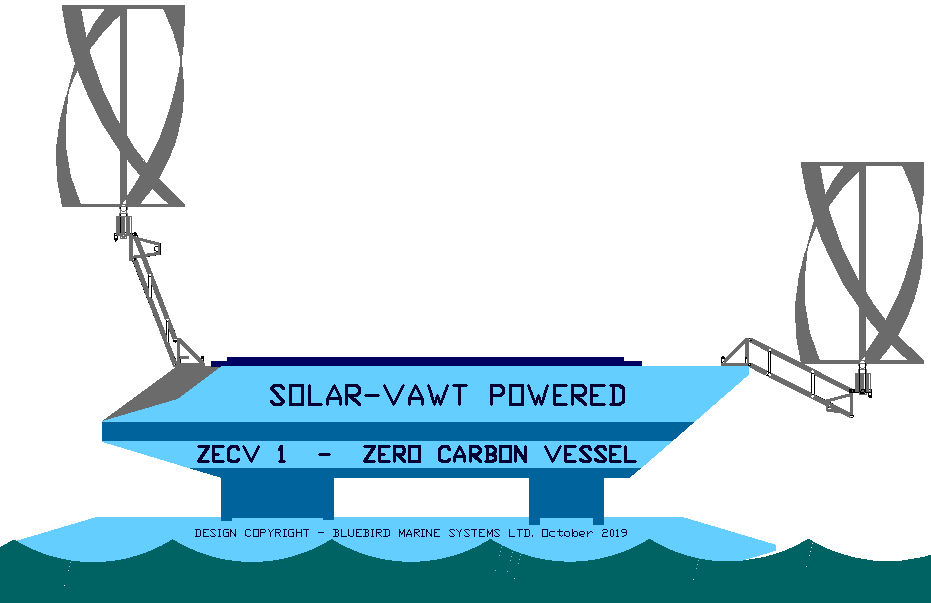 SOLAR VAWT PLATFORM - This 16m (LWL) design features a collecting head approximately 6.75 meters wide and a 20 ton storage capacity. The machine is solar and wind powered for sustainable long endurance tours of duty. In this case featuring vertical axis wind turbines.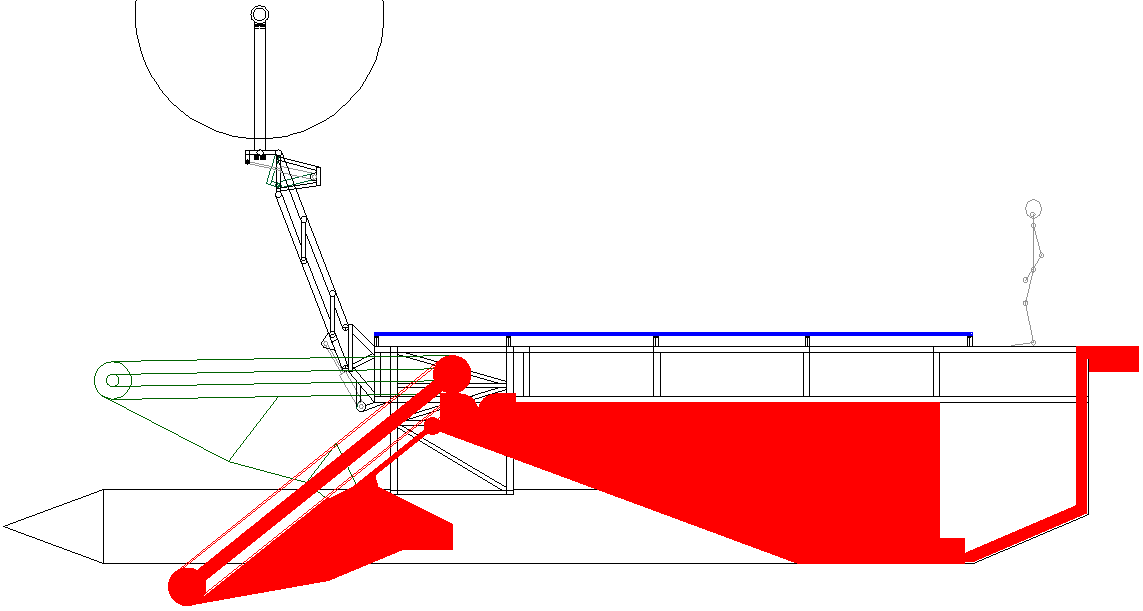 12 METER - In this diagram we see how a cleaning head at the operating end of this vessel (shown in red on the left) might be incorporated as part of a dedicated litter collecting machine. This design has limited storage and energy harvesting capacity, hence may not fare as well in operations over six months as the MultiVax Pilot. But it was a good start and may yet prove to have use.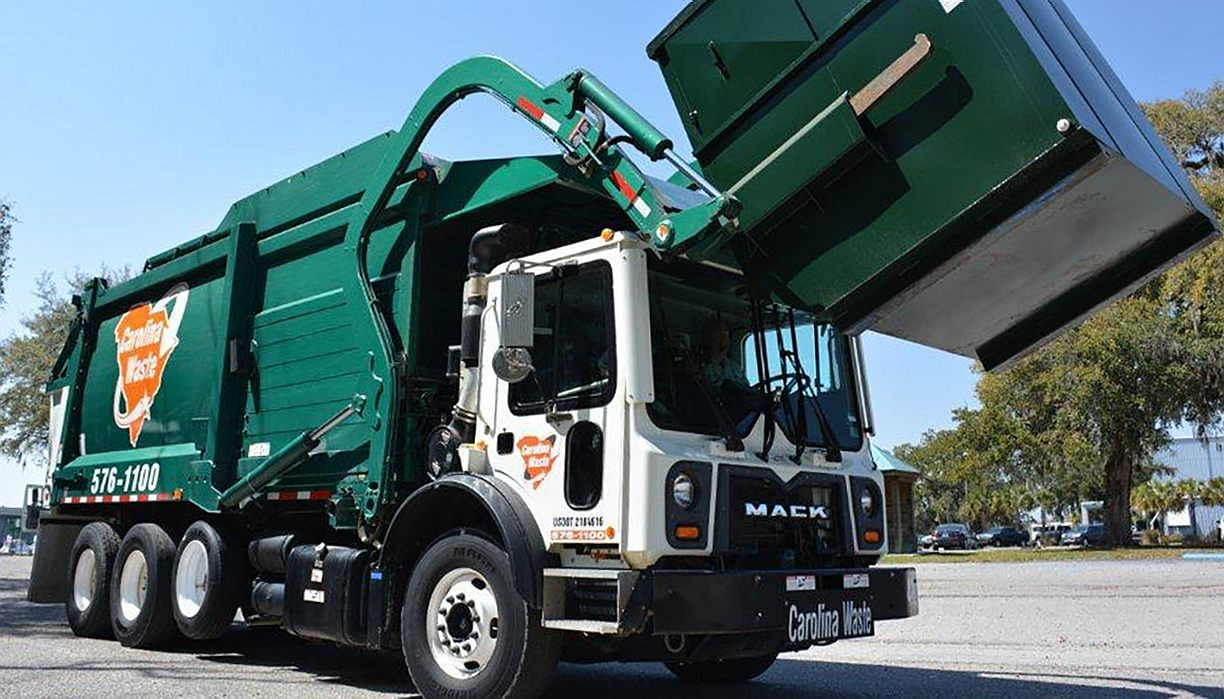 DOCKSIDE COLLECTIONS - For demonstration purposes (only) we might offload plastic to dockside containers using a re-purposed 2nd user waste truck at very low cost. Ideally, we'd be looking for recycling facilities close to where a MultiVax pilot machine comes into ports to offload.
POLITICS
We remain hopeful that EU politicians and policy makers will want projects like this to run full term, but should the worst happen and Brexit* becomes an issue such as to cause any member to be forced to walk away from participation in their original role, then in that unfortunate situation the partners agree that the technology that they bring to the table leaves with them.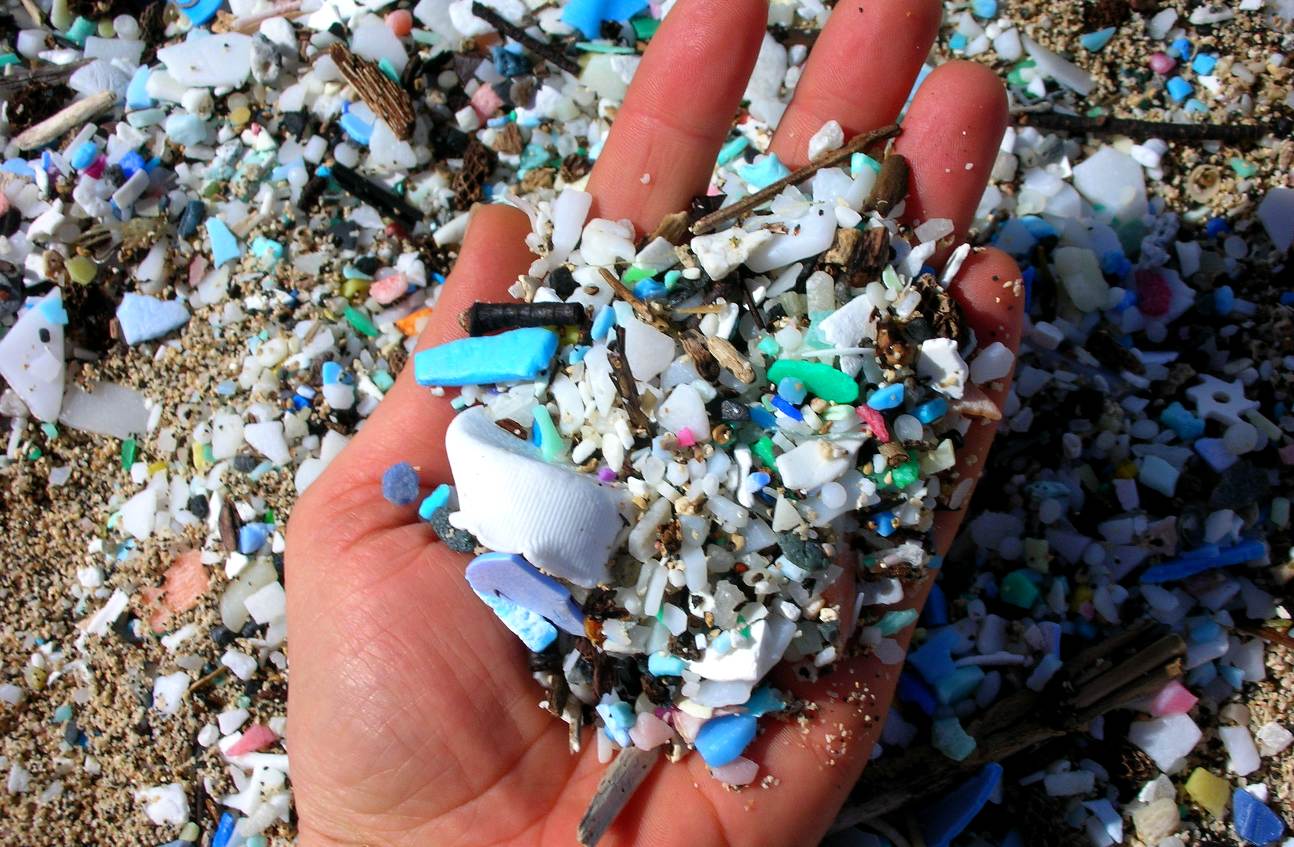 SUSTAINABILITY

This project ticks the United Nation's Sustainable Development Goals (SDGs):
SDG 2 – Zero Hunger;
SDG 6 – Clean Water and Sanitation;
SDG 8 – Inclusive and sustainable economic growth;
SDG 9 – Sustainable Industrialisation;
SDG 11 – Sustainable Cities and Communities;
SDG 12 – Responsible Consumption and Production;
SDG 13 – Climate Action;
SDG 15 – Life on Land.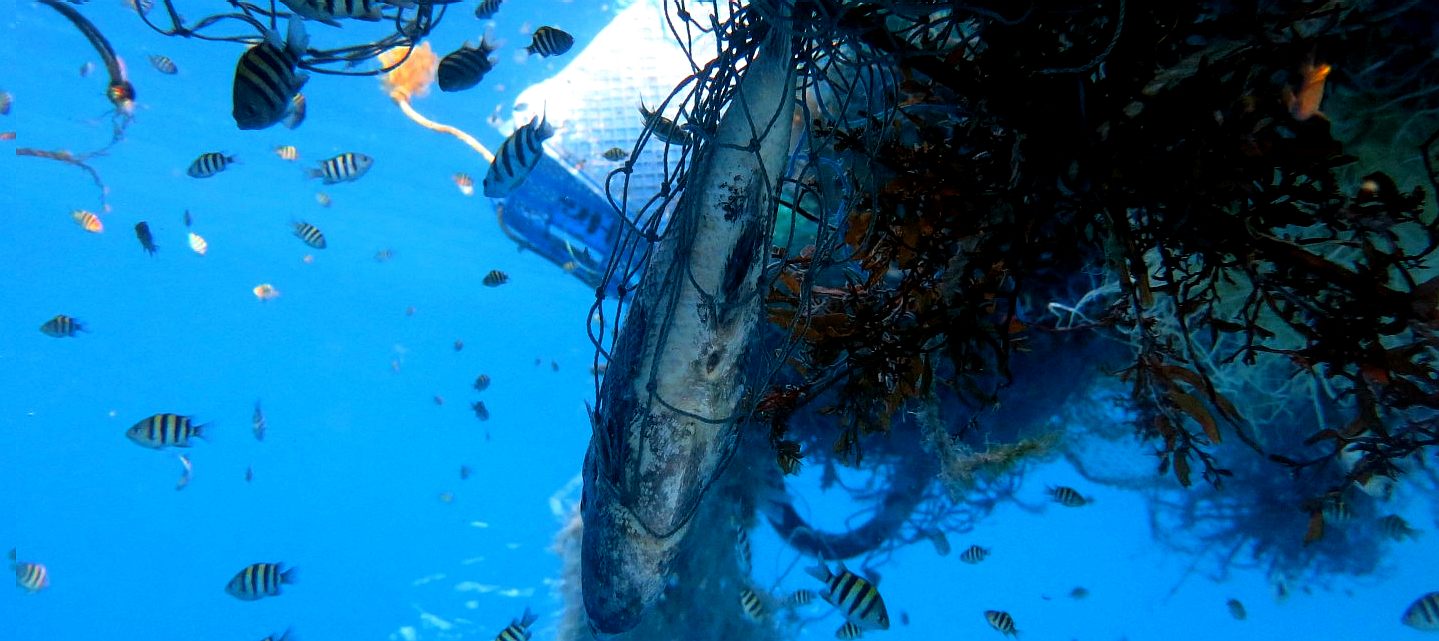 PROBLEM - From 2000 to 2012, the National Marine Fisheries Service reported an average of 11 large whales entangled in ghost nets every year along the US west coast. From 2002 to 2010, 870 nets were recovered in Washington (state) with over 32,000 marine animals trapped inside. Ghost gear is estimated to account for 10% of all marine litter.
LINKS & REFERENCE
http://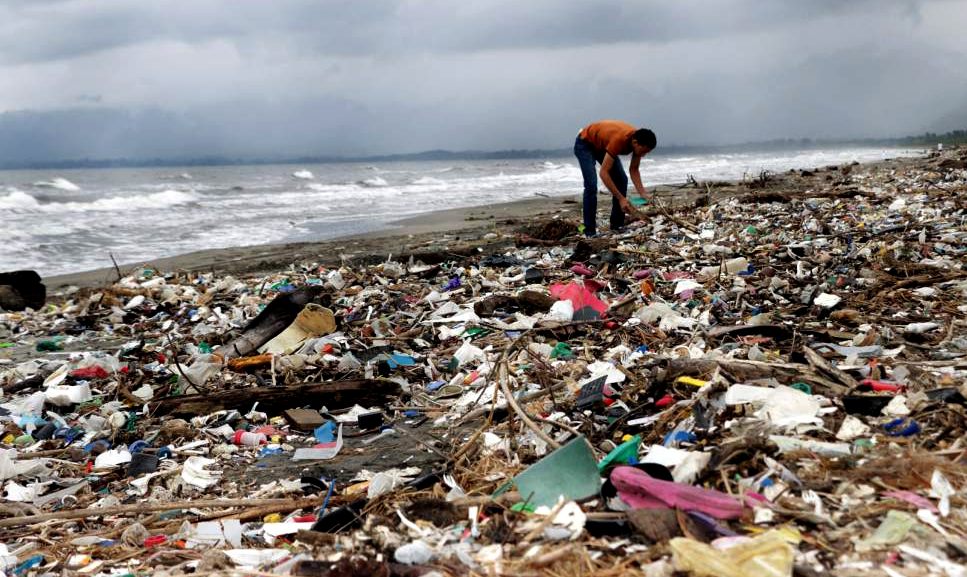 COASTAL TOURISM - Beaches like this all over the world tell the story, affecting coastal tourism and killing wildlife.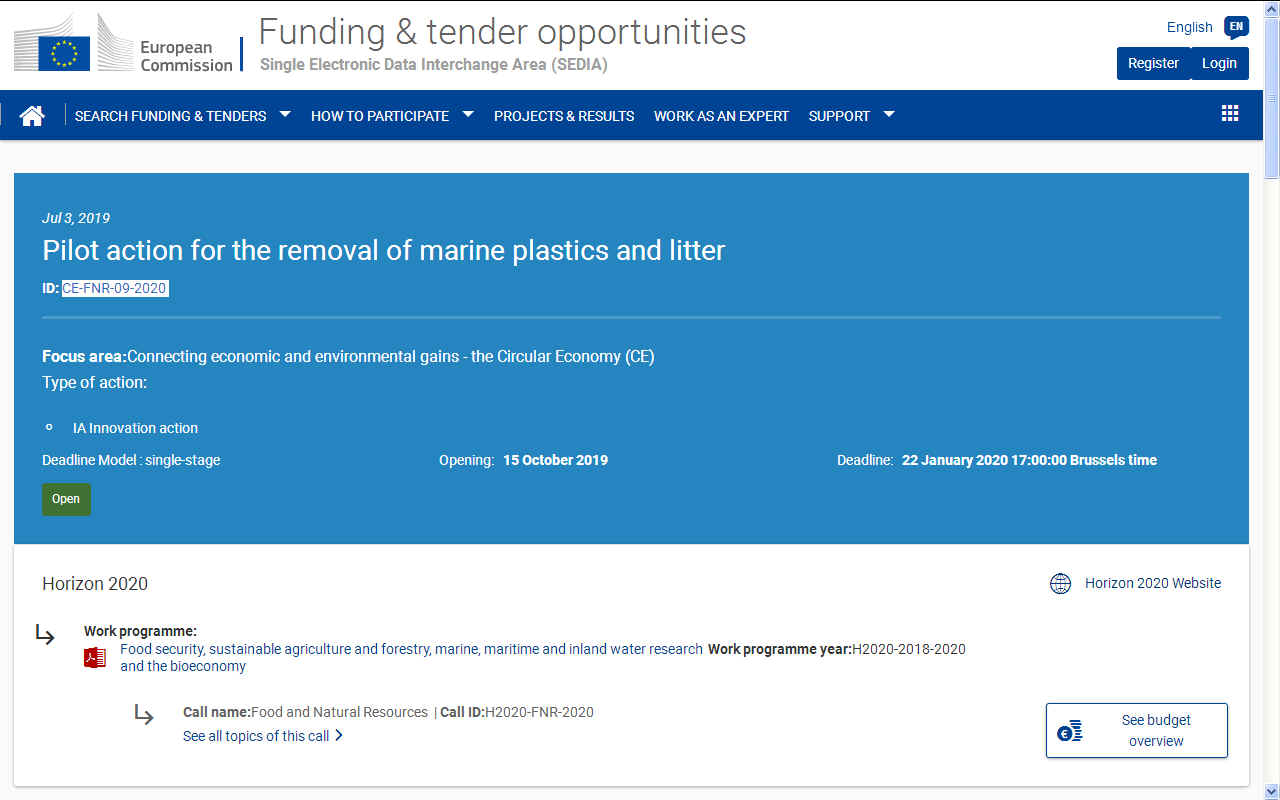 H2020 WORK PROGRAMME - Pilot action for the removal of marine plastics and litter. Cleaner Ocean Foundation Ltd would be interested in forming or joining a consortium for this call and are currently seeking eligible collaborative partners within and outside of the EU.