2018 - With the revelation in official correspondence that loss making operations of plastic and marine litter recovery would not be supported by the G20, United Nations or European Union, we started looking at compromises for SeaVax inspired vessels, such as zero carbon transport, where funding for research into clean shipping might see the light of day and indeed is the subject of a suitably supported call for proposals in 2019. This is important where safe infrastructure support for alternative fuels might present a problem for port authorities to cope with fleets of cargo and cruise vessels. But where little change is required for vessels that are energy autonomous.
Traditional fishing boats do not lend themselves to solar or wind assisted conversions. It requires a clean sheet of paper approach and a re-think of how to solve the problem.
The SeaVax concept has long been seen as capable of being modified for oil recovery and fishing for food, rather than recycling marine plastic. If marine transport is to comply with the IMO directives for 2030, 2040, 2050 and 2100, we must start looking at other ways of harvesting fish to prevent global warming getting any worse.
SeaVax uses solar and wind energy collectors that track the wind and sun in combination such as to manage potential incoming energy for maximum harvest and storage.
The turbine generators used could be horizontal (HAWT) or vertical axis (VAWT), where horizontal axis were thought to offer higher power to weight ratios, but that this may now be the subject of research, where a new type of VAWT potentially offers similar outputs with perhaps other advantages.

HAWT FURLED HIGH - In this picture we see horizontal axis wind turbines furled and parked at a high level. They can be furled lower down in rough conditions by lowering the masts. When stored in this position the turbine blades do not revolve and can be locked. The fishing head is shown in green in this picture. Fish are not stored in the collector head, but transported to the hold. Hence, there is no big weight to haul in, such as when nets are full.
2019 - Bluebird Marine Systems proposed a zero carbon ferry project for MarRI backing that could be developed (tuned) for zero carbon fishing by way of securing food for a growing population without adding to climate change.
Several design variations were explored in draft form, some of which are shown on this page. The concept needs to be further developed, to include energy and fish harvesting systems.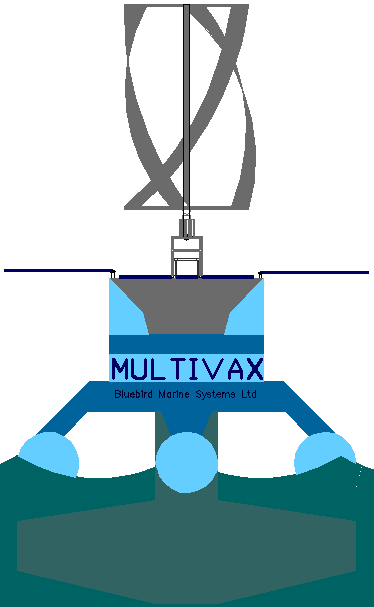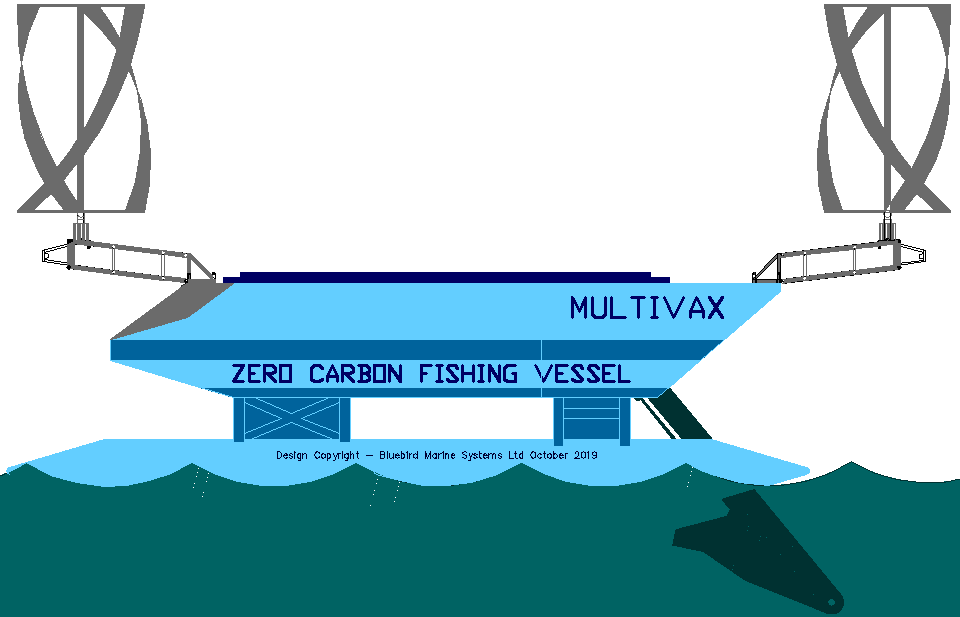 VERTICAL AXIS - In this picture we see the same mast that can raise and lower the wind turbines higher into the air stream and away from deck interference, only fitted with a vertical axis wind turbine (VAWT). Copyright © October 29 2019. All rights reserved, Cleaner Ocean Foundation Ltd and Bluebird Marine Systems Ltd.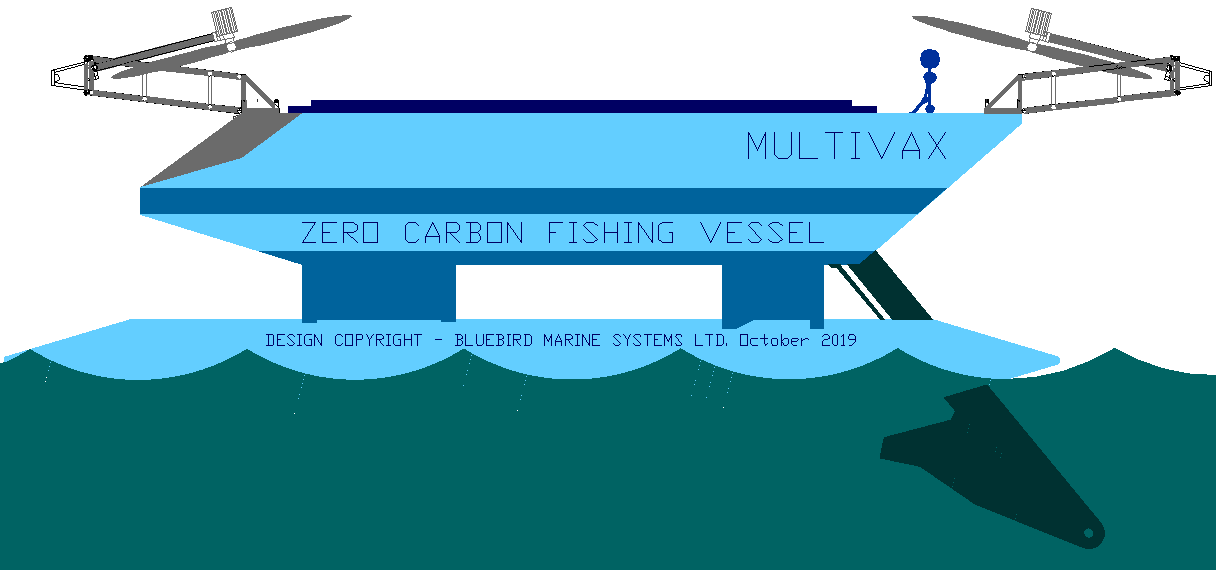 FURLED FOR HARBOURS - For docking and longer term parking the horizontal axis windgens and solar arrays might be folded as per the diagram above, when the turbines are locked in position and cannot revolve. Vertical and horizontal systems offer different solutions that are yet to be explored. Copyright © October 24 2019. All rights reserved, Cleaner Ocean Foundation Ltd and Bluebird Marine Systems Ltd.
2020 - From 2020 we will keep our eyes open for funding calls that may see this research qualify for grants. Typically, grants are not given to small enterprises without a substantial trading track record. This normally means that funding applications are a waste of limited resources, hence we might be forgiven for not applying where the risk of non-selection is too great, or face insolvency at a time when companies that think creatively are needed to generate ideas. Time is money! And time is one thing we do not have in the race to brake climate change. We hope that policies evolve to push technology development faster than has been the case to date, leading to global warming and oceans full of plastic.
BIOTA

SIZE

FISHING STAGE

-

-

-

2 - 60mm

Stage 1

4 - 18cm

7 - 9 cm

Stage 2

1 - 14 cm

14 - 45cm

Stage 3

30 - 60cm

30 - 120cm

70 - 200cm

120 - 190cm

50 - 4500cm

1250 - 7000cm
The above chart is a starting point for mechanical fishing using more efficient species selective filtration, in the process doing away with plastic ropes and nets that are routinely discarded and now constitute around 47% of the expanding Great Pacific Garbage Patch.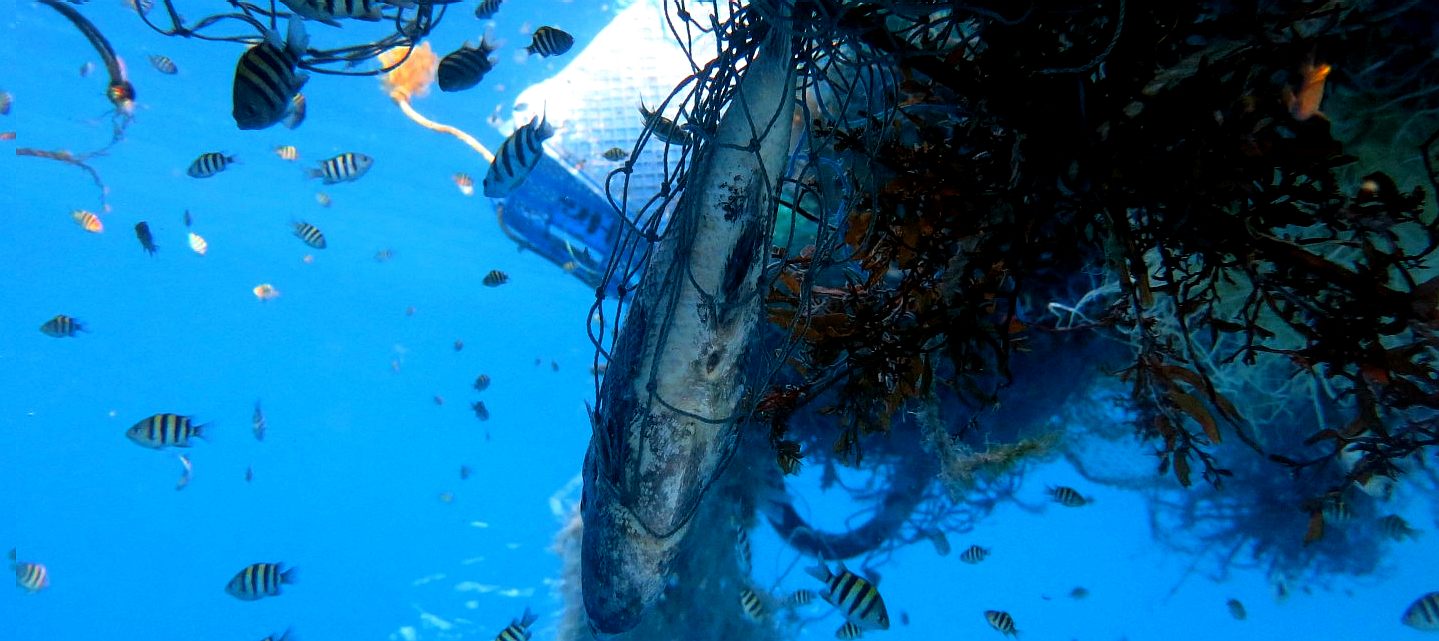 PROBLEM - From 2000 to 2012, the National Marine Fisheries Service reported an average of 11 large whales entangled in ghost nets every year along the US west coast. From 2002 to 2010, 870 nets were recovered in Washington (state) with over 32,000 marine animals trapped inside. Ghost gear is estimated to account for 10% of all marine litter.

According to the SeaDoc Society, each ghost net kills $20,000 worth of Dungeness crab over 10 years. The Virginia Institute of Marine Science calculated that ghost crab pots capture 1.25 million blue crabs each year in the Chesapeake Bay alone.

In May 2016, the Australian Fisheries Management Authority (AFMA) recovered 10 tonnes of abandoned nets within the Australian Exclusive Economic Zone and Torres Strait protected zone perimeters. One protected turtle was rescued.
DEVELOPMENT FUNDING
Who knows where policy makers will steer development. We only hope that they make good choices for all our sakes.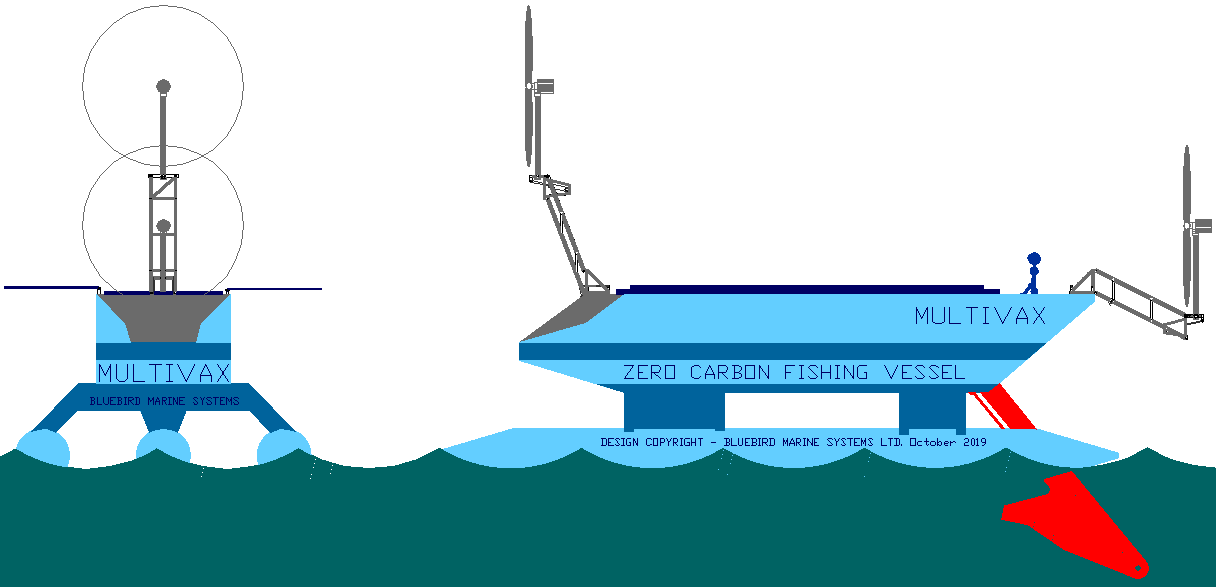 TURBINES RAISED - In this picture the 'MultiVax' is seen with her horizontal wind generators raised at different heights to harvest energy for propulsion and fishing operations. The fishing head is shown in red, deployed to fish for sardines, mackerel or herring. The head can be raised and lowered to different depths as the onboard sensors locate the fish. Copyright © diagrams October 24 2019. All rights reserved, Cleaner Ocean Foundation Ltd and Bluebird Marine Systems Ltd.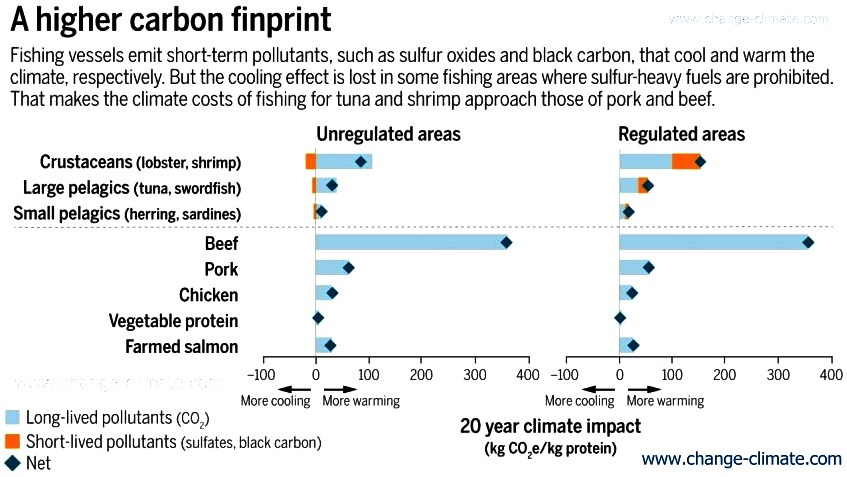 BLACK CARBON - Fishing vessels were recently found to be the largest source of black carbon ship emissions in the Arctic, suggesting that the fishing sector should be a focus for future studies. Here we developed a global and Arctic emissions inventory for fishing vessel emissions of short lived and long lived climate forcers based on data from a wide range of vessel sizes, fuel sulfur contents, engine types, and operational characteristics. We found that previous work generally underestimated emissions of short lived climate forcers due to a failure to account for small fishing vessels as well as variability in emission factors. In particular, global black carbon emissions were underestimated by an order of magnitude. Furthermore, our order of magnitude estimate of the net climate effect from these fishing vessel emissions suggests that short lived climate forcing may be particularly important in regions where fuel has a low sulfur content. These results have implications for proposed maritime policies and provide a foundation for future climate simulations to forecast climate change impacts in the Arctic.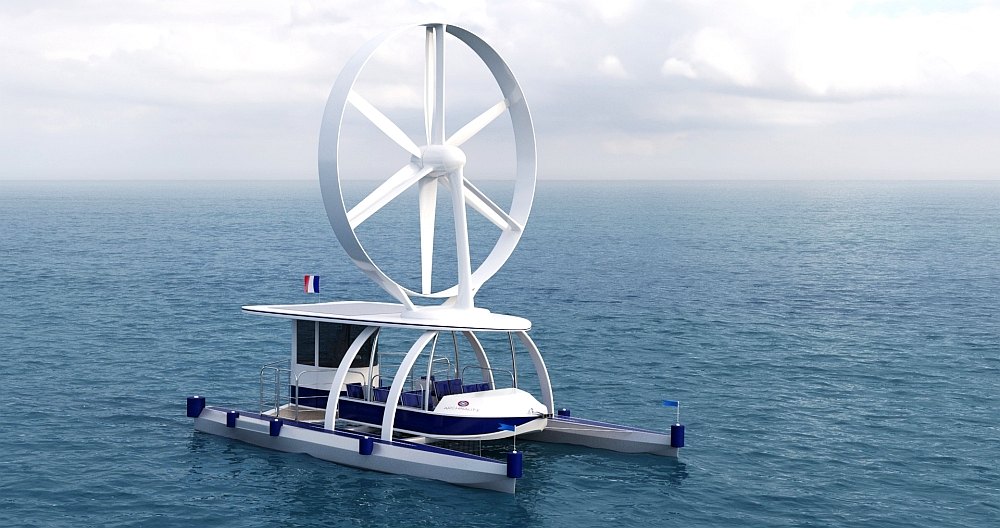 ARCHINAUTE - In 2019 Charles-Henri Viel began build of a wind turbine powered catamaran that generates electricity for storage in batteries to overcome lulls in energy harvesting. There are scant details of the drive system, but this is a development of the rotary sail concept of Peter Worsley, brought into the modern age of electricity. The concept is not a million miles from SeaVax, except for the missing solar panels and the fact that this is not a workboat. Although, the innovator has proposed use as a fishing boat.
OCEAN CLEANUP PROJECTS A - Z
* Adidas
* Algalita research foundation
* Aliance to end Plastic Waste
* Boyan Slat's ocean booms
* 4Ocean recycled plastic bracelets
* Earth Day ocean plastic fact sheet
* Fionn Ferreira's ferrofluid extraction of microplastics
* Junk Raft - plastic expedition
* Plastic Oceans Canada
* Plastic Oceans Org
* Seabin
* SeaVax autonomous drones
* Surrey University PIRATE & Triton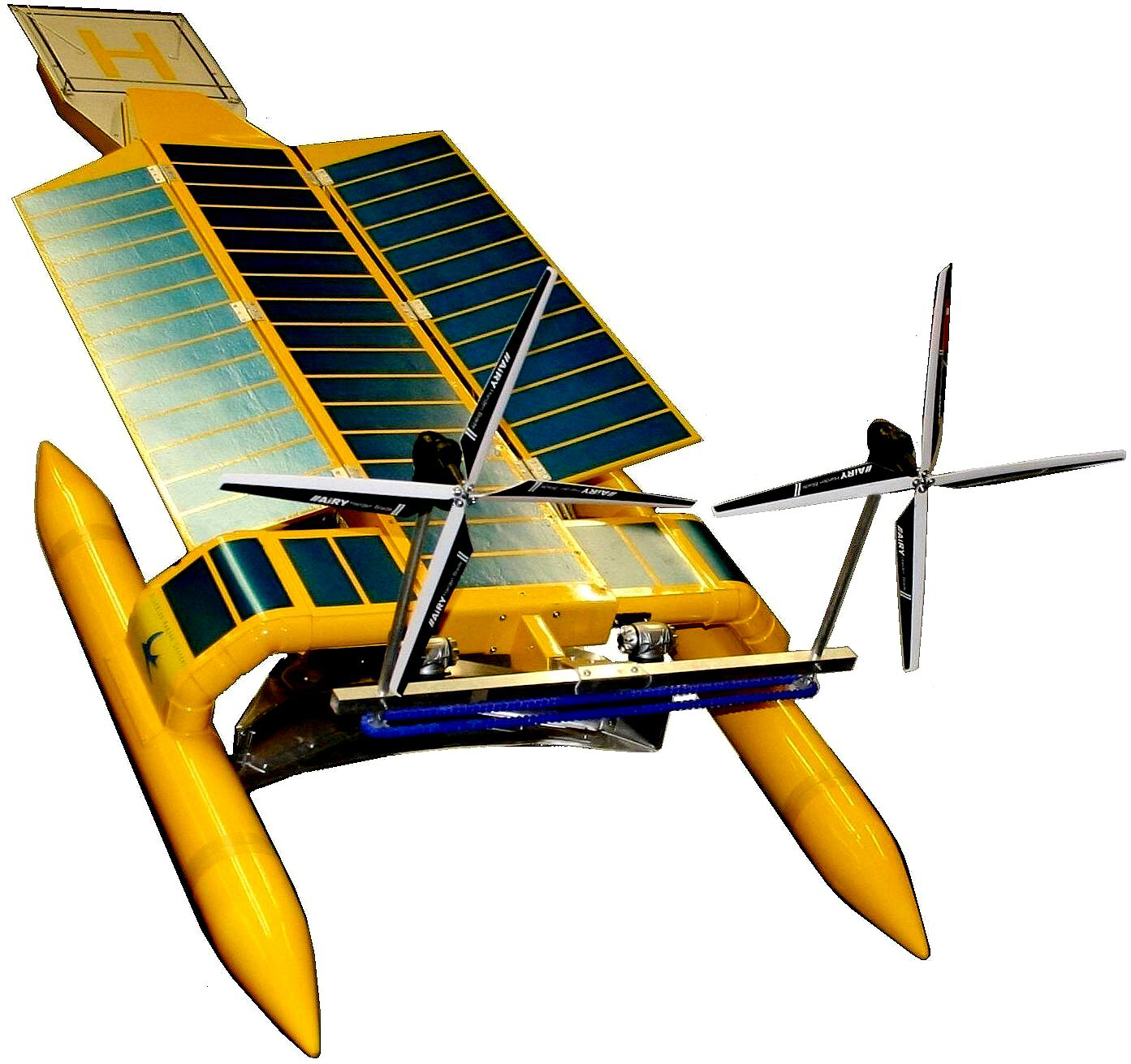 LINKS & REFERENCE
http://gpsworld.com/rio-olympics-clean-up-bay-with-gps-helicopters/
http://cleanearthfuture.com/seavax-robotic-vacuum-ship/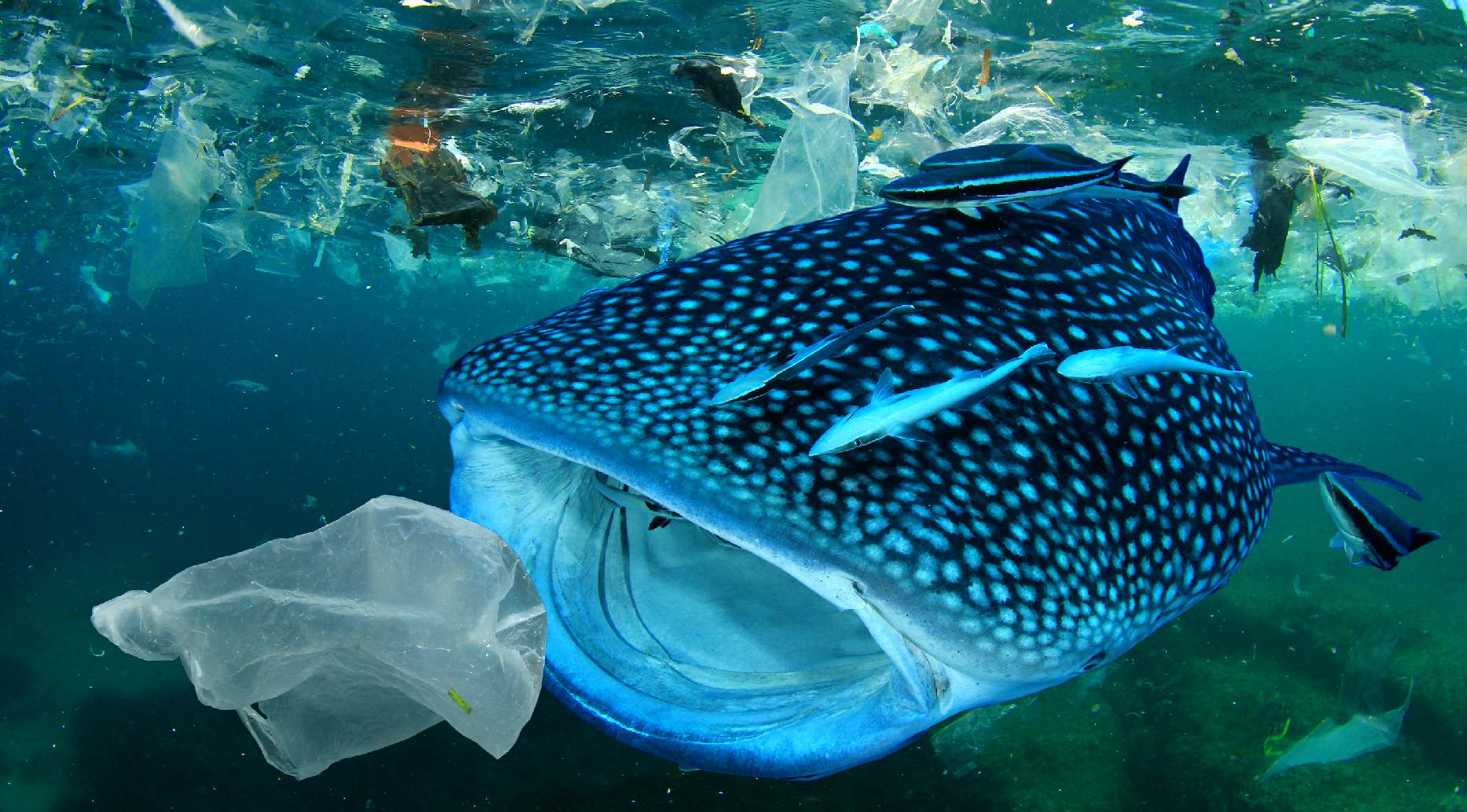 WHAT DRIVES US - It is pictures like this whale shark swimming in garbage that it is about to ingest that makes our blood boil. What are we doing, letting a situation like this develop? The fish eat the plastic and we eat the toxic fish. We are slowly poisoning ourselves and our world.