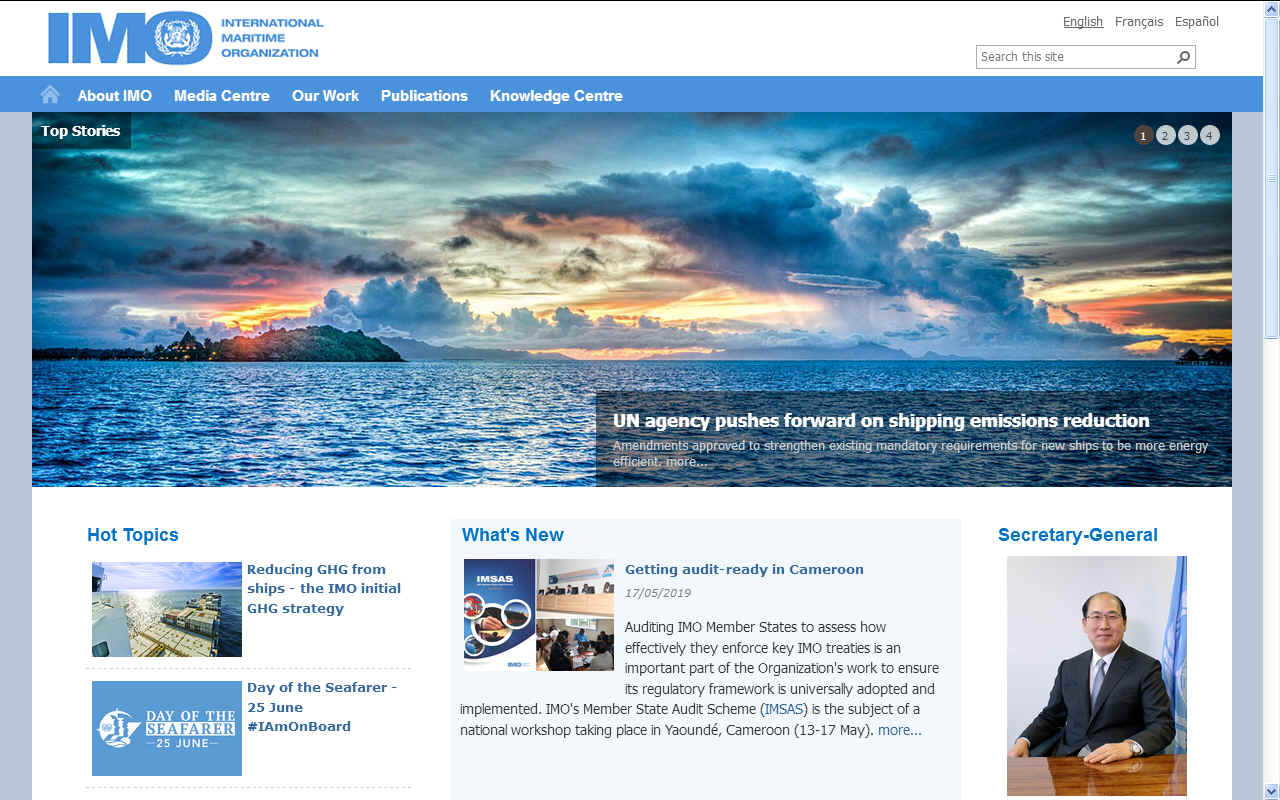 OCEAN HEALTH - The IMO has been working to limit shipping emissions and dumping at sea for many years, but is only now waking up to the plastic threat, like so many others.
As a specialized agency of the United Nations the IMO is the global standard-setting authority for the safety, security and environmental performance of international shipping. Its main role is to create a regulatory framework for the shipping industry that is fair and effective, universally adopted and universally implemented.

Shipping is a truly international industry, and it can only operate effectively if the regulations and standards are themselves agreed, adopted and implemented on an international basis. And IMO is the forum at which this process takes place.

International shipping transports more than 80 per cent of global trade to peoples and communities all over the world. Shipping is the most efficient and cost-effective method of international transportation for most goods; it provides a dependable, low-cost means of transporting goods globally, facilitating commerce and helping to create prosperity among nations and peoples.

The world relies on a safe, secure and efficient international shipping industry – and this is provided by the regulatory framework developed and maintained by IMO.
While all this plastic has been accumulating in our oceans and seas, and the water temperature and levels are rising, with acidification in the mix, what has the IMO been doing about it?
The International Maritime Organization – is the United Nations agency with responsibility for the safety and security of shipping and the prevention of marine and atmospheric pollution by ships. IMO's work supports the UN SDGs, or so they claim.
To date we have seen little on the agenda concerning hybrid propulsion, or autonomous navigation systems, despite the obvious additional safety and route planning advantages.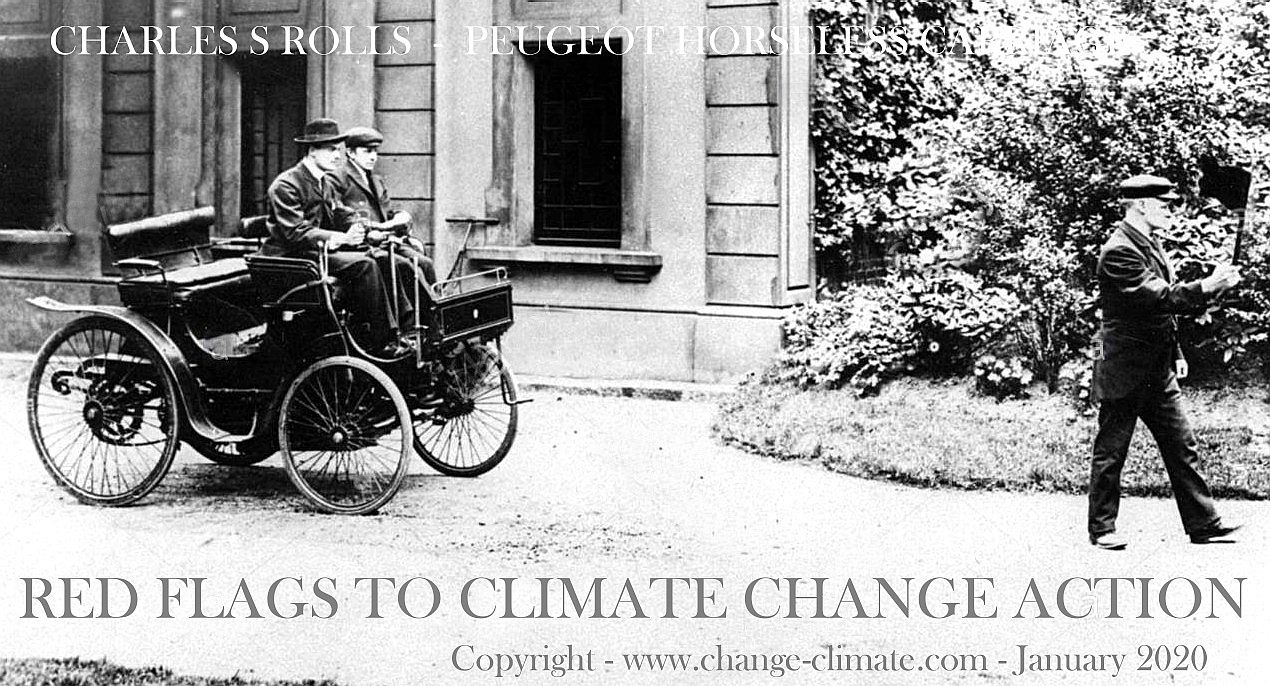 POLITICAL BLOCKERS - In Britain in 1865, the legislative response to the increasing introduction of self-propelled vehicles on our roads was the Locomotive Act (sometimes known as the Red Flag Act). Amongst a number of provisions, it stipulated that self-propelled vehicles needed to be proceeded with a man walking 60 yards ahead carrying a red flag to warn other road users of the vehicles approach. The objective of powerful stakeholders was to hinder progress to protect their investments in horses, carriages and trains.
The IMO appear to have been doing the same for years, in not acting in good time to prevent ocean pollution, climate change and acid oceans. The present secretary general is Kitack Lim, now voted in for a second year of office - unless something is done to prevent the lack of action in previous years.
MEPC MAY 13-17 74th MARINE ENVIRONMENT PROTECTION COMMITTEE SESSION
Chair: Mr. Hideaki Saito (Japan)
Main agenda items
Highlights of particular interest to media include the following - please scroll down the page to read more:
1. Adoption of amendments to IMO mandatory instruments
2. Reduction of greenhouse gas (GHG) emissions from ships
3. Implementation of the sulphur 2020 limit
4. Marine plastic litter action plan
5. Ballast water management (BWM) Convention implementation
6. Approval of guidance and other matters
7. Technical cooperation and capacity building

Working groups/drafting groups

The following working/drafting groups are expected to be established:

* Working Group on Air Pollution and Energy Efficiency;
* Working Group on Reduction of GHG Emissions from Ships;
* Working Group on Marine Plastic Litter;
* Drafting Group on Amendments to Mandatory Instruments;
* Ballast Water Review Group.

1. Adoption of amendments
MARPOL amendments - Cargo residues and tank washings of persistent floating noxious liquid substances.
MEPC is expected to adopt draft amendments to MARPOL Annex II to strengthen, in specified sea areas, discharge requirements for cargo residues and tank washings containing persistent floating products with a high-viscosity and/or a high melting point that can solidify under certain conditions (e.g. certain vegetable oils and paraffin-like cargoes), following concerns about the environmental impact of permissible discharges.
The draft amendments add new paragraphs to MARPOL Annex II Regulation 13 – Control of discharges of residues of noxious liquid substances, to require prewash and discharge of residue/water mixture generated during the prewash to a reception facility, for specific products, in specified areas (North West European waters, Baltic Sea area, Western European waters and Norwegian Sea).
MARPOL amendments – use of electronic record books
Draft MARPOL Amendments to allow for electronic record books to be used are set to be adopted, for Annex I - Oil Record Book Part I – Machinery space operations and Oil Record Book Part II – Cargo/ballast operations; Annex II - Cargo Record Book; and Annex V - Garbage Record Book; and Annex VI for records relating to Regulation 12 – Ozone-depleting substances, Regulation 13 – Nitrogen oxides (NOx) and Regulation 14 – Sulphur oxides (SOx) and particulate matter
The MEPC is also expected to adopt related Guidelines for the use of electronic record books under MARPOL.
MARPOL amendments - EEDI regulations for ice-strengthened ships
Another draft amendment to MARPOL Annex VI are set to be adopted, relating to the Energy Efficiency Design Index (EEDI) regulations for ice-strengthened ships, replacing the words "cargo ships having ice-breaking capability" with "category A ships as defined in the Polar Code".
IBC Code amendments
The MEPC is expected to adopt a comprehensive set of draft amendments to the International Code for the Construction and Equipment of Ships carrying Dangerous Chemicals in Bulk (IBC Code), including the draft revised chapters 17 (Summary of minimum requirements), 18 (List of products to which the code does not apply), 19 (Index of Products Carried in Bulk) and 21 (Criteria for assigning carriage requirements for products subject to the IBC Code). Consequential draft amendments to the Code for the construction and equipment of ships carrying dangerous chemicals in bulk (BCH Code) are also expected to be adopted.
NOx Technical Code 2008 amendments
The draft amendments relate to the use of Electronic Record Books, and Certification requirements for selective catalytic reduction (SCR) systems.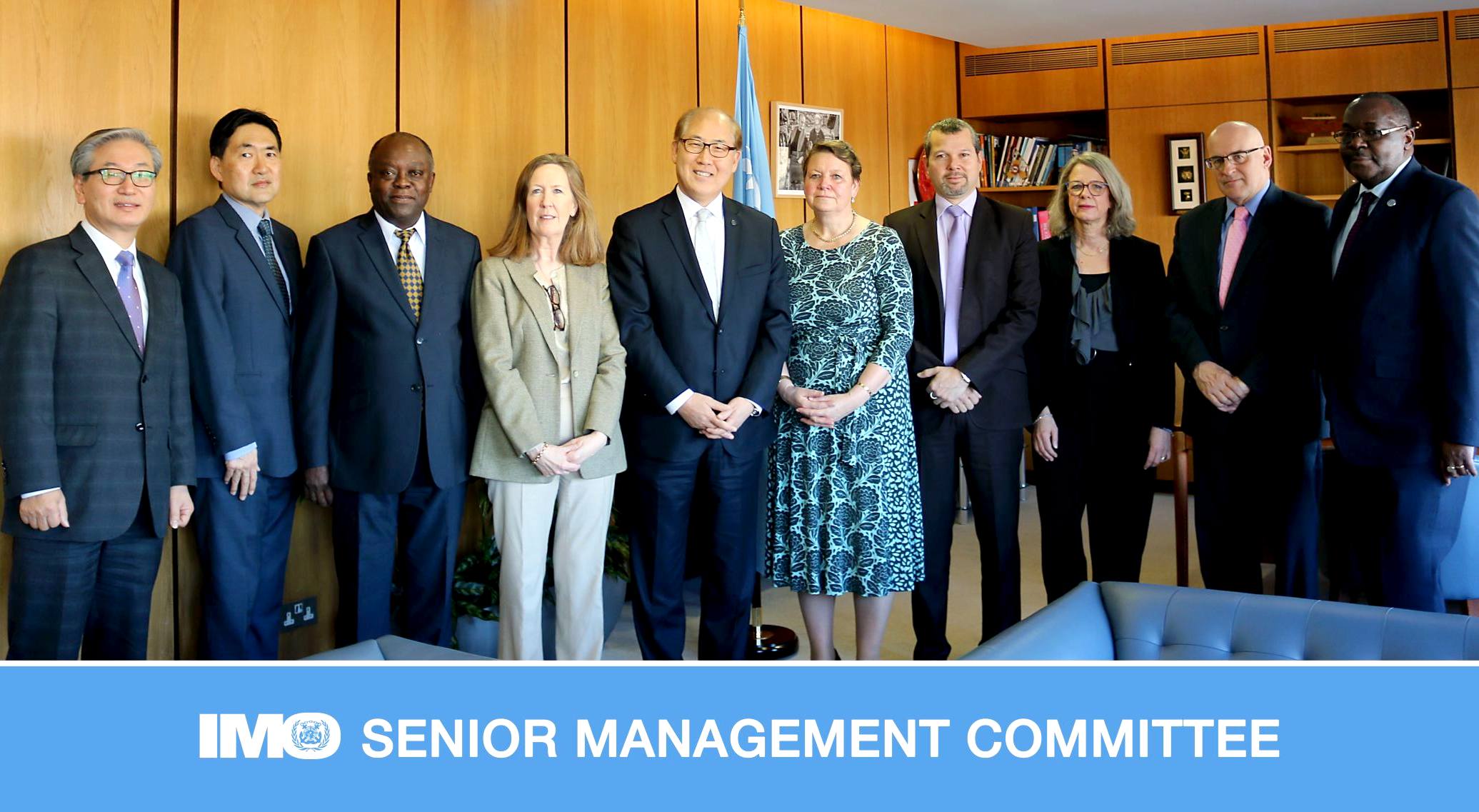 LACKLUSTER 10 - IMO Senior Management Committee (Left to right) - Mr. Sung-Jin Kim, Head, Internal Oversight and Ethics Office; Mr. Hiroyuki Yamada, Director, Marine Environment Division; Mr. Lawrence Barchue, Assistant Secretary-General/Director, Department for Member State Audit and Implementation Support; Mrs. Linda Ryan, Director, Administrative Division; Mr. Kitack Lim, Secretary-General of the International Maritime Organization; Ms. Heike Deggim, Director, Maritime Safety Division; Mr. Arsenio Dominguez, Chief of Staff; Ms. Ariane Gireud, Acting Director, Conference Division; Mr. Frederick Kenney, Director, Legal Affairs and External Relations Division and Mr. Juvenal Shiundu, Acting Director, Technical Cooperation Division.
2. Reduction of greenhouse gas emissions from ships
IMO Initial GHG Strategy
The MEPC will discuss on how to implement the initial IMO strategy on reduction of GHG emissions from ships, which was adopted in April 2018. The strategy sets out a vision which confirms IMO's commitment to reducing GHG emissions from international shipping and to phasing them out as soon as possible. Candidate short-, mid- and long-term further measures with possible timelines and their impacts on States are listed. MEPC 73 approved a programme of follow-up actions up to 2023.
Under the identified "levels of ambition", the initial GHG strategy envisages, in particular, a reduction in carbon intensity of international shipping (to reduce CO2 emissions per transport work, as an average across international shipping, by at least 40% by 2030, pursuing efforts towards 70% by 2050, compared to 2008); and that total annual GHG emissions from international shipping should be reduced by at least 50% by 2050 compared to 2008.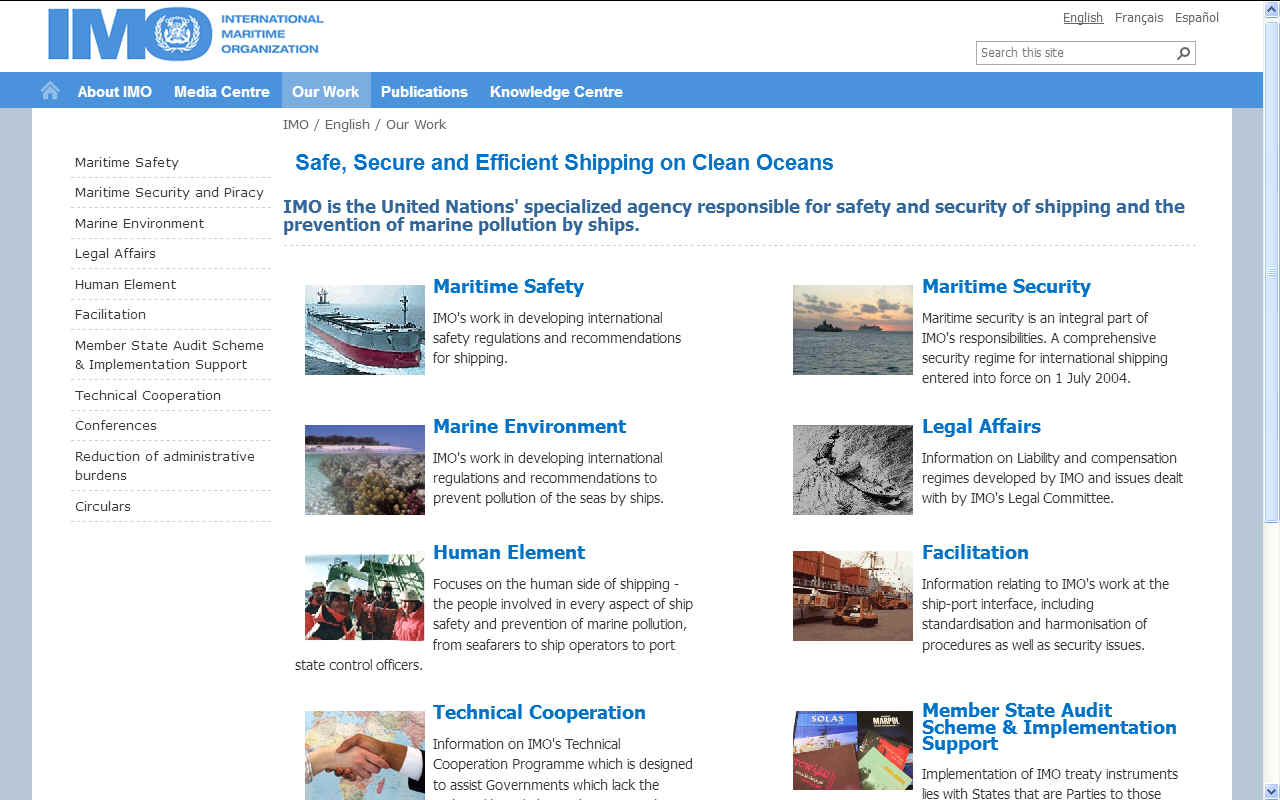 Articles 18 and 19 of the Universal Declaration of Humans Rights, guarantees us freedom of thought and the right to impart information and expressions in any media.
3. Implementation of the sulphur 2020 limit
IMO sulphur limit
The new lower 0.50% limit on sulphur in ships' fuel oil will be in force from 1 January 2020, under IMO's MARPOL treaty, with benefits for the environment and human health. The new limit will be applicable globally (in designated emission control areas (ECAs) the sulphur limit will remain at 0.10%).
The 1 January 2020 implementation date was adopted in 2008 and confirmed in 2016. IMO has been working with Member States and the industry to support implementation of the new limit, including the preparation of draft amendments to MARPOL Annex VI to support consistent implementation of the 0.50% sulphur limit and development of guidance and guidelines. MEPC 73 approved Guidance on the development of a ship implementation plan for the consistent implementation of the 0.50% sulphur limit under MARPOL Annex VI (MEPC.1/Circ. 878).
Expected outcomes at MEPC 74
MEPC 74 is expected to approve draft guidelines and guidance documents, developed by the Sub-Committee on Pollution Prevention and Response (PPR 6), including:
* 2019 Guidelines for consistent implementation of the 0.50% sulphur limit under MARPOL Annex VI;

* 2019 Guidelines for port State control under the revised MARPOL Annex VI;
* guidance for port State control on contingency measures for addressing non-compliant fuel oil;
* MEPC Circular on the 2019 Guidelines for on board sampling for the verification of the sulphur content of the fuel oil used on board ships;
* MSC-MEPC circular on Delivery of compliant fuel oil by suppliers, subject to approval by MSC 101 in June.

With regards to fuel oil quality, the MEPC will consider draft guidance for best practice for Member State/coastal States as well as a proposal for a bunker supplier licensing scheme.

The Committee will also consider proposals relating to the enhancement of the implementation of MARPOL Annex VI regulation 18, which covers fuel oil quality and availability.

Enforcement, compliance with and monitoring of the new sulphur limit is the remit and responsibility of States Party to MARPOL Annex VI. Most ships are expected to utilize new blends of fuel oil which will be produced to meet the 0.50% limit on sulphur in fuel oil, or compliant marine gas/diesel oil. Currently, the maximum sulphur limit in fuel oil is 3.50% globally (and 0.10 % in the four ECAs: the Baltic Sea area; the North Sea area; the North American area (covering designated coastal areas off the United States and Canada); and the United States Caribbean Sea area (around Puerto Rico and the United States Virgin Islands)).
Some ships use exhaust gas cleaning systems (EGCS) ("scrubbers"), accepted by their flag States as an alternative means to meet the sulphur limit requirement. The MEPC will consider proposals for a new agenda item, so that the Committee would consider to undertake an environmental impact assessment of discharge water from EGCS and to evaluate and harmonize rules and guidance on the discharge of liquid effluents from EGCS.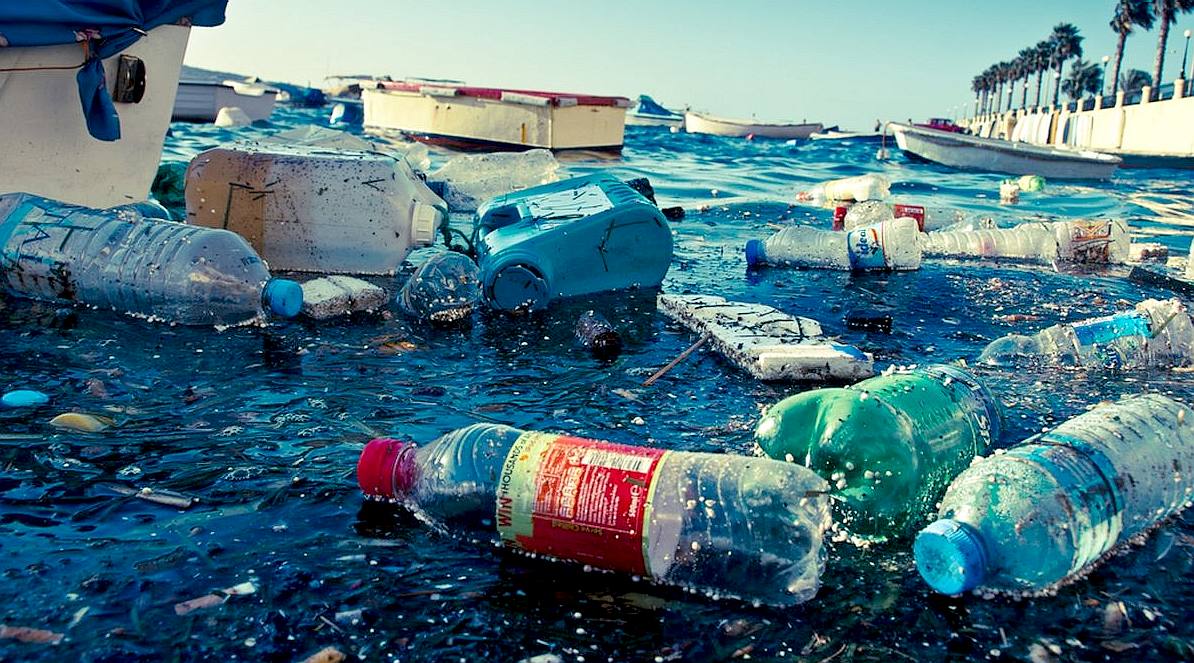 TRANSPORT - IMO measures cover all aspects of international shipping – including ship design, construction, equipment, manning, operation and disposal – to ensure that this vital sector for remains safe, environmentally sound, energy efficient and secure.

Shipping is an essential component of any programme for future sustainable economic growth. Through IMO, the Organization's Member States, civil society and the shipping industry are already working together to ensure a continued and strengthened contribution towards a green economy and growth in a sustainable manner. The promotion of sustainable shipping and sustainable maritime development is one of the major priorities of IMO in the coming years.

As part of the United Nations family, IMO is actively working towards the 2030 Agenda for Sustainable Development and the associated SDGs. Indeed, most of the elements of the 2030 Agenda will only be realized with a sustainable transport sector supporting world trade and facilitating global economy. IMO's Technical Cooperation Committee has formally approved linkages between the Organization's technical assistance work and the SDGs. While the oceans goal, SDG 14, is central to IMO, aspects of the Organization's work can be linked to all individual SDGs.

Energy efficiency, new technology and innovation, maritime education and training, maritime security, maritime traffic management and the development of the maritime infrastructure: the development and implementation, through IMO, of global standards covering these and other issues will underpin IMO's commitment to provide the institutional framework necessary for a green and sustainable global maritime transportation system.
4. Marine plastic litter action plan
The MEPC will follow up on the IMO Action Plan to address marine plastic litter from ships adopted at the last session.
The MEPC is expected to, inter alia, develop the terms of reference for a study on marine-plastic litter from ships, based on the work carried out by a correspondence group that had been instructed to identify issues to be considered under an IMO study on marine plastic litter from ships; determine the most appropriate mechanism to undertake the study; and develop a regulatory framework matrix to identify all international regulatory instruments and best practices associated with the issue of marine plastic litter from ships.
5. Ballast water management treaty implementation
The International Convention for the Control and Management of Ships' Ballast Water and Sediments, 2004 (BWM Convention), entered into force in September 2017 and has, to date, been ratified by 81 countries, representing 80.76% of world merchant shipping tonnage. Amendments to the treaty, relating, inter alia, to implementation timelines, were adopted during MEPC 72.
The main focus for the convention now is on its effective and uniform implementation, and on an experience-building phase, with a focus on gathering data on application of the BWM treaty. The MEPC will consider proposals related to ballast water sampling and analysis, including revisions to the Data gathering and analysis plan for the experience-building phase associated with the BWM Convention (BWM.2/Circ.67), to incorporate a link to standard operating procedures.
The MEPC is expected to approve amendments to the BWM Convention and the Code for Approval of Ballast Water Management Systems (BWMS Code), concerning commissioning testing of ballast water management systems as well as amendments to the form of the International Ballast Water Management Certificate.
Also up for consideration are proposals in relation to the application of the BWM Convention to specific ship types, as well as exemptions under the Convention, including possible amendments to the Convention and/or development of guidance.
MEPC 74 will also consider proposals for approval of ballast water management systems that make use of Active Substances.
PROTEST - Extinction Rebellion hold new Titanic-themed protest (Duration: 01:48 13/05/2019). Extinction Rebellion welcomed delegates from around the world at the International Maritime Organization in central London this morning (May 13) with a Titanic-themed protest. An orchestra played music from when the Titanic was sinking as other protesters fumbled with deckchairs and some dressed as waiters offered out wafers. The protesters believe we are heading towards a "climate disaster."
6. Approval of other amendments, guidance and other matters
Amongst other matters, the MEPC is expected to:
* approve draft amendments, for future adoption, to the International Convention for the Control of Harmful Anti-fouling Systems on Ships (AFS Convention), to include controls on the biocide cybutryne.
* approve four circulars containing new or updated guidance relevant to the assessment and carriage of chemicals in bulk, including the draft revised MEPC circular on the Guidelines for the provisional assessment of liquid substances transported in bulk.
* approve the methodology to analyse the impacts of a ban on the use and carriage of heavy fuel oil as fuel in Arctic waters.
* approve the draft Guide on practical implementation of the pollution prevention and response treaties (OPRC Convention and the OPRC-HNS Protocol).
7. Technical cooperation and capacity building activities
In order to implement IMO's environment-related instruments, technical cooperation and capacity building activities have played a very important role at IMO.
During the MEPC, these TC activities, including several Major Projects, will be introduced and updates will be presented.
A new Global Partnership Project will be announced on Monday 13 May. Please email media@imo.org for details.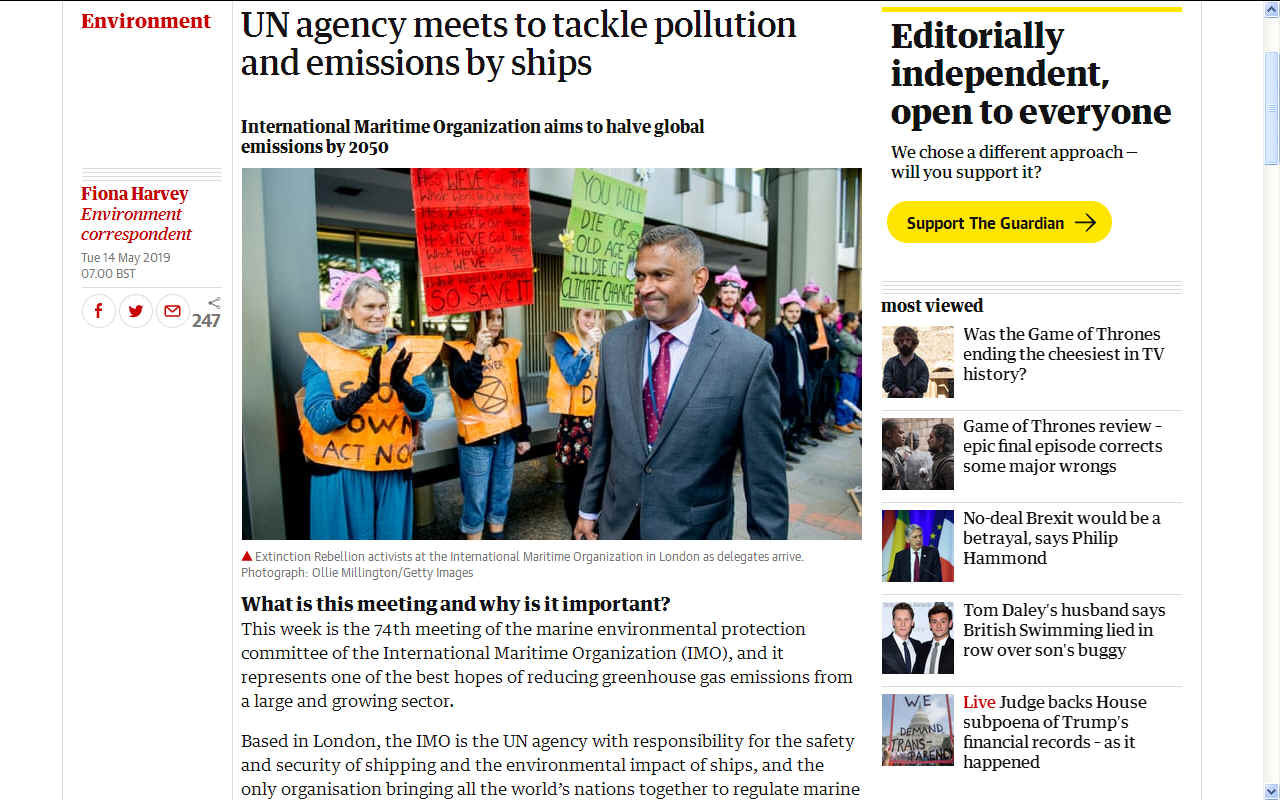 The Guardian reports on the environment as a priority. They give reporting on climate, nature and pollution the prominence it deserves, stories which often go unreported by others in the media. At this pivotal time for our species and our planet, they are determined to inform readers about threats, consequences and solutions based on scientific facts, not political prejudice or business interests. But they need your support to grow coverage, to travel to the remote frontlines of change and to cover vital conferences that affect us all.

More people are reading and supporting The Guardian's independent, investigative reporting than ever before. Unlike many news organisations, they have chosen an approach that allows them to keep journalism accessible to all, regardless of where they live or what they can afford.

The Guardian is editorially independent, meaning they set their own agenda. Their journalism is free from commercial bias and not influenced by billionaire owners, politicians or shareholders. No one edits their editor. No one steers their opinion. This is important as it enables them to give a voice to those less heard, challenge the powerful and hold them to account. It's what makes them different to so many others in the media, at a time when factual, honest reporting is critical.
THE GUARDIAN 14 MAY 2019 - UN AGENCY MEETS TO TACKLE SHIP POLLUTION
International Maritime Organization aims to halve global emissions by 2050

What is this meeting and why is it important?

This week is the 74th meeting of the marine environmental protection committee of the International Maritime Organization (IMO), and it represents one of the best hopes of reducing greenhouse gas emissions from a large and growing sector.

Based in London, the IMO is the UN agency with responsibility for the safety and security of shipping and the environmental impact of ships, and the only organisation bringing all the world's nations together to regulate marine transport.

Shipping accounts for at least 3% of global greenhouse gas emissions, which may not sound a lot but is greater than the UK's total: if shipping were a country, it would be the sixth biggest in terms of emissions share. And it is growing fast – shipping could produce 17% of global emissions by 2050, if left unchecked. About 90% of the world's trade is carried by sea.

Even more significantly, those emissions are particularly harmful because they are mostly the result of burning heavy, pollutant-ridden fuels that are usually banned or subject to regulation onshore because of their toxic effects. Ship fuel produces sulphur, which contributes to acid rain; ships burn more than 3m barrels a day of residual fuel oil, with a sulphur content more than 1,000 times that of petrol for road vehicles. The dirty fuel also releases large quantities of black carbon – soot, made up of unburned particles – that is borne on the winds to the Arctic, where it stains the snow and increases the greenhouse effect, because dark snow absorbs more heat.
What will be discussed at the meeting?

Climate change and shipping's contribution to it will be high on the agenda, the secretary-general, Kitack Lim, confirmed in his opening speech on Monday. There will be a discussion of the IMO's target of halving emissions by 2050, compared with 2008 levels, and of a new review – its fourth – of shipping's greenhouse gas emissions.

Also on the table will be IMO 2020, a plan to reduce the environmental harm from sulphur by stipulating that ships can only use fuel with a sulphur content of less than 0.5%. Marine plastic pollution will be discussed, with recent developments such as the UN's agreement, excluding the US, to take steps to reduce the flow of plastic waste to the developing world.
What is the likely outcome?

There is expected to be progress on all of the above, probably in the form of resolutions to reaffirm existing commitments and the frames of reference for a new greenhouse gas study. The IMO on Monday evening also produced a blueprint for one of its main outcomes from the talks: GreenVoyage-2050, co-funded by the government of Norway, a plan to expand port management capacities in the developing world and set up demonstration projects that will help poor countries meet the goal of halving emissions by 2050.
Is that good enough?

Far from it, according to civil society groups and protesters. Extinction Rebellion activists are protesting outside the meeting in London, offering delegates deckchairs which they can rearrange as if on the Titanic – a reference to the futility of the efforts to regulate shipping so far, which have shown little progress over more than a decade.

Campaigning groups have differing demands from the talks. The Clean Arctic Alliance wants a ban on heavy fuel oil in the Arctic and moves towards a wider ban. A group of ten NGOs led by Stand.Earth is calling for a moratorium on the use of "scrubbers" to remove sulphur from ship exhausts, in favour of a straightforward switch to lower sulphur fuel.
The Environmental Defense Fund wants to see zero-emissions ships on the water as soon as possible. Extinction Rebellion has a very specific demand: to reduce the speed of ships by 10%, which would result in a carbon saving of 30% on current levels.

Liam Geary Baulch, a spokesman for Extinction Rebellion, said: "It's only our future at stake, so either the shipping industry can just keep rearranging the deckchairs … or they can tell the truth today and declare a climate and ecological emergency. They should act now by reducing emissions immediately. This can effectively be achieved through an immediate reduction in speeds."
We have known about emissions from shipping for years. What progress has been made up to now?

Very little. The IMO first announced plans to move ships to fuels with a lower sulphur content in 2008. These plans will not come into force until next year. On greenhouse gases, the long-term target is a halving by 2050, compared with 2008 levels, but the industry is still stuck on carrying out yet another review. Shipping has largely escaped public scrutiny, as its emissions take place far out to sea, invisible to the consumers of the goods the ships carry.

Part of the problem is that shipping, along with aviation, has been excluded from international talks on climate change almost from the start. The initial reason was pragmatic – in the run-up to the Kyoto protocol of 1997, countries could not agree how international transport should be accounted for, and whether the ships' home countries or the countries where the cargo was landed should be deemed responsible for the emissions. In order to get the agreement through, shipping and aviation were left out altogether.

This is effectively still the case, even though in the intervening two decades emissions from these sectors have risen sharply. The industries have largely been left to regulate themselves on a voluntary basis, and their plans to do so have been slow in coming, low on ambition, weak on enforcement and, so far, inadequate to the scale of the problem.

For the IMO to turn that situation around this week is as unlikely as a supertanker sailing up the Thames to its headquarters, but protesters are hoping that their activities will at least draw public attention to what has so far been largely a hidden scourge of the seas.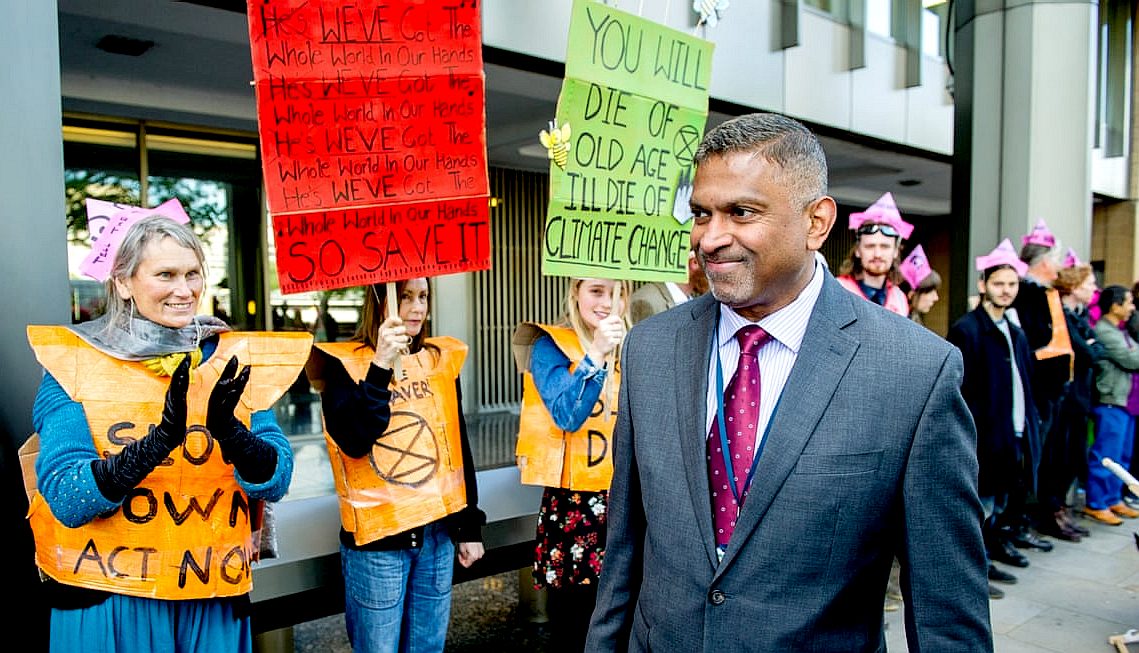 The advent of autonomous shipping, and the possibility of solar and wind powered ships coming into the frame, makes it all the more important for the IMO to revisit their anti collision regulations such that robotic, unmanned course keeping, that reduces energy per transit, and so makes solar powered electric ships viable, is recognised and catered for. These are the 1972 COLREGs:
Part A - General (Rules 1-3) & Part B- Steering and Sailing Section 1 - Conduct of vessels in any condition of visibility (Rules 4-10)
Rule 1 states that the rules apply to all vessels on the high seas and connected waters.
Rule 2 covers the responsibility of the master, owner and crew to comply with the rules.
Rule 3 includes definitions of applicable water craft (vessels).
Rule 4 says the section applies in any conditions of visibility.
Rule 5 every vessel shall at all times maintain a proper look-out by sight and hearing.
Rule 6 deals with safe speed.
Rule 7 risk assumptions shall not be made on scanty (radar) information.
Rule 8 covers action to be taken to avoid collision.
Rule 9 vessels proceeding along a narrow channel should keep to starboard.
Rule 10 deals with the behaviour of vessels in or near traffic separation schemes.

Sections II & III Conduct of Vessels in Sight of one another
Part C - LIGHTS & SHAPES (Rules 20-31)
Part D - SOUND AND LIGHT SIGNALS - DEFINITIONS (Rules 32-37)
Part E - EXEMPTIONS - Rule 38
Part F - Convention compliance verification provisions Rules 39 - 41
Annex I - Positioning and technical details of lights and shapes
Annex II - Additional signals for fishing vessels fishing in close proximity
Annex III - Technical details of sounds signal appliances
Annex IV - Distress signals indicating distress and need of assistance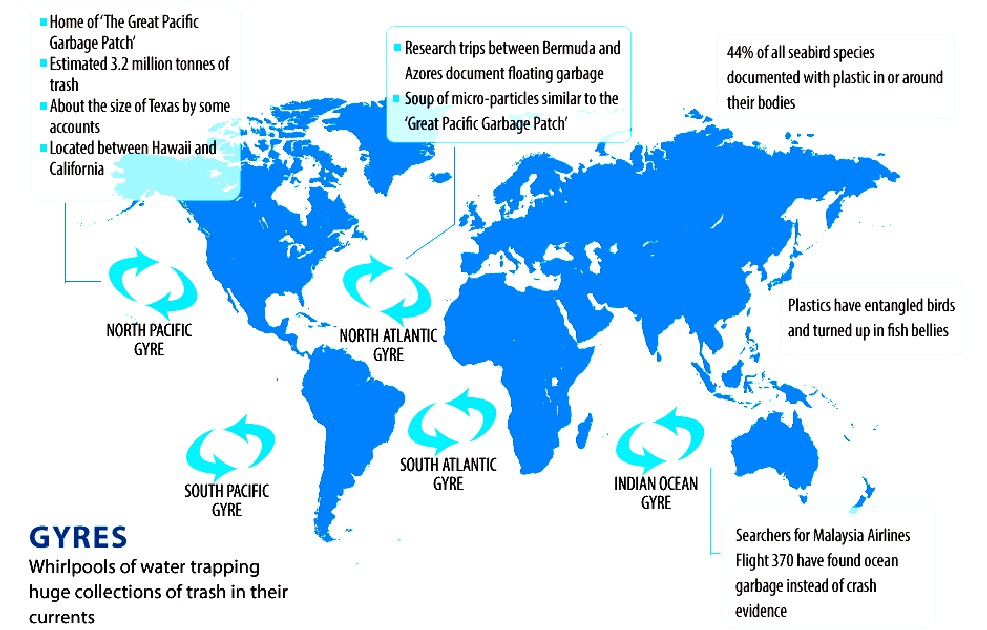 BUILD UP - Plastic has accumulated in five ocean hot spots called gyres, see here in this world map derived from information published by 5 Gyres.
LINKS & REFERENCE
http://www.imo.org/en/MediaCentre/PressBriefings/Pages/08-green-voyage-2050.aspx
https://www.theguardian.com/environment/2019/may/14/un-agency-meets-to-tackle-pollution-and-emissions-by-ships