IMO - MITIGATION & SCRAPPAGE INCENTIVES
Please use our A-Z INDEX to navigate this site, where page links may lead to other sites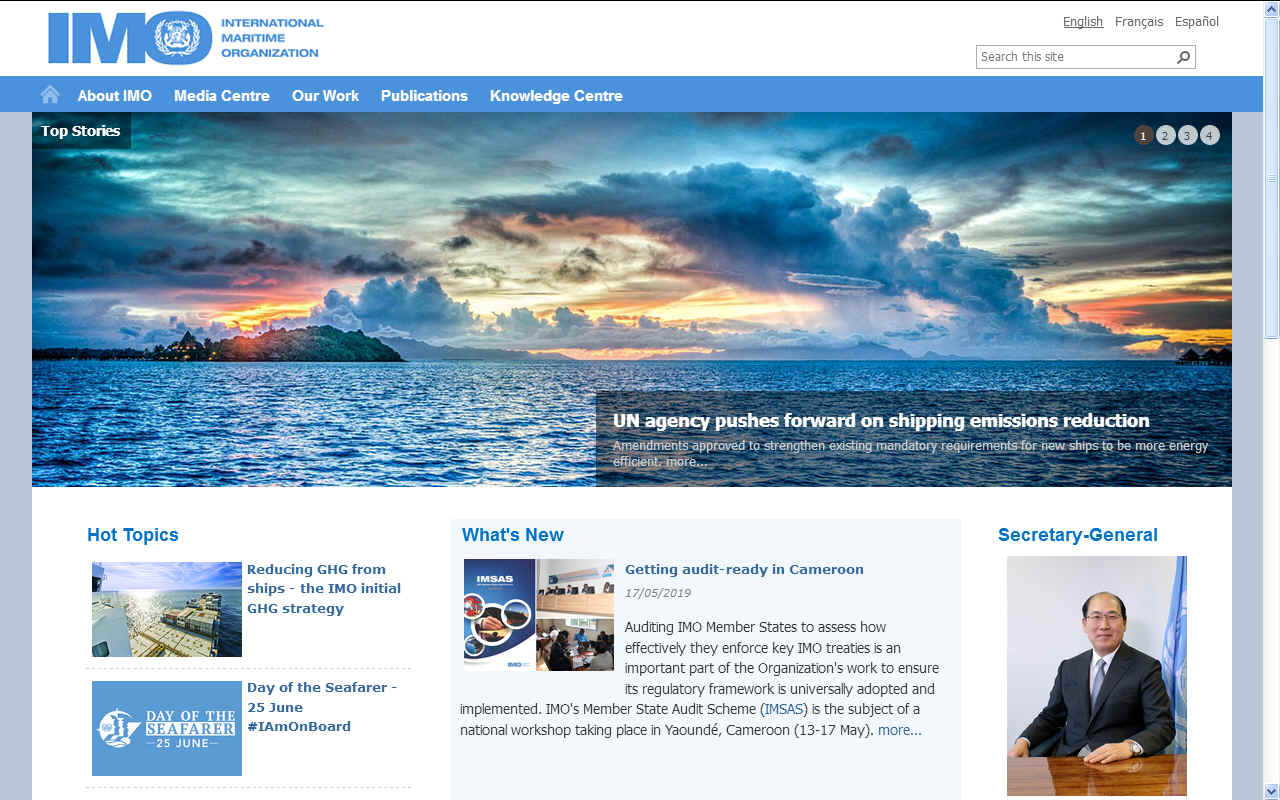 RED FLAG POLITICS - The IMO appears to be struggling to justify their inaction on acid oceans, rising sea levels and ocean plastic, raising the question as to whether or not they are being lobbied by stakeholders to sit on their hands and allow the situation to continue to harm the planet? We are of the view that he is not batting for the environment as hard as he might in light of the climate emergency. Articles 18 and 19 of the Universal Declaration of Humans Rights, guarantees us freedom of thought and expression and the right to impart information in any media.
In August of 2019, the Cleaner Ocean Foundation (COF) wrote to Secretary General, Kitack Lim, proposing mitigation payments from ship operators using fossil fuels and scrappage allowances when dirty ships were traded in for cleaner new ones. The letter was sent via the Royal Mail with a Proof of Posting Certificate obtained.
In what seems to us to be irresponsible negativity, no reply was forthcoming from the IMO. Whereas, other reply from the United Nations acknowledged receipt and origination of the concept.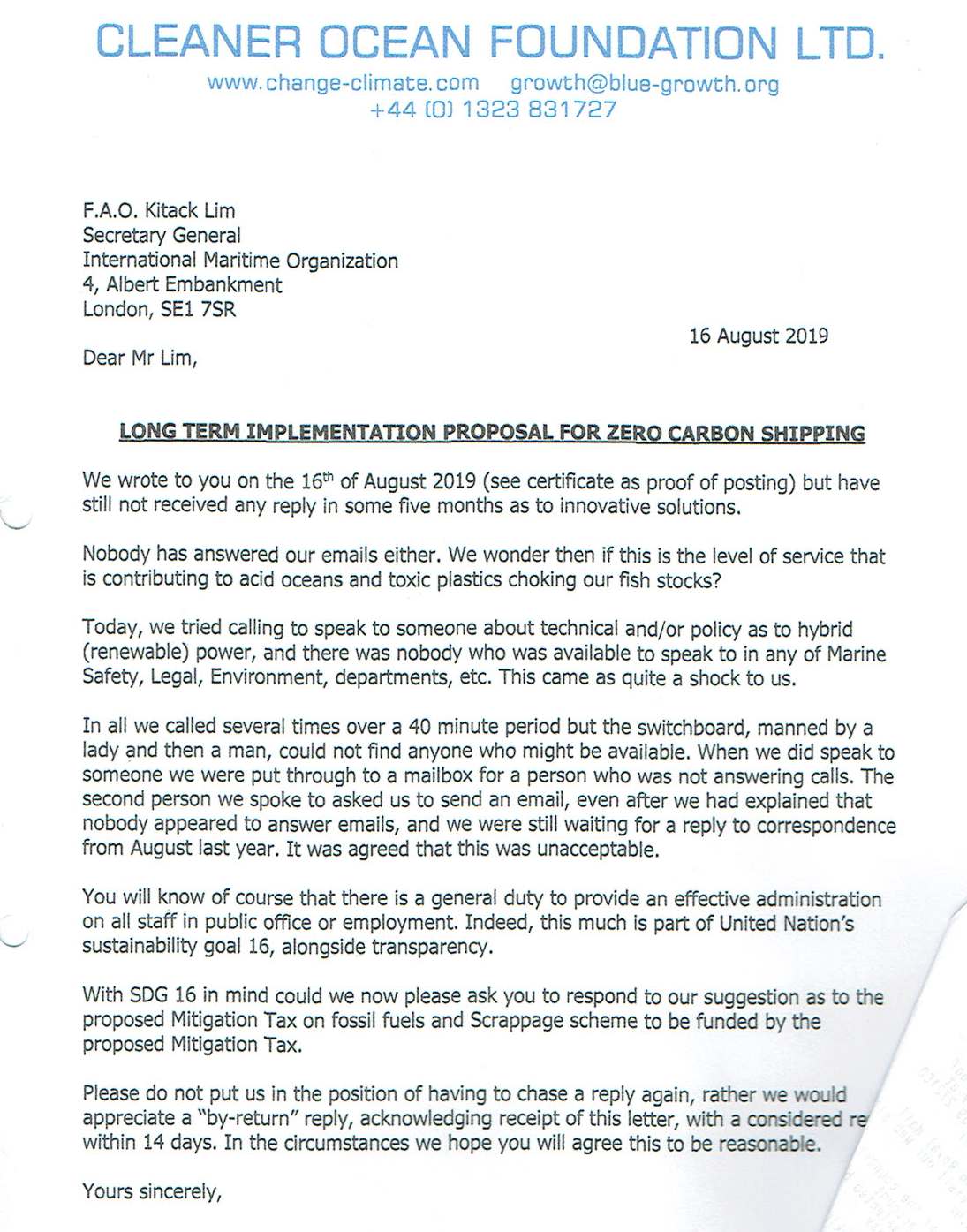 UNCONTACTABLE - Blind, deaf and dumb. A department of the UN that answers to no-one is a dictatorship. It might be that the IMO needs a shake up, or replacement by an organization that is answerable to the electorate, and so accountable for its failures. Get it together IMO. There is a lot at stake and not just your jobs on the line.
We wonder why it could be that such a proposal would not be acknowledged by an organization like the IMO, charged as they are with exploring ways of speeding up the transition to zero emission ocean transport to: "as quickly as possible."
In January of 2020, COF researchers attempted to make telephone contact with many of the separate departments listed by the IMO's automatic phone answering system at their London headquarters on the banks of the River Thames, not one of which re-directions yielded connection to a person, just mailboxes.
Over two consecutive days in January this was attempted, to be sure that the lack of transparency and therefore, accountability was no accident. Such administrative dysfunctionality is of course counter to SDG16, being the kind of maladministration one experiences from organizations that have something to hide, rather than organizations working effectively and transparently and engaging with the public and other groups constructively.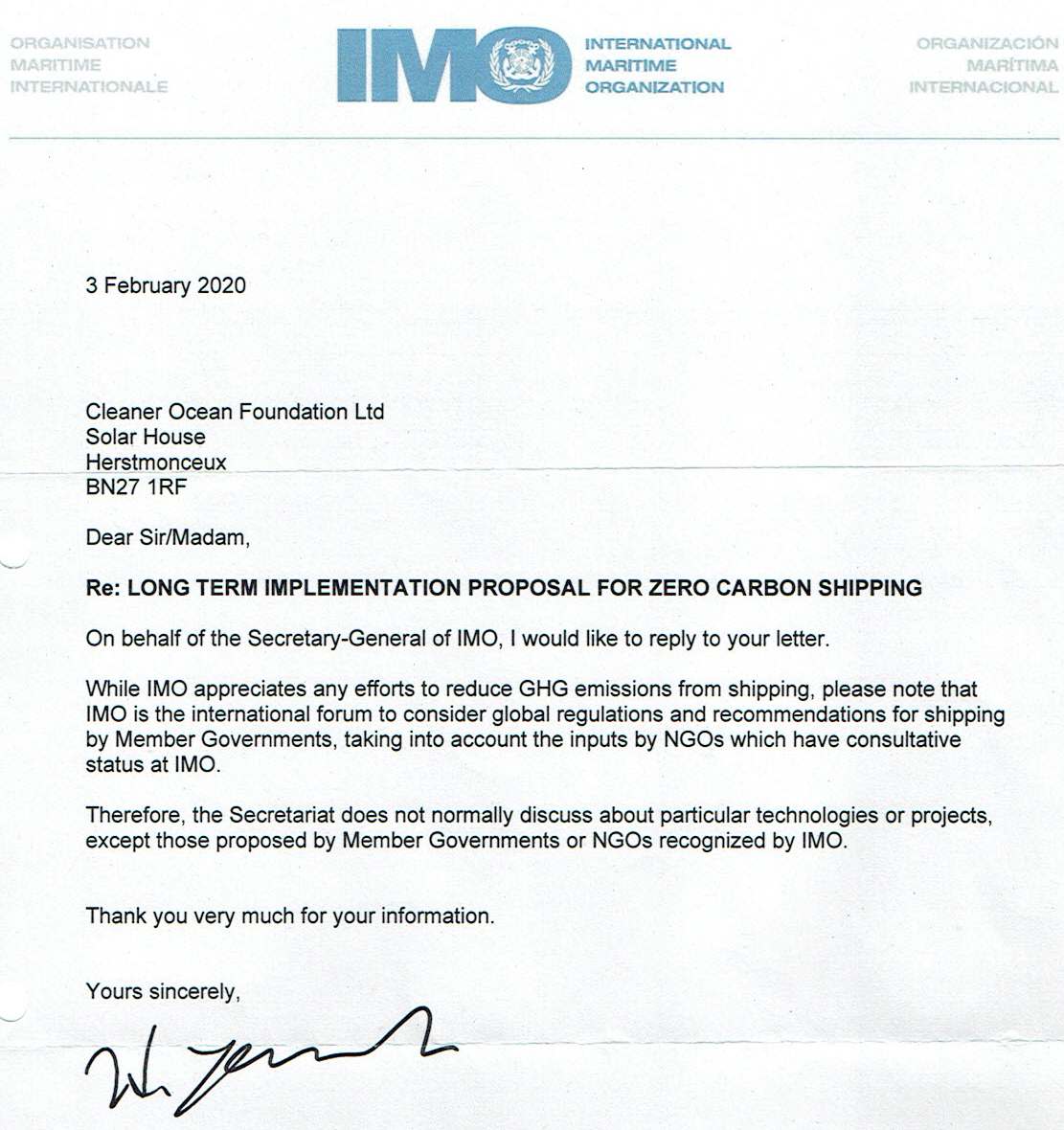 THERE ARE NONE SO BLIND AS THOSE WHO WILL NOT SEE - In our books a good idea is an opportunity, no matter where it comes from. Closed shop practices and what appears to be a total lack of transparency, is hardly SDG16 & SDG17 compliant, and certainly not a defendable position when so much is at stake, with such a short time in which to halt global warming. Ve vill ask der qvestions. Naughty IMO. Have they not heard of Dutch Boy? The IMO will not allow anyone to make suggestions unless it is one of the organizations that they approve of. So much for democracy!
Clearly, they are acting defensively due to years of inaction from a voluntary viewpoint, where they are charged with making law that demands implementation. An organization that was doing well would be thumping the drum about it and more than happy to engage with useful contributors.
The why is, how come the IMO did not think of this for themselves.
At the present time we can think of no other reason for such secrecy, in the absence of any explanation to the contrary, the lack of reply speaks for itself.
On that basis, the protest by Extinction Rebellion last year, was more than justified. We wonder if we can expect more of the same? Shame on you Mr Kitack. It's time to get tough, not let the IMO be bullied by big business.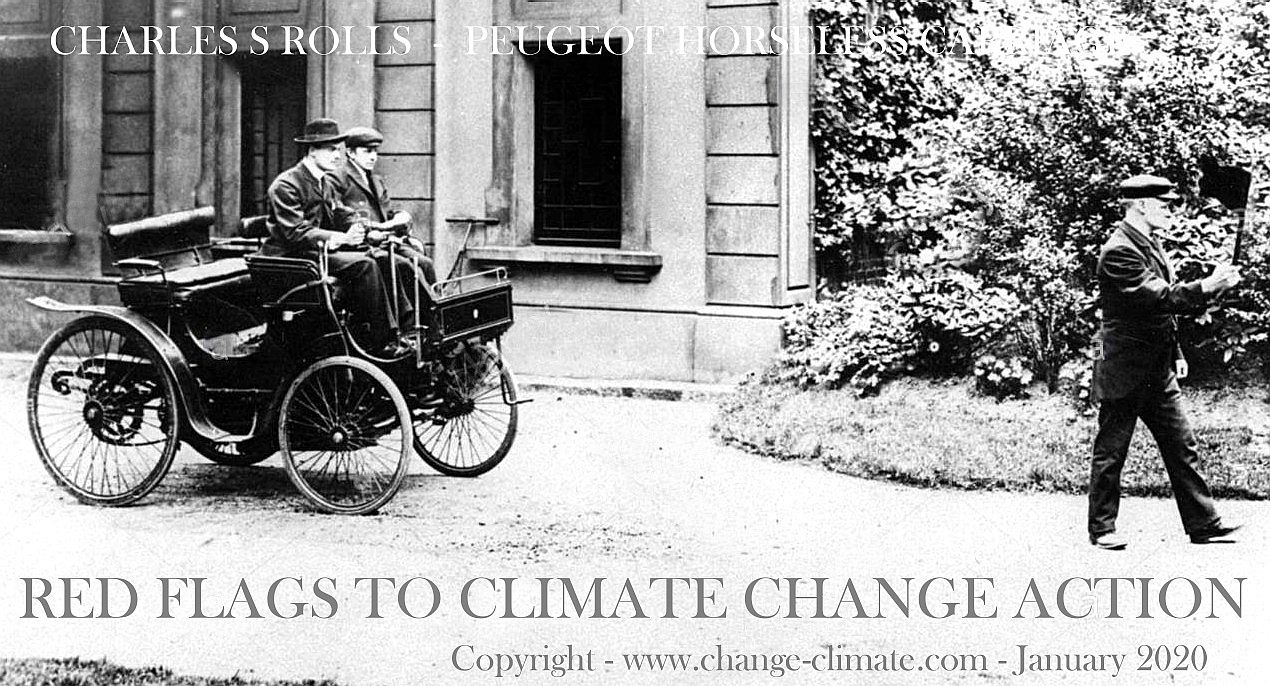 POLITICAL BLOCKERS - In Britain in 1865, the legislative response to the increasing introduction of self-propelled vehicles on our roads was the Locomotive Act (sometimes known as the Red Flag Act). Amongst a number of provisions, it stipulated that self-propelled vehicles needed to be proceeded with a man walking 60 yards ahead carrying a red flag to warn other road users of the vehicles approach. The objective of powerful stakeholders was to hinder progress to protect their investments in horses, carriages and trains.
The IMO appear to have been doing the same for years, in not acting in good time (or good faith) to prevent ocean pollution, climate change and acid oceans.

To date there has been nothing new on the agendas for the adoption of clean technologies such as solar and wind powered ships. We await any action for hydrogen or other zero emission fuels that carry with them supply difficulties and potential dangers.
CARBON OFFSETTING
Offsetting you carbon footprints is nothing new. It means buying carbon credits equivalent to your carbon impact. This means you compensate for every tonne of CO2 you emit by ensuring there is one tonne less in the atmosphere. And because one unit of CO2 has the same climate impact wherever it is emitted, the benefit is the same wherever it is reduced or avoided too.
Instead of buying into carbon offset, any mitigation payment - that could be based on carbon footprint - would go toward creating a scrappage fund.
AUTOMOBILE SCRAPPAGE SCHEMES - AS AN EXAMPLE
A scrappage program is a government budget programme to promote the replacement of old vehicles with modern vehicles. Scrappage programmes generally have the dual aim of stimulating the automobile industry and removing inefficient, more polluting vehicles from the road.
Many European countries have introduced large-scale scrappage programmes as an economic stimulus to increase market demand in the industrial sector during the global recession that began in 2008.

Scrappage programmes were touted with different names, mostly referring to an environmental benefit. The Vehicle Efficiency Incentive in Canada was based on fuel efficiency of cars.
In Romania, this program is called " Rabla " (the wreck), and was launched by Dacia in 2000.
In Germany, the economic stimulus program was called "Umweltprämie" (environmental premium) and in Austria "Ökoprämie" (eco-premium) while most of the public referred to it simply as "Abwrackprämie" (scrappage premium).
Other countries have not tried to connect the program title with an environment aspect - still the Italian "Incentivi alla rottamazione" (scrappage incentives) and French "Prime à la conversion [fr]" (scrappage premium) require the new car to meet modern emission standards.
The German scrappage incentive scheme and the British scrappage scheme do not have such requirements, and the UK scheme was openly sketched on the target to provide financial support to the struggling motor industry. Though new cars are more fuel efficient than old.
Similarly, the United States Congress devised a scrappage scheme, commonly referred to as "cash for clunkers," as part of a general Automotive Stimulus package series; however, the voucher is only given when the newer car has a better fuel efficiency compared to the old car.

In the 1990s, many countries had introduced tax rebate programs for new cars that meet a modern emission standard, but, with the Kyoto Protocol; some countries made the public offer dependent on the scrappage of old cars.

Other programs with the same goal of stimulating industry and increasing efficiency include the Cash for Caulkers plan to promote replacing old refrigerators, air conditioners, etc. with newer, more efficient appliances.

BUSINESS AS USUAL
The primary objective of the United Nations Framework Convention on Climate Change (UNFCCC) is to "avoid dangerous anthropogenic interference with the climate system". To achieve this, the global community will have to use every means available and focus on all climate-changing emissions to the atmosphere. This list includes short-lived climate pollutants (SLCPs) such as black carbon (BC), methane (CH4) and other precursors of tropospheric ozone (O3). Reducing the emissions of SLCPs can help slow the rate of global warming – particularly over the next two to four decades. In so doing, it would increase the probability of staying below the target of a 2°C maximum global temperature rise above pre-industrial levels as agreed to by the 195 parties to the UNFCCC at the 16th Conference of the Parties at Cancun in 2010.

The "business as usual" pathway that continues to increase atmospheric concentrations of greenhouse gases (GHGs), especially carbon dioxide (CO2), the most important greenhouse gas, will likely lead to about a 4°C temperature rise by the end of this century. All parties to the UNFCCC and many scientific groups, as well as leaders of the G-7 countries1, have therefore called for a limit on the temperature increase to 2°C. This will require a rapid transition away from a global energy system based on fossil fuels as well as a reduction in SLCP emissions. The state of knowledge regarding the impacts of SLCP emissions is rapidly advancing, and the Intergovernmental Panel on Climate Change (IPCC), World Bank, UNEP, and others have recently released a number of pertinent studies.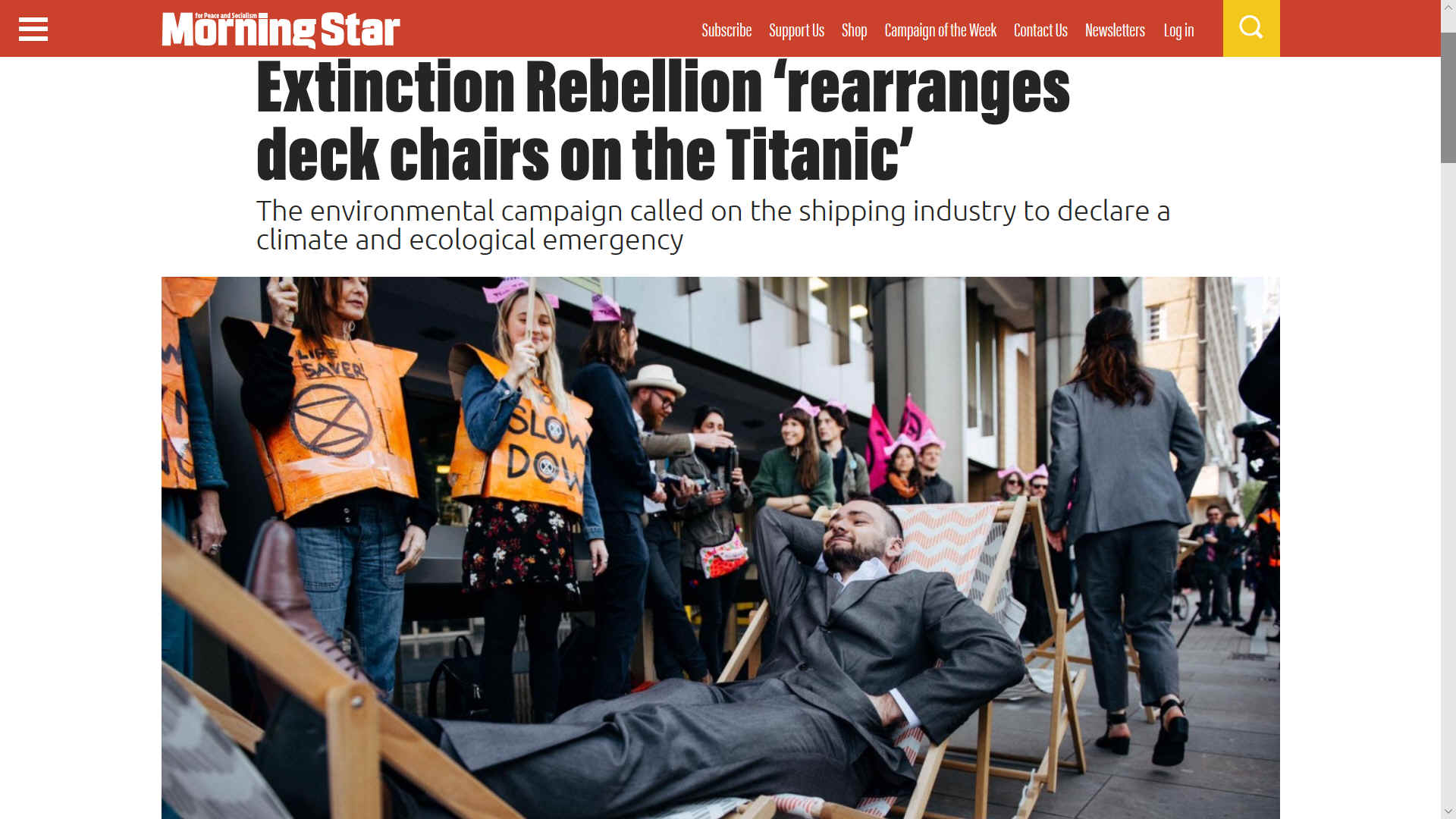 MAY 13 2019 - ENVIRONMENTAL activists performed a symbolic rearrangement of the deckchairs on the Titanic in London today as they called on the shipping industry to declare a climate and ecological emergency.

Extinction Rebellion (XR) campaigners put up deckchairs outside the International Maritime Organisation's (IMO) Climate Conference in Lambeth and a string ensemble fiddled away, evoking the last moments of the liner's 1912 voyage before its disastrous striking of an iceberg.
Protesters in life jackets and pink hats reading "Tell the truth" handed out pink biscuits as international delegates arrived for the conference.
The action was taken to represent those in the conference "who are determined to prevent measures to lower the shipping industry's damage to the environment."
The IMO is a United Nations specialised agency charged with securing the safety and security of shipping — and the prevention of marine and atmospheric pollution by ships. Shipping is a huge emitter of greenhouse gases. If it were treated as a country, the industry would rank fifth- or sixth-biggest polluter on the planet, XR said.
XR spokesman Liam Geary Baulch said: "It's only our future at stake. So either the shipping industry can just keep rearranging deckchairs and enjoying our biscuits or they can tell the truth today and declare a climate and ecological emergency.
"They should also act now by reducing emissions immediately. This can effectively be achieved through an immediate reduction in speeds."
XR wrote to IMO secretary-general Kitack Lim on May 7 calling on the organisation to declare a climate emergency. Conference delegates were warned by the IMO to arrive early in case of disruptions by activists. (Did they get a reply?)
The UN strategy on tackling greenhouse gases requires a 50 per cent drop in the shipping industry's emissions from 2008 levels by 2050, but the organisation has yet to adopt any short-term measures to start this process.
XR is calling on delegates to agree to measures to reduce shipping speeds by 10 per cent, which will result in a 30 per cent reduction in greenhouse gas emissions.
With global shipping emissions set to grow up to 250 per cent by 2050, the need for action now is "crucial to the future of our children," XR said.
LINKS & REFERENCE
http://juldians.org/2020/01/the-interview-kitack-lim/
https://www.marasinews.com/environment/kitack-lim-hits-out-eu-plans-reduce-shipping-emissions
https://morningstaronline.co.uk/article/b/extinction-rebellion-rearranges-deck-chairs-on-the-titanic
https://www.dailymotion.com/video/x786qlm
www.newsflare.extinction-rebellion-hold-titanic-themed-protest-outside-international-maritime-organization-london
http://www.imo.org/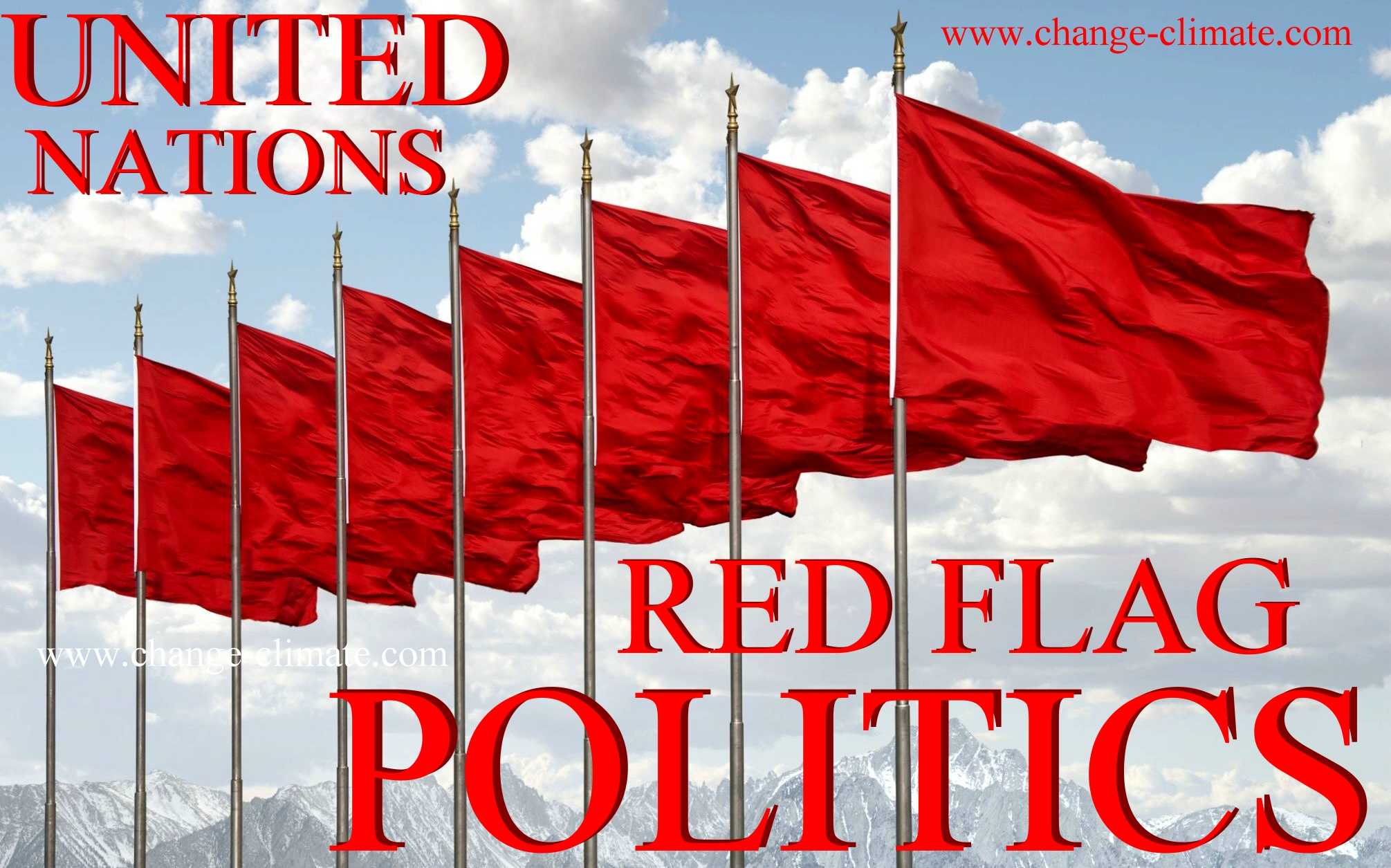 BLOCKERS TO ADVANCEMENT - Four of the G20, those with high incomes and expectations built on continuous growth and exploitation based on fossil fuels, could be behind the brake that smacks of the Locomotive Act of 1865. Can we expect that clean ships with zero carbon signatures will be forced to have a chap swim ahead of solar and wind powered vessels, carrying a red flag?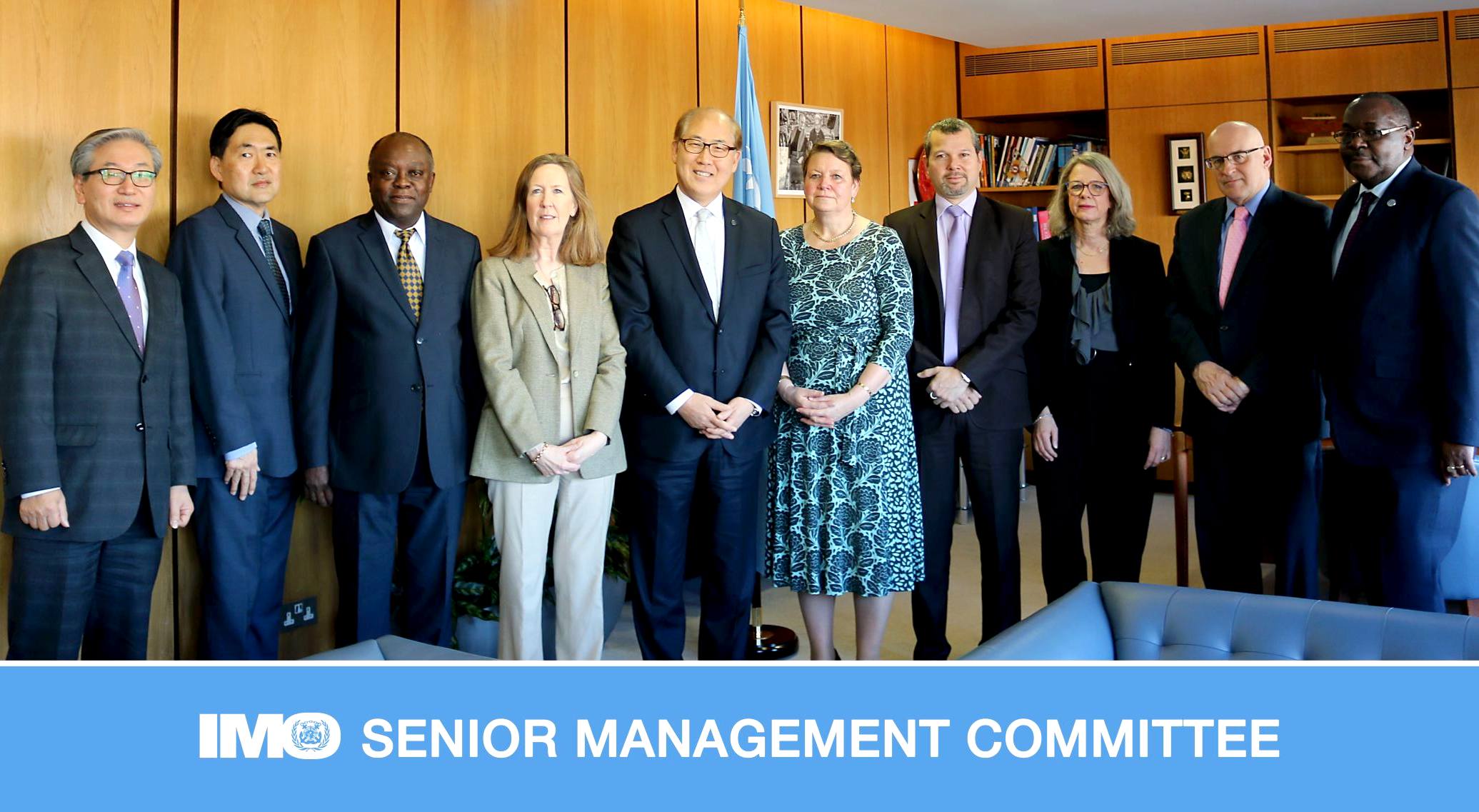 IMO Senior Management Committee (Left to right) - Mr. Sung-Jin Kim, Head, Internal Oversight and Ethics Office; Mr. Hiroyuki Yamada, Director, Marine Environment Division; Mr. Lawrence Barchue, Assistant Secretary-General/Director, Department for Member State Audit and Implementation Support; Mrs. Linda Ryan, Director, Administrative Division; Mr. Kitack Lim, Secretary-General of the International Maritime Organization; Ms. Heike Deggim, Director, Maritime Safety Division; Mr. Arsenio Dominguez, Chief of Staff; Ms. Ariane Gireud, Acting Director, Conference Division; Mr. Frederick Kenney, Director, Legal Affairs and External Relations Division and Mr. Juvenal Shiundu, Acting Director, Technical Cooperation Division.
This website is provided on a free basis as a public information service. copyright © Cleaner Oceans Foundation Ltd (COFL) (Company No: 4674774) 2021. Solar Studios, BN271RF, United Kingdom. COFL is a company without share capital.