2020 - The heart of the SeaVax concept is a selectable, multi-stage filtration system that is capable of recovering plastics from the open ocean in sufficient quantities to make recycling the waste worthwhile. The system is designed to prevent the ingress of delicate fauna, picking up only marine litter. The filtration system is powered by wind and solar energy.
The whole system is geared to operate on renewable energy such as not to add to global warming. A SeaVax must still be able to navigate in adverse conditions requiring an energy store where nature is fickle, and where the safety of the vessel as an Asset is vital.
By eliminating the cost of diesel fuel and eventually, wages for a crew from the equation, plastic recovery operations become economically viable. Skimmers that use diesel and require a crew, may be a good stop gap approach, but such a system adds to climate change and is not thus sustainable in the quest for the elusive Circular Economy - the Holy Grail of economic stability.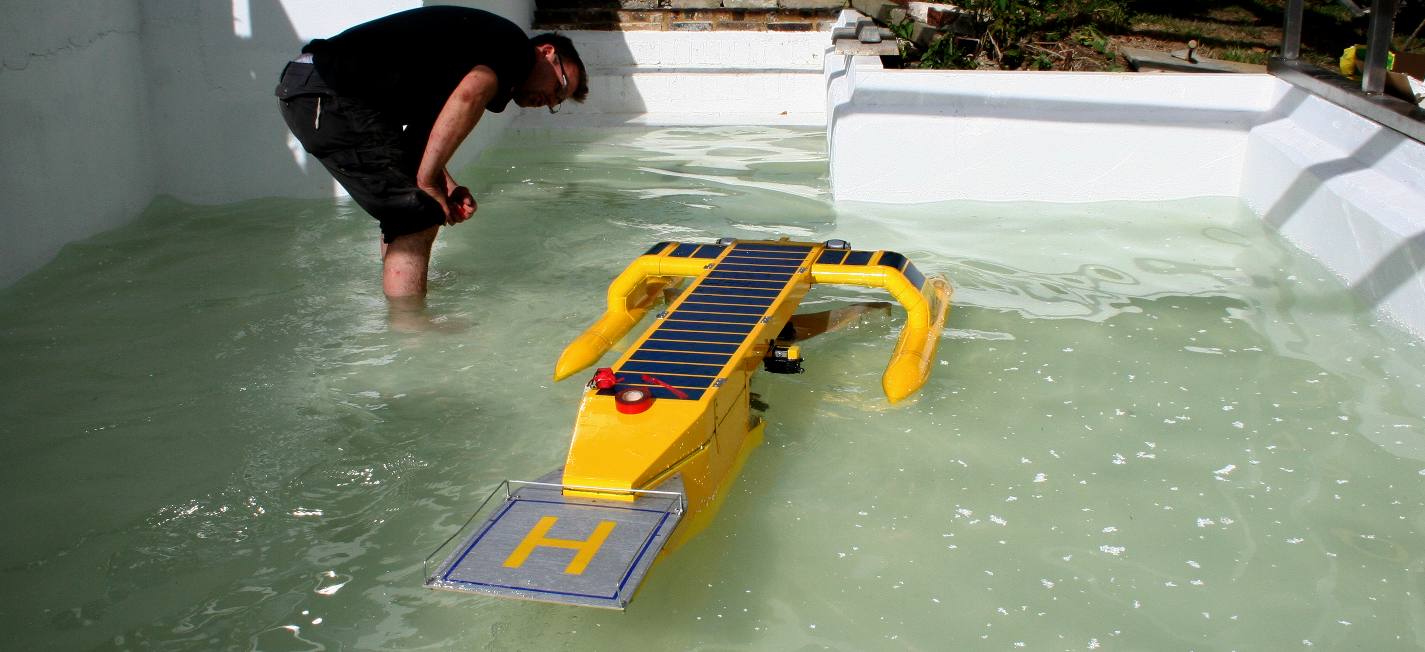 OCEAN CLEANING MACHINES - This is what SeaVax looked like in 2016 when BMS floated a 1:20 model in a water basin loaded with floating plastic waste. A few minutes after the system was switched on, we had all but cleared the tank of floating debris. This was an impromptu test following the first tank fill up. Chris immediately decided to put the SeaVax in the water and give it a whirl. BMS was very pleased with the results. From this point on tests will be more scientific and full size. Though the concept model may still play a part in trials. Please note that SeaVax is Design Copyright © as are the diagrams, even where no specific details are provided, the basic design is protected.
2020 - Before any machine can be designed, the filtration parameters needed to be established. Below you can see a table compiled by an engineer and a marine biologist for the Foundation in 2018, to be used as the basis for the prototype SeaVax operating system.
BIOTA

SIZE

SEAVAX FILTER STAGE

PLASTIC

5 - 150μm

Stage 3

Micro

100 - 200μm

Micro

2 - 60mm

Stage 2

Macro

4 - 18cm

Macro

7 - 9 cm

Macro

1 - 22 cm

Macro

14 - 45cm

Stage 1

Meso

30 - 60cm

Meso

8 - 95cm

Meso

30 - 120cm

Meso

70 - 200cm

Meso

120 - 190cm

Meso

50 - 4500cm

Bulky

60 - 3000cm

Bulky

2000 - 4000cm

Bulky

1250 - 7000cm

Bulky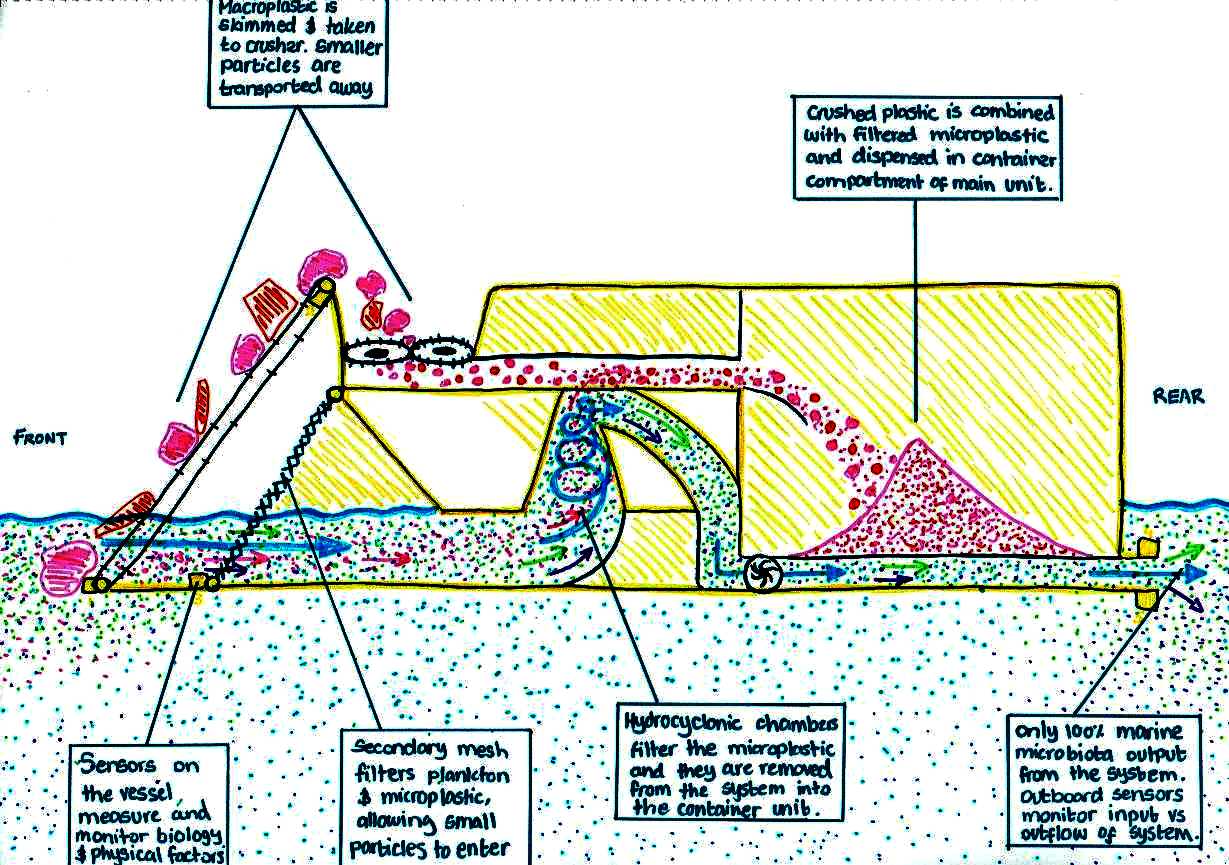 INFOGRAPHIC - If only it was this simple. A lovely drawing that helps people understand what is involved without looking at the complications. Great art. Copyright © Cleaner Ocean Foundation. All rights reserved.
MACHINE WITH A PURPOSE
Many people have suggested adding our filtration system to the bow of existing vessels as an accessory - and this is a logical thought progression. Plainly, such suggestion would be difficult to implement and the hydrodynamics of the host vessel would be in conflict with the need for efficient transit of cargo and fishing vessels.
As you may note from the design of the collector head, SeaVax is the filtration system. The separated components will not transpose easily to another vessel that is not purpose designed. It is more cost effective to build fresh.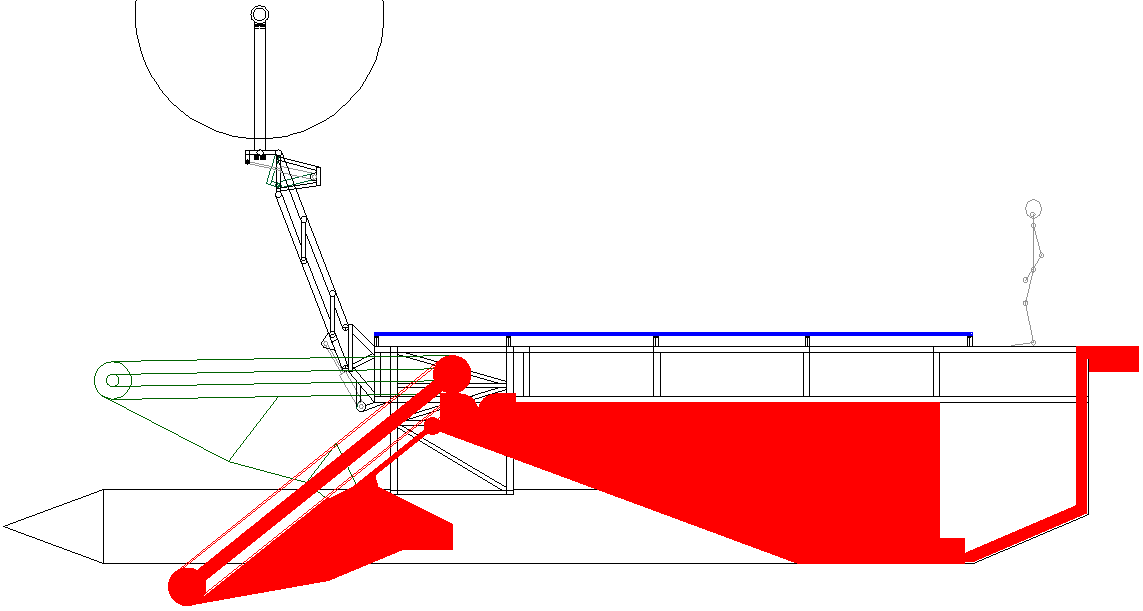 PATENT PENDING - The filtration module, cargo hold and offloading mechanism is shown in red in outline form. The system consists of several integrated components, incorporating motors, pumps, hydraulics, electronics and computer programs - all to be powered by energy from nature - if we are to avoid more greenhouse gas emissions. Note that this is the design for the 12 meter coastal development rig, rather than the 45 meter full size craft. Copyright © diagram Cleaner Ocean Foundation. All rights reserved.
Please note that we may not fully describe the system here where a patent specification is at an advanced stage of drafting, to be filed internationally within 12 months of a UK filing.
This precaution is necessary where at this time the Foundation is ineligible for grant funding due to extant policies that take no account of urgency, but where a transition to a more commercial footing could become an option as and when the G20 and other organizations clarify their position as to responsibility for trash recycling in their geographical regions.
OCEAN CLEANUP PROJECTS
* Adidas
* Algalita research foundation
* Aliance to end Plastic Waste
* Boyan Slat's ocean booms
* 4Ocean recycled plastic bracelets
* Earth Day ocean plastic fact sheet
* Fionn Ferreira's ferrofluid extraction of microplastics
* Junk Raft - plastic expedition
* Plastic Oceans Canada
* Plastic Oceans Org
* Seabin
* SeaVax autonomous drones
* Surrey University PIRATE & Triton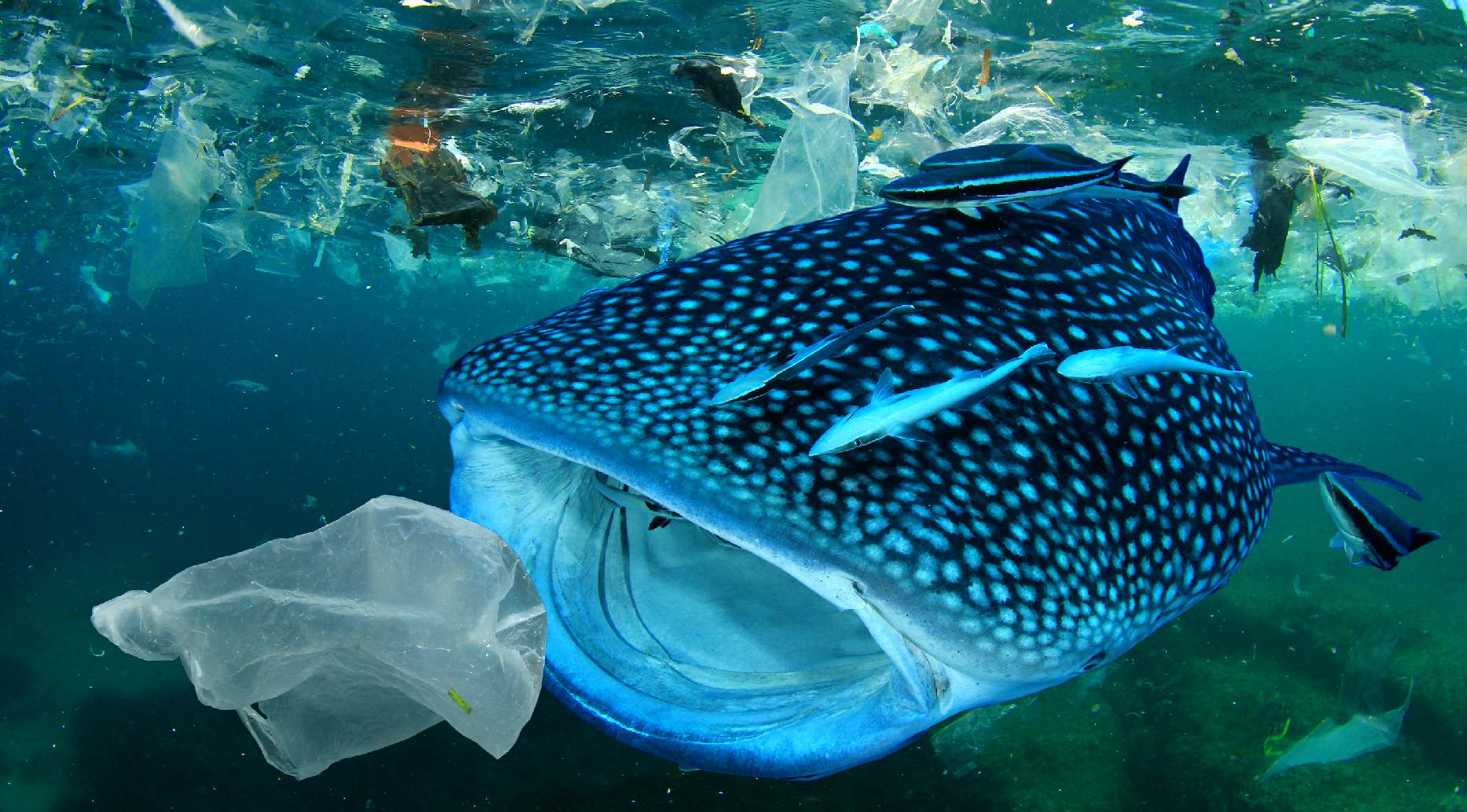 WHAT DRIVES US - It is pictures like this whale shark swimming in garbage that it is about to ingest that makes our blood boil. What are we doing, letting a situation like this develop? The fish eat the plastic and we eat the toxic fish. We are slowly poisoning ourselves and our world.