DIMENSIONS - The ideal size for SeaVax was firstly calculated on a 5 year cleaning cycle of all oceans using 900 units. The alternative calculation is: 25,000 ton collecting capacity per vessel, per year x 325 units (fleet) = 8 million tons peak capacity per annum. This is to mop up the annual incoming waste.
To achieve this level of harvesting it is estimated that SeaVax should be 45 meters (145.5ft) in length and 17 meters (55ft) wide. The clearance between sea and deck is 4.3 meters (14ft).
A more economical deployment is 100 units at identified plastic hotspots such as problem rivers.
HULL MATERIAL - SeaVax is to be built of 5083 aluminium alloy. The reason for this choice of material over other exotic materials like composites is the ability to withstand knocks, the ease of repair at sea and the possibility of assembling in most boatyards around the world, even in the open air. Marine alloys are also economical and 100% recycle-able and this alloy does not corrode in seawater.
POWER - SeaVax at full size is to carry three photovoltaic arrays totaling 220 square meters in area, two of which arrays track solar energy as we orbit the sun. SeaVax is also to carry at least one wind turbine to supplement the PV cells to harness energy at night or during the day when the sun is not shining.
At this time the size and configuration of the wind turbine is the subject of 1/4 scale testing on a land vehicle. Initially, the specification was for two 20kW turbines, but this is now reduced to one 20kW unit until experiments are completed to allow further development, hopefully with return to 40kW in total. The turbine is mounted on booms that hydraulically raises the units higher into the wind for more power, and furls the blades in storm conditions to prevent damage, or to sail under bridges.
RESERVE - A generous battery storage bank provides up to 3 days of energy reserves to maintain headway in adverse conditions.
PROPULSION - Is by electric motors and conventional propellers.
NAVIGATION - SeaVax includes an autonomous navigation system based on an autopilot and awareness equipment such as lidar, sonar and optical instruments (eyes).
FLEET CONTROL - Software to manage a fleet of SeaVax at any given location and operations in different oceans to be able to coordinate international efforts.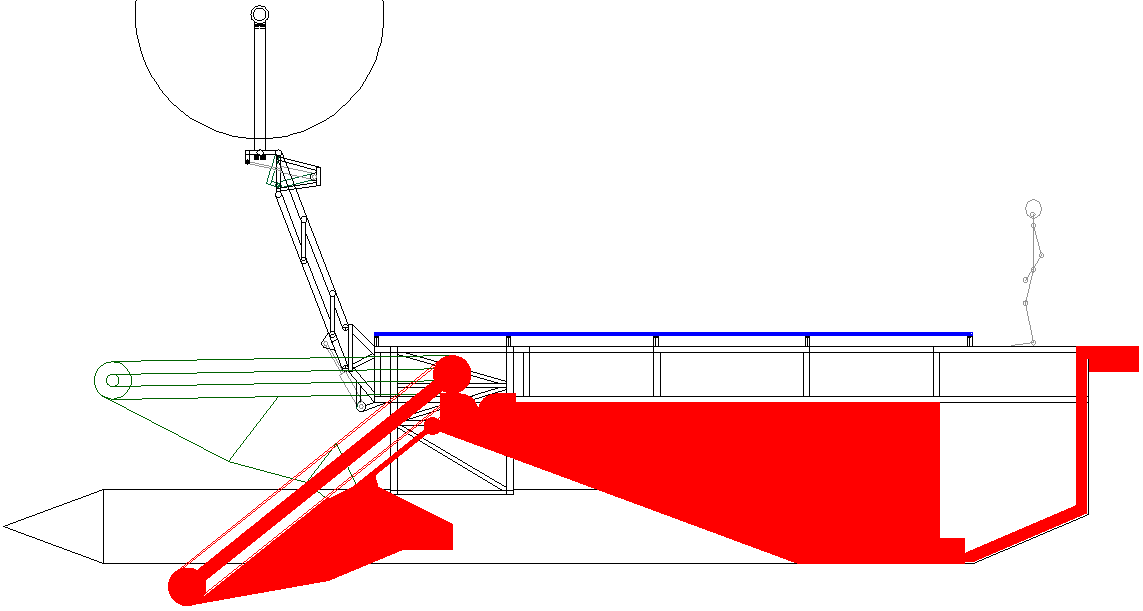 12 METER COASTAL RIG - The filtration module, cargo hold and offloading mechanism is shown in red in outline or draft form. The system consists of several integrated components, incorporating motors, pumps, hydraulics, electronics and computer programs - all to be powered by energy from nature - if we are to avoid more greenhouse gas emissions. Note that this is the design for a basic 12 meter coastal development rig, rather than the 45 meter full size craft. Copyright © diagram Cleaner Ocean Foundation. All rights reserved.
COLLECTOR HEAD - Nestled between the two forward sponsons is a 13.5 meter (44ft) collector head. Outside of the hull dimensions, hydraulically operated fold out booms increase the effective mouth area up to 27 meters (88ft) where practical to deploy.
Of interest is that 7.1 SeaVax units fully deployed, working in concert, gives the same mouth sweep area as the Ocean Cleanup's 600 meter long floating boom barriers.
SEAWATER FILTRATION - Is by an intelligent, selectable, three-stage collection and separation system with enhancements - the system is subject to patent application. Hence, it is not possible to elaborate until publication.
CAPACITY - Both the blue water and coastal cleaning machines at full size are designed for a 150 cubic meter holding bay that is divided to store compressed large plastics separately from recovered micro plastics.
In drift mode operations in blue water around 50 tons of waste might be collected before emptying at sea by transferring litter to a converted Panamax or other cargo or factory ship of a suitable size.
In anchored (or temporary tethered) operations close to shore, harbours or rivers, around 100 tons or more of compressed waste might be collected before emptying at a close by port, marina or other convenient location.
DISCHARGE - Is via a rear mounted nozzle to dockside containers, ship-to-shore. The nozzle doubles as a coupling for transfer, ship-to-ship, while at sea.
SENSORS - A full range of sampling and measuring instruments to enable the machine to read the seawater for robotic control of the Filtration equipment.
COMMUNICATIONS - Satellite geo-data streaming, to include (as and when developed) eyes in the sky (earth observation system) looking for plastic in the oceans, patterns and predictive currents/trends (already available software but not yet linked to plastic).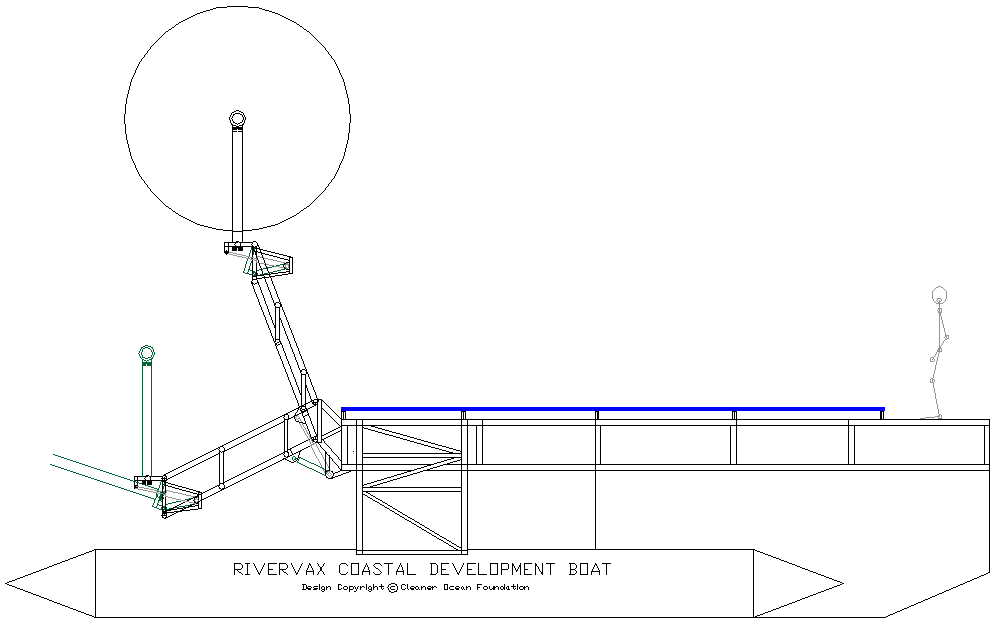 COST
The development cost is estimated @ around $35 million dollars, with production vessels aimed @ $6 millions dollars per unit for this specification. The development phase would be over 10 years.
Cost is relative to specification. A higher specification means a higher cost. The cost of a 1/4 quarter scale coastal (test) rig is in the region of £400,000 again, specification dependent. So, read the small print.
* Please note that the specification may be subject to change without notice and that may affect the price. Please also note that these are the prices that the Cleaner Ocean Foundation can build these vessels - not for profit. At this time development is on a charitable basis, contrary to what many may consider to be a perverse decision by the Charity Commission in the United Kingdom.
OCEAN CLEANUP PROJECTS A - Z
* Adidas
* Algalita research foundation
* Aliance to end Plastic Waste
* Boyan Slat's ocean booms
* 4Ocean recycled plastic bracelets
* Earth Day ocean plastic fact sheet
* Fionn Ferreira's ferrofluid extraction of microplastics
* Junk Raft - plastic expedition
* Plastic Oceans Canada
* Plastic Oceans Org
* Seabin
* SeaVax autonomous drones
* Surrey University PIRATE & Triton
LINKS & REFERENCE
http://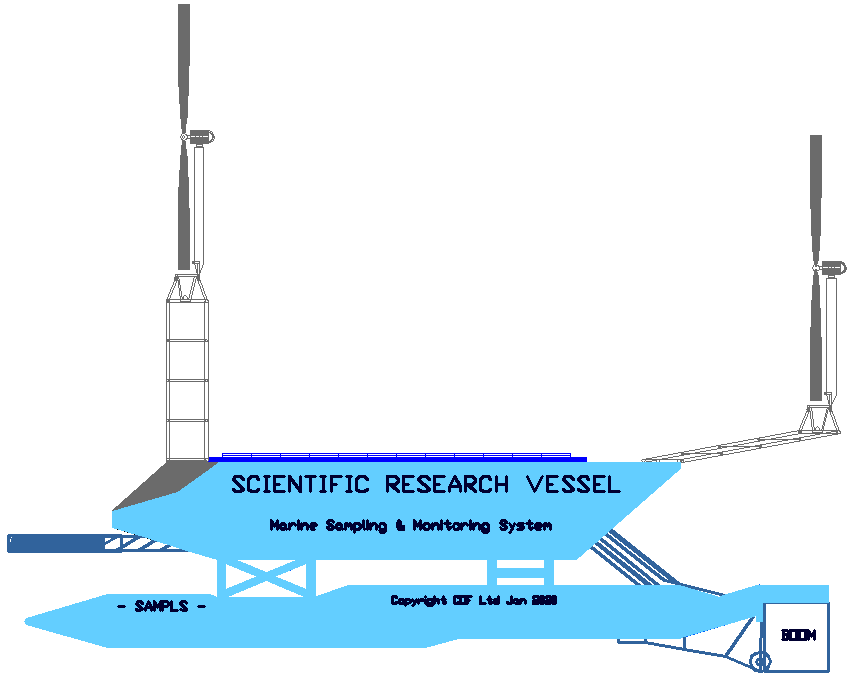 PILOT PROTOTYPE - This is a proposed design for a 17 meter marine litter sampling research vessel, incorporating many more features than the basic 12 meter coastal rig, including harvesting to a depth of 8 meters and wireless control, linked to data analytics for Artificially Intelligent management of marine pollution using satellites. The design represents a significant advance over the proposed SeaVax - but please note that this technology is not yet developed, pending funding.
The Pilot, like SeaVax is solar and wind powered, so energy autonomous and climate friendly. Seen here are two horizontal axis wind turbines, one raised the other lowered. The HAWTs may be folded or furled to cope with storm conditions and bridges, etc.