CHARITY COMMISSIONERS
PLEASE USE OUR A-Z INDEX TO NAVIGATE THIS SITE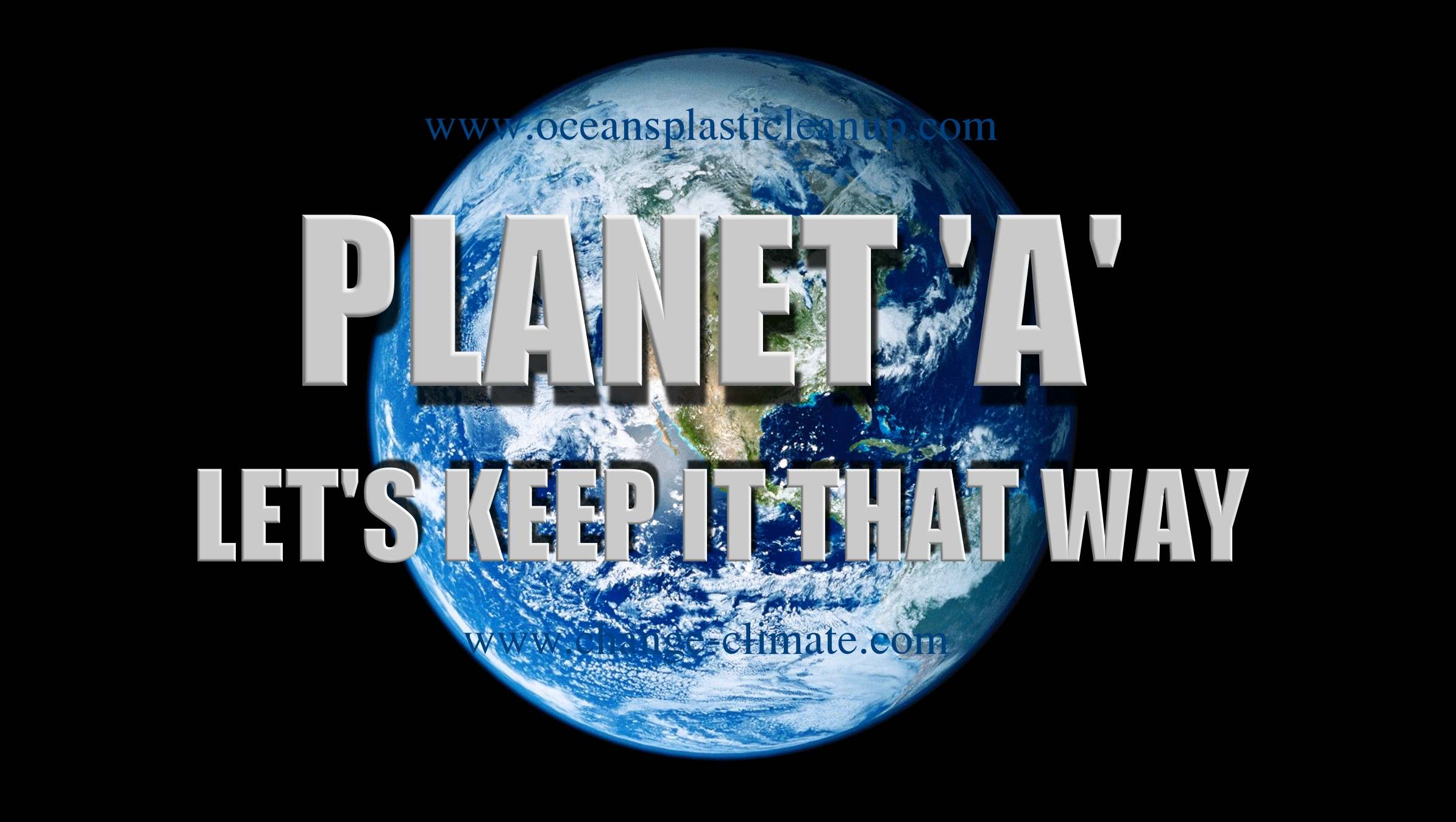 ARE PLANET EARTH'S POLICIES WORKING? - If they were, we'd not have plastic poisoning the marine environment, or global warming. The problem is world leaders rely too much on fossil fuels and do not want to rock the boat until there is a solid backup plan, but the backup plan involves change. And that frightens them to stay put even though the water is already bubbling.
We cotton to that. Nobody likes change. But instead of overheating the planet and killing life undersea with toxic plastic, surely it would make sense to brave the new world and accelerate the adoption of renewables and a society that cleans up after itself. We need new sustainable infrastructures to save PLANET A and a gradual changeover plan that sits well with stakeholders. Not to have the infrastructures ready is suicide politics - the way of the Dodo.
Politics in England is a mysterious thing. One group of people doing the same as another will be classed as a charity, while the other will not. Why? Where is the consistency?
According to the Charity Commissioners in England, ocean research and conservation of the marine environment are not charitable enterprises. That is the shock decision revealed in a series of correspondence that ended in refusal to register the Cleaner Ocean Foundation as a charity.
Apart from the Foundations work on ocean plastic, they are also involved in promoting and developing climate change technology to reduce global warming and the conservation of our heritage.
But these objects are also ruled as being non-charitable !!! It is all very confusing.
UNFIT FOR PURPOSE ?
You may be thinking the same as us, that if these objects are not charitable; then what are ?
The strange thing is that other organizations doing the same thing are deemed charitable and are registered as charities.
We wonder then if it is not so much what the Foundation is doing as the State deciding to appoint selected bodies run by preferred persons (chums via the old pals act) as charities, despite the obvious conflict with the Article 14 prohibition of discrimination as per the European Convention of Human Rights (ECHR).
We wonder if this should be a matter for the Parliamentary Ombudsman to consider where maladministration may be involved - such that a shuffle to prevent cozy relationships forming, or other safeguards should be introduced. Or maybe even a review of Charities with the same objects and the associated applications to the Commission.
RESEARCH BLOCKERS
Without doubt, the Charity Commission is responsible for hindering progress in wasting the efforts of the Foundation's staff with investigation as to how such as situation can have come about in a so-called enlightened society.
This is one of the reasons why the Foundation is suggesting that Politics and Political Agendas need to fall in line with the fight against climate change. Every administration big and small needs to be accountable for what they do - and for what they don't do.
In this case the Charity Commissioners are preventing research on climate change, making it that such efforts may not qualify for the usual relief's - but now also forcing the Foundation to consider patenting the seawater filtration system in the hope of attracting commercial waste operations and lobbying for a payment scheme from territorial waters and rivers, to be able to frame a Business Plan. None of which would have been needed if what was a social enterprise, was recognised for what it is.
So well done Charity Commission UK. You managed to put a spanner in the works for whoever it was put you up to it. Unless you believe that this is your function?
If we had done such a thing we'd be embarrassed by the decision and perhaps feeling a tad guilty.
That is how we see the situation, and our views are protected by Articles 9 & 10 of the ECHR. The right of freedom of thought and the right to receive and impart information.
You can of course seek to justify your decision if you would care to comment, your correspondence will be published in the interests of balanced reporting. It might be that using various mechanisms at your disposal that you can pick and choose who is and who is not registered. But is that 100% lawful, and if it is, is it morally right ?
TRANSPARENCY
Indeed, SDG 16 is also at issue for the perceived lack of transparency, contrary to the United Nations sustainable development goals.
Shame on you Commissioners, for what looks to us from reading of the correspondence to be wasteful use of resources, so generating a larger than necessary carbon footprint.
We would like to see any and all communications from the Charity Commission to other UK agencies. Nothing less will do.
We look forward to hearing from the Commission on this subject.
Baroness Stowel

of Beeston MBE - Chair

Helen Stephenson CBE

Chief Executive

Aarti Thakor

Dir Legal Services

Sarah Atkinson

Dir Policy & Planning

David Jones

Dir Corporate Services

Michelle Russell

Investigations & Enf.

David Holdsworth Deputy Chief Executive

Mike Ashley

Board Member

Laurie Benson

Board member

Tony Cohen

Board member

Kenneth Dibble

Board member

Nina Hingorani-Crain

Board member

Paul Martin CBE

Board member

Catherine Quinn

Board member


Ian Karet

Board member
https://www.gov.uk/government/organisations/charity-commission
Those who operate in public life and serve in institutions and that occupy a position of trust, must stand to be scrutinized as to their strict codes of conduct in the interests of preserving public confidence in those institutions.
It is the duty of every member of the public to question the decisions and motives of those in public office, just as it is the duty of the Commissioners to seek to further charitable causes that benefit mankind.
The Charity Commission is established by law as the regulator and registrar for charities in England and Wales. Their stated aim is to provide the best possible regulation of charities in England and Wales in order to increase charities' effectiveness and public confidence and trust.
It also works the other way. The Commission was deemed unfit for purpose in 2014, for failing to properly investigate questionable operations. See below. For sure there appears to be double standards.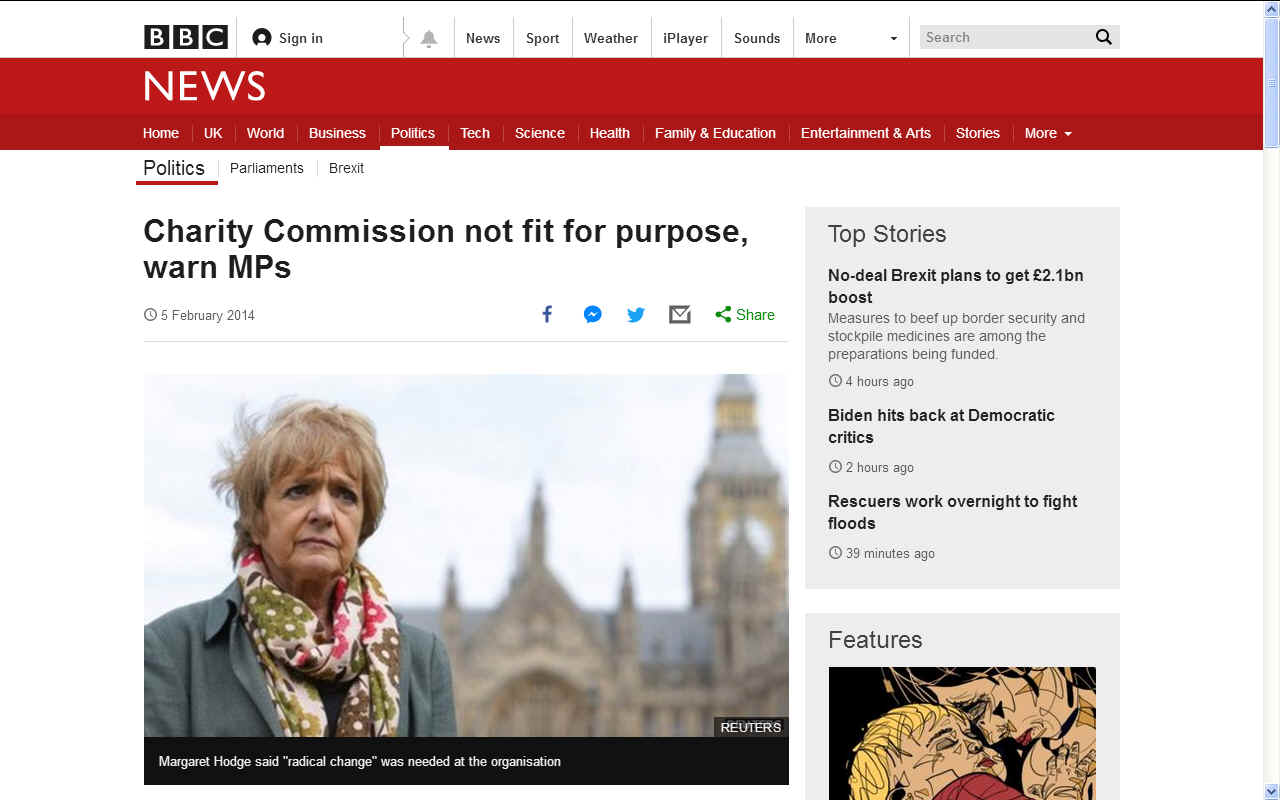 BBC NEWS FEBRUARY 2014 - Charity Commission not fit for purpose, warn MPs

The Charity Commission is not "fit for purpose" and has persistently failed to tackle abuses of charitable status properly, MPs have said.

In a damning report, the Public Accounts Committee said it had "little confidence" in the watchdog's ability to turn its fortunes around.

The regulator failed to challenge charities about their activities and had no "coherent strategy", it claimed.

But the watchdog rejected this, saying "rapid progress" was being made.

The cross-party committee also expressed concern about what it said was the substantial abuse of Gift Aid and other tax schemes designed to encourage charitable giving by individuals and companies.

Abuse of charity-related tax reliefs cost an estimated £170m in 2012-13, the report said, and risked "giving the charity sector a bad name".

The MPs' criticism of the Charity Commission comes just weeks after the National Audit Office, the public spending watchdog, said it needed to up its game.

'Radical change'

The commission oversees more than 160,000 charities in England and Wales.

But its annual budget has decreased by 40% in real terms to £22.7m over the past seven years and it is currently searching for a new chief executive after Sam Younger said he would step down in August.

The MPs said the Charity Commission had been "performing poorly" for many years but a strategic review in 2011 had failed to bring about the "fundamental transformation" needed.

It claimed it still struggled to identify and deal with deliberate wrong-doing by charities and "too willingly accepted" charities' version of events when investigating alleged abuses.

Enforcement powers were rarely used, the committee added, with the watchdog not removing any trustees in the past three years and only suspending individuals on two occasions while charities had only been prevented from entering into specific transactions 17 times.

"It is obvious that it has no coherent strategy and has been simply buffeted by external events," Margaret Hodge, the Labour MP who chairs the committee, said.

"It is clear that the Charity Commission is not fit for purpose... We have little confidence in the Commission's ability to put right its problems and failings.

"When the Commission finds its new chief executive, they will have to bring about radical change in the... culture and operations to restore confidence in its ability to regulate charities."

The commission was criticised last year for its handling of allegations against the Cup Trust, which was accused of operating a complex tax avoidance scheme on behalf of its wealthy donors and giving only a fraction of its income to good causes.

The National Audit Office said the commission failed to check the Cup Trust met the legal requirements when it registered it as a charity and was then too slow to act when problems emerged.
'Right direction'

The Public Accounts Committee said the watchdog's investigation into the charity's affairs had been "feeble" and illustrated the need for change.

The commission said it did not accept this, arguing that its inquiry had led to an interim manager being appointed to run the charity "to the exclusion of the trustees".

Mr Younger told the BBC in December the body had generally been "too cautious" and was changing its approach but it was impossible to "individually invigilate" every charity, particularly in light of large budget cuts since 2008.

Responding to the MPs' report, the Charity Commission said it "completely rejected" claims it had no strategy and insisted it was launching more statutory inquiries and had used its enforcement powers 657 times since last April.

"I am confident that we are taking the Commission in the right direction," said its chairman William Shawcross.

"We recognise that we must strengthen our approach to identifying and tackling the most serious abuses of charity and we have asked for new powers to enable us to do this.

"We also have to ensure that the few cases of serious mismanagement and abuse do not undermine public trust and confidence in charities more widely. It is a shame the committee hasn't recognised this progress."
CHARITY COMMISSION LINKS
Please note that many of the documents listed on the Commission's websites are not in an accessible format. It may be that this is a deliberate effort to frustrate the public and/or other interested parties in seeking to understand the rules and then apply those rules to investigations or applications. Howsoever, the Commission must provide information in a format that is easy to access. If you find that not to be the case, why not complain to your Member of Parliament.
Detailed guidance ('CC publications')
'How to' guides
Managing your charity
Charity money, tax and accounts
Fundraising
Setting up a charity
Staff and volunteers
Trustee role and board
Your charity's work
LINKS & REFERENCE
https://www.gov.uk/guidance/automatic-disqualification-rule-changes-guidance-for-charities
https://www.facebook.com/pg/Expose-Crooked-Charities-191309157721610/posts/
https://www.bbc.co.uk/news/uk-politics-26036279
https://www.gov.uk/government/organisations/charity-commission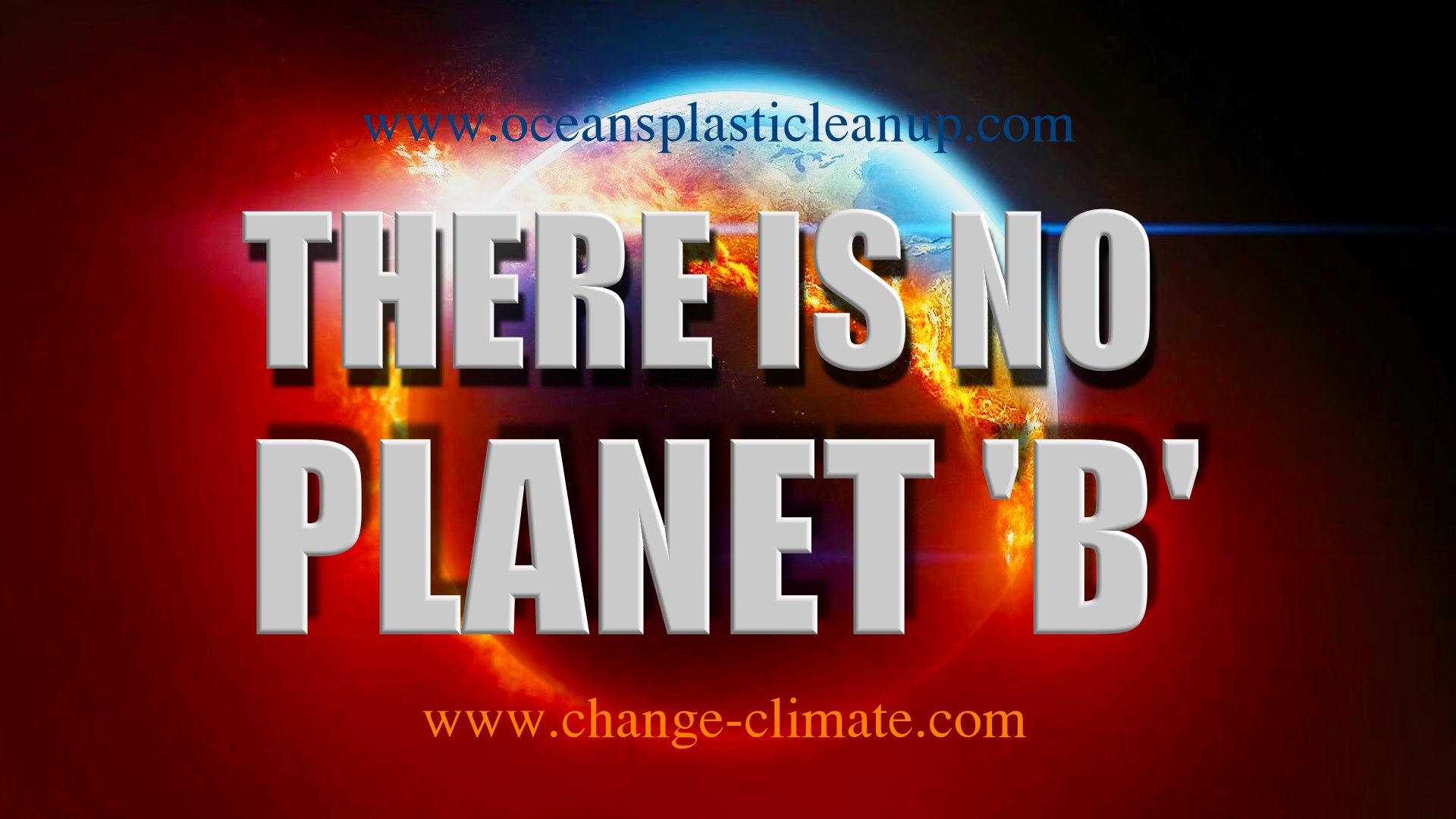 This website is provided on a free basis as a public information service. copyright © Cleaner Oceans Foundation Ltd (COFL) (Company No: 4674774) 2019. Solar Studios, BN271RF, United Kingdom. COFL is a company without share capital.