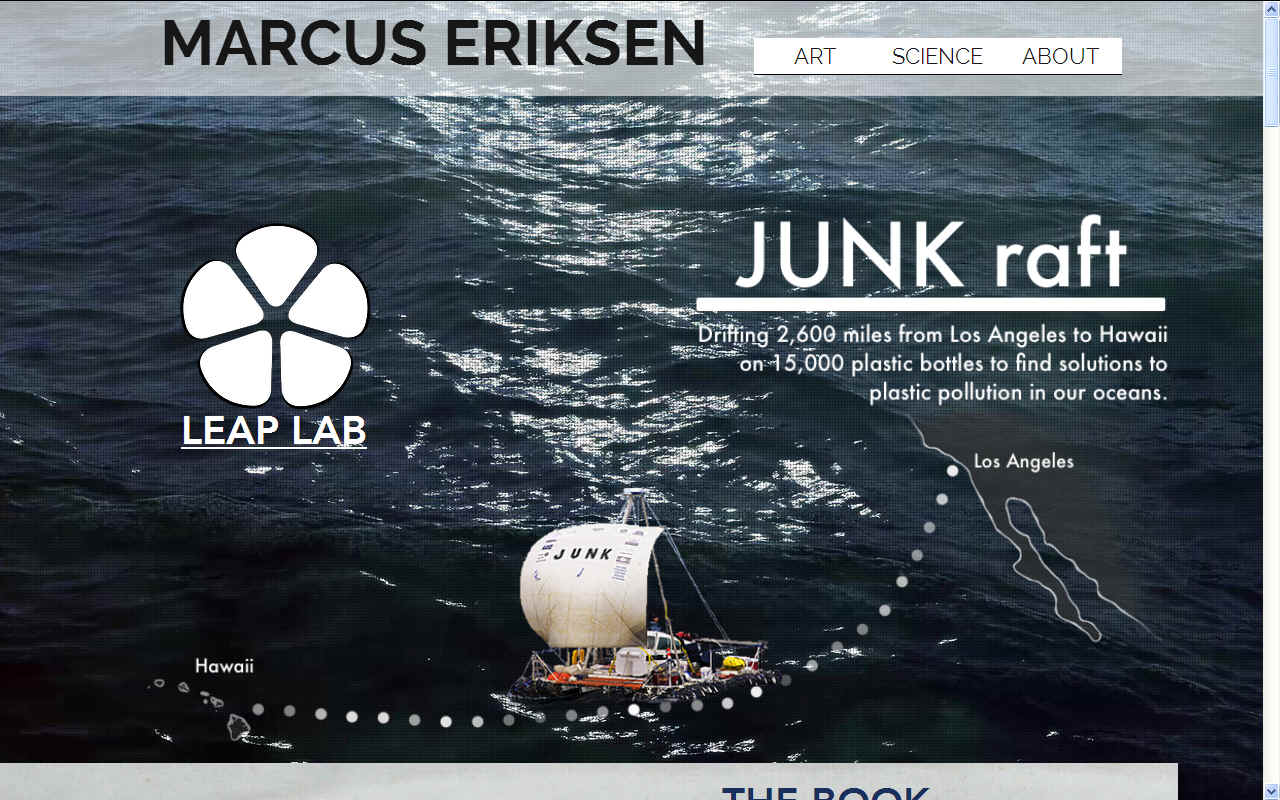 POLY KON-TIKI - In 1947 Thor Heyerdahl built the Kon-tiki Raft from balsa wood logs to prove his theory of colonization of the Polynesian Islands from the Americas. Junk-Raft looks remarkably like the Kontiki concept, except that an aircraft body replaced the timber hut and plastic bottles in fishing net replaced the balsa floats.
In 2008, Marcus Eriksen met Anna Cummins on a sailing expedition to research pollution in the North Pacific Gyre. As they sailed from Hawaii to Los Angeles, samples of broken down plastics were collected mixed with marine life. At night, the couple saw something that alarmed them. Small fish that surfaced nocturnally to feed were mistaking contaminated plastic waste for food.
These fish were consumed by larger predators, the toxins working their way up the food chain and onto our plates having been bio-magnified to concentrate the poisons.

From that point on Marcus and Anna vowed to dedicate their lives to solving the problem.
Devoted to each other and the plastic cause, Anna and Marcus founded 5 Gyres in 2009. In 2010 the Institute became a member of the United Nations Global Programme on Marine Litter.

In 2013, 5 Gyres released the results of a two year investigation into microscopic plastic pollution (microbeads) in the Great Lakes.

In 2014 a collaboration of eight scientists published the first global estimate of plastic pollution in our oceans. Things began to hot up as the media realised how serious the problem might be.
RECYCLING?

Much of the plastic dropped in recycling bins is not recycled. In 2014, 22% of PET plastic collected for recycling was exported from the United States to other countries because waste disposal is a business.
But why was that?
Because domestic US facilities could not keep up and the cost of treatment plants would cost more.
Plastic production surged from 15 million tons in 1964 to 311 tons in 2014 - an increase of more than 2,000 percent - in some kind of poly-epidemic surge.
Currently (2019), more than 300 million tons of new plastic is produced annually and less than 10% is recycled.
As oil prices fluctuate, so too does the price of plastic. When those markets are depressed, virgin plastic becomes far cheaper to buy than recycled. Many plastic products degrade each time they are re-processed - unlike aluminium, steel or glass, which can be perpetually recycled.
This makes plastics progressively less valuable, though pyrolysis treatment can extend the working life of many plastics as part of a responsible waste management scheme, but once again there is a cost to being responsible.
Without a profitable market in which to sell it, it's not cost-effective for many recycling companies to process plastic, so many sell it to other countries at a loss, being the cost of a disposable society.
In 2011, plastic trash was America's primary export to China. China no longer accepts plastic imports.

In countries like India, waste pickers sort through the trash to find the pieces that are most valuable such as thicker plastics and PET bottles. The remainder becomes land-filled or incinerated, creating a health crisis for communities from leaching.
8 MILLION METRIC TONS OF PLASTIC ENTER THE OCEAN EACH YEAR

Where does all your discarded plastic go?
Local waterways act like conveyor belts, sending plastic straight out to sea.
Most plastic are made from petroleum and engineered to last - some for thousands of years.
In the ocean, sun and waves break down most plastics into small micro particles, which never truly biodegrade.
5 Gyres led research that found there is an estimated 5.25 trillion particles of "plastic smog" weighing in at 270,000 tons in our oceans worldwide.
Once in the water, microplastics attract persistent organic pollutants like flame retardants and other industrial chemicals. These are linked to human health problems - even cancer.
Ocean plastic particles can be one million times more toxic than the water around them. These pollutants can work their way up the food chain - and onto our plates.
The 5 Gyre Institute is a 501(c)(3) nonprofit organization in special consultative status with the United
Nations Economic and Social Council since 2017.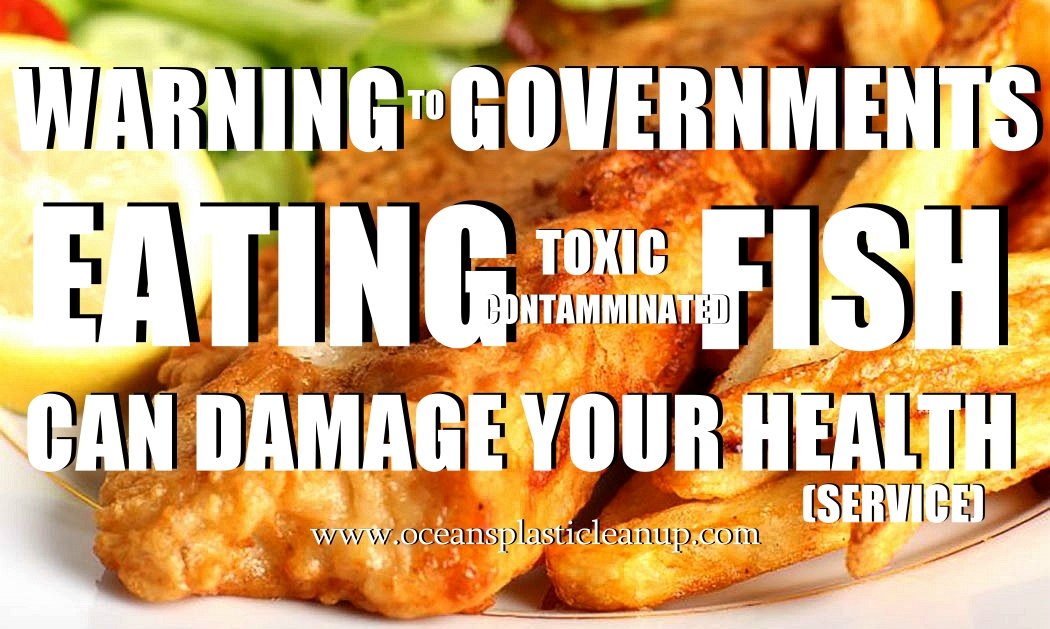 ALTERNATIVE CULLING - Health Service budget cuts mean that social care in the community is suffering, so that the elderly sometimes die from otherwise minor ailments from complications. The fact is that generally humans are living longer from better diets, housing and medicines. That is why the retirement age has been raised.
Fish in the diet has been shown to prolong life over meat eaters (red meat in particular) one reason the Japanese have so many centenarians. It could be argued that by not cleaning the oceans, population growth might be halted in the longer term when people develop cancer as a result of eating toxic fish. An unkind notion and inhumane, but surely treating cancer patients in large numbers will cost more than cleaning the oceans - unless future budget cuts mean suspending treatments - and that is the secret agenda.
Spending on cancer research might go to offset the rising toxicity levels of wild fish and consequential human suffering. The EU have pledged sums on their Horizon Europe budget for cancer research.
BIODEGRADABLE ALTERNATIVES
Is "compostable" plastic the answer?
Not exactly, according to 5 Gyres.
These alternatives are made from non-petroleum sources. But you need a large composting facility to break down soy, bagasse (made from sugar) and PLA (made from corn) plastic.
Because PLA is hard to break down, some recycling facilities consider it a contaminant. Only PHA (made from bacteria) is marine degradable - and only to a point: Within six months, it degrades by 30% but only in warm, tropical waters.
Manufacturers such as Pepsico and Coca Cola have been developing alternatives for a number of years, without any sign of changing from PET.

New materials are being developed from natural sources that could eventually provide viable, biodegradable alternatives to petroleum-based plastic. These include methane, mushrooms, and even milk!

Meanwhile, don't hold your breath. Do your best to go plastic free or at least reduce you plastic footprint.
AMBASSADOR PROGRAMME

The Ambassador program is designed to educate and empower 5 Gyres' global network of supporters to take action against plastic pollution. Ambassadors are key volunteers who are provided with the most recent and relevant resources on plastic pollution research, policy, and solutions. We provide the tools to help them become leaders and take action against plastic pollution within their local communities. We currently have over 1000 Ambassadors from 45 American states and 64 countries in our program—ages eight to nearly 80!

The Ambassadors have access to a private Facebook community that allows them to better communicate with each other to share ideas, projects, and collaborate on marine science volunteer opportunities. Ambassadors host events, attend council meetings in support of single-use plastic bans in their community, and encourage restaurants to eliminate polystyrene products such as to-go containers and straws. Click the points on our map to find an ambassador near you!
AS A 5 GYRES AMBASSADOR, HERE'S WHAT YOU CAN EXPECT FROM THEM:

Free downloads of informational presentations that you can use to share our mission with your community.

Access to a directory of resources that can help tailor messaging to presentation opportunities.

Volunteer opportunities on our programs, events and activities.

Our eternal gratitude for helping us fight plastic pollution and changing the world!

AS A 5 GYRES AMBASSADOR, HERE'S WHAT THEY EXPECT FROM YOU:

Take two actions that either focus on raising awareness about reducing plastic or living a zero-waste lifestyle. These actions can include in-person or virtual events that you are doing for your own initiatives, such as speaking to a classroom or business as well as promoting a social media initiative, conducting and sharing scientific or citizen science research on plastic pollution, producing a video, and more!

Positively promote 5 Gyres in a professional way with correct information found on our website and Ambassador resources.

Remain plastic free by using reusable bottles, cups, utensils and bags while representing 5 Gyres, and ideally in your daily life as well.

While representing 5 Gyres at events, use your leverage as an Ambassador to point out ways event organizers can reduce their plastic footprint.

Document activities on social media using the #5GyresAmbassador hashtag and tagging photos with @5Gyres!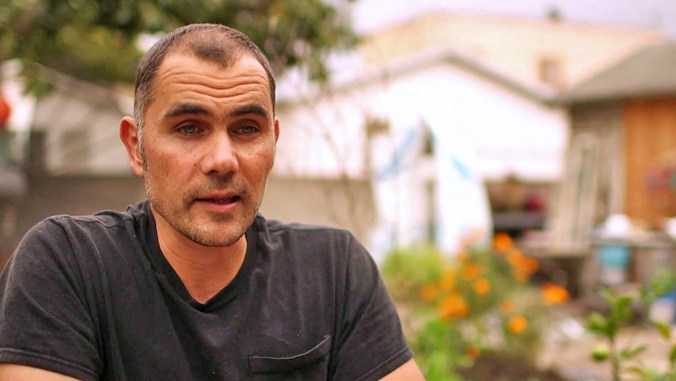 LECTURE -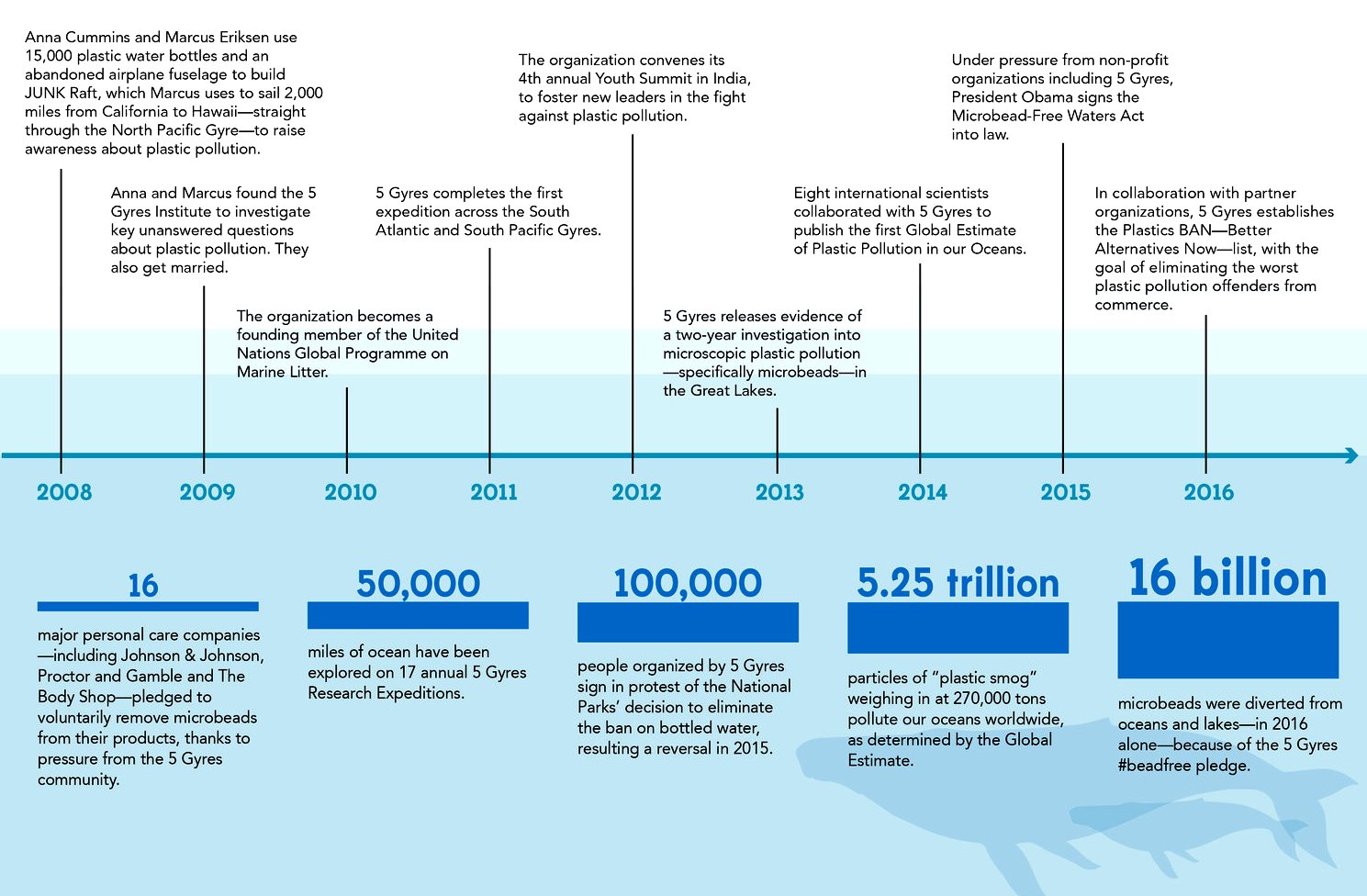 TIMELINE - Conservation
HAPPY OCEAN RESEARCH DAYS

...
CONTACTS

5 Gyres
5792 West Jefferson Boulevard,
Los Angeles, CA, 90016,
United States
info@5gyres.org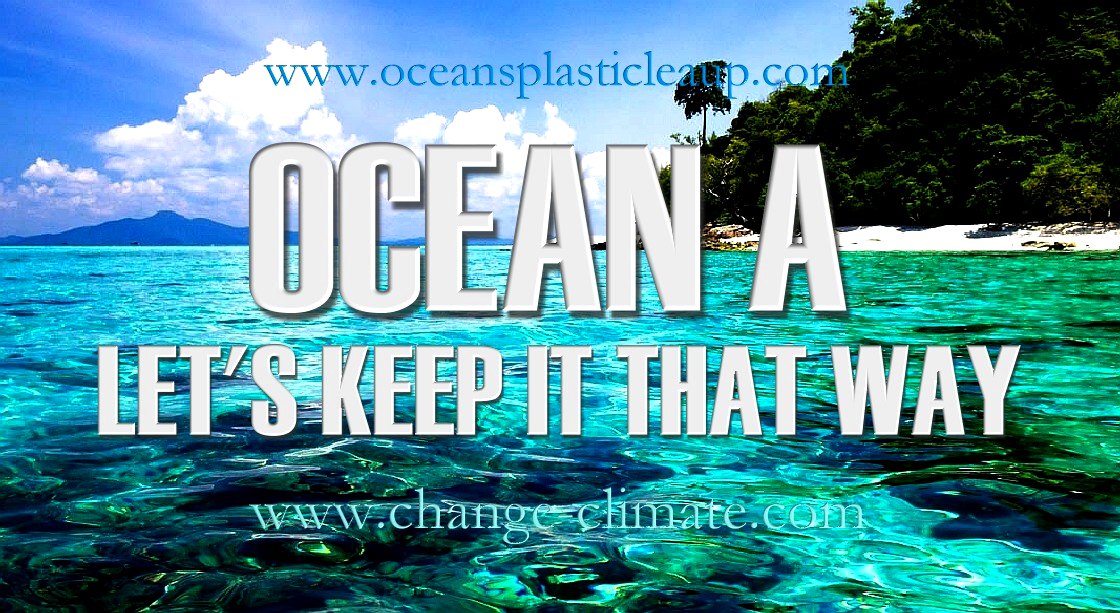 OCEAN CLEANUP PROJECTS A - Z
* Adidas
* Algalita research foundation
* Aliance to end Plastic Waste AEPW
* Baltimore Mr Trash river cleaning barge
* BAN - Basel Convention Action Network
* Boyan Slat's ocean booms
* CLAIM H2020 EU marine plastic project
* Earth Day - Fact sheet ocean plastic
* Fionn Ferreira's ferrofluid extraction of microplastics
* FlashLight Press Michelle Lord & Julia Blatt
* GRIPS - Global Research & Innovation in Plastics Sustainability
* Interceptor tethered river cleaning barges
* Junk Raft - plastic awareness voyage
* Kids Against Plastic Tat KAPTAT
* Miss Ocean - Plastic Awareness Events
* Nike - Sneakers from recycled materials, ocean spills
* 4Ocean recycled plastic bracelets
* Plastic Oceans Org
* Seabin
* SeaVax autonomous drones
* Surrey University PIRATE & Triton
* WRAP - Waste & Resources Action Programme
As you can see from the list above, the 5 Gyres Institute are not alone in the fight against plastic waste in our oceans. The 5 Gyre Institute is a 501(c)(3) nonprofit organization in special consultative status
with the United Nations Economic and Social Council since 2017.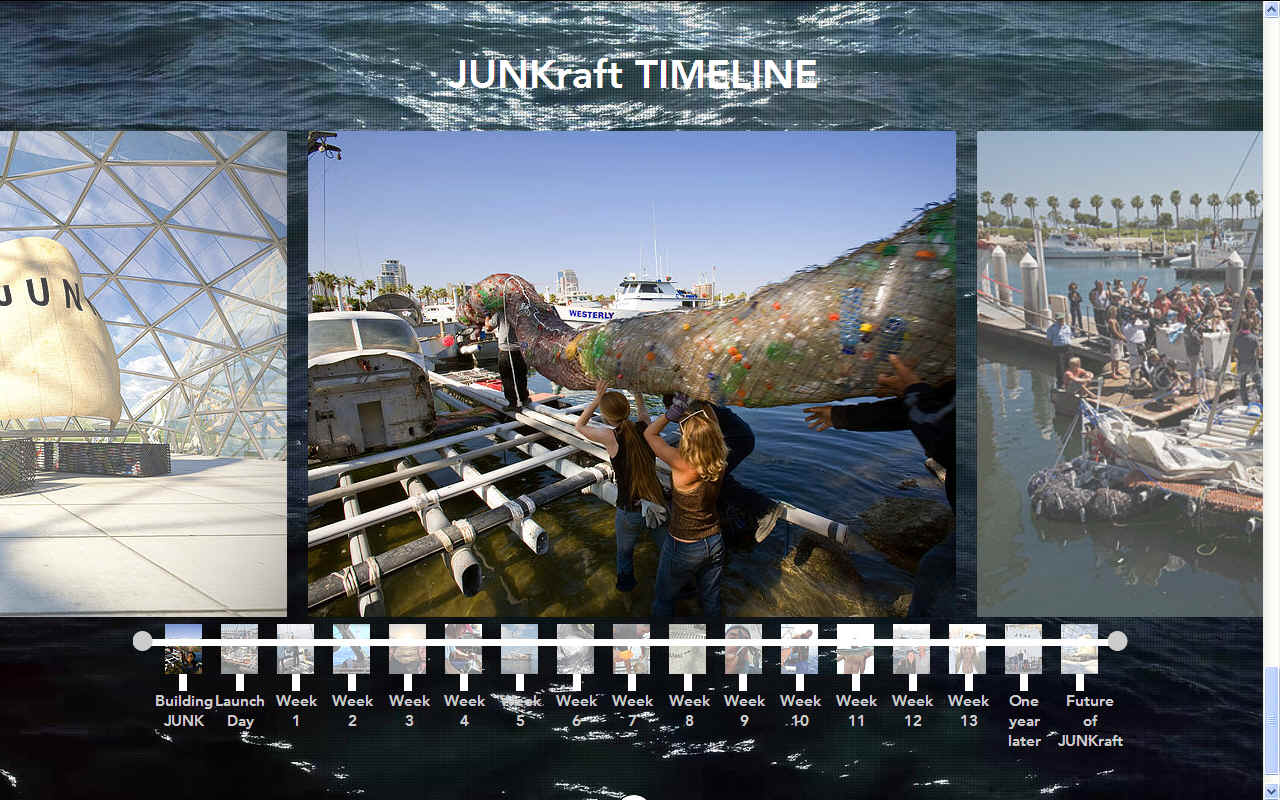 PLASTIC - ...
LINKS & REFERENCE
https://www.marcuseriksen.com/home
https://sloactive.com/plastic-pollution/#list-of-plastic-pollution-charities
https://www.5gyres.org/