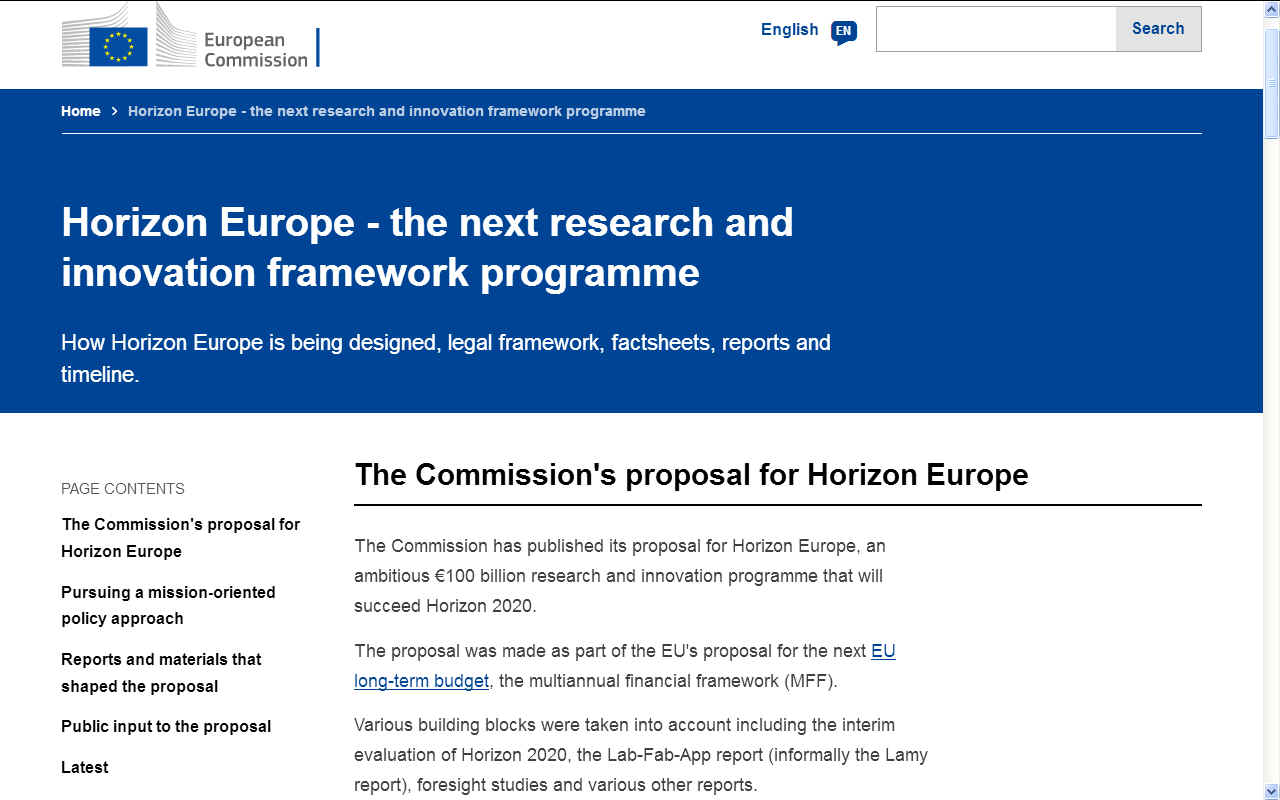 MAKING IT WORK - Removing as many obstacle as possible from the path of innovators will be a major advance in engaging game changers who might be put off at a stage in their development where they need encouragement. Generally, innovators want to succeed in their chosen endeavours, whereas bean counters just want to count beans. Policy makers should retrain bean counters to simplify administration for innovators to free up thinking capacity for innovating.
Successful entrepreneurs have several traits in common: courage, an appetite for risk, the capacity to imagine and envision novel futures, and the ability to inspire their teams to turn visions into reality. In a modern world where inventing requires many different skills in combination, project leaders must be multi talented and adaptable to solve problems.
THE COMMISSION'S PROPOSAL FOR HORIZON EUROPE
The Commission has published its proposal for Horizon Europe, an ambitious €100 billion research and innovation programme that will succeed Horizon 2020.
The proposal was made as part of the EU's proposal for the next EU long-term budget, the multiannual financial framework (MFF).
Various building blocks were taken into account including the interim evaluation of Horizon 2020, the Lab-Fab-App report (informally the Lamy report), foresight studies and various other reports.
Legal texts, factsheets and video
legal texts and factsheets for Horizon Europe factsheet about research and innovation in the new EU budget (French and German versions also available video explaining the aims of Horizon Europe
The EU institutions reached a provisional agreementon Horizon Europe on 20 March 2019. The European Parliament endorsed the provisional agreement on 17 April 2019.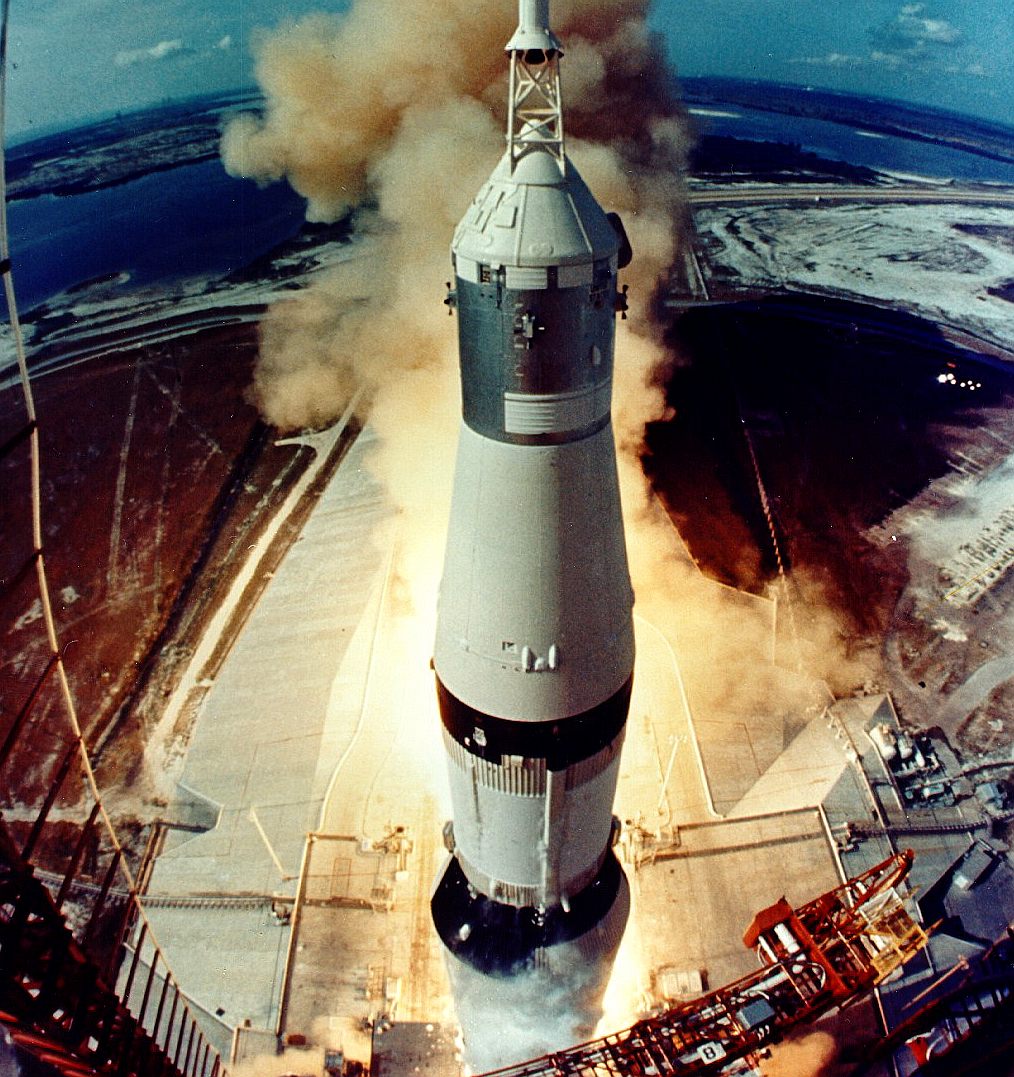 APOLLO 11 - Inspired by the Apollo 11 mission to put a man on the moon, the European R&I missions aim to deliver solutions to some of the greatest challenges facing our world, such as cancer, climate change, healthy oceans, climate-neutral cities and healthy soil and food.

At the occasion of the Informal Council for Research Ministers in Helsinki, Finland, Commissioner Carloc Moedas announced the appointment of five prominent experts to chair the mission boards, which will propose targets and timelines to design the specific missions.
PURSUING A MISSION ORIENTED POLICY APPROACH
Horizon Europe will incorporate policy missions to ensure the effectiveness of research and innovation funding by pursuing clearly defined targets.
The Commission has engaged policy experts to develop studies, case studies and reports on how a mission-oriented policy approach will work.
Read more about the Commission's mission-oriented approach and download the studies
MISSION BOARD CHAIRS

The Commission is established five 'mission boards'. Their first deliverable will be to propose concrete targets and timelines for each mission by the end of 2019. They will be chaired by the following outstanding individuals who will contribute with their experience, authority and credibility:

1. Ms Connie Hedegaard, former European Commissioner for Climate Action, for the mission on 'Adaptation to Climate Change including Societal Transformation'

2. Professor Harald zur Hausen, Nobel Prize Laureate in Physiology or Medicine, for the mission on 'Cancer'

3. Mr Pascal Lamy, former Trade Commissioner and Director-General of the World Trade Organisation, for the mission on 'Healthy Oceans, Seas, Coastal and Inland Waters'

4. Professor Hanna Gronkiewicz-Waltz, former Mayor of Warsaw, for the mission on 'Climate-Neutral and Smart Cities'

5. Mr Cees Veerman, former Dutch Agriculture Minister, for the mission on 'Soil Health and Food'.
REPORTS AND MATERIALS THAT SHAPED THE PROPOSAL
Evaluating Horizon 2020
To make an effective proposal, the Commission built on what has been learned from Horizon 2020.
Communication on the interim evaluation of Horizon 2020, adopted 11 January 2018 outlines views on how the impact of a successor research and innovation investment programme could be maximised Horizon 2020 Evaluation:
Results of the interim evaluation of Horizon 2020, input studies and evaluation methods LAB – FAB – APP: Investing in the European future we want:
Report of the independent high level group, led by Pascal Lamy, on maximising the impact of EU research and innovation programmes
Mission-oriented policy
Mission-Oriented Research & Innovation in the EU: A problem solving approach to innovation-led growth. This report is the result of Professor Mariana Mazzucato's academic reflections based on her research with input from internal and external stakeholders of the European Commission.
Presentation on mission-oriented research and innovation policy: Outlines some of the main findings of the report by Professor Mariana Mazzucato
Analysis report: responses to the call for feedback on mission-oriented research and innovation in the European Union
More studies and reports on missions
Foresight scenarios
BOHEMIA is an extensive, systematic, multi-year study that set out various future scenarios and recommendations for research and innovation policy.
Economic rationale
Analysis to set out the economic rationale for public R&I investments and their impact on growth and jobs carried out by the Commission.
Involving citizens in setting priorities for the next framework programme
Report by the Democratic Society on involving citizens in the next framework programme
Report of the high level group on the European Innovation Council
Europe is back: Accelerating breakthrough innovation recommendations on how a European Innovation Council (EIC) should be set up to fund and nurture breakthrough innovation.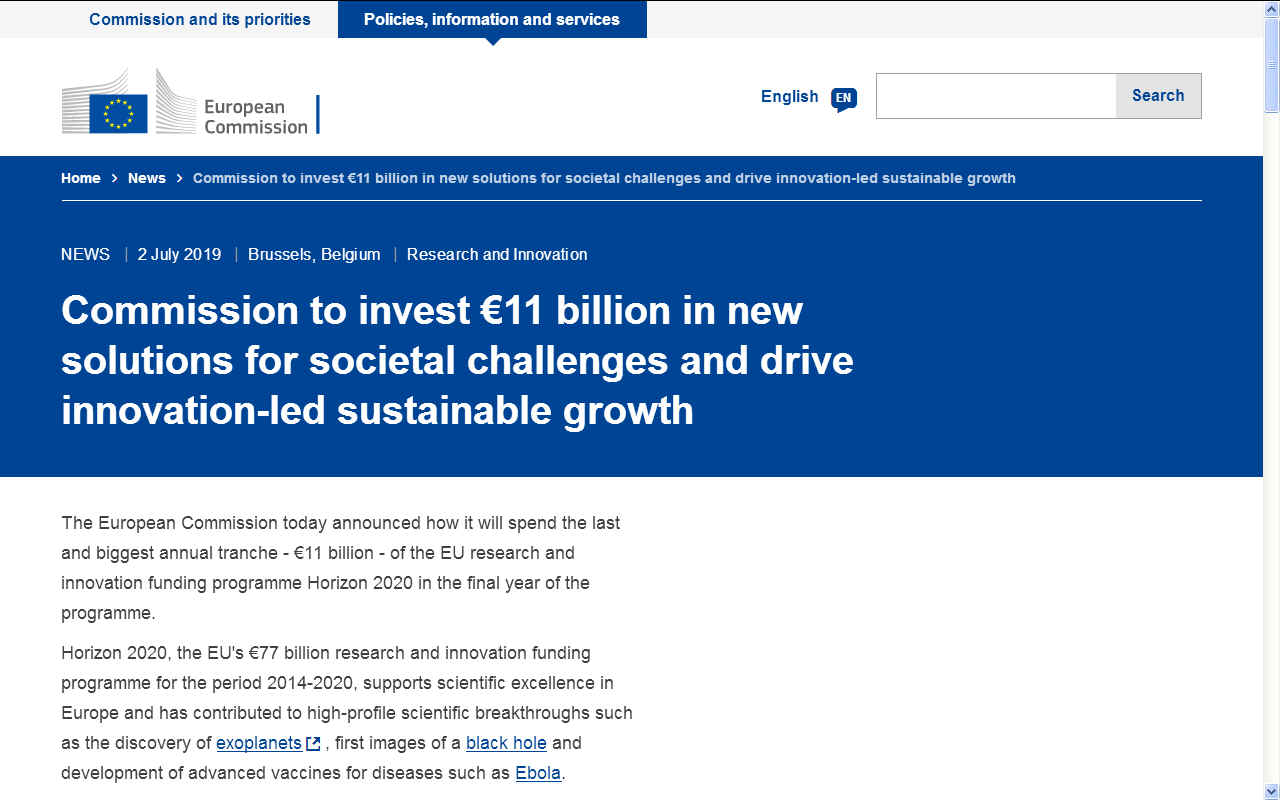 PUBLIC INPUT TO THE PROPOSAL
call for feedback on research and innovation missions (Closed 4 April 2018 - thank you for your input)
public consultation on EU funds in the area of research & innovation (Closed 8 March 2018 – thank you for your input)
LATEST - Research and innovation - News alerts
Commission launches work on major research and innovation missions for cancer, climate, oceans and soil
4 July 2019
Have your say on future objectives for EU-funded research and innovation
28 June 2019
Commission invites top experts to shape new research and innovation missions
13 May 2019
17 April 2019
MORE NEWS >>
Follow the latest progress and get involved.
#HorizonEU Other social networks
Adoption timeline
2 May 2018 - The Commission adopts its proposal for the next EU long-term budget (MFF)
|
7 June 2018 - The Commission adopts its proposal for Horizon Europe
|
2019-2020 - The Council and European Parliament negotiate and subsequently adopt the programme
|
1 January 2021 - Horizon Europe is launched
RELATED LINKS
Presentation explaining the Commission's proposal for Horizon Europe Interview with Commissioner Carlos Moedas on the plans for Horizon Europe Commissioner blog post announcing the name Horizon Europe EU budget for the future website Communication adopted on 14 February 2018 on a New, Modern Multiannual Financial Framework post-2020
....
https://ec.europa.eu/info/designing-next-research-and-innovation-framework-programme/what-shapes-next-framework-programme_en