1978 - Wolfsburg, Germany. This unusual wagon was manufactured in Germany in 1978. She has twin sliding side loading doors (left and right), where it is usual to have just one. The vehicle also has an alternator, not a dynamo as was the case with other T2s owned by the builder who saved her.
In 1978 the Volkswagen production lines were coming to a close. This vehicle rolled off the assembly lines and out into a car park, where it was driven to a dock for transportation by ferry to the United Kingdom. In 1979 the production of these air cooled icons ceased. For their next model the curvy shape was replaced by a squarer, boxy version. Production continued in Brazil for a number of years before ceasing altogether. These vehicles are not fuel efficient. You'll be lucky to return 25-30 mpg.
1989 - Eleven years after 'Miss Ocean' was built, she was scrapped in Sussex, ending up in a breakers yard, where fortunately, she was relatively complete, except that her wheels had been sold. She was a non-runner. Older vehicles rust more than new ones. Modern paints and designs to eliminate moisture traps, mean that cars usually fail MOTs on mechanical failures, rather than corrosion.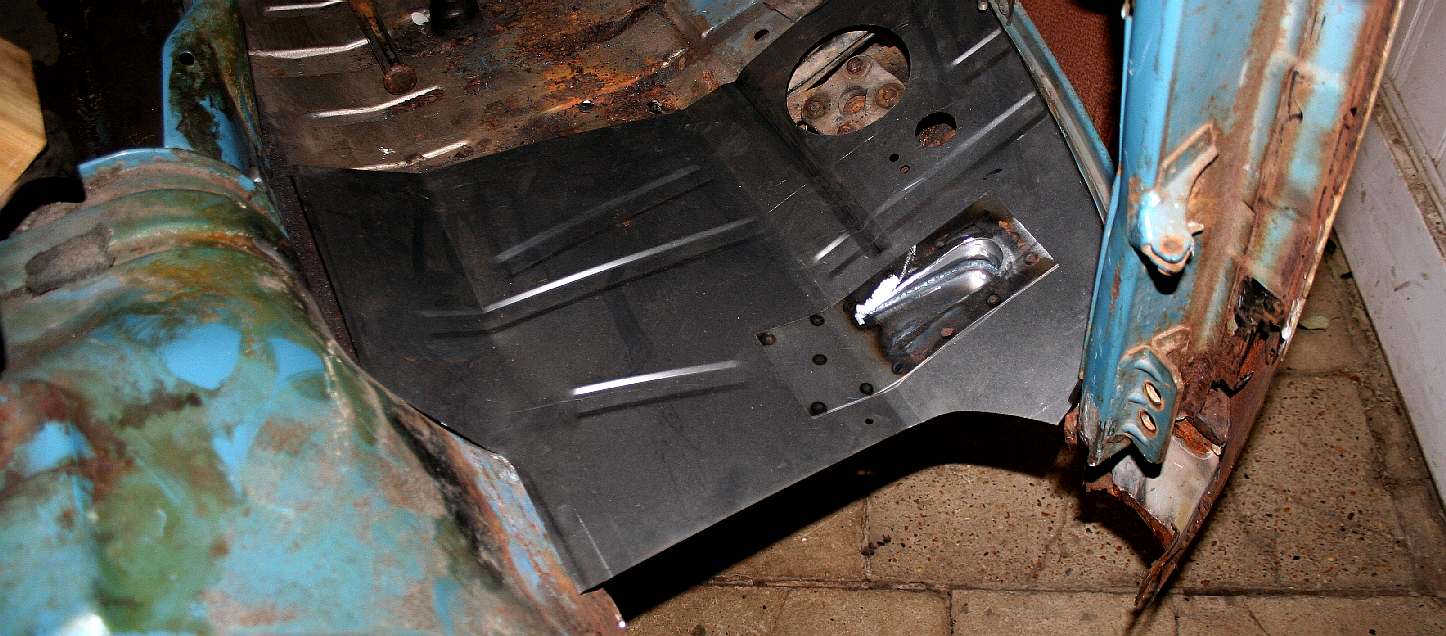 REPAIR PANELS - Many of the panels for Type 1 and 2 vans are specially batch produced by Alan Schofield. It is possible to completely rebuild a chassis floor with new parts. The front and rear sections of the bodywork are available, including the doors. Both sides of the cab floor needed replacing, to include arches and footwells.
1990 - Miss Ocean was salvaged from a scrap yard on the Marsh road from Hailsham to Eastbourne, and saved from the crusher for the princely sum of £70, delivered by the auto parts dealer on Fiat wheels that almost fitted. The Cleaner Ocean Foundation (COF) is keen on recycling old metals into new products. Had this been an ordinary hack that would have been appropriate, but re-use and repair is also high on the agenda. During World War Two this was known as "Mend And Make Do."
Fortunately for Miss Ocean, the builder who bought her was also a mechanic and a competent welder. He'd owned a number of VW Beetles before. These Volkswagens were not rare finds for collectors at the time. More a liability, unless you loved the shape enough to want to spend time on repairs.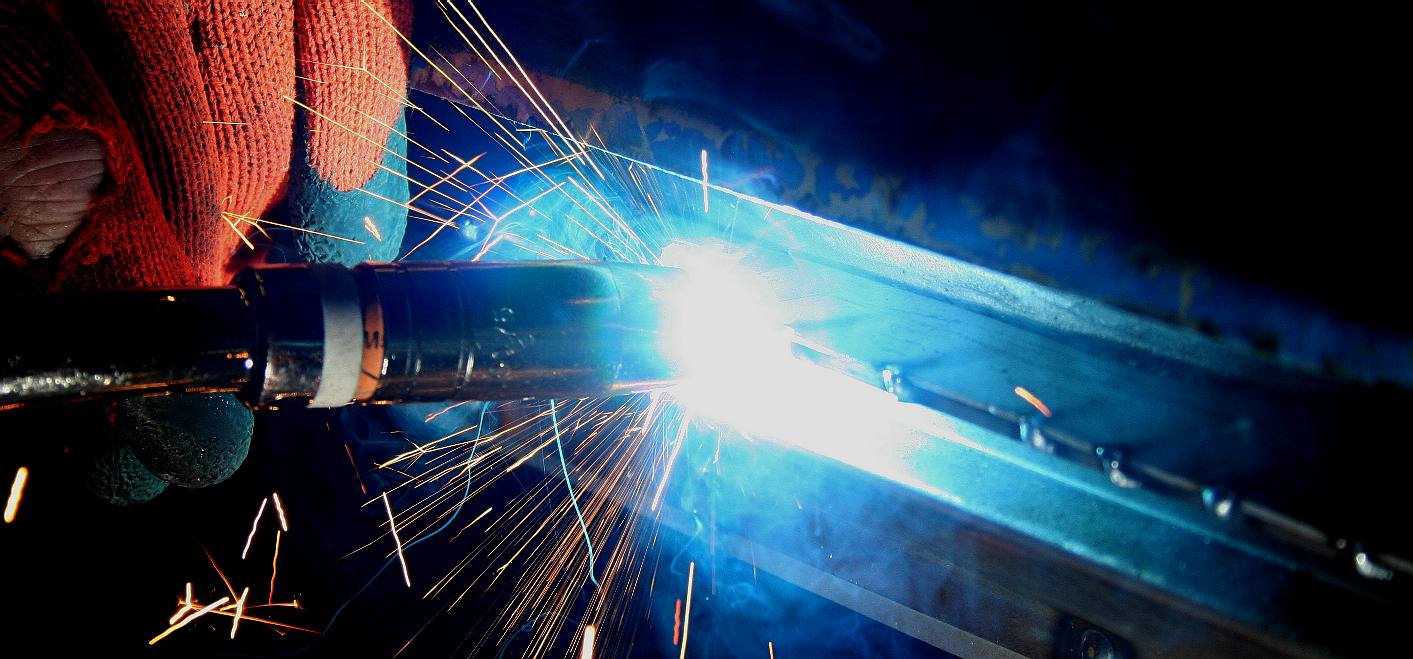 1991 - 1998 - When the scrap yard delivered the vehicle it had a holed piston and temporary wheels. New barrels and pistons were fitted. Welding works ensued to gain an MOT and the vehicle was put back into use as a builders van until her mechanics began failing. She had a new starter motor and battery, drive couplings and a paint job. 'Miss Ocean' was used to commute to Brighton and back from Eastbourne. A custom made towbar was fitted under the engine boot lid, making it a breeze to slide the internal combustion engine and gearbox out for servicing.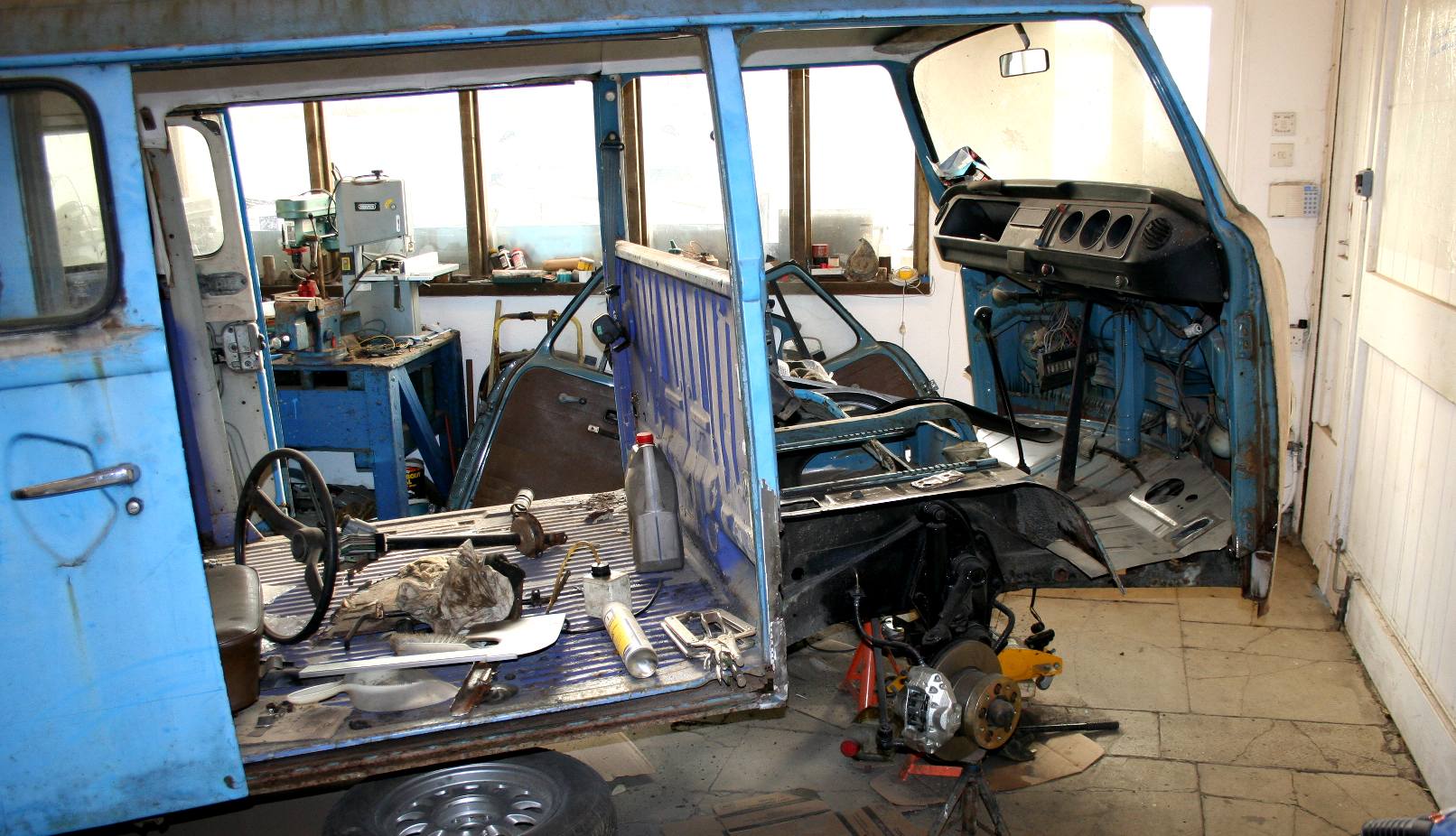 COMPLETE REBUILD - The mechanicals were overhauled, including: brake cylinders, hydraulic piping, discs, drums, and driveshafts. New jacking points were welded in and new sliding runners and sills.
1999 - 2005 - Eventually one disc caliper seized, when on standard steel rims and stock tyres she became quite unstable in snow during winter motoring, made worse by the narrow track. Do you remember snow? Miss Ocean was parked up outside for a number of years.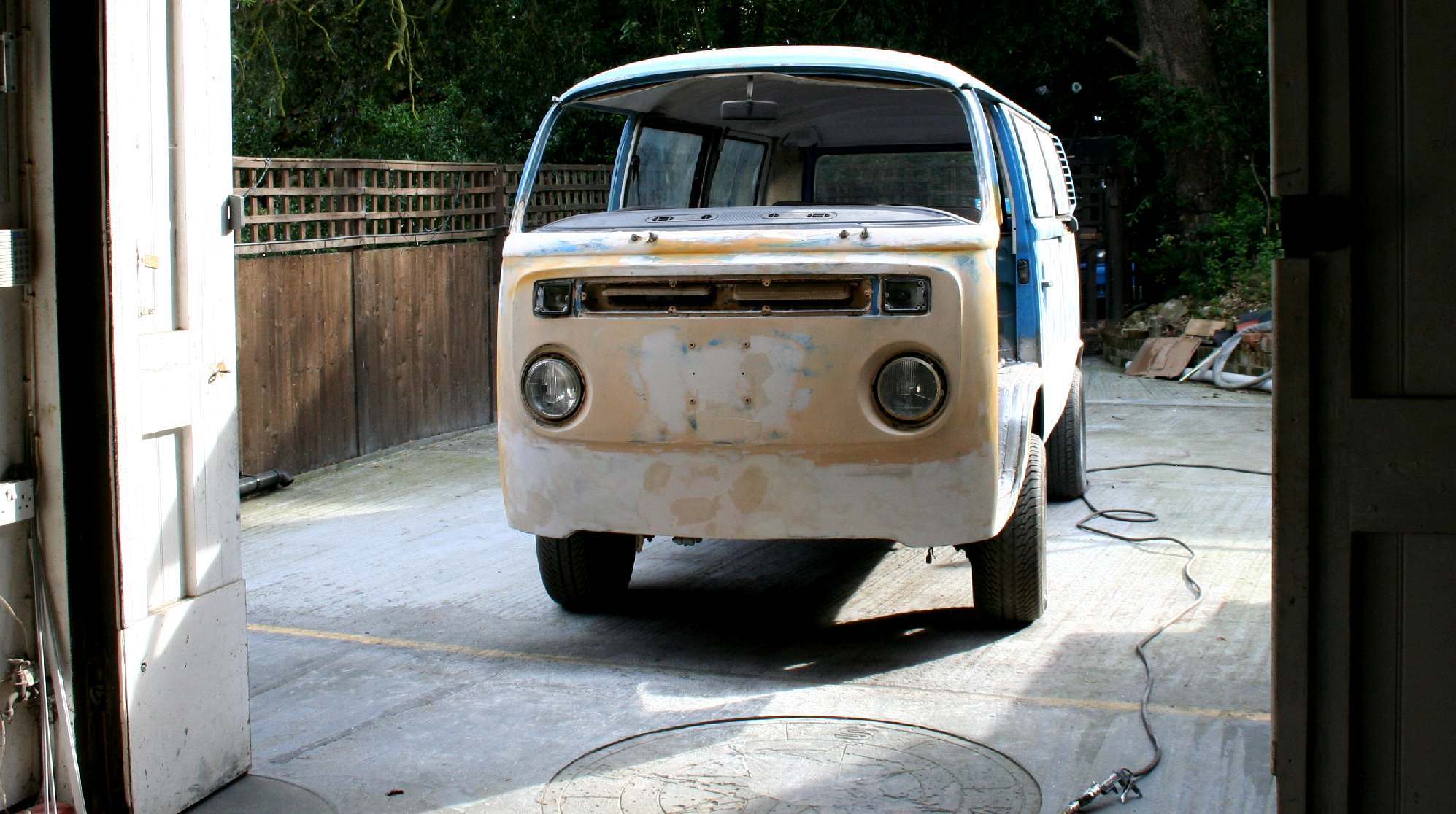 2006 - 2008 - This VW was once a project for the London girl group, Kismet Girls, but the trio disbanded soon after coming 2nd in the Urban Music Awards. Leaving the Vdub without a use, lonely and dejected - again. During this period Miss Ocean had steel billet adapters fitted to allow the use of wider alloy wheels and tyres to improve the handling.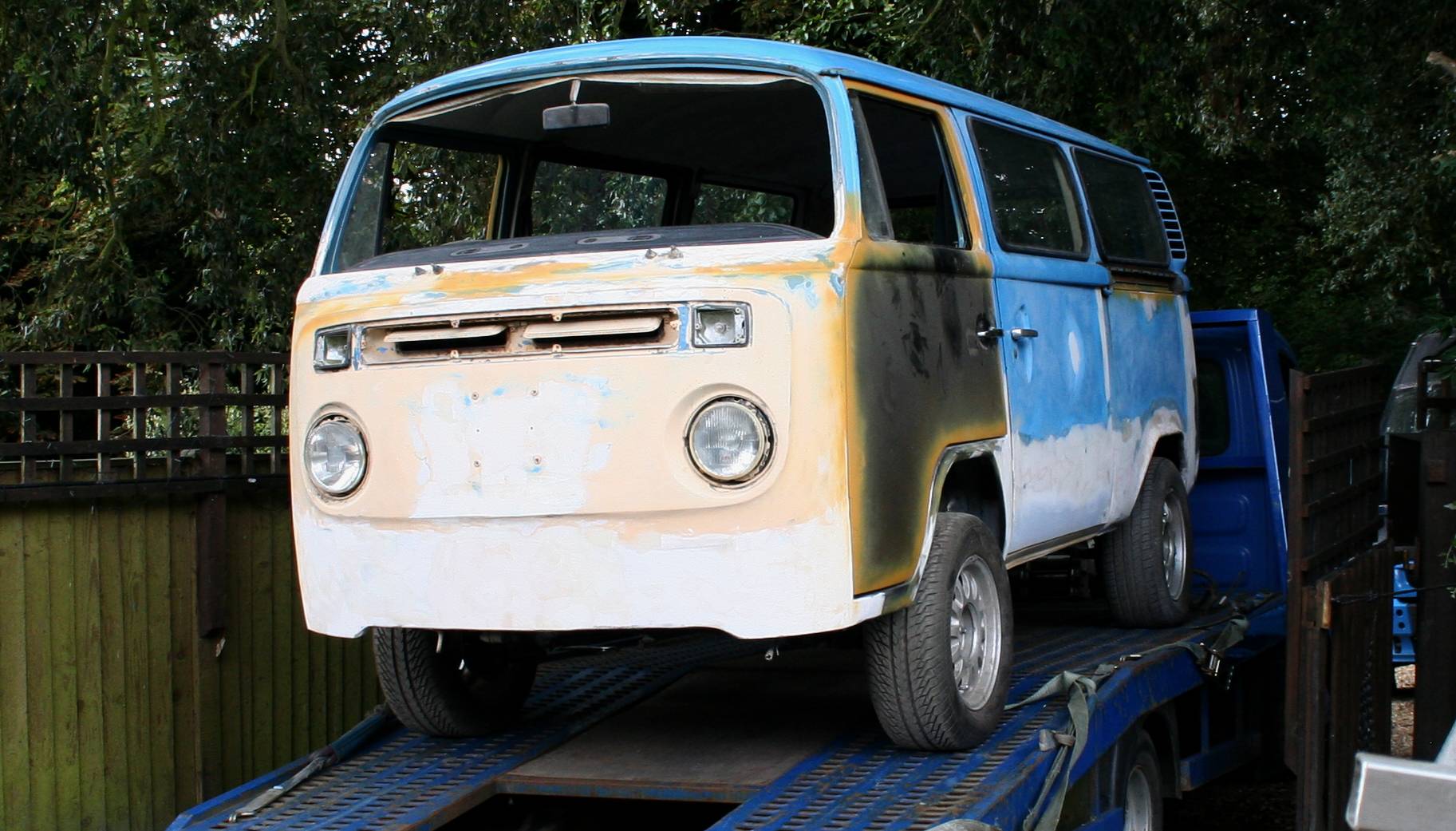 LOW LOADER - August 8 2019, the tour bus is collected for transport to a local spray booth for painting and oven baking. She needs rather more than the usual preparations.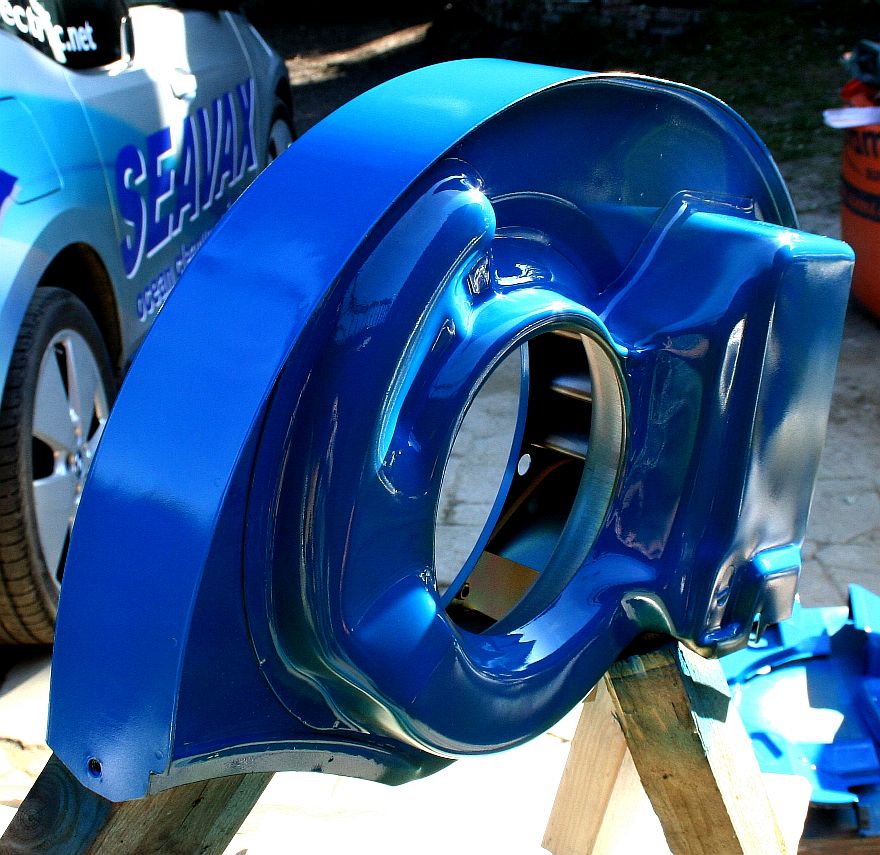 COOL DUDE - An air cooled engine needs a forced air supply to cool four cylinders in a desert situation - where we are rapidly heading with uncontrolled global warming.
2016 - 2017 - Bluebird Marine Systems (BMS) was loaned the vehicle as the flagship for an ocean awareness campaign. This company was crowd funded, undertaking to spend the money raised on various projects, of which this was one of the smaller undertakings.
Volunteers from Bluebird Marine Systems lavished time on the vehicle, now known as Miss Ocean, for around two years hoping to complete it for ocean awareness events and even a tour, but ran out of cash. Ocean cleaning was not high enough on the EU's Horizon 2020 agenda to secure funding, leaving Miss Ocean as a liability once again. This is normally where small enterprises fail. They passed the project to COF so as not to waste their efforts and rack up storage charges.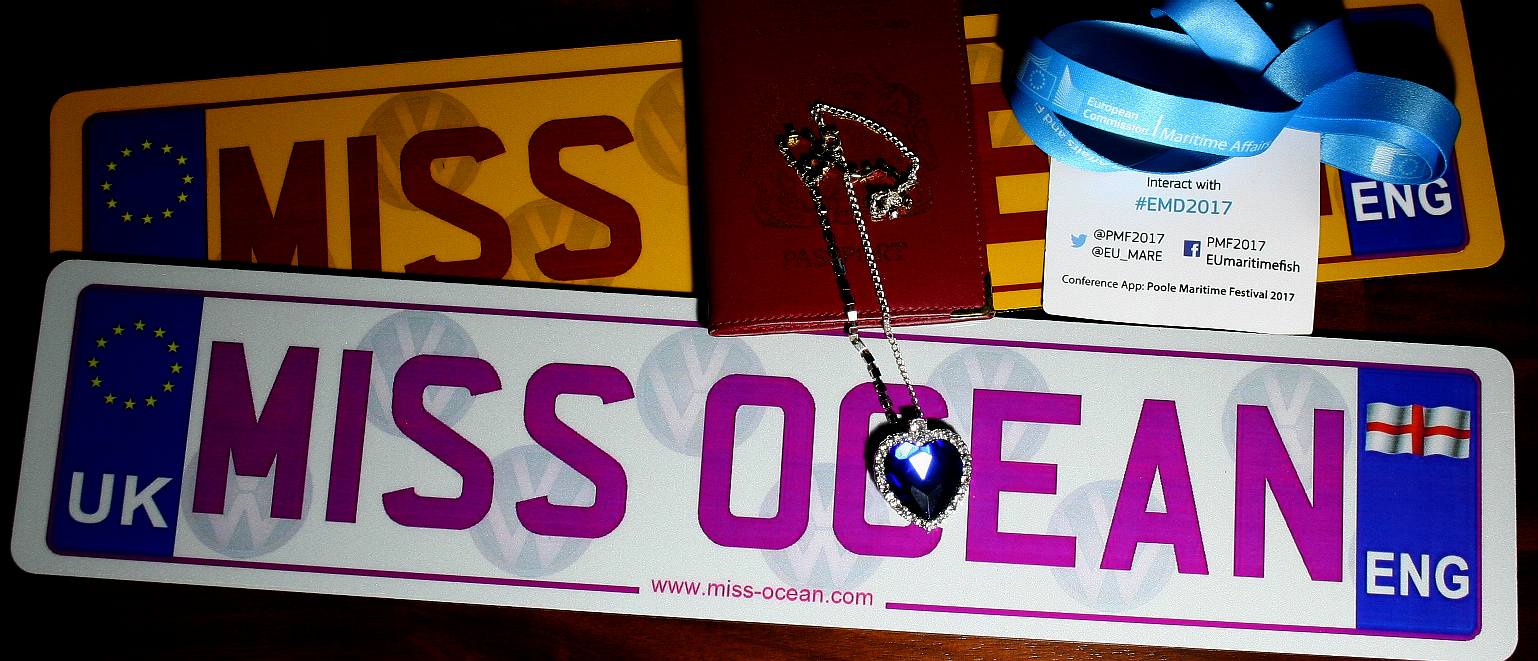 NUMBER PLATES - These are not road legal items, just for use at shows.
2018 - Enter the Cleaner Ocean Foundation (COF). The charity was willing to take up the torch where BMS had left off, rescuing BMS from oblivion and Miss Ocean from more weathering outside, where she was vulnerable, being unpainted. Some of the bodywork repairs needed completing. The doors were removed again for more welding and shaping. COF spent more time on the engine, bodywork and electrics. Meantime the SeaVax project was hiring vans for shows, adding to the cost of attending events to speak on ocean plastic and raise awareness.
2019 - Then Jameson Hunter (JH) came along to promote Kulo Luna, injecting yet more enthusiasm to the project, along with directors loans to cover storage, parts and materials.
COF & JH continued with shaping and other improvements, the aim being to get Miss Ocean ready for an event in Hastings in September 2019 (details awaited). Meantime the surfing wagon is due for a coat or two of paint.
CLIMATE CHANGE - ICE motive power will be a thing of the past as the Climate Change Act 2008 bites.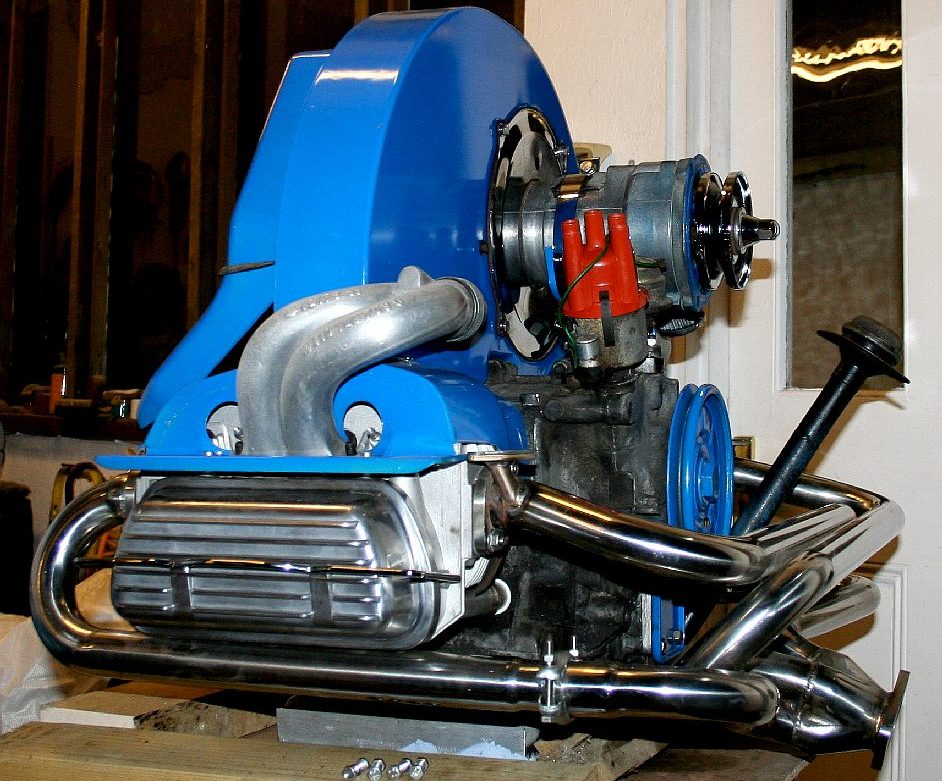 MORE COOLING - Professor Ferdinand Porsche designed this engine for the 'People's Car,' the literal translation of 'Volks-Wagen.' The idea was to produce a car that every citizen in Germany could aspire to. The Citroen 2CV had a similar concept for French farmers. Eco cars are now far more fuel efficient and affordable - because of robotic mass production. These engines powered jeeps and amphibious vehicles in WW2 and are used in light aircraft today.
COST
Projects like these absorb enormous amounts of time apart from actual expenditure. In our modern world time is money. But volunteers do not ask for financial reward, they are pleased to contribute - for which (no doubt) this little VW: Miss Ocean, is extremely grateful.
WHAT NEXT ?
Miss Ocean will be vinyl wrapped and trimmed inside to compliment the Awareness Events that she will be attending from 2020 - and spread the word.
PRIMED & PAINTED - [LEFT] This is the first coat of primer to seal the steel and provide a sound base on which to surface treat the vehicle before painting with 2-pack - and finally vinyl wrapping in our ocean theme. [RIGHT] This is the final coat of white 2-pack paint as the base for other painted art and vinyl wrapping.
OCEAN CLEANUP PROJECTS A - Z
* Adidas
* Algalita research foundation
* Aliance to end Plastic Waste
* Boyan Slat's ocean booms
* 4Ocean recycled plastic bracelets
* Earth Day ocean plastic fact sheet
* Fionn Ferreira's ferrofluid extraction of microplastics
* Junk Raft - plastic expedition
* Plastic Oceans Canada
* Plastic Oceans Org
* Seabin
* SeaVax autonomous drones
* Surrey University PIRATE & Triton
LINKS & REFERENCE
http://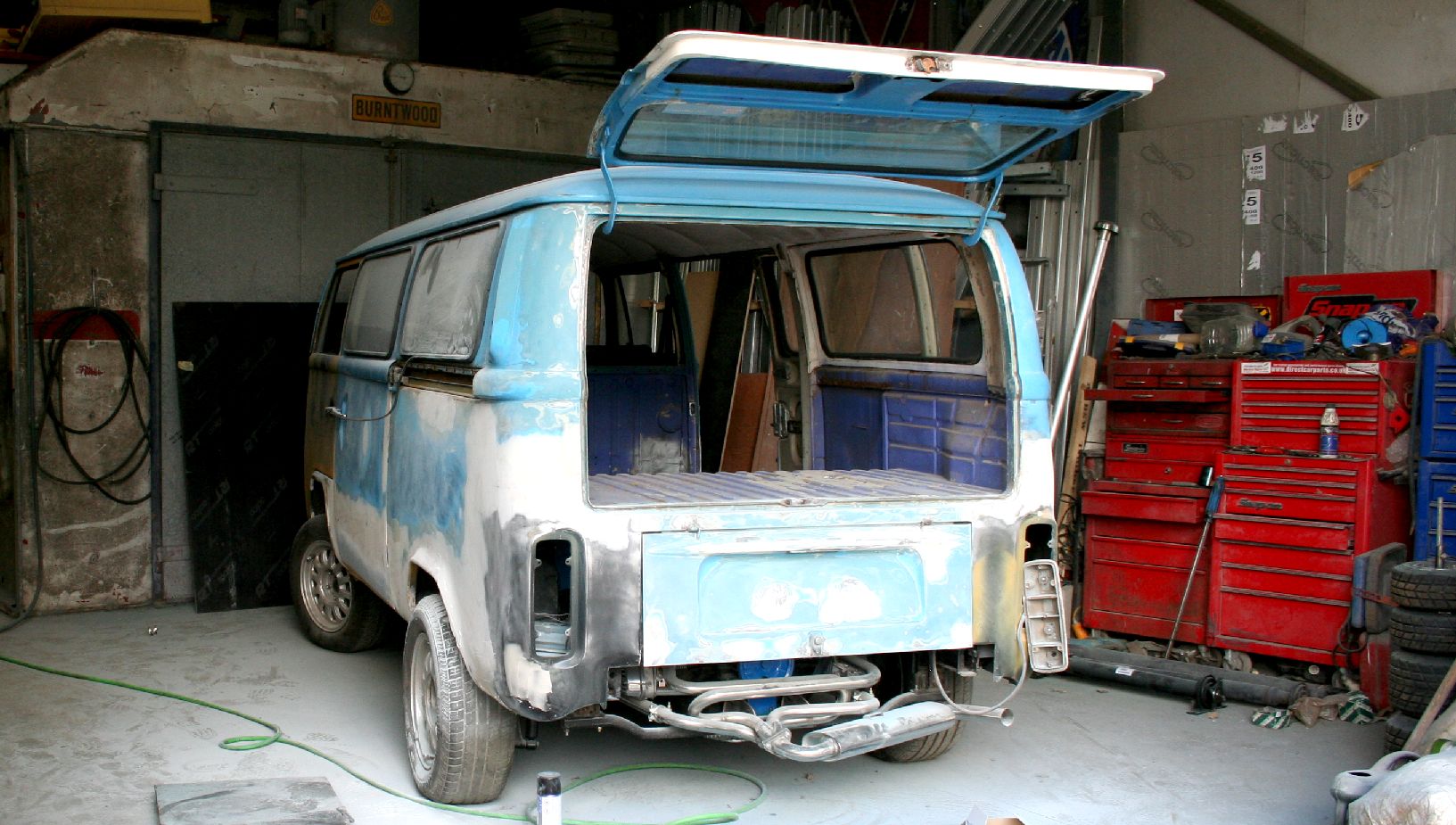 OVEN BAKING - 2-Pack paint is applied at normal room temperatures, then re-flowed in a low temperature oven for a better finish. We were fortunate to have a specialist restoration craftsman locally, who could help with this project. He'll be using an epoxy primer to gain a sound surface to apply a topcoat.