Modern cars are painted by robots using multiple spray guns and relatively climate friendly paints in controlled environmental conditions. Older vehicles were painted by skilled persons, with vintage cars typically being hand painted with brushes, before the days of compressed air equipment and spray guns made the task of painting easier.
As steel vehicles age, they typically rust away until they are structurally unsound and virtually impossible to repair. A small percentage are renovated from time to time and make it to forty years of age, as with this classic Volkswagen Kombi van. To protect your slice of history, you need to coat it in a protective film to prevent water contacting the steel causing oxidation. Oxidation is commonly called: rusting.
Today the chemistry of paints has advanced to the point where we have extremely sticky primers based on epoxy resins. Epoxy resin is a thermo setting plastic that is waterproof and can be used to make carbon fibre panels, or mixed with solvent (thinners) to spray as a paint.
Two part paints that cure chemically, rather than simple air drying, are also extremely tough and weather resistant. These are called 2-pack paints, because you have to mix the paint with a hardener catalyst to begin the curing process. The result is a paint that cures in minutes rather than hours. Especially when baked in an oven.
SEALER - Once the new panels were faired into the original bodywork, a good coat of epoxy sealer was applied as a base coat on which to prime and paint in 2-pack.
Where vehicle are very old, mechanical parts are sometimes hard to find, but the qualities of the Volkswagen Kombi Wagons, Split Screens and VW Beetles have generated a significant following. So much so, that there are a number of specialist suppliers of quality parts for these vehicles, to keep them rolling.
Having attained the status of Historic Vehicle in the United Kingdom, we are proud to have contributed to preservation of a modern icon, such that it may be used to promote clean oceans and healthy seas for future generations.
SURFACE PREPARATIONS - A coat or two of a high build polyester filler is applied over the epoxy primer and rubbed down to a fine surface finish.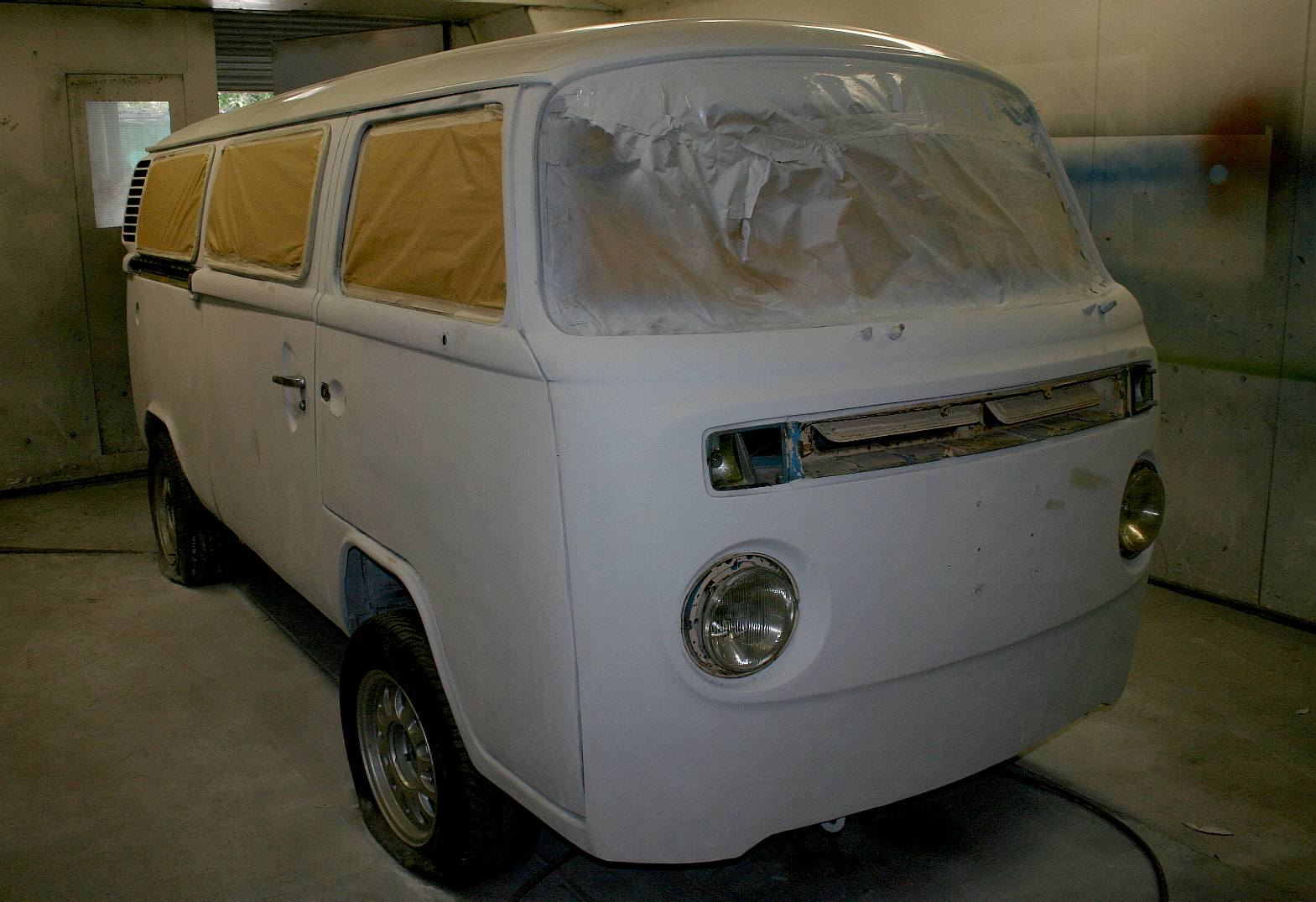 WHITE PRIMER - A coat of white primer is then applied where small imperfections might be identified and spot filled using fine filler paste or stopper.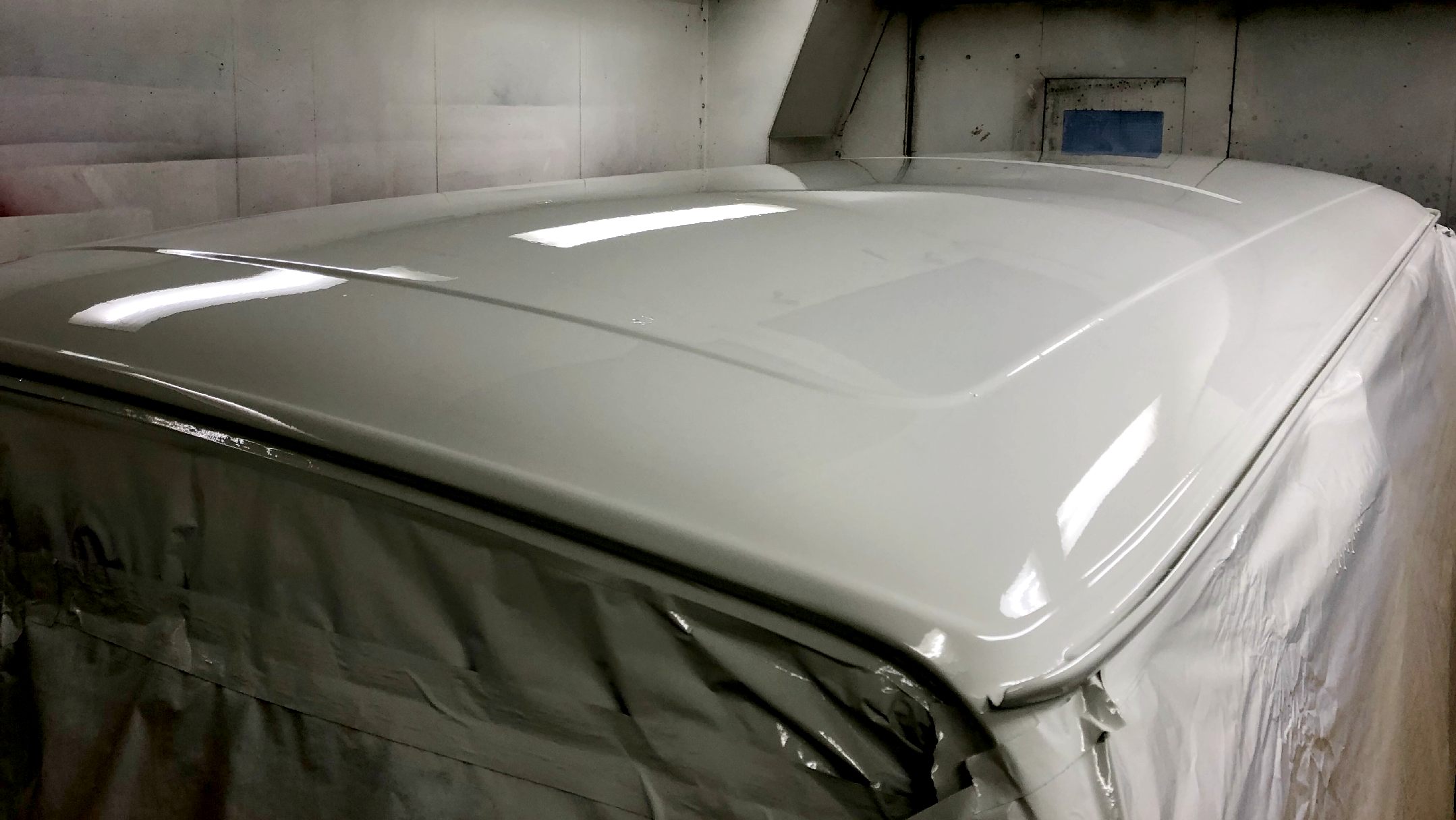 ROOF - This is the roof of our Kombi van painted in 2-pack, where the tyres had to be deflated to lower the height for the spray painter.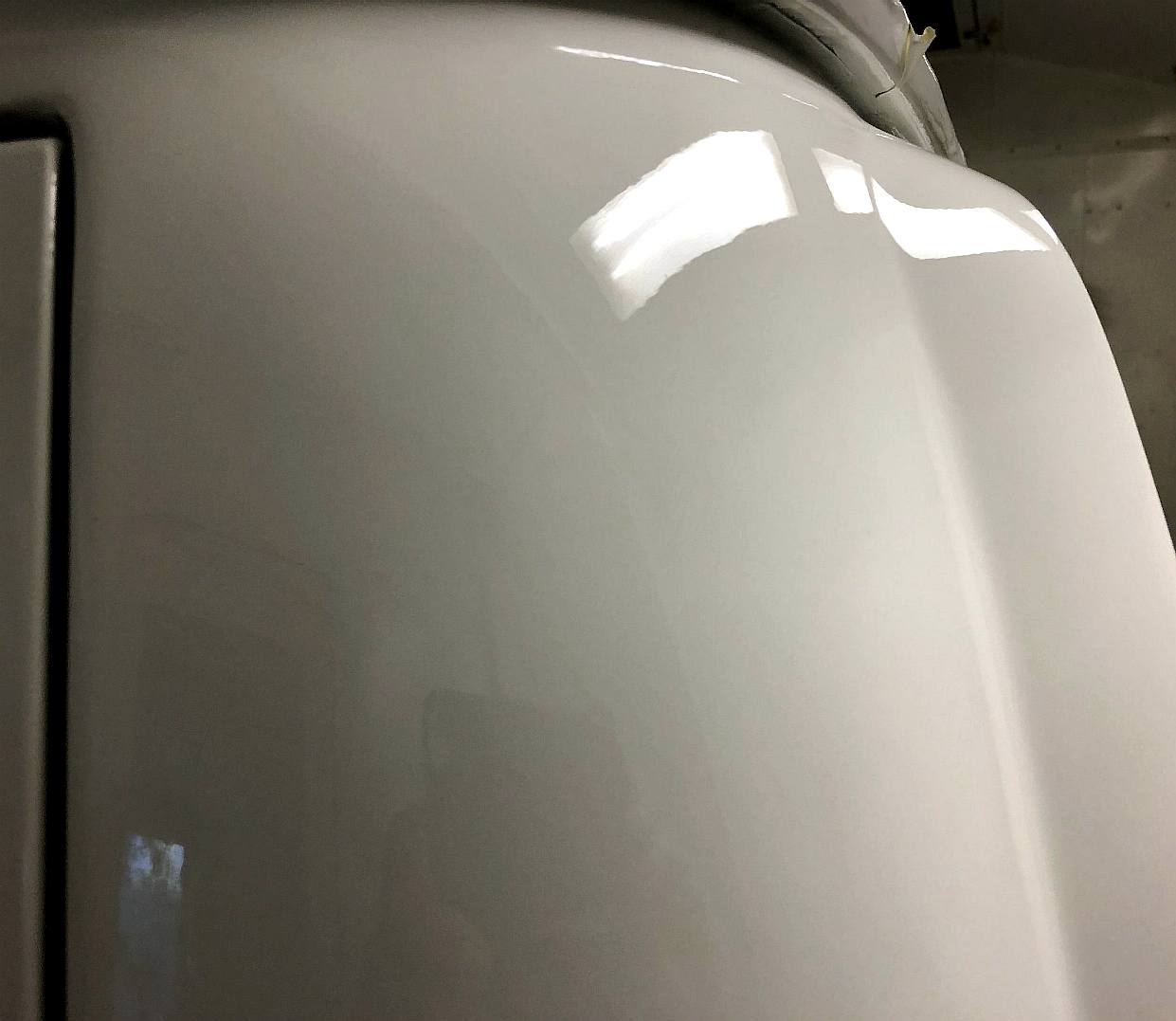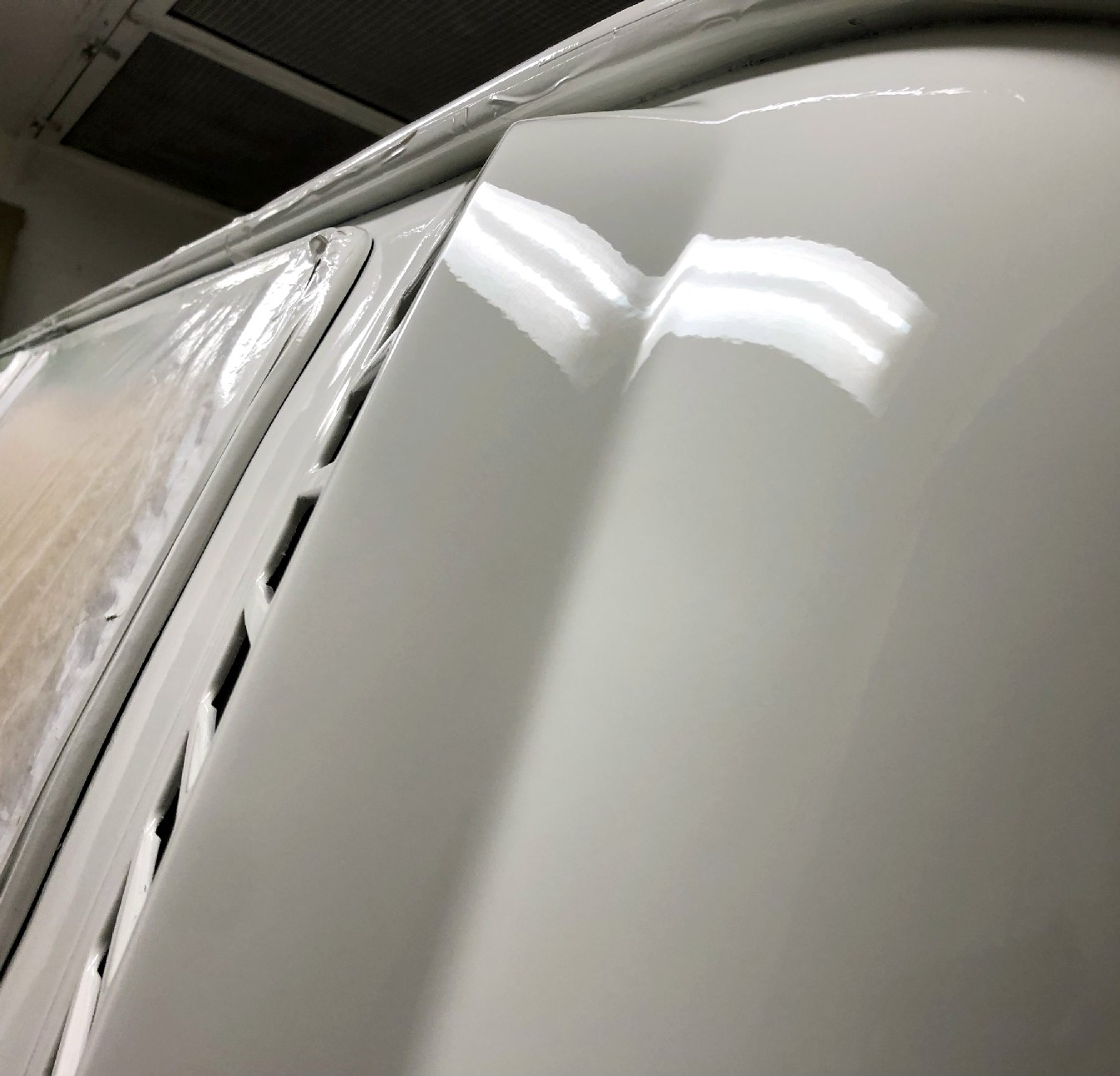 QUARTER PANELS - These are pictures of the rear quarter panels of the Kombi, freshly coated in 2-pack paint.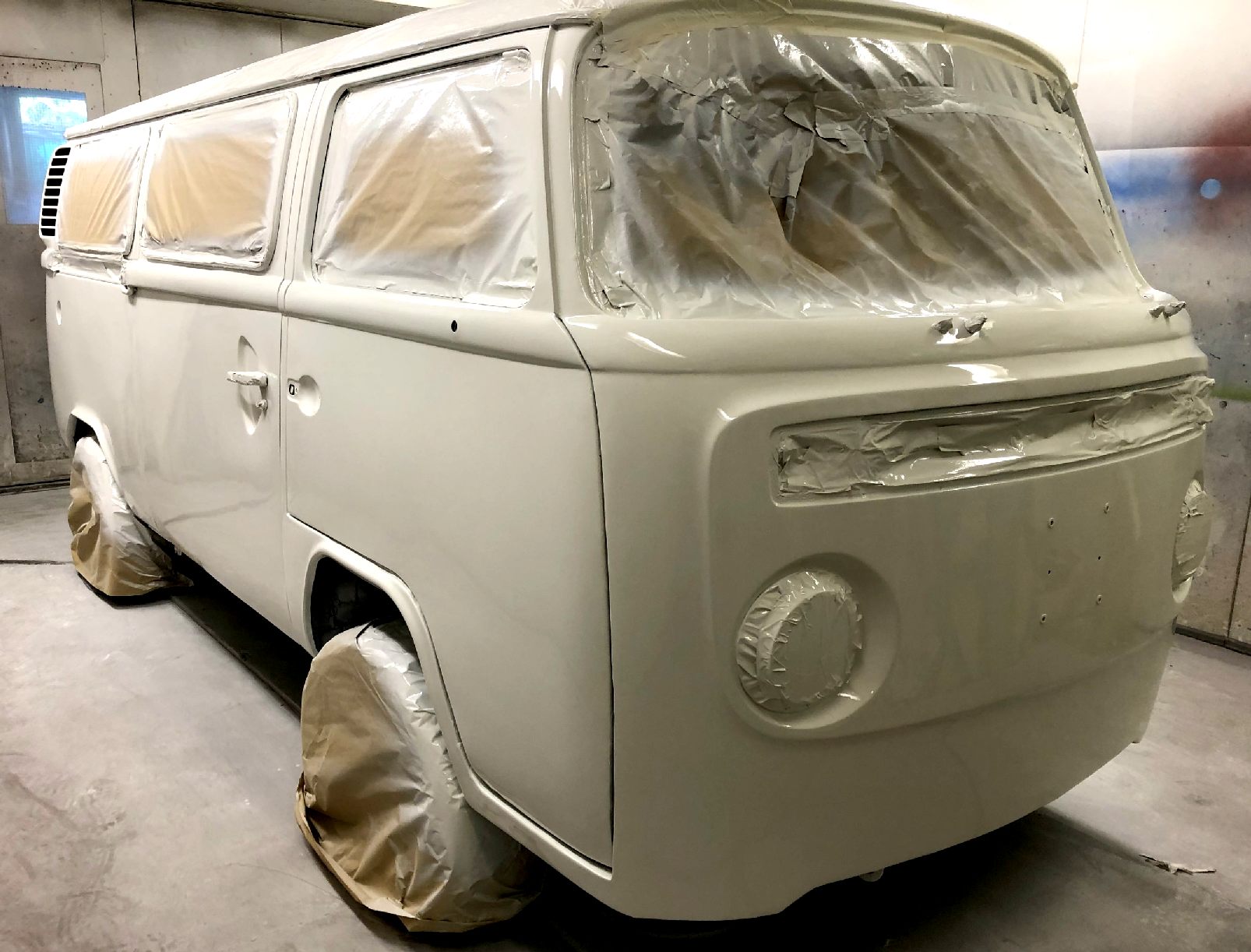 ALL WHITE - Here she is all painted in white 2-pack. This is not yet complete, as there are detail parts to paint, some of which are not white. Some to be made, and some to be ordered from our trusty supplier.
WHO INVENTED THE IC ENGINE
Germany is where the internal combustion engine was invented by a hub of engineers all competing to produce automotive units. In 1879 Nikolaus Otto, Gottlieb Daimler and Wilhelm Maybach, patented the compressed charge, four-stroke cycle engine. In 1892, Rudolf Diesel developed the first compression ignition engine, also a four stroke (US patent # 608845 filed 1895 - granted 1898, by which time Diesel had become a millionaire. Ironically, Otto was less keen to work on automotive engines.
Petrol engines were mostly used in cars and light vans where diesel units were heavier and more expensive, so used in trucks for haulage. This is not the case now, with smaller turbocharged engines being common in cars, but particles from diesel engines are considered dangerous to humans and carbon dioxide and monoxide are greenhouse gases that helped to cause global warming and climate change, leading to acid oceans.
The good news is that we now have electric vehicles. We can thank all those automotive engineers who gave transport to the masses, so aiding the development of society. They had no idea the harm such engines might cause when in mass use. We hope it is not too late to repair some of the damage we have done to planet earth.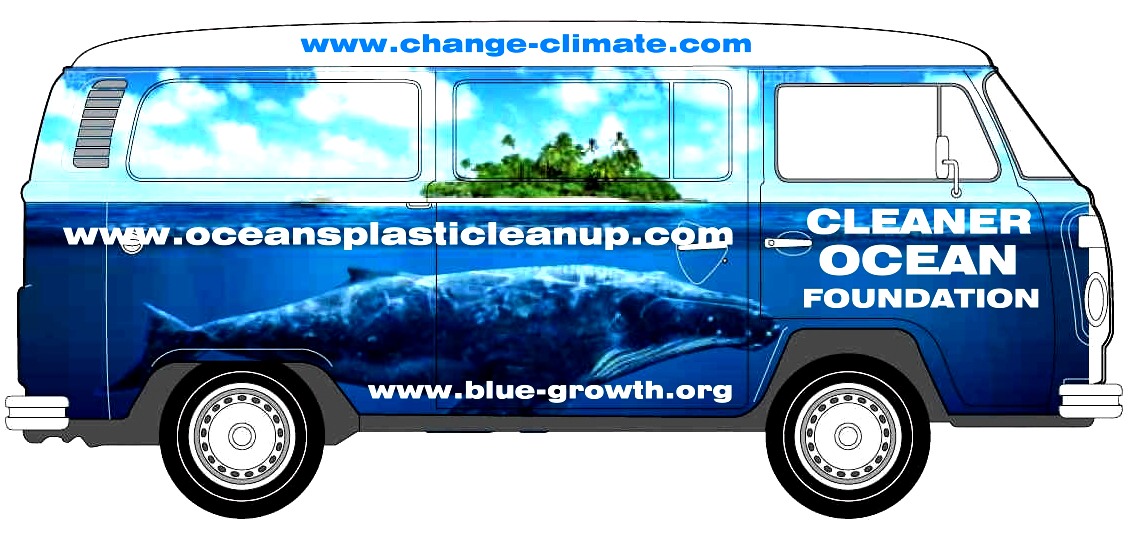 VINYL DESIGN - This is not a true representation of the final design, but just a quick outline to get the ball rolling and the brain cells ticking. We are considering a two-tone paint job, with vinyl lettering and some vinyl wrapped panels to keep the cost of the artwork down.
OCEAN CLEANUP PROJECTS A - Z
* Adidas
* Algalita research foundation
* Aliance to end Plastic Waste
* Boyan Slat's ocean booms
* 4Ocean recycled plastic bracelets
* Earth Day ocean plastic fact sheet
* Fionn Ferreira's ferrofluid extraction of microplastics
* Junk Raft - plastic expedition
* Plastic Oceans Canada
* Plastic Oceans Org
* Seabin
* SeaVax autonomous drones
* Surrey University PIRATE & Triton
LINKS & REFERENCE
http://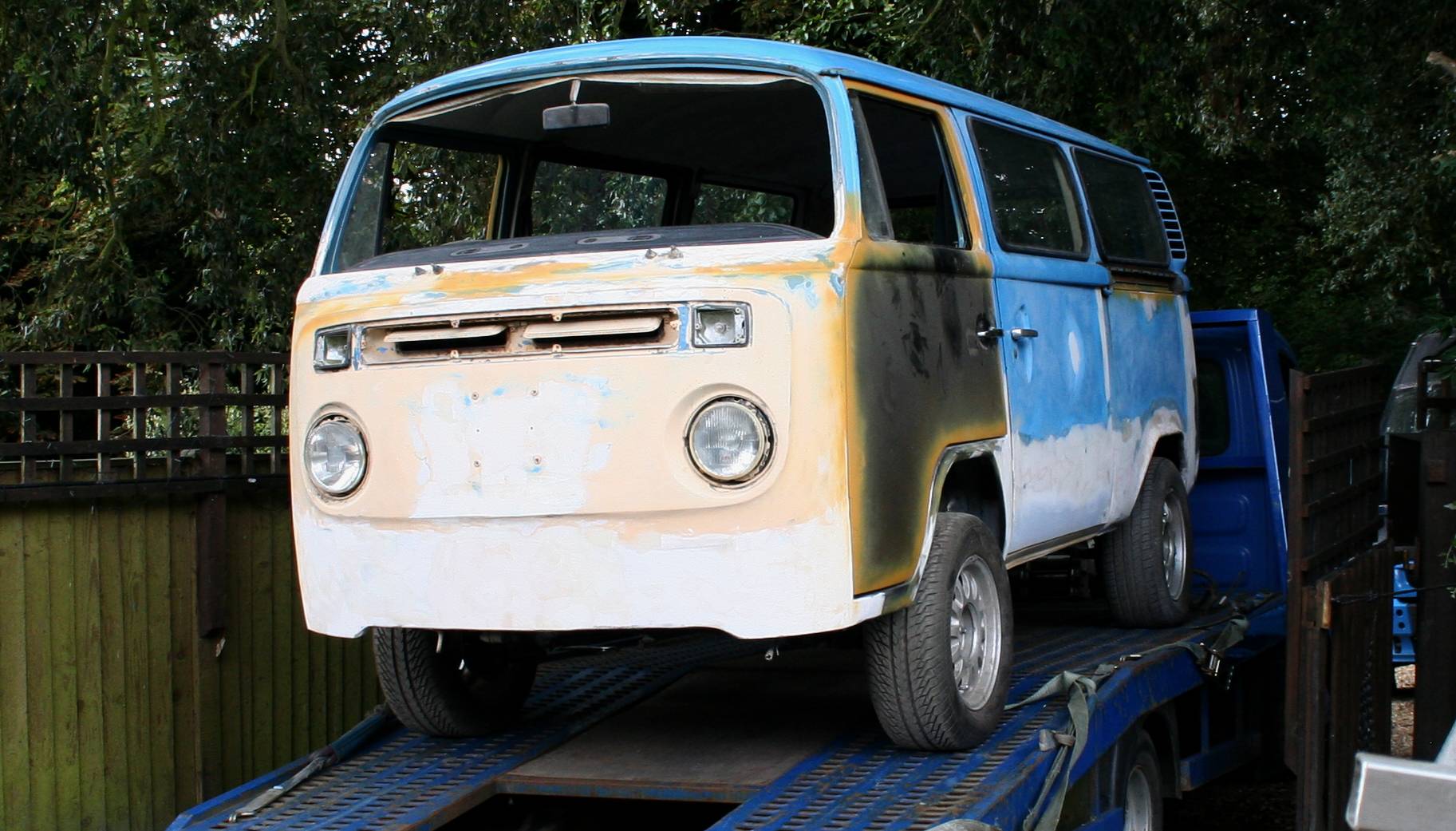 LOW LOADER - August 8 2019, the tour bus is collected for transport to a local spray booth for painting and oven baking. She needs rather more than the usual preparations. This is just the start of a longer journey to a good paint finish.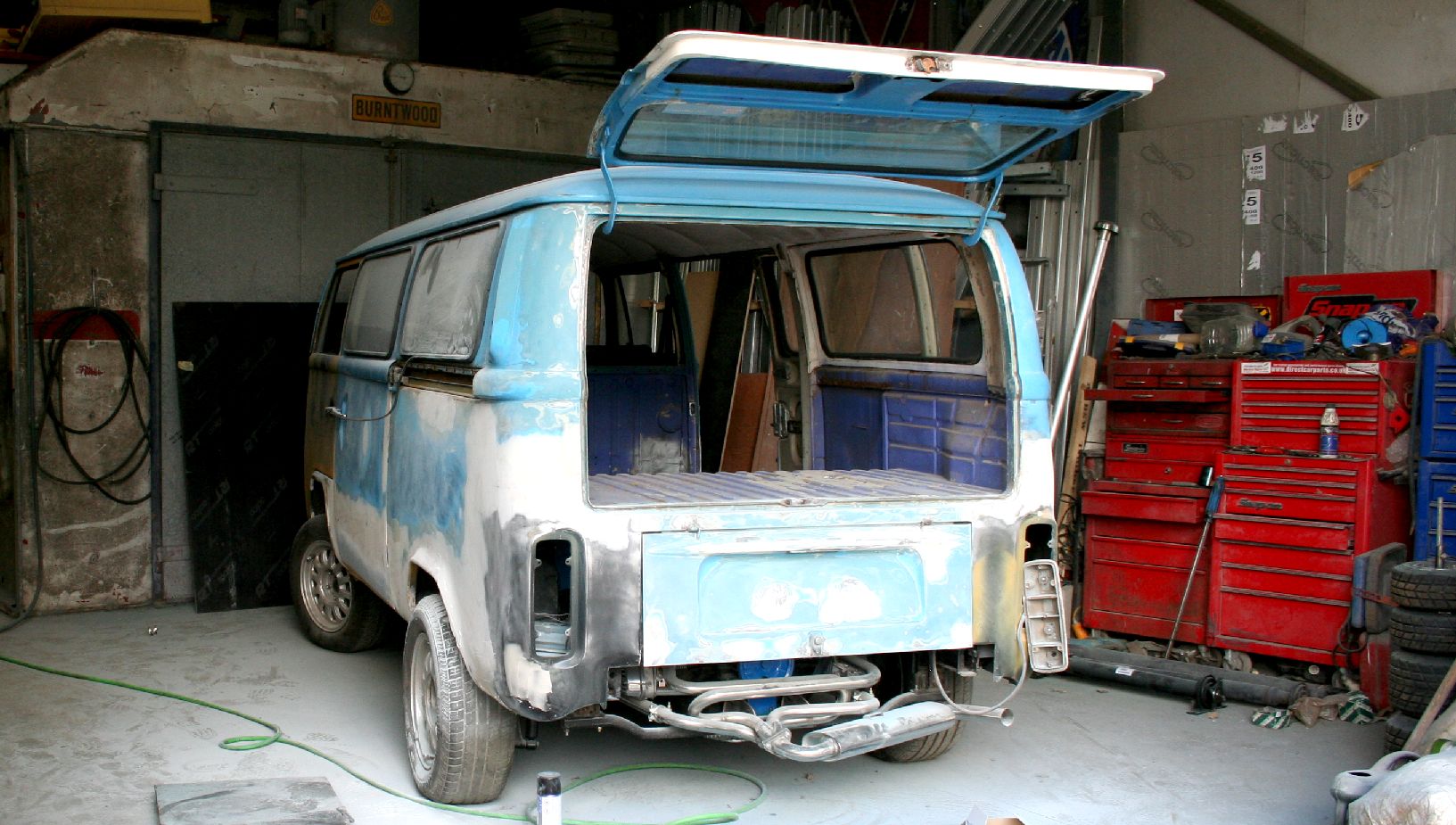 OVEN BAKING - 2-Pack paint is applied at normal room temperatures, then re-flowed in a low temperature oven for a better finish. We were fortunate to have a specialist restoration craftsman locally, who could help with this project. He'll be using an epoxy primer to gain a sound surface to apply a topcoat.