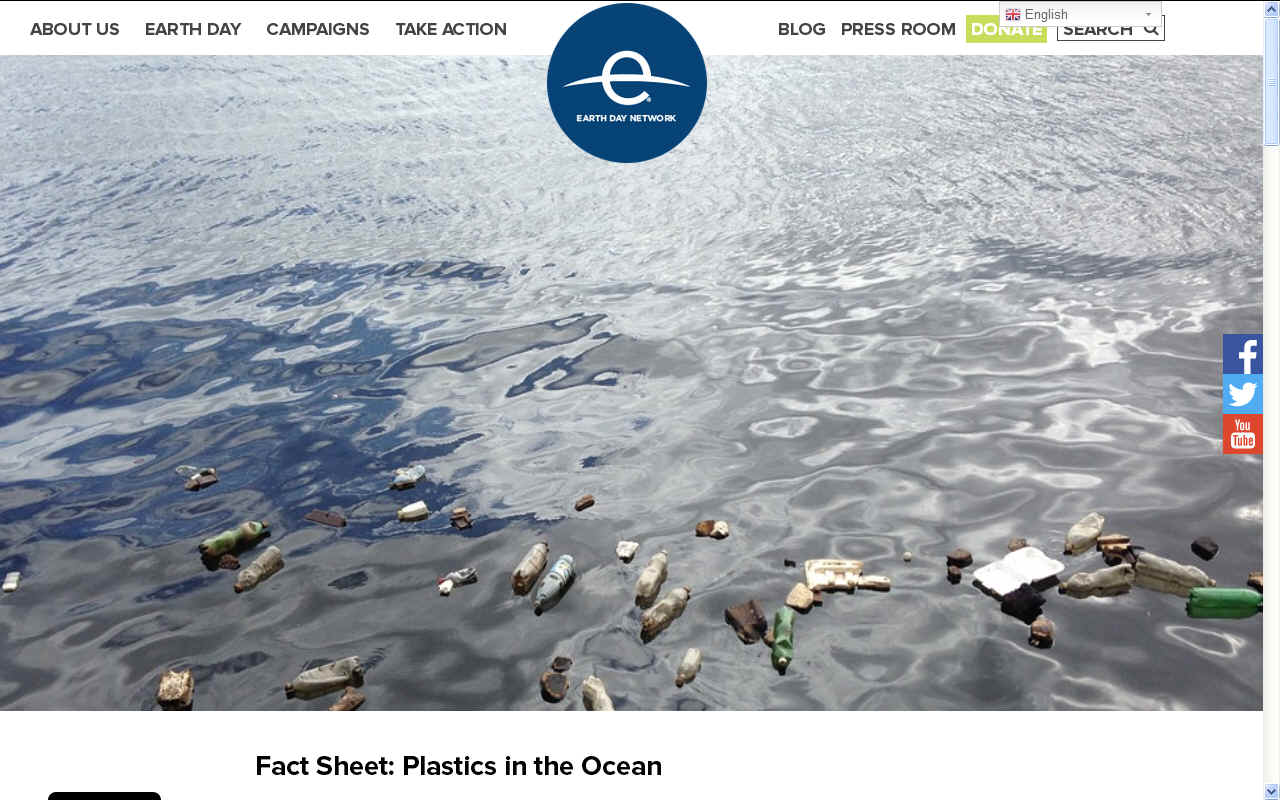 THE MISSION - According to their website, Earth Day Network's mission is to diversify, educate and activate the environmental movement worldwide. Growing out of the first Earth Day, Earth Day Network claims to be the world's largest recruiter to the environmental movement, working with more than 75,000 partners in nearly 192 countries to build environmental democracy. More than 1 billion people now participate in Earth Day activities each year, making it the largest civic observance in the world. They work through a combination of education, public policy, and consumer campaigns.
The first Earth Day on April 22, 1970, activated 20 million Americans from all walks of life and is widely credited with launching the modern environmental movement. The passage of the landmark Clean Air Act, Clean Water Act, Endangered Species Act and many other groundbreaking environmental laws soon followed. Twenty years later, Earth Day went global, mobilizing 200 million people in more than 190 countries and lifting environmental issues onto the world stage.
EARTH DAY 2018 - END PLASTIC POLLUTION - Fact Sheet: Plastics in the Ocean

The billions of items of plastic waste choking our oceans, lakes, and rivers and piling up on land is unsightly and harmful to plants and wildlife.

The following list of 10 ocean facts with links to related articles, shed some light on how plastic is proving dangerous to our planet, health, and wildlife:
FACT #1 - About 8 million metric tons of plastic are thrown into the ocean annually. Of those, 236,000 tons are microplastics – tiny pieces of broken-down plastic smaller than your smallest fingernail

Jambeck, J. R., et al. "Plastic Waste Inputs Land to the Ocean." Science, vol. 347, no. 6223, 13 Feb. 2015, pp. 768–77., doi:10.1126/1260352
Erik van Sebille et al 2015 Environ. Res. Lett. 10 124006

FACT #2 - There are five massive slowly revolving patches of plastic in the oceans around the world called gyres. These huge concentrations of plastic debris cover large swaths of the ocean; the one between California and Hawaii is about the size of the state of Texas.
https://www.nationalgeographic.org/encyclopedia/great-pacific-garbage-patch/

FACT #3 - Every minute, one garbage truck of plastic is dumped into our oceans.
https://www.weforum.org/agenda/2016/10/every-minute-one-garbage-truck-of-plastic-is-dumped-into-our-oceans/

FACT #4 - The amount of plastic in the ocean is set to increase tenfold by 2020.
https://www.independent.co.uk/environment/nature/how-scientists-plan-to-clean-up-the-plastic-waste-threatening-marine-life-a6820276.html

FACT #5 - By 2050 there will be more plastic in the oceans than there are fish (by weight).
https://www.ellenmacarthurfoundation.org/publications/the-new-plastics-economy-rethinking-the-future-of-plastics-catalysing-action

FACT #6 - Plastic is found in the ocean as far as 11km deep, meaning synthetic fibers have contaminated even the remotest places on Earth.
https://www.theguardian.com/environment/2017/nov/15/plastics-found-in-stomachs-of-deepest-sea-creatures
FACT #7 - Many marine organisms can't distinguish common plastic items from food. Animals who eat plastic often starve because they can't digest the plastic and it fills their stomachs, preventing them from eating real food.
Plastic Pollution Primer and Action Toolkit, Earth Day Network, 2018

FACT #8 - The likelihood of coral becoming diseased increases from 4% to 89% after coming in contact with marine plastic. It also damages the skin of coral, allowing infection. Coral reefs are home to more than 25% of marine life.
Lamb, Joleah B., et al. "Plastic Waste Associated Disease Coral Reefs." American Association Advancement of Science, 26 Jan. 2018, sciencemag
https://coral.org/coral-reefs-101/coral-reef-ecology/coral-reef-biodiversity/
FACT #9 - There is more plastic than natural prey at the sea surface of the Great Pacific Garbage Patch. This means that organisms feeding in the area are likely to have plastic as a major component of their diets. One example is that sea turtles by-caught in fisheries operating within and around the 'Patch' can have up to 74% (by dry weight) of their diets composed of ocean plastics.
https://www.theoceancleanup.com/updates/how-ocean-plastics-turn-into-a-dangerous-meal/

FACT #10 - Many fish that humans consume, including: brown trout, cisco, and perch, have ingested plastic microfibers at some point in their life.
http://www.onegreenplanet.org/environment/how-plastic-from-our-clothing-is-ending-up-in-fish/
OCEAN CLEANUP PROJECTS A - Z
* Adidas
* Algalita research foundation
* Aliance to end Plastic Waste AEPW
* Baltimore Mr Trash river cleaning barge
* BAN - Basel Convention Action Network
* Boyan Slat's ocean booms
* CLAIM H2020 EU marine plastic project
* Earth Day - Fact sheet ocean plastic
* Fionn Ferreira's ferrofluid extraction of microplastics
* FlashLight Press Michelle Lord & Julia Blatt
* GRIPS - Global Research & Innovation in Plastics Sustainability
* Interceptor tethered river cleaning barges
* Junk Raft - plastic awareness voyage
* Kids Against Plastic Tat KAPTAT
* Miss Ocean - Plastic Awareness Events
* Nike - Sneakers from recycled materials, ocean spills
* 4Ocean recycled plastic bracelets
* Nike - Sneakers from recycled materials, ocean spills
* Plastic Oceans Org
* Seabin
* SeaVax autonomous drones
* Surrey University PIRATE & Triton
* WRAP - Waste & Resources Action Programme
CONTACTS
Earth Day Network
1616 P St. NW, Suite 340
Washington, DC 20036
Phone: +1-202-518-0044

Press: communications@earthday.org.

General: info@earthday.org

Website: webmaster@earthday.org.
LINKS & REFERENCE
https://www.earthday.org/2018/04/05/fact-sheet-plastics-in-the-ocean/