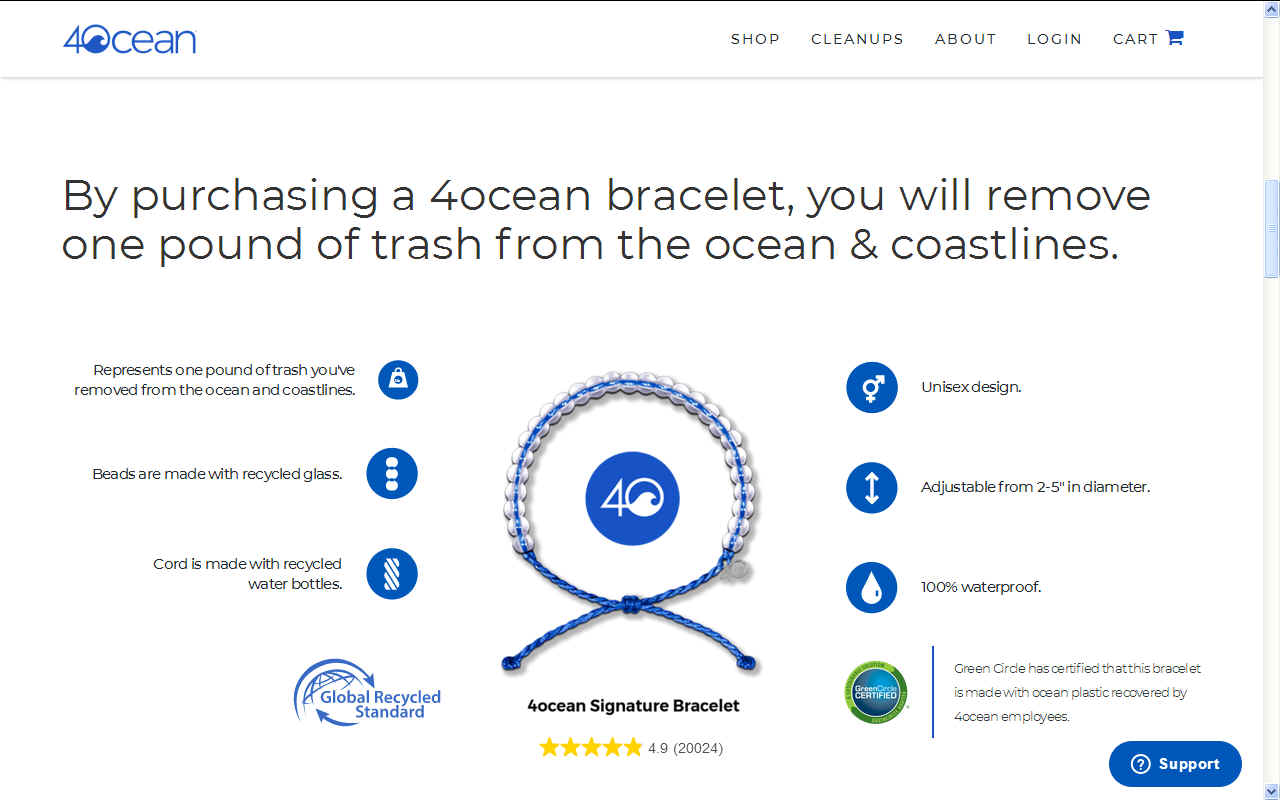 OCEAN SALVAGE - The cord of these bracelets is made from recovered marine plastic (Polyethylene Terephthalate).
ONE POUND PLEDGE: 4Ocean's "One Pound Pledge" to customers is that 4ocean will remove one pound of trash for one bracelet purchased from the ocean and coastlines within 12 months from the time of purchase. This includes trash that has been removed from the ocean or a coastline. Note: 4ocean defines the term "Trash" as any man-made material that does not belong in the ocean or is damaging to the environment.
In other words, the going rate for removing one pound of trash is $19 nineteen dollars at current estimates (suggested by the media in lieu of more accurate details from company accounts). Multiply that by the 8 millions tons coming into the oceans each year and the cleanup cost per year would be in the region of $304 billion dollars, taking one US ton as 2,000lbs.
It looks from this and the figures released in June of 2019, that the founders Cooper and Schulze might soon transcend their Forbes millionaire status to become billionaires. That is of course assuming they manage to come up with a more efficient recovery system - ignoring for now the climate cost of operating so much equipment powered by internal combustion engines - and any mitigation payments that may become due from using fossil fuels for recycling purposes in a climate emergency. Just a thought!
Presently, the 250 tons recovered so far in two years of operations, though impressive, is 1:32000th or .0031% / 2 = 0.00156% of the total incoming ocean plastic. And we don't know how much of the trash recovered is plastic, how much is glass and whatever cans, etc., makes up the recovered weight, and in reality operations have been for 2.5 years. We've allowed half a year for setting up and getting to grips.
We hope therefore, that our Nouveau Riche duo, continue their gallant cause to explore more effective methods. It is clear that the buying public are funding them to clean up the ocean, so clean it up and your supporters will more than likely continue their support. At present, the cost of cleaning up is not equitable. Where that might not matter in the early stages while finding their feet, it will be more important as their project develops. In any case, well done chaps for giving it a go. We hope you will accept comment as being constructive criticism.
SUPPORT MARINE RESEARCH - The costs of a 4Ocean bracelet is $ 20.00 (USD). By purchasing a 4ocean Leatherback Bracelet (June 2019), you'll pull one pound of trash from the ocean and coastlines. You'll also help researchers study and care for leatherback sea turtle hatchlings before they're released into the wild through a partnership with Florida Atlantic University® Marine Research Lab. This bracelet represents a contribution to the clean ocean movement and leatherback sea turtle conservation.

The bracelets are made with recycled ocean plastic waste. They are adjustable from 2" to 5" in diameter. They have a 4Ocean stainless steel charm fitted. The beads are made from recycled glass.

PICANTE TODAY NOVEMBER 12 2018

According to Picante Today, the 4Ocean cleanup company is set to remove:
"millions upon millions of pounds of plastic and trash with [a] new, specially outfitted vessel."

4ocean unveiled their new Ocean Plastic Recovery Vessel (OPRV), a 135-foot oil rig support ship painted in bright blue. It is outfitted with 48,000 gallon fuel tanks. Wow, that's a lot of diesel, for hopefully, a lot of plastic. Otherwise we might be looking at a loss making situation, also adding to climate change.
The OPRV has 30,000 gallon water tanks and 14 cabins. The ship is set to assist in the gathering of plastic and trash at domestic and international locations by targeting local and land-based coastline issues and tackling coastline plastics, containing them, collecting them, and reclaiming large-scale debris fields in the waterways.

The 4ocean OPR Vessel is said to carry an excavator barge, marsh excavator, fast landing craft and collection booms.
The idea is that the collection booms can be laid out in a petal fashion to reach a larger coverage area while having access to the beach.
The design will bring the floating debris including plastic and trash to the beach for collection by 4ocean teams.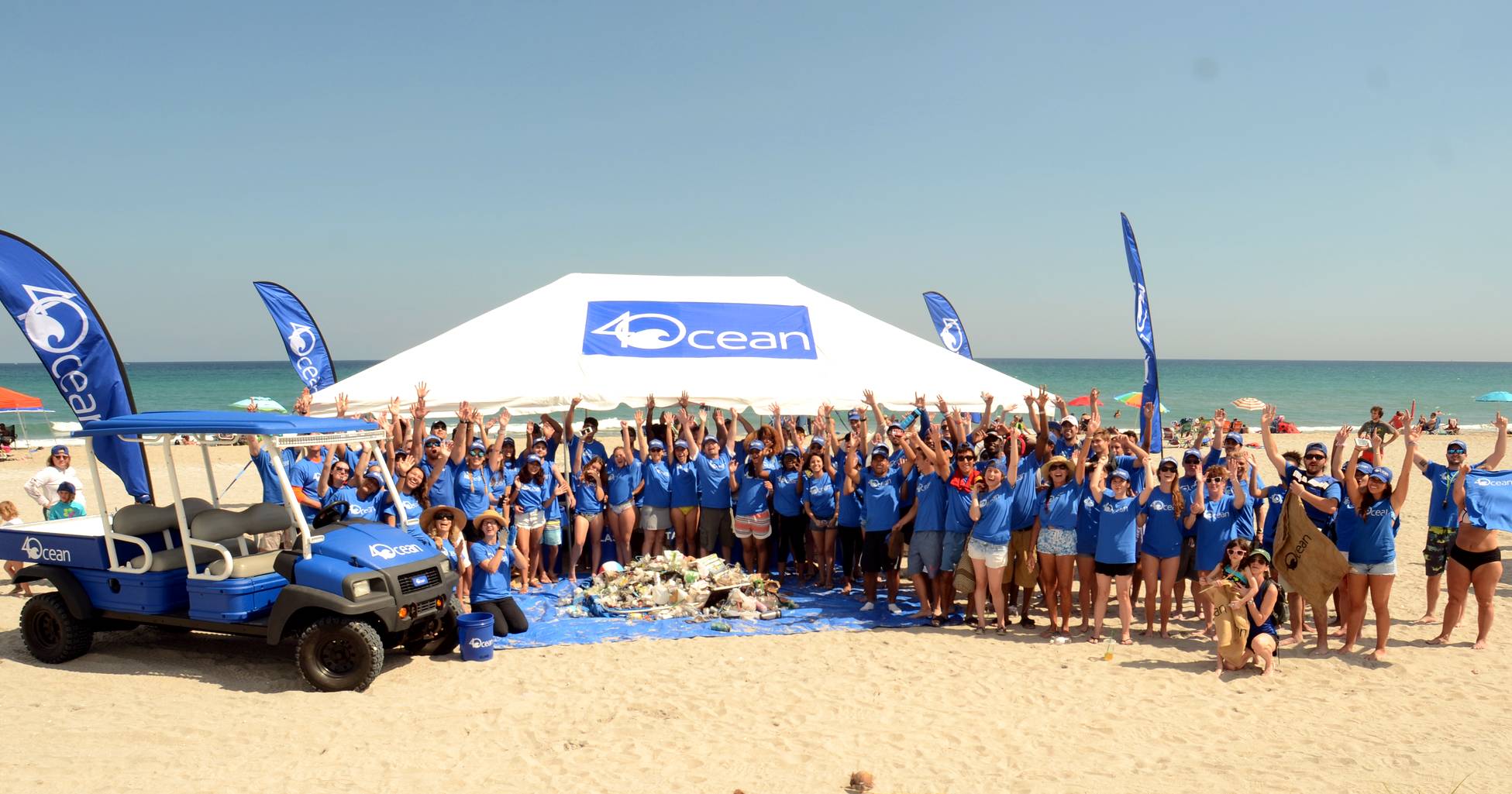 It all sounds very impressive, but will it work. Or will it have a marginal impact on ocean waste build up. It is claimed that the Ocean Plastic Recovery Vessel can bring in 310,000 pounds in one trip to be carried on the deck for transportation to the nearest re-processing plant for recycling. So far, the poly-duo have managed to get things working. It is worth the effort just to see what might be accomplished.
The vessel is equipped with 4 'panga' vessels, an open, outboard powered fishing boat, each 22-feet long, and an accompanying landing craft, which will place the booms in river mouth areas and pick out the trash they intercept. A unique amphibious excavator will be able to enter marshy estuaries, minimizing damage by floating on pontoons and using its customized claw to grab embedded plastic.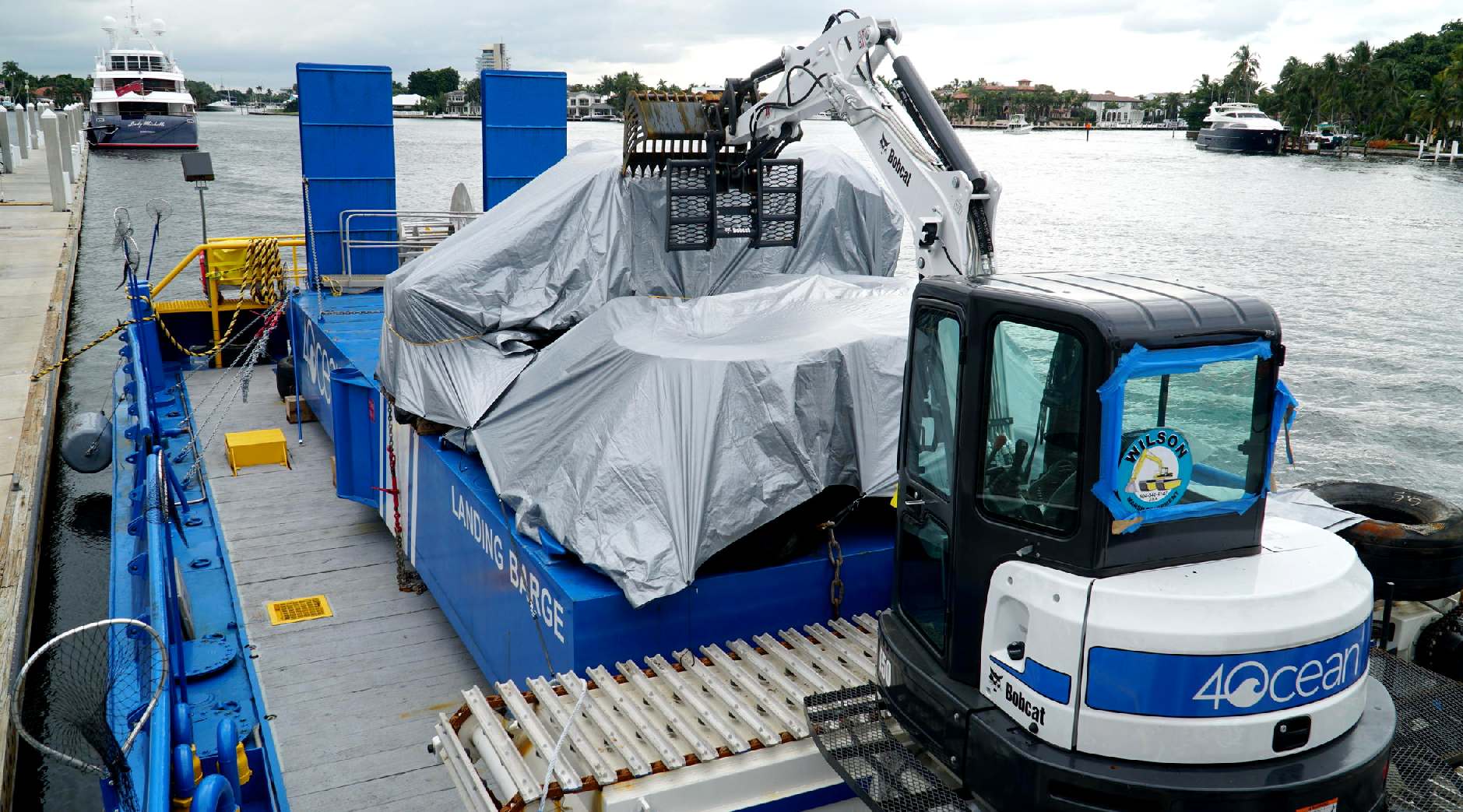 The co-founders have been receiving a lot of flak lately from bloggers claiming that they are profiting personally from the business.
There is nothing wrong with that, save perhaps for the advertising slant which they may want to revise if they expect to keep up momentum on their ocean cleaning development objectives.
We know from experience that one has to have a reasonably large reserve of funds before it is possible to take a leap to bigger things. Under funding is one of the biggest causes of small enterprises folding - just when things are getting interesting.
To be able to operate a vessel like the OPRV, they must have sufficient reserves to pay their crews and not have to worry where the next tranche of funding is coming from.
Alex Schulze is quoted as saying:

"The 4ocean OPR Vessel will transport massive amounts of plastic coupled with large booms to assist in the installation in all impactful river mouths,"
"Our mission with the OPR Vessel is to attack shoreline plastic simultaneously while booms are collecting plastic debris. At the same time, we will be handling reclamation projects in large geographic square areas to clean up the oceans and river deltas in order to make those areas functionable, usable and sustainable."
Andrew Cooper is quoted as saying:

"Our new vessel has the ability to respond to any emergency situation to recover plastic including heavy rains and floods that frequently cause mass amounts of plastic to head offshore."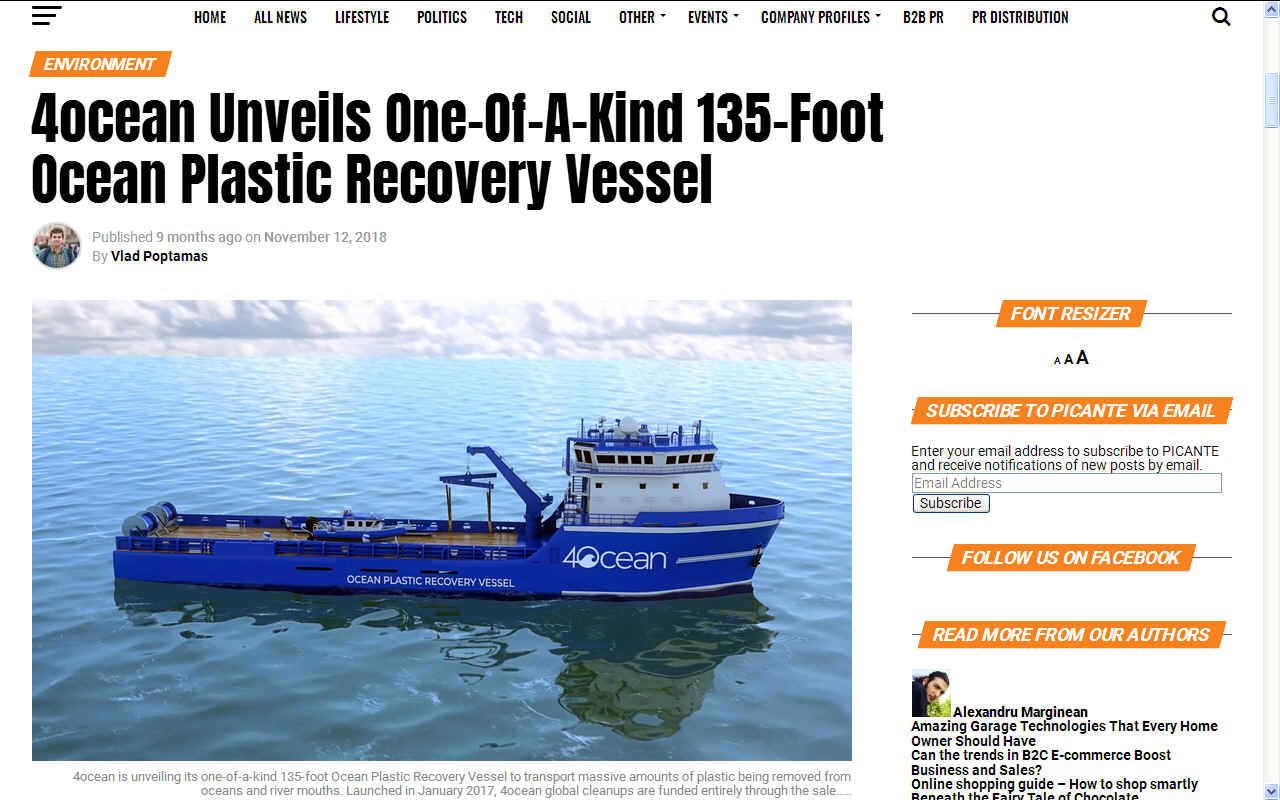 OCEAN CLEANUP PROJECTS A - Z
* Adidas
* Algalita research foundation
* Aliance to end Plastic Waste AEPW
* Baltimore Mr Trash river cleaning barge
* BAN - Basel Convention Action Network
* Boyan Slat's ocean booms
* CLAIM H2020 EU marine plastic project
* Earth Day - Fact sheet ocean plastic
* Fionn Ferreira's ferrofluid extraction of microplastics
* FlashLight Press Michelle Lord & Julia Blatt
* GRIPS - Global Research & Innovation in Plastics Sustainability
* Interceptor tethered river cleaning barges
* Junk Raft - plastic awareness voyage
* Kids Against Plastic Tat KAPTAT
* Miss Ocean - Plastic Awareness Events
* Nike - Sneakers from recycled materials, ocean spills
* 4Ocean recycled plastic bracelets
* Plastic Oceans Org
* Seabin
* SeaVax autonomous drones
* Surrey University PIRATE & Triton
* WRAP - Waste & Resources Action Programme
4Ocean are not alone in the fight against ocean plastic. These emerging technologies could all play a part in containing the mountain of plastic that is accumulating on the oceans floors, by recovering floating debris before it sinks. New ideas are welcomed.
SIGNATURE - By purchasing the Signature Bracelet for $20 dollars you will remove one pound of trash from the ocean and coastlines.

Through worldwide support and the purchase of 4ocean bracelets, they have pulled 4,541,633 pounds (2,028 tons)of trash from the ocean & coastlines to date: 02-06-2019.

4ocean is a global movement actively removing trash from the ocean and coastlines while inspiring individuals to work together for a cleaner ocean, one pound at a time.

4Ocean is partnered with a privately-held recycling facility in Port-au-Prince, Haiti, to ensure that the ocean plastic they recover is properly recycled and the other marine debris that is collected with plastic is disposed of properly.

LINKS & REFERENCE
PR@4ocean.com
https://4ocean.com/
IT ALL HELPS - There are beach cleaning projects all over the world. Every cleanup bash nets plastic waste that would otherwise deteriorate in the ocean gyres into microplastics that could eventually end up on the seabed.