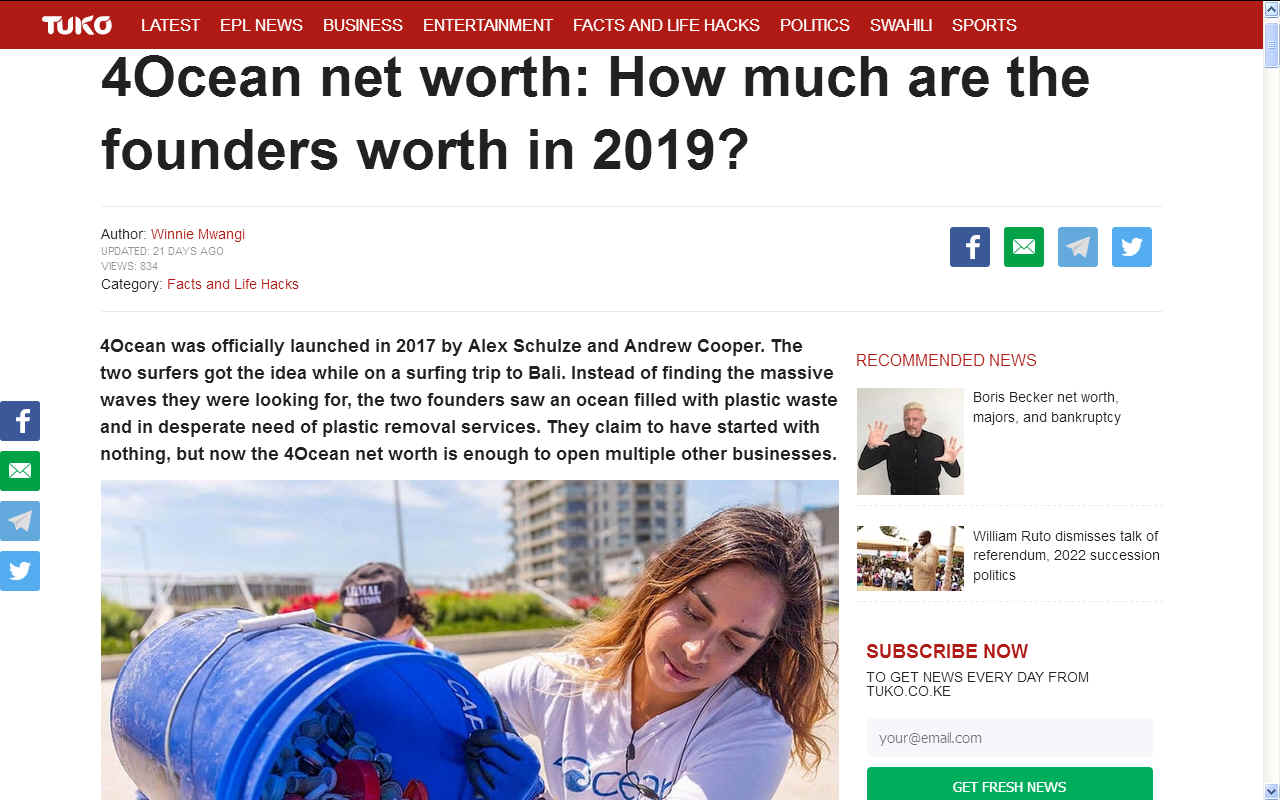 WAGES - Nobody yet knows how much the workers of 4Ocean are paid.
The owners of 4Ocean are getting a lot of media coverage concerning the net worth of the founders, some positive and some negative. Whatever the slant of each article, for sure Alex Schulze and Andrew Cooper are responsible for removing a significant mass of marine plastic from beaches and even some scooped from the ocean. These days it is not just about cleaning up, it is about cleaning up sustainably in the quest for a truly circular economy. Scooping plastic using more diesel that adds to global warming and costs more than the recovered plastic just does not make sense for the planet. You might be better off doing a bit of beach combing yourself, or join a local group that organizes beach cleans.
The following is what some of the media are publishing about 4Ocean and the surfing duo.
TUCO JULY 2019
4Ocean was officially launched in 2017 by Alex Schulze and Andrew Cooper. The two surfers got the idea while on a surfing trip to Bali. Instead of finding the massive waves they were looking for, the two founders saw an ocean filled with plastic waste and in desperate need of plastic removal services. They claim to have started with nothing, but now the 4Ocean net worth is enough to open multiple other businesses.

Apart from selling bracelets made of recycled materials, 4Ocean also uses part of the profits to clean coastlines and oceans. What else can you purchase from this company and how much is their net worth?
Is 4Ocean legitimate?
4Ocean is as valid as they come and is among the few companies in the world leading the race to remove plastic from the ocean. The founders were encouraged to establish the company after a visit to Bali, Indonesia, in search of the perfect waves. Indonesia is second only to China when it comes to pollution, which made it easier for the two friends to gain support from locals and other interested parties. After an interview with the lifeguard regarding the state of pollution, the two young men decided to start their own company to provide a feasible solution.

Considering they had no capital to start their company, Schulze and Cooper decided to use some of the plastic to make bracelets, which they sell to fund their cause. They have been invited to different interviews on popular media outlets, including Voyagemia and CNBC, to mention a few. In one of the interviews, the company executives disclosed that the company had sold over $30 million in bracelets since they began the anti-pollution venture.
How is 4Ocean funded?
In a recent interview with CNBC, Cooper recalls how the company started generating revenue to pay the employees they have now and fund their ocean cleaning efforts. Cooper recalls visiting one of the surfing areas in Bali and meeting a few fishermen. After thrusting their nets in the water, the fishermen only managed to catch large chunks of plastic waste, which they threw back into the ocean.
Cooper and Schulze already had the idea of making items from recycled materials, but they did not know the perfect thing to commercialize. It was after this interaction that the pair decided to make affordable bracelets from the plastic material they found in the ocean.

Regarding the bracelet's design, Cooper said 'We knew that it didn't need to be too much of a statement of your personality or your outfit very subtle and subliminal, but still a talking point. And, the bracelet just kind of evolved itself out of all that.' The first bracelets were made up of cords made from recycled plastic and clear beads made from recycled glass. The original cord colors were sea blue, bright green or dark red, but the latest versions are more accommodative.
How much is a 4Ocean bracelet?
Every 4Ocean bracelet costs $20. Every bracelet purchased represents a pound of trash removed from the coastlines and the ocean in general. The more purchases you make, the more money raised to aid the removal of waste products from our oceans. The beads are also unisex and come with a 2 to 5-inch adjustable diameter. They are also waterproof and can be purchased using the 4Ocean monthly subscription plan. Using this subscription means you will receive 12 bracelets and help in pulling out at least 12 pounds of garbage from the ocean in a year.
The bracelets can be purchased from any part of the globe and shipped to your location through a pre-order option on the 4Ocean website. The bracelets also come in different designs with the Whale Shark bracelet being the most common. This bracelet was designed in conjunction with the Guy Harvey Ocean Foundation.

Other than raising funds to aid in running the organization, the shark bracelets also assist in raising awareness regarding the threats faced by whale sharks in the ocean. They also cost $20, which helps contribute to the $25,000 donated by 4Ocean to the Guy Harvey Foundation. The donation aids in whale shark tagging as well as the migration program. Unlike the regular bracelets, whale shark bracelets are hand-assembled and made from stainless steel 4Ocean charm. However, they are also waterproof and unisex.
4Ocean also has a 2-pound-pack bracelet called the Signature Blue Bracelet. Unlike its counterparts, this bracelet helps pull 2 pounds of plastic from the ocean. This option was released in July 2019, making it a relatively new option for 4Ocean followers. However, a single bracelet costs $40.
Lastly, you can purchase the 4Ocean legacy bracelets for $20 and aid the ocean-cleaning efforts initiated by this organization. Every bracelet costs $20 with options ranging from a sea turtle, seabird, shark, whale, marine nursery, earth day, manatee, sustainable fishing, coral reef, and polar bear bracelets.
4Ocean founders net worth
There is no verified information regarding Andrew Cooper 4Ocean salary or Alex Schulze net worth currently. Perhaps over time, the young Forbes 30 under 30 entrepreneurs will make details of their salaries public. However, the company managed to remove well over a million pounds of plastic from the ocean thus far and is aiming to make it two million. Considering every bracelet is worth $20, it is safe to say the company has made over $20 million without deducting expenses.
When asked in a recent interview why the company did not employ a non-profit motto like most in their field, Schulze said:
'When you look at a non-profit, or charity, we really didn't want to go that route and ask for hand out, rather create a product and a business solution so this can be around long after we are gone.'
Most of the funds are used to run the company and pay workers and fishers who aid in collecting plastics. However, just like the 4Ocean CEO salary, little is known regarding how much the employees take home monthly or daily.
Since its launch, 4Ocean net worth continues to increase with most of the revenue coming from recycled bracelets which provide funds for pushing the clean-oceans agenda.
The company might be the biggest in the industry at the moment, but there are other industry players in the field as well. Purchase a bracelet today and help remove a pound of plastic in our highly polluted oceans. By Winnie Mwangi
SUPPORT MARINE RESEARCH - The costs of a 4Ocean bracelet is $ 20.00 (USD). By purchasing a 4ocean Leatherback Bracelet (June 2019), you'll pull one pound of trash from the ocean and coastlines. You'll also help researchers study and care for leatherback sea turtle hatchlings before they're released into the wild through a partnership with Florida Atlantic University® Marine Research Lab. This bracelet represents a contribution to the clean ocean movement and leatherback sea turtle conservation.

The bracelets are made with recycled ocean plastic waste. They are adjustable from 2" to 5" in diameter. They have a 4Ocean stainless steel charm fitted. The beads are made from recycled glass.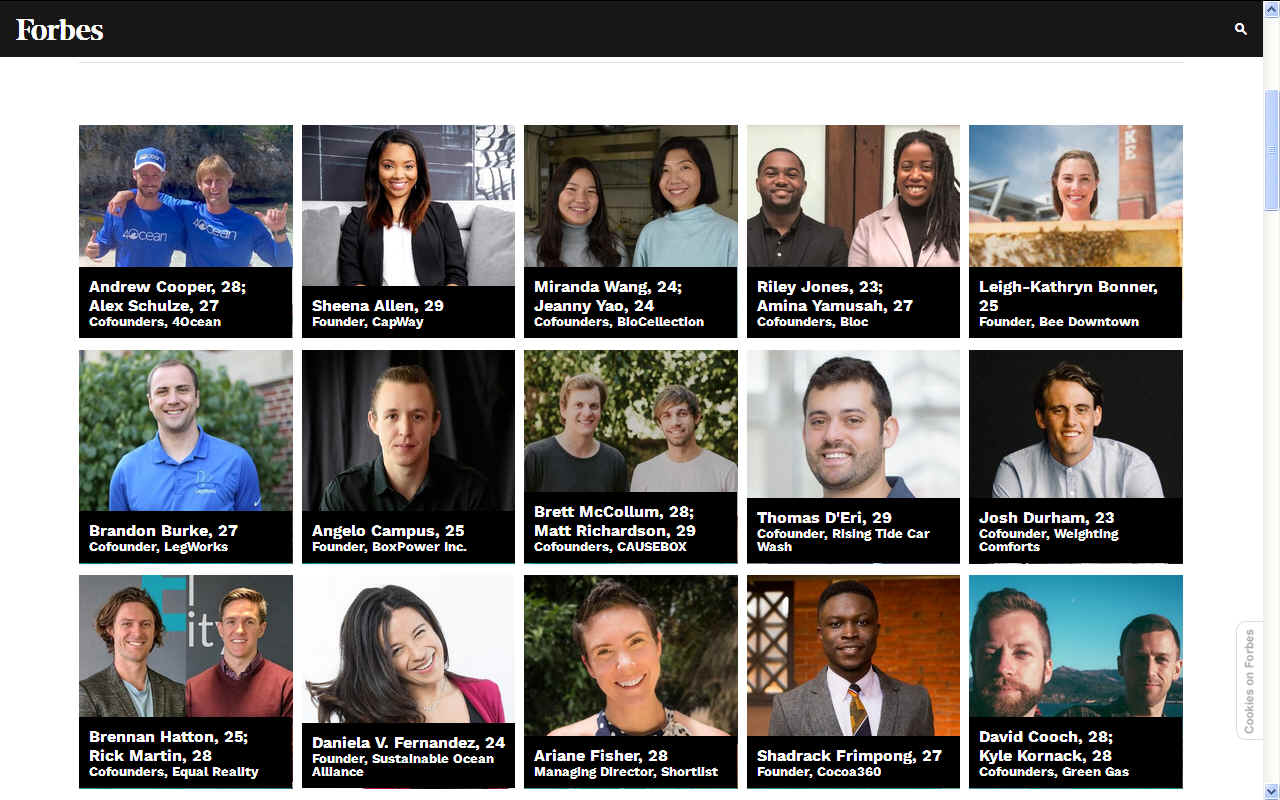 PR NEWSWIRE NOVEMBER 18 2018 - 4ocean Co-Founders Andrew Cooper and Alex Schulze Named Forbes 30 Under 30 Social Entrepreneurs

BOCA RATON, Fla., Nov. 14, 2018 /PRNewswire/ -- Each year, Forbes ranks the 30 Under 30, an annual encyclopedia of the brashest entrepreneurs across the United States and Canada. For the 2019 edition of the Forbes 30 Under 30, the 4ocean co-founding team of Andrew Cooper and Alex Schulze have been named to the Social Entrepreneur category.

Cooper and Schulze were selected from thousands of nominations. Now in its seventh year, the Forbes 30 Under 30 boasts a prestigious alumni network of 4,000 from across the globe.

Graduates of Florida Atlantic University (FAU) in 2014, the two took a surfing trip to Bali, Indonesia which would ultimately change their lives and the fate of the ocean. Devastated by the amount of plastic in the ocean, they set out to find out why no one was doing anything about this growing problem. Fishermen from a local fishing village were pushing boats through piles of plastics.
The two surfers recognized that the proliferation of plastic threatened both the ocean environment and the fishermen's livelihood. Cooper and Schulze realized that they could hire fishermen to pull plastic from the ocean and thus began 4ocean.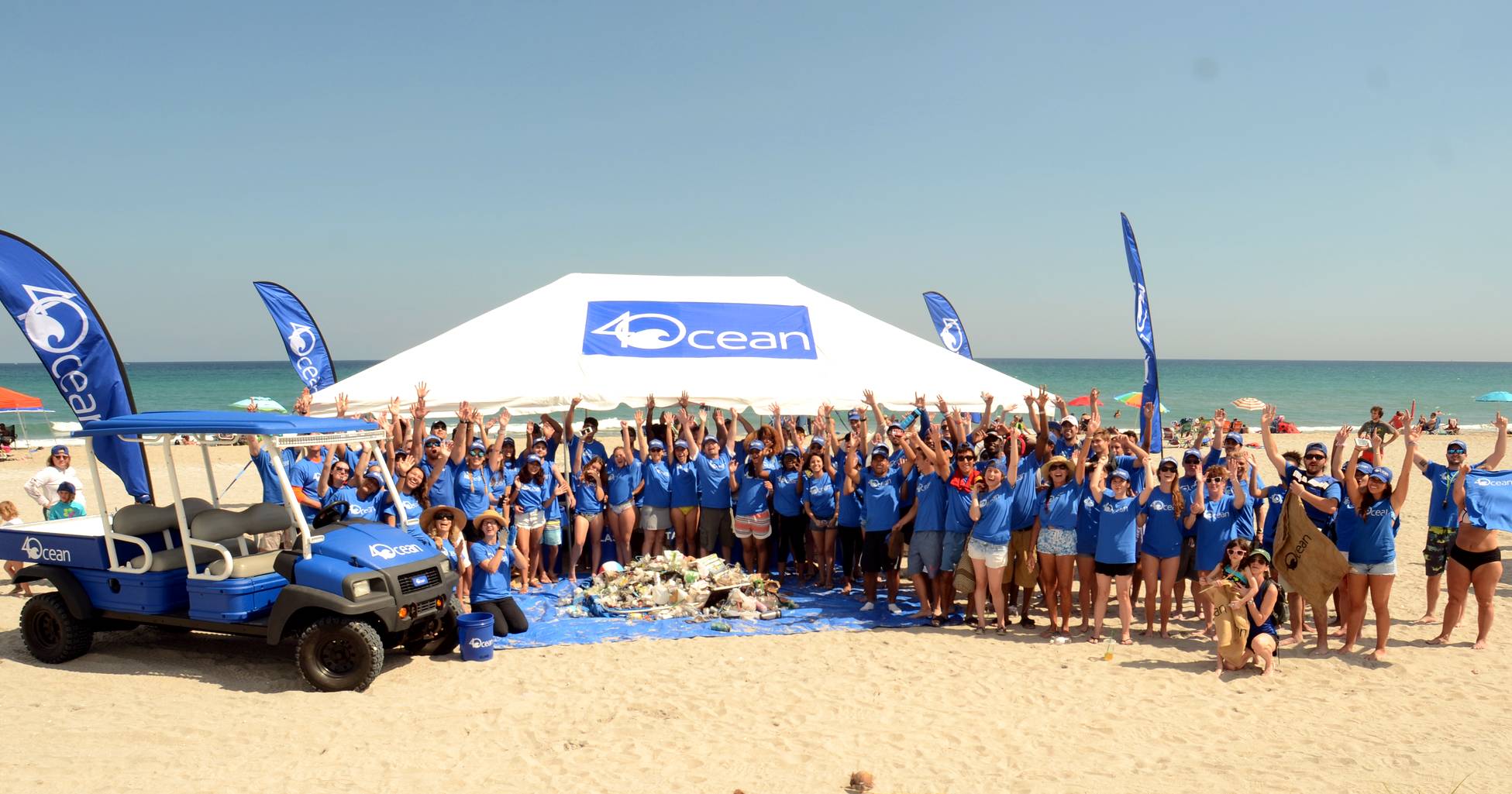 Founded in January 2017, 4ocean funds its efforts from the sale of 4ocean bracelets made from recycled materials. Every bracelet purchased removes one pound of trash from oceans and coastlines. In less than two years, 4ocean has removed 2.2 million pounds of plastic and trash from the waterways. Additional 4ocean products include reusable bottle and cleanup combos.

4ocean headquarters are based in Boca Raton, Florida. Additional cleanup headquarters are located in Bali, Indonesia and Port-au-Prince, Haiti.

4ocean is unveiling its one-of-a-kind Ocean Plastic Recovery Vessel, a 135-foot vessel outfitted will assist in the gathering of plastic and trash at domestic and international locations by targeting local and land-based coastline issues and tackling coastline plastics, containing them, collecting the, and reclaiming large-scale debris fields in the waterways. The 4ocean OPR Vessel can bring in 310,000 pounds of plastic and trash in one trip alone while small panga vessels can hold four to five supersacks carrying 1,500 pounds.

The Forbes 30 Under 30 for 2019 features 600 youthful visionaries in 20 different industries. 4ocean co-founders Cooper and Schulze are among these entrepreneurial risk-takers embodying a fresh vision, powerful technology and unwavering optimism to create movements to change the face of the world. Of the 2019 honorees, 55% are founders like Cooper and Schulze.

4ocean (www.4ocean.com) is a sustainability brand started by two twenty-something surfers, Alex Schulze and Andrew Cooper, with a vision of cleaning the ocean and coastlines, one pound at a time. Global cleanups are funded entirely through the sale of sustainability products, where every item purchased funds the removal of at least one pound of trash from the ocean. By creating jobs, utilizing the latest technology and raising awareness about the impact of trash in the ocean, the company is building the first economy for ocean plastic and creating a cleaner, more sustainable future for the ocean.

Rachael Lobeck
rachael.lobeck@4ocean.com
561-270-0650, ext. 029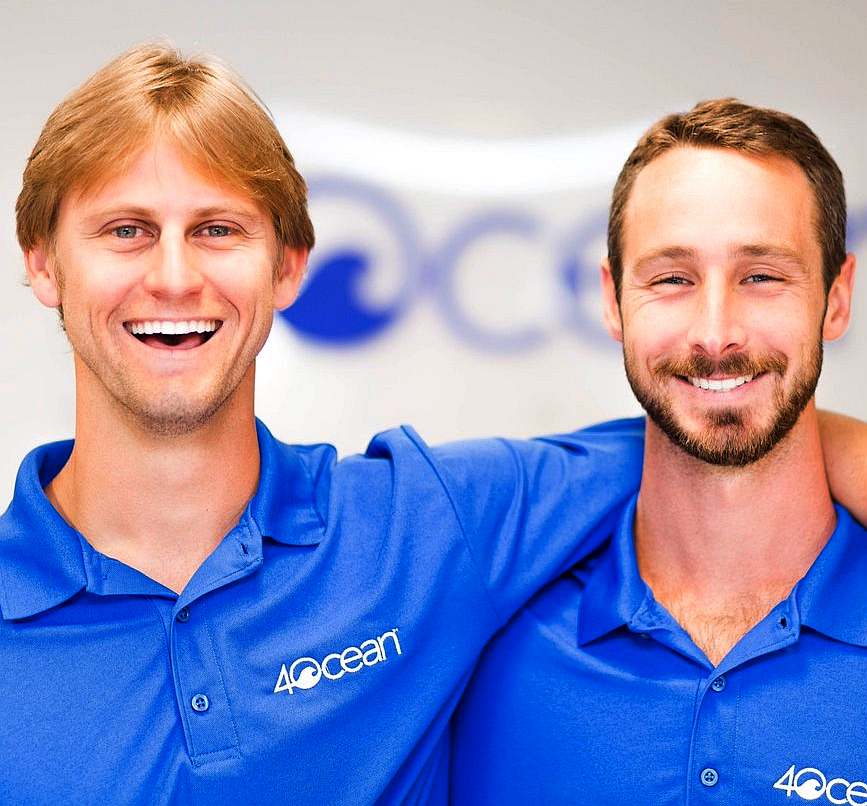 4OCEAN CO-FOUNDERS - 4Ocean sells $20 bracelets made from recycled plastic and for every bracelet purchased, the company removes one pound of trash from the ocean. In just two years, it has removed over two million pounds of trash. 4Ocean also hires local fishermen, captains and crew for all cleanups, offsetting any lost wages due to pollution.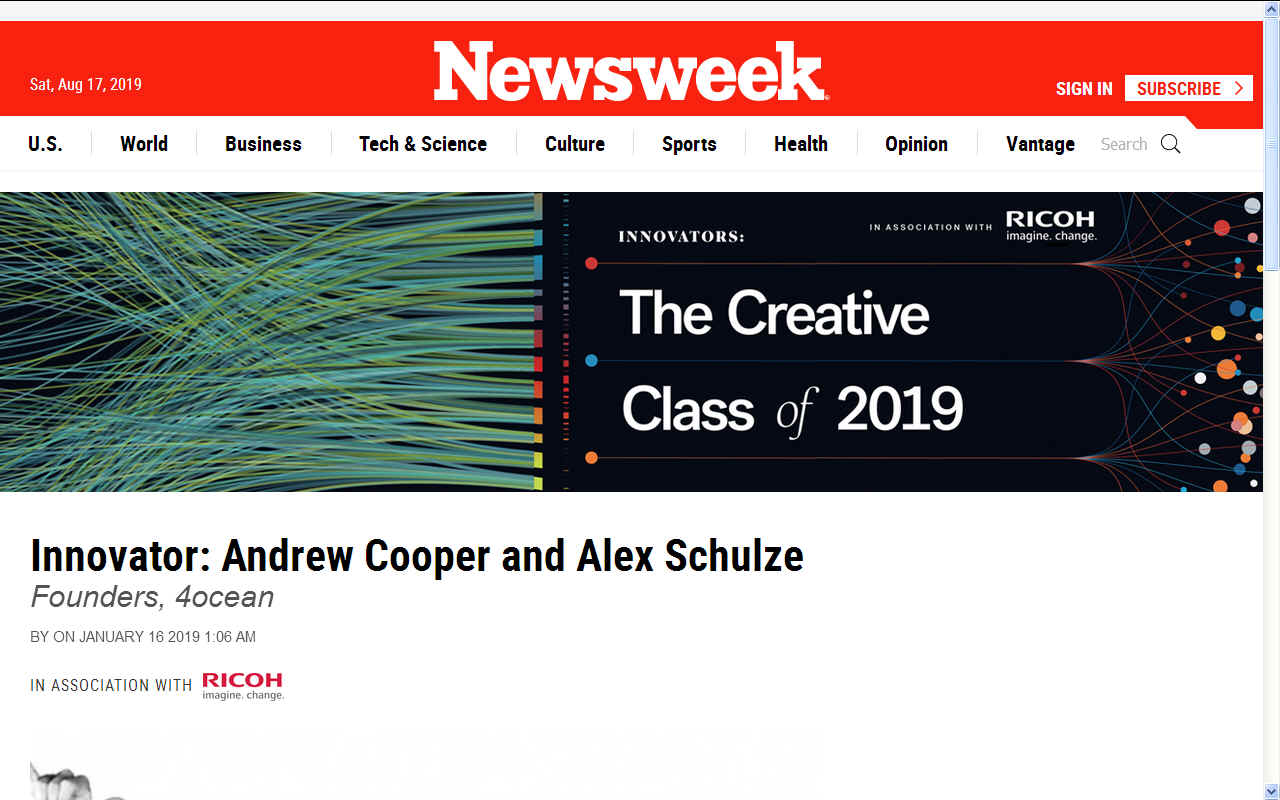 NEWSWEEK JANUARY 16 2019 - THE CREATIVE CLASS OF 2019

Innovator: Andrew Cooper and Alex Schulze
Founders, 4ocean

t was a vacation to Bali that made Andrew Cooper and Alex Schulze realize how grave marine pollution had become. "The plane was landing, and I saw what I thought were big lines of seaweed," recalls Schulze. "But they were actually little tide pools of plastic. The beach was just covered in plastic."

Avid surfers, the two college friends founded 4ocean, a for-profit that recycles ocean plastic into bracelets that sell for $20, with proceeds used to remove another pound of plastic from the water. Since January 2017, 4ocean has sold $30 million worth of bracelets and dredged over a million pounds of trash. Their success, says Cooper, comes from creating a demand for the plastic, 8 million tons of which is dumped into the ocean annually. "We wouldn't be where we are if we weren't a private company that could scale up whenever we needed," he says. "You have to find a sustainable business solution."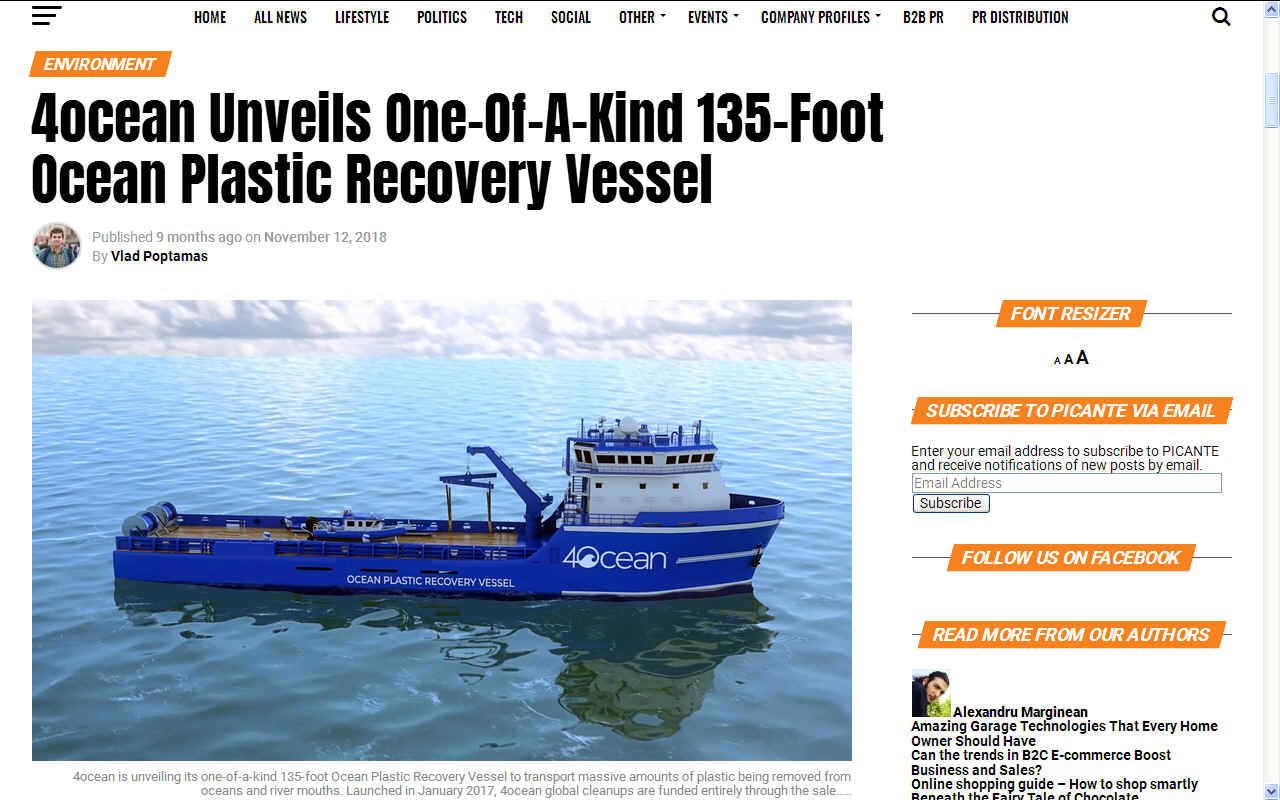 Alex Schulze is quoted as saying:

"The 4ocean OPR Vessel will transport massive amounts of plastic coupled with large booms to assist in the installation in all impactful river mouths,"
"Our mission with the OPR Vessel is to attack shoreline plastic simultaneously while booms are collecting plastic debris. At the same time, we will be handling reclamation projects in large geographic square areas to clean up the oceans and river deltas in order to make those areas functionable, usable and sustainable."
Andrew Cooper is quoted as saying:

"Our new vessel has the ability to respond to any emergency situation to recover plastic including heavy rains and floods that frequently cause mass amounts of plastic to head offshore."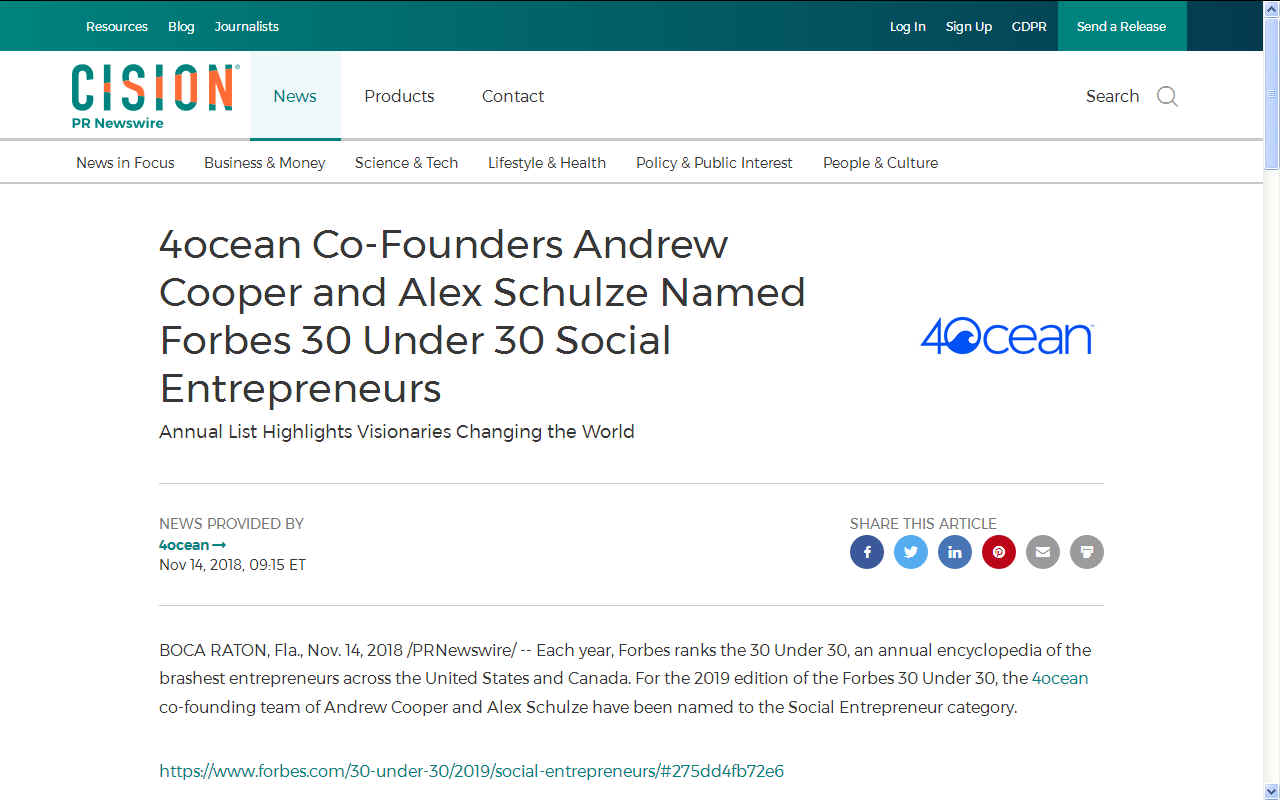 OCEAN CLEANUP PROJECTS
* Adidas
* Algalita research foundation
* Aliance to end Plastic Waste AEPW
* Boyan Slat's ocean booms
* Fionn Ferreira's ferrofluid extraction of microplastics
* Junk Raft - plastic awareness voyage
* Miss Ocean - Plastic Awareness Events
* 4Ocean recycled plastic bracelets
* Plastic Oceans Canada
* Plastic Oceans Org
* Seabin
* SeaVax autonomous drones
* Surrey University PIRATE & Triton
4Ocean are not alone in the fight against ocean plastic. These emerging technologies could all play a part in containing the mountain of plastic that is accumulating on the oceans floors, by recovering floating debris before it sinks. New ideas are welcomed.
Website: https://4ocean.com/
Instagram: https://www.instagram.com/4ocean/
Facebook: https://www.facebook.com/4OceanBracelets/
Twitter: https://twitter.com/4OceanBracelets

LINKS & REFERENCE

https://www.cnbc.com/2018/09/07/4oceans-cleaned-up-1-million-pounds-of-ocean-garbage.html
https://www.quora.com/Is-the-4Ocean-bracelet-campaign-real
https://www.prnewswire.com/news-releases/ocean-cleanup-company-makes-5-million-pound-splash-300874843.html
https://www.forbes.com/profile/4ocean/?list=30under30-social-entrepreneurs#60cb517e32ba
https://www.forbes.com/30-under-30/2019/social-entrepreneurs/#d09972072e66
https://www.prnewswire.com/news-releases/4ocean-co-founders-andrew-cooper-and-alex-schulze-named-forbes-30-under-30-social-entrepreneurs-300750165.html
https://www.newsweek.com/sponsored/creative-class-2019/andrew-cooper-and-alex-schulze
https://www.tuko.co.ke/311131-4ocean-net-worth-how-founders-worth-2019.html#311131
PR@4ocean.com
https://4ocean.com/