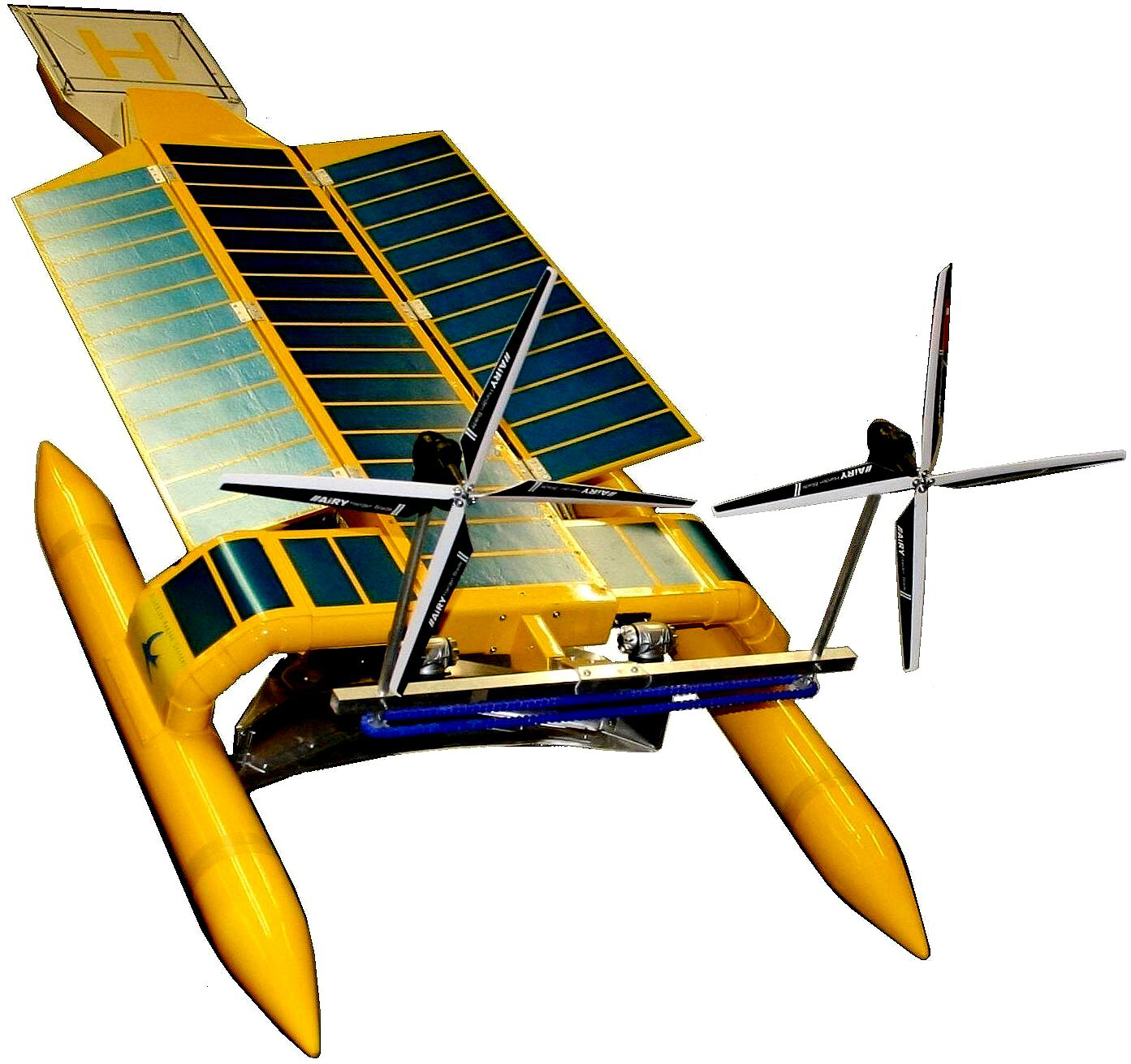 LITTER CLEANER - This 44m machine is designed to be operated in fleets to target ocean waste in blue water and in rivers. This present proposal is for a pilot derivation of the above machine, limited to around 16 meters in length, with an active cleaning head spanning 6.75 meters. This 1:20 model did not feature moveable wind turbines and the solar wings had limited angular movement. The proposed Pilot vessel will be around 7.5 times the size of this proof of concept machine.
Work package 1 has two main parts interlinked:
a) to design a mobile platform of a moderate size that may support water filtration equipment and the storage of collected marine litter for transfer to a recycling partner on land or another floating workstation.
b) to incorporate (integrate) on the mobile platform solar and wind energy harvesting apparatus.
The design of the cleaning machine has been specifically adapted to meet the objectives as per the cal:
SCOPE - "The overall goal of this topic is the demonstration of approaches or technologies to improve marine spatial planning and conservation (or even restoration) of coastal ecosystems. More specifically, this topic is for the demonstration of technologies to clean the seafloor and the surface of nearshore waters, and possibly the water column, from historically accumulated plastics and micro-plastics as well as from other accumulated marine litter and the assessment of effectiveness and impact."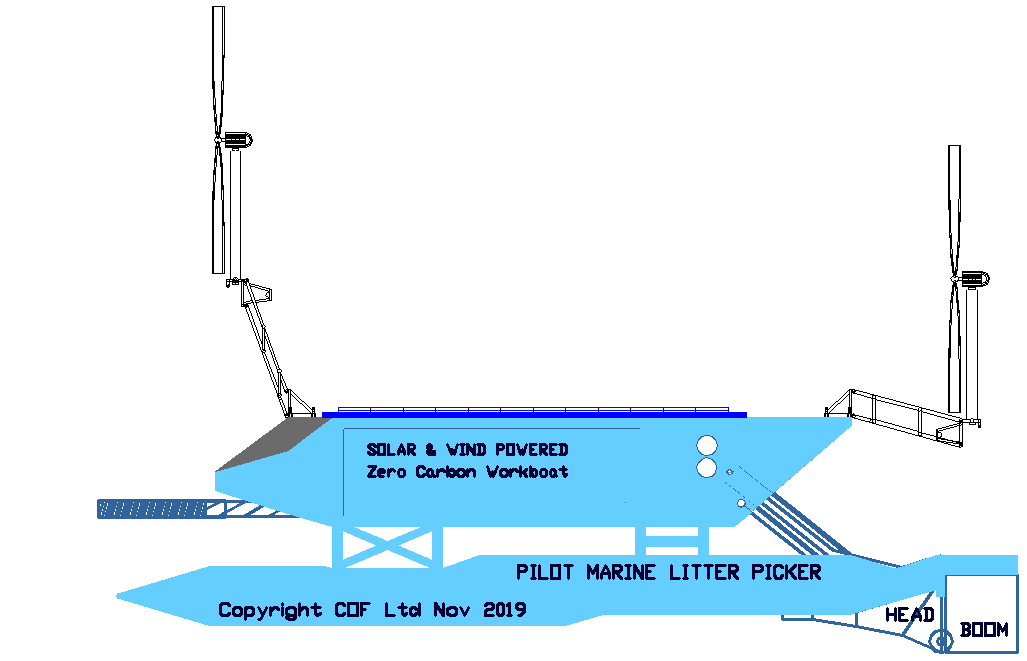 SOLAR HAWT PLATFORM - The machine is solar and wind powered for sustainable long endurance tours of duty. In this diagram featuring two 5kW horizontal axis wind turbines, one at either end of the vessel to reduce interference. The masts may be raised and lowered according to weather conditions.
FLOATING WORK STATION
The platform is to be designed to be made economically and in a short space of time, yet still perform in a harsh marine environment for many years low maintenance. For this reason we will be using 5083 alloy predominantly. Though the base material and fabrication cost is higher, in the long-term operating costs will be lower because of the increased life cycle.
The platform should be of a suitable size as to accommodate a collector head that might service marinas and harbours and operate close to shores (where that might yield results).
The collector head should be able to work at the surface and at different depths, a part of WP 2, but must fit within the mobile platform.
The platform should accommodate a waste storage hopper of a size to endear economical operation. This will be largely determined by production costs. The project will consider 15 and 35 m3 designs.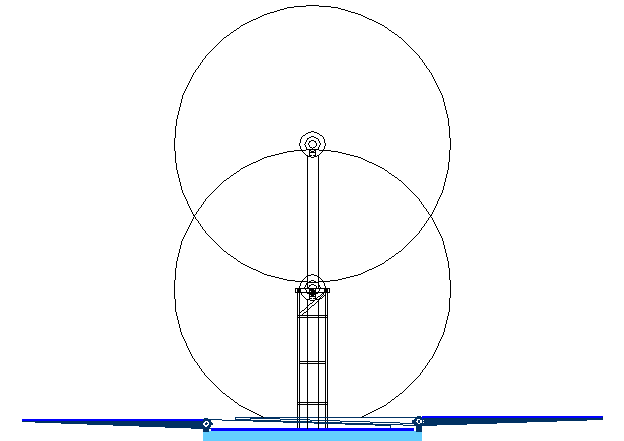 HAWT & SOLAR COMBO - Twin horizontal axis turbines present a useful sail area, in addition to generating electricity. Just the top of the Pilot vessel is seen here cruising toward us with either a trailing or head on wind. In reality, the wind will be coming from different angles, reducing the interference between turbines.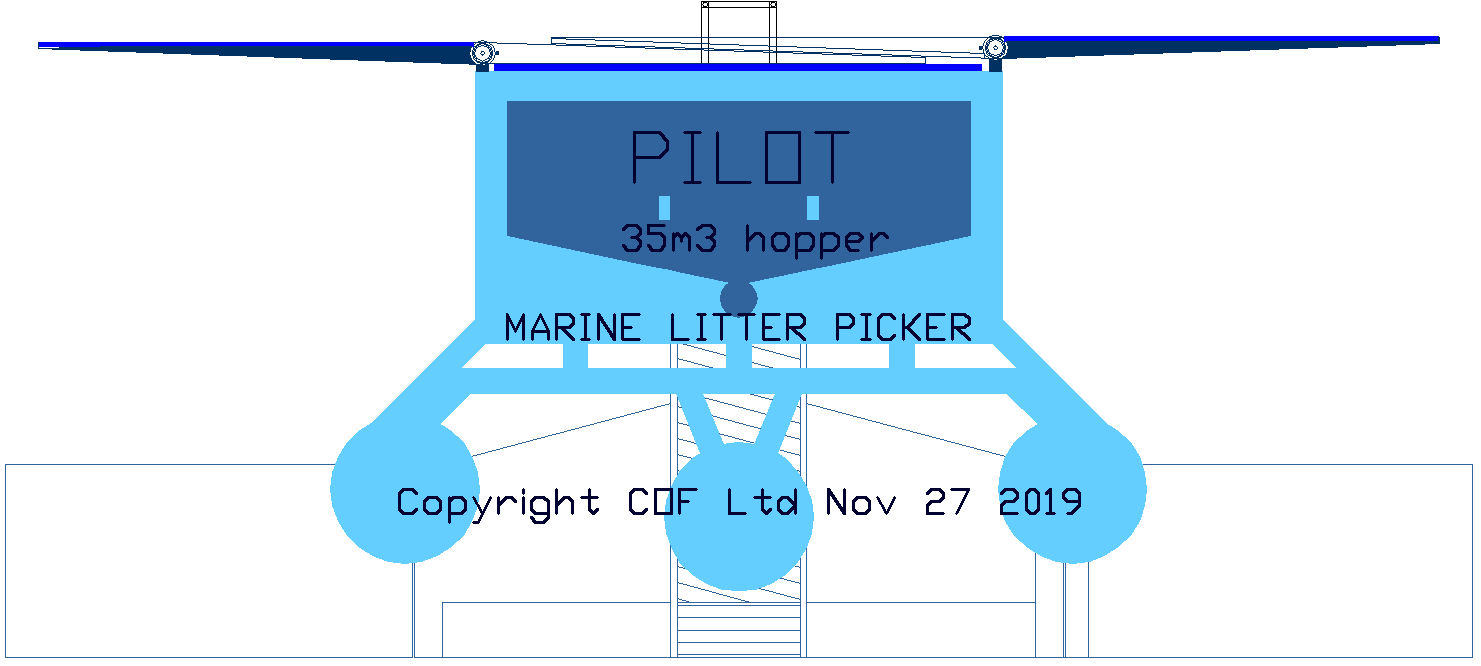 PLATFORM DESIGN - In this diagram we see enlarged solar wings to generate 13kW of energy, also meaning we might accommodate a storage hopper of 35 cubic meters. With twin 5kW wind turbines, we are looking at 23kW peak filtration power - zero carbon. Thirty-five meters of compressed waste is equal to around 50 meters of typical uncompressed skimmed waste.
SOLAR & WIND APPARATUS
This WP also includes the design of solar and wind apparatus for incorporation into/onto the mobile platform in A. to enable long endurance operations in a marine environment, also including sufficient space to accommodate a battery energy store by way of reserve capacity.
The platform should be capable of being positioned in unmanned mode and monitor surroundings for potential navigational conflict, such as to shut down and take avoiding action if necessary.
As part of this WP and before WP 5 (construction), a model of the platform should be produced at 1:10 scale for the purpose of tank testing to confirm stability of the machine in rough seas and storm conditions.
ENERGY MANAGEMENT
Energy management is covered in WP3, but at the design stage, we must provide capacity to carry batteries with sufficient reserves to give the vessel steerage during transits for around 3 days.
RECYCLING
The onboard recycling of marine litter in this present project is limited to grading/compression, where additional treatment would significantly reduce the energy available for harvesting. This is in contrast to projects like Sea Litter Critters, where plastics are reduced thermally with plasma technology onboard, a system that could (conceivably and subject to energy requirement) be incorporated on larger blue water SeaVax designs to aid treated chemical transfers (where vessels may not have internal combustion engines). This is a subject that is well worth investigation once the basic harvesting platform is proven, but is outside the scope of this present call.
PARTNERS WORKING ON THIS WP
TBA, post Agreement as set out in Letter of Intent for the purposes of cementing the consortium.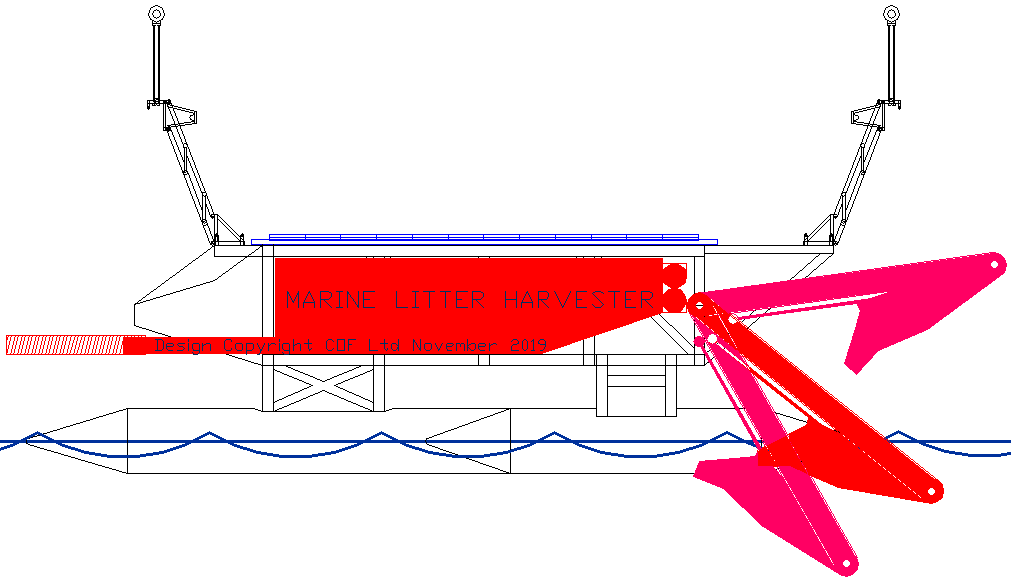 COMBINED HARVESTER - This diagram shows the storage chambers, offloading tube extended for dockside transfers and the collector head at three different heights, raised out of the sea for transit, normal operations down to 1 meter, and lowered for microplastics in rivers and shores.
Divided into ten Work Packages (WPs), COF's project structure aims to harness the potential of each individual partner and at the same time promote collaboration within a consortium of expert organizations, while also covering all its research, technology and management objectives.
PROJECT WORK PACKAGES -
3. PROGRAMMING
7. OPERATIONS
8. RECYCLING
TECHNOLOGY SUPPLIERS
| | | |
| --- | --- | --- |
| No | COUNTRY | DESCRIPTION |
| - | - | - |
| 1 | Denmark | Optimal routing for wind/solar |
| 2 | France | Automation energy harvesting |
| 3 | UK | Engineering & design |
| 4 | Spain | Micro plastics |
| 5 | Turkey | Automation litter harvesting |
| 6 | Spain | Platform design |
| 7 | Greece | Naval architects |
| 8 | Germany | Commercialization finance |
| 9 | Netherlands | Remote navigation |
| 10 | Spain | Water treatment |
| 11 | Spain | Solar panel design |
| 12 | Portugal | Comms |
| 13 | Turkey | Energy management |
| 14 | UK | Plastic recycling |
| 15 | Switzerland | Friction reducing coatings |
| 16 | UK | Wind turbines |
| 17 | Spain | Solar energy systems |
| 18 | Spain | Object recognition |
| 19 | France | Earth observation prediction |
| 20 | UK | Litter harvesting machinery |
| 21 | Slovenia | Weather information |
NOTE: Work packages may proceed in parallel or be triggered as a preceding stage is completed as a logical follow on.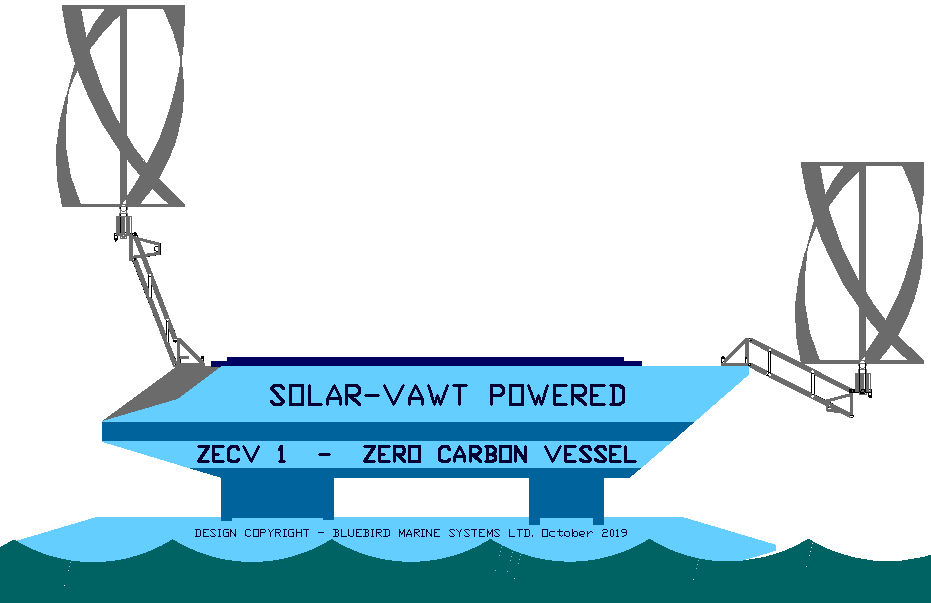 SOLAR VAWT PLATFORM - This 16m (LWL) design features a collecting head approximately 6.75 meters wide. The machine is solar and wind powered for sustainable long endurance tours of duty. In this case featuring vertical axis wind turbines. The operating end of this machine in on the right in this configuration. In the diagram below the vessel is working in the opposite direction.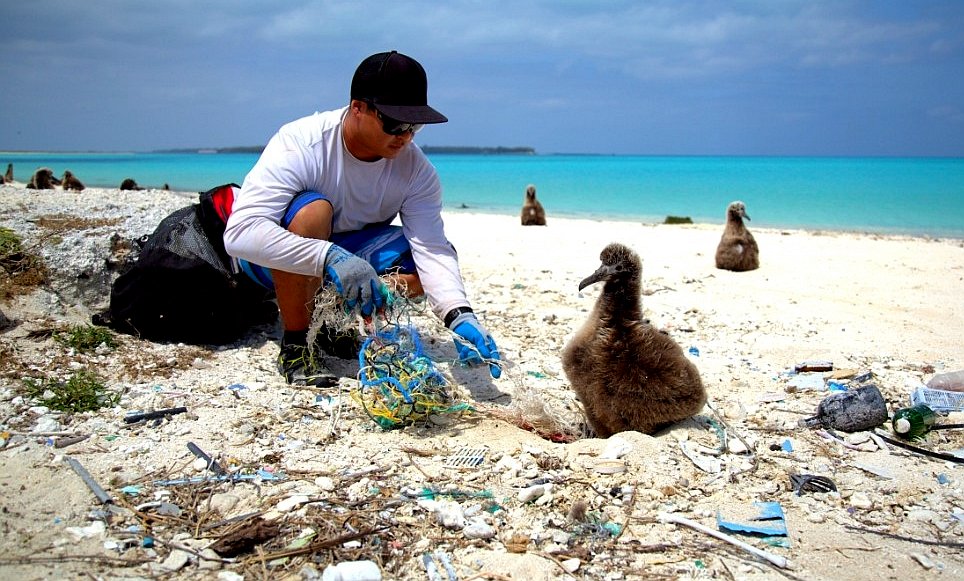 UPSETTING NATURE - Seabirds and marine mammals ingest marine plastic, suffering excruciating deaths in most cases as they expire from starvation, but also disturbing natural evolution and balance.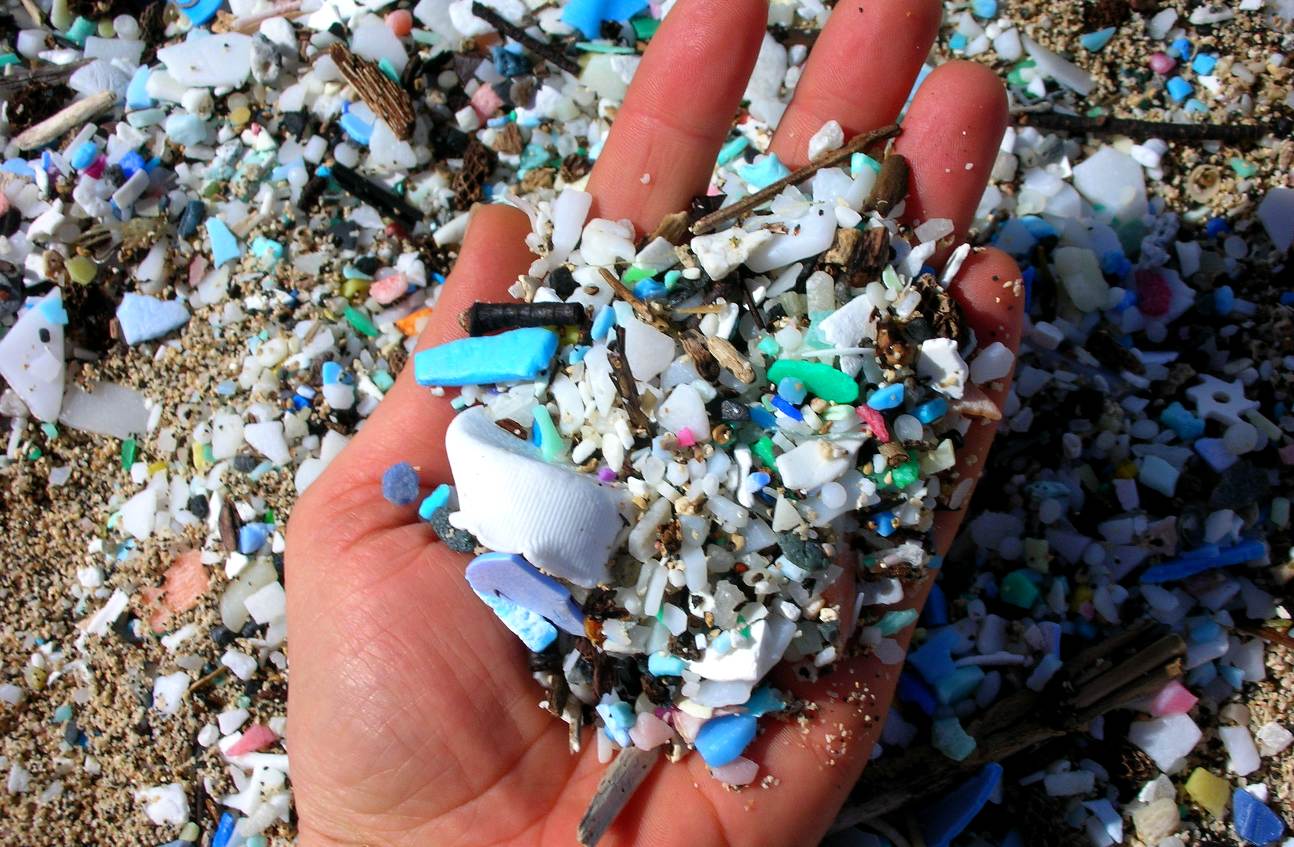 SUSTAINABILITY

This project ticks the United Nation's Sustainable Development Goals (SDGs):
SDG 2 – Zero Hunger;
SDG 6 – Clean Water and Sanitation;
SDG 8 – Inclusive and sustainable economic growth;
SDG 9 – Sustainable Industrialisation;
SDG 11 – Sustainable Cities and Communities;
SDG 12 – Responsible Consumption and Production;
SDG 13 – Climate Action;
SDG 15 – Life on Land.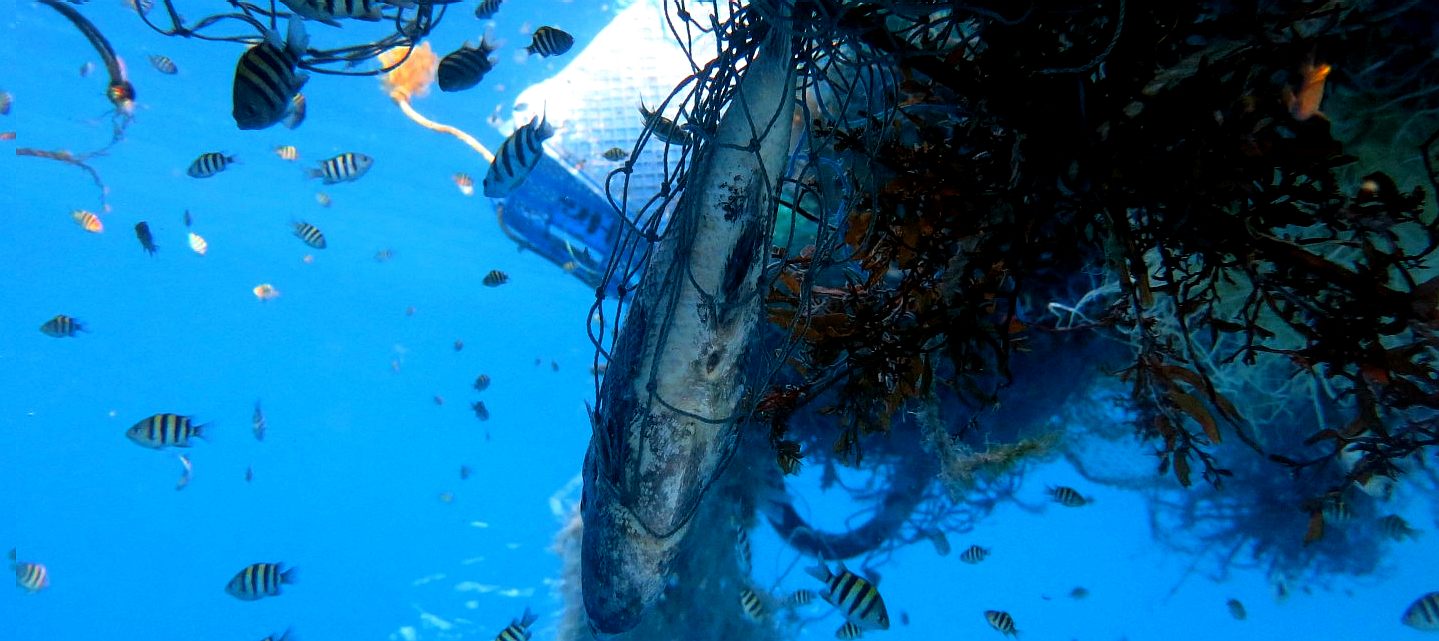 PROBLEM - From 2000 to 2012, the National Marine Fisheries Service reported an average of 11 large whales entangled in ghost nets every year along the US west coast. From 2002 to 2010, 870 nets were recovered in Washington (state) with over 32,000 marine animals trapped inside. Ghost gear is estimated to account for 10% of all marine litter.
LINKS & REFERENCE
http://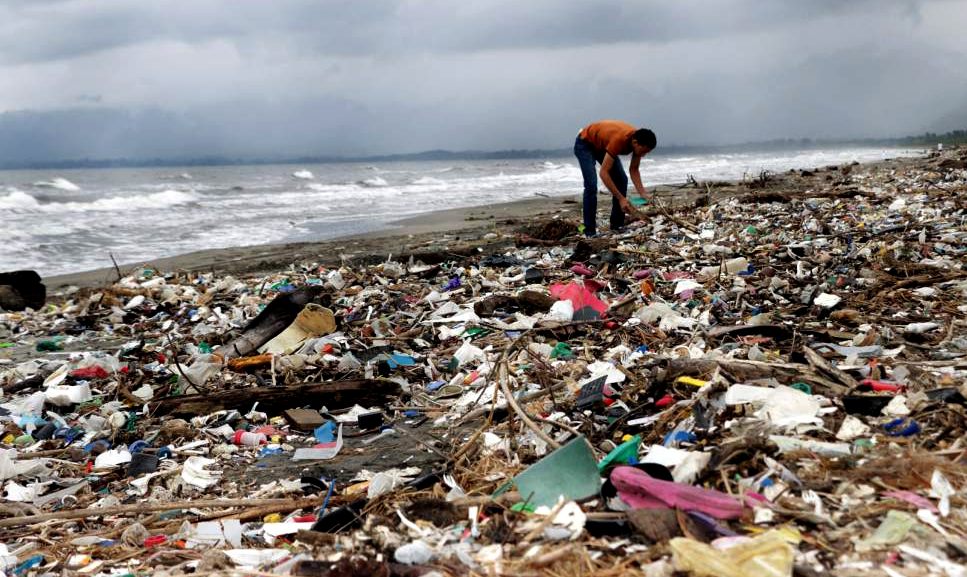 COASTAL TOURISM - Beaches like this all over the world tell the story, affecting coastal tourism and killing wildlife.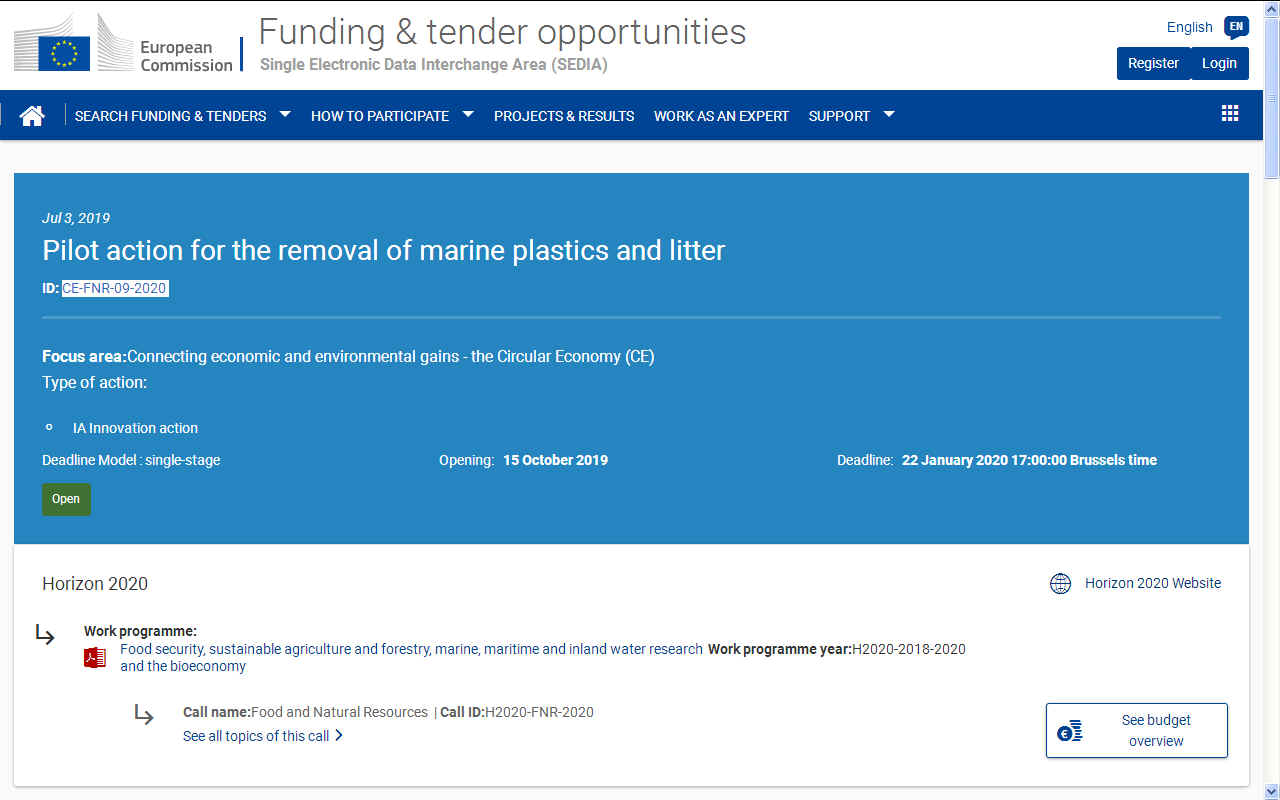 H2020 WORK PROGRAMME - Pilot action for the removal of marine plastics and litter. Cleaner Ocean Foundation Ltd would be interested in forming or joining a consortium for this call and are currently seeking eligible collaborative partners within and outside of the EU.