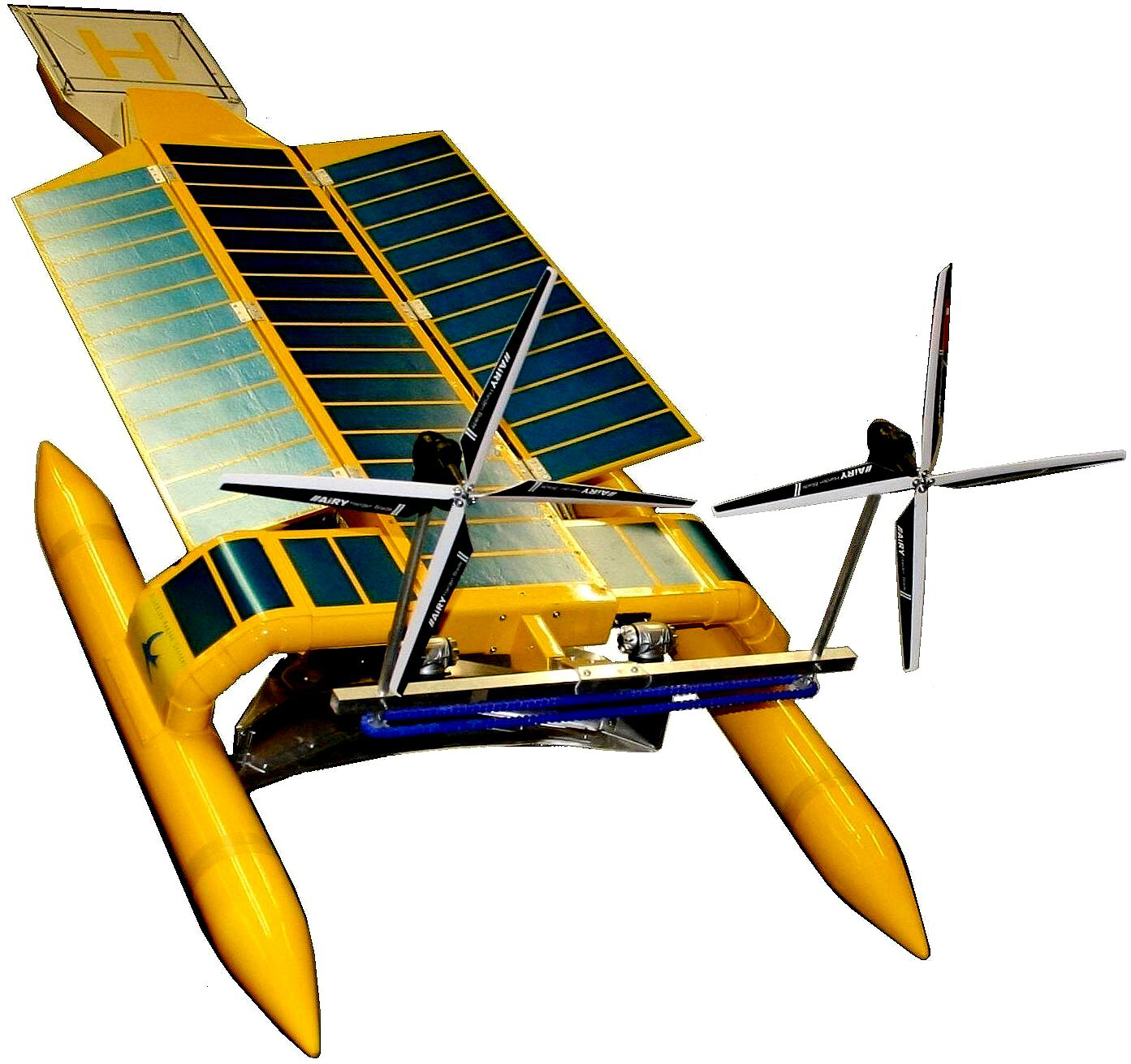 LITTER CLEANER - This 44m machine is designed to be operated in fleets to target ocean waste in blue water and in rivers. This present proposal is for a pilot derivation of the above machine, limited to around 16 meters in length, with an active cleaning head spanning 6.75 meters. This 1:20 model did not feature moveable wind turbines and the solar wings had limited angular movement. The proposed Pilot vessel will be around 7.5 times the size of this proof of concept machine.
Work Package 9 is to:
a) Conduct a Life Cycle Management assessment of the service life of such social assets for longevity against servicing in terms of costs/benefits aimed at food security and ocean conservation.
b) Developing a business (funding) model aimed at encouraging independent entrepreneurs, local authorities and international organizations.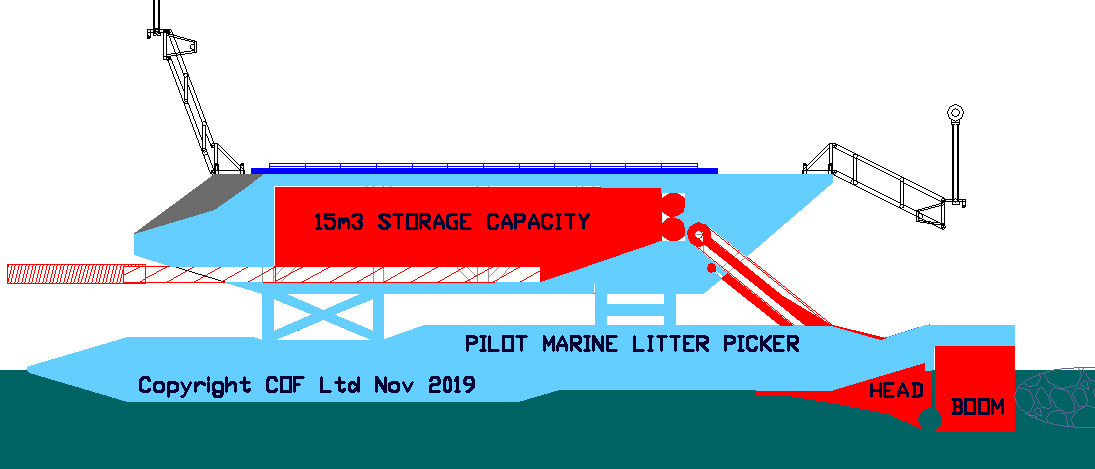 SIDE VIEW - The same machine looking through the superstructure, we can see a boom ahead of the cleaning head on the right, guiding litter into the filtration head, where it is lifted up into the large storage chamber, then carried to a harbour for offloading. The vessel is designed to navigate itself to a designated location, with input from human operators, where a dockside container system allows speedy turnarounds. Copyright © diagrams 21 November 2019. All rights reserved, Cleaner Ocean Foundation Ltd.
PROJECT WORK PACKAGES -
3. PROGRAMMING
7. OPERATIONS
8. RECYCLING
Divided into ten Work Packages (WPs), COF's project structure aims to harness the potential of each individual partner and at the same time promote collaboration within a consortium of expert organizations, while also covering all its research, technology and management objectives.
PARTNERS WORKING ON THIS WP
TBA, post Agreement as set out in Letter of Intent for the purposes of cementing the consortium.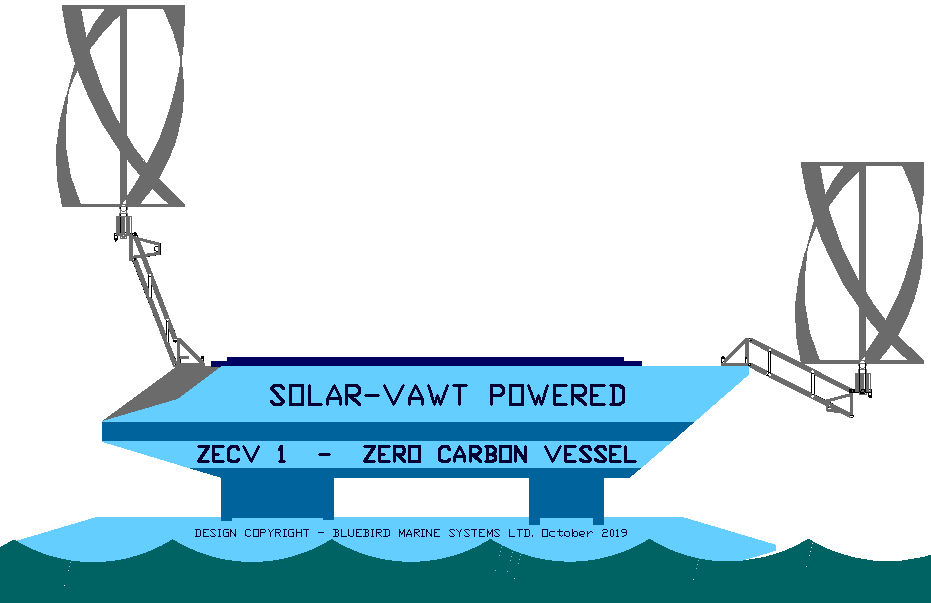 SOLAR VAWT PLATFORM - This 16m (LWL) design features a collecting head approximately 6.75 meters wide and a 20 ton storage capacity. The machine is solar and wind powered for sustainable long endurance tours of duty. In this case featuring vertical axis wind turbines.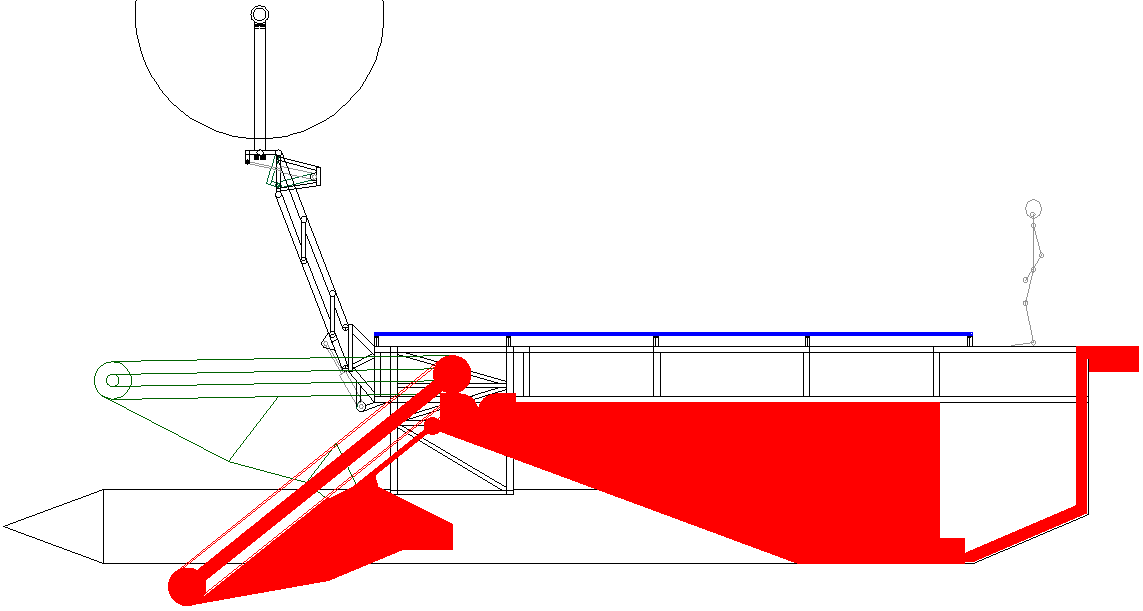 12 METER - In this diagram we see how a cleaning head at the operating end of this vessel (shown in red on the left) might be incorporated as part of a dedicated litter collecting machine. This design has limited storage and energy harvesting capacity, hence may not fare as well in operations over six months as the MultiVax Pilot. But it was a good start and may yet prove to have use.

TECHNOLOGY SUPPLIERS
| | | |
| --- | --- | --- |
| No | COUNTRY | DESCRIPTION |
| - | - | - |
| 1 | Denmark | Optimal routing for wind/solar |
| 2 | France | Automation energy harvesting |
| 3 | UK | Engineering & design |
| 4 | Spain | Micro plastics |
| 5 | Turkey | Automation litter harvesting |
| 6 | Spain | Platform design |
| 7 | Greece | Naval architects |
| 8 | Germany | Commercialization finance |
| 9 | Netherlands | Remote navigation |
| 10 | Spain | Water treatment |
| 11 | Spain | Solar panel design |
| 12 | Portugal | Comms |
| 13 | Turkey | Energy management |
| 14 | UK | Plastic recycling |
| 15 | Switzerland | Friction reducing coatings |
| 16 | UK | Wind turbines |
| 17 | Spain | Solar energy systems |
| 18 | Spain | Object recognition |
| 19 | France | Earth observation prediction |
| 20 | UK | Litter harvesting machinery |
| - | - | - |
POLITICS
We remain hopeful that EU politicians and policy makers will want projects like this to run full term, but should the worst happen and Brexit* becomes an issue such as to cause any member to be forced to walk away from participation in their original role, then in that unfortunate situation the partners agree that the technology that they bring to the table leaves with them.
The lead partner for WP 9 is based in Germany.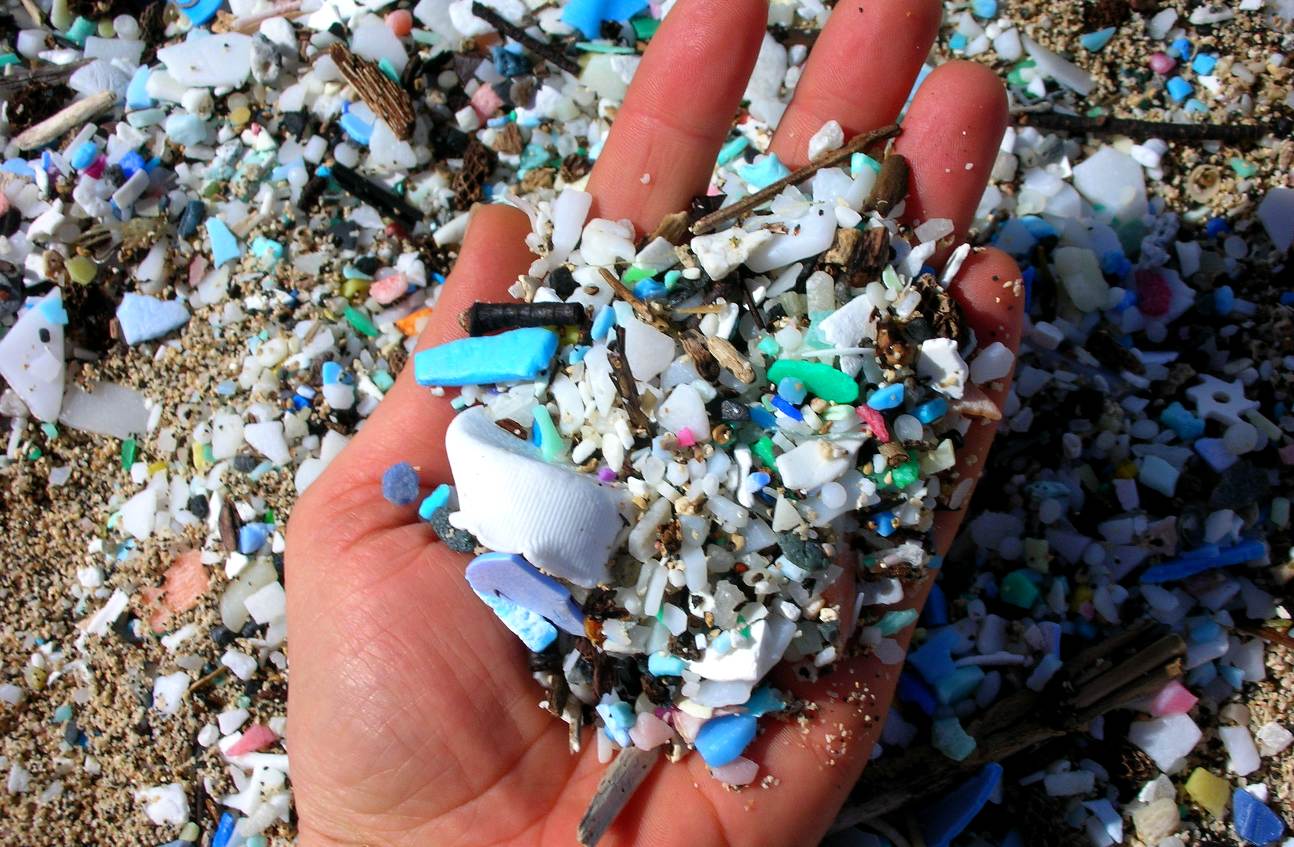 SUSTAINABILITY

This project ticks the United Nation's Sustainable Development Goals (SDGs):
SDG 2 – Zero Hunger;
SDG 6 – Clean Water and Sanitation;
SDG 8 – Inclusive and sustainable economic growth;
SDG 9 – Sustainable Industrialisation;
SDG 11 – Sustainable Cities and Communities;
SDG 12 – Responsible Consumption and Production;
SDG 13 – Climate Action;
SDG 15 – Life on Land.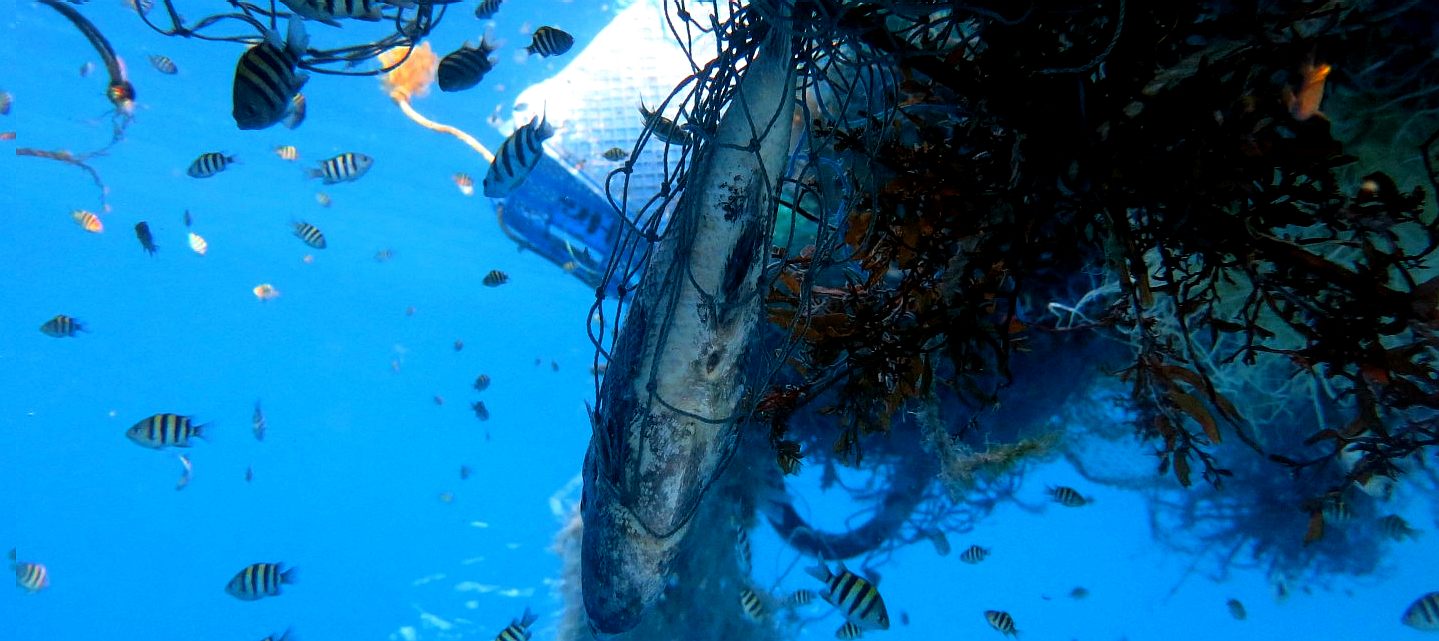 PROBLEM - From 2000 to 2012, the National Marine Fisheries Service reported an average of 11 large whales entangled in ghost nets every year along the US west coast. From 2002 to 2010, 870 nets were recovered in Washington (state) with over 32,000 marine animals trapped inside. Ghost gear is estimated to account for 10% of all marine litter.
LINKS & REFERENCE
http://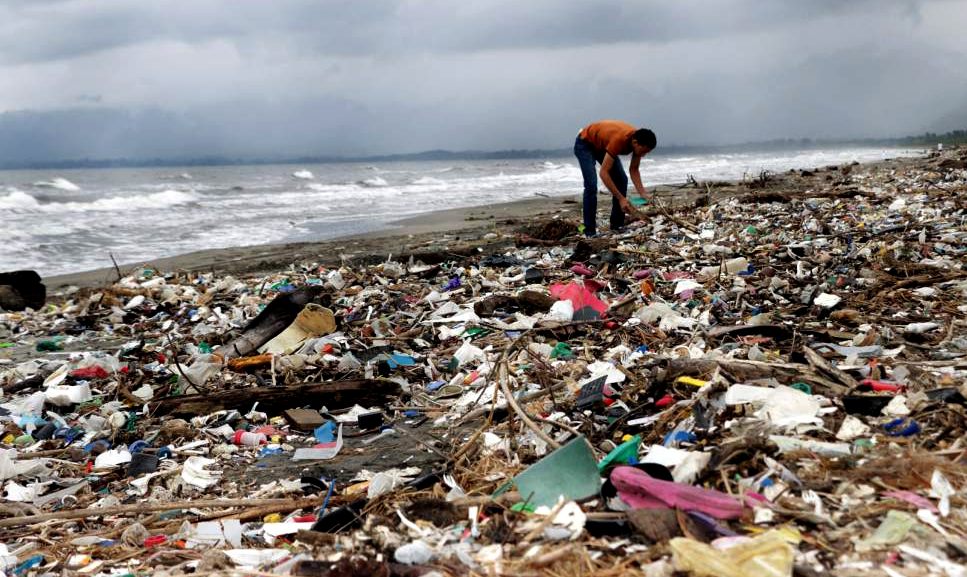 COASTAL TOURISM - Beaches like this all over the world tell the story, affecting coastal tourism and killing wildlife.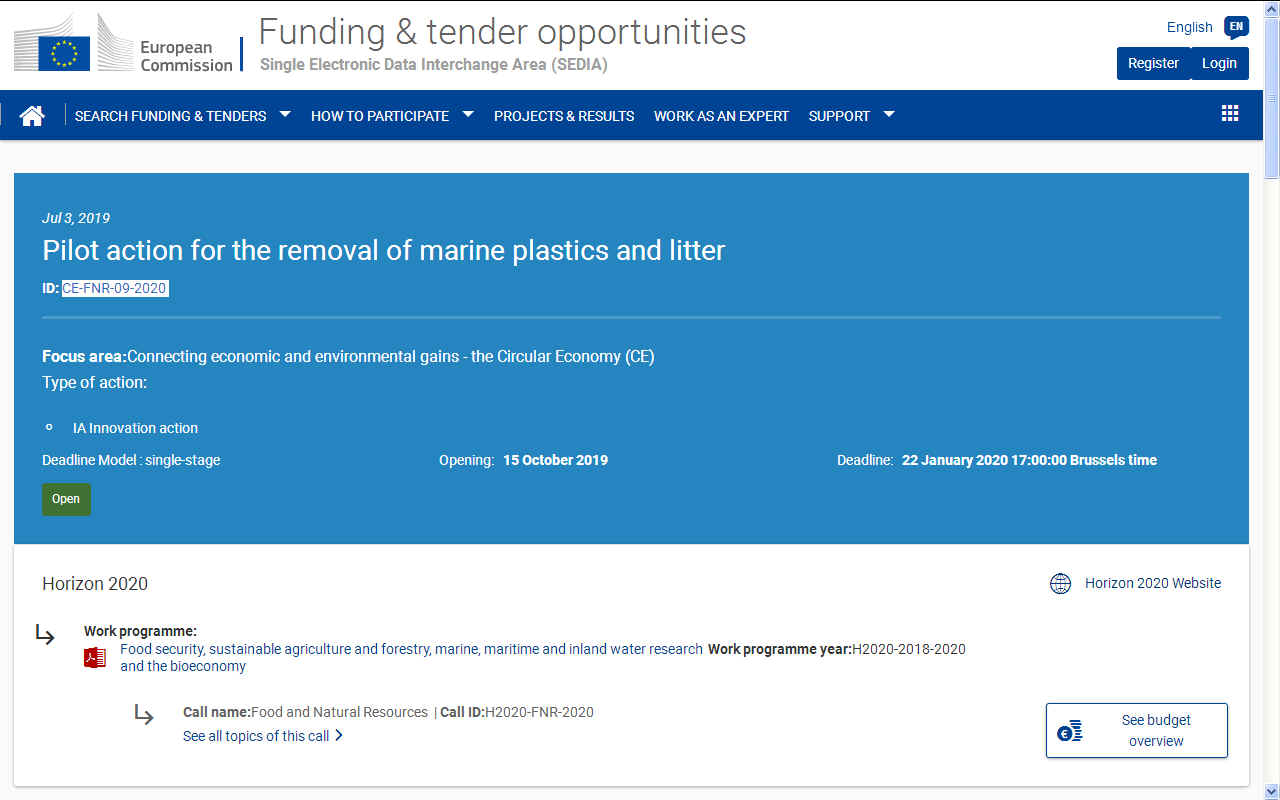 H2020 WORK PROGRAMME - Pilot action for the removal of marine plastics and litter. Cleaner Ocean Foundation Ltd would be interested in forming or joining a consortium for this call and are currently seeking eligible collaborative partners within and outside of the EU.