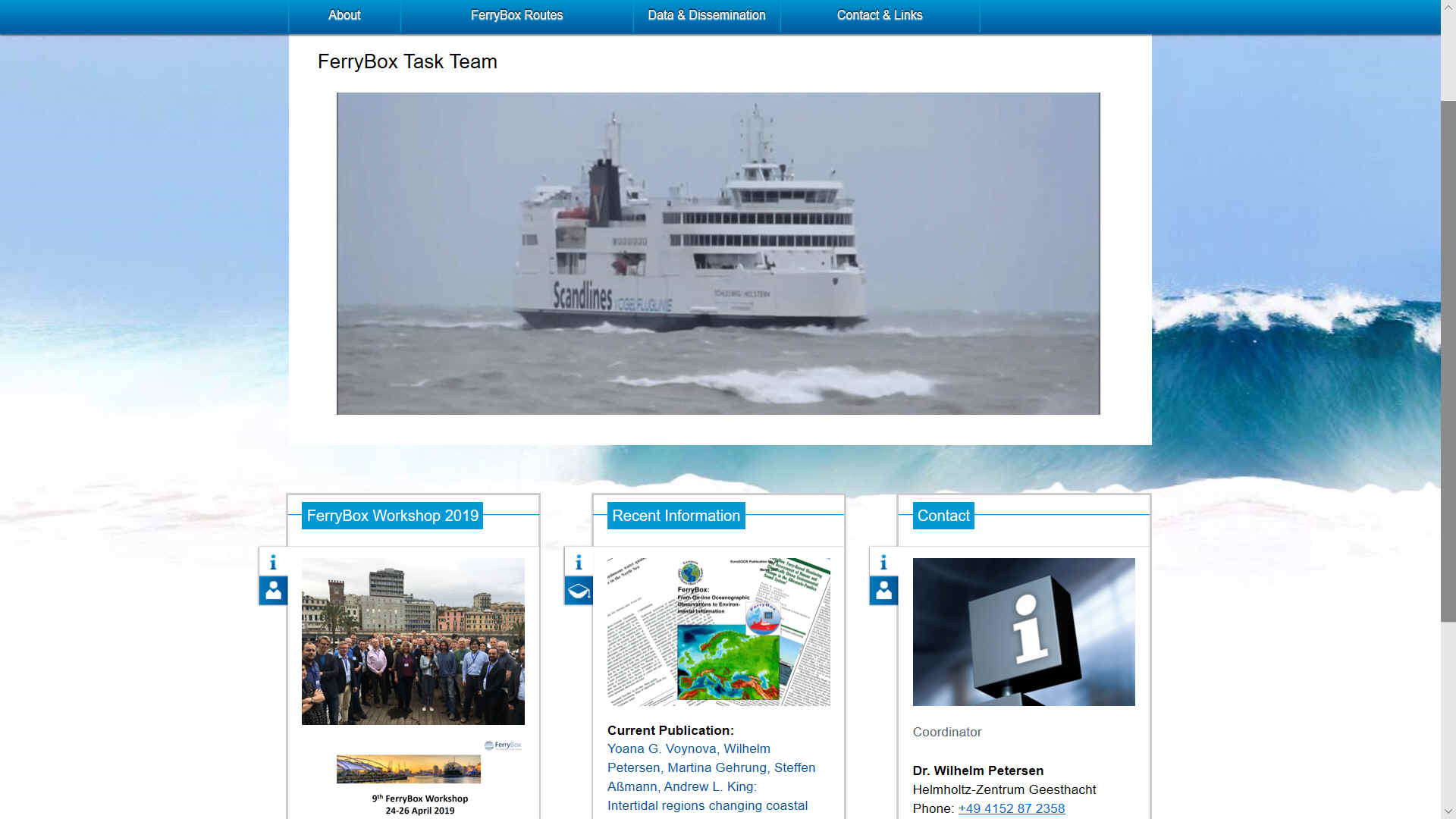 ---
A FerryBox is an autonomous systems for continuous monitoring of physicochemical and environmental parameters. They are installed in commercial vessels and ferries to piggy-back scheduled operations for routine measurement along appropriate routes.
As a vessel travels their route a FerryBox collects, samples and monitors environmental parameters such as seawater temperature, salinity, dissolved oxygen concentration, turbidity, chlorophyll concentration, seawater alkalinity-pH.
The data is transmitted in real-time and stored at data bases providing the scientific community with a useful research tool and users with a live image of environmental conditions.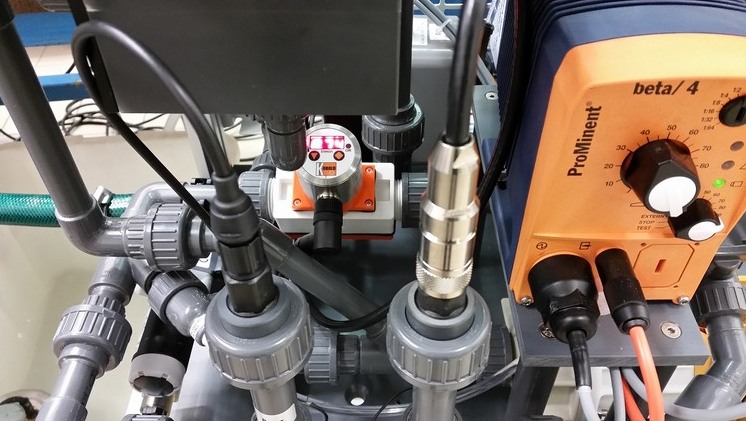 The FerryBox, developed by the Department of In-situ Measurement Systems is an automated measurement system for determining physical and biogeochemical variables in surface seawater. FerryBoxes are installed onboard of commercial vessels cruising along regularly scheduled routes (e.g., on ferries or cargo ships).

A FerryBox system consists of a water inlet from which seawater is pumped into the measuring circuit containing multiple sensors. This inlet may be positioned at the sea-chest or through the hull of the ship, using a valve especially designed for the FerryBox purposes. For correct seawater temperature measurements, an extra temperature sensor is installed close to the inlet or on the hull of the vessel. An optional debubbling unit removes air bubbles, which may enter the circuit during rough seas.

A basic FerryBox setup includes sensors for temperature, salinity, turbidity and chlorophyll-a fluorescence, and a GPS receiver for position control. The systems at HZG include additional sensors, e.g. for dissolved oxygen, pH, pCO2 or algal groups, as well as meteorological instruments. Furthermore, a cooled water sampler allows for collection of bottle samples at certain positions for subsequent lab analysis.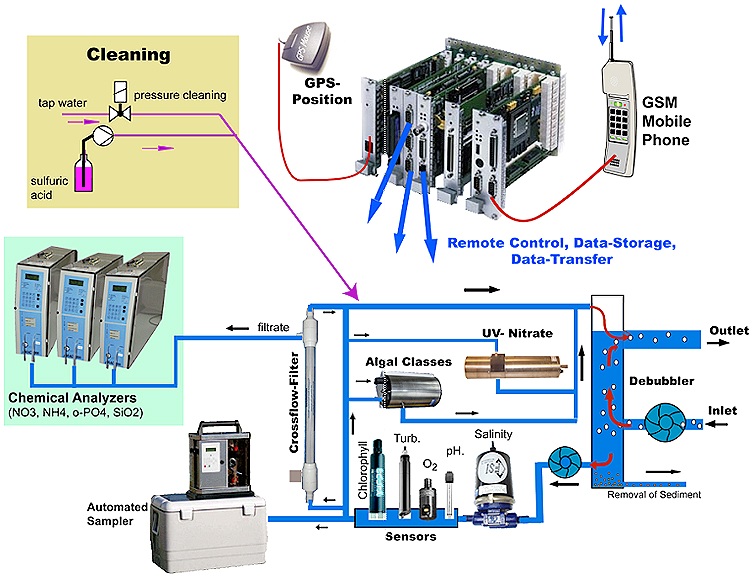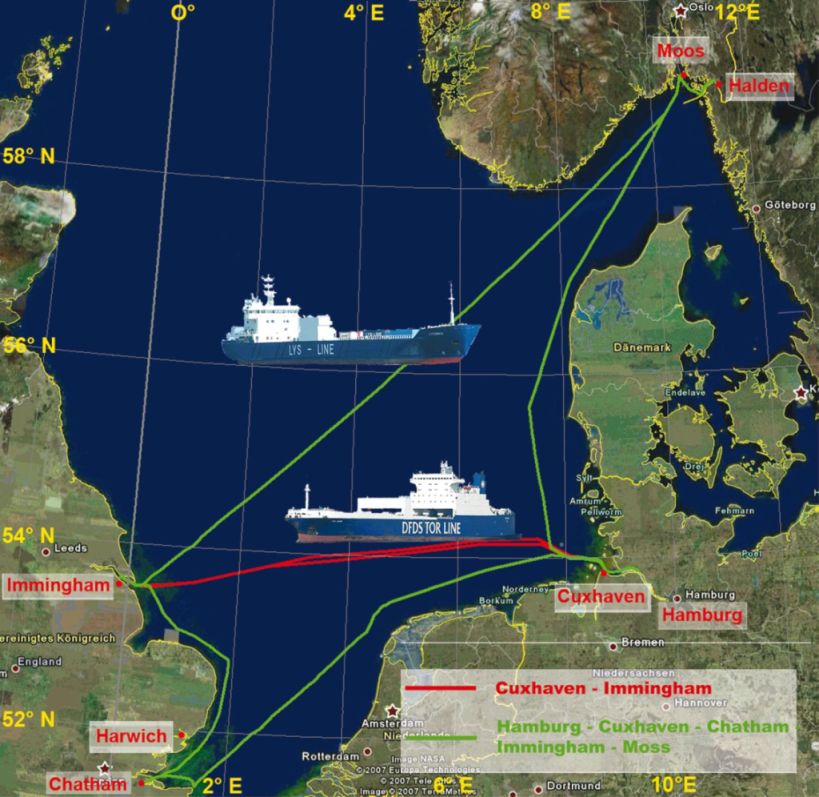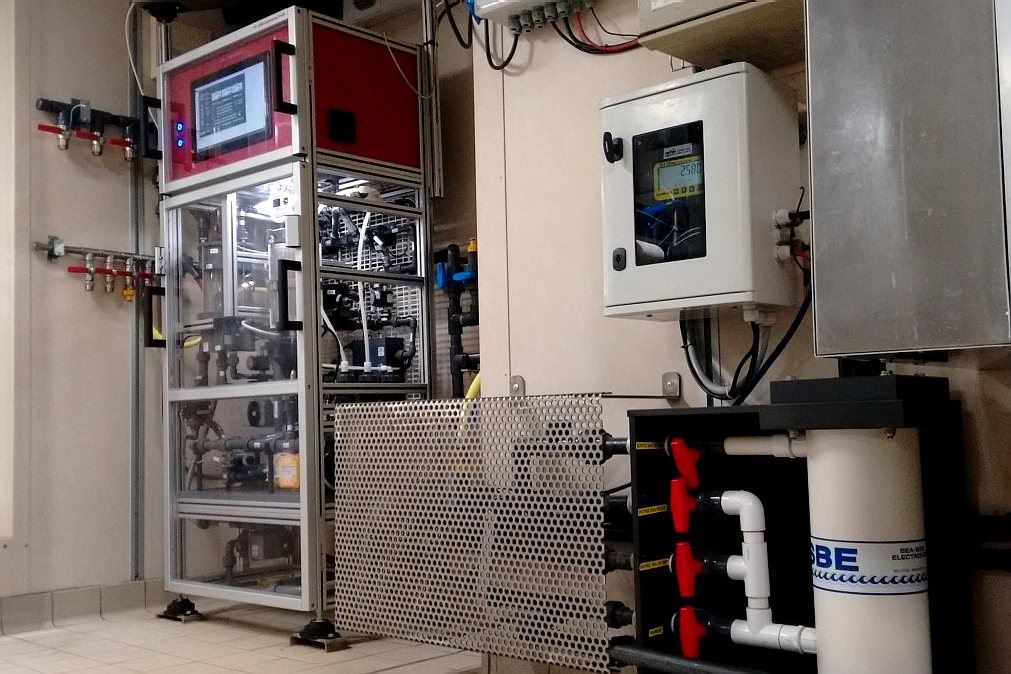 The FerryBox system is controlled by a computer that also logs the observations. Along each route, the FerryBox is controlled by the position of the vessel, to ensure that operation stops before reaching the harbor, and restarts as soon as the ship leaves the harbor. Together with GPS information, the data are transmitted to shore via mobile phone connection or satellite communication. Biofouling is prevented by automatic cleaning of the sensors with tap water, and by rinsing the entire unit with acidified water or water containing a detergent when the system stops.

The FerryBox system measures all variables within a time interval of approximately 20 seconds, corresponding to a spatial resolution of one hundred meters depending on the speed of the vessel. Such regular water quality measurements taken along a fixed route enable detailed and continuous observations over a long period of time.

The FerryBox data can be accessed from the HZG FerryBox Database.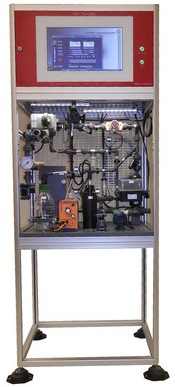 The -4H- FerryBox is an autonomous, low-maintenance measuring system, which is designed for the continuous operation onboard ships, on measurement platforms and at river banks. The -4H- FerryBox as a fixed installed system provides the ideal basis for extensive and continuous long-term monitoring while maintenance efforts are kept to a minimum. The integrated automatic cleaning system ensures a high data availability.
In addition to operating FerryBoxes along fixed routes, FerryBoxes are also installed on research vessels such as the RV Polarstern, as well as on the cruise ship Mein Schiff 3. FerryBoxes are also installed at fixed positions, e.g. the container deployed in the Elbe River estuary in Cuxhaven, Germany.

Besides these HZG installations, FerryBox systems are operated within a network of European partners, mainly national marine research institutes and environmental agencies.
This network is organized under the umbrella of EuroGOOS in the European FerryBox Task Team, which is led by HZG and NIVA (Norway). Within this European FerryBox community, a common database and data portal for all European FerryBoxes has been established, based on the database developed at HZG.

Further information on the European FerryBox activities can be found on the FerryBox Community website.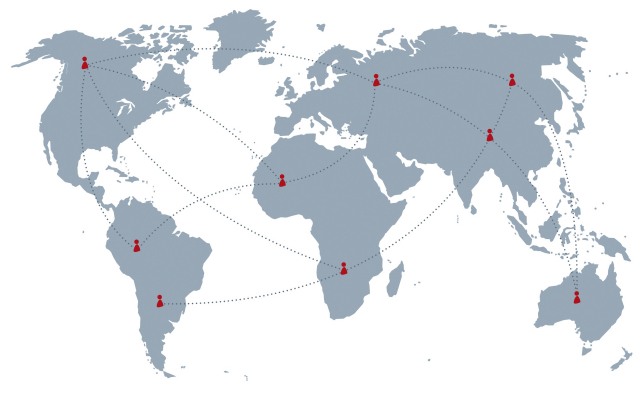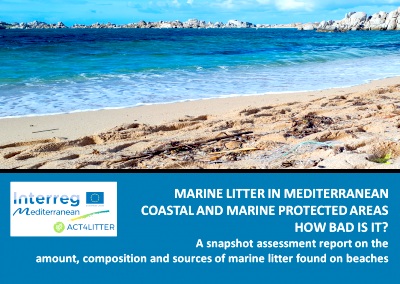 According to the SeaDoc Society, each ghost net kills $20,000 worth of Dungeness crab over 10 years. The Virginia Institute of Marine Science calculated that ghost crab pots capture 1.25 million blue crabs each year in the Chesapeake Bay alone. In May 2016, the Australian Fisheries Management Authority (AFMA) recovered 10 tonnes of abandoned nets within the Australian Exclusive Economic Zone and Torres Strait protected zone perimeters.
LINKS & REFERENCE
http://www.marinespecies.org/introduced/wiki/Coastal_observation_systems
https://www.eskp.de/en/climate-change/marine-research-on-ferries/
https://www.hzg.de/institutes_platforms/coastal_research/operational_systems/in_situ_measurement/ferrybox/index.php.en
https://www.4h-jena.de/en/maritime-technologies/flow-systems/ferrybox/
https://www.ferrybox.org/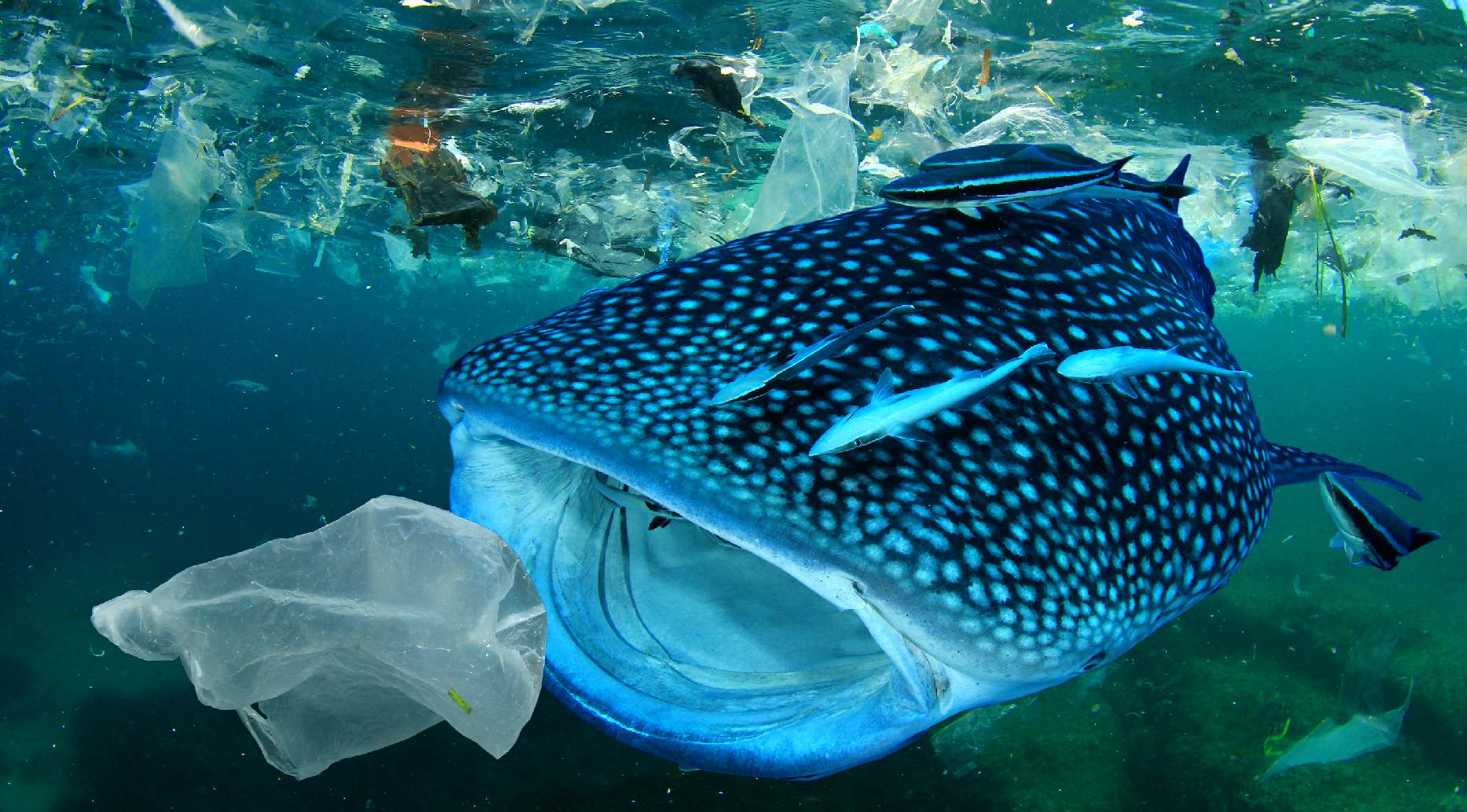 WHAT DRIVES US - It is pictures like this whale shark swimming in garbage that it is about to ingest that makes our blood boil. What are we doing, letting a situation like this develop? The fish eat the plastic and we eat the toxic fish. We are slowly poisoning ourselves and our world.