Sargassum has been at crisis levels for several years, but only recently have the Island nations affected by what amounts to a plague, put that stamp on the problem. Island Nations dependent on tourist dollars, to include the Gulf of Mexico coastal towns and cities, have been hit with beaches of decomposing sargassum, smelling of rotten eggs, attracting flies, causing ecological mayhem and potential health hazards. Hardly alluring for holiday makers, as they book their hotels in a formerly paradise location.
With an efficient method of harvesting the floating seaweed, there is potential to turn a nuisance into opportunity, such as to produce building blocks from compressed biomass, mixed with a stabilizing medium.
UNIVERSITY OF GHANA - INSTITUTE FOR ENVIRONMENTAL STUDIES
The use of Sargassum, an aquatic invasive weed, which is negatively impacting the activities of fishermen along the coast can reduce the cost of building by 40 percent.

Amidst the rising cost of cement, blocks made with aquatic weed can build a house 60 percent cheaper than the use of traditional cement.

Dr. Thierry Tonon, a Lecturer in Algal Biology, at York University, UK, said this at a stakeholder workshop in Accra to disseminate findings on Sargassum locally known as brown algae or seaweeds.

In recent times, the shores of Ghana and other West African countries have been experiencing an invasion of Sargassum at shorelines.  Reports indicate that coastal dwellers and the hospitality industry manage the influx in several ways. Players in the hospitality industry dig and bury landed sargassum whiles coastal inhabitants leave them to dry and decompose at the beach. 

Dr Tonon said one of the key findings of the joint study, conducted by the University of Ghana, Legon, the University of Southampton, University of York and other partners, was that blocks made with sargassum could last for 120 years. "Already, a construction company that makes building blocks from sargassum has designed a machine to make adobe bricks adjusted to process a mix of 40  percent sargassum and 60 percent of other organic materials for blocks," he said. The machine can produce 1,000 blocks a day, and after four hours of baking in the sun, the blocks are dried and ready to be used.

He said there was a window of opportunity to process the weeds into liquid fertiliser to improve the quality of soil with nutrients, including nitrogen, phosphorus and potassium. Several companies in the Caribbean, he said, were commercialising liquid plant tonics and fertilisers based on pelagic sargassum.

He said Ghana could explore the opportunity of using the weeds to restore its mangroves, protect shorelines, ensure water quality improvement, biodiversity support through the provision of a range and of habitats, and carbon sequestration.

Professor Emma Tompkins, a Professor of Environment and Development at University of Southampton, said sargassum across the tropical Atlantic appeared to be a 'new normal' associated with eutrophication, climate change and natural variability of the climate.

Prof. Kwasi Appeaning, the Director of the Institute for Environment and Sanitation Studies, University of Ghana, said the capacity for sargassum research was being developed to grow innovation in its utilization. The seaweed, he said, was only viewed as a menace and complete waste by coastal dwellers and those along the fisheries value chain who were directly impacted by the influx. 

Those along the fisheries value chain have reported financial losses due to damage to nets and outboard motors and other fishing gear. They also complain about reduction in fish catch due to reduced fishing periods. Fish processors have reported shorter shelf-life of fish caught during sargassum influx.

Mr Ebenezer Appah -Sampong, the Deputy Executive Director of Environmental Protection Agency – Ghana/Technical Services, said his outfit was ready to collaborate with others to find a lasting solution to the menace.

Madam Joana Akrofi, an official of the United Nations Environment Programme, stated that sargassum invasion was one of the ocean pollution issues that affected the well-being of coastal dwellers.

Ghana has no specific policy on the management of sargassum and that seaweed had been reported in the maritime waters of the country since the early 1960s. They are usually attached to sub-tidal rocks.

Managed effectively, it may be possible to reduce the negative impact of sargassum and even benefit from this environmental nuisance.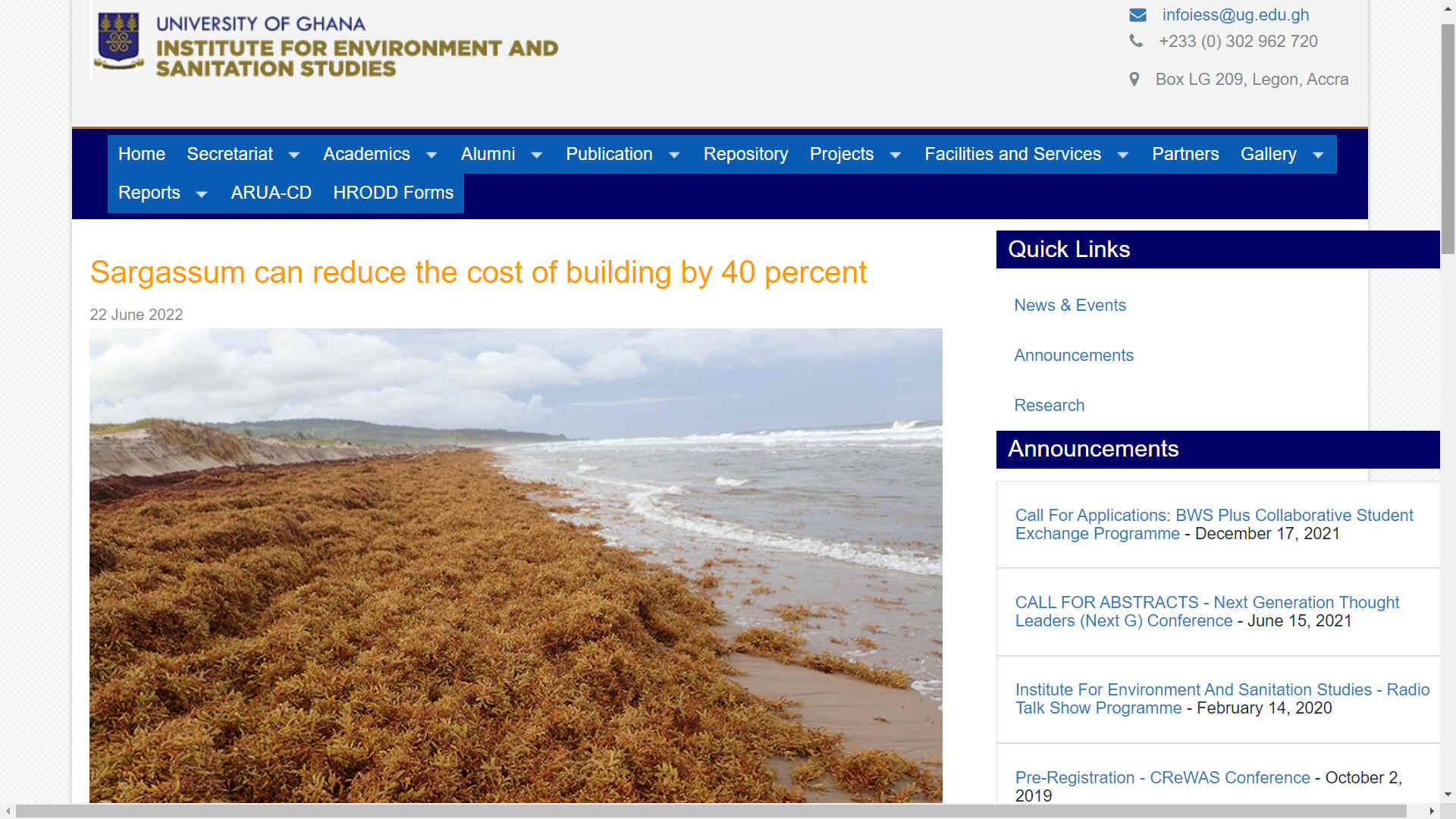 LINKS
https://iess.ug.edu.gh/news-events/sargassum-can-reduce-cost-building-40-percent

UNEP - UNITED NATIONS ENVIRONMENT PROGRAMME
While 2020 was relatively mild in terms of sargassum volumes, and a global pandemic became the overarching worry, 2018 was record breaking in terms of sargassum volumes reaching Caribbean shores and 2019 was also significant.
Floating sargassum should not be construed as negative in and of itself – it is beneficial at sea, mainly as a unique pelagic habitat.
However, the mass stranding of sargassum on coastlines has significant negative impacts (biophysical and socio-economic), particularly on coastal communities and livelihoods, public health, tourism and fisheries. This issue therefore represents an
emerging hazard for a region that is already subject to numerous hazards. Indeed, various countries in the Caribbean have declared national states of emergency with respect to sargassum influxes (Desrochers et al. 2020).

The issue is however not confined to the Caribbean Sea, but it extends across the Tropical Atlantic, including equatorial Brazil as well as coastal West Africa from Sierra Leone through the Gulf of Guinea. Sargassum influxes are very much a multi-regional transboundary issue, demanding coordination and collaboration within and across impacted regions.

HEAVY MACHINERY

A secondary, avoidable negative impact of the influxes relates to the use of heavy machinery to remove massive Sargassum landings, which impacts beach habitats and tend to worsen the environmental harm. The use of heavy machinery causes compaction of beaches and kills organisms that live in the sand, such as ghost crabs and other sea creatures that keep a beach healthy by creating hundreds of holes that keep the beach ventilated. Driving with heavy equipment will not only crush them, but also kills any potential sea turtle nests. Another impact is the removal of vast quantities of sand, resulting in unintentional sand mining, and ends up affecting the entire beach ecosystem.

SOCIO-ECONOMIC IMPACTS

Sargassum influxes negatively impact human well-being, activities, and livelihoods as well as major sectors of Caribbean Economies. Key sectors impacted include: coastal living and livelihoods, marine transport/ navigation, public health, fisheries and tourism. These impacts are inter-related, with many stemming from one of the key drivers of biophysical impacts – the decay of the sargassum biomass.
The production of hydrogen sulphide negatively impacts air quality, results in very unpleasant odours, and prolonged exposure is unhealthy, especially for persons with underlying respiratory conditions. This is detrimental for coastal residents and beach users, whether local or visitors. Beach users who live elsewhere have the option to avoid impacted locations, while residents may be unable to avoid prolonged exposure.
Large quantities of sargassum also spoil the aesthetic appeal of Caribbean beaches, and inhibit access to nearshore waters. Both issues affect residents, local beach users and tourists, while the latter particularly impacts those whose livelihoods rely on the sea, such as fishers who may need to access the water to access their equipment and/or livelihood.

DECLARATION OF EMERGENCY

When stranded in coastal areas, the sargassum itself dies, and many of the negative impacts originate with its decay. Given the scale and extent of the negative impacts these influx events may be characterized as a recurring hazard. The unprecedented scale of the Sargassum influxes also led to declaration of emergency conditions in several Caribbean countries e.g. Tobago in 2015, Barbados in 2018, and Mexico in 2019 (Chavez et al. 2020).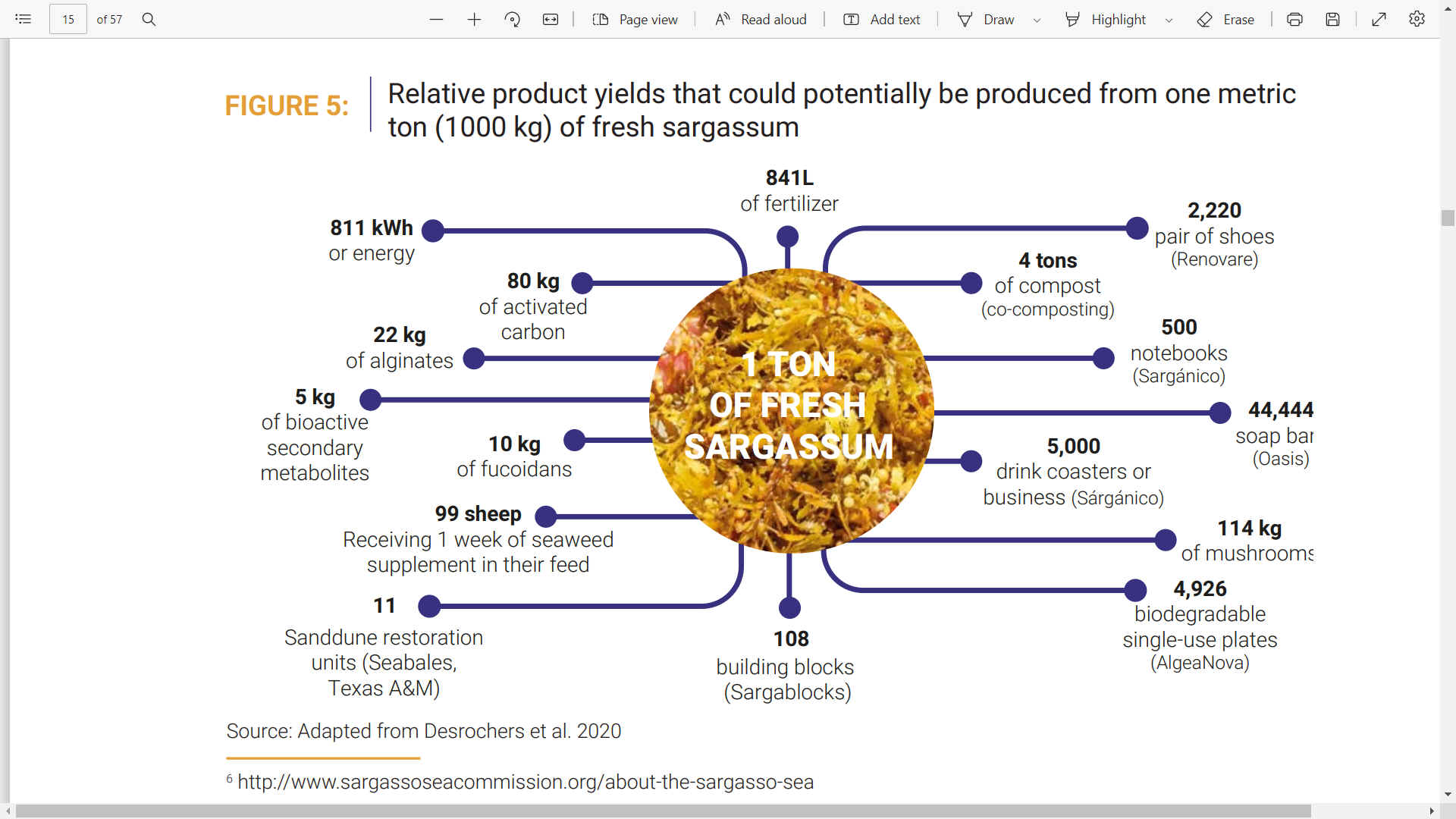 OCEAN CLEANING DRONE - As seen above, SeaVax is not suitable for harvesting sargassum in voluminous quantities. But the concept, or the equivalent, may be adapted (or specialliy developed) for the task. You'd still need autonomous fleet control, satellite comms and ocean current geodata, solar assistance and a capacious holding tank. But, the harvesting mechanics are different, as is the pickup head and transfer arrangements. Also assuming 24 hour operations, and factory ships to treat the recovered asset, for distribution across the globe. Then there is carbon sequestration. But who would pay for that? Nobody in power - that's for sure. It's all about the money for them- and they want a free lunch!
It would take a fleet of 300 specially adapted SeaVax machines, operating at a speed of one load per hour, to deal with 22 million tons of biological material. From our experience where we asked for funding to clean the ocean of plastic, it will be a massive uphill struggle - with fruitless lobbying efforts - to match the non-progress at Climate Conferences (FLOPS). It will take a working lifetime, unless, the problem becomes so great, that government react as if they were at war. And it is a war. Make no mistake. It's a struggle for the survival of our great grand children. We cannot stop our children suffering, because of corruption and irresponsible fossil fuel companies. We are too late for that, but with more Great Thunberg's, we might save the human race.
The sparkle on the newly brown tinged horizon is that sargassum can be a cash crop. Even so, the sums being bandied about don't come close to managing this crisis. What they need is a miracle, dealing with the root cause, which is warming of the oceans from climate change. Sadly, the cure for rising sea temperates is a million miles away, with present G20 policy stagnation - that stinks - like the hydrogen sulfide from rotting seaweed.
CARIBBEAN ISLANDS BY POPULATION
1 Cuba 11,252,999
2 Haiti 11,263,077 (Hispaniola)
3 Dominican Republic 10,766,998 (Hispaniola)
4 Puerto Rico (US) 3,508,000
5 Jamaica 2,729,000
6 Trinidad and Tobago 1,357,000
7 Guadeloupe (France) 405,000
8 Martinique (France) 383,000
9 Bahamas 379,000
10 Barbados 283,000
11 Saint Lucia 172,000
12 Curaçao (Netherlands) 157,000
13 Aruba (Netherlands) 110,000
14 Saint Vincent and the Grenadines 110,000
15 United States Virgin Islands 105,000
16 Grenada 104,000
17 Antigua and Barbuda 89,000
18 Dominica 71,000
19 Cayman Islands (UK) 59,000
20 Saint Kitts and Nevis 46,000
21 Sint Maarten (Netherlands) 39,000
22 Turks and Caicos Islands (UK) 37,000
23 Saint Martin (France) 36,000
24 British Virgin Islands (UK) 31,000
25 Caribbean Netherlands 26,000
26 Anguilla (UK) 14,000
27 Saint Barthélemy (France) 10,000
28 Montserrat (UK) 5,000
29 Tortuga 25,936
30 Roatán 110,000
Governments might revise their policies, to most urgently curb global warming, hence ocean temperature rises that are causing the sargassum crisis. The is the root cause of the problem. Cleaning up the excess from the oceans and seas, is retrospective handling. That, unfortunately, it seems we will be lumbered with for at least 50 years hence.