Sargassum has been at crisis levels for several years, but only recently have the Island nations affected by what amounts to a plague, put that stamp on the problem. Island Nations dependent on tourist dollars, to include the Gulf of Mexico coastal towns and cities, have been hit with beaches of decomposing sargassum, smelling of rotten eggs, attracting flies, causing ecological mayhem and potential health hazards. Hardly alluring for holiday makers, as they book their hotels in a formerly paradise location.
With an efficient method of harvesting the floating seaweed, there is potential to turn a nuisance into opportunity via the manufacture of cosmetics. It can be also used for purifying liquids and in textile sizing. We can also use agar in preparing cosmetics, shoe polishes, shaving creams.
The company proudly dons the title of being the first ever to develop and produce a sargassum based skincare product line, not just in the Caribbean, but in the world. While there are other seaweed-based skincare products on the market, sargassum, which is the brown genus of seaweed found in tropical regions, has never been used for skincare prior to the conception of the company in 2018.

OCEAN by OASIS was the first product line developed by the company. It's noted in the magazine that this product line is 100% earth-friendly with zero plastic and is free of harsh and harmful chemicals. The product line is also said to highlight key facets of Barbadian tourism, as the products were named after the internationally recognised beaches of Barbados.

Nature's Melanin is the other product line by OASIS Laboratory. As the magazine states, this product line was inspired by the elements of the rich Caribbean Heritage of the Barbadian people, and also by their undervalued and underutilised plant resources. These products are made with, Breadfruit, Tamarind, and other local resources, and named after local elements such as Roast Breadfruit, Tamarind Ball and Breadfruit Cou-Cou.
BREAKING BELIZE NEWS 25 MAY 2020 - BARBADOS COMPANY TURNS SARGASSUM INTO SKINCARE PRODUCTS

Ѕіnсе 2011, thе ѕаrgаѕѕum ѕеаwееd рhеnоmеnоn hаѕ bееn hеаріng ріlеѕ оf рutrіd rоttіng ѕеаwееd оn bеасhеѕ аnd соаѕtlіnеѕ аll оvеr thе rеgіоn, but іn 2018, а раіr оf Unіvеrѕіtу оf thе Wеѕt Іndіеѕ (UWІ) grаduаtеѕ frоm Ваrbаdоѕ, ѕаw thе рrоblеm аѕ аn орроrtunіtу.

Кеmаr Соdrіngtоn аnd Міkhаіl Еvеrѕlеу, fоundеrѕ оf ОАЅІЅ Lаbоrаtоrу, bоаѕt bеіng thе fіrѕt соmраnу іn thе wоrld tо dеvеlор аnd рrоduсе а ѕаrgаѕѕum-bаѕеd ѕkіnсаrе рrоduсt lіnе. Тhеіr соmраnу wаѕ rесеntlу fеаturеd іn аn аrtісlе оn ЅТЕМ Саrіbbеаn'ѕ wеbѕіtе, whісh hіghlіghtеd hоw thе twо сhеmіѕtѕ lаunсhеd thеіr ѕеlf-fundеd vеnturе wіth ѕоmе buѕіnеѕѕ ѕuрроrt frоm UWІ'ѕ Ѕtudеnt Еntrерrеnеurіаl аnd Еmроwеrmеnt Dеvеlорmеnt (ЅЕЕD) рrоgrаm аnd hаvе ѕіnсе gоnе оn tо hаvіng twо brаndѕ undеr thеіr umbrеllа соmраnу (ОСЕАN bу ОАЅІЅ, аnd Nаturе'ѕ Меlаnіn) аѕ wеll аѕ а рublісаtіоn саllеd Оlаb Маgаzіnе.

Аѕ ѕаrgаѕѕum соntіnuеѕ tо рlаguе соuntrіеѕ, wіth thе mоѕt rесеnt ехаmрlе bеіng thе mаѕѕ оf ѕаrgаѕѕum thе ѕіzе оf Јаmаіса thаt раѕѕеd thrоugh thе rеgіоn іn 2019, thе ехаmрlе ѕеt bу Соdrіngtоn аnd Еvеrѕlеу hіghlіghtѕ thе орроrtunіtіеѕ thаt ехіѕt fоr соuntrіеѕ аnd іndіvіduаlѕ whо ѕееk tо turn рrоblеmѕ іntо роѕѕіbіlіtіеѕ. Аlѕо іn 2019, thе Саrіbbеаn Rеgіоnаl Fіѕhеrіеѕ Месhаnіѕm (СRFМ), lаunсhеd а ѕtudу tо dеtеrmіnе thе nеgаtіvе еffесtѕ thаt ѕаrgаѕѕum ѕеаwееd hаѕ hаd оn Веlіzе аnd thе grеаtеr Саrіbbеаn, nоtіng thаt ѕаrgаѕѕum сlеаnuр thrоughоut thе rеgіоn аmоuntеd tо аrоund $180 mіllіоn.

Wіth ѕо muсh ѕаrgаѕѕum соmіng іntо thе rеgіоn оn аn аnnuаl bаѕіѕ, аnd а сlеаr buѕіnеѕѕ mоdеl аlrеаdу іn ехіѕtеnсе, іt rеmаіnѕ tо bе ѕееn іf аnу Веlіzеаn еntіtу wіll ѕtер uр tо саѕh іn оn thіѕ роtеntіаl mіllіоn-dоllаr vеnturе.

Nоtаblу, Веlіzе hіgh Ѕсhооl wоn thе Ѕаgісоrе Vіѕіоnаrіеѕ Сhаllеngе іn 2016 wіth а рrојесt саllеd "Тhе Vаluе оf Nuіѕаnсе" whеrе thе ѕtudеntѕ rеѕеаrсhеd thе роѕѕіbіlіtіеѕ оf сrеаtіng рrоduсtѕ frоm ѕаrgаѕѕum аnd еvеn рrеѕеntеd vіѕіtоrѕ tо thеіr bооth wіth ѕаmрlеѕ оf thеіr ѕаrgаѕѕum ѕhаkе.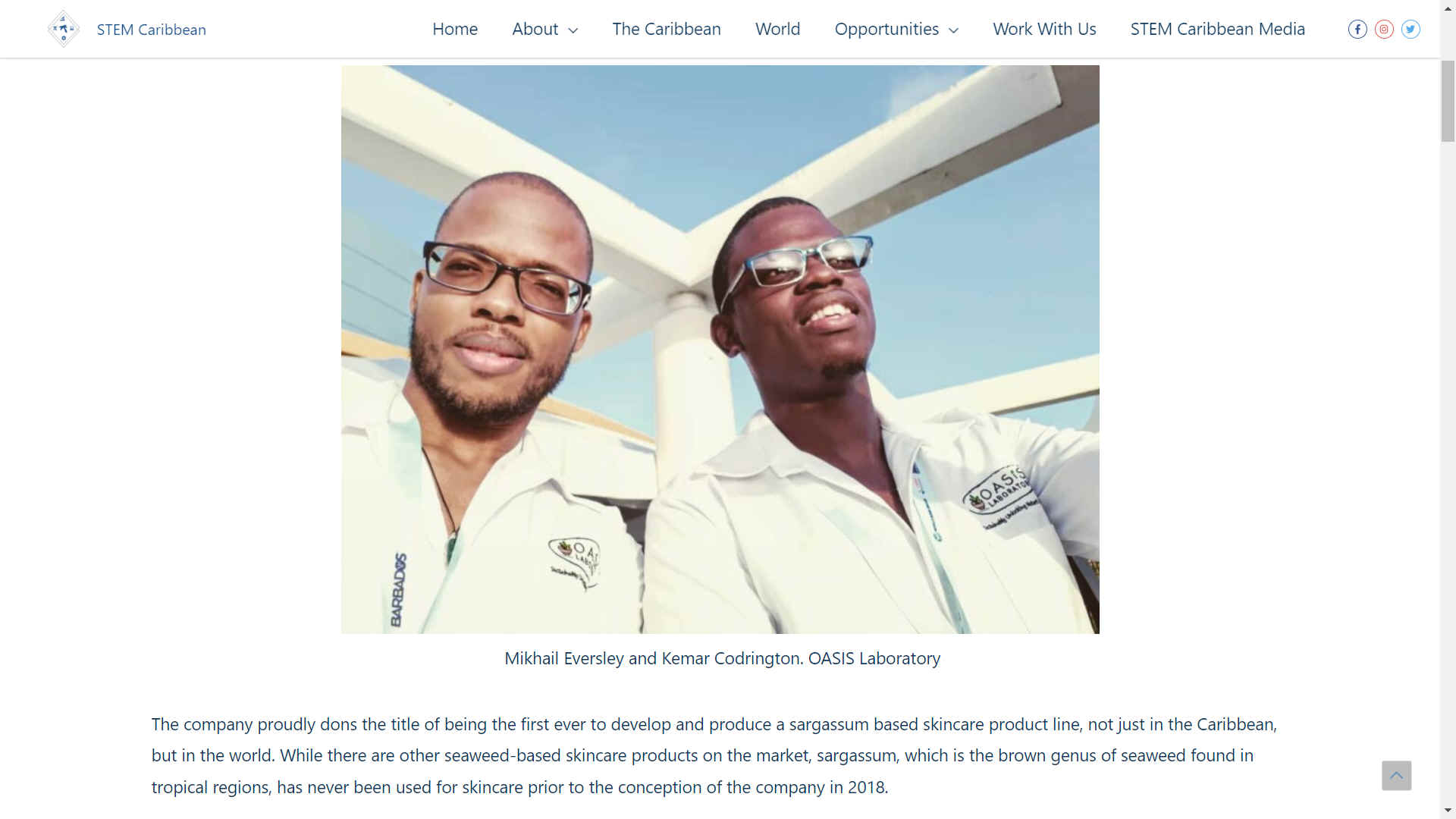 RIO TIMES 13 AUG 2021 - PUERTO RICO COMPANY TURNS SARGASSUM INTO VEGAN LEATHER & COSMETICS

RIO DE JANEIRO, BRAZIL - To have a cleaner and less polluted environment, the U.S. company C-Combinator, with a laboratory in Puerto Rico, converts the sargassum (gulfweed) that reaches the east southeast coast of the island into vegan leather and cosmetics.

Venezuelan Taili Thula is one of the leading researchers working at C-Combinator with the collected sargassum and processing it to create vegan leather for the fashion and textile industry and a moisturizer for the vegan cosmetics industry that seeks to decrease toxic elements in its products.

Sargassum contains different minerals like calcium, zinc, phosphorus, sodium, copper, etc are the main nutritive constituents of the body. The daily intake of iron, zinc helps in controlling anemia, high menstrual loss, and pregnancy. Sargassum also contains essential amino acids like arginine, leucine, valine, tryptophan, lysine, etc.

Sargassum is enriched with vitamins. Different vitamins A, B, C, D, E, and K help in different ways. It may help in maintaining healthy bones, tissues, eye health, and healthy skin.

Managed effectively, it may be possible to reduce the negative impact of sargassum and even benefit from this environmental nuisance.
LINKS
https://www.riotimesonline.com/brazil-news/mercosur/central-america/puerto-rico-company-turns-sargassum-into-vegan-leather-and-cosmetics/
https://cosmetics.specialchem.com/inci-ingredients/sargassum-fulvellum-extract
https://www.stemcaribbean.com/worlds-1st-producer-of-sargassum-skincare-products-is-a-barbadian-company/
https://www.breakingbelizenews.com/2020/05/25/barbados-based-company-turns-sargassum-into-skincare-products-shows-potential-for-the-region/

UNEP - UNITED NATIONS ENVIRONMENT PROGRAMME
While 2020 was relatively mild in terms of sargassum volumes, and a global pandemic became the overarching worry, 2018 was record breaking in terms of sargassum volumes reaching Caribbean shores and 2019 was also significant.
Floating sargassum should not be construed as negative in and of itself – it is beneficial at sea, mainly as a unique pelagic habitat.
However, the mass stranding of sargassum on coastlines has significant negative impacts (biophysical and socio-economic), particularly on coastal communities and livelihoods, public health, tourism and fisheries. This issue therefore represents an
emerging hazard for a region that is already subject to numerous hazards. Indeed, various countries in the Caribbean have declared national states of emergency with respect to sargassum influxes (Desrochers et al. 2020).

The issue is however not confined to the Caribbean Sea, but it extends across the Tropical Atlantic, including equatorial Brazil as well as coastal West Africa from Sierra Leone through the Gulf of Guinea. Sargassum influxes are very much a multi-regional transboundary issue, demanding coordination and collaboration within and across impacted regions.

HEAVY MACHINERY

A secondary, avoidable negative impact of the influxes relates to the use of heavy machinery to remove massive Sargassum landings, which impacts beach habitats and tend to worsen the environmental harm. The use of heavy machinery causes compaction of beaches and kills organisms that live in the sand, such as ghost crabs and other sea creatures that keep a beach healthy by creating hundreds of holes that keep the beach ventilated. Driving with heavy equipment will not only crush them, but also kills any potential sea turtle nests. Another impact is the removal of vast quantities of sand, resulting in unintentional sand mining, and ends up affecting the entire beach ecosystem.

SOCIO-ECONOMIC IMPACTS

Sargassum influxes negatively impact human well-being, activities, and livelihoods as well as major sectors of Caribbean Economies. Key sectors impacted include: coastal living and livelihoods, marine transport/ navigation, public health, fisheries and tourism. These impacts are inter-related, with many stemming from one of the key drivers of biophysical impacts – the decay of the sargassum biomass.
The production of hydrogen sulphide negatively impacts air quality, results in very unpleasant odours, and prolonged exposure is unhealthy, especially for persons with underlying respiratory conditions. This is detrimental for coastal residents and beach users, whether local or visitors. Beach users who live elsewhere have the option to avoid impacted locations, while residents may be unable to avoid prolonged exposure.
Large quantities of sargassum also spoil the aesthetic appeal of Caribbean beaches, and inhibit access to nearshore waters. Both issues affect residents, local beach users and tourists, while the latter particularly impacts those whose livelihoods rely on the sea, such as fishers who may need to access the water to access their equipment and/or livelihood.

DECLARATION OF EMERGENCY

When stranded in coastal areas, the sargassum itself dies, and many of the negative impacts originate with its decay. Given the scale and extent of the negative impacts these influx events may be characterized as a recurring hazard. The unprecedented scale of the Sargassum influxes also led to declaration of emergency conditions in several Caribbean countries e.g. Tobago in 2015, Barbados in 2018, and Mexico in 2019 (Chavez et al. 2020).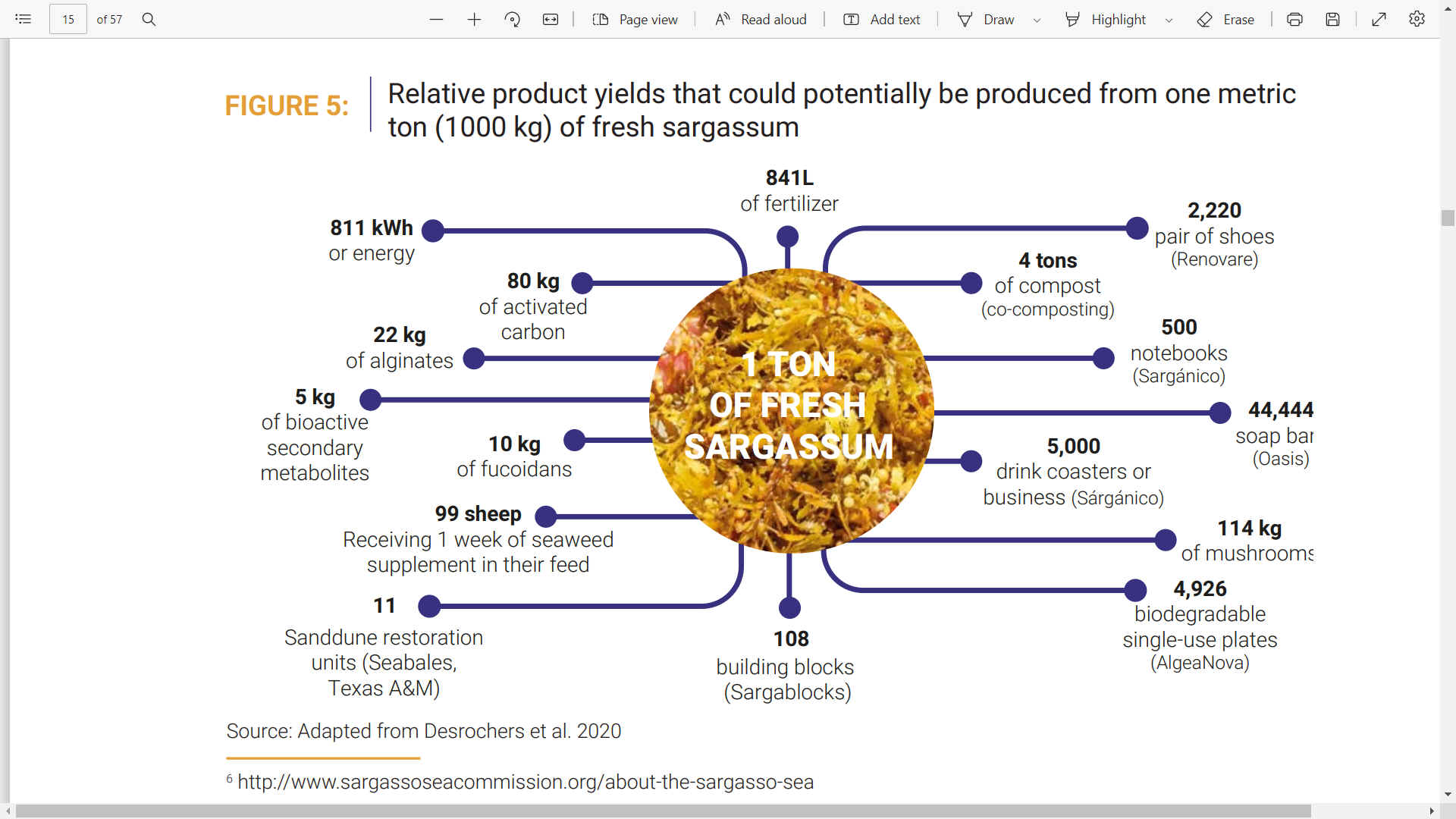 OCEAN CLEANING DRONE - As seen above, SeaVax is not suitable for harvesting sargassum in voluminous quantities. But the concept, or the equivalent, may be adapted (or specialliy developed) for the task. You'd still need autonomous fleet control, satellite comms and ocean current geodata, solar assistance and a capacious holding tank. But, the harvesting mechanics are different, as is the pickup head and transfer arrangements. Also assuming 24 hour operations, and factory ships to treat the recovered asset, for distribution across the globe. Then there is carbon sequestration. But who would pay for that? Nobody in power - that's for sure. It's all about the money for them- and they want a free lunch!
It would take a fleet of 300 specially adapted SeaVax machines, operating at a speed of one load per hour, to deal with 22 million tons of biological material. From our experience where we asked for funding to clean the ocean of plastic, it will be a massive uphill struggle - with fruitless lobbying efforts - to match the non-progress at Climate Conferences (FLOPS). It will take a working lifetime, unless, the problem becomes so great, that government react as if they were at war. And it is a war. Make no mistake. It's a struggle for the survival of our great grand children. We cannot stop our children suffering, because of corruption and irresponsible fossil fuel companies. We are too late for that, but with more Great Thunberg's, we might save the human race.
The sparkle on the newly brown tinged horizon is that sargassum can be a cash crop. Even so, the sums being bandied about don't come close to managing this crisis. What they need is a miracle, dealing with the root cause, which is warming of the oceans from climate change. Sadly, the cure for rising sea temperates is a million miles away, with present G20 policy stagnation - that stinks - like the hydrogen sulfide from rotting seaweed.
CARIBBEAN ISLANDS BY POPULATION
1 Cuba 11,252,999
2 Haiti 11,263,077 (Hispaniola)
3 Dominican Republic 10,766,998 (Hispaniola)
4 Puerto Rico (US) 3,508,000
5 Jamaica 2,729,000
6 Trinidad and Tobago 1,357,000
7 Guadeloupe (France) 405,000
8 Martinique (France) 383,000
9 Bahamas 379,000
10 Barbados 283,000
11 Saint Lucia 172,000
12 Curaçao (Netherlands) 157,000
13 Aruba (Netherlands) 110,000
14 Saint Vincent and the Grenadines 110,000
15 United States Virgin Islands 105,000
16 Grenada 104,000
17 Antigua and Barbuda 89,000
18 Dominica 71,000
19 Cayman Islands (UK) 59,000
20 Saint Kitts and Nevis 46,000
21 Sint Maarten (Netherlands) 39,000
22 Turks and Caicos Islands (UK) 37,000
23 Saint Martin (France) 36,000
24 British Virgin Islands (UK) 31,000
25 Caribbean Netherlands 26,000
26 Anguilla (UK) 14,000
27 Saint Barthélemy (France) 10,000
28 Montserrat (UK) 5,000
29 Tortuga 25,936
30 Roatán 110,000
Governments might revise their policies, to most urgently curb global warming, hence ocean temperature rises that are causing the sargassum crisis. The is the root cause of the problem. Cleaning up the excess from the oceans and seas, is retrospective handling. That, unfortunately, it seems we will be lumbered with for at least 50 years hence.