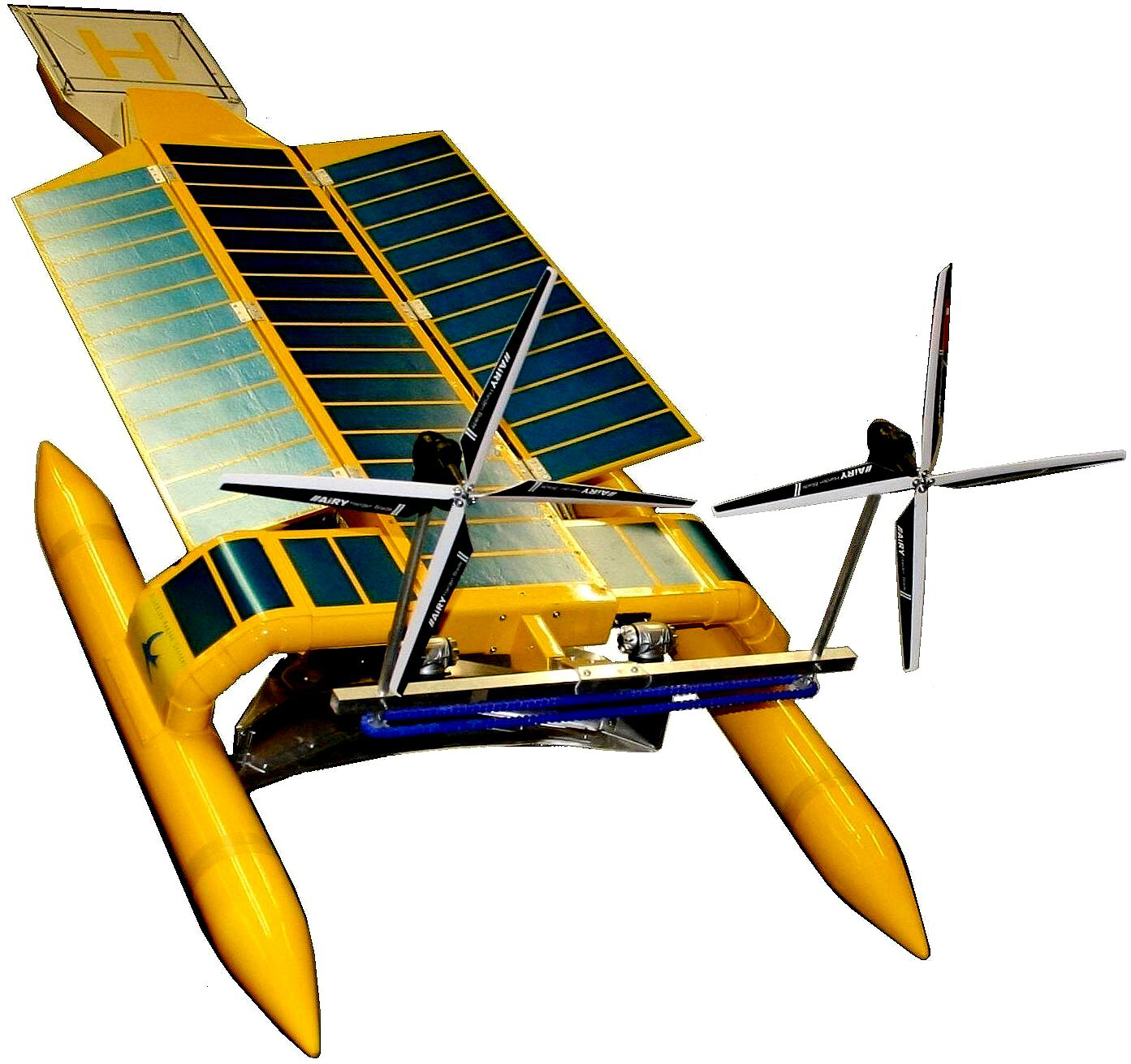 The basic SeaVax machine seen here as a proof of concept (working model) was designed to filter macro & micro plastics from seawater - in bulk, and recover ghost fishing nets of up to 150 tons. It was to be solar and wind powered. Today, the vessel would need more power if a fleet of them are to deal with something like 22 million tons a year. Almost double the capacity. Any revised specification would need to include renewable hydrogen in the energy equation, something like for the Elizabeth Swann, potentially the world' fastest hydrogen powered ship.
To many, sargassum is a plague, brought on by global climate change that is warming our oceans. But, with machines like the proposed 'SeaVax-Sargassum' adaptation, we can not only rid the Gulf of Mexico and Caribbean Islands of the nuisance seaweed choking their beaches - but turn the tables - and make what is a catastrophe in the making, to advantage mankind. For example there is a world shortage of fertilizer.
Sargassum casting ashore in large quantities has become recurrent in some African countries and the Greater Caribbean coast since 2011 (García-Sánchez et al., 2020). In particular, peak deposits in the Mexican Caribbean reached record highs in September 2015, May 2018 and continue to expand into 2021 (García-Sánchez et al., 2020; Thompson et al., 2021). In 2015, this amounted to approximately 10,000 wet tons per day (Wang and Hu, 2016). Mexico, in particular, is one of a handful of countries that has received compelling and problematic amounts of Sargassum sp. on its shores. The problem has reached significant proportions, costing the city of Cancún, Mexico, $36.7 million on beach cleanup in 2019 alone (BBC, 2019).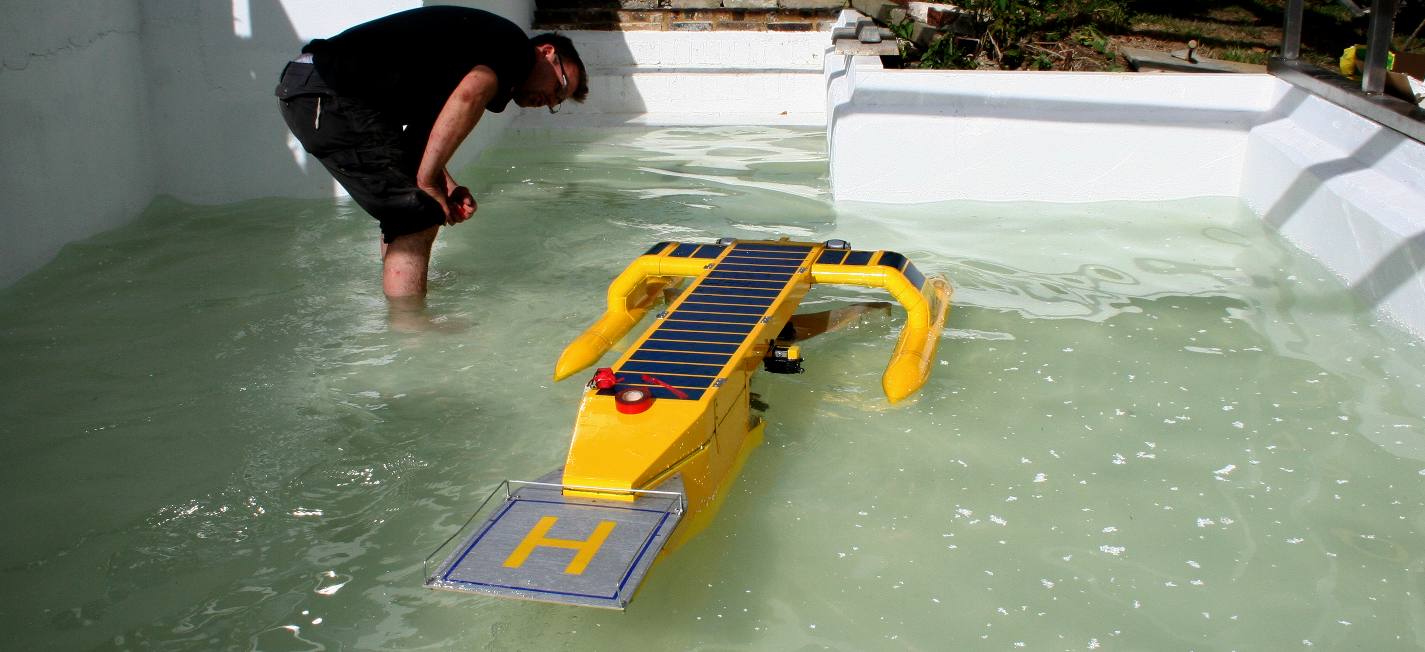 OCEAN CLEANING MACHINES - This is what SeaVax looked like in 2016. The proof of concept model successfully cleaned our water test tank of scaled micro and macro plastics, that was scattered on the surface of the water to simulate cleaning in the ocean.
Where climate change is responsible for warming our oceans, we should also be tackling the root cause of the problem, even though cooling the planet down will take another 30-50 years - and only then if we act now.
Meantime, SeaVax adaptations can be tuned to fish for seaweed, krill of other seafood, if pursuing a pescatarian diet. Or, you can become a vegetarian and give up methane producing meat.
In addition, SeaVax can be programmed not to over-fish, and report catch volumes and positions to a central data bank, to make sure fish stocks can be properly managed and replenished internationally. The same applies to sargassum, which should not be harvested from the Sargasso Sea - a protected area (example). Sargassum should only be collected once it blooms and is heading to beaches. SeaVax can track sargassum using satellites, so that fleet operators do not harm ocean ecology, and work with the Sargasso Sea Commission to uphold their conservation objectives.
FINANCIAL CASE STUDY - WOULD IT BE COST EFFECTIVE?
It would help stakeholders if they knew the net worth of the crop, and how to divide it so as to obtain best value on the open market. There would need to be a study, unless this information is already available and in the public domain.
The crop net yield would need to be contrasted against the cost of developing and operating a large fleet of autonomous SeaVax type vessels. (We are using SeaVax as an example. We are sure that other designers could invent something just as effective, given sufficient incentives.) Only then would the UNEP, Caribbean, Mexican and US governments know what is required to deal with the problem. They must have some kind of a handle [already] on what it is costing them in lost revenues, etc. Having declared a state of emergency.
IF IT IS, WHO WILL PAY?
Having quantified investment expenditure (CAPEX) and potential income streams, we'd then need to know how much sargassum is costing the economies of the affected stakeholders. Then, the bargaining begins. We imagine with the UNEP taking the negotiating lead. Where our Foundation is an unsupported SME - and not for profit - run by volunteers. Thus, we should not be expected to take any lead. We can though work with islanders who wish to operate for-profit services, providing IP and technical assistance.
HOW MUCH?
That would all depend on the proposed scope of operations. By way of example and using SeaVax again as a starting point, a SeaVax-Sargasso™ and AmphiMax-Sargasso™ duo, would be out of reach of most island economies, wanting to take charge of their own shore cleaning operations. But, a SeaVax-Calypso™, working with an AmphiMax-Calypso™ might be music to the ears of tour and holiday operators, where pristine sandy beaches are a prerequisite for confident bookings, without noxious odours to upset holiday makers.
IF IT ISN'T, WILL ANYONE CARE ENOUGH TO DO ANYTHING ABOUT THE EMERGENCY?
There is no such thing as a free lunch. But in our experience, that is what everybody is looking for. In a biblical plague situation, administrations various will probably dedicate time to come up with a solution - or more likely that someone else will. Best of luck to all bio engineers taking up this challenge. It is not the engineering that will be the problem, it is the politics.
Best then to let the policy makers find solutions themselves, on realization that due to the scale of the emergency, this particular banquet will have to be addressed from the taxes borne of fossil fuels.
So far, in six years of the crisis escalating to an emergency situation, there is not much happening in terms of effective action. Though much praise is deserved for those tackling beach cleaning. If it lands on a beach, the ecological battle is already lost.
All you can do is cross your fingers and pray for an administration with vision and a budget for the emergency that has been declared.
OCEAN CLEANUP PROJECTS A - Z
* Adidas
* Algalita research foundation
* Aliance to end Plastic Waste
* Boyan Slat's ocean booms
* CLAIM H2020 EU marine plastic project
* 4Ocean recycled plastic bracelets
* Earth Day ocean plastic fact sheet
* Fionn Ferreira's ferrofluid extraction of microplastics
* FlashLight Press - Michelle Lord, Julia Blattman: The Mess That We Made
* Junk Raft - plastic expedition
* Plastic Oceans Canada
* Plastic Oceans Org
* Seabin
* SeaVax autonomous drones
* Surrey University PIRATE & Triton
LINKS & REFERENCE
http://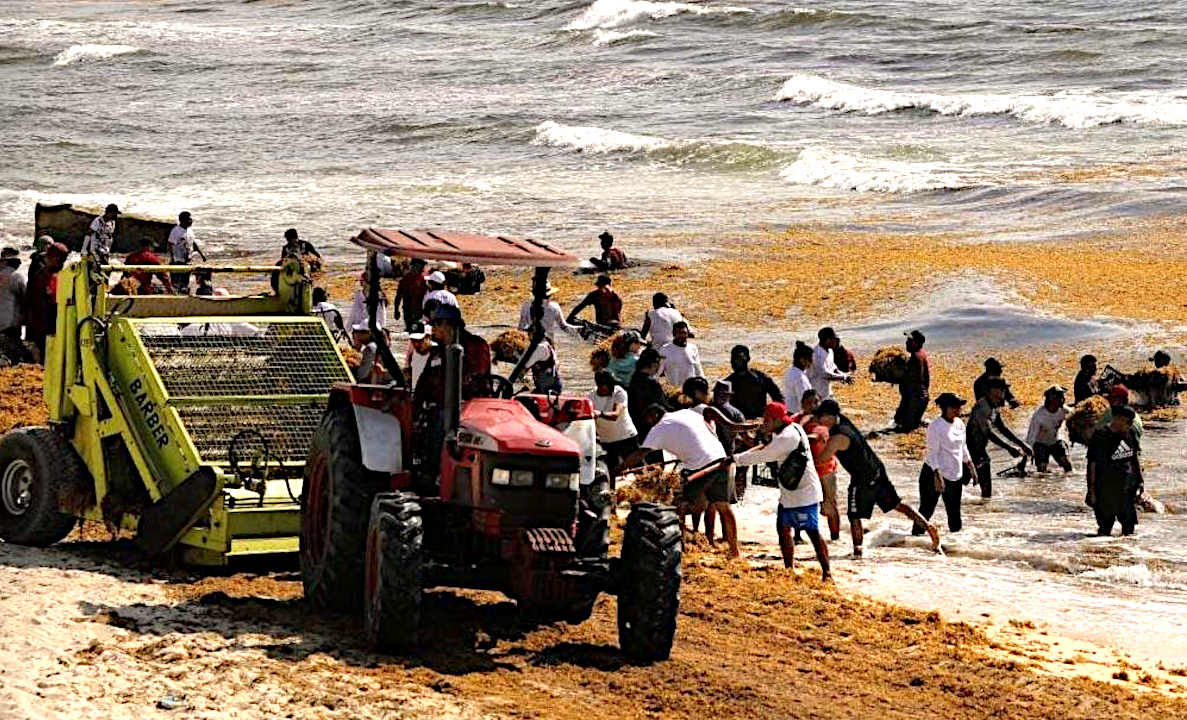 WHAT DRIVES US - It is pictures like this beach at Cuncun, Gulf of Mexico, stinking to high heaven with sargassum, that is ruining the local economy and ecology, that makes us want to do something about it. You can too. Why not begin a research project for your masters degree. Work with the Cleaner Ocean Foundation, to make a difference to the world your great grandchildren will inherit - if they are lucky.