There is no point just talking about it, we need action. The US is one of the worst offenders. Their Environmental Protection Agency tells their plastic recycling rate is just 8%. Where more than 90% of plastics is buried, burned or released into the environment. Dirty Birtie!

The federal government is the single largest purchaser of goods and services in the US, spending more than $450 billion on products and services each year, meaning that buying policy could hugely impact on producers.

A US lobby group consisting of 20 Convening Partners and over 550 Endorsing Partners has put an Eight Point Plan to President Joe Biden, differing in approach markedly from our own, but making equally valid observations with :

1. Use the purchasing power of the federal government to eliminate single-use plastic items and replace them with reusable products.

2. Suspend and deny permits for new or expanded plastic production facilities, associated infrastructure projects, and exports.

In the next 10 years, the petrochemical industry plans to increase plastics production by at least 35%, with more than 300 new projects slated for the United States alone. Using cheap fracked gas, the new and expanded facilities planned by the industry produce raw material for an endless deluge of throwaway plastic, approximately 40% of which is discarded within minutes. This dirty industry disproportionately fouls the air and water of poor communities and communities of color.

3. Make corporate polluters pay and reject false solutions. Plastic producers must be held accountable for the plastic pollution they have created.

Voluntary measures like Operation Clean Sweep, small scale financial contributions like the industry-backed ALLIANCE to End Plastic Waste, and the plastics industry's promotion of "chemical recycling" and "waste to energy" are all dangerous distractions from the massive, global plastic pollution problem we need to face. We need to place the responsibility where it belongs: on the industry that generates the waste.

4. Advance environmental justice in petrochemical corridors.

Petrochemical companies continue to locate new and expanded plastics facilities near existing fossil fuel infrastructure, which means they are targeting the Gulf Coast, Appalachia, the Ohio River Valley, and other communities that already shoulder a heavy burden of oil, gas, and plastic industry pollution. Across the United States, these facilities are often located in and have a disproportionate impact on low-income and minority neighborhoods.

5. Update existing federal regulations to curtail pollution from plastics facilities by using best available science and technology.

6. Stop subsidizing plastics producers.

For too long, the United States has subsidized the fossil fuel industry. It's time to stop the flow of financing to the petrochemical industry and the oil and gas industry that supplies its feedstocks.

7. Join international efforts to address the global plastic pollution crisis through new and strengthened multilateral agreements.

For many years, the U.S. government has hindered the work of a growing number of countries to enact new and strengthen existing global governance structures to address the plastic pollution crisis. It is time for the U.S. to become a proactive partner with key allies to address the global plastic crisis by targeting production, consumption, and disposal.

8. Reduce and mitigate the impacts of discarded and lost fishing gear.

Abandoned, lost or otherwise discarded fishing gear, including gillnets and fishing traps/pots causes ecological and economic harms. This fishing gear is often called "ghost gear" because long after it is lost it entangles, captures, and kills sea turtles, seabirds, marine mammals, and fish. It changes the marine environment, poses navigational hazards, introduces plastic into the marine food web, and creates a persistent marine debris and pollution problem, with high cleanup costs.

HELP US LOBBY FOR A CHANGE IN THE LAW -

VIA OUR 7 POINT PLAN (SDG14)

With SeaVax falling at the capitalization hurdle, it is doubtful that the millions of tons of extant ocean plastic will ever be recovered. There is no point us banging our heads on walls, it just hurts.

Hence, a change of tack - the next battle we face is turning off the tap - as a damage limitation exercise. What you discard locally today, a polar bear, birds, fish and whales, are eating tomorrow an ocean away.

This is a problem that so far nobody has succeeded with. Wiping away the tears for all those poor marine animals living in the plastic soup, we must concentrate on preventing the prediction that there will be more plastic that fish in the ocean by 2050.

Polluted oceans are driving insecurity from the communities suffering from hunger, to warlords capitalizing on the increasingly scarce resources. These impacts become the drivers of local conflicts which can be cultivated to escalate violence into wars for political control.

We need tougher

MARPOL legislation and enforcement, to prevent plastic from rivers flowing into the sea. We implore you to write to your MP, Senator, Prime Minister, President, Queen or King, to ask them to agree to introduce laws and rules that make it illegal in their countries to allow river waste (including microplastics) into territorial waters - and from there into international waters. A law like this is sure to trigger the introduction of monitoring, barriers and cleaning operations with equitable rewards for any organization providing such services. So far your leaders have demonstrated that they don't give a jot, and will not tackle the monopoly enjoyed by their political backers.

INDUSTRY

Manufacturers should look to replace single use plastic in packaging wherever practical. Supermarkets should look for alternative packaging if it would not detract from the quality of produce or make them uncompetitive. They might support a plastic-oil circular economy with recycling depositories at their stores.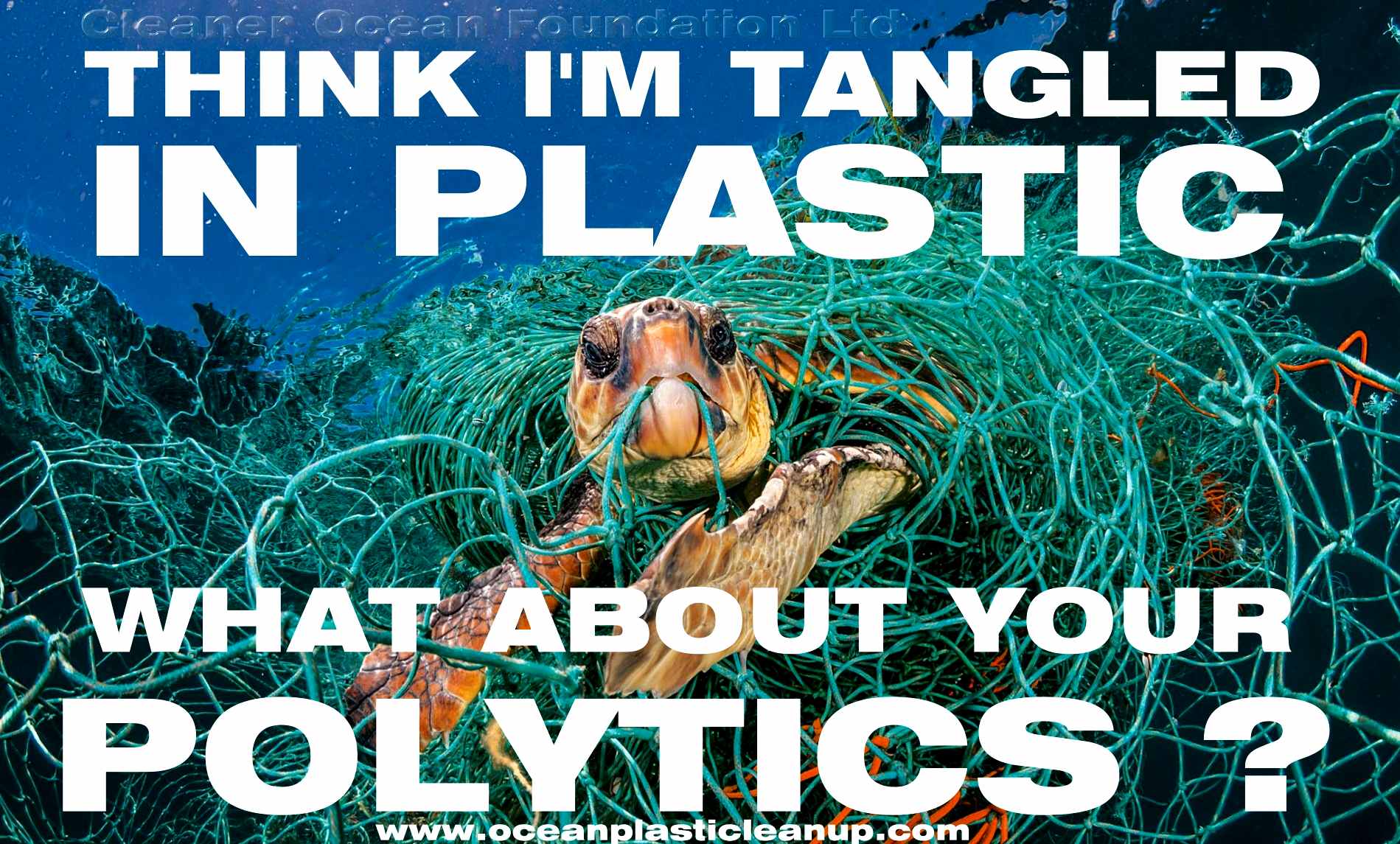 INDIFFERENCE - Tangled in a societal maze and cemented by big business oligarchs, what chance does an oyster or muscle stand, let alone a turtle, where they cannot speak, write, or vote.
You can speak for them by not purchasing goods in packaged in plastic, unless it is responsibly recycled, and by fitting a filter to your domestic machines, where they empty to a sewage treatment system.
GOVERNMENT APATHY
Governments simply don't care enough at the moment to revise their policies, because it's cheaper to take a dump in the ocean and heaven forbid, spend money on filtration for the sake of biodiversity. Politicians are reeling from climate change, they know that nobody can see them dumping waste in the oceans, and it underpins their frail economies to continue to do so - for the sake of getting re-elected. It's all about power, not lives. They will continue to slaughter defenseless animals, so long as the electorate continue to do nothing. Doing nothing is the same as agreeing with the slaughter. That is why we had World War Two, the moral world finally had to act to stop Nazi Germany invading and taking over the less able in Europe, leading to concentration camps, to eliminate political opponents and genocide on an industrial scale.
The perceived apathy will only change with a food crises and poisoned fish being declared carcinogenically inedible by the World Health Organization. I.e. with cancer victims falling like Covid-19 victims, taking up hospital beds. And even then that will only be because of the rising Healthcare bills. Governments actually seem to like it when elderly vulnerable patients bite the dust early. It's like ethnic cleansing, but legal. Or is it. Is it legal to engineer a situation where people die earlier?
* Nuclear weapons have recently been outlawed by the UN, with some nations, including the UK and USA, refusing to comply with the wishes of the majority nations, presumably fearful of thermonuclear annihilation by China and Russia. Hence, we've a ways to go on disarmament and radiation cleanup operations to make planet earth safe.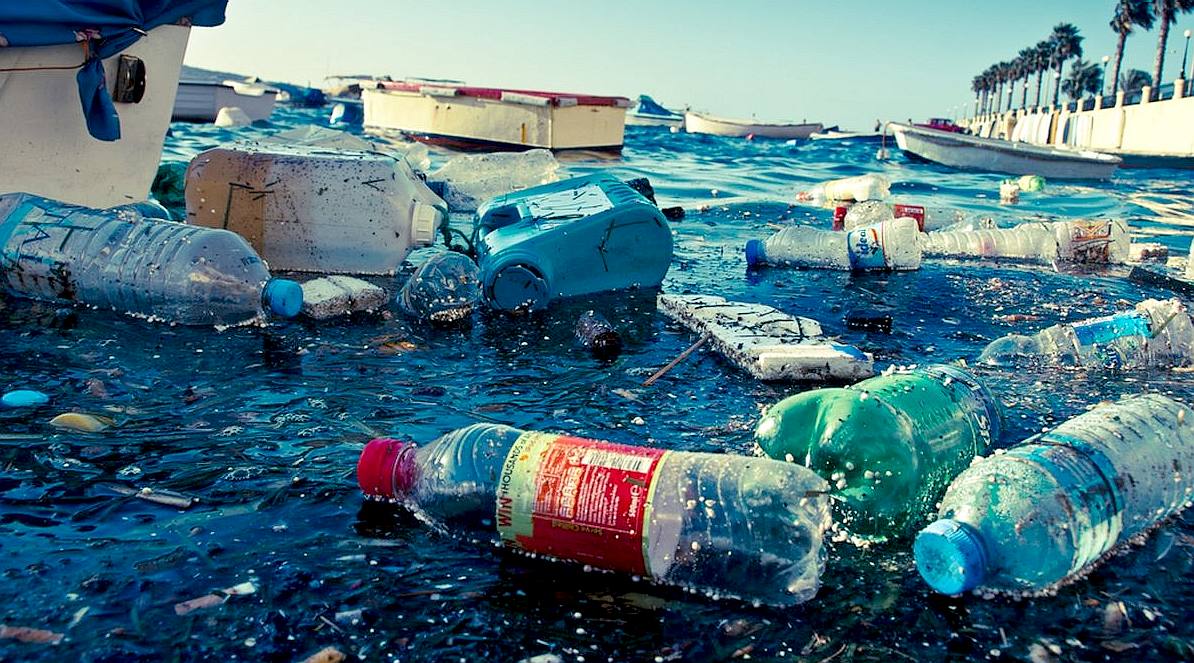 HARBOURS - The ocean washes up a small percentage of plastic flotsam to remind us of our sins. All the beach and marina cleaning is unable to keep up with the dumping in our rivers, which ends up swirling about the seven seas.