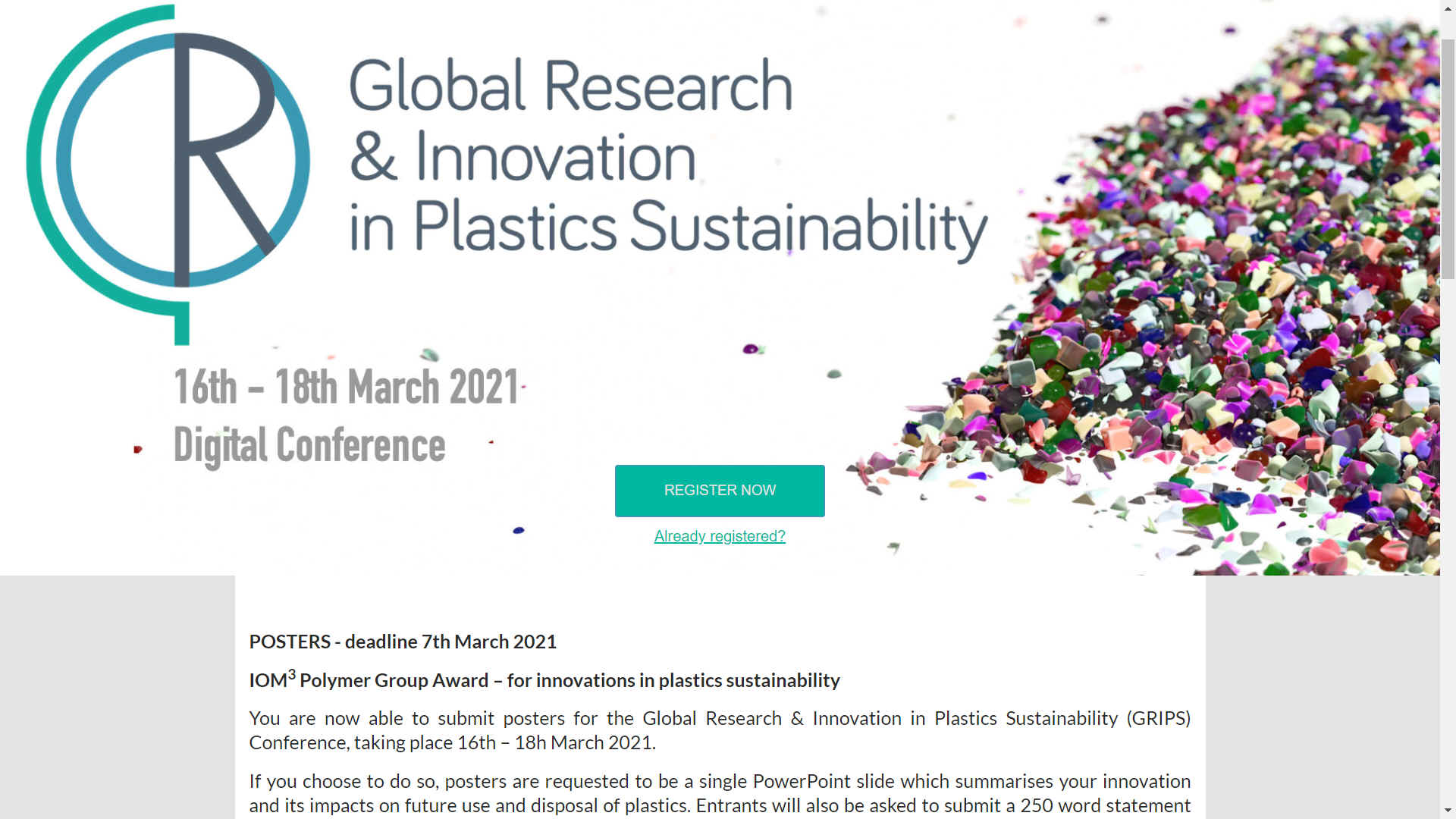 GETTING A GRIP ON PLASTIC - Is a conference on plastic research and innovation.


THURSDAY 18 MARCH - CITIZEN ENGAGEMENT - Thursday, March 18, 11:30 AM-12:30 PM GMT
We attended several events on day one (16th) and two (17th). This event was interesting to us because of our efforts to engage the pubic and raise Ocean Awareness, also an educational function under the heading Ocean Literacy. We noted the replies given by the panel, echoing our pangs in the knowledge that lobbying for this kind of change with over 160 countries in the mix, and the Global Twenty rather addicted to plastic and oil, represents a staggering challenge to any organization - and we are a very small SME - working on a not for profit basis - without the benefit of any outside funding for these activities. Hence, we are all volunteers, scratching our heads for ways to lobby at very low cost.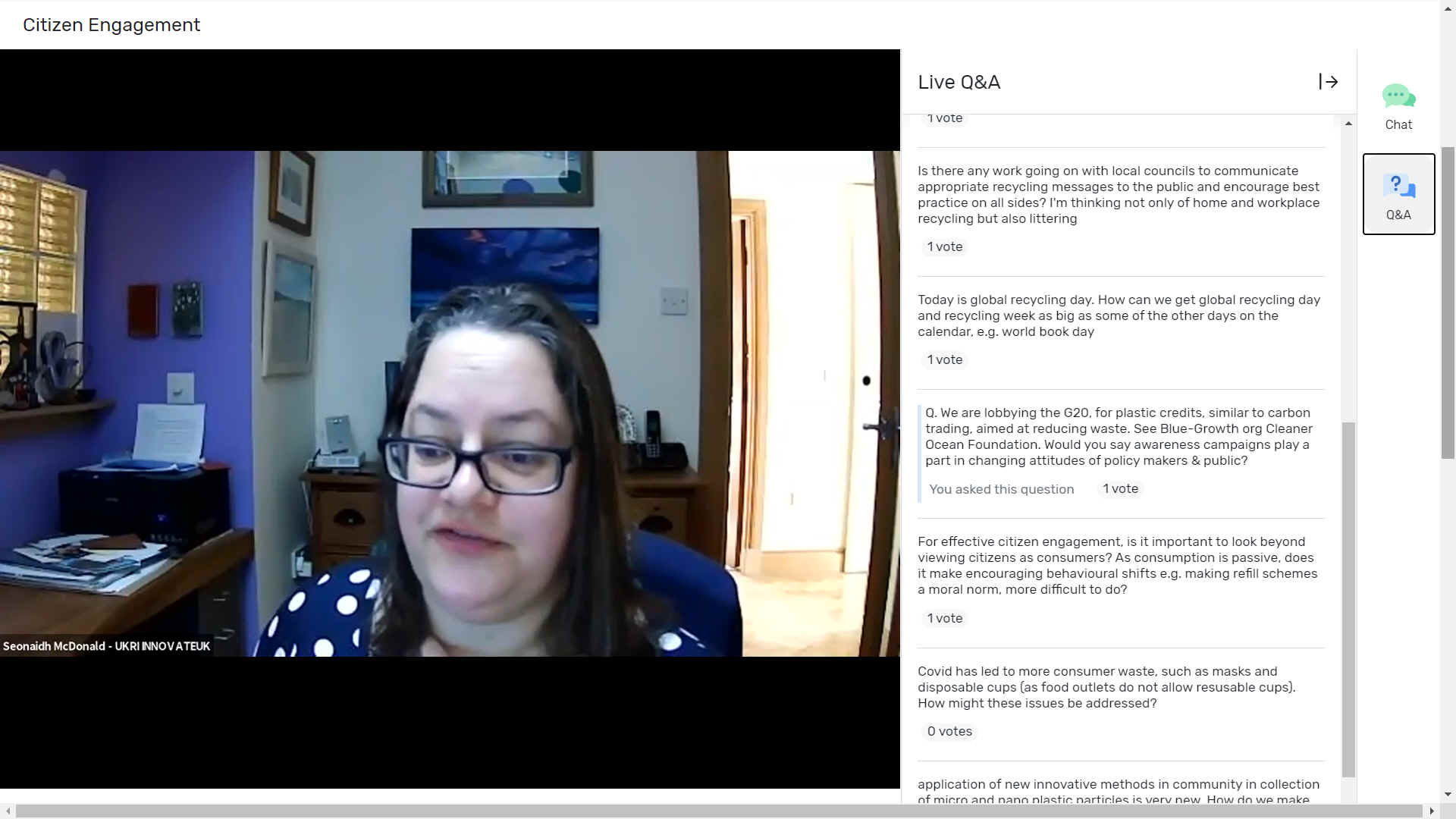 SPEAKERS

Nur Baiti Ingga Wulandhari - University of Hull


Laura Copsey - Behaviour Change Project Manager, WRAP

Laura Copsey is a Behaviour Change Project Manager at WRAP, specialising in citizen facing plastics campaigns. Laura has nine years' experience in communicating about science, sustainability and conservation to the public; and last year coordinated the launch of WRAP's Clear on Plastics campaign, which aims to cut through the confusion on plastics and give citizens clear, evidence-based information on plastics and sustainability.


Seonaidh McDonald - Innovate UK


Ayse Lisa Allison - UCL
I'm a behavioural scientist pursuing a PhD as part of the UCL Plastic Waste Innovation Hub's multi-disciplinary 'designing out plastic waste' project.
My research interests are in sustainability and health significant citizen behaviours. Throughout my PhD, I'm using theories, models and frameworks from the behavioural sciences to understand key behaviours that drive food and plastic waste and design intervention strategies to change them. I have a BSc in Psychology (2017) and MSc in Behaviour Change (2019). When I'm not working, I love getting back home to Cyprus and cuddling my cats: Pepper, 'Fat Cat', Olive and Batman.


Alexandros Skandalis - University of Lancaster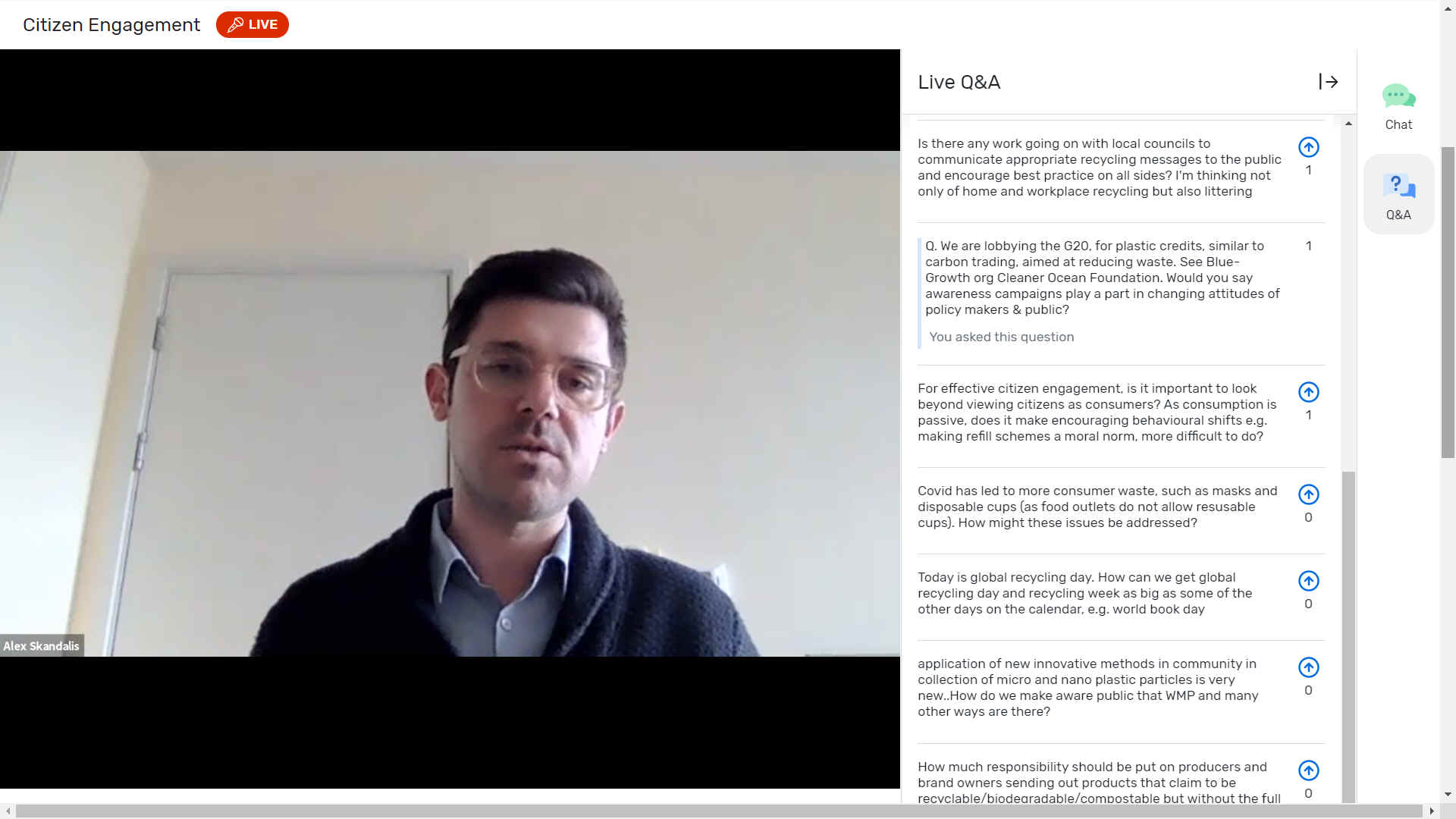 Q&A - Upcoming questions - 18 March 2021

Q. Yesterday there was a talk by Chris DeArmitt, author of "The Plastics Paradox". What does the panel think about his claims? For example: "We are told that plastics are not green when in fact, they are usually the greenest choice according to LCA". 2

Q. I couldn't agree more with the speaker. Great to hear the work that WRAP is doing to help the general public. However, with so much misinformation in the public domain, what could be done to ensure the public challenges information? Veronica Sanchez-Romaguera 1

Q. Question for Laura: have you followed up on citizens' plastic-related behaviour change after your campaigns and other activities? What is the most effective way to engage citizens to take actions on recycling/reuse? 1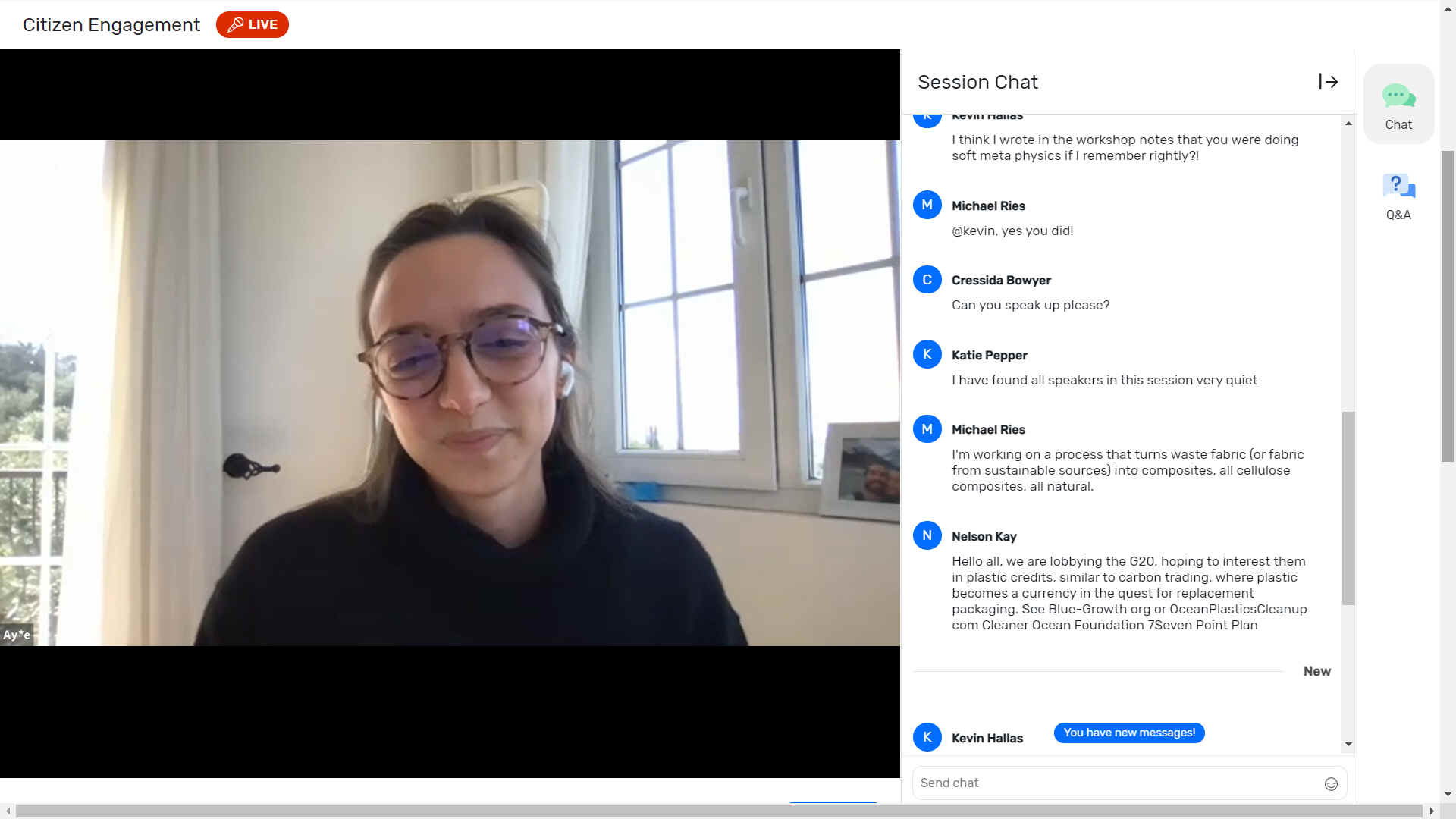 Q. We are lobbying the G20, for plastic credits, similar to carbon trading, aimed at reducing waste. See Blue-Growth org Cleaner Ocean Foundation. Would you say awareness campaigns play a part in changing attitudes of policy makers & public? 1

Q. Is there any work going on with local councils to communicate appropriate recycling messages to the public and encourage best practice on all sides? I'm thinking not only of home and workplace recycling but also littering 0

Q. Covid has led to more consumer waste, such as masks and disposable cups (as food outlets do not allow resusable cups). How might these issues be addressed? 0

Q. Today is global recycling day. How can we get global recycling day and recycling week as big as some of the other days on the calendar, e.g. world book day 0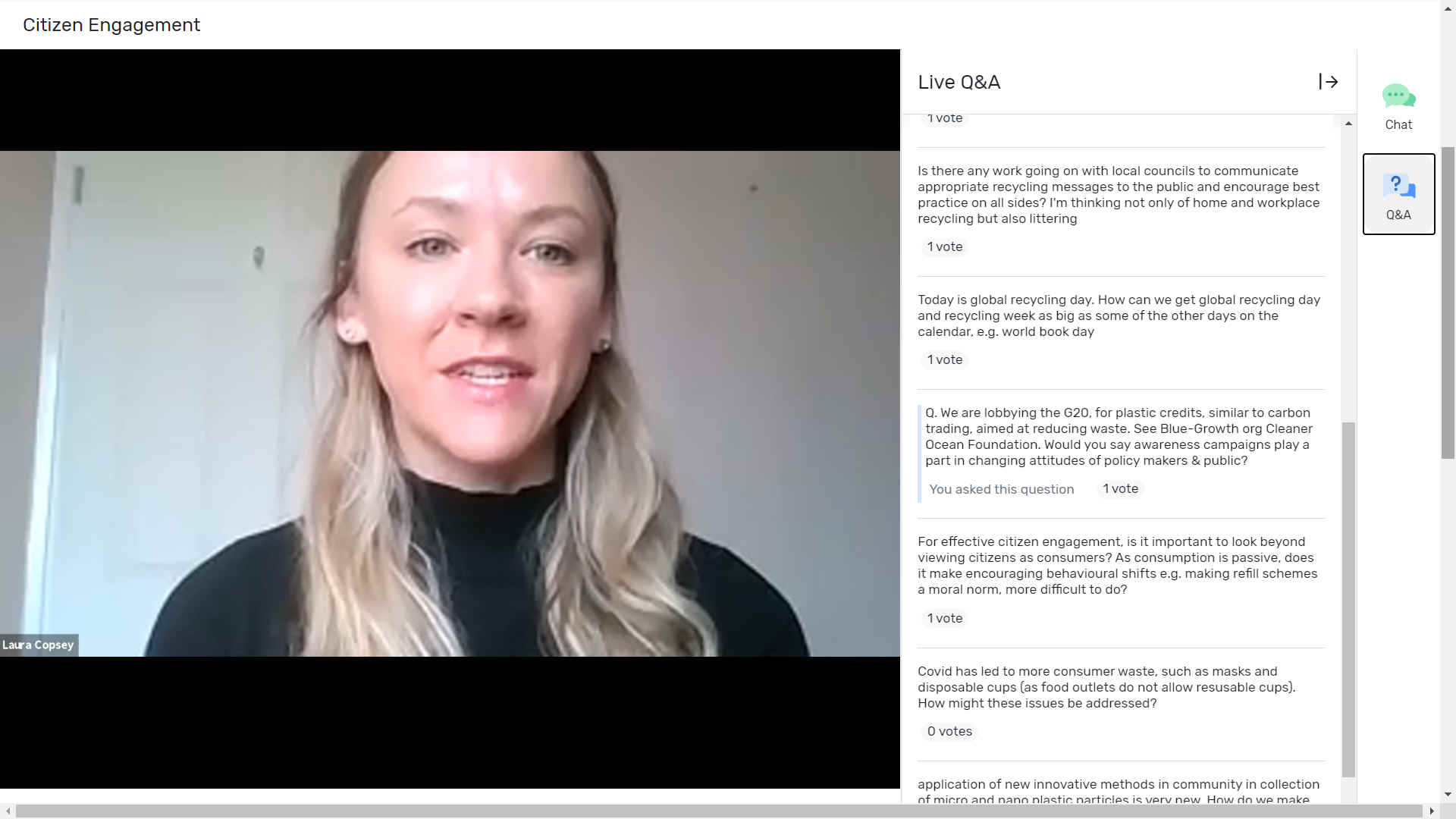 Global Research and Innovation in Plastics Sustainability (GRIPS) is a conference, exhibition and showcase held on 16th – 18th March 2021 online. GRIPS is a virtual event for all those involved in the sustainability of polymers, plastics and elastomers.
In relation to the 7Seven Point Plastic Plan proposed in March of 2021 by the Cleaner Ocean Foundation's policy advisers, research into alternative methods of packaging and filming is essential for the Seven Articles to work effectively. Hence, the Foundation wholeheartedly supports such intervention by the Knowledge Transfer and UK Circular Plastics Network. The hope is that supermarkets may have the means to transform their thinking, along with drinks companies and appliance manufacturers.
SPONSORS
EXHIBITORS






CONTACTS
Aileen Woodley | Events Manager, KTN
aileen.woodley@ktn-uk.org
OCEAN CLEANUP PROJECTS A - Z
* Adidas
* Algalita research foundation
* Aliance to end Plastic Waste AEPW
* Baltimore Mr Trash river cleaning barge
* Boyan Slat's ocean booms
* CLAIM H2020 EU marine plastic project
* Earth Day - Fact sheet ocean plastic
* Fionn Ferreira's ferrofluid extraction of microplastics
* FlashLight Press Michelle Lord & Julia Blatt
* GRIPS - Global Research & Innovation in Plastics Sustainability
* Interceptor tethered river cleaning barges
* Junk Raft - plastic awareness voyage
* Miss Ocean - Plastic Awareness Events
* 4Ocean recycled plastic bracelets
* Nike - Sneakers from recycled materials, ocean spills
* Plastic Oceans Org
* Seabin
* SeaVax autonomous drones
* Surrey University PIRATE & Triton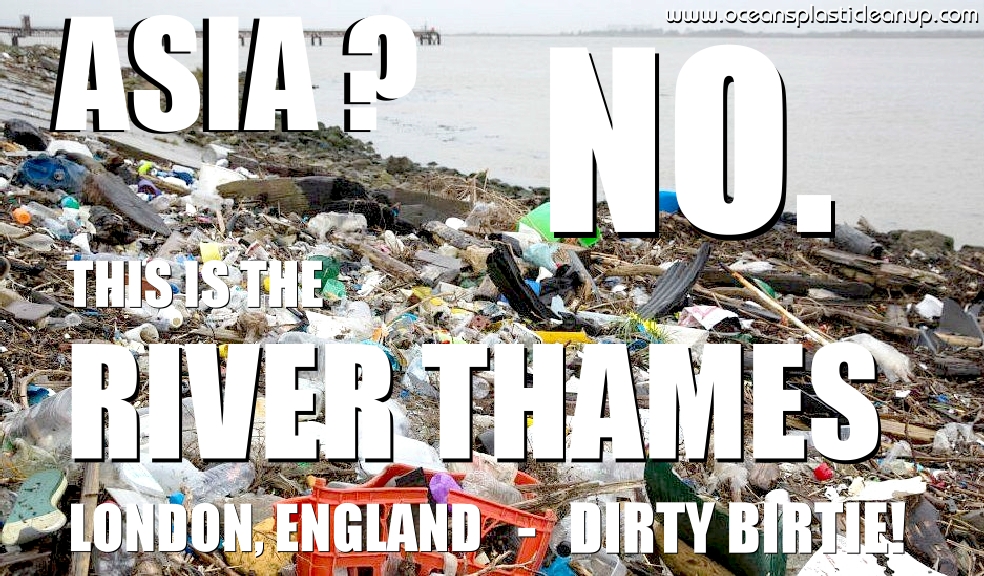 CAMPAIGN FOR ZERO WASTE - Supermarkets and oil companies have a lot to answer for. Politicians must explain why they let the retailers and fossil fuel industry get away with a practice they know to be harmful to marine life. Companies are largely driven by money and greed, their shareholders often kept in the dark. All the while millions of seabirds are dying, polar bears are playing with plastic and even shellfish have become inedible in some locations. This is morally unsound!
The River Thames is one of the filthiest rivers in the world in terms of microplastics and fibers. Yet nobody from the UK Government has made contact with the Foundation in over four years - even to test the water - nor Bluebird Marine in the two preceding years 2015-16. It speaks for itself that they must be happy as pigs in ---t!
GRIPS are not alone in the fight against ocean plastic. These emerging technologies could all play a part in containing the mountain of plastic that is accumulating on the oceans floors, by recovering floating debris before it sinks. New ideas are welcomed.
LINKS & REFERENCE
https://
GLOBAL RESEARCH & INNOVATION IN PLASTICS SUSTAINABILITY -
BIODEGRADABILITY - CAPTURING FUGITIVE PLASTIC - EMERGING POLICIES - KEYNOTE SPEAKERS - MICROFIBRES - MITIGATION IMPLICATIONS