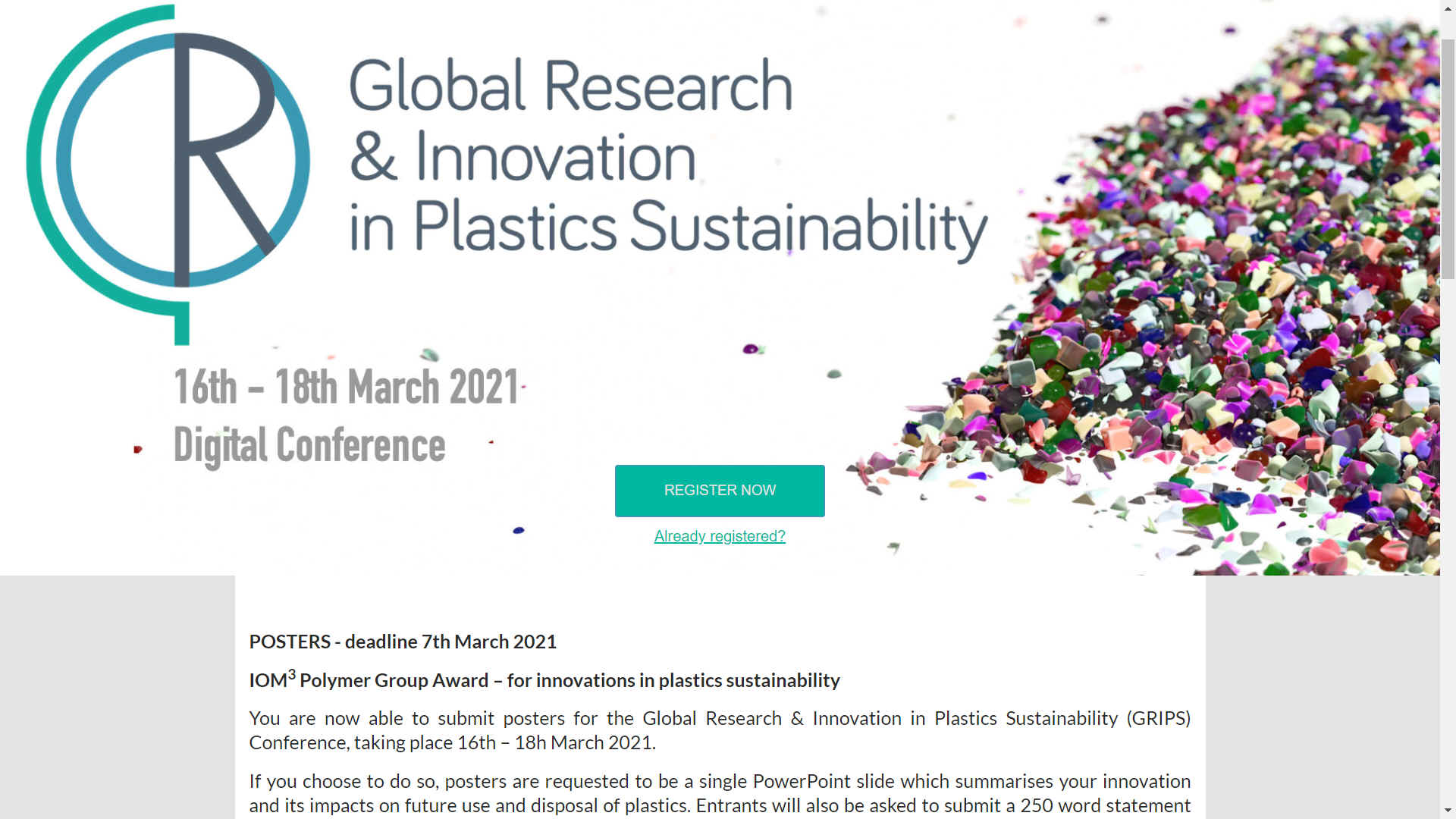 GETTING A GRIP ON PLASTIC - Is a conference on plastic research and innovation.
COMPOSTABLES AND BIDEGRADATION

Tuesday, March 16, 3:00 PM-4:00 PM GMT

Description: The session will look at the solutions, life cycles and behaviours related to compostable packaging and biodegradable polymers.

SPEAKERS


Mark Miodownik - Professor, UCL

Mark Miodownik is the UCL Professor of Materials & Society. He received his Ph.D in turbine jet engine alloys from Oxford University, and has worked as a materials engineer in the USA, Ireland and the UK. For more than twenty years he has championed materials science research that links to the arts and humanities, medicine, and society. This culminated in the establishment of the UCL Institute of Making, where he is a director and runs the research programme. Mark also recently set up the Plastic Waste Innovation Hub to carry our research into solving the environmental catastrophe of plastic waste. Mark is the multi-award winning author of New York Times bestselling book Stuff Matters. He regularly presents BBC TV and radio programmes on materials science and engineering. In 2014 he was elected a fellow of the Royal Academy of Engineering. In 2018 he was awarded an MBE for services to materials science, engineering and broadcasting.

David Newman - End of Life

Rachael Rothman - Co Director Grantham Centre for Sustainable Futures, The University of Sheffield

Chemical Engineer with a passion for sustainability. Taking a systems approach to the development and analysis of sustainable processes and products and clean energy systems. Deputy PI on the Plastics: Redefining Single Use project and CoI on Many Happy Returns, looking at making reuse systems mainstream.

Paul Gilligan - CEO, Magical Mushroom Co

Q&A - Upcoming questions - Sorted by vote
Why is there no plastic offset system, like the Kyoto carbon trading system - to help reduce reliance on conventional mainstream plastics like PET. Or has this been suggested before, and if so, what is the state of play?
This question was not answered as the session ran out of time. The host said that the subject would require a whole session on its own.

SPONSORS
EXHIBITORS






Global Research and Innovation in Plastics Sustainability (GRIPS) is a conference, exhibition and showcase held on 16th – 18th March 2021 online. GRIPS is a virtual event for all those involved in the sustainability of polymers, plastics and elastomers.
In relation to the 7Seven Point Plastic Plan proposed in March of 2021 by the Cleaner Ocean Foundation's policy advisers, research into alternative methods of packaging and filming is essential for the Seven Articles to work effectively. Hence, the Foundation wholeheartedly supports such intervention by the Knowledge Transfer and UK Circular Plastics Network. The hope is that supermarkets may have the means to transform their thinking, along with drinks companies and appliance manufacturers.
CONTACTS
Aileen Woodley | Events Manager, KTN
aileen.woodley@ktn-uk.org
OCEAN CLEANUP PROJECTS A - Z
* Adidas
* Algalita research foundation
* Aliance to end Plastic Waste AEPW
* Baltimore Mr Trash river cleaning barge
* Boyan Slat's ocean booms
* CLAIM H2020 EU marine plastic project
* Earth Day - Fact sheet ocean plastic
* Fionn Ferreira's ferrofluid extraction of microplastics
* FlashLight Press Michelle Lord & Julia Blatt
* GRIPS - Global Research & Innovation in Plastics Sustainability
* Interceptor tethered river cleaning barges
* Junk Raft - plastic awareness voyage
* Miss Ocean - Plastic Awareness Events
* 4Ocean recycled plastic bracelets
* Nike - Sneakers from recycled materials, ocean spills
* Plastic Oceans Org
* Seabin
* SeaVax autonomous drones
* Surrey University PIRATE & Triton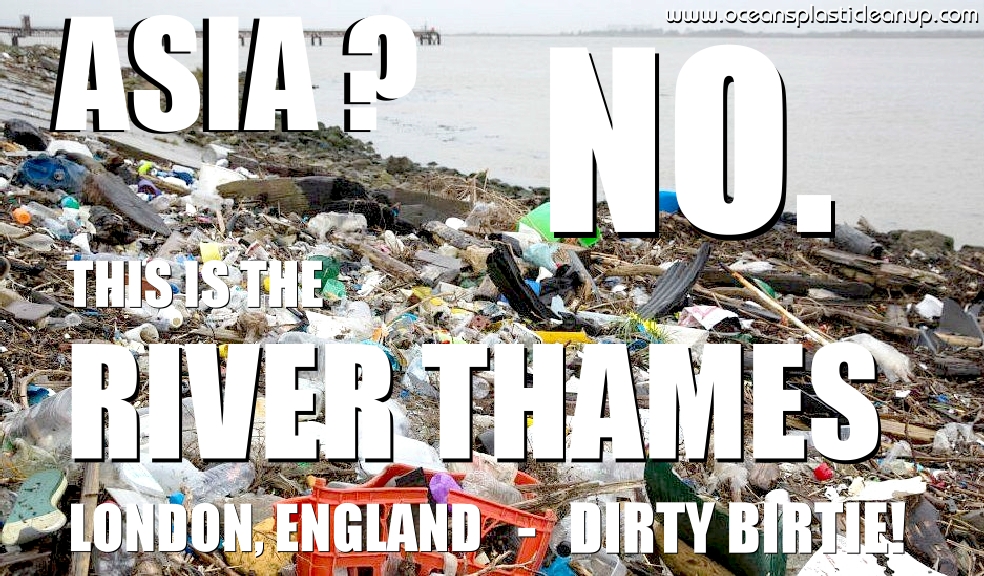 CAMPAIGN FOR ZERO WASTE - Supermarkets and oil companies have a lot to answer for. Politicians must explain why they let the retailers and fossil fuel industry get away with a practice they know to be harmful to marine life. Companies are largely driven by money and greed, their shareholders often kept in the dark. All the while millions of seabirds are dying, polar bears are playing with plastic and even shellfish have become inedible in some locations. This is morally unsound!
The River Thames is one of the filthiest rivers in the world in terms of microplastics and fibers. Yet nobody from the UK Government has made contact with the Foundation in over four years - even to test the water - nor Bluebird Marine in the two preceding years 2015-16. It speaks for itself that they must be happy as pigs in ---t!
GRIPS are not alone in the fight against ocean plastic. These emerging technologies could all play a part in containing the mountain of plastic that is accumulating on the oceans floors, by recovering floating debris before it sinks. New ideas are welcomed.
LINKS & REFERENCE
https://
GLOBAL RESEARCH & INNOVATION IN PLASTICS SUSTAINABILITY -
BIODEGRADABILITY - CAPTURING FUGITIVE PLASTIC - EMERGING POLICIES - KEYNOTE SPEAKERS - MICROFIBRES - MITIGATION IMPLICATIONS