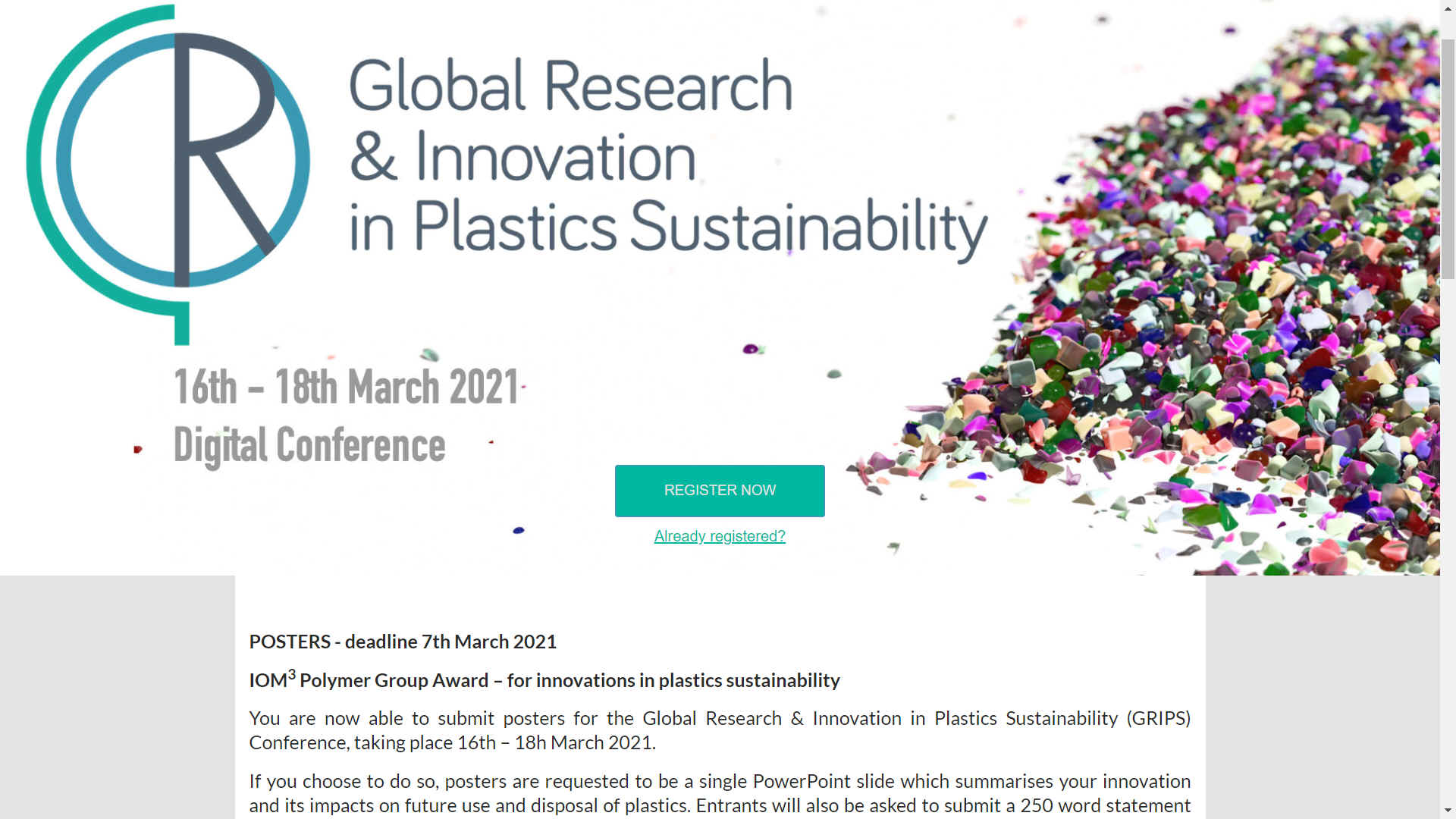 GETTING A GRIP ON PLASTIC -
Global Research and Innovation in Plastics Sustainability (GRIPS) is a conference, exhibition and showcase held on 16th – 18th March 2021 online. GRIPS is a virtual event for all those involved in the sustainability of polymers, plastics and elastomers.
In relation to the 7Seven Point Plastic Plan proposed in March of 2021 by the Cleaner Ocean Foundation's policy advisers, research into alternative methods of packaging and filming is essential for the Seven Articles to work effectively. Hence, the Foundation wholeheartedly supports such intervention by the Knowledge Transfer and UK Circular Plastics Network. The hope is that supermarkets may have the means to transform their thinking, along with drinks companies and appliance manufacturers.
Opening Plenary & Keynote Addresses - Tuesday, March 16, 10:00 AM-12:00 PM

Keynote talks and panel discussion - Chaired by Alicia Greated, KTN

Welcome Address by Prof. Sir Duncan Wingham OBE, UKRI

Keynotes:

Prof. Richard Thompson OBE, FRS, University of Plymouth
Josephine Moe Christoffersen, Ellen MacArthur Foundation
Libby Peake, Green Alliance
Helen Jordan, British Plastics Federation

Q&A - Nick Cliffe, Innovate UK

Speakers
Alicia Greated - CEO, KTN
Dr Alicia Greated is the Chief Executive Officer for KTN. KTN exists to connect innovators with new partners and new to accelerate ideas into real-world solutions. Previously Alicia was Global Director, Research Engagement at Heriot-Watt University and prior to that, led the Newton Fund (a £735 million research and innovation fund to enhance the UK's engagement with global emerging economies) delivery team at the UK's Department of Business, Energy & Industrial Strategy (BEIS). In 2008, Alicia moved to Delhi, India where she was founder and Director of Research Council UK (RCUK) India at the British High Commission. After four years in India, she moved to Beijing to become Director RCUK China at the British Embassy in Beijing. Alicia has worked as acting Director of Research for the Arts and Humanities Research Council (AHRC). She also spent five years at the Engineering and Physical Sciences Research Council (EPSRC) where she was Head of Engineering. Alicia has a PhD in Molecular Genetics. She is a Fellow of the Institution of Engineering and Technology and a representative on the UK Government's Jet Zero Council. Alicia is a member of various advisory groups including Scottish Funding Council's Research and Knowledge Exchange Committee, the Una Europa External Advisory Board and will join the Royal Society's Science, Industry and Translation Committee from 2021.

Duncan Wingham - Executive Chair, NERC
Duncan received a B.Sc. from the University of Leeds in 1979, and a Ph.D from the University of Bath in 1984, both in physics. He joined University College London in 1986, where he held lecturing posts at the Mullard Space Science Laboratory and the Department of Electronic and Electrical Engineering. He was appointed as a Chair in the Department of Space and Climate Physics in 1996, and was Head of the Department of Earth Sciences at UCL from 2005 to 2010. He was founder and Director of the NERC Centre for Polar Observation and Modelling (CPOM) from 2000 to 2005 which, among other things, discovered the widespread mass loss from the West Antarctic Ice Sheet and its origin in accelerated ocean melting. He was Chairman of the Science and Innovation Board of NERC and, since 2000, the Lead Investigator of the ESA CryoSat and CryoSat-2 satellite missions. Duncan became Chief Executive of the Natural Environment Research Council on 1st January 2012 and then Executive Chair on 1st April 2018, when the Natural Environment Research Council became part of UK Research and Innovation. Duncan was knighted in the New Year Honours 2020.


Josephine Moe Christoffersen - Ellen MacArthur Foundation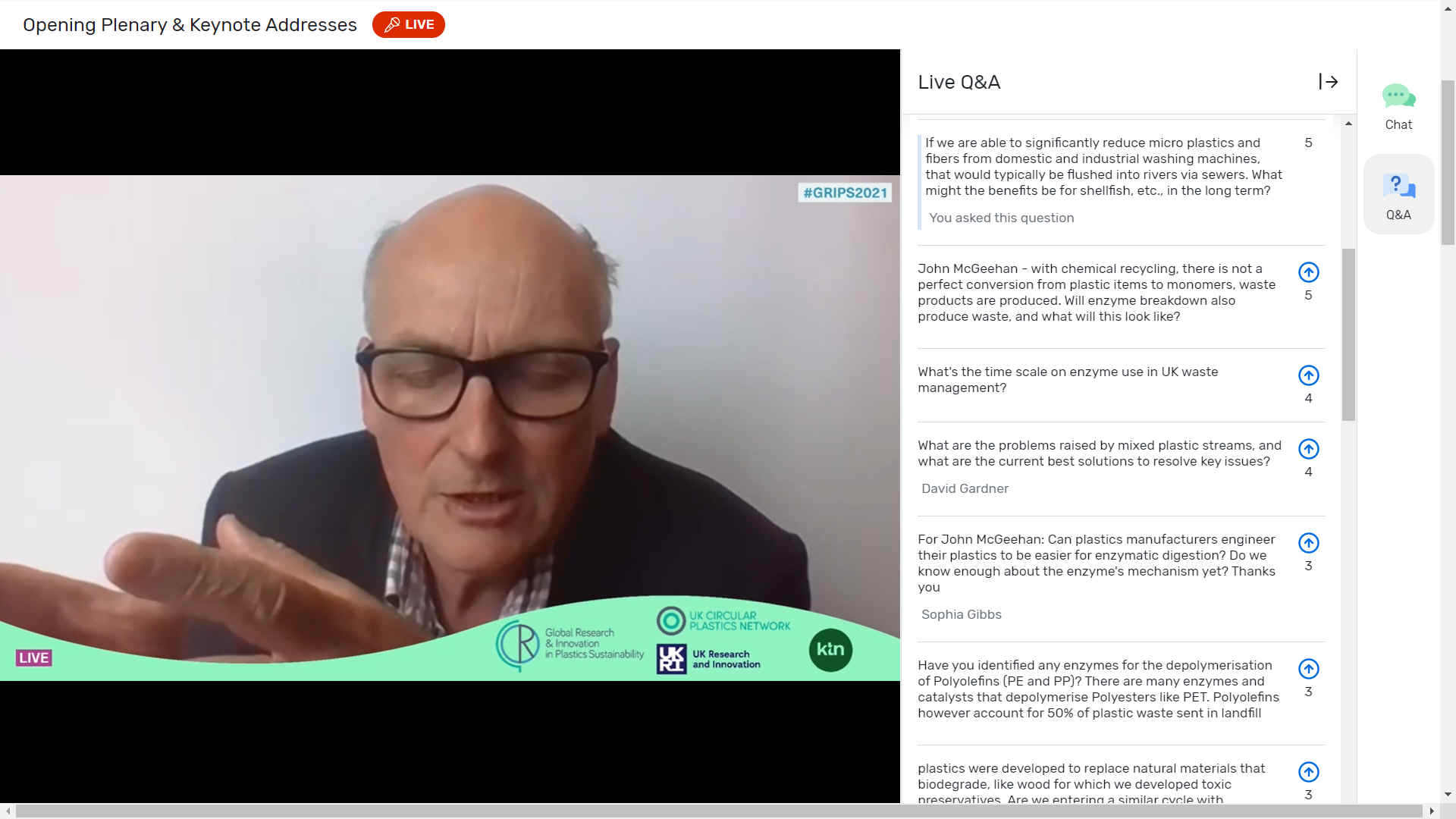 Richard Thompson - Director of the Marine Institute, University of Plymouth

Richard Thompson is a Marine Biologist and one of the world's foremost experts on plastic pollution. In 2004, he published the first paper describing the long-term accumulation of microscopic fragments of plastic in the environment, naming them 'microplastics'. He and his team have been at the forefront of microplastics research and have shown their global distribution, the potential for transfer from the gut to the circulatory system, and their role in the transport of chemical contaminants. This pioneering early work was pivotal in recognition of microplastic contamination in policy, such as Marine Strategy Framework Directive. Richard has an extensive track record of collaboration across the disciplines, with an emphasis on identifying ways to use plastics more sustainably. His recent work has guided policy on the release of microplastics from cosmetic products and textiles. His wider research focuses on the ecology of shallow water habitats, including artificial structures. He received the Marsh Award for Marine and Freshwater Conservation in 2017, an OBE for services to marine science in 2018 and was elected a Fellow of the Royal Society in 2020. His team at the Marine Litter Research Unit won the NERC Impact Award (2018) and based on their work the University of Plymouth received the Queen's Anniversary Prize for Higher and Further Education in 2020.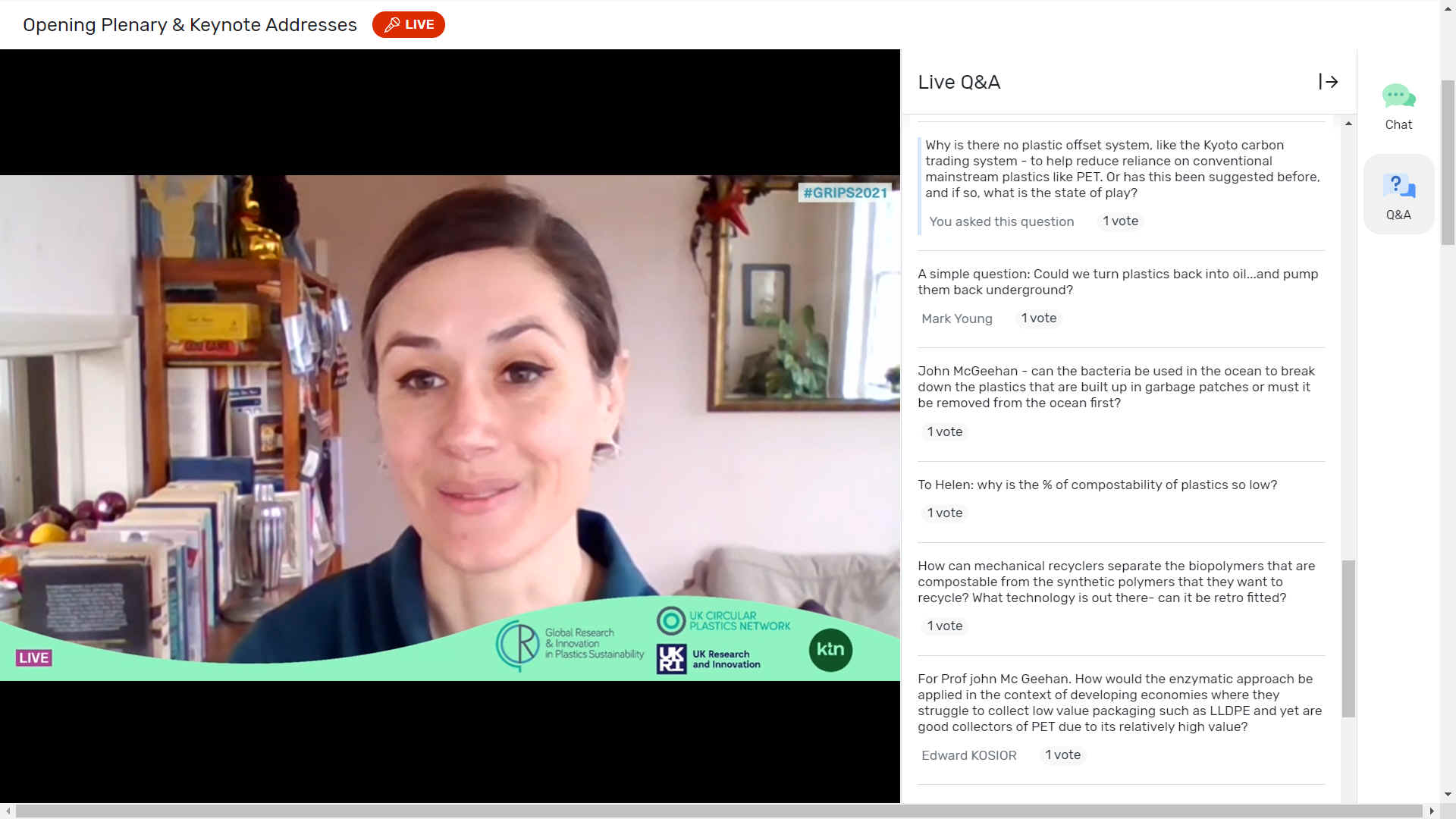 Libby Peake - Head of Resource Policy, Green Alliance
Libby Peake is head of resource policy at Green Alliance, an independent charity and think tank focused on achieving ambitious leadership for the environment. She works closely with other NGOs, academics and businesses to promote better use of resources throughout the economy. This includes managing the Circular Economy Task Force, a forum for business thinking on resource efficient policies. Much of her current research is focused on driving the right innovations, infrastructure and systemic changes to encourage improvements in resource use. Her recent reports include By popular demand: what people want from a resource efficient economy, Building a circular economy: how a new approach to infrastructure can put an end to waste, and Plastic promises: what the grocery sector is really doing about packaging. She is an expert and trusted commentator on topics including: ecodesign; chemicals regulation; resource efficiency; plastic; and recycling.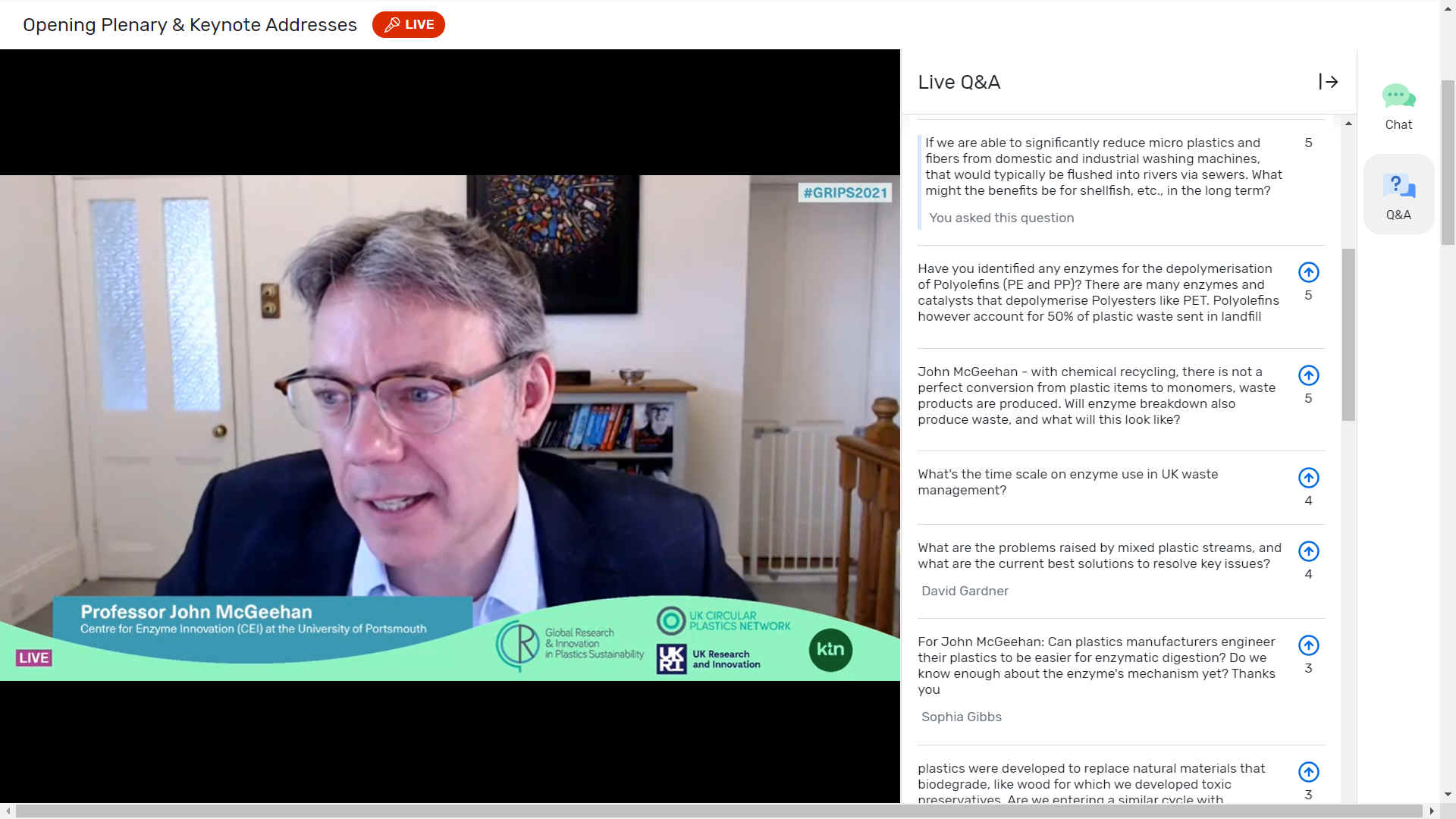 John McGeehan - Director, Centre for Enzyme Innovation, University of Portsmouth
John McGeehan is a Professor of Structural Biology focused on the global challenge of plastic pollution and leads a team of scientists researching natural enzyme discovery and engineering. Their work revealed the detailed workings of an enzyme that can digest polyethylene terephthalate (PET), and more recently, demonstrated that engineering these enzymes can increase efficiency.
Found in single-use drinks bottles, packaging, clothing and carpets, PET can take centuries to decompose, and together with other plastics, is accumulating in our environment at a staggering rate. A biological catalyst that can break down PET into its original building blocks opens new opportunities for recycling towards a circular plastics economy.
Their work on PET-digesting enzymes has been widely covered in the media following two key papers in 2018 and 2020 in the journal PNAS, and the project received the Times Higher Education STEM Research Project of the Year in 2019. The group is rapidly expanding due to a £6m grant from Research England which has allowed the recruitment of 15 additional researchers for the new Centre for Enzyme Innovation. Current projects include the discovery and engineering of a wide range of enzymes that can break down natural and synthetic polymers.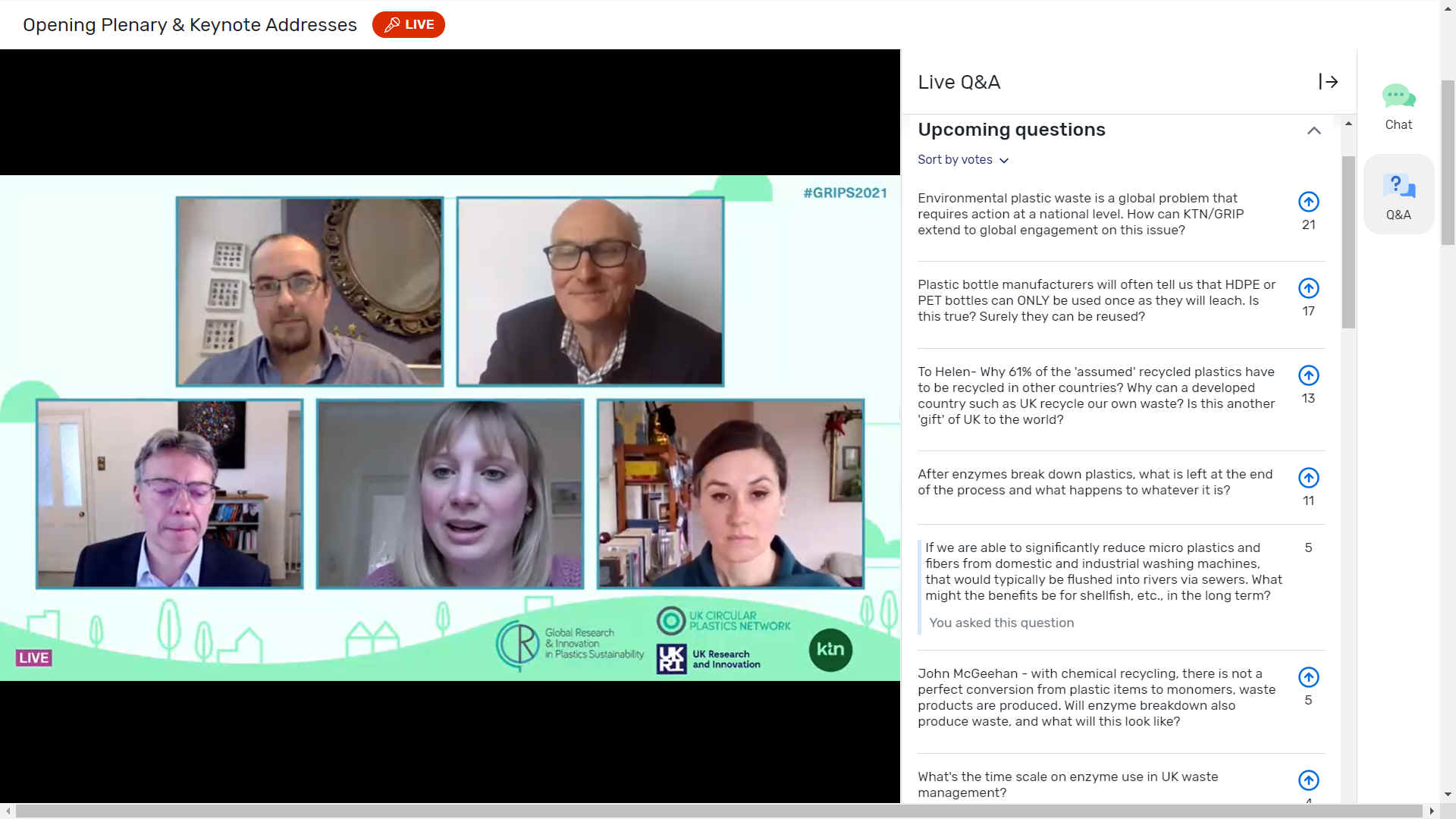 Nick Cliffe - Innovate UK

Helen Jordan - Senior Recycling Exectutive, British Plastics Federation
Helen Jordan is the Senior Recycling Issue Executive at the British Plastics Federation and has work with the BPF Recycling Group for over 5 years. The Recycling Group focus on issues such as changes to waste shipment regulations, PRN reform, legacy additives and promoting the development of recycling infrastructure within the UK. Helen worked with a consultant to produce the BPF Recycling Roadmap which brings together all the current data on plastic recycling and also makes a forecast for what plastic recycling could be like in 2030. Before working at the BPF Helen spent 7 years in local government working within the Waste and Recycling Team.
Q&A - Upcoming questions - Sorted by votes

Environmental plastic waste is a global problem that requires action at a national level. How can KTN/GRIP extend to global engagement on this issue? 20

Plastic bottle manufacturers will often tell us that HDPE or PET bottles can ONLY be used once as they will leach. Is this true? Surely they can be reused? 14

To Helen- Why 61% of the 'assumed' recycled plastics have to be recycled in other countries? Why can a developed country such as UK recycle our own waste? Is this another 'gift' of UK to the world? 10

After enzymes break down plastics, what is left at the end of the process and what happens to whatever it is? 9

If we are able to significantly reduce micro plastics and fibers from domestic and industrial washing machines, that would typically be flushed into rivers via sewers. What might the benefits be for shellfish, etc., in the long term? 5

John McGeehan - with chemical recycling, there is not a perfect conversion from plastic items to monomers, waste products are produced. Will enzyme breakdown also produce waste, and what will this look like? 5

Have you identified any enzymes for the depolymerisation of Polyolefins (PE and PP)? There are many enzymes and catalysts that depolymerise Polyesters like PET. Polyolefins however account for 50% of plastic waste sent in landfill 3

What's the time scale on enzyme use in UK waste management? 3

Plastics were developed to replace natural materials that biodegrade, like wood for which we developed toxic preservatives. Are we entering a similar cycle with enzymatic recycling. how to stop premature digestion when critical without toxicity? 3
For John McGeehan: Can plastics manufacturers engineer their plastics to be easier for enzymatic digestion? Do we know enough about the enzyme's mechanism yet? Thank you 2
John, how do you think PETase will be applied in the future? Do you think it would replace current recycling methods, produce high purity monomer or even be used for the plastic pollution issue, or something else completely? 2
Question for John McGeehan - very impressive work on modified PETase, but shouldn't the control for life cycle analysis be recycled PET and not virgin PET? 2
What are the enzymes composed of (Prof McGeehan) ? If they are growing could they be used as a source of protein for other uses? 2
The challenge of microplastic in soil and the potential danger of such microplastic leaching into water bodies is on the rise. (1) How can the approach of using enzymes be applied to address the presence of microplastic in soil? 2
Why is there no plastic offset system, like the Kyoto carbon trading system - to help reduce reliance on conventional mainstream plastics like PET. Or has this been suggested before, and if so, what is the state of play? 1
There is currently no regulation regarding plastic debris level in e.g. liquid waste effluents, such as wastewater or sludge. They end up in seawater, freshwater or landfilling. Would introducing plastic reduction requirement by law solve the issue? 1
John McGeehan - can the bacteria be used in the ocean to break down the plastics that are built up in garbage patches or must it be removed from the ocean first? 1
What are the problems raised by mixed plastic streams, and what are the current best solutions to resolve key issues? 1
How easy/difficult is to collect and scale enzymes? What is the associated cost? 0
There are biodegradable polymers being made available, but is there a way to design a new polymer that biodegrades to the monomers - so combining the search for new enzymes but also changing the polymer research? 0
A simple question: Could we turn plastics back into oil...and pump them back underground? 0
For John, we're told that food residuals can affect the recycling process. How does this compare with the enzymatic process? Do residuals effect the efficiency? 0
To Helen: why is the % of compostability of plastics so low? 0
John McGeehan do the PETases show any activity with PEF (the bio-based PET substitute)? 0
How can mechanical recyclers separate the biopolymers that are compostable from the synthetic polymers that they want to recycle? What technology is out there- can it be retro fitted? 0
SPONSORS
EXHIBITORS






CONTACTS
Aileen Woodley | Events Manager, KTN
aileen.woodley@ktn-uk.org
OCEAN CLEANUP PROJECTS A - Z
* Adidas
* Algalita research foundation
* Aliance to end Plastic Waste AEPW
* Baltimore Mr Trash river cleaning barge
* Boyan Slat's ocean booms
* CLAIM H2020 EU marine plastic project
* Earth Day - Fact sheet ocean plastic
* Fionn Ferreira's ferrofluid extraction of microplastics
* FlashLight Press Michelle Lord & Julia Blatt
* GRIPS - Global Research & Innovation in Plastics Sustainability
* Interceptor tethered river cleaning barges
* Junk Raft - plastic awareness voyage
* Miss Ocean - Plastic Awareness Events
* 4Ocean recycled plastic bracelets
* Nike - Sneakers from recycled materials, ocean spills
* Plastic Oceans Org
* Seabin
* SeaVax autonomous drones
* Surrey University PIRATE & Triton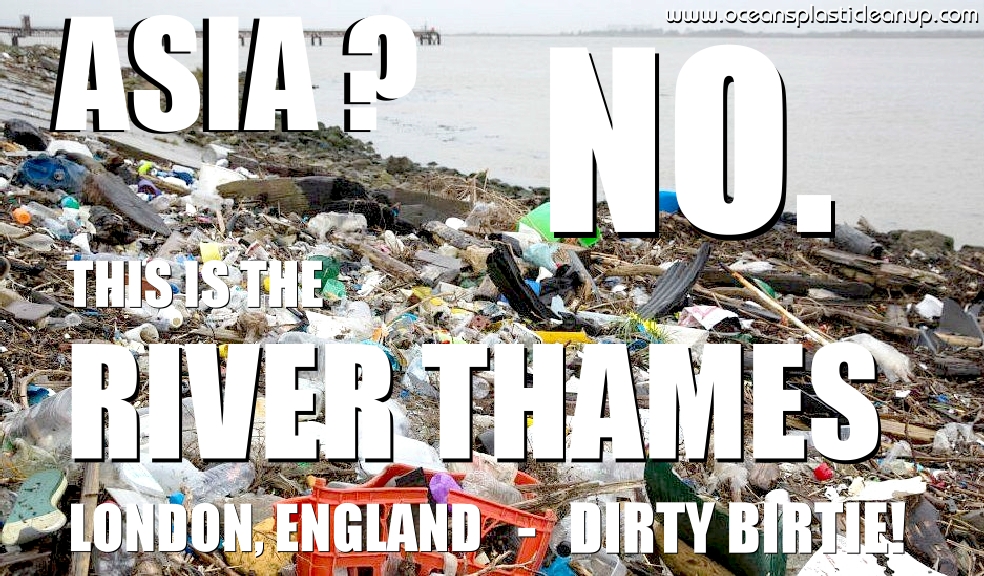 CAMPAIGN FOR ZERO WASTE - Supermarkets and oil companies have a lot to answer for. Politicians must explain why they let the retailers and fossil fuel industry get away with a practice they know to be harmful to marine life. Companies are largely driven by money and greed, their shareholders often kept in the dark. All the while millions of seabirds are dying, polar bears are playing with plastic and even shellfish have become inedible in some locations. This is morally unsound!
The River Thames is one of the filthiest rivers in the world in terms of microplastics and fibers. Yet nobody from the UK Government has made contact with the Foundation in over four years - even to test the water - nor Bluebird Marine in the two preceding years 2015-16. It speaks for itself that they must be happy as pigs in ---t!
GRIPS are not alone in the fight against ocean plastic. These emerging technologies could all play a part in containing the mountain of plastic that is accumulating on the oceans floors, by recovering floating debris before it sinks. New ideas are welcomed.
LINKS & REFERENCE
https://
GLOBAL RESEARCH & INNOVATION IN PLASTICS SUSTAINABILITY -
BIODEGRADABILITY - CAPTURING FUGITIVE PLASTIC - EMERGING POLICIES - KEYNOTE SPEAKERS - MICROFIBRES - MITIGATION IMPLICATIONS