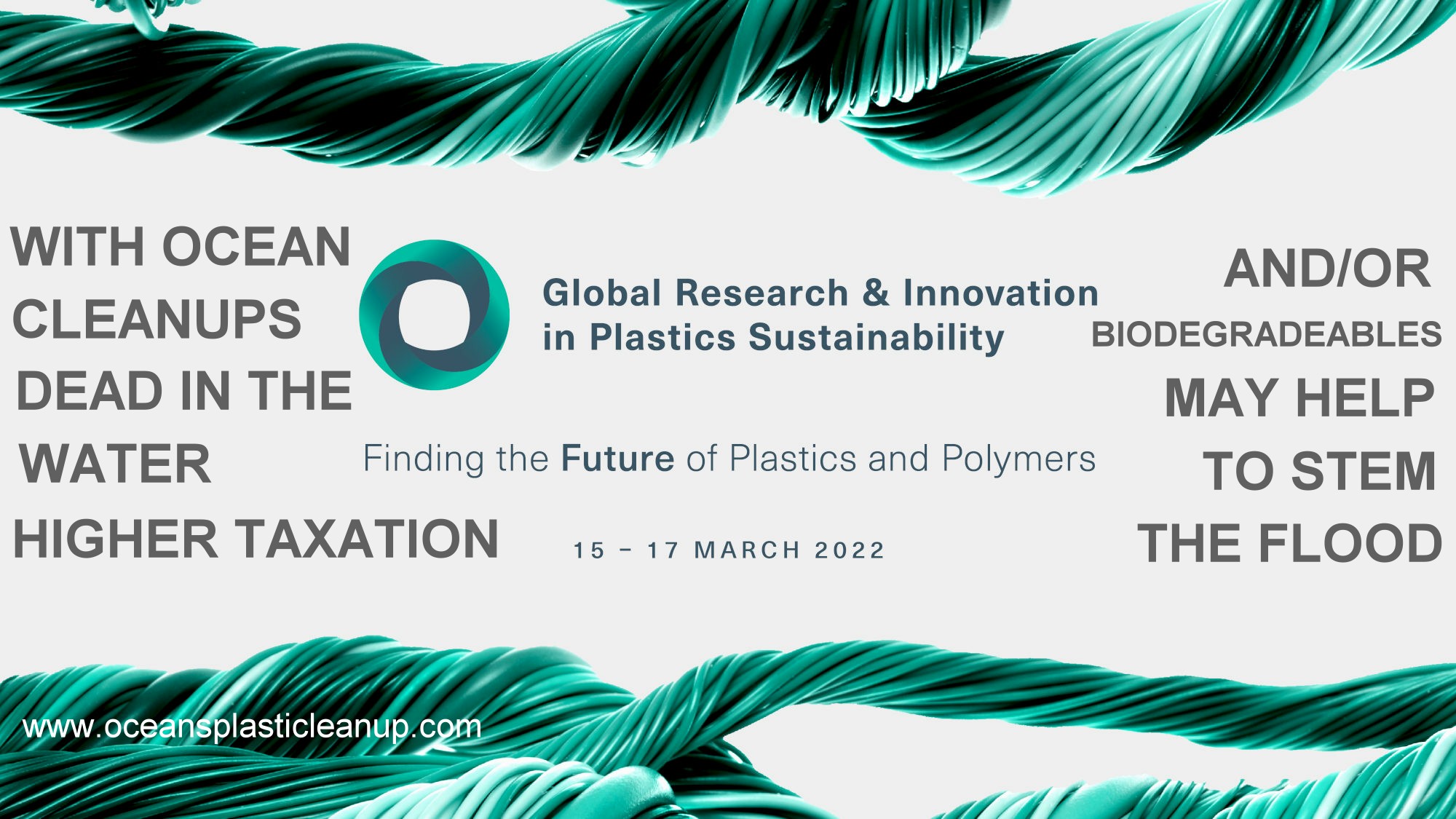 In the absence of equitable support for the development and deployment of mass ocean plastic cleaning technology, the world is left with taxation as a means to discourage manufacturers to package their products in plastic. The problem here is that while the UK is introducing a packaging tax based on forcing plastic companies recycling more recovered product, the rest of the world may be slow to react, or worse, may never take the bait - unless there are environmental lobby groups to apply political pressure. We don't believe the rising levels of toxins in fish will deter the public from eating seafood - though this may impinge on national health services in due course - most governments only think to the next election.
Global Research and Innovation in Plastics Sustainability (GRIPS) is a conference, exhibition and showcase held on 15th – 17th March 2022 online between 09:30 - 12:30 GMT.
GRIPS is a virtual event for all those involved in the sustainability of polymers, plastics and elastomers.
In relation to the 7Seven Point Plastic Plan proposed in March of 2021 by the Cleaner Ocean Foundation's policy advisers, research into alternative methods of packaging and filming is essential for the Seven Articles to work effectively. Hence, the Foundation wholeheartedly supports such intervention by the Knowledge Transfer and UK Circular Plastics Network. The hope is that supermarkets may have the means to transform their thinking, along with drinks companies and appliance manufacturers.
This event is hosted by the UK Circular Plastics Network, organised by KTN and supported by Innovate UK.

The event promises a packed programme, covering three parallel sessions over the three days allocated.
GRIPS will focus on Finding the Future of Plastics & Polymers with 100+ speakers, 50 exhibitors, and 3 days of interactive sessions driven by sector experts with themes on: construction; legislation; agriculture; healthcare; net zero; marine plastics; chemical recycling; sustainable design; innovation opportunities in global markets; plastic packaging; and many more.
With the forthcoming Plastics Packaging Tax, extended producer responsibility (EPR) and deposit return schemes being on the near horizon, the adoption at scale of the innovations that will have impact in the UK and worldwide are of great importance. This promises to be a must see for what the future may hold!
SPEAKERS:
David Shukman (Former Science Editor, BBC),
Prof. Tony Ryan (University of Sheffield),
Jude Allan (Chair of Packaging Group, IOM3),
Prof. Michael Shaver (Professor of Polymer Science, University of Manchester), and
Rachael Rothman (Grantham Centre for Sustainability), and Adam Read (Suez).
GRIPS 2021 attracted over 3,000 registrants, 180 speakers and 50 exhibitors, There were 9000+ viewed sessions in the GRIPS event Hub, with nearly 700 1:1 meetings taking place between exhibitors and delegates, while the hashtag #GRIPS2021 reached over 600k people on Twitter in the days around the conference. Curious as to what sessions you may have missed if you didn't attend GRIPS 2021 or after a taster of GRIPS 2022?
The organizers are delighted to announce a number of exhibitors spanning the plastics sphere, including:
- TRANSFORM-CE,
- Evolve Packaging/Cambond,
- AgrifoodX Ltd.,
- Britest Ltd.,
- Innovation Advantage Ltd.,
- Chip(s) Board Ltd.,
- Plastic-i Ltd.,
- CanCan Sharing Systems Ltd., and
- Pinweld Ltd.
The Smart Sustainable Plastic Packaging Challenge will have a prominent place at GRIPS 2022, effectively having its own mini-conference within the programme.
You'll be able to find out about funding and everything there is to know about the challenge, as well as opportunities to interact with the SSPP team.
Their session will focus on whether we are on target for 2025 and will be chaired by Dr. Paul Davidson (Challenge Director of the Smart Sustainable Plastic Packaging Challenge, UKRI), featuring speakers from WRAP, Defra, BPF, and Tesco.
SPONSORS
EXHIBITORS






CONTACTS
If you'd like to find out any further information on the conference, or if you'd like to get involved in any other way, please contact Innovate UK KTN's Sally Beken: sally.beken@ktn-uk.org

To sponsor GRIPS 2022, please contact Chris Gill, Marketing Manager for GRIPS: christopher.gill@ktn-uk.org

The KTN Events Manager is Aileen Woodley: aileen.woodley@ktn-uk.org
OCEAN CLEANUP PROJECTS A - Z
* Adidas
* Algalita research foundation
* Aliance to end Plastic Waste AEPW
* Baltimore Mr Trash river cleaning barge
* BAN - Basel Convention Action Network
* Boyan Slat's ocean booms
* CLAIM H2020 EU marine plastic project
* Earth Day - Fact sheet ocean plastic
* Fionn Ferreira's ferrofluid extraction of microplastics
* FlashLight Press Michelle Lord & Julia Blatt
* GRIPS - Global Research & Innovation in Plastics Sustainability
* Interceptor tethered river cleaning barges
* Junk Raft - plastic awareness voyage
* Miss Ocean - Plastic Awareness Events
* 4Ocean recycled plastic bracelets
* Nike - Sneakers from recycled materials, ocean spills
* Plastic Oceans Org
* Seabin
* SeaVax autonomous drones
* Surrey University PIRATE & Triton
* WRAP - Waste & Resources Action Programme
CAMPAIGN FOR ZERO WASTE - Supermarkets and oil companies have a lot to answer for. Politicians must explain why they let the retailers and fossil fuel industry get away with a practice they know to be harmful to marine life. Companies are largely driven by money and greed, their shareholders often kept in the dark. All the while millions of seabirds are dying, polar bears are playing with our plastic waste in the arctic, and even shellfish have become inedible in some locations. This is morally unsound!
It's not just plastic. Glass fibres from old GRP hulls and the manufacture of new boats, are also contaminating seafood. There is no scheme to safely dispose of vessels built of composites. We advocate passports for all new builds, with penalties attaching for disposal by way of abandonment or deliberate sinking. GRP is a thermo-setting plastic that cannot be recycled like other thermo-plastics. Making it near impossible to recover the glass fibres - that seafood ingest. And that we in turn consume.
The River Thames is one of the filthiest rivers in the world in terms of microplastics and fibers. Yet nobody from the UK Government has made contact with the Foundation in over four years - even to test the water - nor Bluebird Marine in the two preceding years 2015-16. It speaks for itself that they must be happy as pigs in --- it! And sadly, this applies to the rest of the developed world. They'd rather not face the problem by questioning it, for then they'd not be able to ignore it. In corporate law, that amounts to fraud.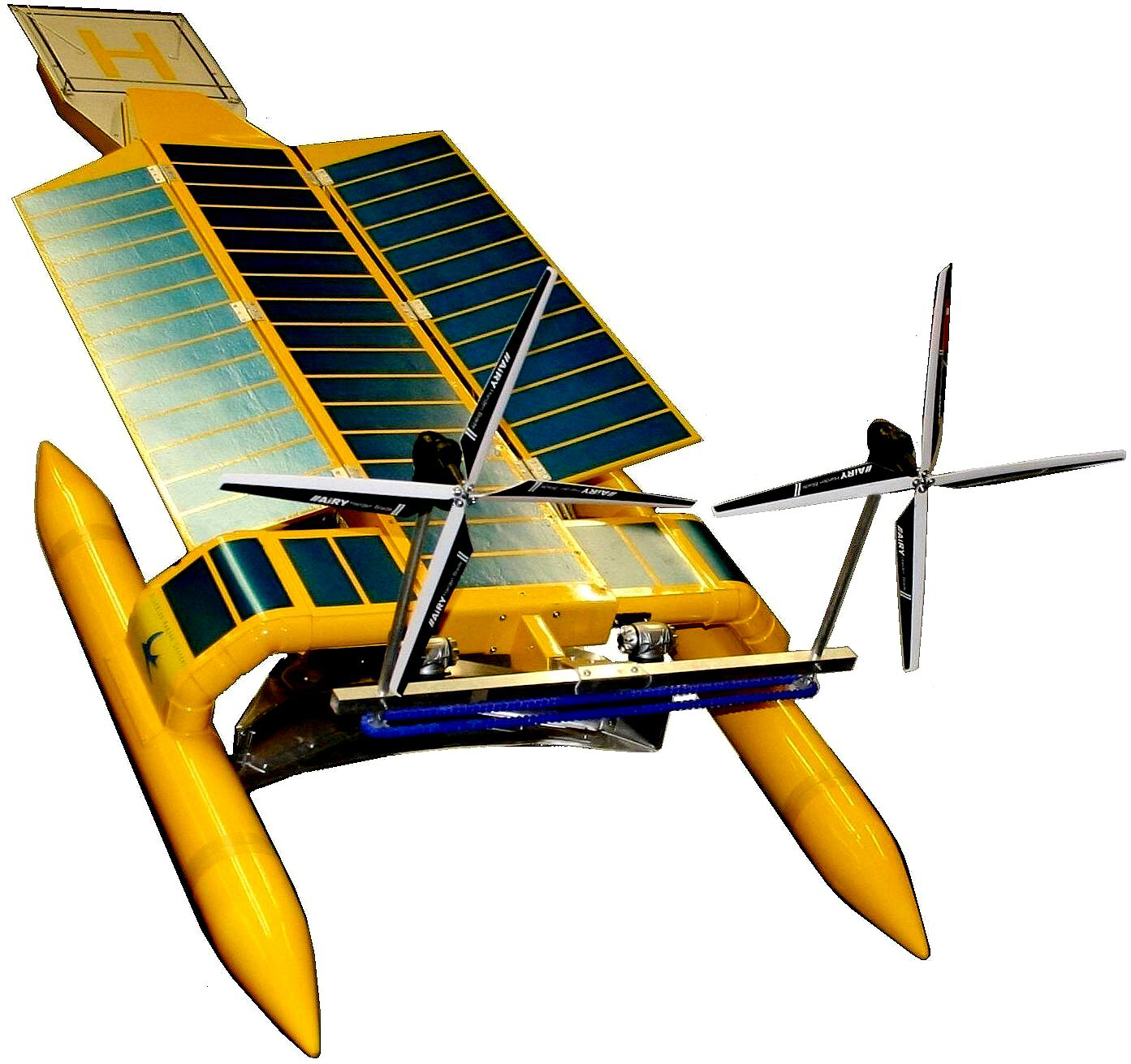 SEAVAX - Still the only large scale water filtration machine capable of dealing with mass river and ocean cleaning of micro/macro plastics and ghost fishing nets. And now with the coming of age of hydrogen and fuel cells (see JVH2), deployment could have been even more effective. Sadly, a lack of commitment from the UK, Europe and UN (partly Brexit politicized) saw this project survive for five years on tick-over finance, before being forced to disband and cancel the project to contain debt. The assembled dream team are now gainfully employed elsewhere. There is though, nothing stopping other innovators having a bash. But be warned, the technology challenge pales compared to the financial.
All the efforts to stop plastic reaching the ocean are very much appreciated, but the only way to cleanse the sea of the carcinogenic legacy we have created, is to selectively filter out the unwanted plastic, while at the same time protecting the fauna. SeaVax was designed to operate in coordinated fleets of ships, working with tankers to recycle the harvested plastics. We fear this will never happen, as the micro particles sink to toxify unreachable depths - as both capitalist and communist societies appear to be based on exploiting the natural world, rather than conserving it. Making turning off the plastic tap a priority. Nobody prosecutes marine pollution offenders when it comes to plastic
GRIPS are not alone in the fight against ocean plastic. These emerging technologies could all play a part in containing the mountain of plastic that is accumulating on the oceans floors, by recovering floating debris before it sinks. New ideas are welcomed. But be warned, having the idea and demonstrating it, is nothing compared with the challenge of gaining funding to pursue such endeavour. Politicians know that by doing nothing, microplastics on the surface will sink - out of sight, out of mind. But is it!
All the efforts to modernise packaging will not stop ocean plastic, save for an outright ban, and development of compost-able substitutes, which shows promise, if the cost barrier can be overcome.
A volunteer from the Foundation will be attending this event.
LINKS & REFERENCE
https://ktn-uk.org/events/global-research-innovation-in-plastics-sustainability/
https://ktn-uk.org/events/global-research-innovation-in-plastics-sustainability-2/
https://www.nnfcc.co.uk/events-grips
https://info.ktn-uk.org/
https://ktn-uk.org/events/global-research-innovation-in-plastics-sustainability/
https://ktn-uk.org/events/global-research-innovation-in-plastics-sustainability-2/
https://www.nnfcc.co.uk/events-grips
https://info.ktn-uk.org/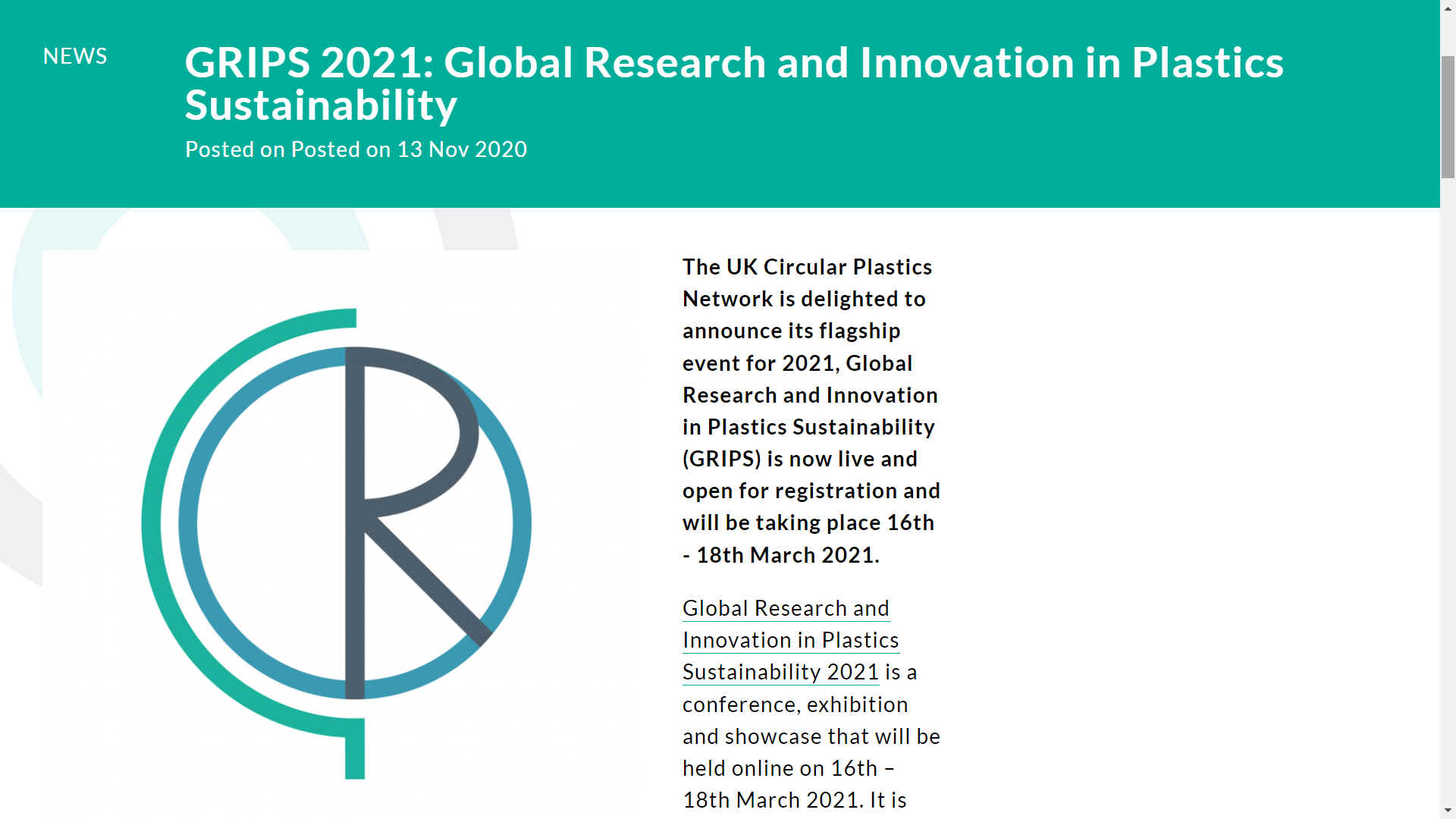 BIODEGRADABILITY - CITIZEN ENGAGEMENT - FUGITIVE PLASTIC - KEYNOTE SPEAKERS - MICROFIBRES - MITIGATION IMPLICATIONS - POLICIES