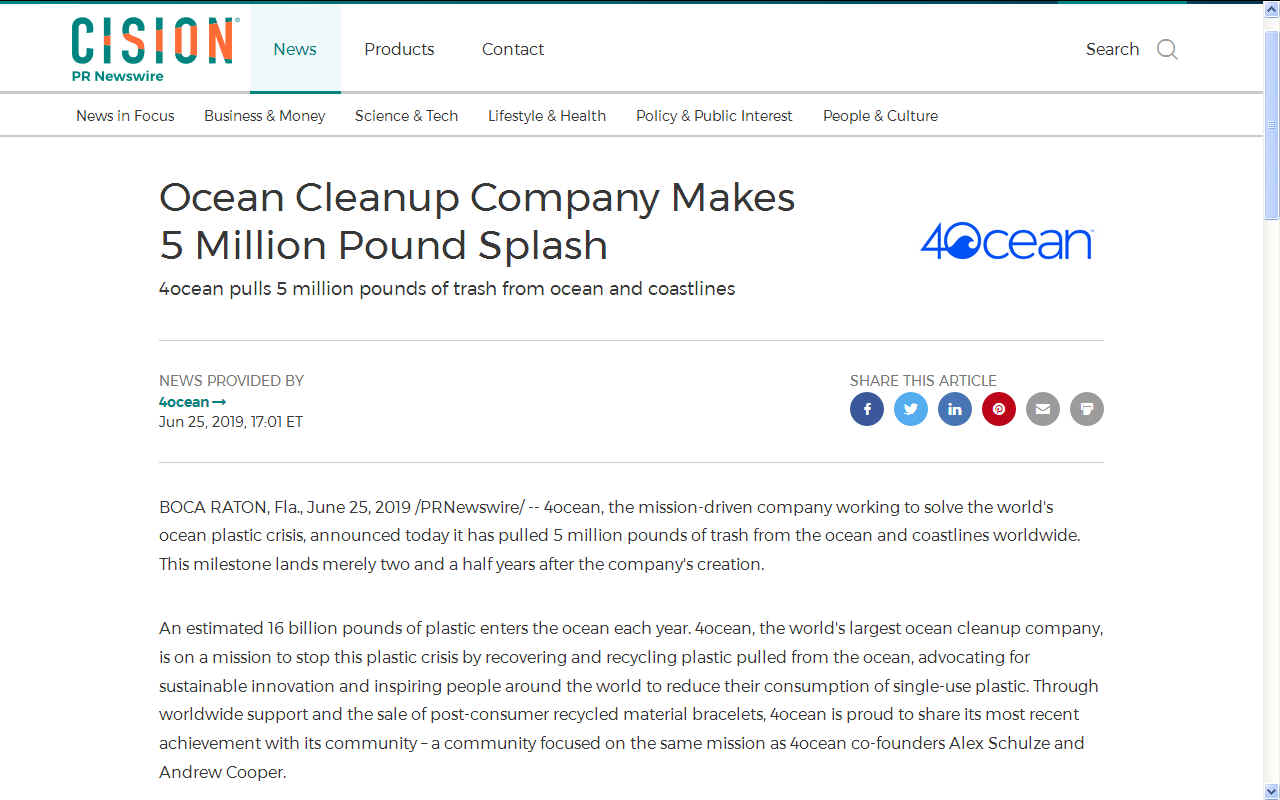 ABOUT - 4ocean is a global company that actively removes trash from the ocean and coastlines, helps create sustainable economies around the world, and inspires individuals to work together for a cleaner ocean. Global cleanup operations are funded entirely through the sale of their products, where every item purchased funds the removal of one pound of trash from the ocean. By creating jobs, utilizing the latest technology, and raising awareness about the impact of plastic and trash in the ocean, the company is building the first economy for ocean plastic and creating a cleaner, more sustainable future for the ocean. For more information, please visit 4ocean.com, follow @4ocean on Instagram, and join 4ocean on Facebook.
PR NEWSWIRE JUNE 25 2019 Ocean Cleanup Company Makes 5 Million Pound Splash

4ocean pulls 5 million pounds of trash from ocean and coastlines.

BOCA RATON, Fla., June 25, 2019 /PRNewswire/ -- 4ocean, the mission-driven company working to solve the world's ocean plastic crisis, announced today it has pulled 5 million pounds of trash from the ocean and coastlines worldwide. This milestone lands merely two and a half years after the company's creation.

An estimated 16 billion pounds of plastic enters the ocean each year. 4ocean, the world's largest ocean cleanup company, is on a mission to stop this plastic crisis by recovering and recycling plastic pulled from the ocean, advocating for sustainable innovation and inspiring people around the world to reduce their consumption of single-use plastic. Through worldwide support and the sale of post-consumer recycled material bracelets, 4ocean is proud to share its most recent achievement with its community – a community focused on the same mission as 4ocean co-founders Alex Schulze and Andrew Cooper.

"Five million pounds is a large amount of trash, but we still have a long way to go," said 4ocean co-founder, Alex Schulze. "It's also preventable. So much of what we collect is single-use plastic which was created for convenience. We're not only trying to clean our ocean but stop it at the source."

4ocean recently announced a strong focus on expanding product development. With the increase of its product offering, the brand plans to release tools that help people reduce their consumption of single-use plastic while also creating everyday goods that are made from repurposed materials collected in 4ocean's global cleanup operations.

"We will always be a mission-first company," said 4ocean co-founder, Andrew Cooper. "With ocean health at the core of our business, we strive to clean the trash that is already polluting our ocean and encourage people to live sustainable lifestyles on land."

Since its founding in 2017, 4ocean has officially removed 5 million pounds of trash from the ocean and coastlines, a statistic that is documented and audited by the Better Business Bureau. The company currently employs more than 300 people in the U.S., Indonesia and Haiti. SOURCE 4ocean
CONTACTS

Rachael Lobeck, 4ocean
rachael.lobeck@4ocean.com
561-270-0650, ext. 029

SUPPORT MARINE RESEARCH - The costs of a 4Ocean bracelet is $ 20.00 (USD). By purchasing a 4ocean Leatherback Bracelet (June 2019), you'll pull one pound of trash from the ocean and coastlines. You'll also help researchers study and care for leatherback sea turtle hatchlings before they're released into the wild through a partnership with Florida Atlantic University® Marine Research Lab. This bracelet represents a contribution to the clean ocean movement and leatherback sea turtle conservation.

The bracelets are made with recycled ocean plastic waste. They are adjustable from 2" to 5" in diameter. They have a 4Ocean stainless steel charm fitted. The beads are made from recycled glass.
4OCEAN CO-FOUNDERS - 4Ocean sells $20 bracelets made from recycled plastic and for every bracelet purchased, the company removes one pound of trash from the ocean. In just two years, it has removed over two million pounds of trash. 4Ocean also hires local fishermen, captains and crew for all cleanups, offsetting any lost wages due to pollution.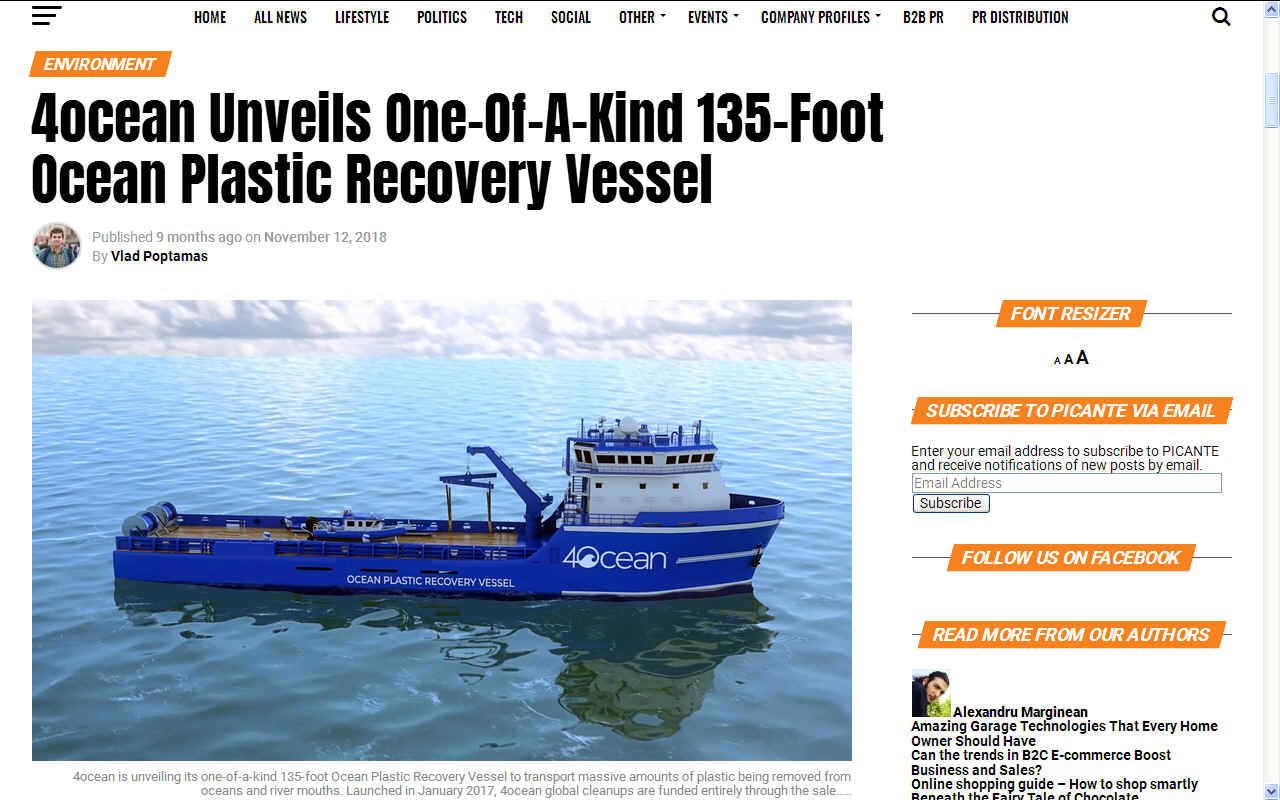 Alex Schulze is quoted as saying:

"The 4ocean OPR Vessel will transport massive amounts of plastic coupled with large booms to assist in the installation in all impactful river mouths,"
"Our mission with the OPR Vessel is to attack shoreline plastic simultaneously while booms are collecting plastic debris. At the same time, we will be handling reclamation projects in large geographic square areas to clean up the oceans and river deltas in order to make those areas functionable, usable and sustainable."
Andrew Cooper is quoted as saying:

"Our new vessel has the ability to respond to any emergency situation to recover plastic including heavy rains and floods that frequently cause mass amounts of plastic to head offshore."
OCEAN CLEANUP PROJECTS
* Adidas
* Algalita research foundation
* Aliance to end Plastic Waste AEPW
* Boyan Slat's ocean booms
* Fionn Ferreira's ferrofluid extraction of microplastics
* Junk Raft - plastic awareness voyage
* Miss Ocean - Plastic Awareness Events
* 4Ocean recycled plastic bracelets
* Plastic Oceans Canada
* Plastic Oceans Org
* Seabin
* SeaVax autonomous drones
* Surrey University PIRATE & Triton
4Ocean are not alone in the fight against ocean plastic. These emerging technologies could all play a part in containing the mountain of plastic that is accumulating on the oceans floors, by recovering floating debris before it sinks. New ideas are welcomed.
Website: https://4ocean.com/
Instagram: https://www.instagram.com/4ocean/
Facebook: https://www.facebook.com/4OceanBracelets/
Twitter: https://twitter.com/4OceanBracelets

LINKS & REFERENCE

https://www.papertiger.co.uk/collections/4ocean/
https://shop.wwf.org.uk/products/4ocean-bracelet
https://www.amazon.co.uk/4Ocean-childrens-Polyethylene-Terephthalate-turquoise/dp/B074J9GTHT
https://www.cnbc.com/2018/09/07/4oceans-cleaned-up-1-million-pounds-of-ocean-garbage.html
https://www.quora.com/Is-the-4Ocean-bracelet-campaign-real
https://www.prnewswire.com/news-releases/ocean-cleanup-company-makes-5-million-pound-splash-300874843.html
https://www.forbes.com/profile/4ocean/?list=30under30-social-entrepreneurs#60cb517e32ba
https://www.forbes.com/30-under-30/2019/social-entrepreneurs/#d09972072e66
https://www.prnewswire.com/news-releases/4ocean-co-founders-andrew-cooper-and-alex-schulze-named-forbes-30-under-30-social-entrepreneurs-300750165.html
https://www.newsweek.com/sponsored/creative-class-2019/andrew-cooper-and-alex-schulze
https://www.tuko.co.ke/311131-4ocean-net-worth-how-founders-worth-2019.html#311131
PR@4ocean.com
https://4ocean.com/