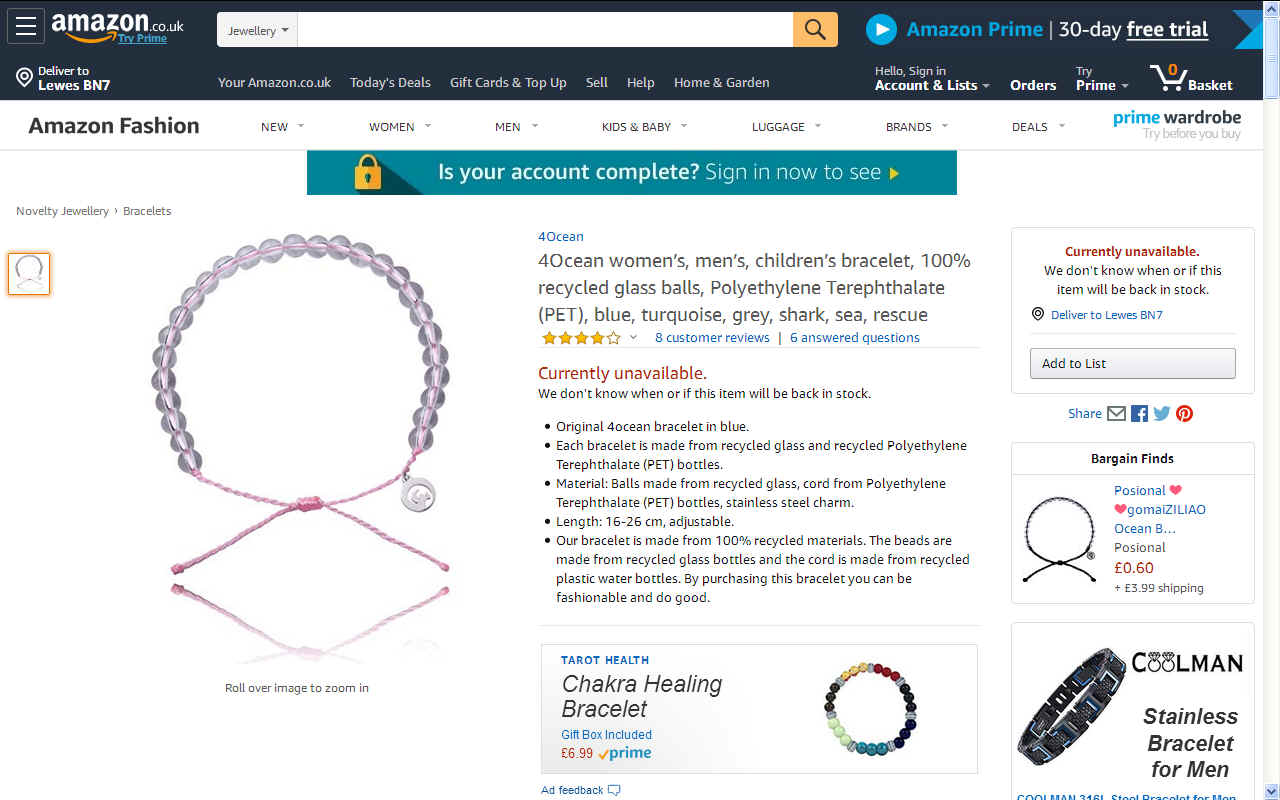 AMAZON - The famous online store advertises the 4Ocean unisex bracelet that appears to be polyethylene terephthalate and recycled glass balls.
The recycled bracelets that 4Ocean sell qualifies as jewelry. As such there are many stockists or advertisers of this brand, most of which are online shops or sites that link to an online shop. In wearing this jewelry you will have plastic and glass next to your skin, but it is not likely to be harmful to the wearer, though you should never wear jewelry and operate machinery.
Amazon, the World Wildlife Fund (WWF) and Paper Tiger are some of the online advertisers that feature these bracelets.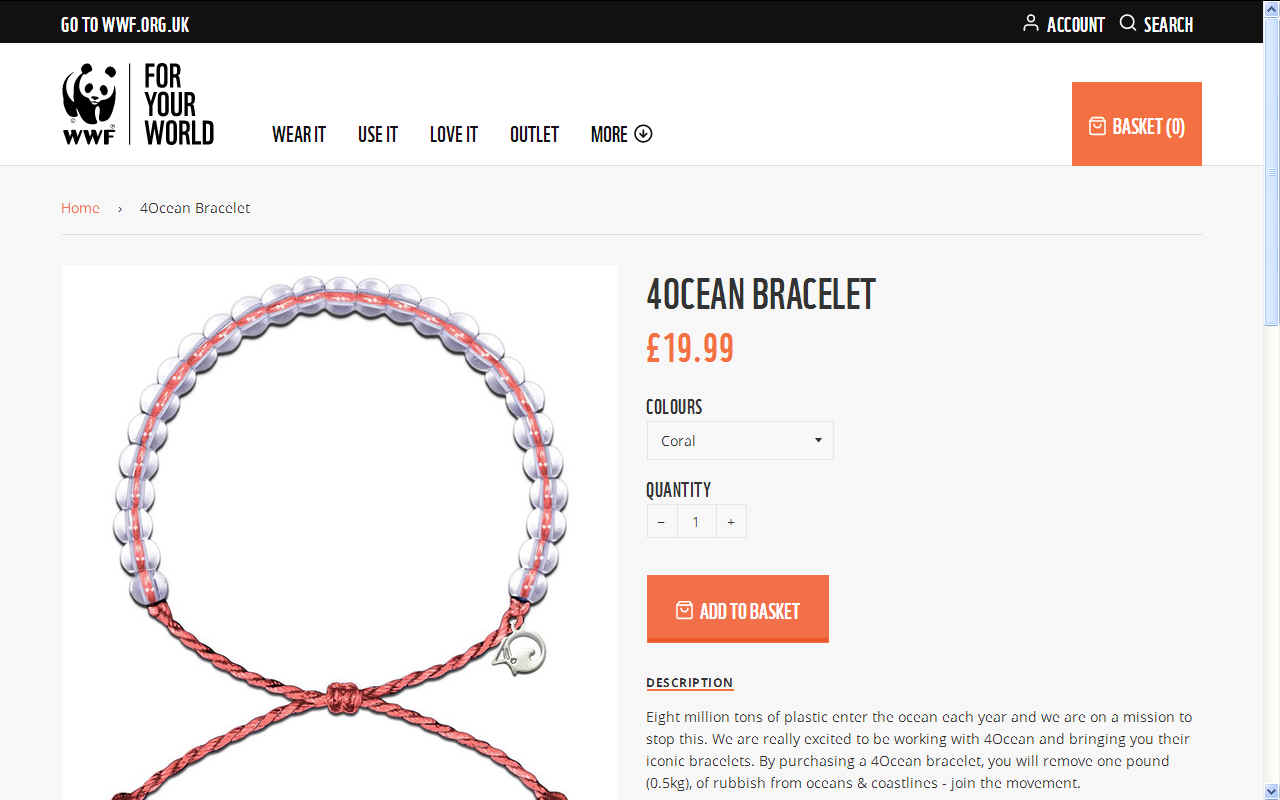 WORLD WILDLIFE FUND - Eight million tons of plastic enter the ocean each year and we are on a mission to stop this. We are really excited to be working with 4Ocean and bringing you their iconic bracelets. By purchasing a 4Ocean bracelet, you will remove one pound (0.5kg), of rubbish from oceans & coastlines - join the movement.

The 4Ocean bracelet is made from recycled materials, a unisex design that you can adjust to fit and is 100% waterproof – so no worries about getting it wet when you're surfing. It also comes in lots of fantastic colours that look amazing on their own or worn together – which will you choose?.

Size: Min 5cm to Max 12.7cm. Not suitable for babies or small children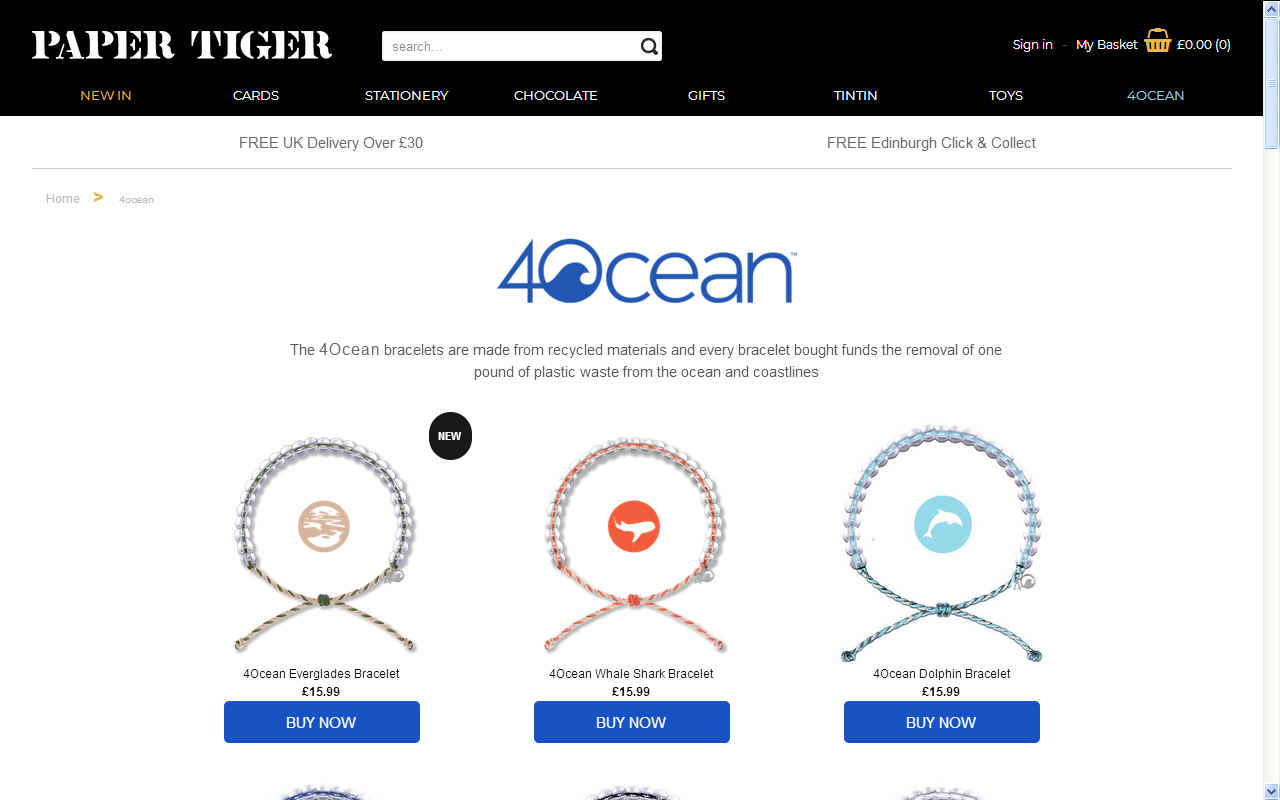 PAPER TIGER - This online shop are offering the $20 dollar bracelets for £15.99 pounds.
SUPPORT MARINE RESEARCH - The costs of a 4Ocean bracelet is $ 20.00 (USD). By purchasing a 4ocean Leatherback Bracelet (June 2019), you'll pull one pound of trash from the ocean and coastlines. You'll also help researchers study and care for leatherback sea turtle hatchlings before they're released into the wild through a partnership with Florida Atlantic University® Marine Research Lab. This bracelet represents a contribution to the clean ocean movement and leatherback sea turtle conservation.

The bracelets are made with recycled ocean plastic waste. They are adjustable from 2" to 5" in diameter. They have a 4Ocean stainless steel charm fitted. The beads are made from recycled glass.
4OCEAN CO-FOUNDERS - 4Ocean sells $20 bracelets made from recycled plastic and for every bracelet purchased, the company removes one pound of trash from the ocean. In just two years, it has removed over two million pounds of trash. 4Ocean also hires local fishermen, captains and crew for all cleanups, offsetting any lost wages due to pollution.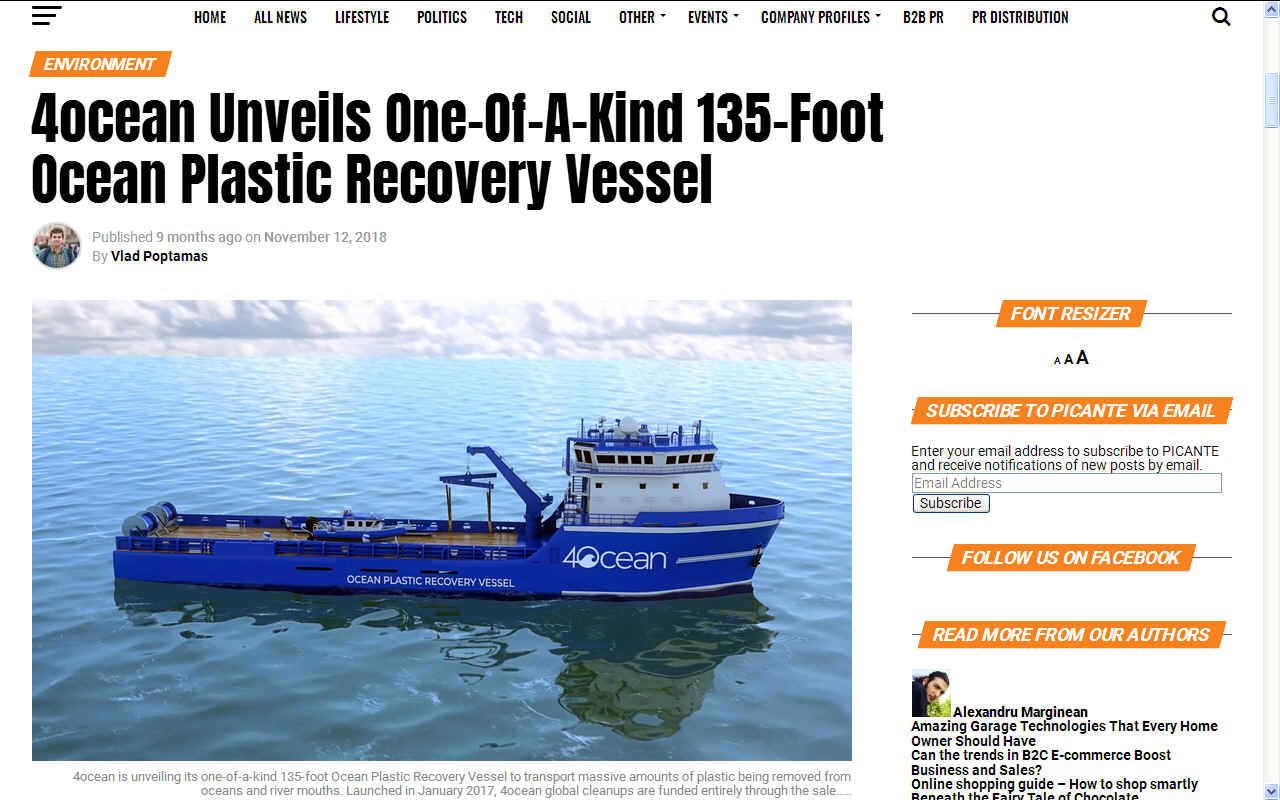 Alex Schulze is quoted as saying:

"The 4ocean OPR Vessel will transport massive amounts of plastic coupled with large booms to assist in the installation in all impactful river mouths,"
"Our mission with the OPR Vessel is to attack shoreline plastic simultaneously while booms are collecting plastic debris. At the same time, we will be handling reclamation projects in large geographic square areas to clean up the oceans and river deltas in order to make those areas functionable, usable and sustainable."
Andrew Cooper is quoted as saying:

"Our new vessel has the ability to respond to any emergency situation to recover plastic including heavy rains and floods that frequently cause mass amounts of plastic to head offshore."
OCEAN CLEANUP PROJECTS
* Adidas
* Algalita research foundation
* Aliance to end Plastic Waste AEPW
* Boyan Slat's ocean booms
* Fionn Ferreira's ferrofluid extraction of microplastics
* Junk Raft - plastic awareness voyage
* Miss Ocean - Plastic Awareness Events
* 4Ocean recycled plastic bracelets
* Plastic Oceans Canada
* Plastic Oceans Org
* Seabin
* SeaVax autonomous drones
* Surrey University PIRATE & Triton
4Ocean are not alone in the fight against ocean plastic. These emerging technologies could all play a part in containing the mountain of plastic that is accumulating on the oceans floors, by recovering floating debris before it sinks. New ideas are welcomed.
Website: https://4ocean.com/
Instagram: https://www.instagram.com/4ocean/
Facebook: https://www.facebook.com/4OceanBracelets/
Twitter: https://twitter.com/4OceanBracelets

LINKS & REFERENCE

https://www.papertiger.co.uk/collections/4ocean/
https://shop.wwf.org.uk/products/4ocean-bracelet
https://www.amazon.co.uk/4Ocean-childrens-Polyethylene-Terephthalate-turquoise/dp/B074J9GTHT
https://www.cnbc.com/2018/09/07/4oceans-cleaned-up-1-million-pounds-of-ocean-garbage.html
https://www.quora.com/Is-the-4Ocean-bracelet-campaign-real
https://www.prnewswire.com/news-releases/ocean-cleanup-company-makes-5-million-pound-splash-300874843.html
https://www.forbes.com/profile/4ocean/?list=30under30-social-entrepreneurs#60cb517e32ba
https://www.forbes.com/30-under-30/2019/social-entrepreneurs/#d09972072e66
https://www.prnewswire.com/news-releases/4ocean-co-founders-andrew-cooper-and-alex-schulze-named-forbes-30-under-30-social-entrepreneurs-300750165.html
https://www.newsweek.com/sponsored/creative-class-2019/andrew-cooper-and-alex-schulze
https://www.tuko.co.ke/311131-4ocean-net-worth-how-founders-worth-2019.html#311131
PR@4ocean.com
https://4ocean.com/