WEDNESDAY 2nd AND THURSDAY 3rd MARCH 2022

This global event is taking place over four days, and will bring together a very broad cross-section of the ocean community, from businesses to scientists, government, investors, and civil society. It will feature six industry tracks: shipping, fishing, aquaculture, energy, tourism, and plastics.
Aside from the sponge like properties of plastic particles, chemicals are the pollutants that populate the micro sponges that fish eat and bioaccumulate as they pass up the food chain to humans. Unlike plastics, this harm is invisible.
Another issue, is climate change, where the carbon footprint of plastic is lower than other packaging mediums. One of the main reasons that plastic is so popular with manfacturers.

The 9th annual World Ocean Summit will feature six industry tracks focusing on:

1. shipping,
2. fishing,
3. aquaculture,
4. energy,
5. tourism, and
6. plastics.

This is the nub of a blue growth agenda, including deep sea mining and biotech.

Speakers have provided reality-checks on how their industries are progressing towards 2030 targets, and what needs to happen next.

High-level plenary sessions will address cross-industry topics including ocean finance, ocean governance, and ocean restoration solutions. Speakers will discuss the finance gap, assess new technologies and highlight successful initiatives that are beginning to make an impact on ocean health. Other subjects include chemical and physical recycling of plastics.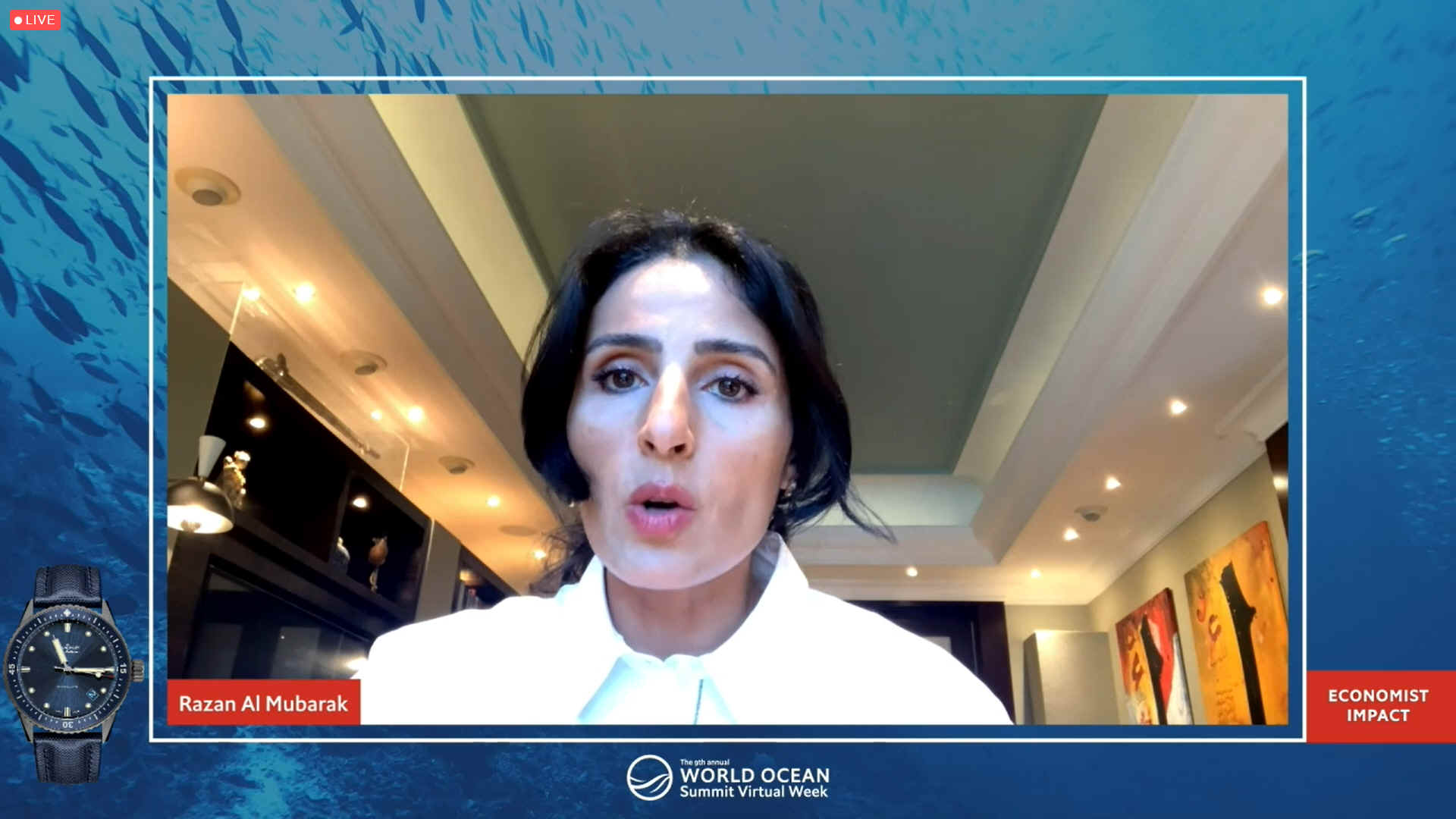 Razan Al Mubarak is a United Arab Emirates native who for more than 20 years has worked to guide her country towards a more sustainable future, while spearheading progressive environmental protection and species conservation globally. She has led the Environment Agency – Abu Dhabi, the largest environmental regulatory agency in the Middle East; the Mohamed bin Zayed Species Conservation Fund, an international philanthropic organisation supporting species conservation projects worldwide; and Emirates Nature – WWF, a Dubai-based NGO focused on citizen engagement. At the World Conservation Congress in September 2021 Ms Mubarak was elected president of the International Union for Conservation of Nature.
What is the big picture for ocean regeneration, and how can collaboration between governments, industry, investors, scientists and NGOs bring it about? These sessions will outline International expertise, ambition and new strategies to restore ocean health.

THE INVISIBLE WAVE - supported by The Nippon Foundation

Plastics are a critical issue for ocean health, yet pollution from nutrient runoff, heavy metals, persistent toxic chemicals, oil, microplastics, pharmaceuticals and other contaminants also presents an important threat. Chemical pollution in the marine environment is poorly understood, receives far less attention and advocacy than plastic and is less visible in the global discourse on marine pollution - and in policy responses and actions.
Plastics are a critical issue for ocean health, yet pollution from nutrient runoff, heavy metals, persistent toxic chemicals, oil, microplastics, pharmaceuticals and other contaminants also presents an important threat. Chemical pollution in the marine environment is poorly understood, receives far less attention and advocacy than plastic and is less visible in the global discourse on marine pollution - and in policy responses and actions.

Raising awareness about marine chemical pollution is the first step, but it will not automatically translate into action. A global group of businesses, investors, governments, NGOs and scientists will need to come together to forge credible pathways to a zero-pollution ocean.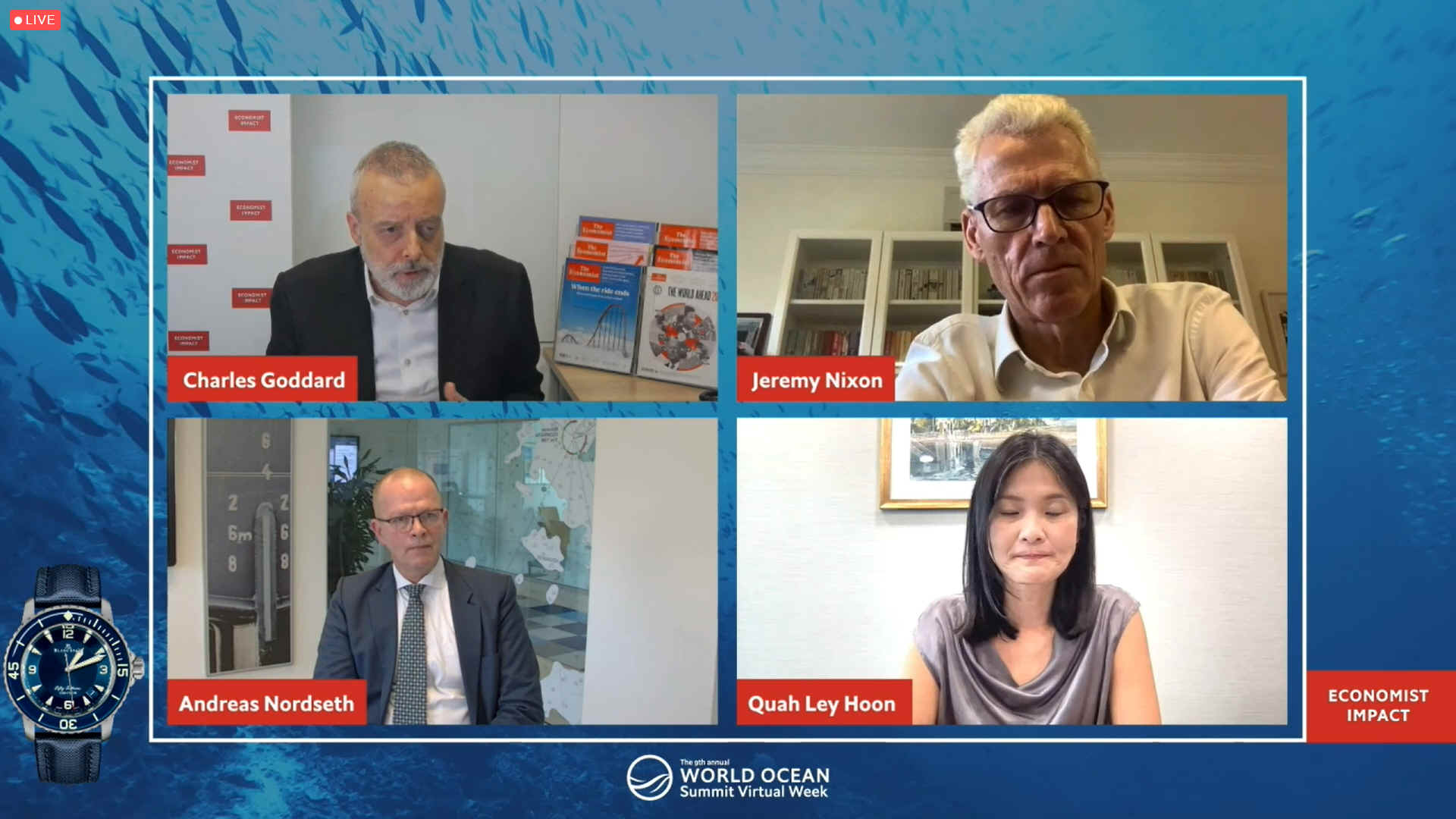 Charles Goddard imagines and builds the Group's flagship initiatives, the purpose of which is to catalyse progress on key issues of the day. He works closely with partners on themes ranging from ageing and longevity to ocean health, focusing particularly on healthcare, the Anthropocene and the blue economy. Based in Hong Kong, Charles was previously editorial director, Asia, at the Economist Intelligence Unit, director of research in Asia, and managing director of the Economist Corporate Network, a peer network for senior executives. He is concurrently executive director of the Group's World Ocean Initiative.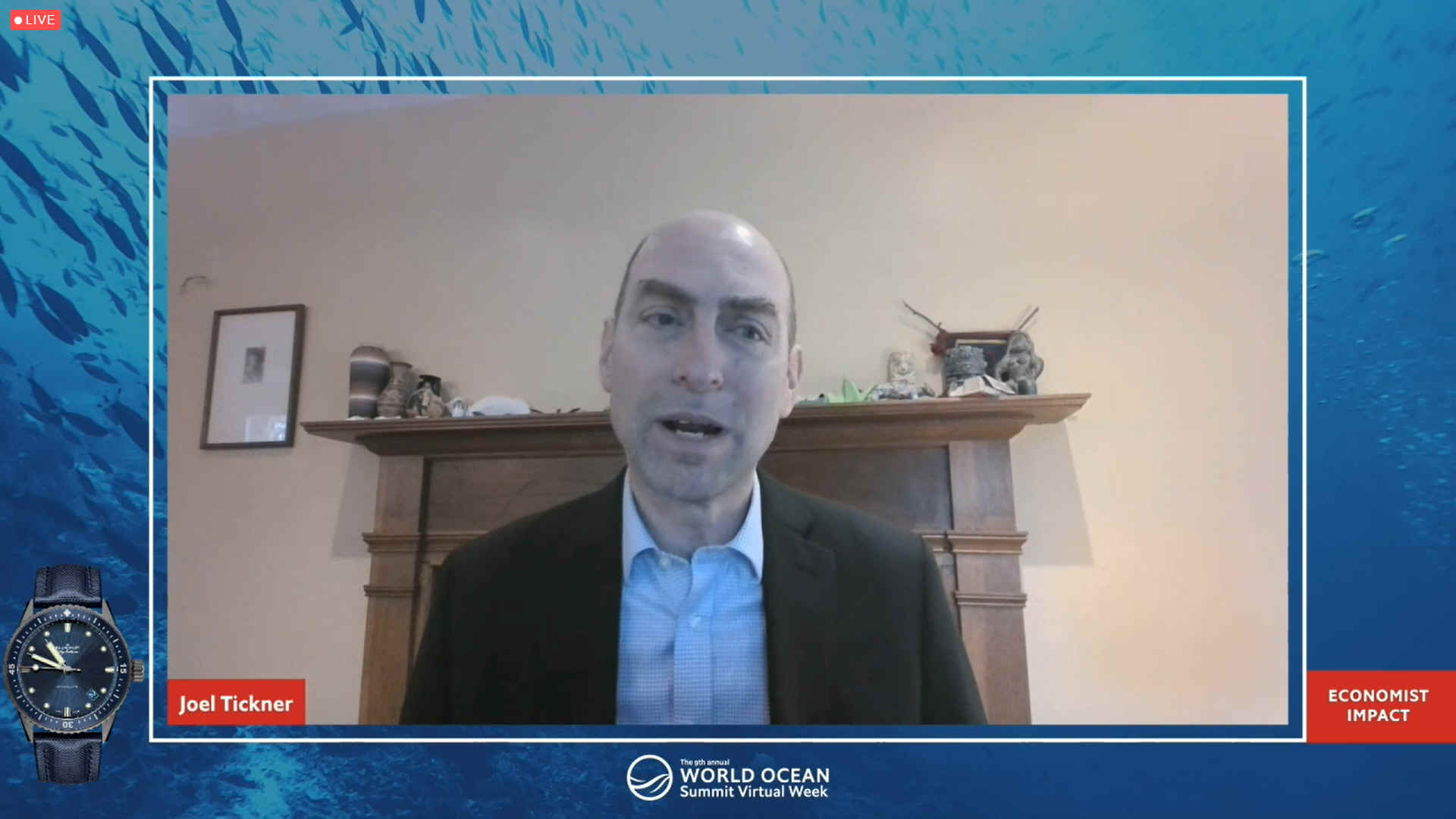 Joel Tickner is a researcher and strategist in making chemistry safer for people and the planet. His research focuses on the development of scientific methods and policies to accelerate the design and application of safer products and manufacturing processes. Mr Tickner is executive director of the Association for the Advancement of Alternatives Assessment and founder and director of the Green Chemistry and Commerce Council (GC3), a business network of more than 120 companies collaborating to accelerate the commercialisation and adoption of green chemistry across sectors and the value chain. He is a professor of environmental health at the University of Massachusetts-Lowell.

A panel discussion

s were lively and in depth. All agreed that collaboration is needed to solve this social problem. Recognising that Covid 19 increased the use of single use plastics. With the one advantage that meetings and the ability to mount webinars has developed as a result.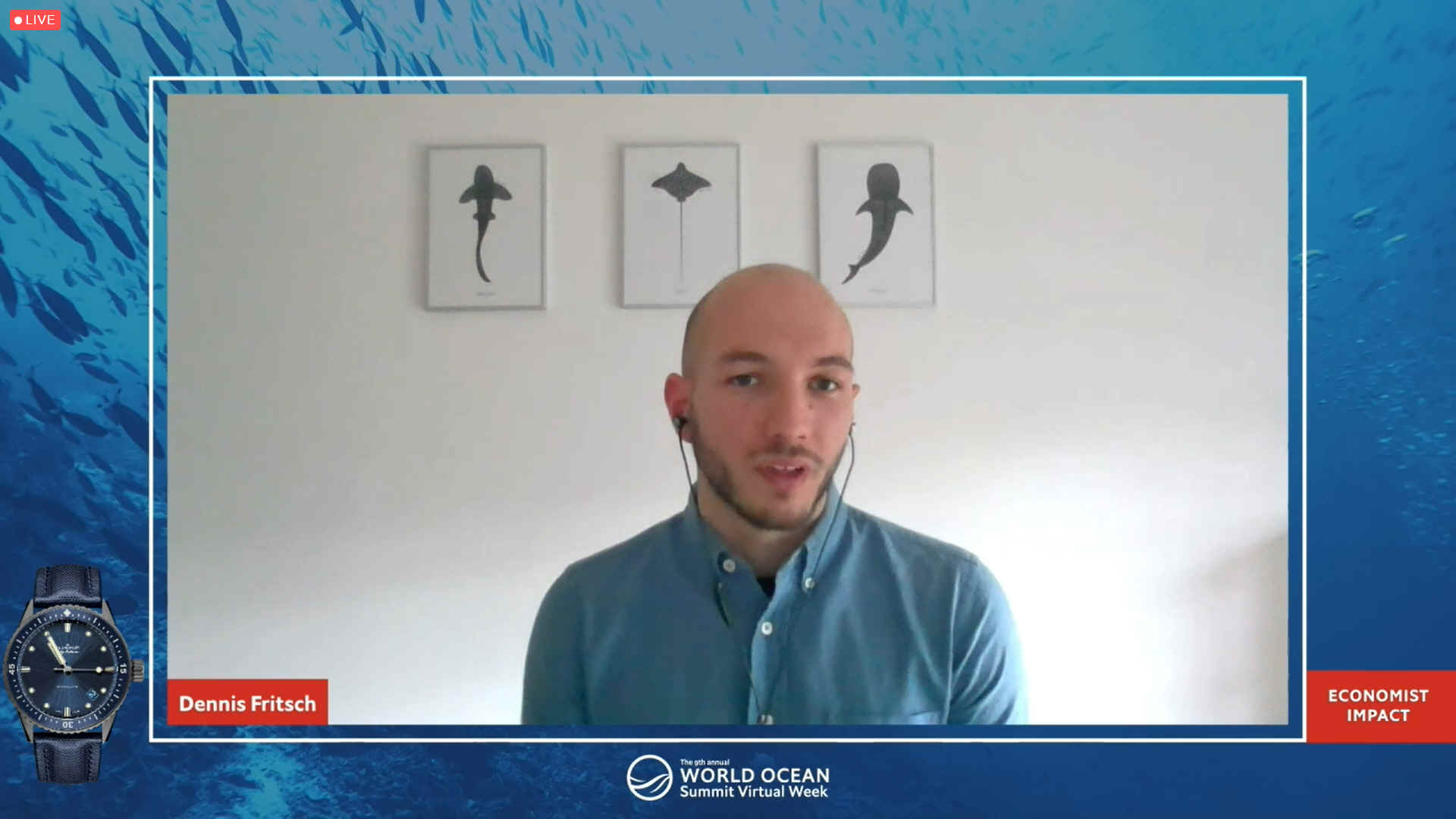 Dennis Fritsch leads the United Nations' Sustainable Blue Economy Finance Initiative, part of UNEP FI, which brings together banks, insurers and investors to develop guidance and tools to help financial institutions align their activities with a sustainable ocean economy. The initiative hosts the Sustainable Blue Economy Finance Principles, the world's first global guidance framework for aligning financial flows with Sustainable Development Goal 14 – Life Below Water. Previously, Mr Fritsch established the research department at Responsible Investor, where he led several projects, most recently "Investors and the Blue Economy". He is also a consultant and expert jury member for the European Commission's BlueInvest Fund and BLUE Marine Foundation.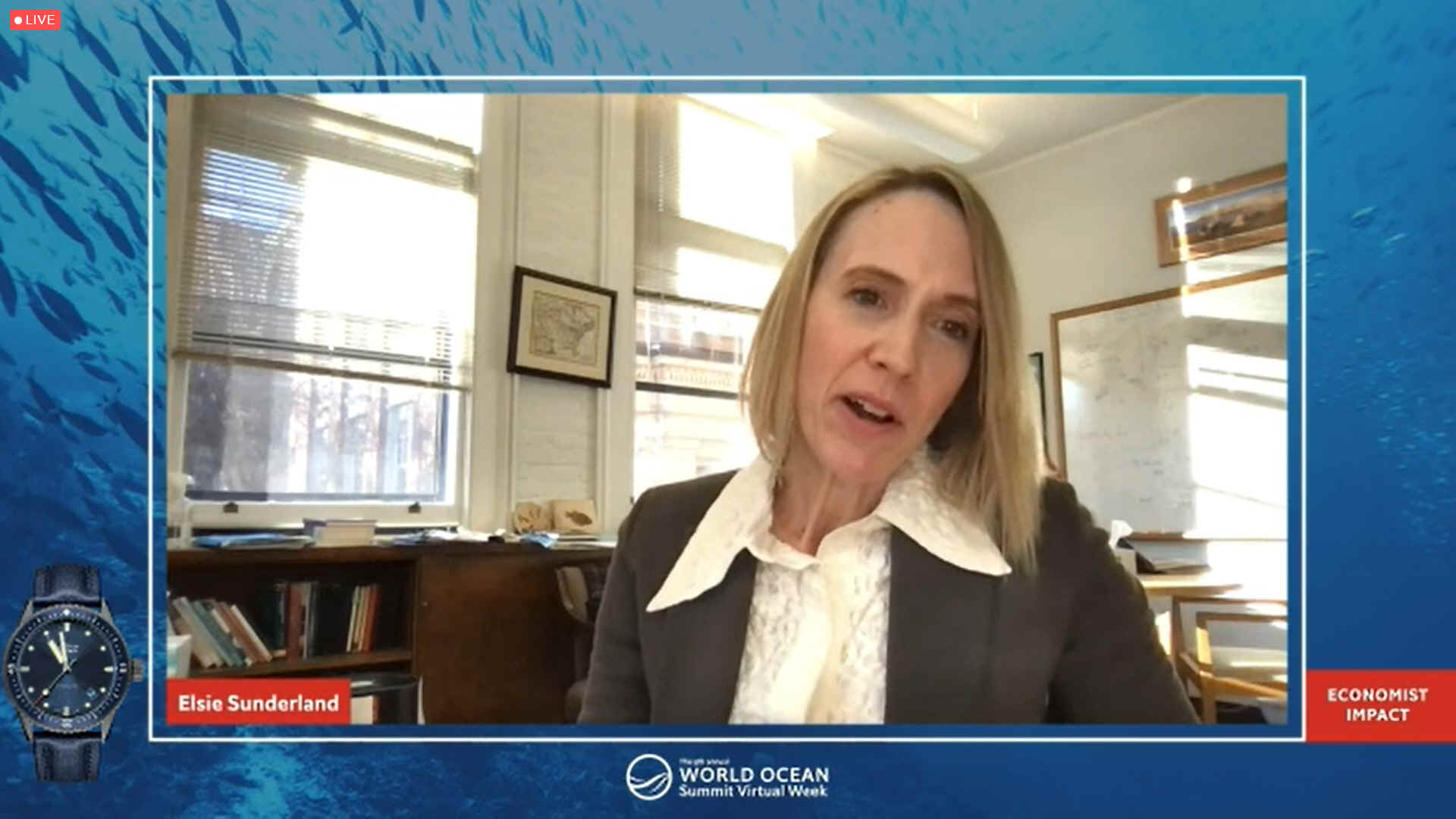 Elsie Sunderland's research group studies the biogeochemistry of global contaminants, conducting field studies and modelling to better characterise the cycling and fate of heavy metals and organic contaminants, and associated human exposures and risks. Her research includes developing models at a variety of scales, ranging from ecosystems to global applications, to help characterise the impacts of past and future changes in climate and environmental releases of contaminants on human and ecological health.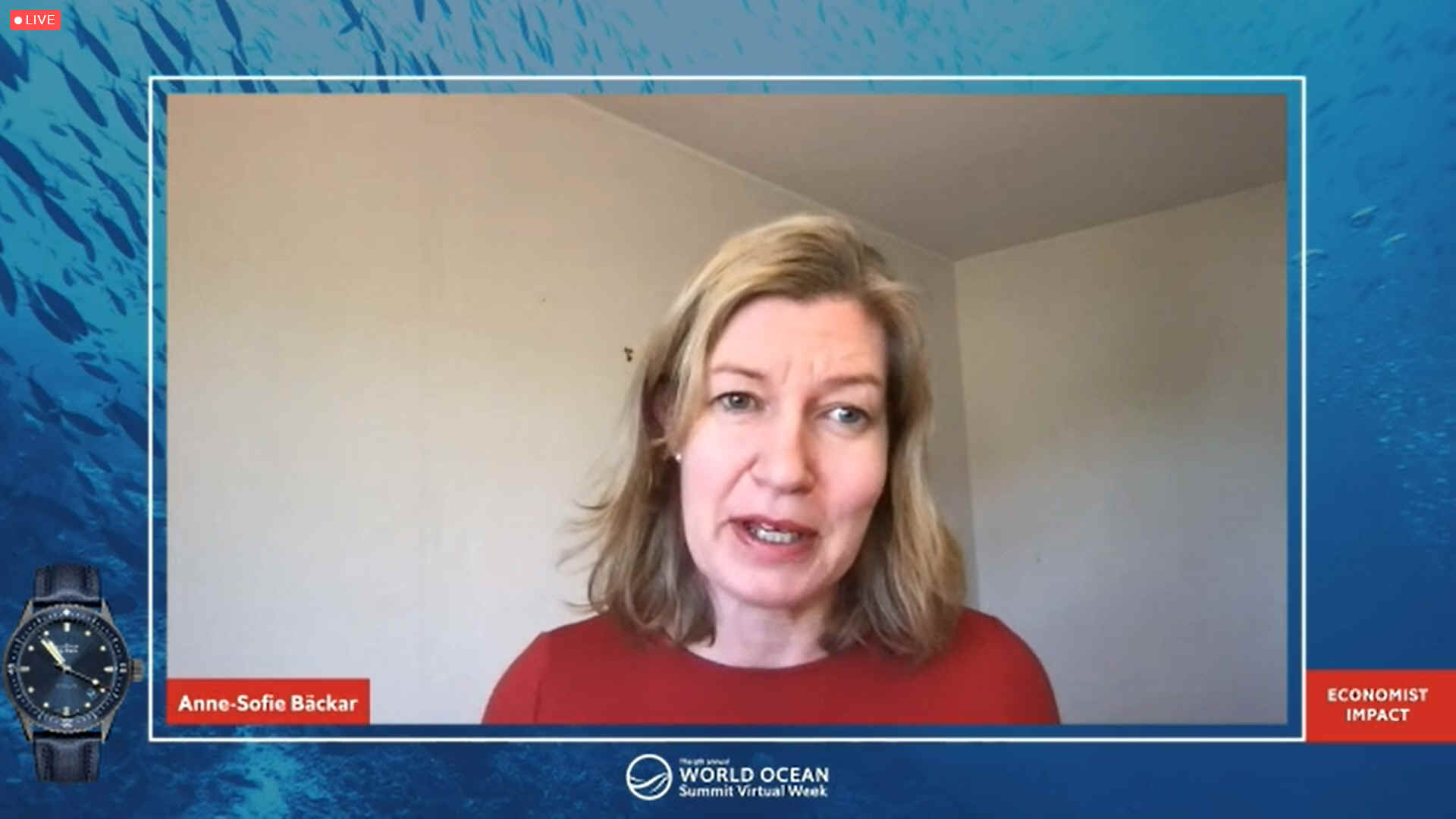 Anne-Sofie Bäckar has worked in chemicals management for 20 years, the past 15 of which have been as executive director of ChemSec. Under her leadership ChemSec has grown into a respected player within the world of chemicals and developed world-class chemicals-management tools such as the SIN List and the Marketplace. Before joining ChemSec Ms Bäckar worked for consumer organisations in the Nordic countries. As a scientist she started her career in biotechnology research into diseases. She is a member of the supervisory board at the Swedish Chemical Inspectorate.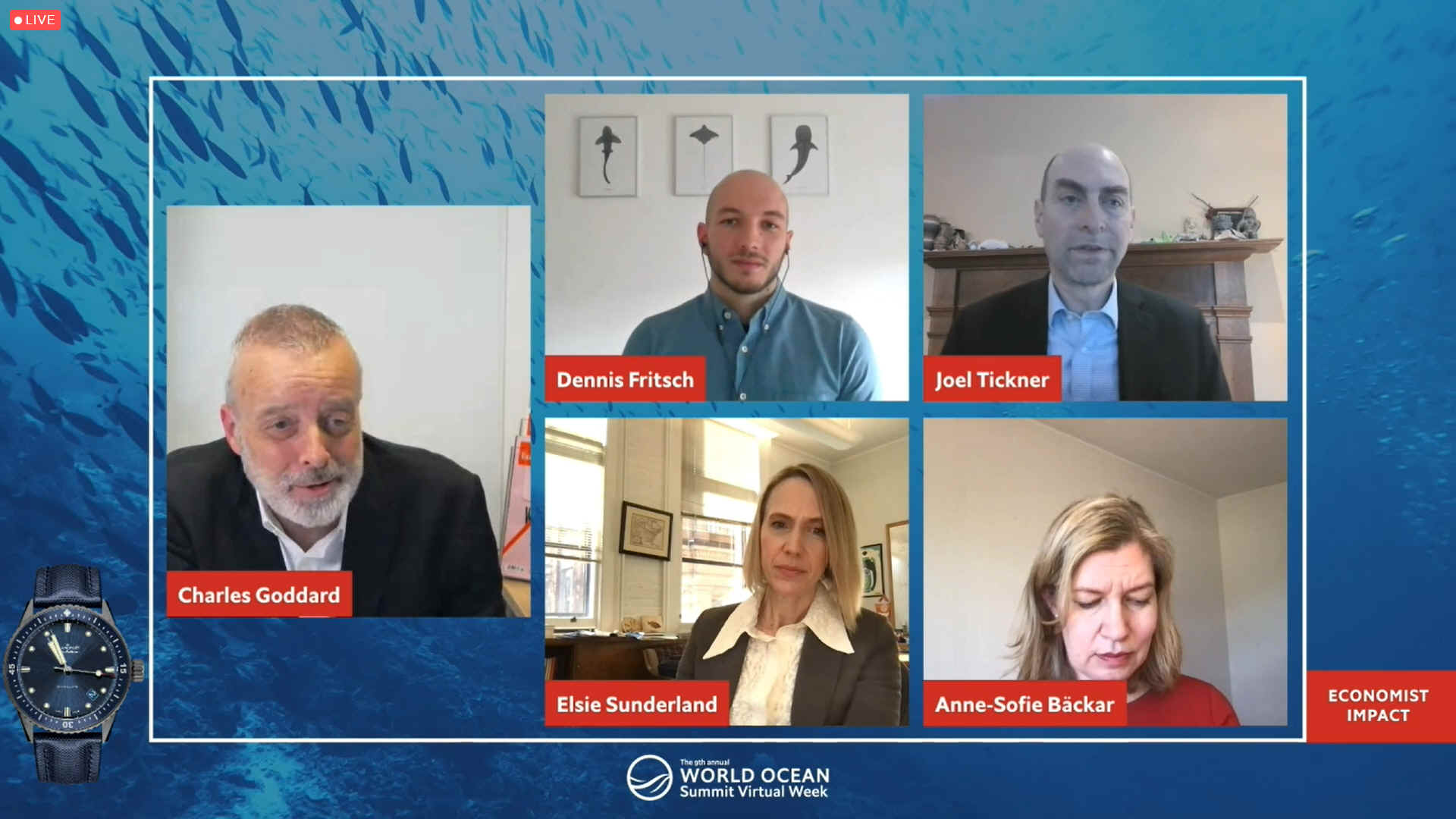 The Nippon Foundation is a private NGO based in Tokyo. Founded in 1962, protecting the world's oceans is one of its founding initiatives which, to this day, remains to be its top priority. The foundation is currently working with various stakeholders–including academia, international organizations, businesses, and governments–to address the most pressing issues facing our oceans today. Recent initiatives include efforts to create the world's largest interdisciplinary network of ocean scientists to solve complex ocean issues such as climate change and marine pollution, as well as efforts to increase the safety of maritime security for small island states through capacity building and provision of patrol boats.



The

re is no international convention to protect the ocean. Though there are hundreds of groups all trying to achieve the same outcome, they have no legal teeth. That may be part of the reason that micro plastics and chemicals are affecting flora and fauna, affecting the ocean economy. SDG 14 is aimed at conserving life beneath the waves, but is only a goal. A goal is a wonderful thing, a vision, but not a requirement.

As to chemicals, while a machine like SeaVax, could be equipped to monitor, and even filter chemicals, such as from oil spills, where for example the Deepwater Horizon clean up would have been much better contained with SeaVax technology, the chances of such a project attaining funding is likely to be lower than with plastic containment. Hence, a waste of the eco entrepreneur's time. Unless and until there is in place funding not only for research, but also for practical projects with innovators who may not be academics, but enthusiasts who are willing to commit their time to pushing forward the boundaries.

z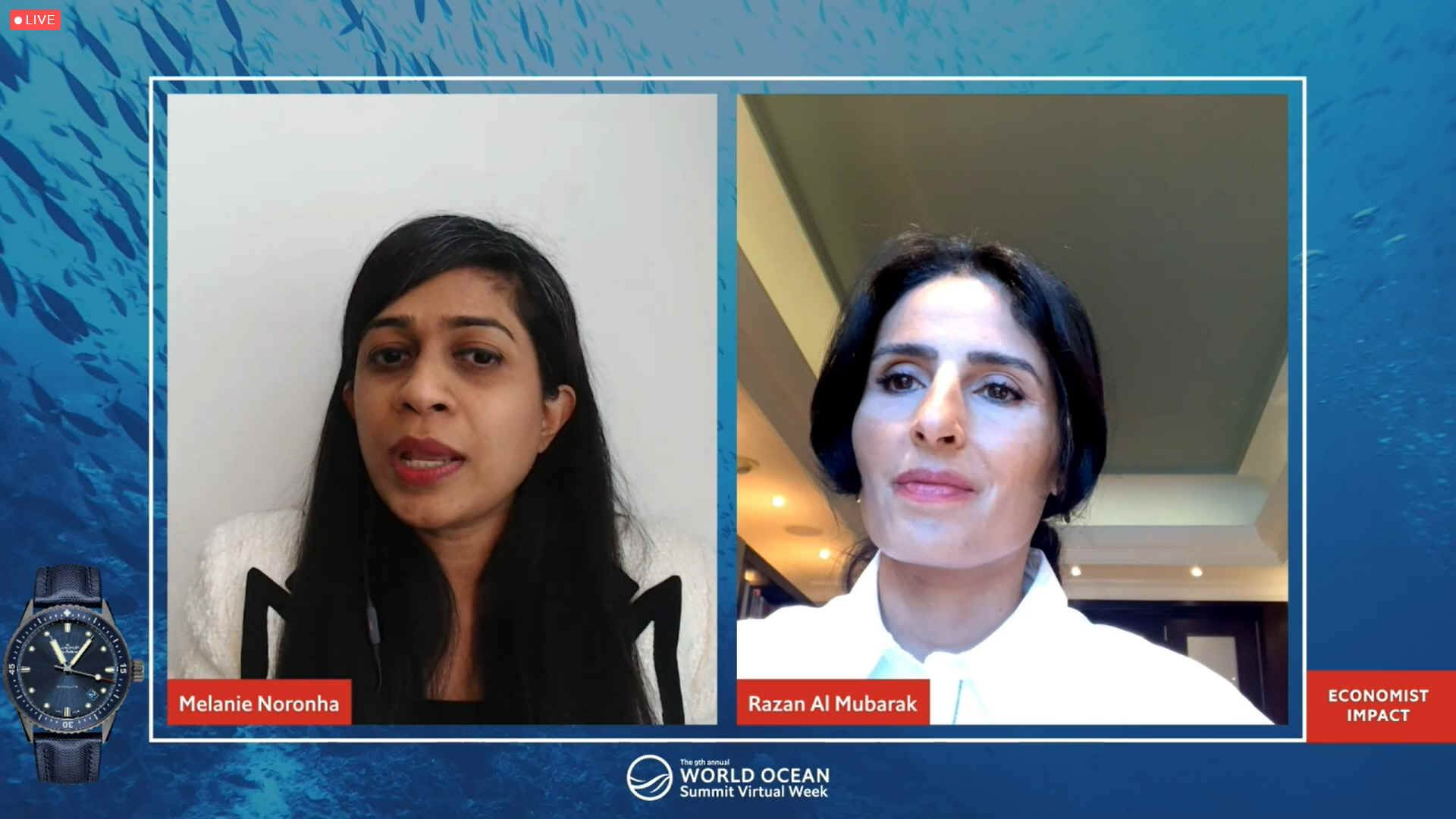 Melanie Noronha is a senior editor for The Economist Intelligence Unit's thought leadership division in Europe, the Middle East and Africa. Based in Dubai, she specialises in research on the Middle East and African markets. She has also managed global projects across sectors including financial services, health care, infrastructure, energy and trade. Before joining The Economist Group Ms Noronha was a senior analyst at MEED Insight, a research and consulting firm serving the Middle East and North Africa. She also held posts at the Office of the Chief Economist at the Dubai International Financial Centre and at the San Francisco Centre for Economic Development.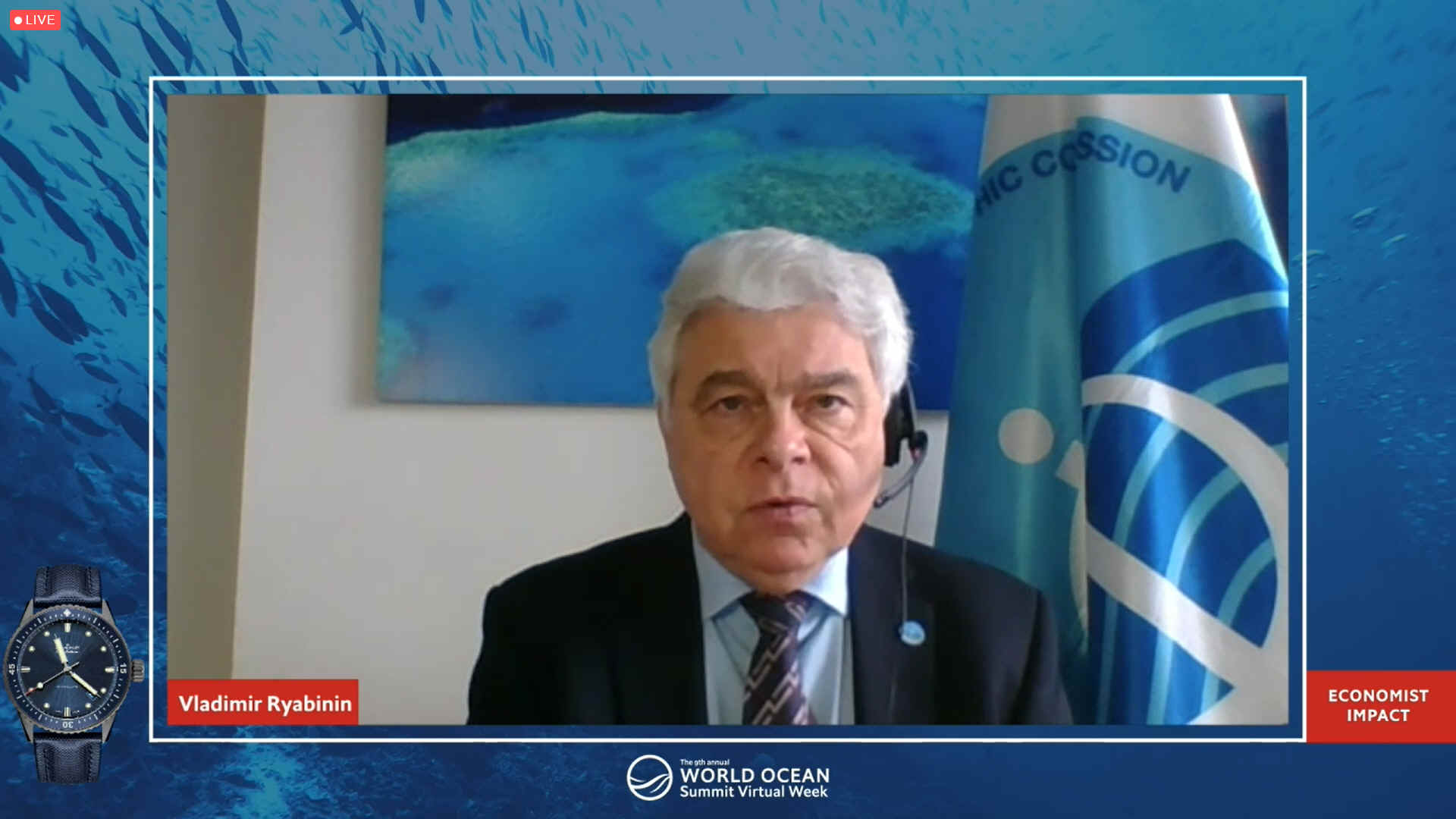 Vladimir Ryabinin has been involved in the work of the United Nations since the 1980s. An oceanographer, marine engineer, meteorologist and climatologist, he is assistant director-general of UNESCO and executive secretary of the organisation's Intergovernmental Oceanographic Commission (IOC). Dr Ryabinin originated several mathematical models for the ocean, atmosphere and wind waves and has written hundreds of scientific publications. The focus of his work at the IOC is to create a solid scientific foundation for managing the ocean sustainably, including through the UN Decade of Ocean Science for Sustainable Development, 2021-2030.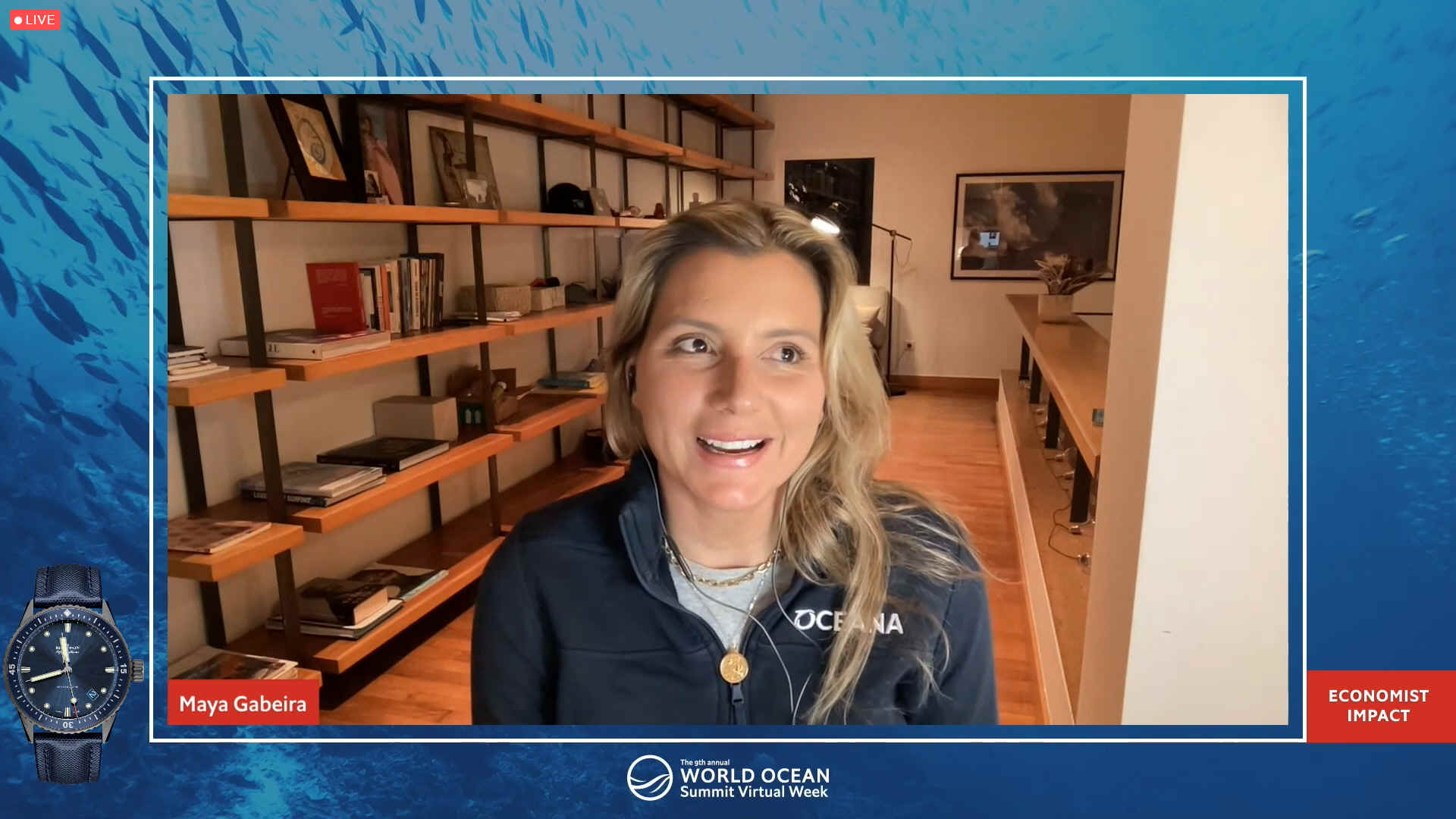 Maya Gabeira is a professional big-wave surfer from Rio de Janeiro, Brazil. She is also an ocean activist and a member of Oceana's board of directors. Ms Gabeira has won numerous awards, including an ESPY for Best Female Action Sport Athlete, and she holds the world record for largest wave ever surfed by a female, after conquering a 46-foot (14-metre) wave in Portugal. Despite this, she has a fear of drowning, as do most people who work on and under water. She is concerned about the conservation of the medium that she loves. Climate and carbon dioxide is destroying marine life and CO2 storage potential. Fish cannot speak, so she is speaking for them. Plastic pollution is in the remotest regions, including Indonesia, one of her ideal sport locations - causing much alarm. Then there are oil spills that kill animals, with extreme events adding to the spread of pollution. Maya urges law makers to step up their efforts to protect the seas that give us life.
As the marine-plastics pollution crisis intensifies, collaboration, rather than fragmented action, is required to instigate systemic change. How can policymakers work with business leaders, NGOs, investors and waste-management innovators to ramp up plastics circularity?
One of the major issues is ghost fishing nets and ropes, that make up around 50% of ocean plastic. As far as we know, the only machine capable of recovering such large masses of floating plastic, is SeaVax.
Those contributing to this excellent series of conversations, will know how much effort it takes to form an entity and keep it alive. Thanks to all for giving us the benefit of your insight.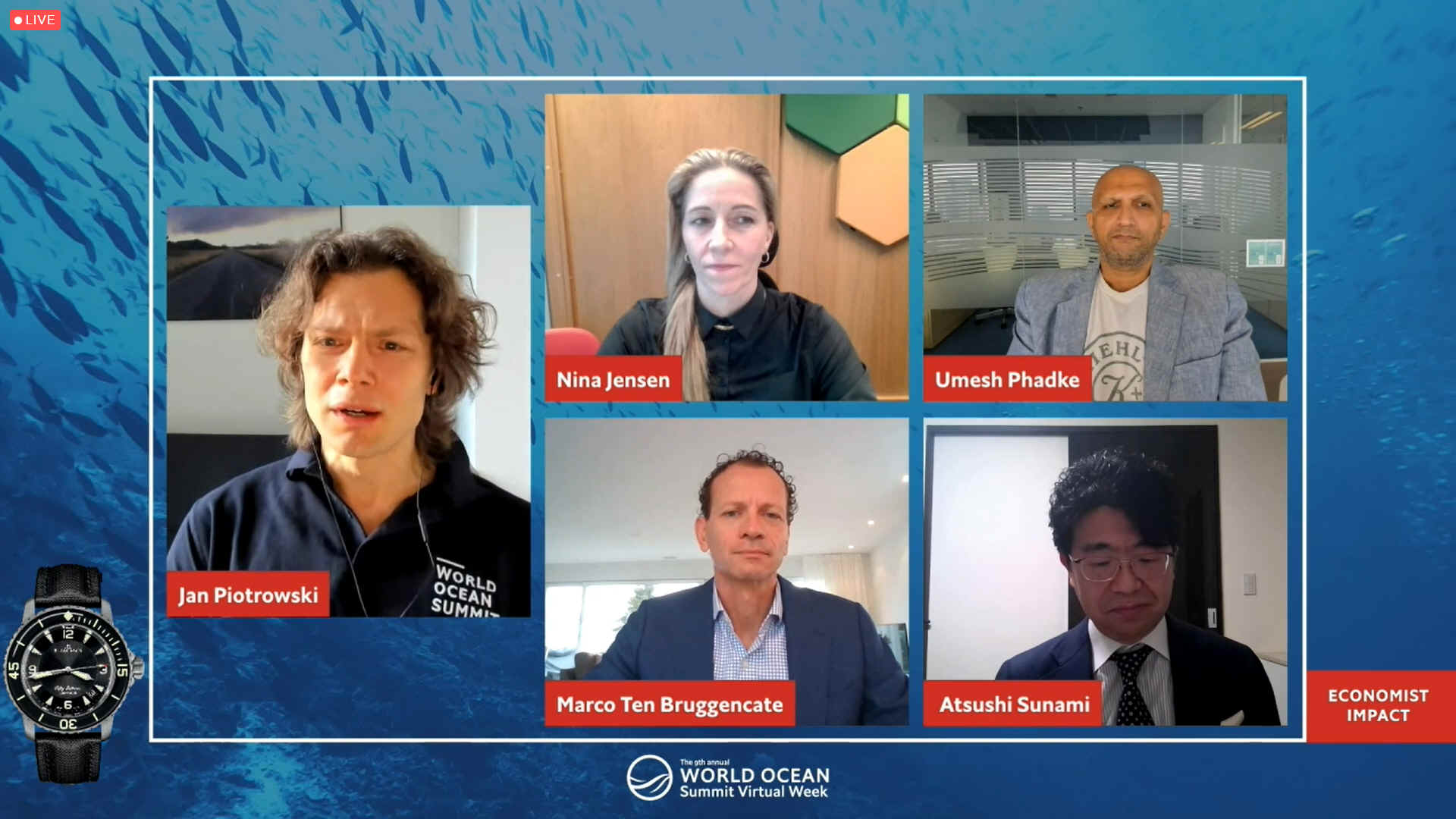 Jan Piotrowski is The Economist's business editor. Previously he was São Paulo bureau chief and environment correspondent. Mr Piotrowski also held the position of online science editor, having joined The Economist following a three-month stint as the Richard Casement science intern in 2008. He is a regular contributor to "The World In", an annual compilation of forecasts examining the critical issues that will shape the year ahead. Mr Piotrowski holds a PhD in linguistics and philosophy from Warsaw University, where he lectured in semantics and translation theory. Before joining The Economist he also worked as a translator and interpreter.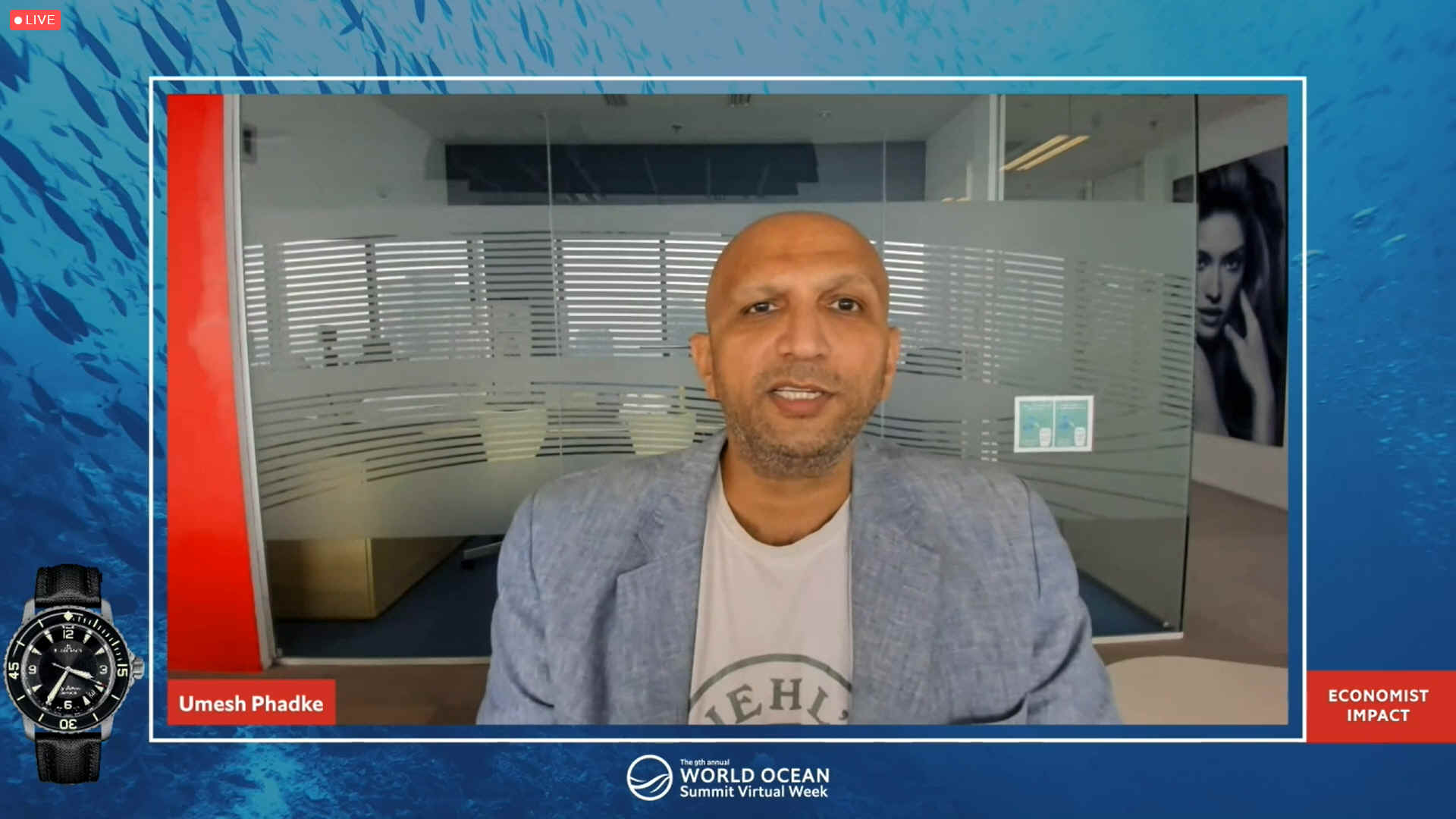 Umesh Phadke is president director of PT L'Oréal Indonesia. His previous experience includes 17 years working in sales, marketing and general management experience across four countries. Starting in 1995 Mr Phadke held commercial and marketing positions with P&G and GlaxoSmithKline across India, Thailand and the ASEAN region. At P&G Mr Phadke was responsible for the haircare category across South-East Asia. He joined L'Oréal more than ten years ago, and L'Oréal Indonesia in 2016. The country is a key L'Oréal subsidiary, and under his leadership L'Oréal Indonesia has made advances in sustainability throughout its operational locations.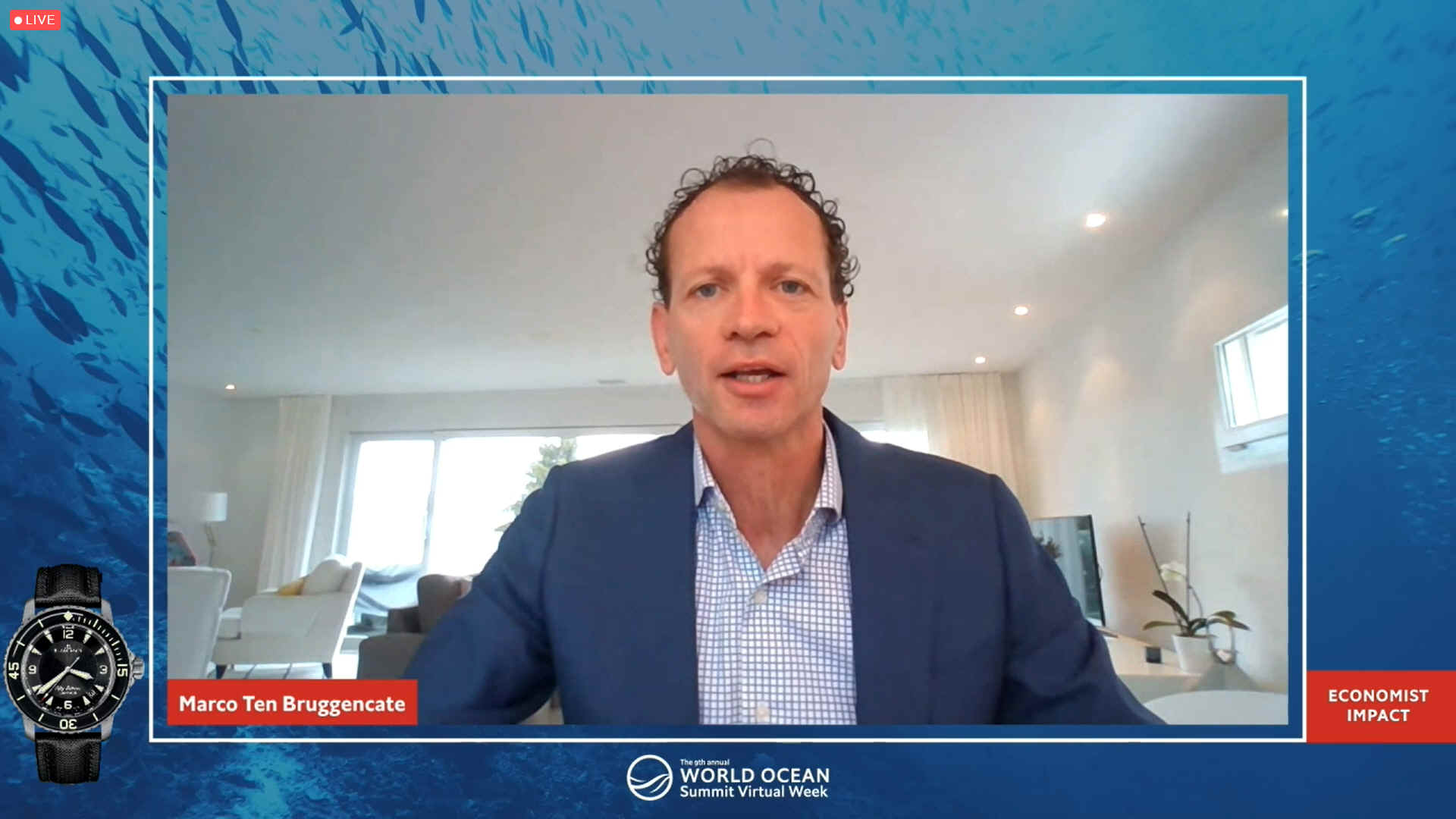 Marco ten Bruggencate is Dow's commercial vice-president for packaging and specialty plastics for Europe, the Middle East and Africa. He joined Dow in 2000 as commercial manager, spray polyurethanes within PU Systems House. In 2007 he became strategic marketing manager for Dow Building Solutions, later becoming product director and business director. In 2014 Mr ten Bruggencate was appointed global business director for Dow Construction Chemicals, and two years later took on the same role for Dow Building and Construction. Before assuming his current position he was responsible for global strategy for the polyurethanes portfolio. As an advocate for inclusion and diversity Mr ten Bruggencate co-chairs Dow's Women's Inclusion Network.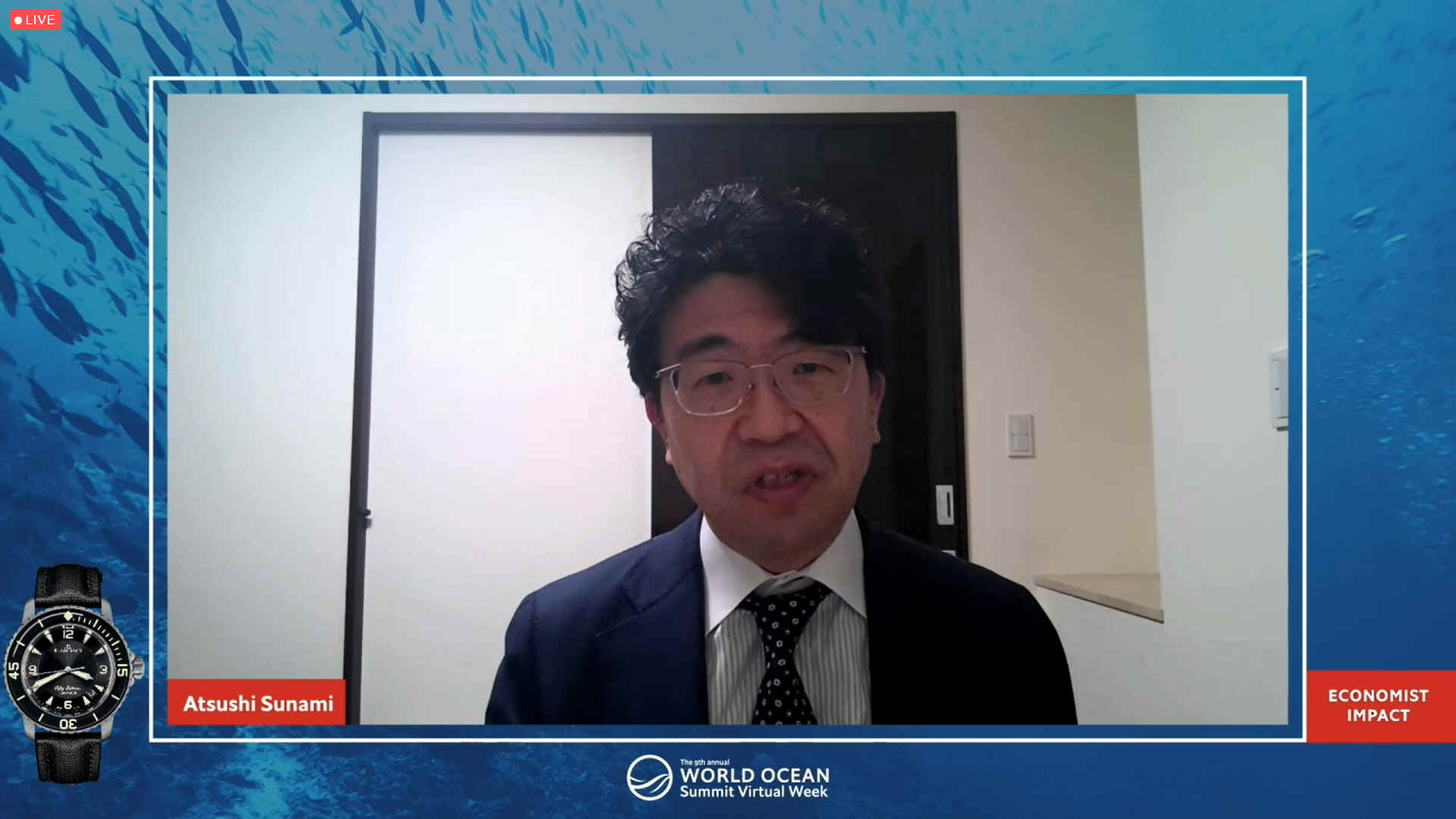 Atsushi Sunami is president of the Sasakawa Peace Foundation. He also serves as director of the SciREX Centre and executive advisor to the president at the National Graduate Institute for Policy Studies (GRIPS) in Tokyo, and guest professor at the Research Organisation for Nano & Life Innovation at Waseda University. Mr Sunami co-chairs the Japan National Committee for the UN Decade of Ocean Science. At Japan's Cabinet Office he is a member of the Innovation Strategy for Security and Safety, and chair of the expert committee for the Science, Technology and Innovation Basic Plan.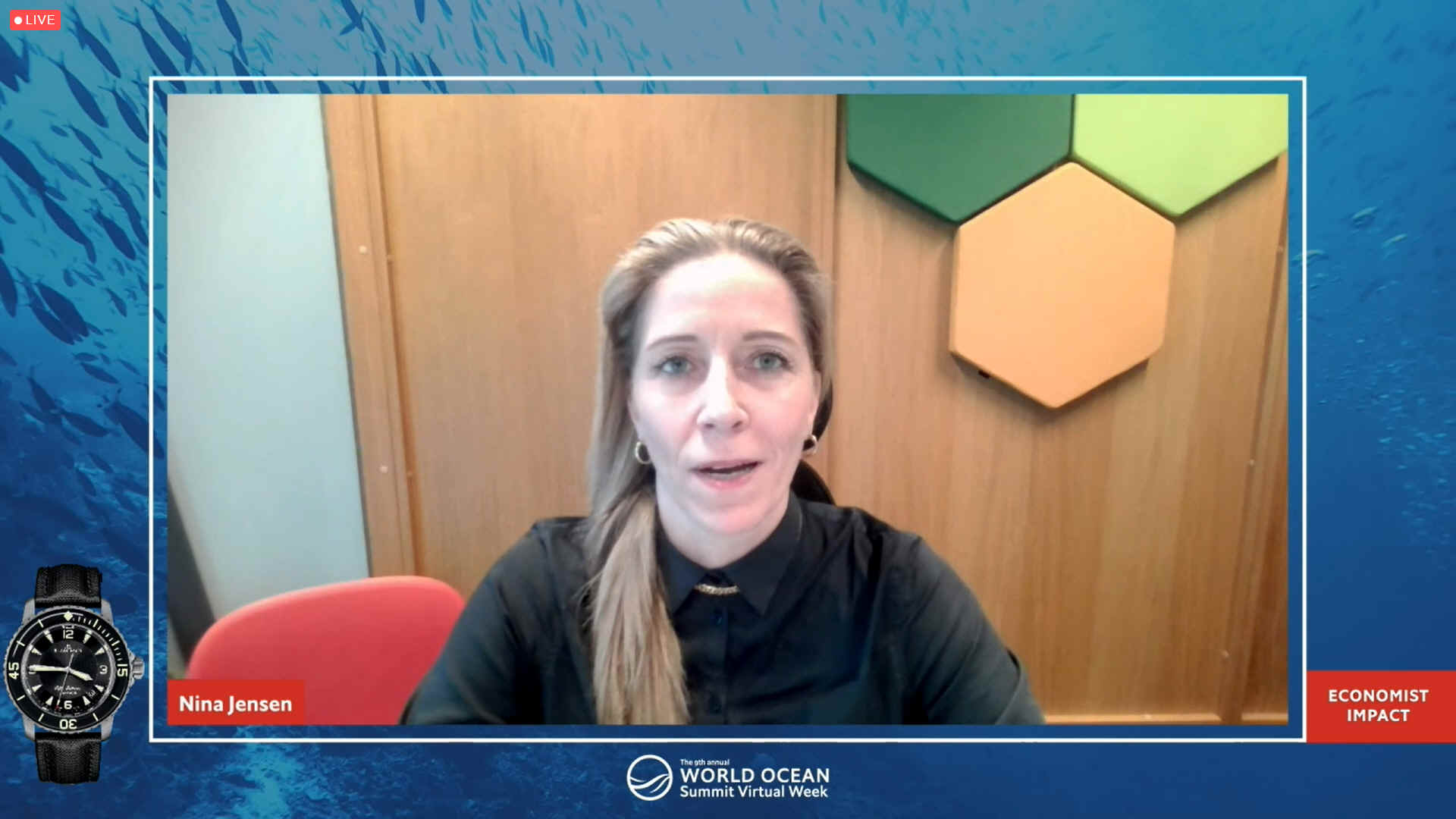 Nina Jensen is chief executive officer of REV Ocean and a champion of environmentally responsible solutions for the world's ocean. She took up her role at REV Ocean in 2018 after 15 years working at WWF Norway, including as secretary-general from 2012. Ms Jensen is a board member of the Business for Peace Foundation, the Technology for Ocean (C4IR Ocean) Foundation, the Brain Tumour Association, Ocean Wise, Aker Offshore Wind, Aker CarbonCapture and Project Energy PER-A. She also serves on the executive board of Norway's Polytechnic Society, is part of Friends of Ocean Action and is an advisor to the High Level Panel for a Sustainable Ocean Economy.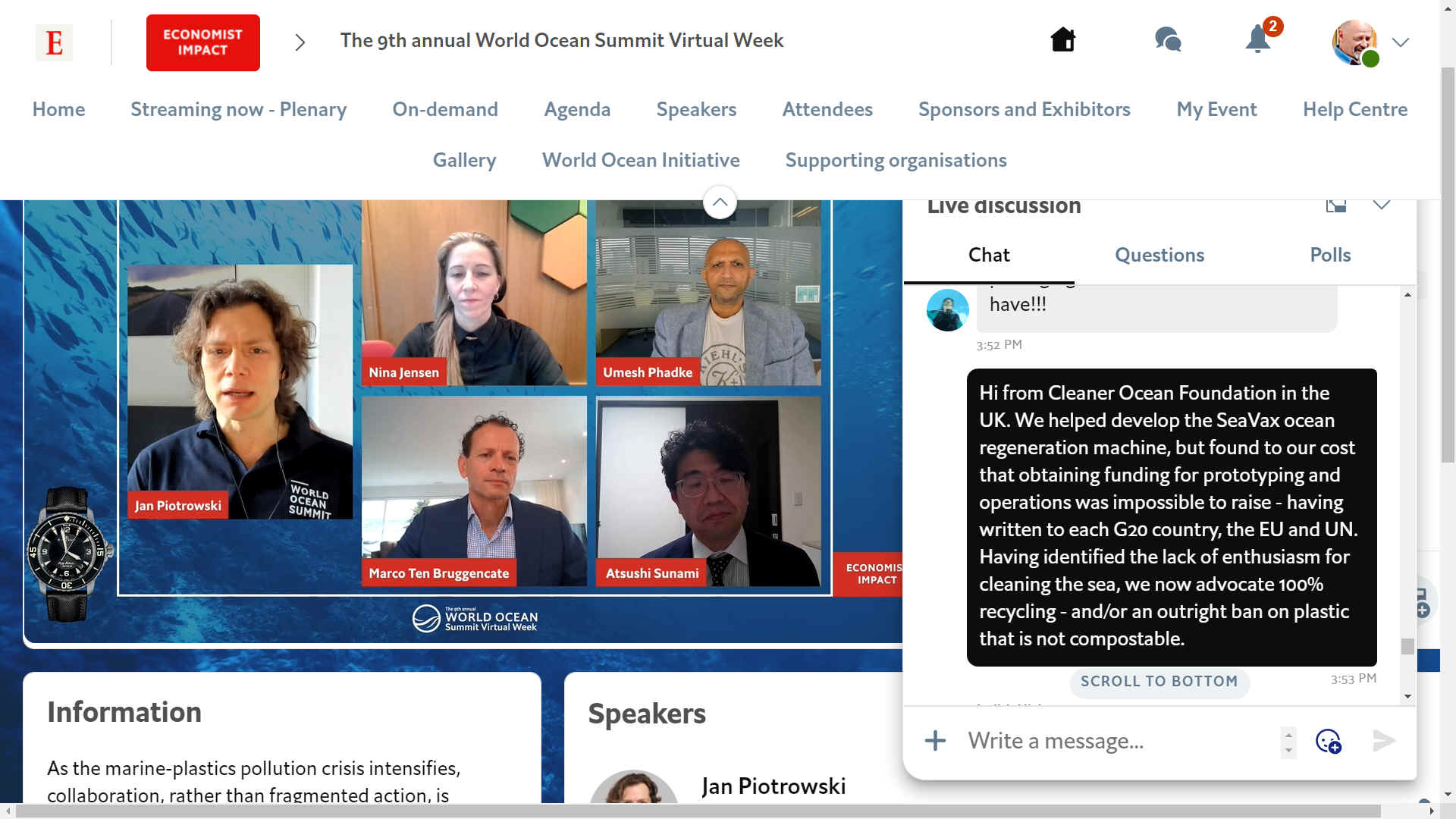 Hi from Cleaner Ocean Foundation in the UK. We helped develop the SeaVax ocean regeneration machine, but found to our cost that obtaining funding for prototyping and operations was impossible to raise - having written to each G20 country, the EU and UN. Having identified the lack of enthusiasm for cleaning the sea, we now advocate 100% recycling - and/or an outright ban on plastic that is not compostable.
The private sector cannot be expected to develop technology at a loss, then compound that loss with $millions of dollars of operational overheads - on a continuous basis. What is needed is a fund from each country, perhaps derived from plastic taxes from stakeholders, with all of that money going directly to ocean cleaning and recycling projects, by way of mitigation.
As to transparency, the Foundation voluntarily audited their accounts, paying extra to accountants, so that those who contributed would know how the organization spent time and development funds. Even so, nobody made contact from any government or corporation (save one) to explore the potential for recycling harvested ocean waste. As a not-for-profit organization, we offered exceptional value returns, where much of our input was from volunteers, on a free basis. Sadly, the assembled dream team have all moved on to paid jobs. We would thus say to governments, that when such an opportunity presents itself, they should grab it with both hands, and stop looking gift horses in the mouth.
Plastics are a major contributor to marine pollution and yet we are dependent on this material due to its versatility. This session will ask what can be done to improve the use of plastics and move faster towards a circular economy. Could plastics be transformed into an agile material to contribute to a sustainable ocean economy?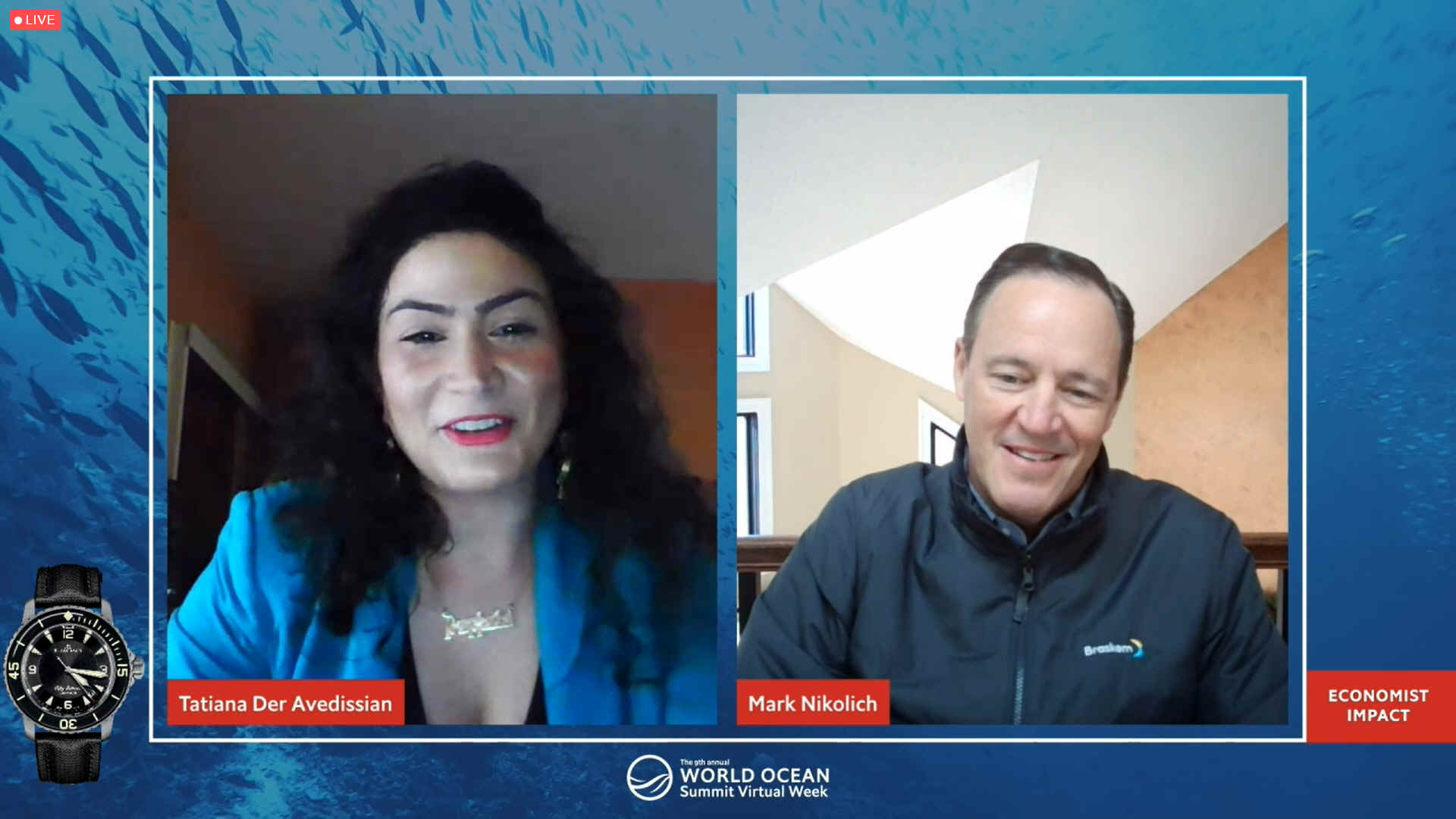 Tatiana der Avedissian is the business development manager of Economist Impact's World Ocean Initiative, responsible for the commercial development of the project. She also sits on the Economist Group's sustainability steering committee. A communications specialist, outside of work she uses her expertise to advise and support other organisations with their strategic communication and business needs. She helps lead the strategy and fundraising efforts for two charities in Britain, serving as trustee and vice-president of Alkionides UK, and trustee and adviser of the Armenian Institute.
Mark Nikolich is chief executive officer of Braskem America, Inc., leading the company's North American olefins and polyolefins businesses. He was previously vice-president of Braskem America's polypropylene business. Mr Nikolich has worked in the polyolefins and olefins industries for more than 30 years, having started his career in polypropylene sales for Himont and subsequently worked at Montell, Basell, Epsilon and Sunoco. He moved to Braskem in 2010 following its acquisition of Sunoco Chemicals, where he held senior leadership positions in
polymers, phenol and refining chemicals. Mr Nikolich sits on the executive committee of the World Plastics Council and chairs the global strategy committee of the American Chemistry Council.
Recycling infrastructure is failing to keep up with the global increase in plastic production and use. Emerging economies are worst hit by plastic waste, but this is a global challenge. What targets should be set for recycling in 2030, and how can they be achieved?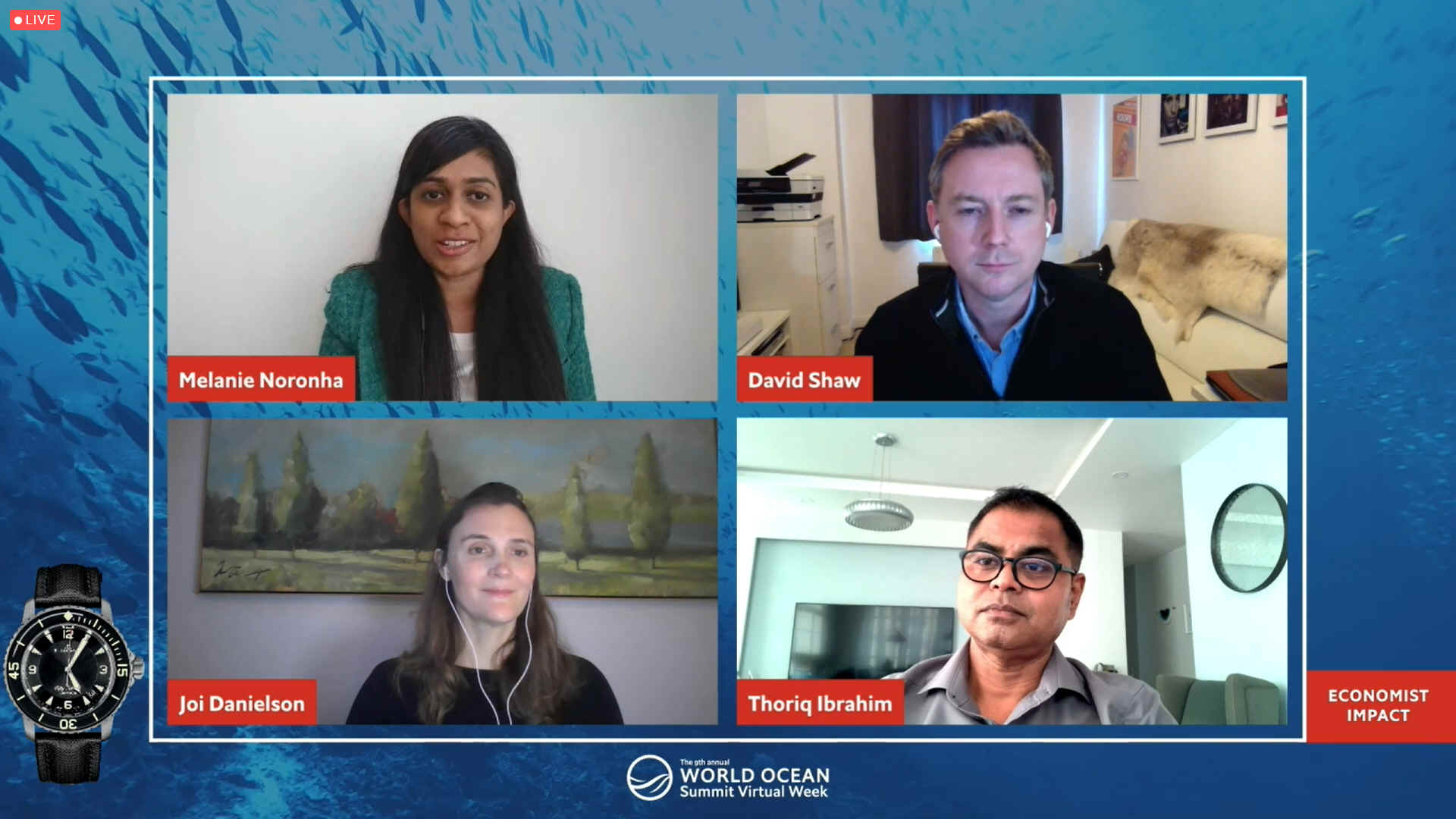 Melanie Noronha is a senior editor for The Economist Intelligence Unit's thought leadership division in Europe, the Middle East and Africa. Based in Dubai, she specialises in research on the Middle East and African markets. She has also managed global projects across sectors including financial services, health care, infrastructure, energy and trade. Before joining The Economist Group Ms Noronha was a senior analyst at MEED Insight, a research and consulting firm serving the Middle East and North Africa. She also held posts at the Office of the Chief Economist at the Dubai International Financial Centre and at the San Francisco Centre for Economic Development.
David Shaw is a ESG Leader working as part of Internal Growth Team, with experience as Supply Chain and Sales Director, operating both in market or across regions. Leadership roles in FMCG and Consumer Electronics Industries, 7 years at Kraft Heinz and previously 9 years at Procter & Gamble.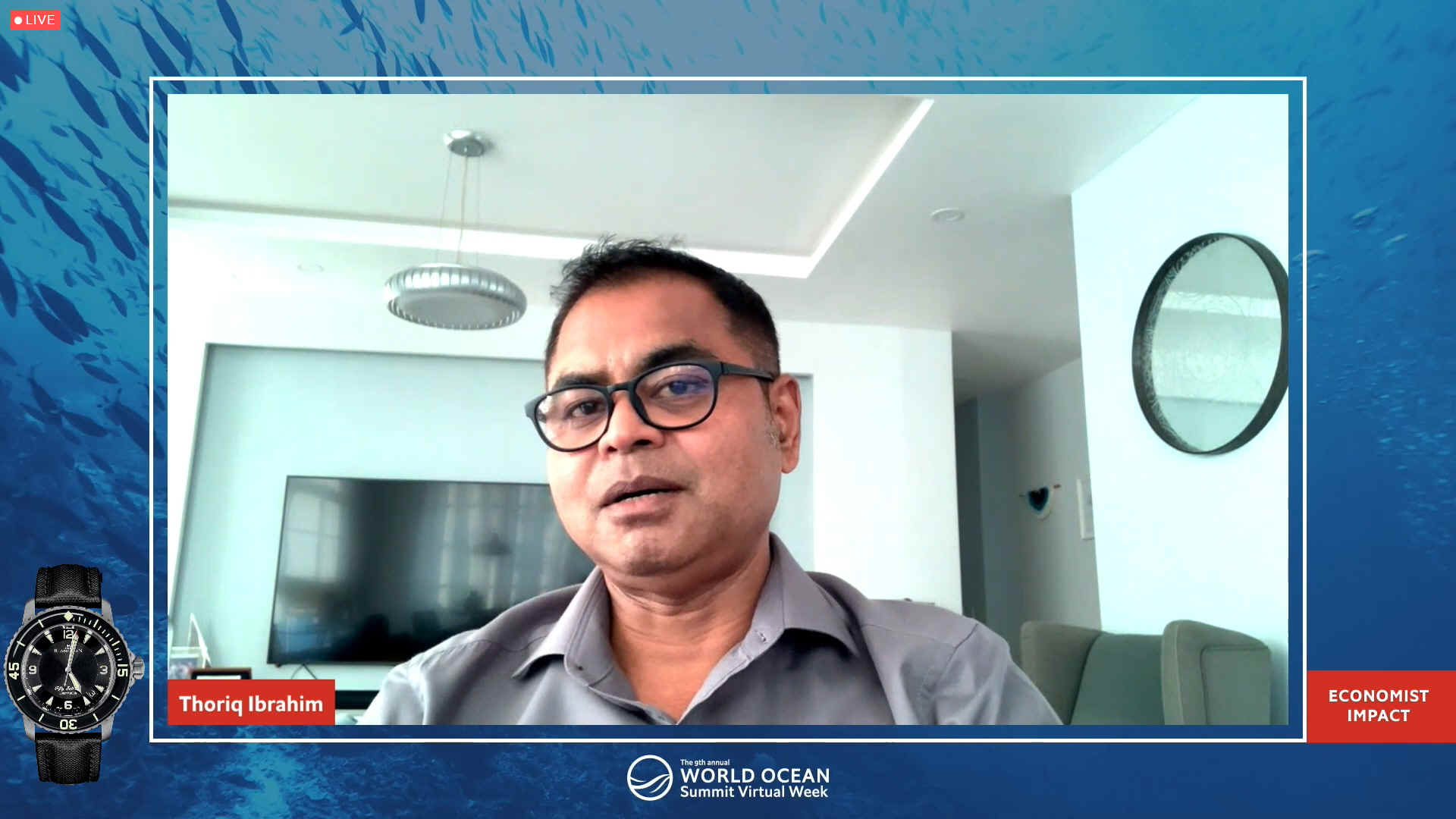 H.E Thoriq Ibrahim was minister of environment and energy of the Maldives from 2013 to 2018. He chaired the Alliance of Small Island States for four years, and he founded and leads the Maldives Ocean Plastics Alliance, a national NGO committed to the safe repurposing of single-use plastics in the Maldives. Mr Ibrahim has also worked in the private and public sector for more than 17 years in the field of building services, engineering design and the management of construction projects. He is senior executive director at Gedor Consulting Pvt Ltd in the Maldives, in charge of the company's building-services consultancy.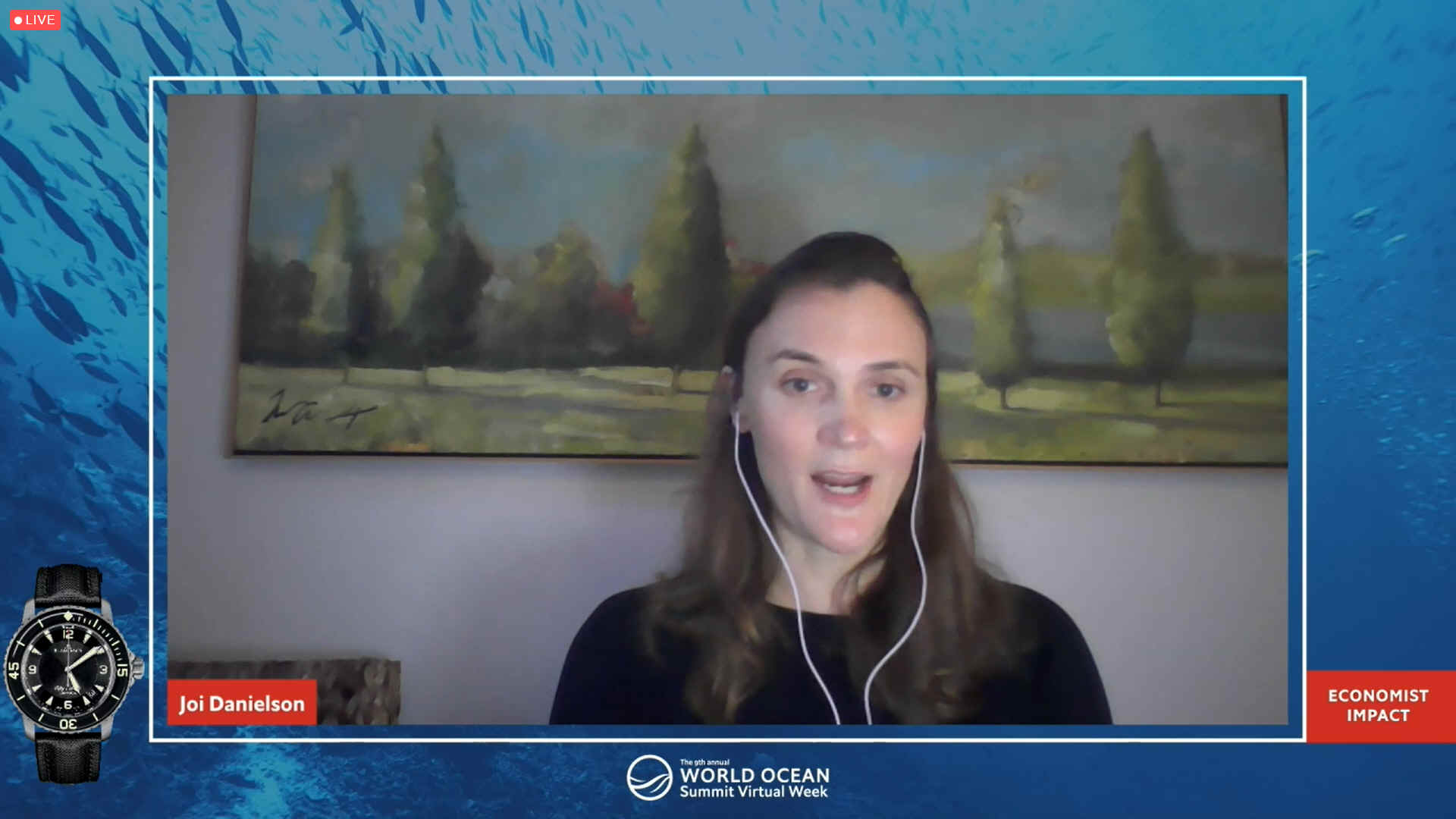 Joi Danielson is a partner at SYSTEMIQ, Ltd. She works on the front line in Indonesia to stop 40m
tonnes of waste from polluting the environment each year. She and her team have partnered with
the government to address root-cause structural constraints behind Indonesia's low waste-collection
levels. Her team has brought circular waste management to more than 200,000 people, with plans to
reach 7 million by 2025 to achieve unequivocal and permanent marine-debris reduction and prove
that a circular economy is possible. Formerly with McKinsey and Ocean Conservancy, Ms Danielson
has worked across Asia and Africa using market incentives and technology to tackle environmental
challenges.
This session will focus on the importance and future of bioplastics, and will ask what impact it could have on marine pollution." Sponsored by Dow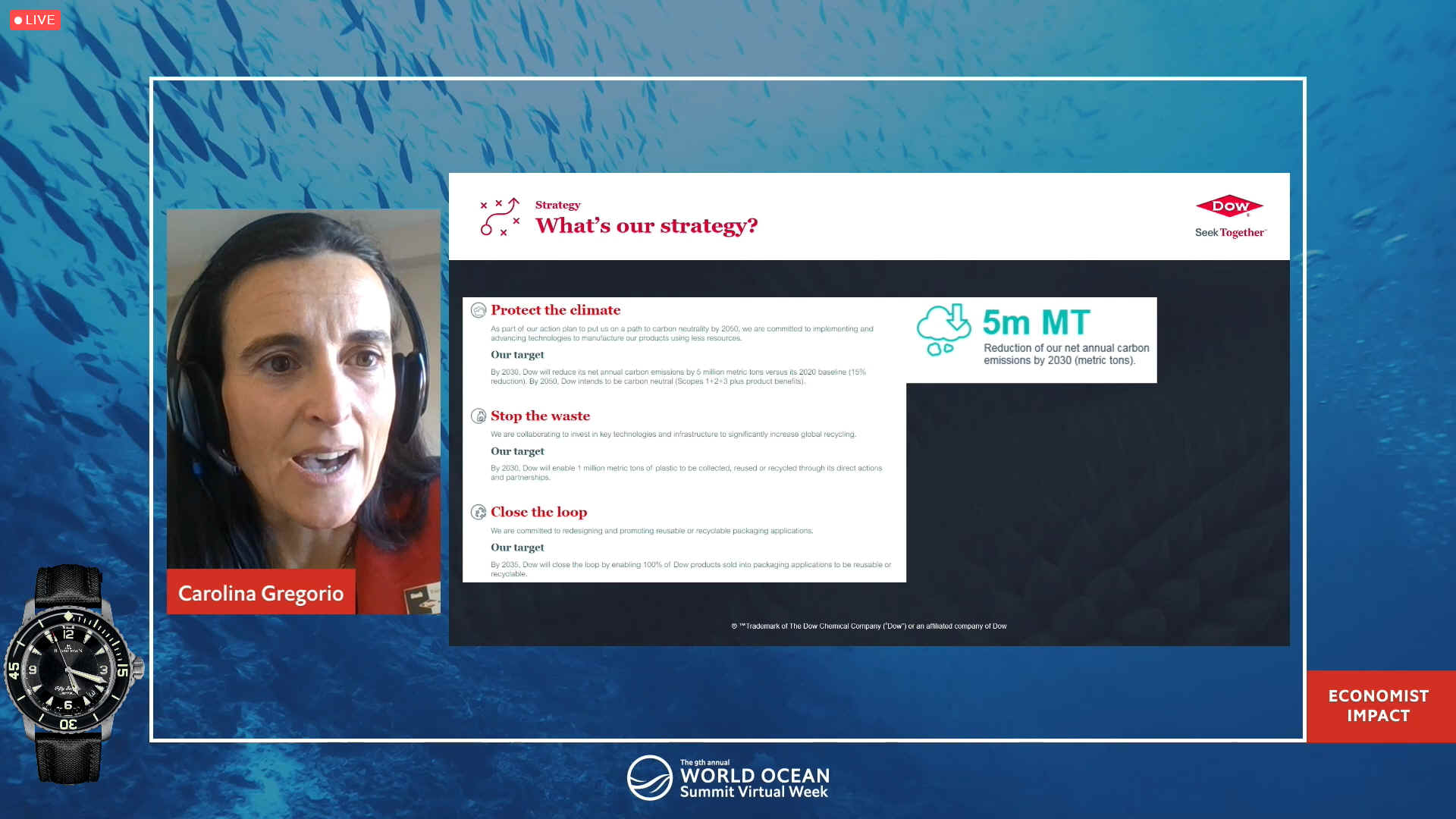 Carolina Gregorio joined Dow in 2007 and has held several roles in the packaging and specialty plastics business. Earlier this year she assumed her current role as policy and advocacy strategy director for Europe, the Middle East and Africa. Prior to this Ms Gregorio held commercial and marketing roles, including global project leader for Dow's packaging innovation platform. She elaborated the marketing strategy for Dow's bio-based offering and has been leading its implementation globally.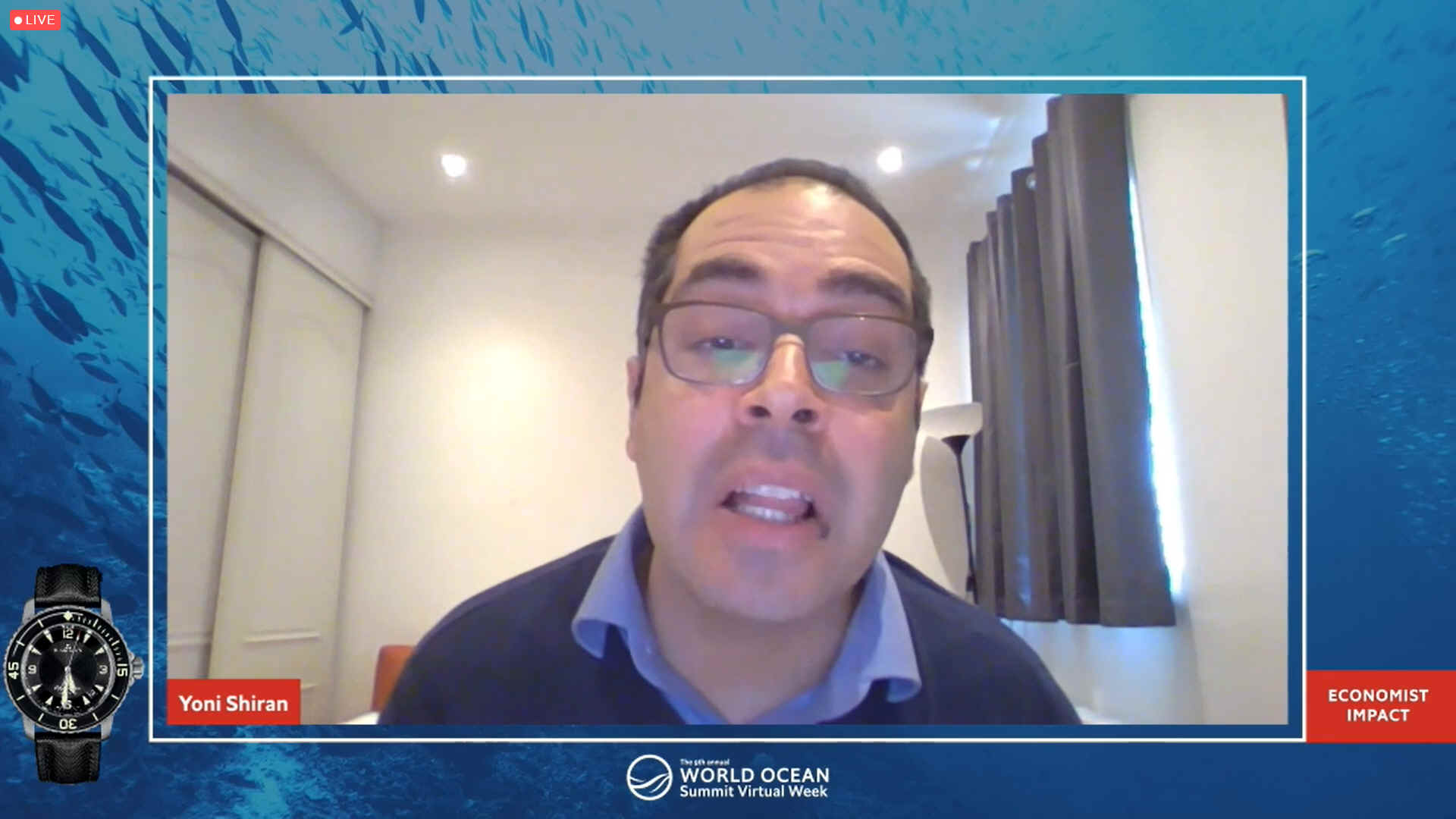 Yoni Shiran is a partner in SYSTEMIQ's London office and leads the company's plastics platform. He was programme director and lead author of "Breaking the Plastics Wave" and the related paper published in Science. Mr Shiran has led the programme from conception through delivery, overseeing the analysis, the strategy and execution for stakeholder engagement and partnering, and communications. He also leads SYSTEMIQ's plastics work with the World Bank, Plastic IQ and PlastSimulator (Norwegian Retailers' Environment Fund). Before joining SYSTEMIQ Mr Shiran spent six years with McKinsey & Company working on a range of strategy and circular-economy projects in California, Europe and Israel.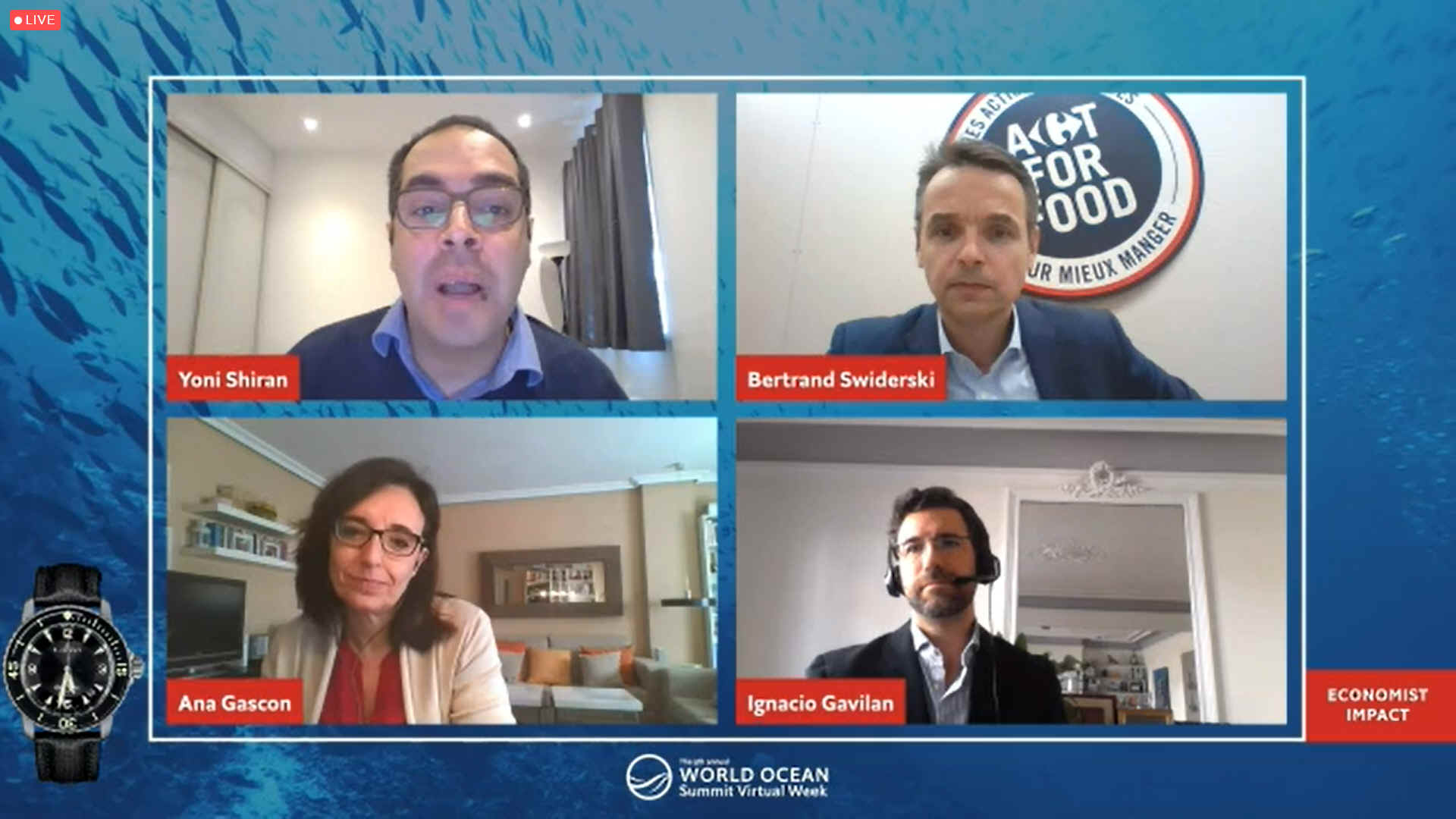 RETHINKING PLASTIC PACKAGING - Alternatives to plastic, and the conversion of plastic packaging into reuse models open up significant opportunities to reduce plastic waste. What are the opportunities and challenges for packaging? Where are innovative alternatives to plastic making an impact? What more can the packaging industry do to minimise plastic waste?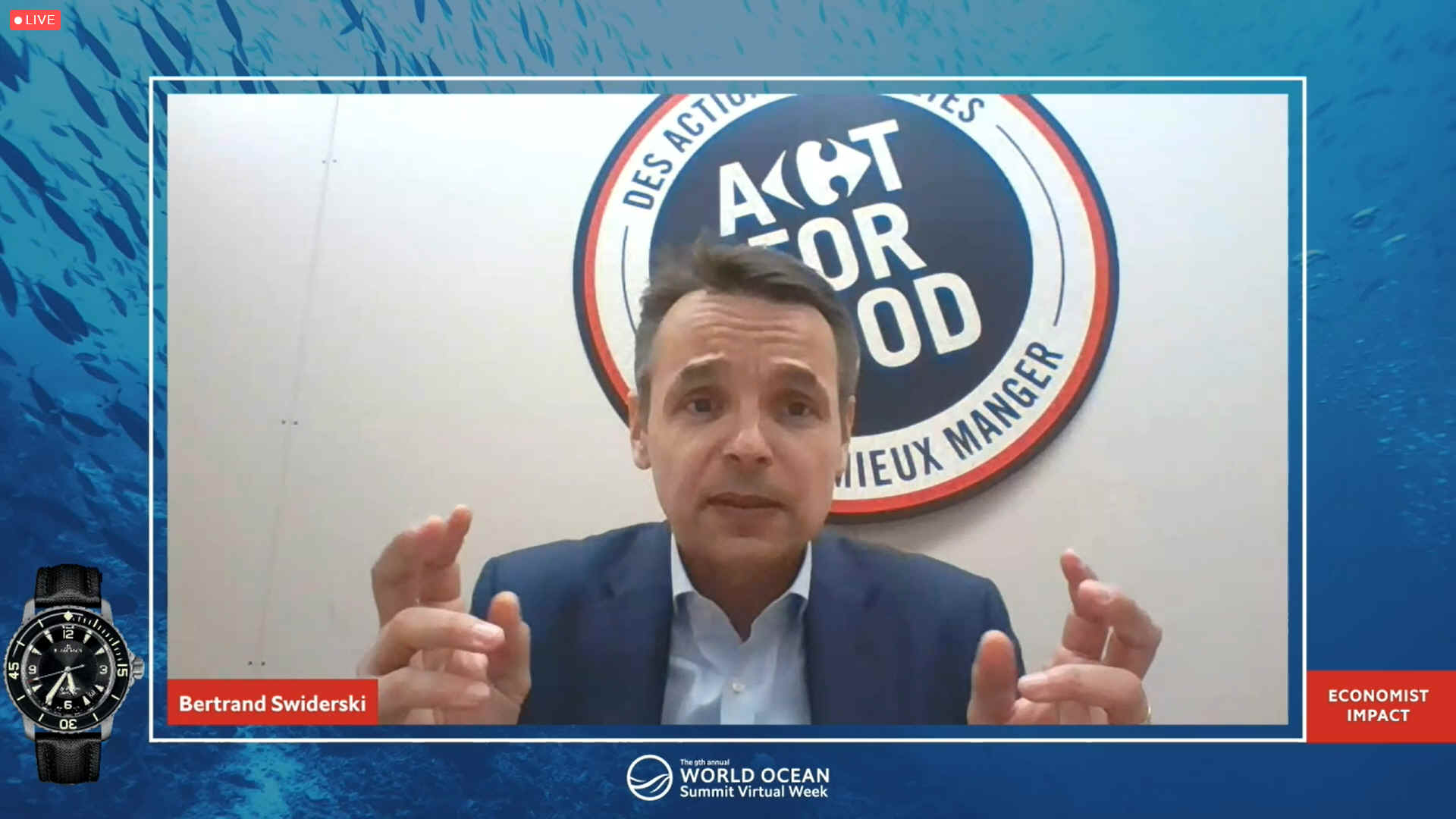 Bertrand Swiderski has served as Carrefour's chief sustainability officer since 2013. He leads the group's sustainability strategy and ensures its integration across the group's activities worldwide, as part of its mission to lead on the food transition for all. Convinced that the customer is the key to accelerating this transition, Mr Swiderski leads projects with partners to develop innovative solutions in store and across Carrefour's supply chain. Prior to joining Carrefour he was a founding partner of CONVIS France, an environmental consulting firm offering services to public institutions and private companies across Europe.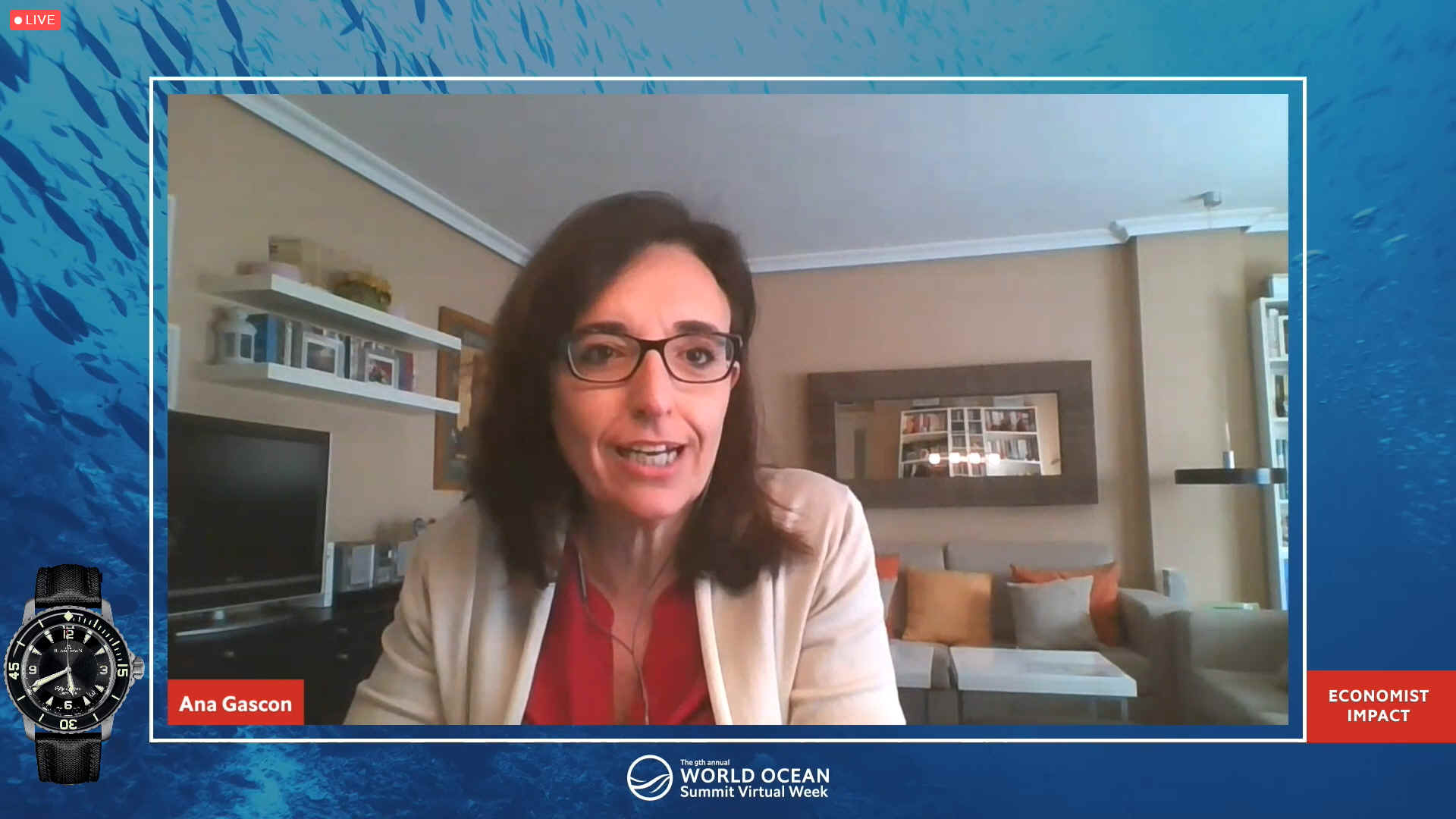 Ana Gascón has been director of World Without Waste since April 2021. She joined Coca-Cola in 2015 and was previously director of corporate responsibility at Coca-Cola Iberia, where she was in charge of driving the company's environmental, social and good-governance strategy. Experienced in corporate social responsibility, Ms Gascón has worked in this field in other companies, including three years as head of the CSR department at Banco Popular. She teaches sustainability at universities in Madrid. Coca Cola is investing in re-using 25% of their (PET) products by way of collaboration, including with Carrefore. There is a move to increase recycling from 50% to 80%.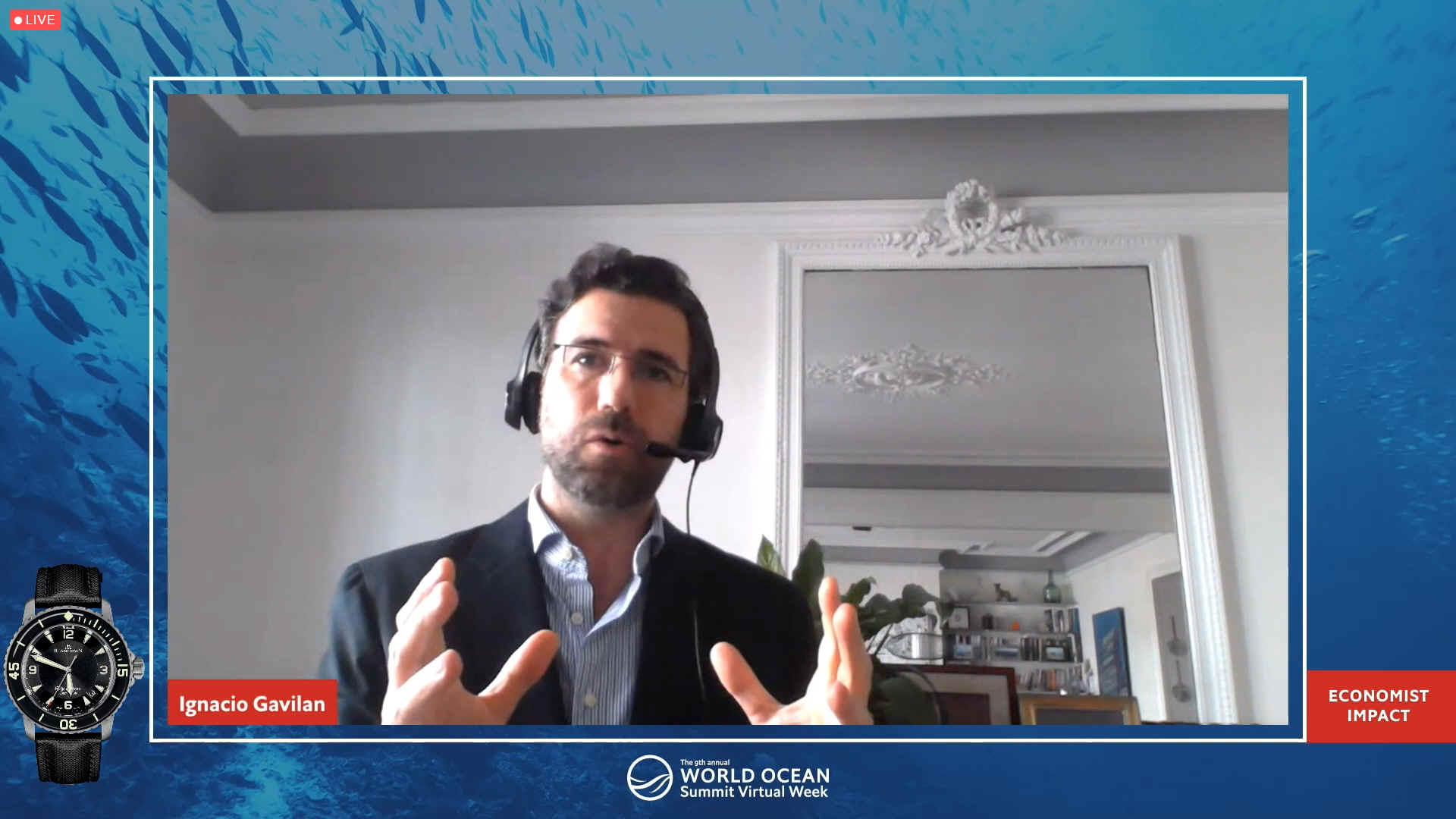 Ignacio Gavilan leads the Consumer Goods Forum's environmental sustainability team, which aims to make the consumer goods industry a leader in protecting against climate change and reducing waste. The team comprises leading retailers and manufacturers who drive CGF's sustainability agenda on refrigeration, food waste, plastic waste and the procurement of deforestation-free commodities. Before his current role Mr Gavilan was a founder and principal consultant at Accipiter, a sustainability advisory service, where he helped small and medium enterprises working in international markets to create strategic sustainability road maps. He previously worked at McDonald's, BP (on renewable energy) and the mining company Anglo American.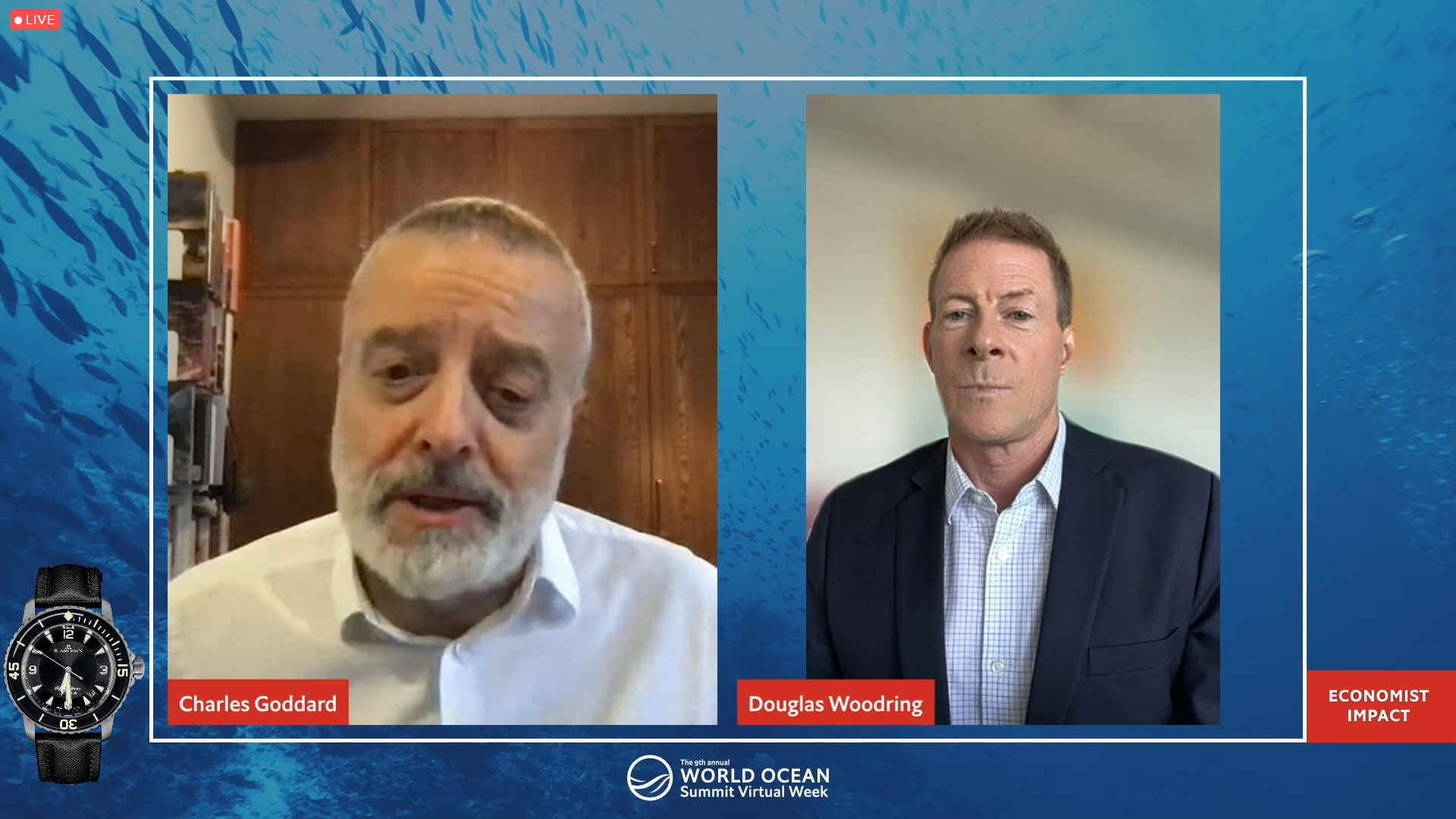 This session, hosted by Charles Goddard, discussed how giving a value to plastic waste could enable the expansion of waste collection and recycling infrastructure. Subjects included how standardisation, trust and verification could increase the value of discarded plastic, and whether a plastics exchange could support the circular economy and reduce marine plastic pollution.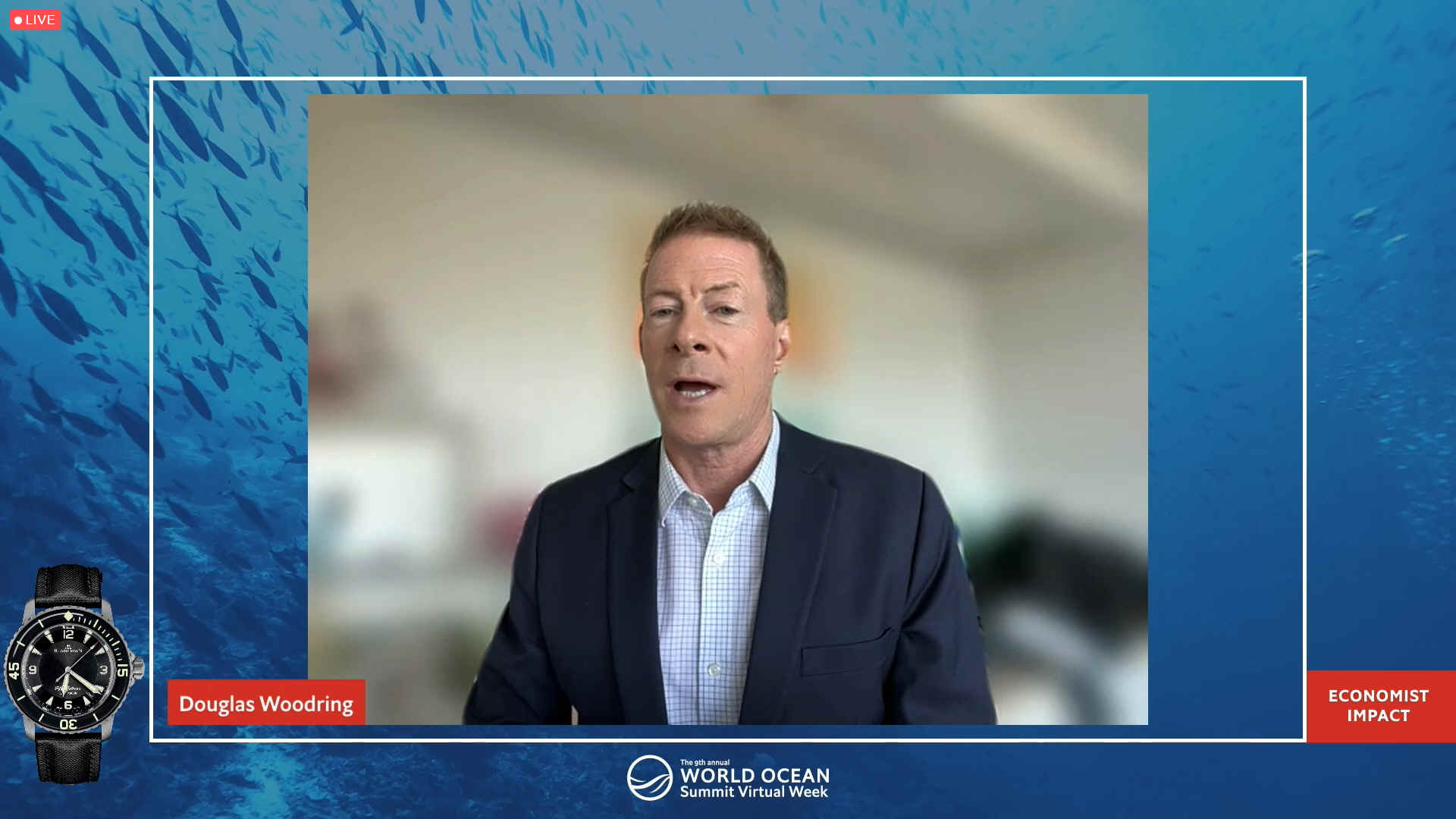 Douglas Woodring is lead expert at Rebound Ltd, the company behind Rebound Plastic Exchange, a global trading platform for buyers and sellers of recycled plastics. He is also founder and managing director of Ocean Recovery Alliance, a non-profit organisation bringing together solutions, technology, collaborations and policy to create positive improvements for the health of the ocean. Mr Woodring founded the Plasticity Forum on innovations for plastic in its second life and has worked with the UN Environment Programme and the World Bank on plastic pollution issues. In 2020 he co-founded the Commitments Accelerator for Plastic Pollution (CAPP), a global incubator for plastic waste reduction programmes.
There is a shortage of recovered plastic to make any proposed recycling endeavour a realistic proposition. Equally, the funding needed in not available for small concerns, who cannot approach The World Bank or other institutions for loans for enterprise that is simple to small to be considered. That also includes venture capitalists, where funding must be $500 million dollars before they begin to take applications seriously.
Most countries do not have the capacity to process plastics. But there is a potential market with significant impact on the oceans, for rebounding, as feedstocks might become available to kick start mass harvesting and processing - aimed at generating a circular economy.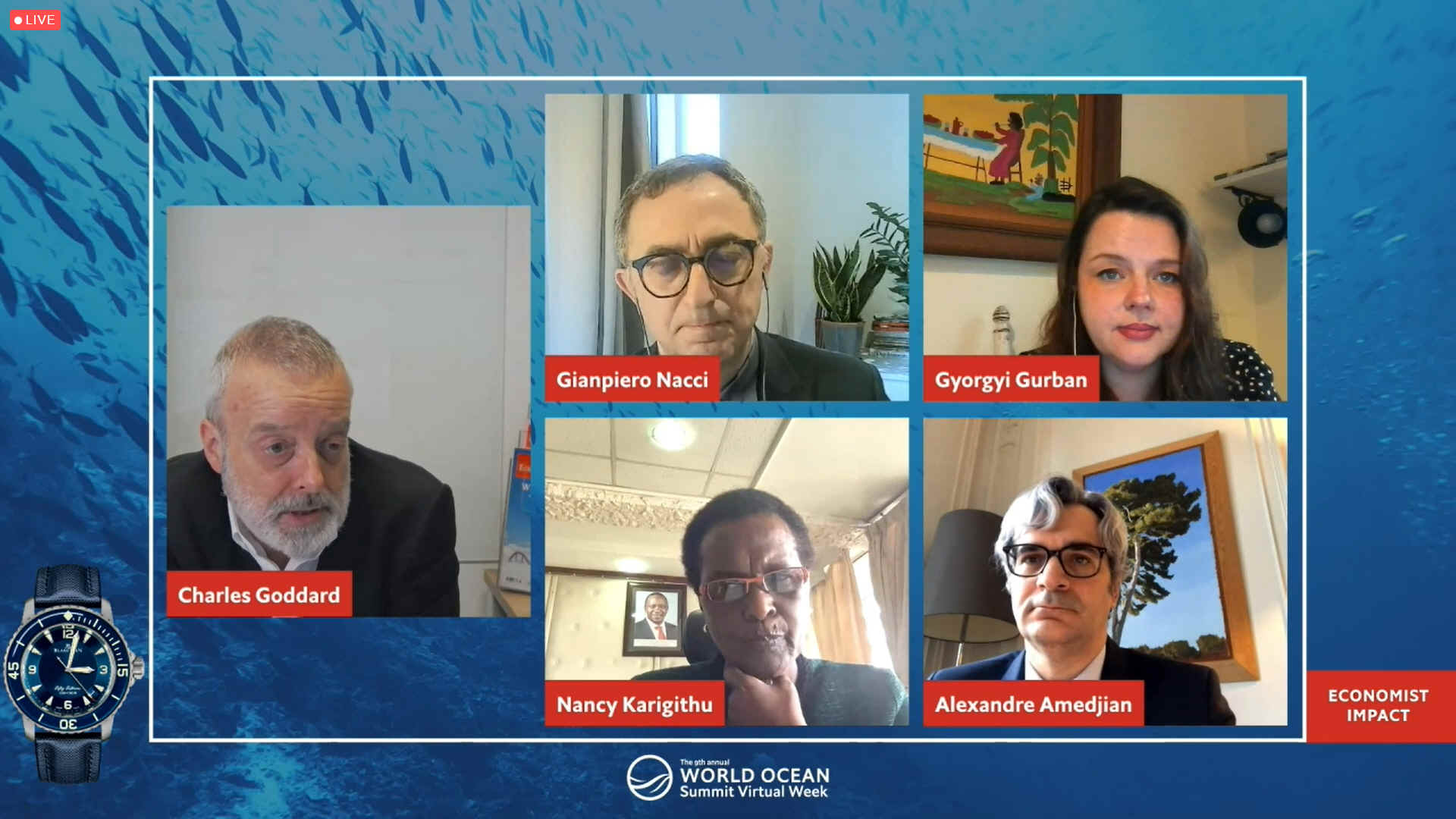 The panel of speakers Tuesday 1st March 2022, provided some very interesting aspects of financing the change to zero carbon shipping, where it is by no means clear what fuels will prevail, and how aggressive the IMO will be in setting targets. Concessional finance might include a tie in with carbon taxes and R&D innovation funding - or even scrappage.
z
CONTACTS

For media enquiries about The Invisible Wave, please email EIU@sandpipercomms.com
general enquiries: oceansummit@economist.com.

Marketing or PR event enquiries:

Naomi Grice
Marketing Manager
naomigrice@economist.com

Speaking Enquiries:

If you are speaking or you have an enquiry about speaking:
oceansummitspeakers@economist.com.

Sponsorship opportunities details about sponsoring and partnering.

Tatiana Der Avedissian
Email: tatianaderavedissian@economist.com
Tel: +44 (0) 739 560 4731

Alice Calvert
Email: alicecalvert@economist.com
Tel: +44 (0)795 6330 689