TUESDAY 1st MARCH 2022

This global event is taking place over four days, and will bring together a very broad cross-section of the ocean community, from businesses to scientists, government, investors, and civil society. It will feature six industry tracks: shipping, fishing, aquaculture, energy, tourism, and plastics.

The 9th annual World Ocean Summit will feature six industry tracks focusing on:

1. shipping,
2. fishing,
3. aquaculture,
4. energy,
5. tourism, and
6. plastics.

This is the nub of a blue growth agenda, including deep sea mining and biotech.

Speakers will provide reality-checks on how their industries are progressing towards 2030 targets, and what needs to happen next.

High-level plenary sessions will address cross-industry topics including ocean finance, ocean governance, and ocean restoration solutions. Speakers will discuss the finance gap, assess new technologies and highlight successful initiatives that are beginning to make an impact on ocean health.
SHIPPING

1. Powering the ships of tomorrow
2. The economics of decarboniastion
3. Collaboration for decarbonisation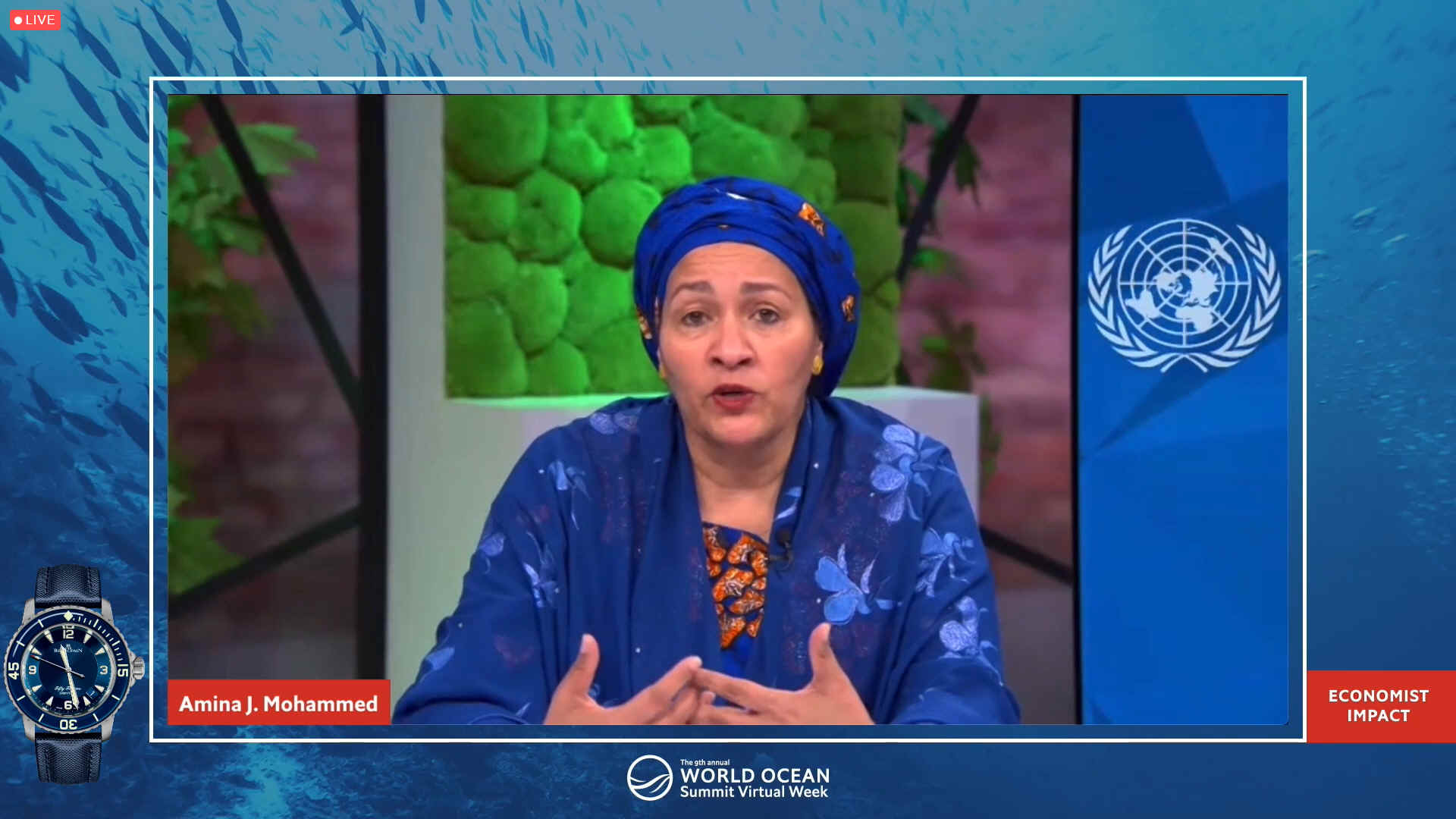 Amina Mohammed is deputy secretary-general of the United Nations and chair of the United Nations Sustainable Development Group. She previously served as Nigeria's minister of environment. Ms Mohammed first joined the United Nations in 2012 as special adviser to former secretary-general Ban Ki-moon, with responsibility for post-2015 development planning. She led the process that resulted in global agreement on the 2030 Agenda for Sustainable Development and the creation of the Sustainable Development Goals. Ms Mohammed began her career working on the design of schools and clinics in Nigeria before moving into the public sector, where she advised four successive presidents on poverty, public-sector reform and sustainable development.
The general consensus is that seafood is becoming more toxic as fauna soak up carcinogens, from ingesting plastics laced with poisonous substances, potentially raising cancer rates in humans and overburdening our health services.
Eventually, it is thought that whaling may have to be re-instated to make up for lost fish protein. A sad situation if it ever comes to that.
What is the big picture for ocean regeneration, and how can collaboration between governments, industry, investors, scientists and NGOs bring it about? These sessions will outline International expertise, ambition and new strategies to restore ocean health.

GREEN BUNKERING - DECARBONSATION OF SHIPPING
The shipping industry is working towards the goal of the International Maritime Organisation (IMO) to reduce shipping emissions by at least 40% between 2008 and 2030. This panel will highlight what has been achieved so far on the path to decarbonisation, and address what more must be done. Speakers will consider whether sufficient steps are being taken by the shipping industry to limit its environmental impact.
The ship operators do not produce the green hydrogen stock for fuels like E-Ammonia, E-Methanol or LH2. Thus, collaboration with other stakeholders that produce the fuels needed for maritime transition to zero emissions is essential. But, without policies to drive the energy change, we will remain stalled. We need carbon taxes (pricing regime) and elimination of subsidies of fossil fuels - to bring into balance the cost of future fuels and level the playing field.
This may also include scrappage schemes, to incentivise fleet operators to take the plunge just as soon as viable fuels are recognized for ocean going ships that cover long distances between ports.
Carbon taxes might go to create a Marine Innovation Fund of several $Billions, to drive solutions to market ready TRL solutions.
In addition, it may be that several fuels are identified to operate alongside each other, where cruise liners have different needs to container ships. For example, solar and wind power has a part to play.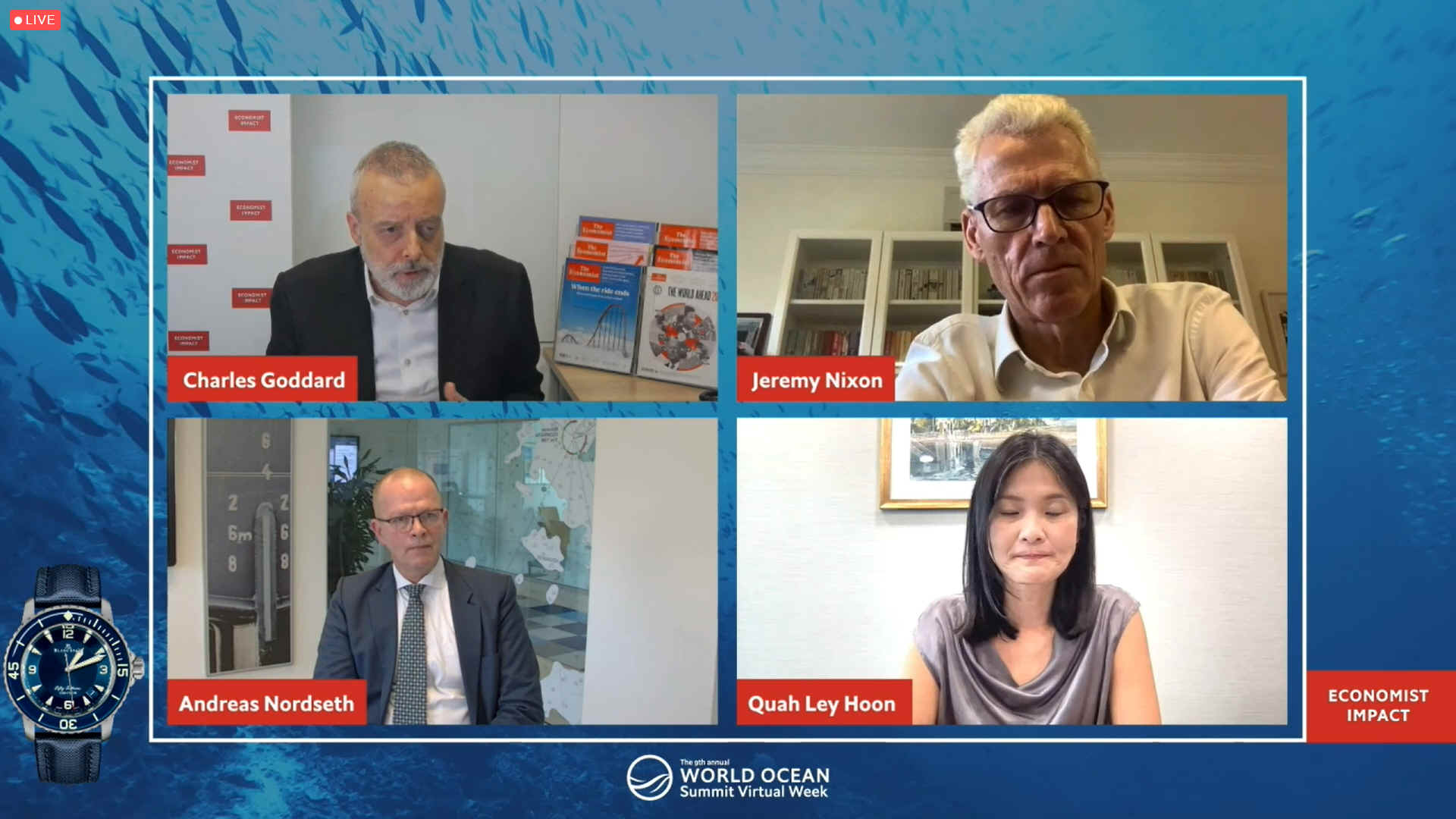 Charles Goddard imagines and builds the Group's flagship initiatives, the purpose of which is to catalyse progress on key issues of the day. He works closely with partners on themes ranging from ageing and longevity to ocean health, focusing particularly on healthcare, the Anthropocene and the blue economy. Based in Hong Kong, Charles was previously editorial director, Asia, at the Economist Intelligence Unit, director of research in Asia, and managing director of the Economist Corporate Network, a peer network for senior executives. He is concurrently executive director of the Group's World Ocean Initiative.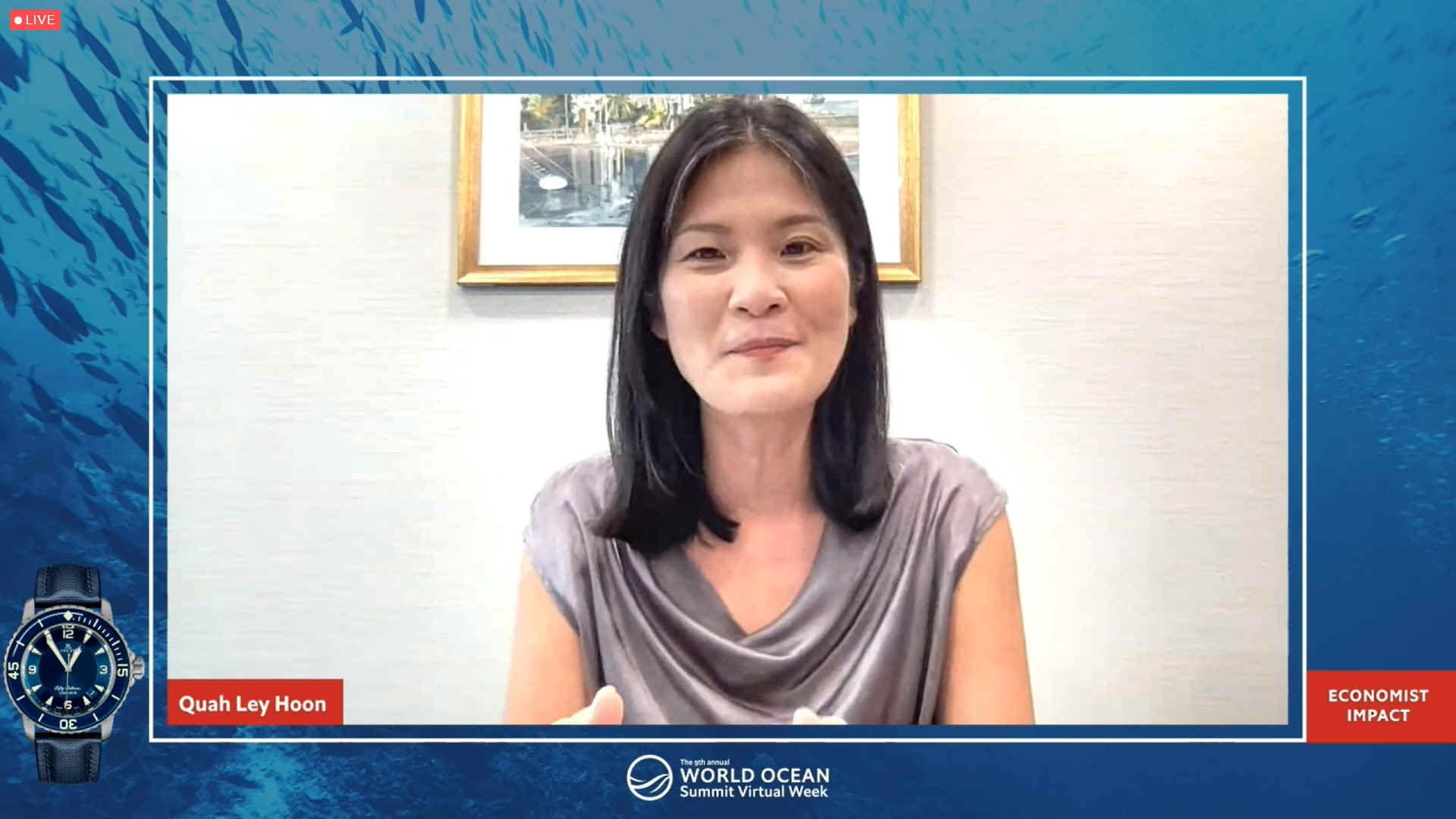 Quah Ley Hoon has been chief executive of the Maritime and Port Authority of Singapore since 2019. Prior to this she was chief editor of Channel NewsAsia, owned by MediaCorp. Ms Quah has more than 15 years' experience in the public sector working on economic, environmental and social policies, including the US-Singapore Free Trade Agreement, the UN Framework Convention on Climate Change and the National Population Secretariat. She is a board member of the Energy Market Authority, the Singapore Chamber of Maritime Arbitration, the Singapore Maritime Foundation, the Global Centre for Maritime Decarbonisation, Defence Science and Technology, and the Singapore Trade Data Exchange Agency.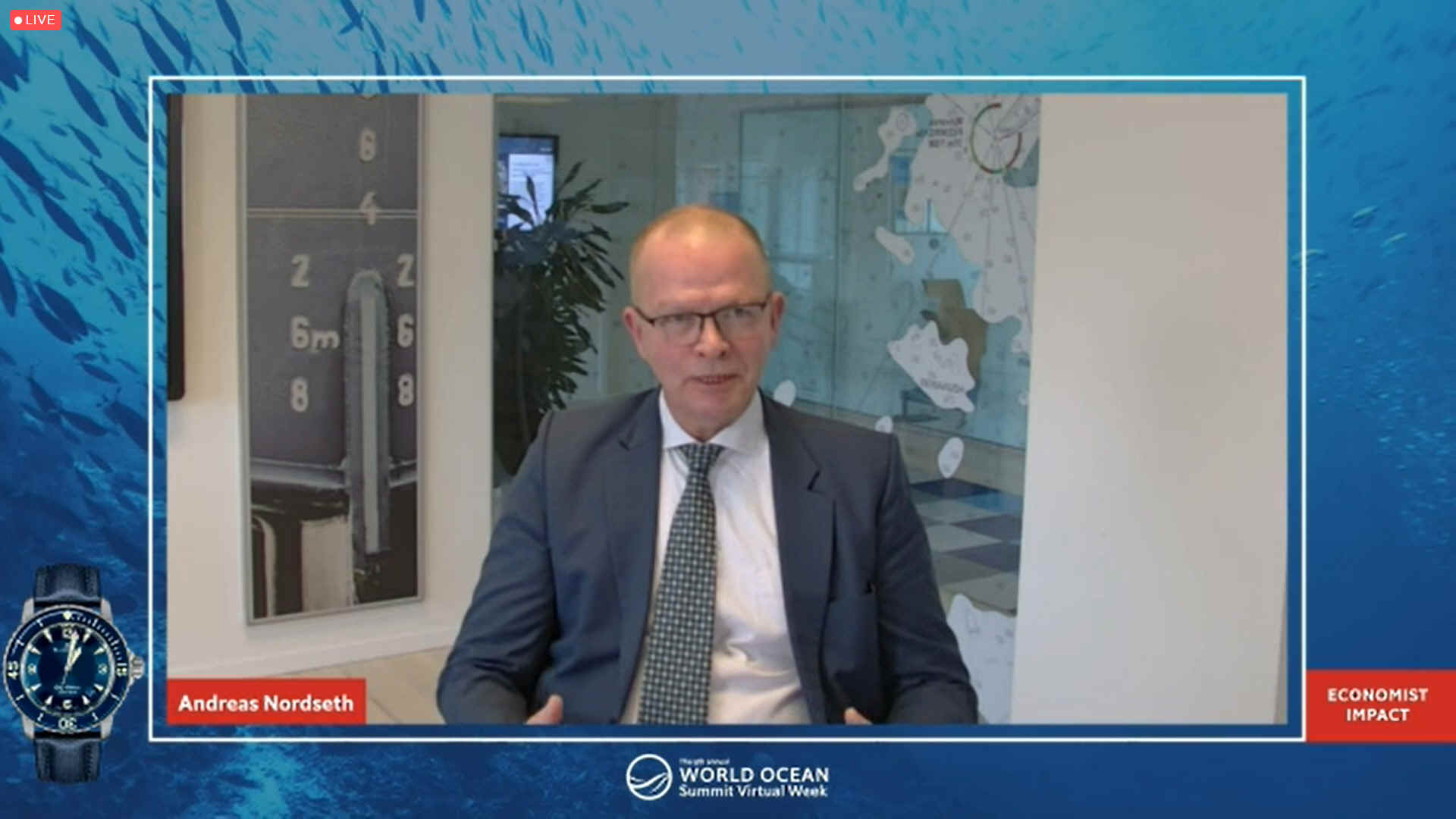 Andreas Nordseth is director-general of the Danish Maritime Authority (DMA), a position he has held since 2009. The DMA is a government agency under the Ministry of Industry, Business and Financial Affairs in Denmark. Mr Nordseth is also chairman of the Administrative Board at the European Maritime Safety Agency and chairman of the Consultative Shipping Group. He is governor at the World Maritime University (IMO) and a member of the board of the Danish Maritime Fund and the advisory board for the executive MBA in shipping and logistics at Copenhagen Business School.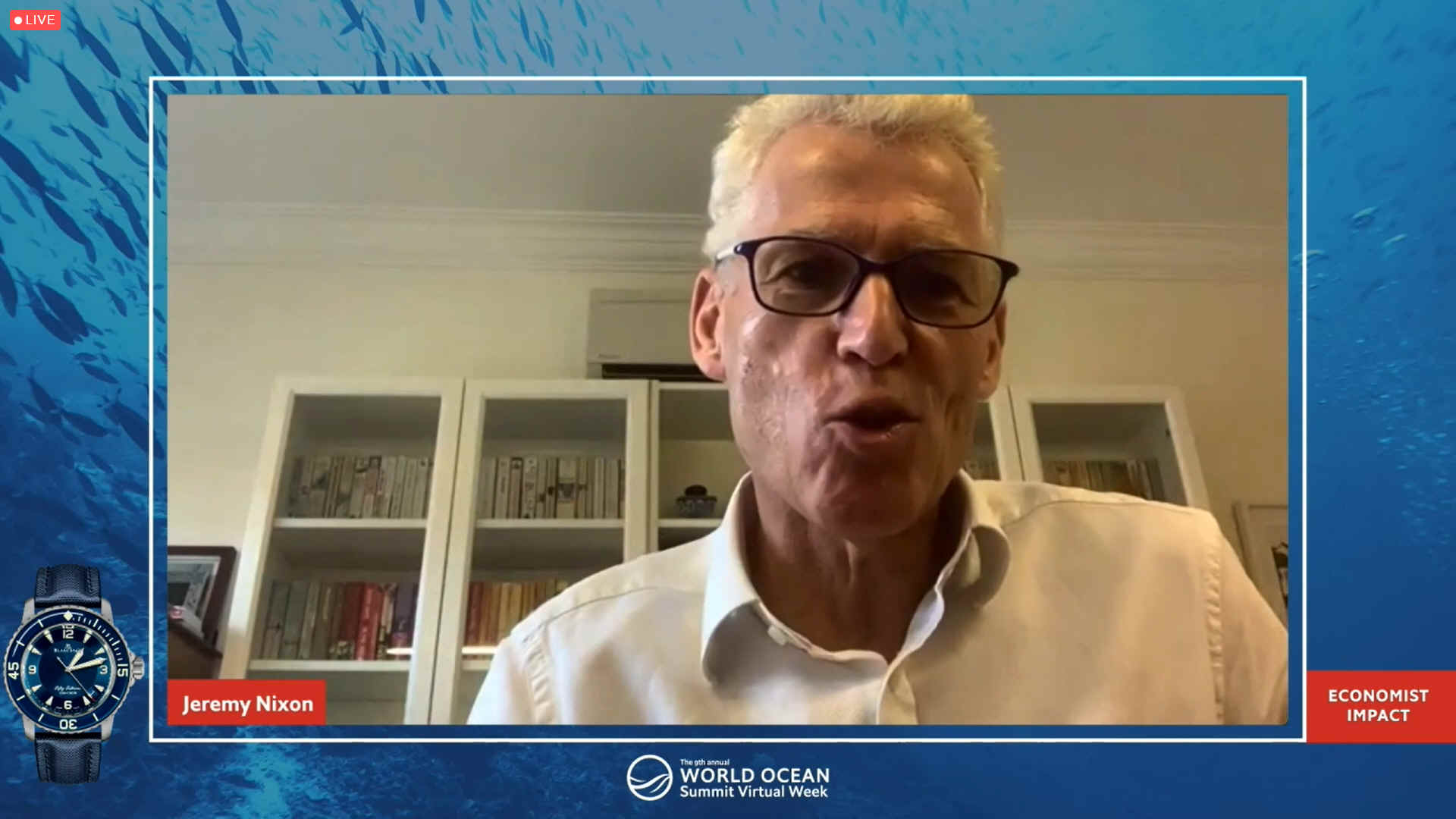 Jeremy Nixon is global chief executive officer of Ocean Network Express (ONE), which since its founding in 2018 has become one of the world's largest liner shipping companies, headquartered in Singapore. He began his career at sea as a navigating officer, followed by studies in maritime commerce at Cardiff University and four years working at the Port of Felixstowe. Mr Nixon has been actively engaged in the container-shipping industry for the last 30 years and has held senior management positions with P&O Nedlloyd, Maersk Line and NYK Line, in Europe, North America and Asia.

A panel discussion with Johannah Christensen, chief executive, Global Maritime Foundation and James Woodrow, managing director, Swire Shipping. Followed by an interview with Silvia Garrigo, chief environment, social and governance (ESG) officer, Royal Caribbean Group

This panel will weigh up the alternative fuel and propulsion technologies driving the future of shipping. Some success has been seen from several trials, including liquefied natural gas (LNG), biofuels and wind power, but which solutions are scalable and economically viable for the long term? What will trigger the transition to new fuels

- supply or demand?

Will the economics of decarbonisation be a barrier to progress? Pressure on the shipping industry to cut carbon emissions is increasing, but there are significant costs associated with the transition to a zero-carbon shipping industry. How can policymakers incentivise a speedier change?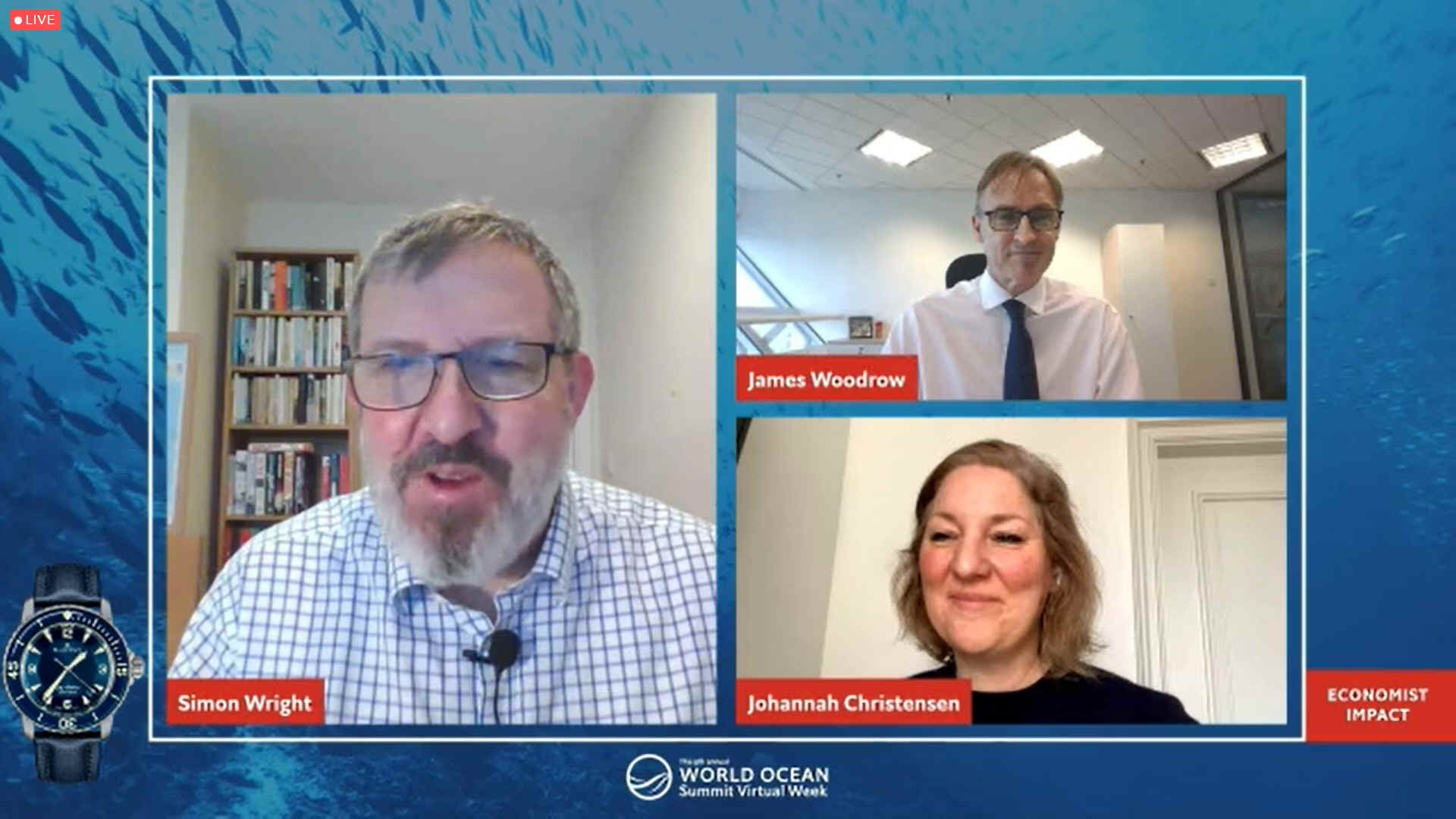 Simon Wright is The Economist's industry editor covering cars and new mobility, aerospace, shipping, manufacturing and the like. He joined the paper in 1989 as a researcher. Since then his roles have included stints as the letters editor, World This Week editor, writing about business and finance for economist.com, deputy news editor for the paper's website, deputy briefings editor, and energy and commodities correspondent.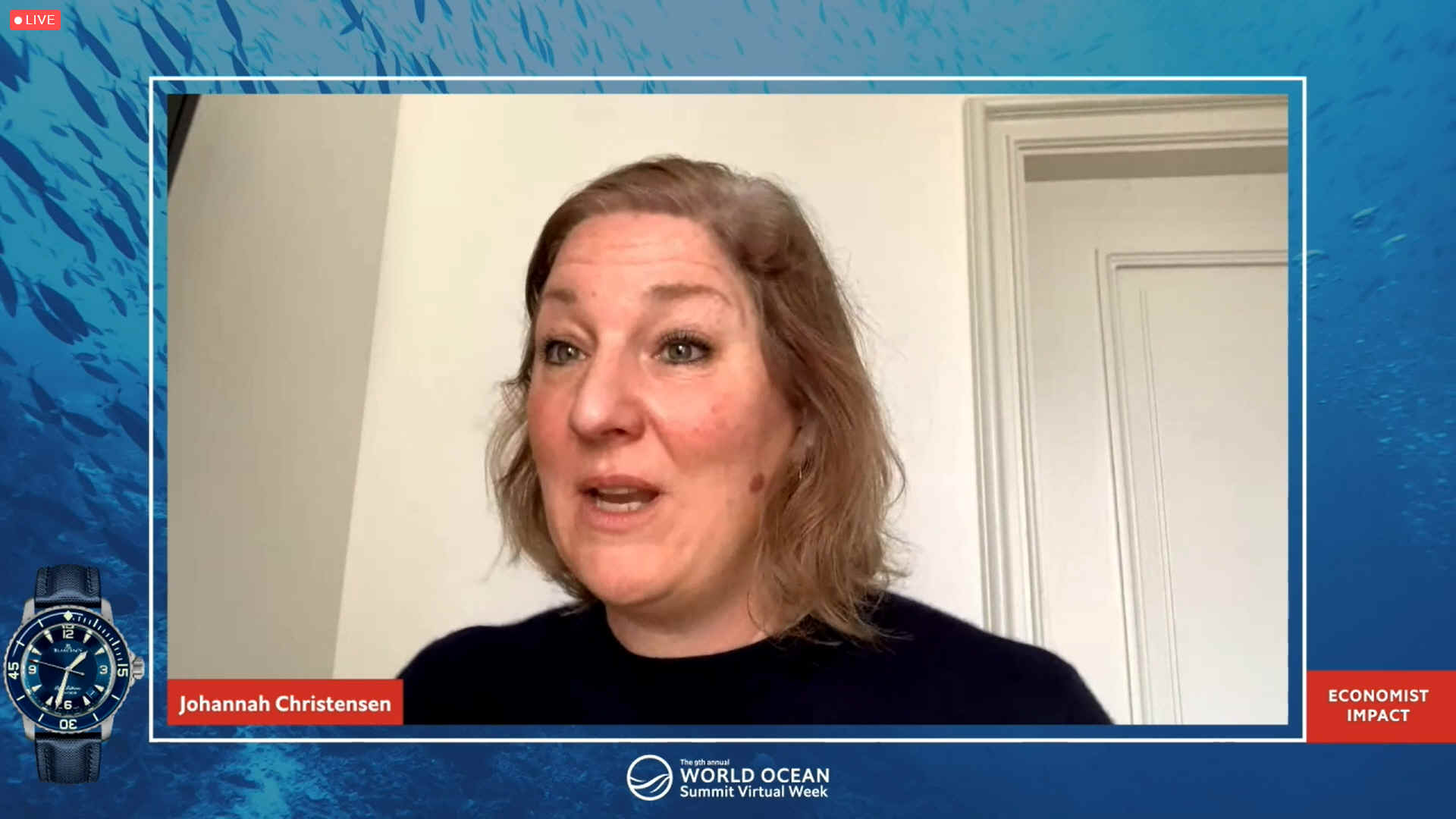 Johannah Christensen is chief executive officer of the Global Maritime Forum, an international non-profit organisation committed to shaping the future of global seaborne trade to increase sustainable long-term economic development and human well-being. The forum brings together a broad spectrum of leaders from across the industry to find new solutions to the most important challenges facing the industry today and in the future. Prior to establishing the forum Ms Christensen helped businesses address global challenges in a variety of roles at INDEX: Design to Improve Life, the Scandinavian think-tank Monday Morning, the World Economic Forum and as an independent advisor.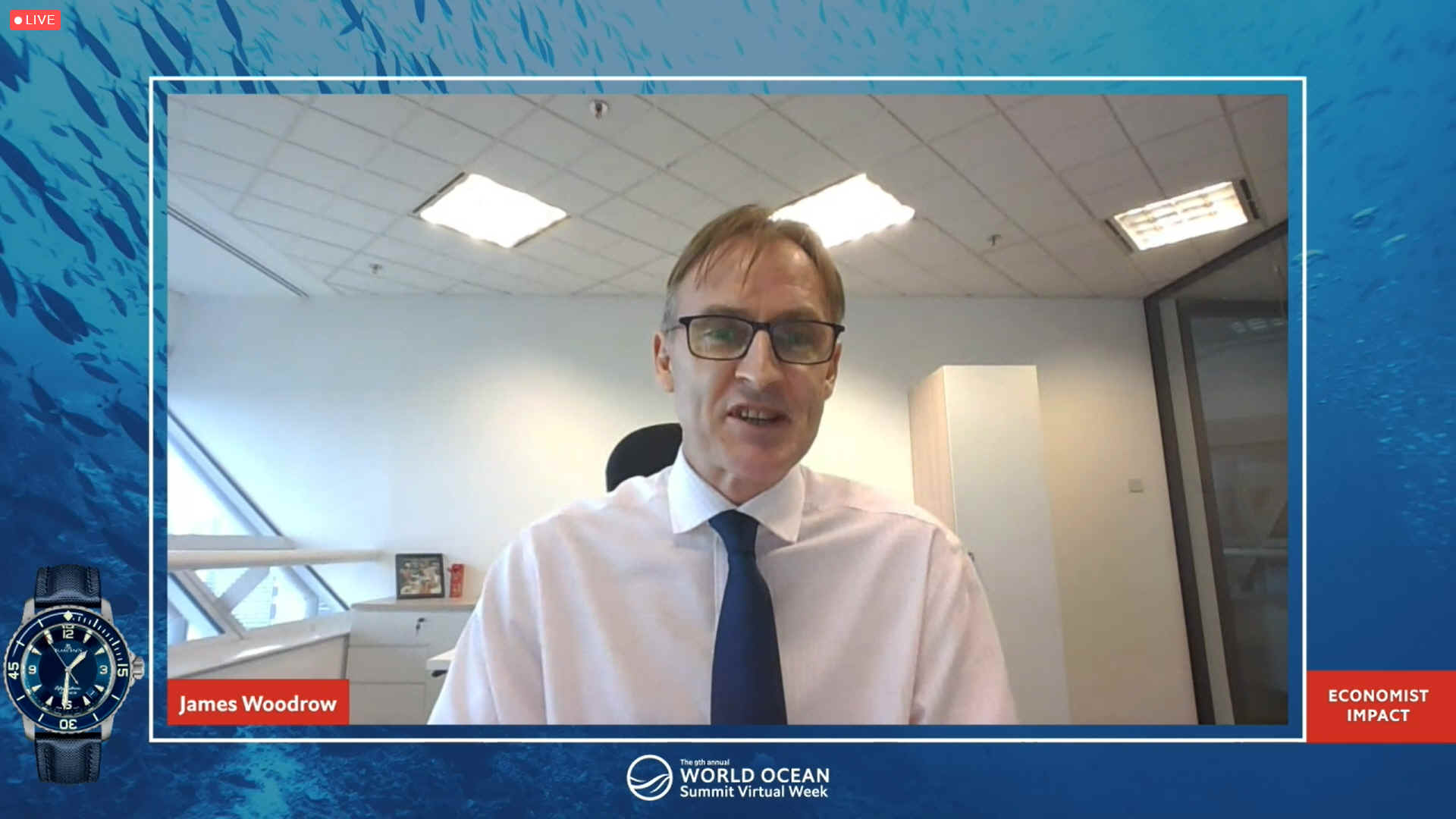 James Woodrow has been managing director of Swire Shipping (previously China Navigation Company), since 2015. He has 20 years' experience in shipping, with stints with Swire Shipping in Tokyo, Sydney and Auckland, and with Steamship Trading Company Ltd in Papua New Guinea. Under his stewardship, China Navigation Company embarked on an intensive shipbuilding programme to augment its push into sustainable shipping. The company's commitment to sustainable development includes the Moana Taka Partnership to ship out waste from the Pacific islands for recycling. Mr Woodrow previously worked at Cathay Pacific for five years, as director of cargo and general manager of cargo sales and marketing.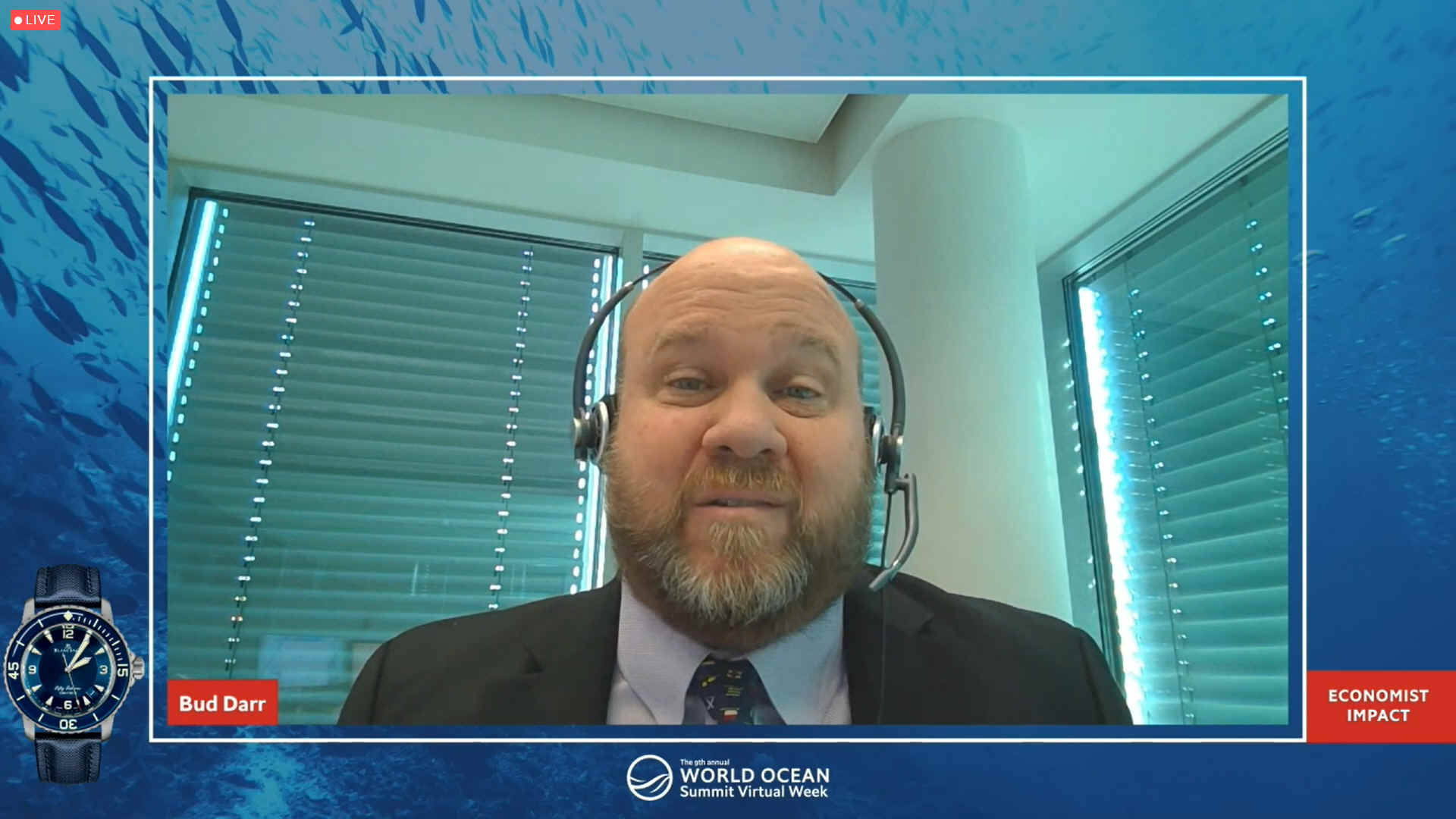 Bud Darr is executive vice-president, maritime policy and government affairs at MSC Group, which operates in 155 countries. He works across MSC's cargo and passenger divisions, developing the company's central government-affairs function, and its response to changes in environmental public policy and regulation. Mr Darr began his education in submarine nuclear engineering, trained as a deck officer at the US Merchant Marine Academy, and studied law during his service with the US Coast Guard. Prior to joining MSC Group in 2017 he led maritime-policy work at the Cruise Lines International Association. He is a global maritime leader in policy, government and related law,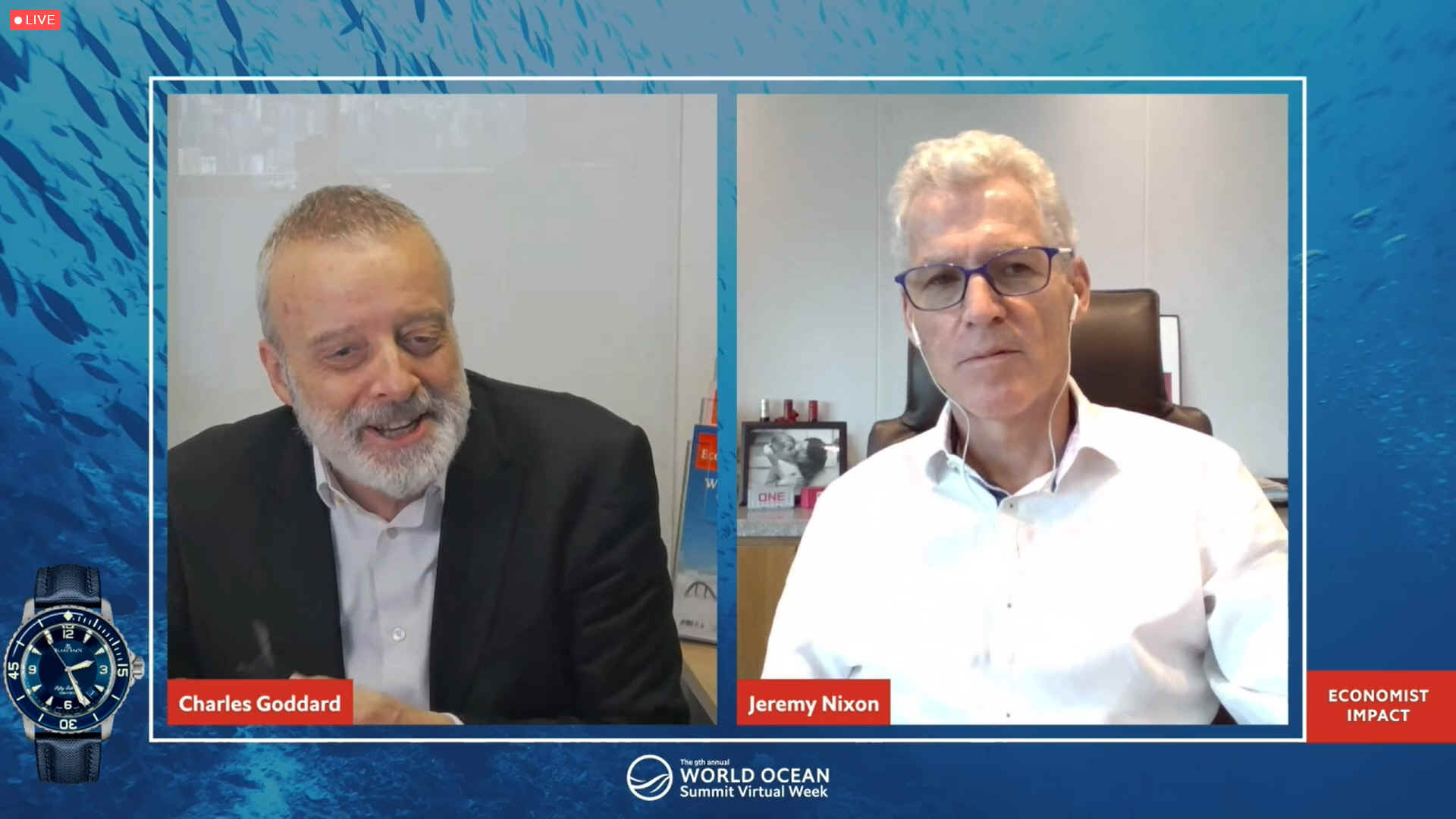 The IMO is an industry regulator for the maritime industry, exceptionally setting standards for operators at United Nations level. Because shipping is a global industry, it is thought that they need international rules and guidelines. Especially as to carbon intensity of existing ships, as a springboard to transitioning from harmful fossil fuels to zero emissions. With cost of change being a significant factor, but not such a brake as one might think, if, as, and when super efficient green ships finally come on stream.
The main problem is that to begin with fuel for green ships will be more expensive, meaning that those who lead will be uncompetitive. Begging the question as to leveling to playing field with fuel (carbon) levies, to make those pioneering new technology are not forced into bankruptcy as an inevitable consequence of trying to do the right thing. This should be a First port of call, a cap & credit and trade mechanism, a system to equalize the difference between $600 dollars a ton to $1,800 dollars (for example) a ton for green fuel. Based on 200 billion tons of diesel bunker fuels. Meaning an agreement as to a carbon price is essential - as a way forward. Now being proposed to the IMO.
The IMO would then have to work through what to do with the money collected. Should that go directly to the green operators from the brown operators. Should there be an R&D levy for innovative projects. Being some 260 areas of concern.
There is also the matter of phasing out existing ships, using conversions and filters, to ensure that losses sustained in changing up to clean tech is bearable.
At the moment, there are so many potential fuel systems that these need to be distilled down to just two or three systems for ports who need to plan ahead to implement bunkering facilities.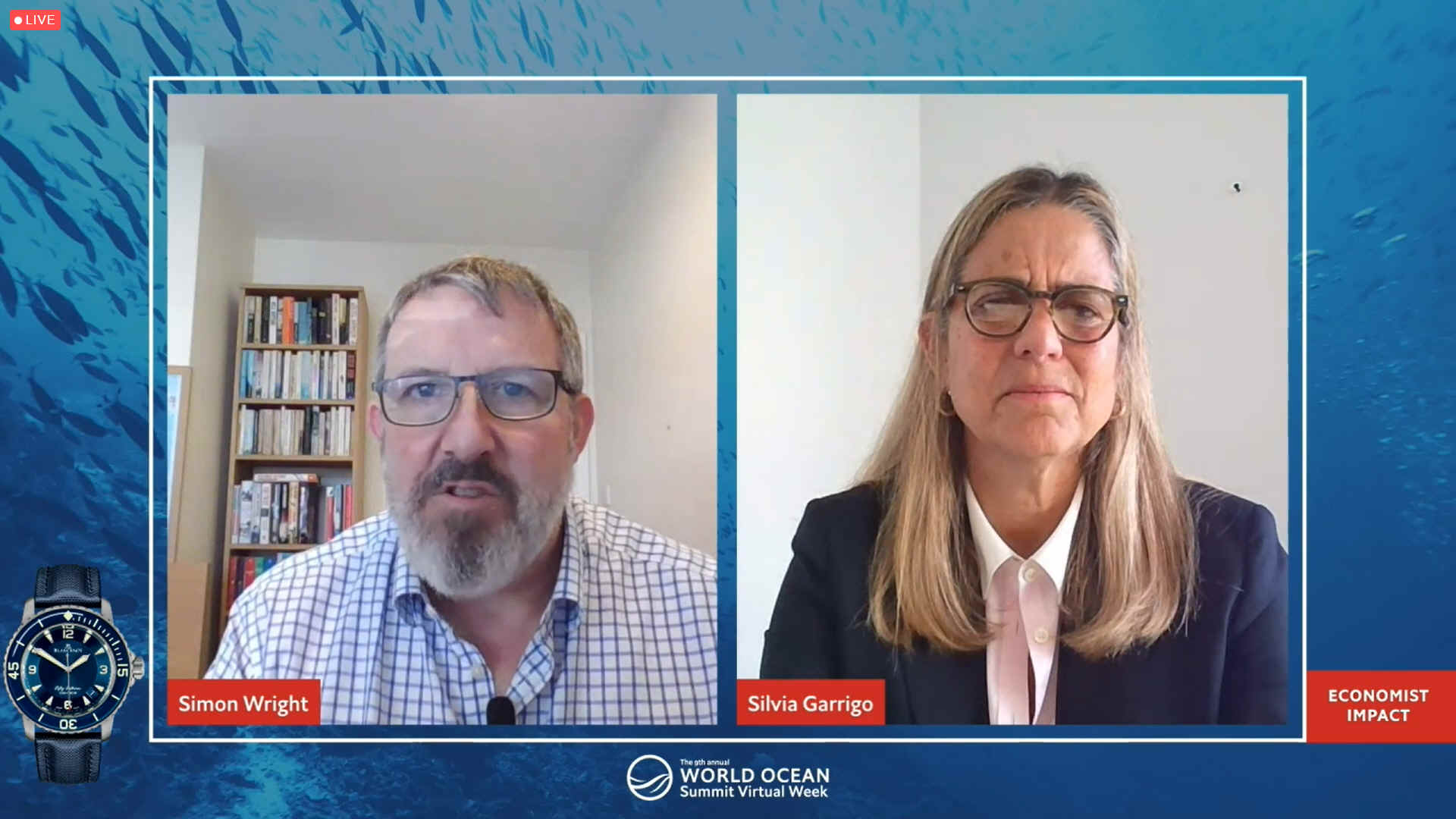 As chief ESG officer, Silvia Garrigo is responsible for overseeing a companywide ESG framework and a long-term strategy for Royal Caribbean Group. In partnership with the leadership team she also leads the integration of environmental and social issues into the company's governance and enterprise risk management. Ms Garrigo serves on the advisory boards of the Business and Society Institute at University of California Berkeley Boalt Law School and of the University of Miami Business School. She is a member of the Human Rights Working Groups of the American Bar Association and the United Nations Global Compact.
FINANCING SHIPPING DECARBONIZATION - This session is supported by the EBRD

The International Maritime Organization's roadmap for decarbonisation of the shipping industry requires significant investment in research and innovation. This session will assess the financial tools available to unlock global financing for sustainable shipping. What are the barriers and risks for investment, and how can these be mitigated? How can the shipping industry attract greater private-sector investment, and what are the options for "blended finance" (ie, public or charitable funds to mobilise private capital)? How can the specific requirements of developing countries be met?
z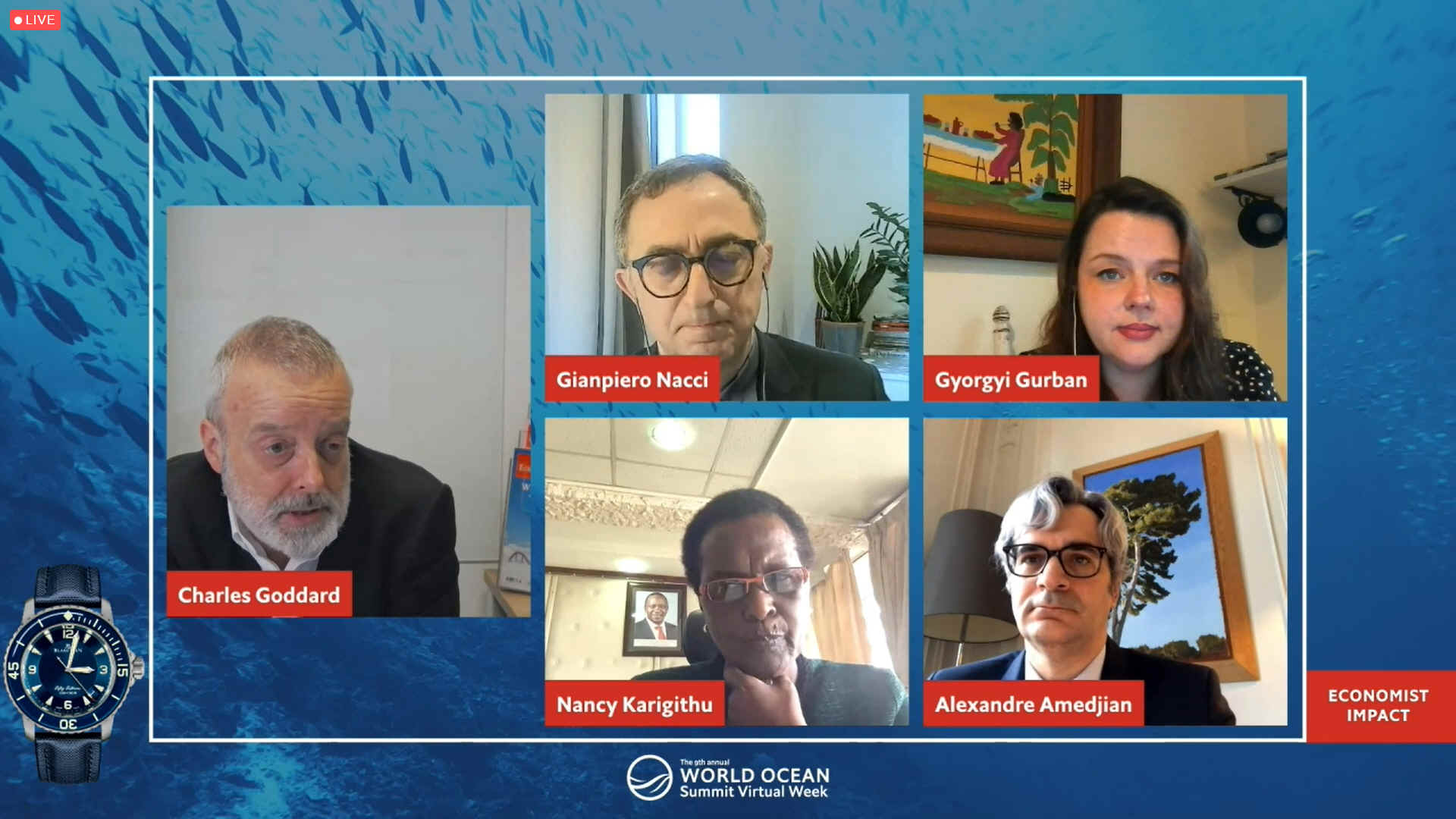 The panel of speakers Tuesday 1st March 2022, provided some very interesting aspects of financing the change to zero carbon shipping, where it is by no means clear what fuels will prevail, and how aggressive the IMO will be in setting targets. Concessional finance might include a tie in with carbon taxes and R&D innovation funding - or even scrappage.
z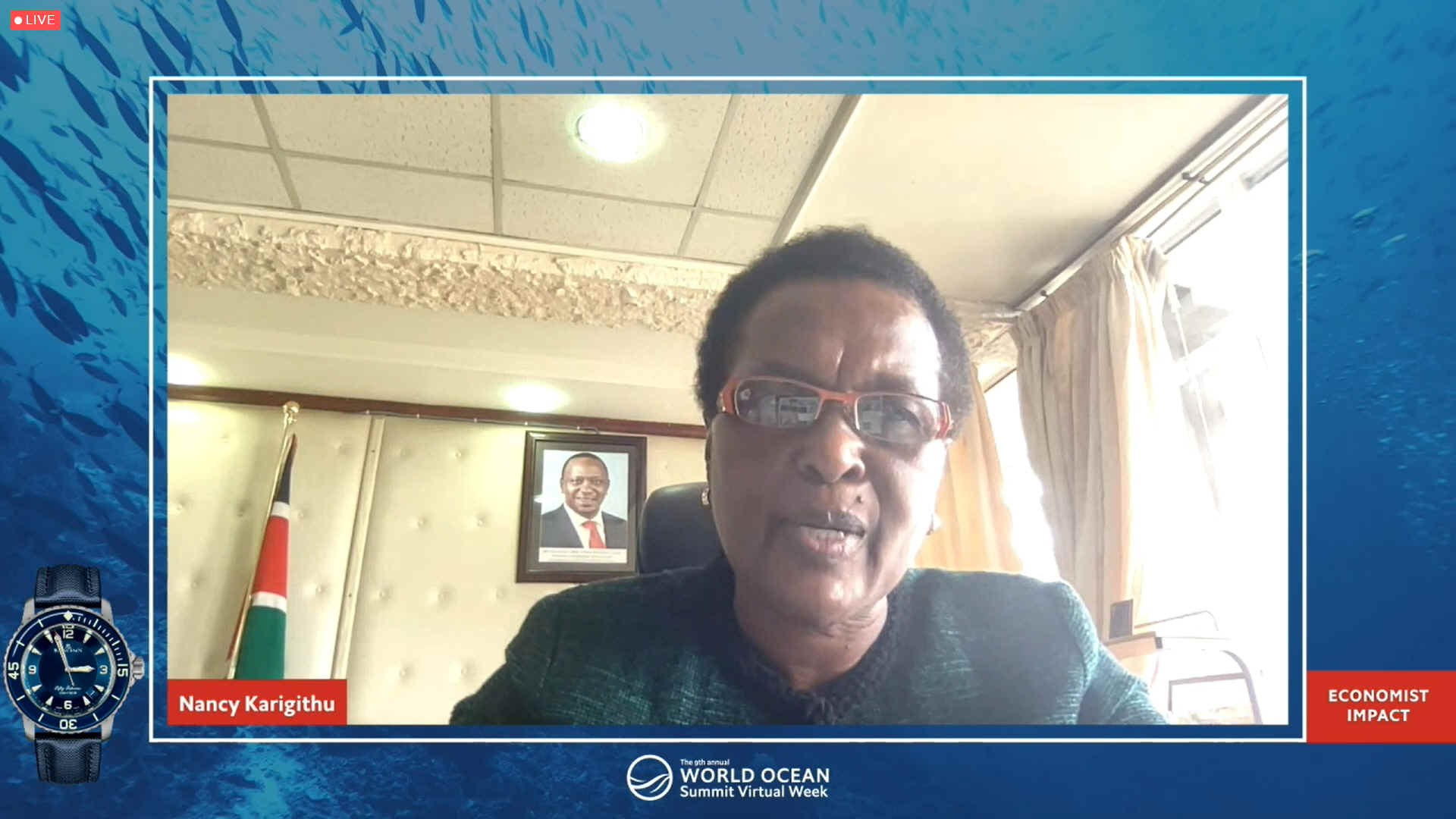 Nancy W. Karigithu is principal secretary of Kenya's State Department for Maritime and Shipping Affairs, responsible for promotion of the country's maritime and shipping industry. She previously led the Kenya Maritime Authority for nine years. Mrs Karigithu served two terms as chair of the International Maritime Organisation's Technical Cooperation Committee. She is a governing board member of the World Maritime University in Malmo, Sweden, and the IMO International Maritime Law Institute. Jointly with the IMO Mrs Karigithu helped launch the Association of Women in the Maritime Sector in Eastern & Southern Africa (WOMESA), where she served two terms as chairperson and now sits on the governing council.
Gianpiero Nacci is a director in the green economy and climate action team at the European Bank for Reconstruction and Development. He is responsible for work on climate finance, corporate-sector energy efficiency, climate-resilience investments and circular economy. Mr Nacci has 26 years' experience in climate policies, sustainable manufacturing, resource efficiency and clean energy, with a particular focus on emerging markets.
z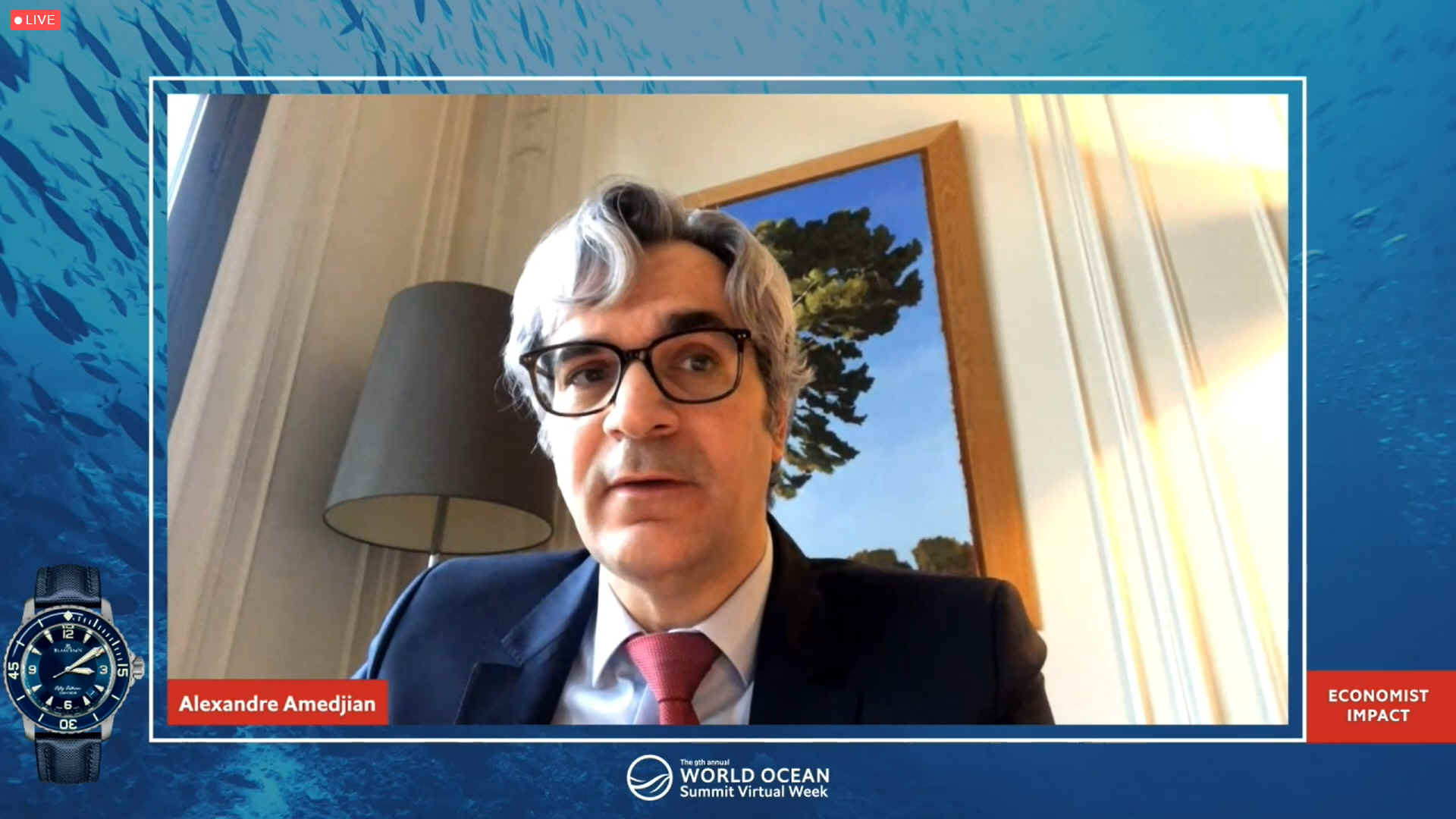 Alexandre Amedjian is responsible for Société Générale's shipping finance activity covering Europe, Middle East and the Americas. After starting his career as a strategic analyst at Société Générale's New York branch in 1998, Mr Amedjian joined the Paris shipping finance department in 2002. During his 20-year experience he and his team arranged or advised on more than $30bn in ship financing through a variety of products, including mortgage loans, export credit and leasing transactions. Difficulty where no clear path for easy funding of retro-fitting existing fleets where already mortgaged, and choices of fuels and technologies.
z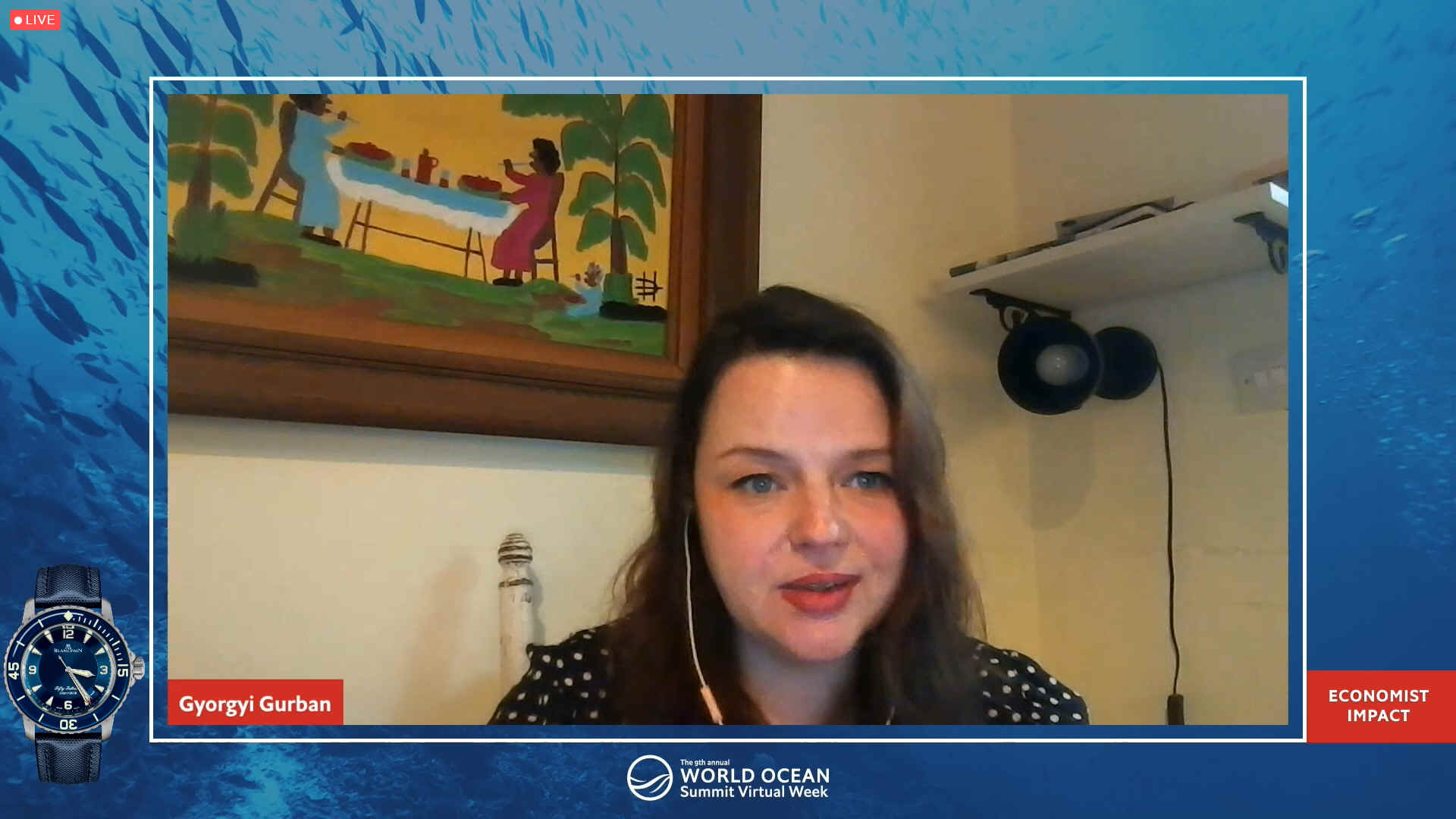 Gyorgyi Gurban is head of projects implementation in the International Maritime Organisation's Department of Projects and Partnerships. She joined the department in 2021 after serving as senior maritime policy advisor in the IMO secretary-general's office, where she focused on issues related to the Sustainable Development Goals and key international processes. Before joining the IMO Ms Gurban led ecosystem-approach projects at the UN Environment Programme's Mediterranean Action Plan. Prior to this she oversaw a portfolio of EU-funded sustainable development projects at the European Commission and led EC preparations for Rio+20. She also chaired climate working groups of the EU Council on behalf of the Hungarian EU presidency. Difficulty is bankable project proposals identification, such as for feasibility studies. Other issue is not leaving developing communities behind.
CONTACTS

general enquiries: oceansummit@economist.com.

Marketing or PR event enquiries:

Naomi Grice
Marketing Manager
naomigrice@economist.com

Speaking Enquiries:

If you are speaking or you have an enquiry about speaking:
oceansummitspeakers@economist.com.

Sponsorship opportunities details about sponsoring and partnering.

Tatiana Der Avedissian
Email: tatianaderavedissian@economist.com
Tel: +44 (0) 739 560 4731

Alice Calvert
Email: alicecalvert@economist.com
Tel: +44 (0)795 6330 689