1st - 4th MARCH 2022

This global event is taking place over four days, and will bring together a very broad cross-section of the ocean community, from businesses to scientists, government, investors, and civil society. It will feature six industry tracks: shipping, fishing, aquaculture, energy, tourism, and plastics.

More than 100 speakers will provide checks on how their industries are progressing towards 2030 targets, and what needs to happen next. Sessions will address cross-industry topics including ocean finance, governance, and restoration solutions. Speakers will discuss the finance gap, assess new technologies and highlight successful initiatives that are beginning to make an impact on ocean health.
On behalf of each attendee this year, we will be supporting the removal of 500,000 ocean-bound plastic bags in Goa, India, thanks to our sustainability partner: rePurpose Global.

Imagining a sustainable ocean economy

Economist Impact's World Ocean Initiative imagines an ocean in robust health, and with a vital economy. Year-round and at their flagship World Ocean Summit, they foster a global conversation on the greatest challenges facing the seas, inspiring bold thinking, new partnerships, and the most effective action to build a sustainable ocean economy. The Initiative concentrates on three cross-cutting levers of change — finance, governance, and innovation — each of which concerns the 'what' and the 'why' for a sustainable ocean, but most of all they explore the 'how'.
The 9th annual World Ocean Summit will feature six industry tracks focusing on:

1. shipping,
2. fishing,
3. aquaculture,
4. energy,
5. tourism, and
6. plastics.

This is the nub of a blue growth agenda, including deep sea mining and biotech.

Speakers will provide reality-checks on how their industries are progressing towards 2030 targets, and what needs to happen next.

High-level plenary sessions will address cross-industry topics including ocean finance, ocean governance, and ocean restoration solutions. Speakers will discuss the finance gap, assess new technologies and highlight successful initiatives that are beginning to make an impact on ocean health.
Topics covered in each track include:

Plenary sessions

- Financing the blue future
- Literacy, ocean awareness, educating for appreciation
- Tackling the ocean conservation finance gap
- Driving investment into natural capital to increase coastal resilience
- Ocean governance and national ocean strategies
- Ocean and cities
- Ocean solutions to mitigate climate change
- Blue carbon – achieving scale
- Deep-sea mining
- Blue biotech
- Accelerating action towards the 2030 marine protected areas (MPA) target
- Expectations from the UN Decade of Ocean Science
- Revolutionising ocean data-capture, sharing and analysis
- Marine spatial planning
- High hopes for seaweed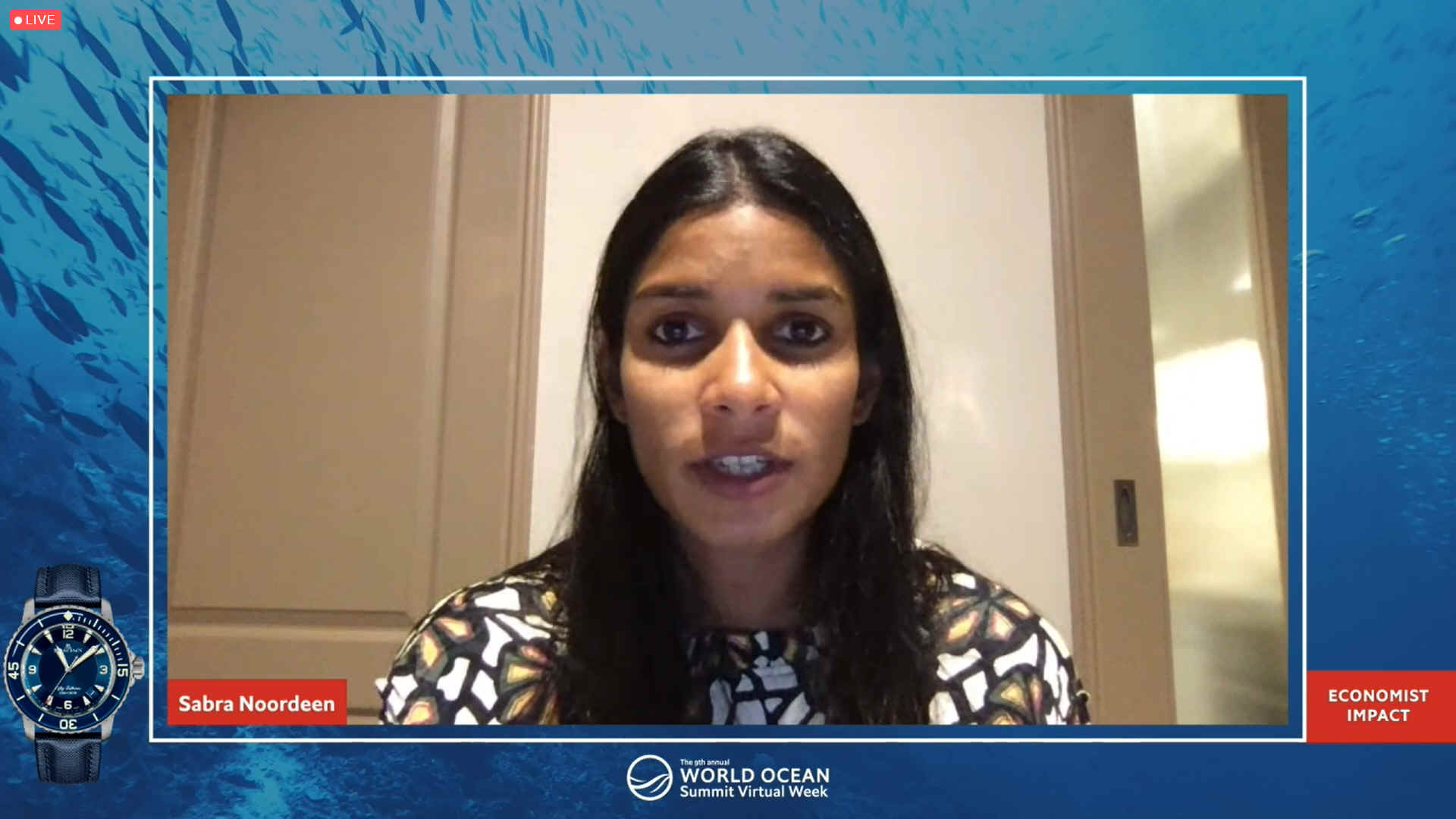 Sabra Ibrahim Noordeen is the Special Envoy for Climate Change for the Maldives and lead the Maldives' interests in the international arena with regard to the climate emergency. The Special Envoy for Climate Change is an ambassadorial position equal in rank to Ministers of State.

Sabra Ibrahim Noordeen graduated from the University of London, United Kingdom, with a Master of Science in State, Society, and Development. She has previously worked with the Maldivian Democratic Party, Maldives Police Service, and the British High Commission in Colombo. Until her new appointment, she served as the Secretary, Foreign Relations at the President's Office.
AQUACULTURE

Increasing consumers' appetite for aquaculture
Putting fish welfare front and centre
Will early-stage investors take the plunge to de-risk growth?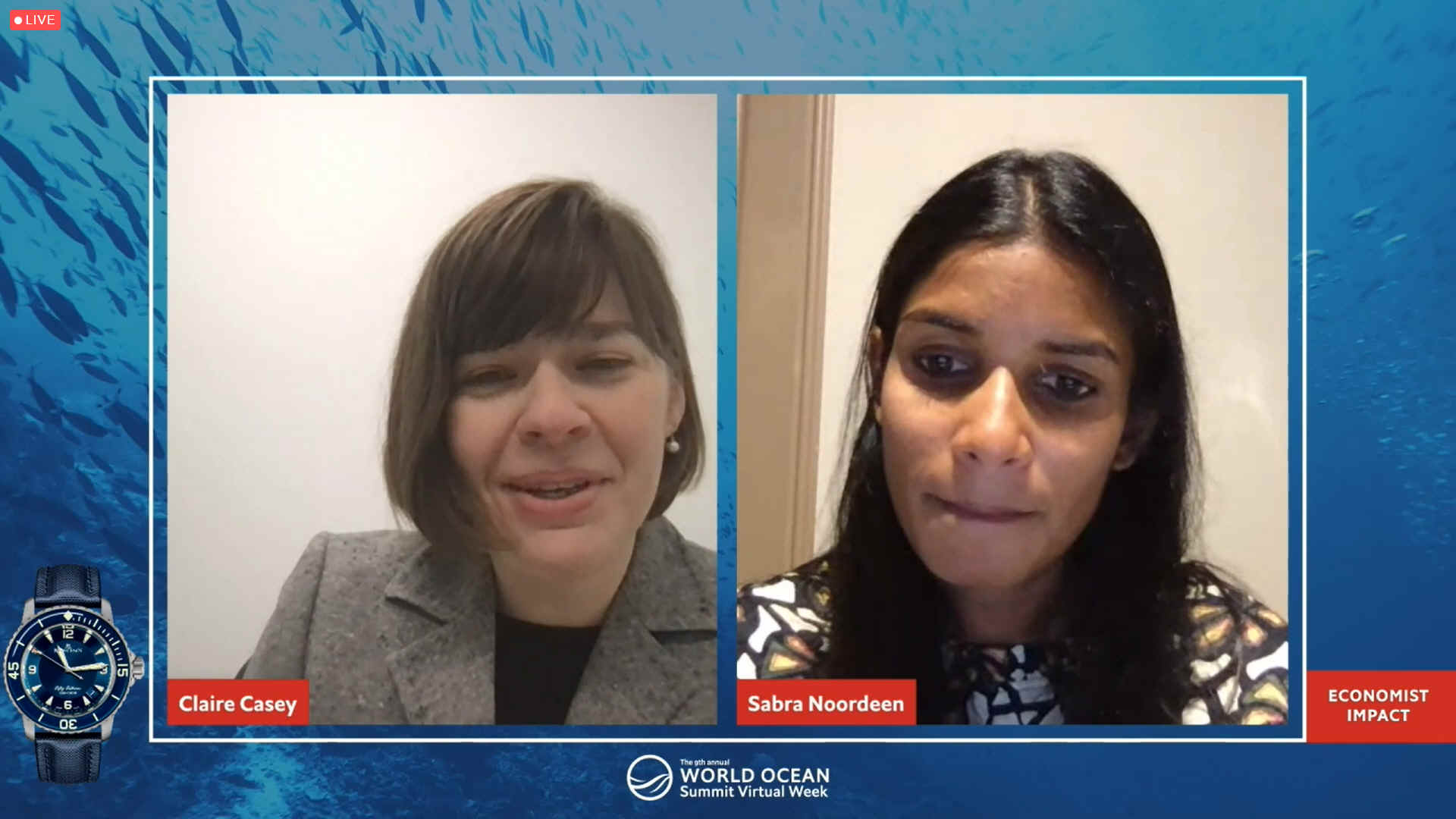 Claire Casey is global head of policy and insights at Economist Impact. She manages teams on three continents, generating evidence-based insights to inform internal strategy and external engagement for governments, international institutions, corporations, foundations, and NGOs around the world. Prior to joining the Economist Group Ms Casey founded FP Analytics, the research and analysis division of the FP Group, publisher of Foreign Policy magazine. At FP she developed a thought-leadership platform for clients on issues ranging from ageing societies to global economic disruption. Previously Ms Casey was managing director of Garten Rothkopf, where she built an energy, climate and economics policy advisory practice serving Fortune 100 corporations.
FISHING

Overcoming overfishing
The high-tech future of fishing
Agreeing upon a common approach to social issues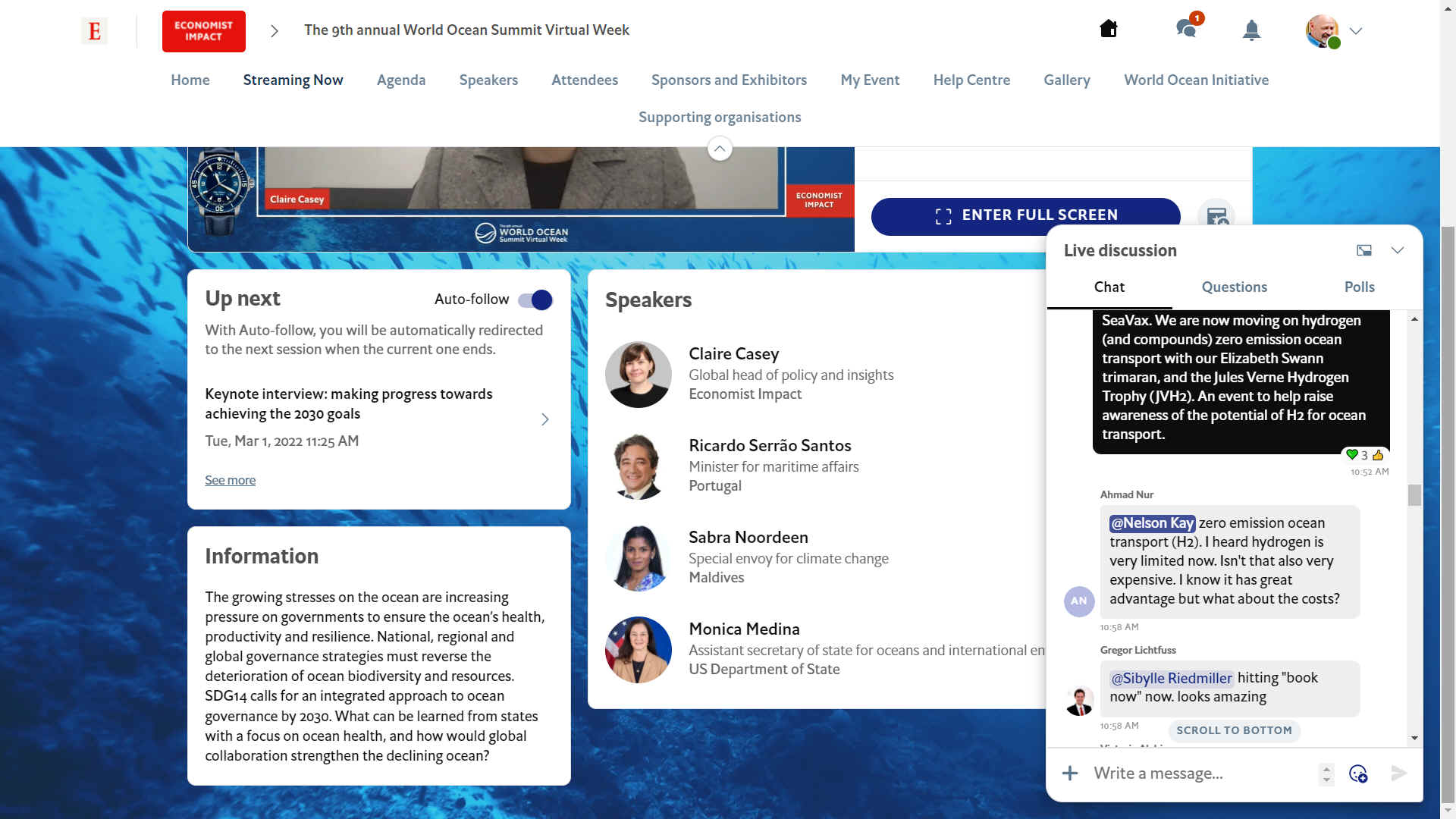 Monica Medina - Is the Assistant Secretary of State for oceans and international environmental and scientific affairs US Department of State.
Ricardo Serrão Santos, Portugal's minister of the sea, was a member of the European Parliament between 2014 and 2019. He was a member of the committees on fisheries and on agriculture and rural development, and coordinated the Socialists and Democrats group on the Fisheries Committee. He was also vice-chair of the intergroups on seas, islands, rivers and coastal zones, and on climate change, biodiversity and sustainable development. Mr Santos is professor at the University of the Azores, where he has been protector for sea affairs, director of the department of oceanography and fisheries and president of
IMAR-Institute of Marine Research.
ENERGY

How can governments catalyse offshore renewable energy development?
Assessing the environmental impact of offshore wind
Creating a viable green-hydrogen market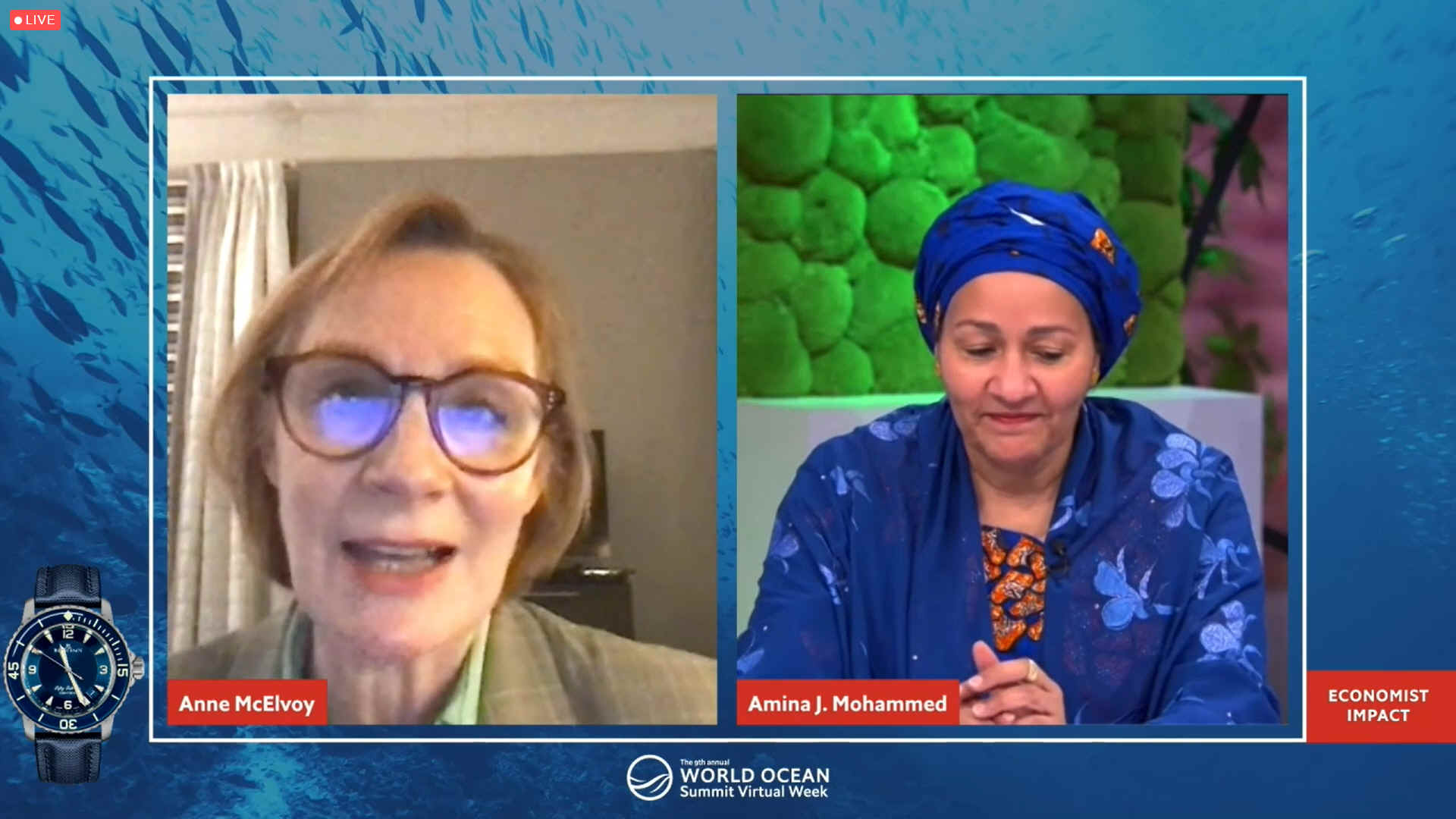 Anne McElvoy is a former foreign correspondent and columnist. She began her career at the London Times, covering east Germany, German unification, the Balkans and Russia, before becoming deputy editor of the Spectator and political columnist of the Daily Telegraph. Most recently she was executive editor of the London Evening Standard and the newspaper's political columnist. She joined The Economist in 2011. Ms McElvoy also presents the BBC arts and ideas programme "Night Waves" and is a regular panellist on the BBC Radio 4 "Moral Maze" and BBC2 "Review Show". She also makes political documentaries.

SHIPPING

Powering the ships of tomorrow
The economics of decarboniastion
Collaboration for decarbonisation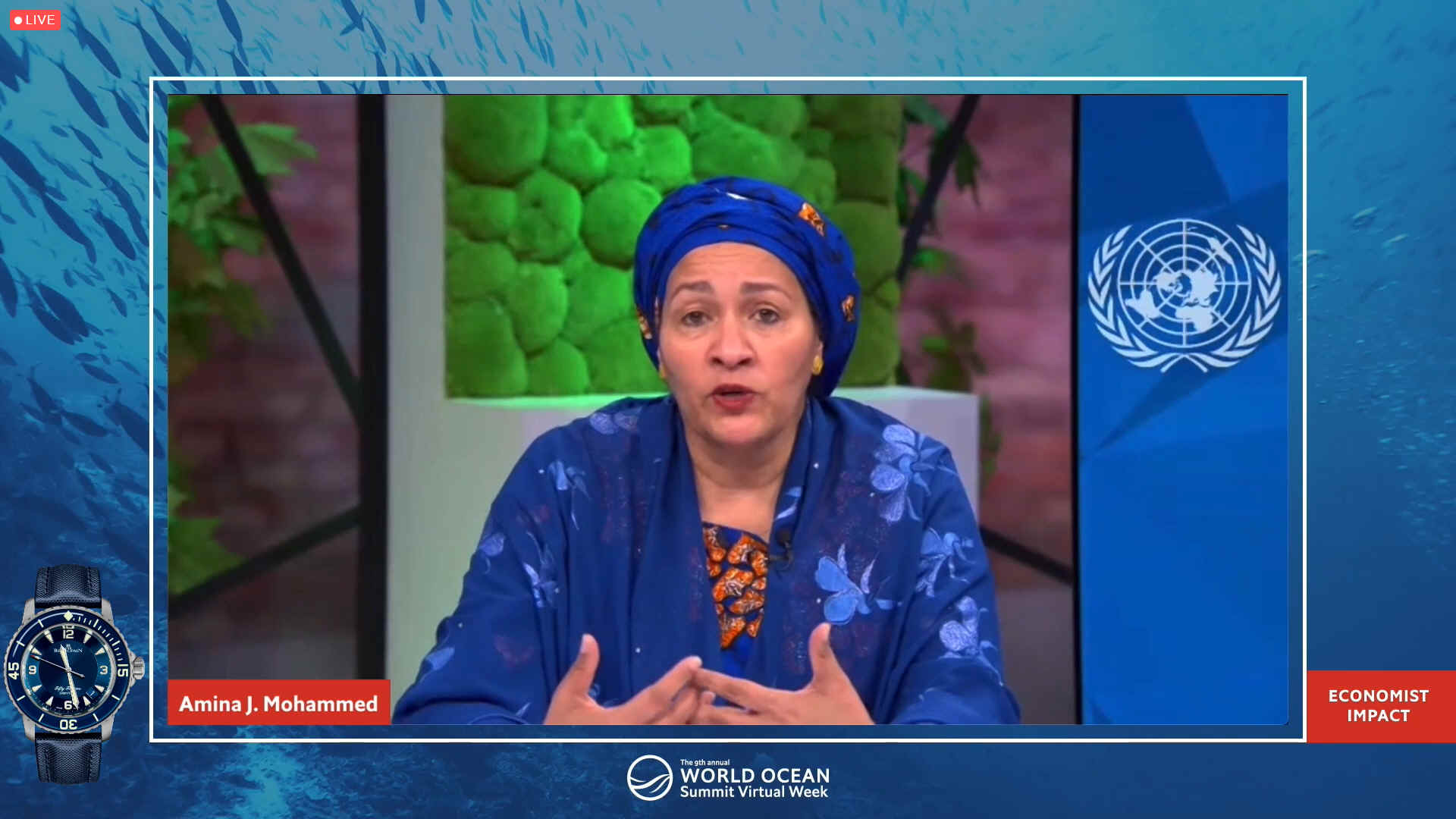 Amina Mohammed is deputy secretary-general of the United Nations and chair of the United Nations Sustainable Development Group. She previously served as Nigeria's minister of environment. Ms Mohammed first joined the United Nations in 2012 as special adviser to former secretary-general Ban Ki-moon, with responsibility for post-2015 development planning. She led the process that resulted in global agreement on the 2030 Agenda for Sustainable Development and the creation of the Sustainable Development Goals. Ms Mohammed began her career working on the design of schools and clinics in Nigeria before moving into the public sector, where she advised four successive presidents on poverty, public-sector reform and sustainable development.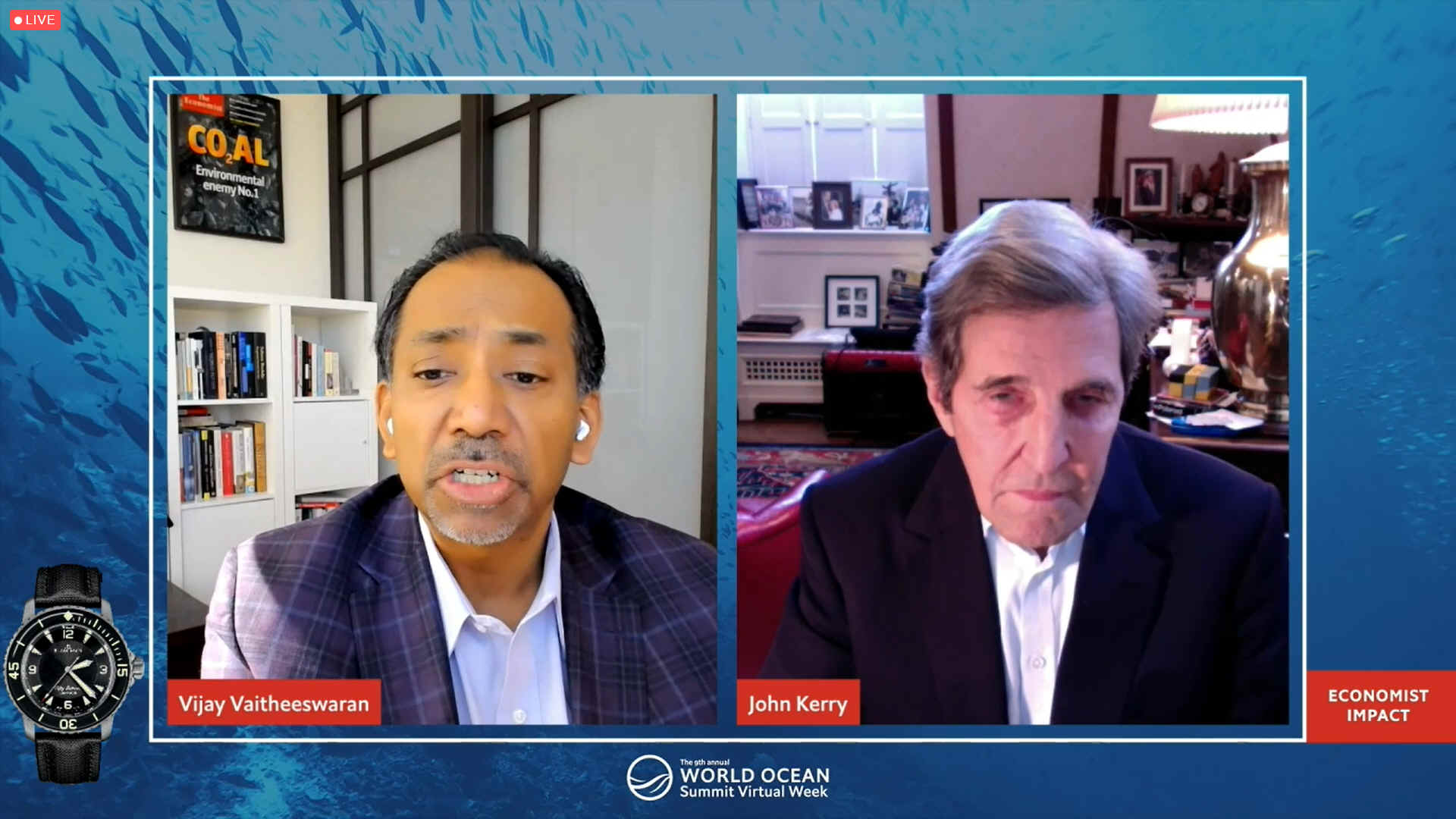 KEYNOTE SPEECH - Vijay Vaitheeswaran introduces John Kerry, the US special climate envoy, who gave a Keynote speech on the 3rd March 2022.
PLASTICS

Collaborating for critical wins in plastics circularity
What should recycling look like in 2030 and how do we get there?
Making the economics work: virgin v recycled plastic
TOURISM

Is tourism building back bluer?
The regenerative effect of tourism on the ocean
Mass tourism: risks v benefits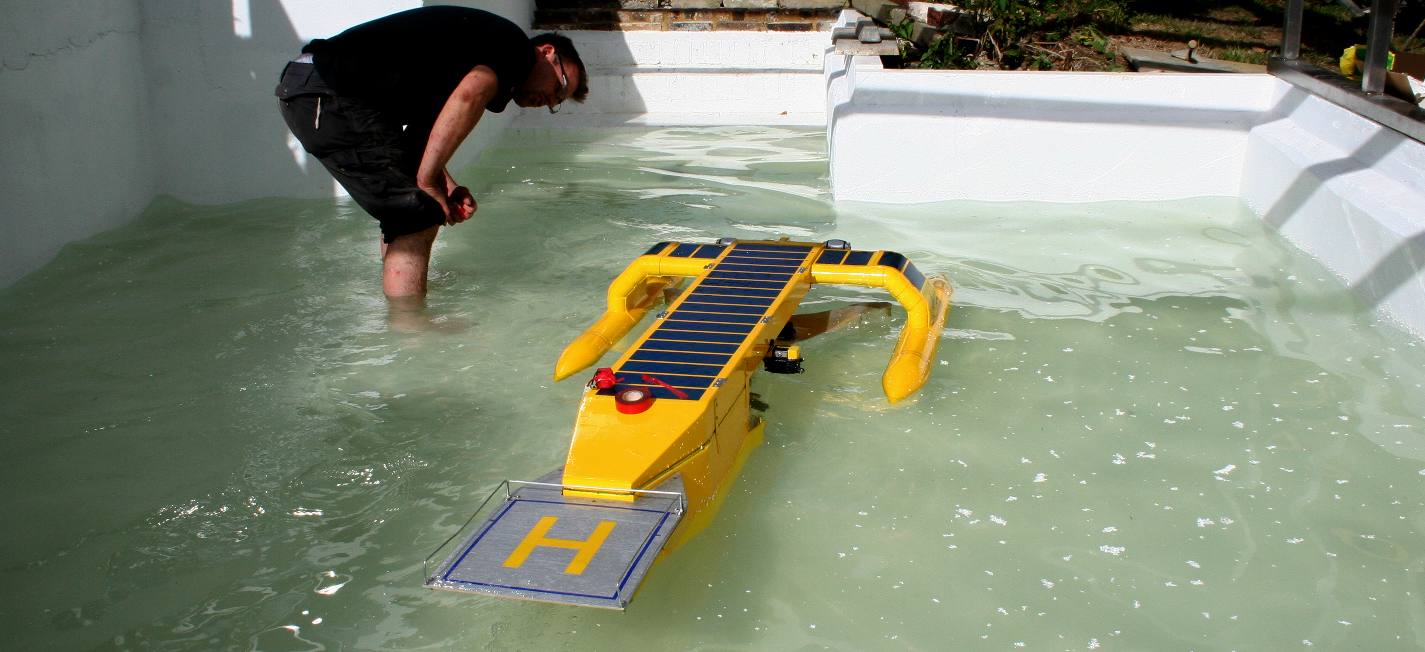 OCEAN REGENERATION - The SeaVax project (above) from 2016 proved that it was possible to filter plastic from the oceans using a solar powered machine to target micro and macro sized particles - selectively. An added function was to have been the ability to capture and store ghost fishing nets. It was unfortunate that Brexit shrouded EU Horizon 2020 applications in political mist, as much as what many have said was a perverse decision on the part of the UK Charity Commission, not to classify the project as a charitable enterprise. Without funding of any sort, the project stalled at the 1:20 scale stage, not going on to full or even half size prototypes. And was eventually cancelled in 2020. But even so, in late 2021, volunteers completed tests of the beach launching system - convincingly demonstrating that element of the project - with successful (proof of concept) trials, that should be published in 2022 or 2023 as time allows. The project was thus a success in scientific terms, if not implemented at a practical level. Please note that development and operations of such machines is a loss maker, with no customer to be able to recover development costs. As such, no business model is possible. A business, by definition being a profitable concern. Financing for ocean restoration is thus the single biggest hurdle. A matter governed by political will against established conflicts of interest. The G20 might want to start thinking about social innovation funding, to atone for their dirty habits.
In our view, there is something seriously wrong with a world that allows a project such as SeaVax to go unaided and untried - all the while litter pours into the sea. Events such as this Summit, will be looking at leveraging equitable incentives for innovative ocean entrepreneurs of the future.
The Cleaner Ocean Foundation advocates a multi pronged attack on plastic, by reduction of disposable packaging and re-design, or outright ban on some items that cannot be effectively recycled. This is in addition to seeking replacements, by way of biodegradable and compostable plastics, etc. One fast food chain that has reacted to the polymer crisis in timely fashion is McDonalds. Now using paper and cardboard packaging for their burgers. They have even introduced a vegan burger called McPlant. Nice one McD.
The general consensus is that seafood is becoming more toxic as fauna soak up carcinogens, from ingesting plastics laced with poisonous substances, potentially raising cancer rates in humans and overburdening our health services.
Eventually, it is thought that whaling may have to be re-instated to make up for lost fish protein. A sad situation if it ever comes to that.
What is the big picture for ocean regeneration, and how can collaboration between governments, industry, investors, scientists and NGOs bring it about? These sessions will outline International expertise, ambition and new strategies to restore ocean health.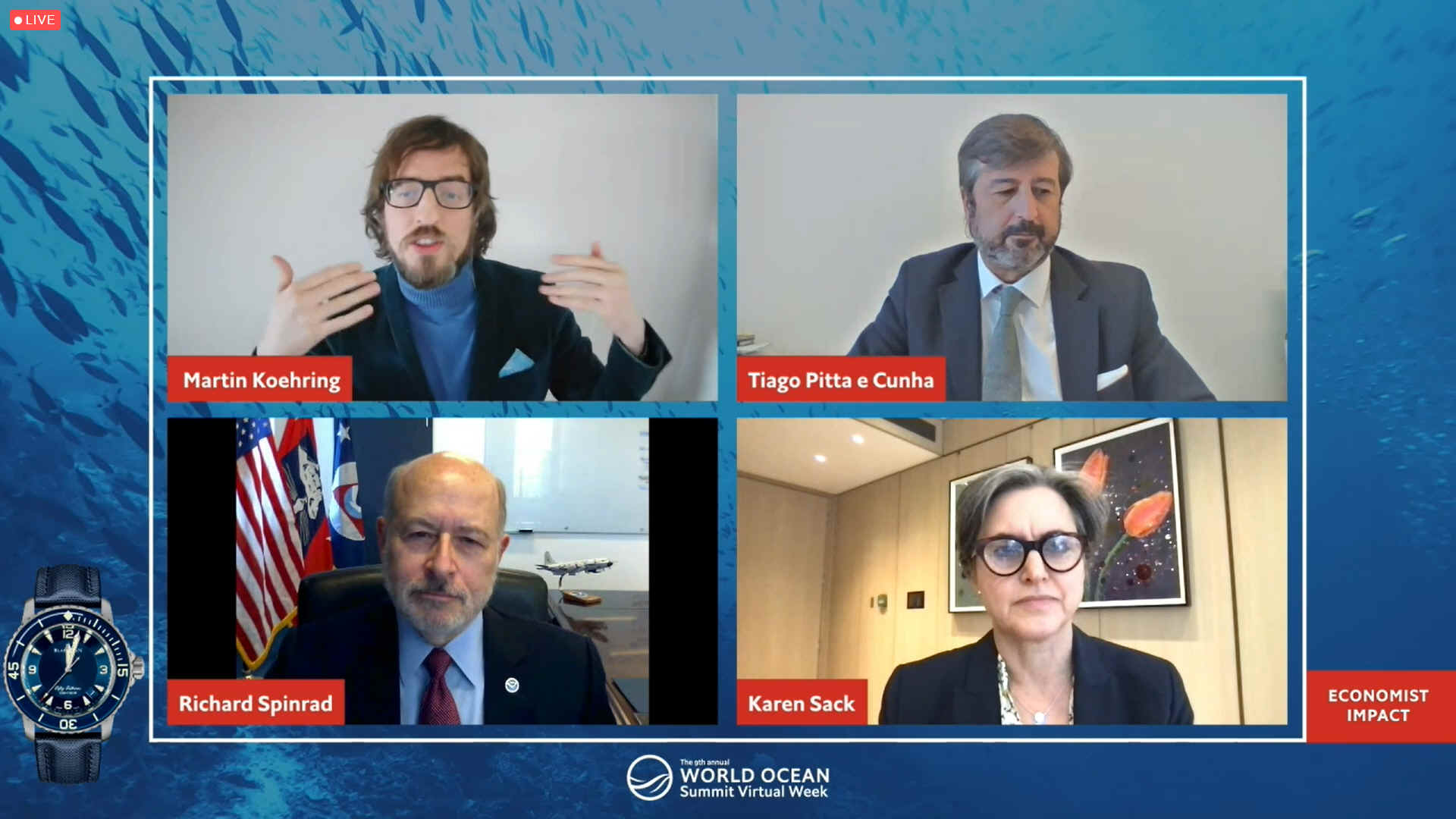 What is the big picture for ocean regeneration, and how can collaboration between government, industry, investors, scientists and NGOs bring it about? This panel will share expertise, ambition and new strategies.
Oceano Azul Foundation works around three concepts: blue generation, blue natural capital and blue network. Using a science-based approach, our model of change integrates these three concepts to support projects on literacy, conservation, blue economy and capacity-building working with governments and civil society organizations to advance the international ocean agenda. Contact: jmartins@oceanoazulfoundation.org
https://www.oceanoazulfoundation.org/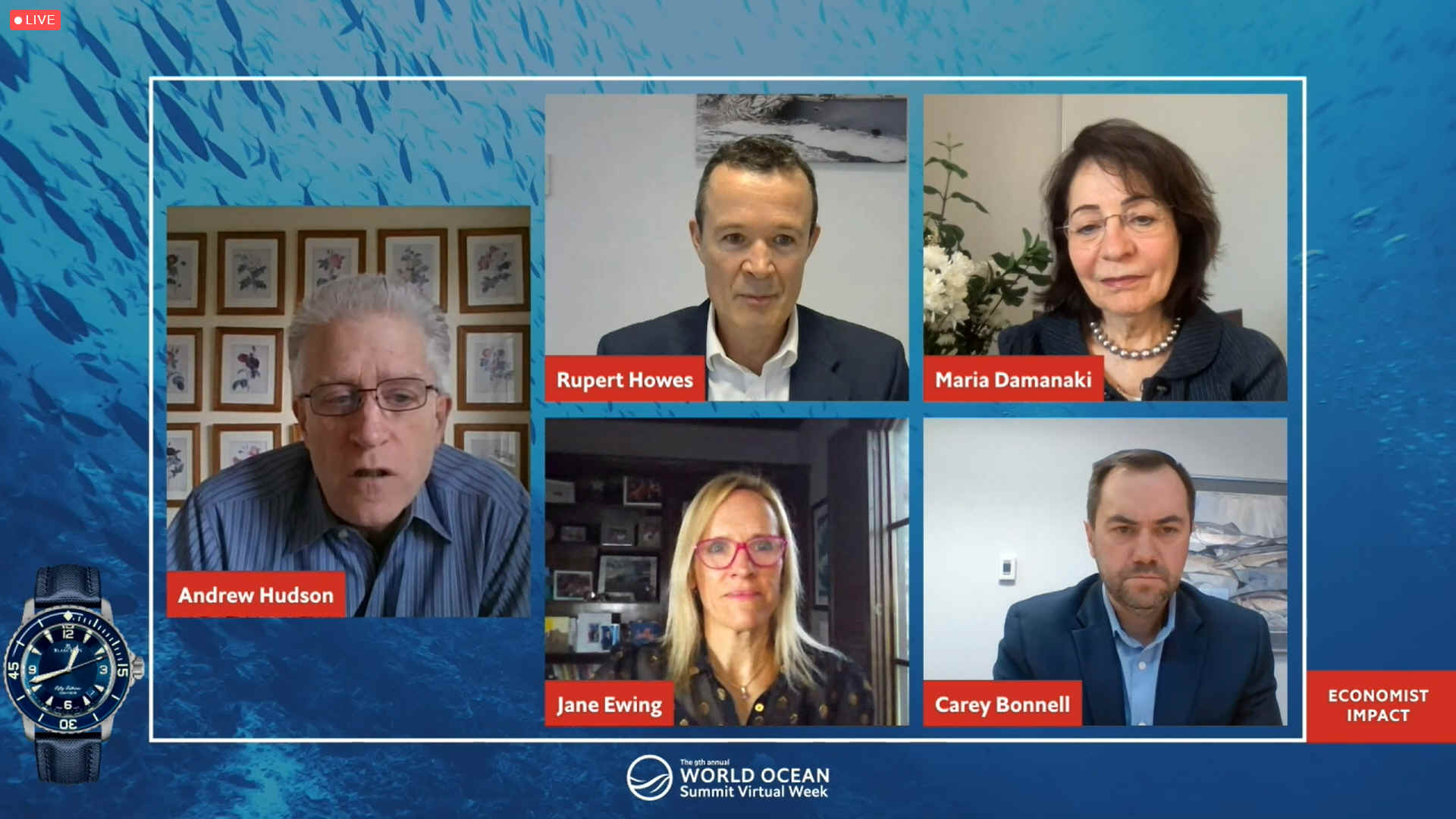 Andrew Hudson is head of the water and ocean governance programme in UNDP's Bureau for Policy and Programme Support. An environmental scientist with a specialisation in environmental economics and policy, Dr Hudson oversees and provides strategic, policy and technical guidance on all aspects of the development, implementation and evaluation of UNDP's work in water and ocean governance, with a portfolio of about $450m working in more than 100 countries.
The damage done by overfishing goes beyond the harm to marine environments—it also affects the billions of people who rely on fish for protein and for their livelihoods. What needs to be done to reform fisheries management and to encourage fishing practices that will conserve ocean health, sustain livelihoods and contribute to food security?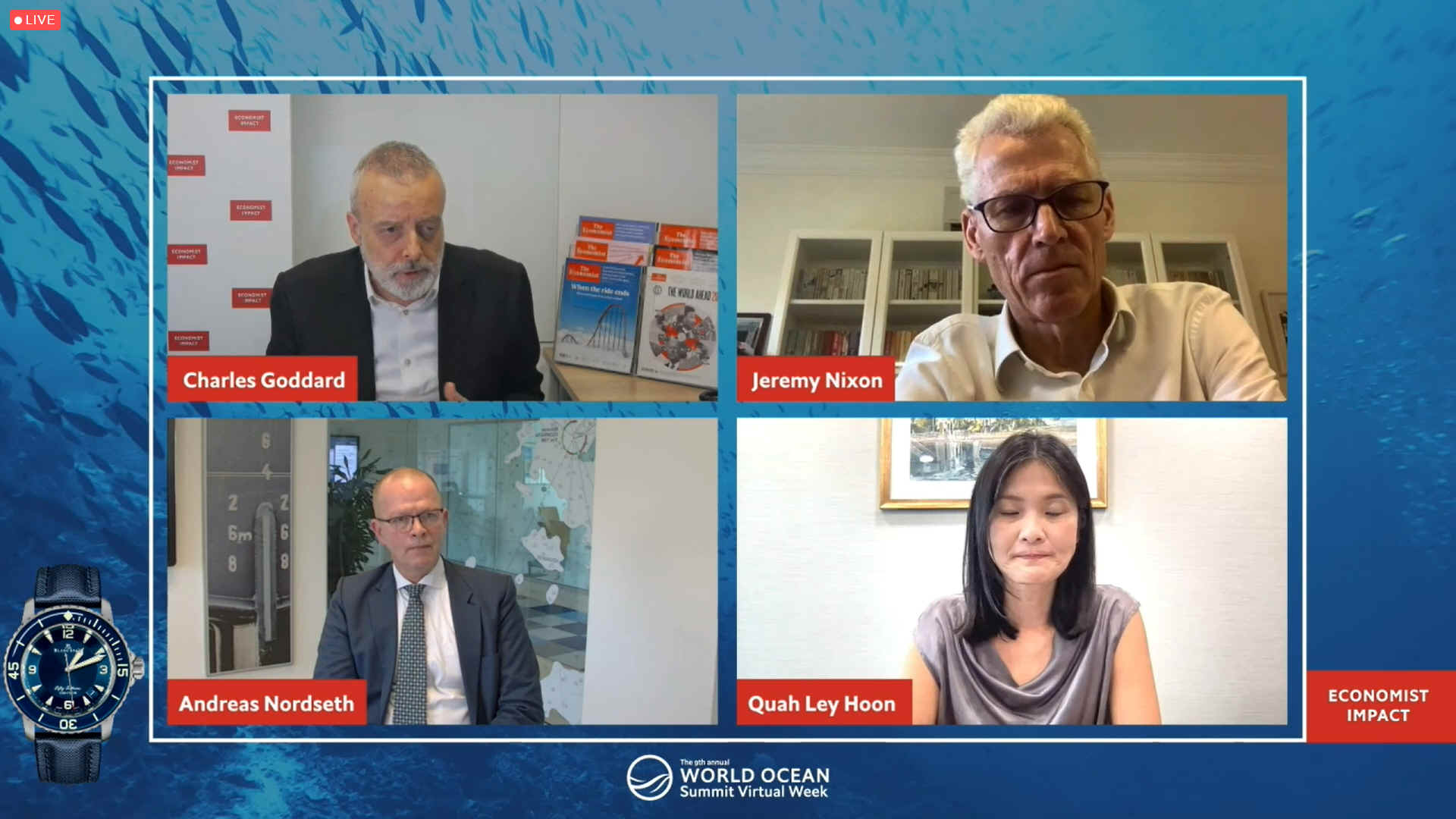 This was an excellent panel discussion with Johannah Christensen, chief executive, Global Maritime Foundation and James Woodrow, managing director, Swire Shipping. Followed by an interview with Silvia Garrigo, chief environment, social and governance (ESG) officer, Royal Caribbean Group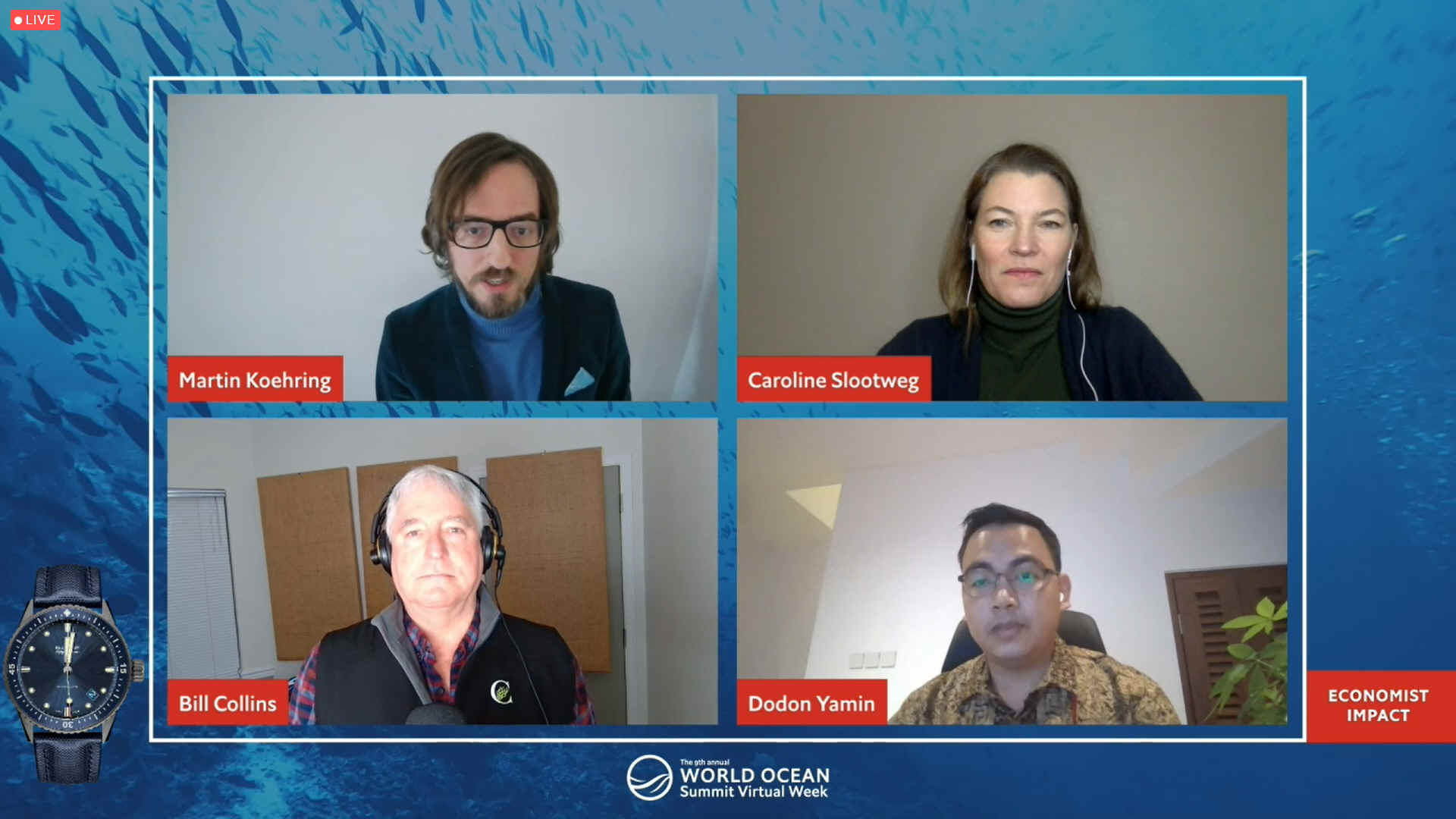 Seaweed and Kelp Panelists - Martin Koehrign, Caroline Slootweg, Bill Collins and Dodon Yamin discussed how the seaweed industry can be more beneficial concerning ocean conservation, food security and climate change. With kelp locking up CO2, marine algae are very important to all organisms on earth. Giant kelp acts as the ecosystem engineer in the underwater forests off our coast.

Scientists estimate that up to 80% of the oxygen production on Earth comes from the ocean. The majority of this production is from oceanic plankton — drifting plants, algae, and some bacteria that can photosynthesize.

Seaweeds are green, red, or brown plant-like organisms that grow in the ocean. Like land plants, seaweed produces oxygen, around 70% of the total oxygen on Earth, and is the basis of the ocean food chain. Seaweed is also eaten by humans all over the world.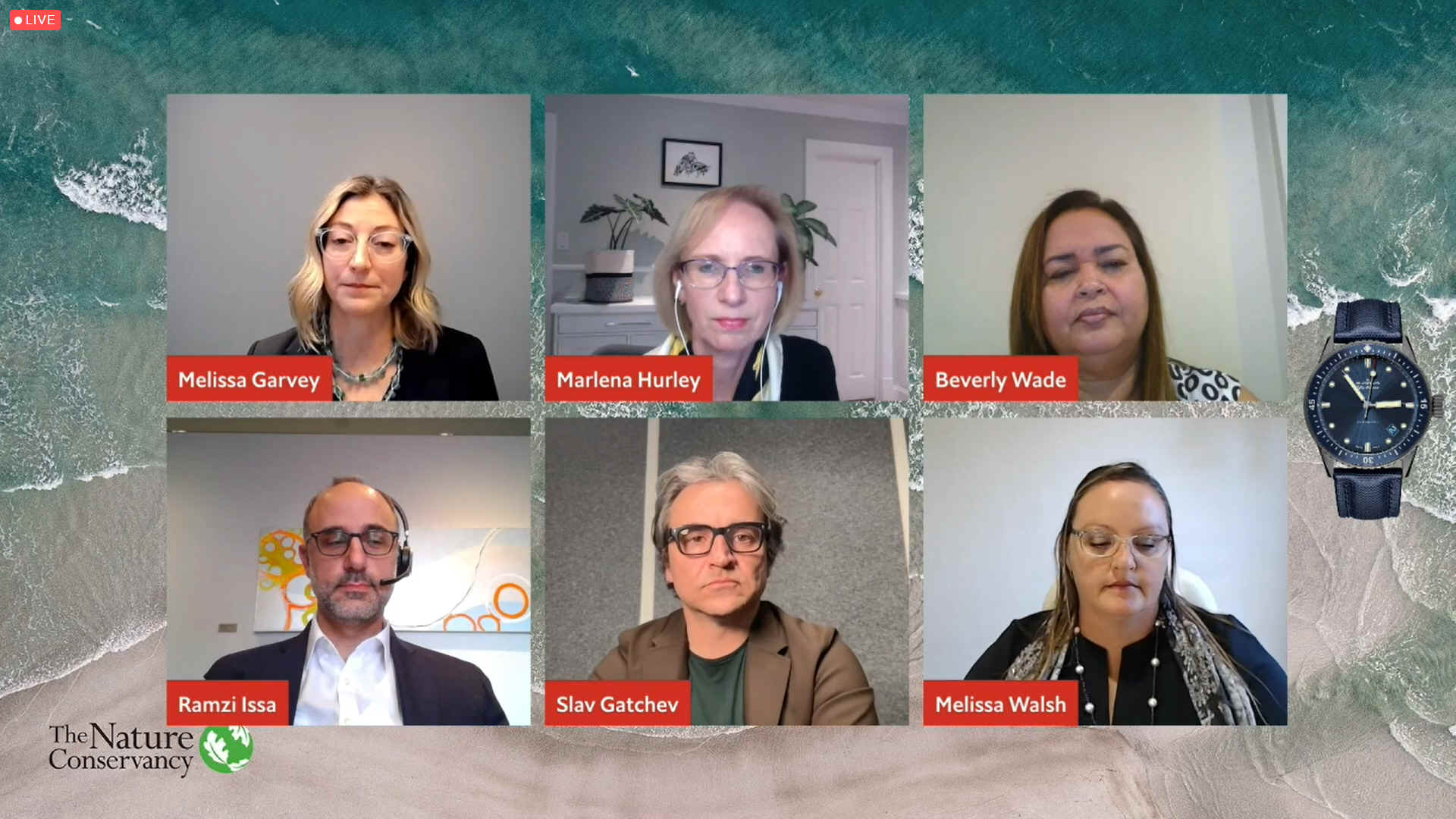 BLUE BONDS - Melissa Garvey began working with The Nature Conservancy's Colorado Chapter in 2006, and from 2014 to 2017 she was deputy state director for the Washington State Chapter. She became managing director of global oceans strategic initiatives in 2018, and global director of ocean protection in 2019. Ms Garvey leads the team responsible for TNC's global programmes for ocean protection, coastal resilience, coastal-wetland conservation and reef-systems restoration, blue carbon, ocean planning and mapping, and community-based conservation. Her work includes the Blue Bonds for Ocean Conservation strategy, whose goal is to protect more than 4 million square kilometres of ocean by restructuring debt and leveraging $1.6bn for ocean conservation.
Richard Hill is the Chief executive of Ocean Generation. He heads up this panel on ocean literacy and awareness. Where there is an embarrassingly low level of public perception and representation, such as at COP26 where it was almost left out completely. He would like to see ocean literacy as part of a school curriculum, where all children learn about the sea and how awareness of the world we live in is essential.
THE ECONOMIST - CONTACTS

general enquiries: oceansummit@economist.com.

Marketing or PR event enquiries:

Naomi Grice
Marketing Manager
naomigrice@economist.com

Speaking Enquiries:

If you are speaking or you have an enquiry about speaking:
oceansummitspeakers@economist.com.

Sponsorship opportunities details about sponsoring and partnering.

Tatiana Der Avedissian
Email: tatianaderavedissian@economist.com
Tel: +44 (0) 739 560 4731

Alice Calvert
Email: alicecalvert@economist.com
Tel: +44 (0)795 6330 689