THURSDAY 3RD & FRIDAY 4th MARCH 2022

This global event is taking place over four days, and will bring together a very broad cross-section of the ocean community, from businesses to scientists, government, investors, and civil society. It will feature six industry tracks: shipping, fishing, aquaculture, energy, tourism, and plastics.
The private sector can take these risks, but only with suitable finance, support and guarantees, projects might see the light of day. Again, it all boils down to the level of dialogue with the G20 and IMF, and provide credit deals in favour of credible ocean and climate awareness programmes.
What is the big picture for ocean regeneration, and how can collaboration between governments, industry, investors, scientists and NGOs bring it about, with the help of awareness innitiatives? These sessions will outline International expertise, ambition and new strategies to restore ocean health by involving the public using popular mediums, such as films and publications.
Ocean literacy is the understanding of our individual and collective impact on the ocean, and its impact on our lives and wellbeing. Better knowledge about the ocean is seen as the essential foundation for society to make informed decisions about the sustainable management of the ocean. A key objective of the United Nations Decade of Ocean Science is to boost ocean literacy. How can public awareness be raised to match the increasingly urgent concerns of the scientific community? What are the tools both formal and informal, to enhance ocean literacy across all ages and sectors?
Richard Hill is the Chief executive of Ocean Generation. He heads up this panel on ocean literacy and awareness. Where there is an embarrassingly low level of public perception and representation, such as at COP26 where it was almost left out completely. He would like to see ocean literacy as part of a school curriculum, where all children learn about the sea and how awareness of the world we live in is essential.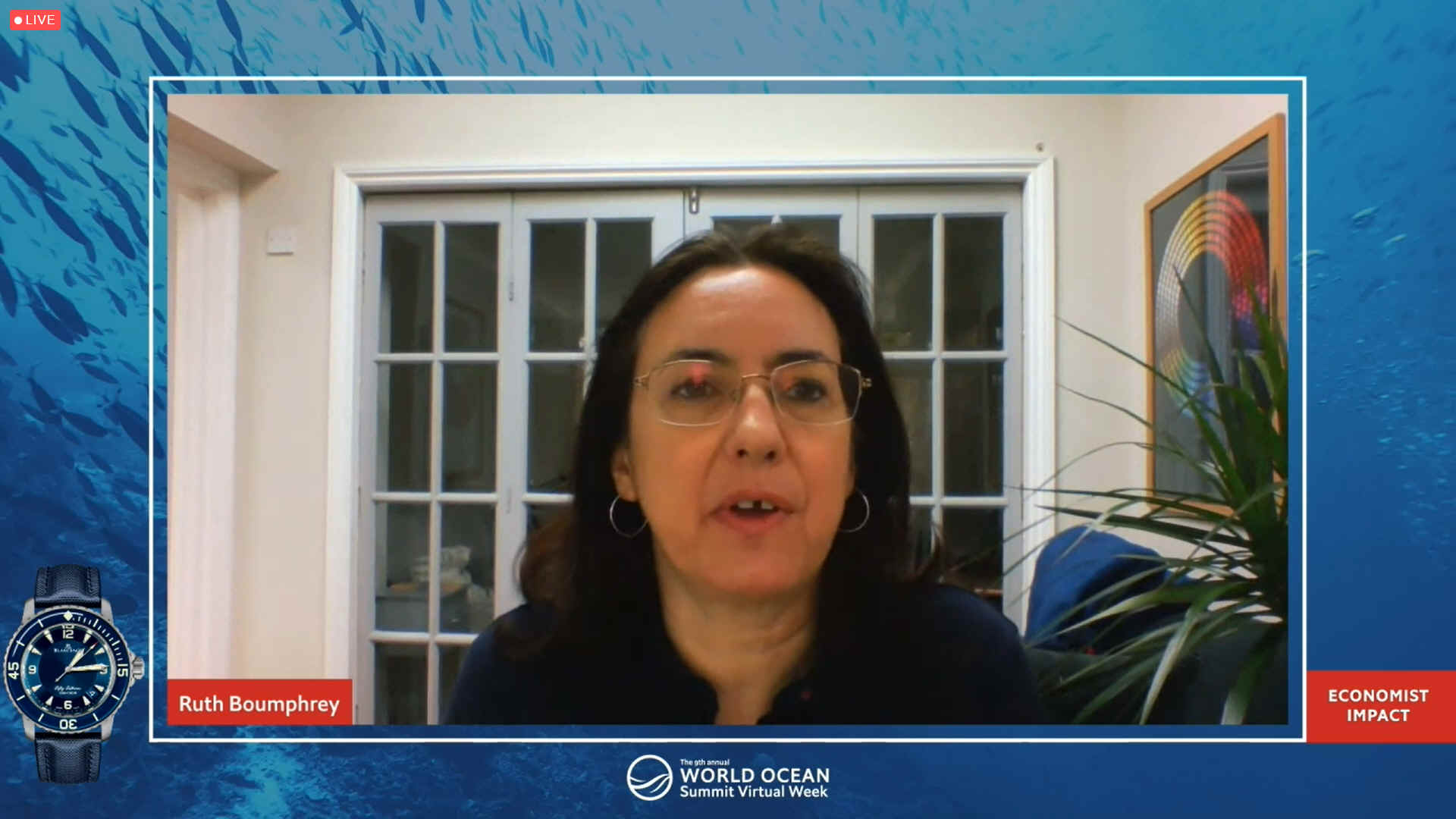 As director of research at Lloydís Register Foundation, Ruth Boumphrey is responsible for a large portfolio of grants, direct charitable activities and accelerated innovation activities. She has a PhD in ecotoxicology and experience in environmental protection, marine science and technology. She has held roles as head of earth observation for the UK Space Agency and head of international at the Natural Environment Research Council. Ms Boumphrey is chair of the Welding Institute, and a board member and trustee of the National Oceanography Centre. She is a founding board member of Engineering X, an initiative to promote excellence in international engineering for public good. Ruth is onboard with the need for greater literacy, perhaps with the involvement of banks, to help people tell the story of the sea. Literacy is an essential part of modern life, from plastic pollution, to sharks to marine mammals, and how important something like seaweed is in providing oxygen.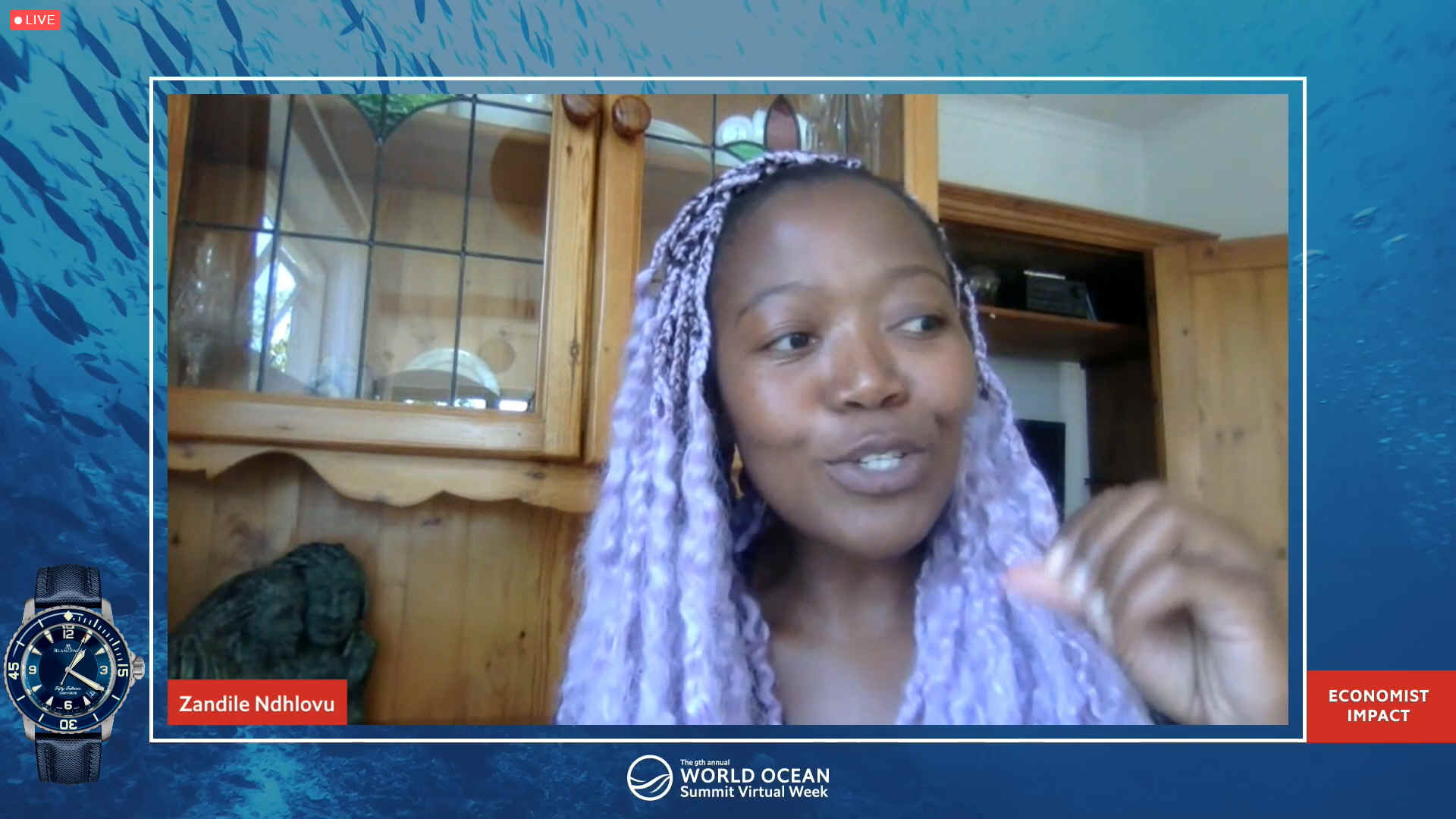 Zandile Ndhlovu is founder of the Black Mermaid Foundation, an organisation seeking to create diverse representation in the ocean arena. Her work centres on creating the first encounter that exposes youth to the ocean. As a diversity and inclusion consultant Ms Ndhlovu advocates for diverse and inclusive oceans while working to reshape narratives through storytelling, both in her work at the foundation and through public speaking and her weekly podcast. She is a NEWF (Nature Environment and Wildlife Filmmakers) fellow and a 2021 Jackson Wild Fellow. Zandile wants participation and currency attributed to ocean awareness, with acces to the blue economy as it might underpin a sustainable society.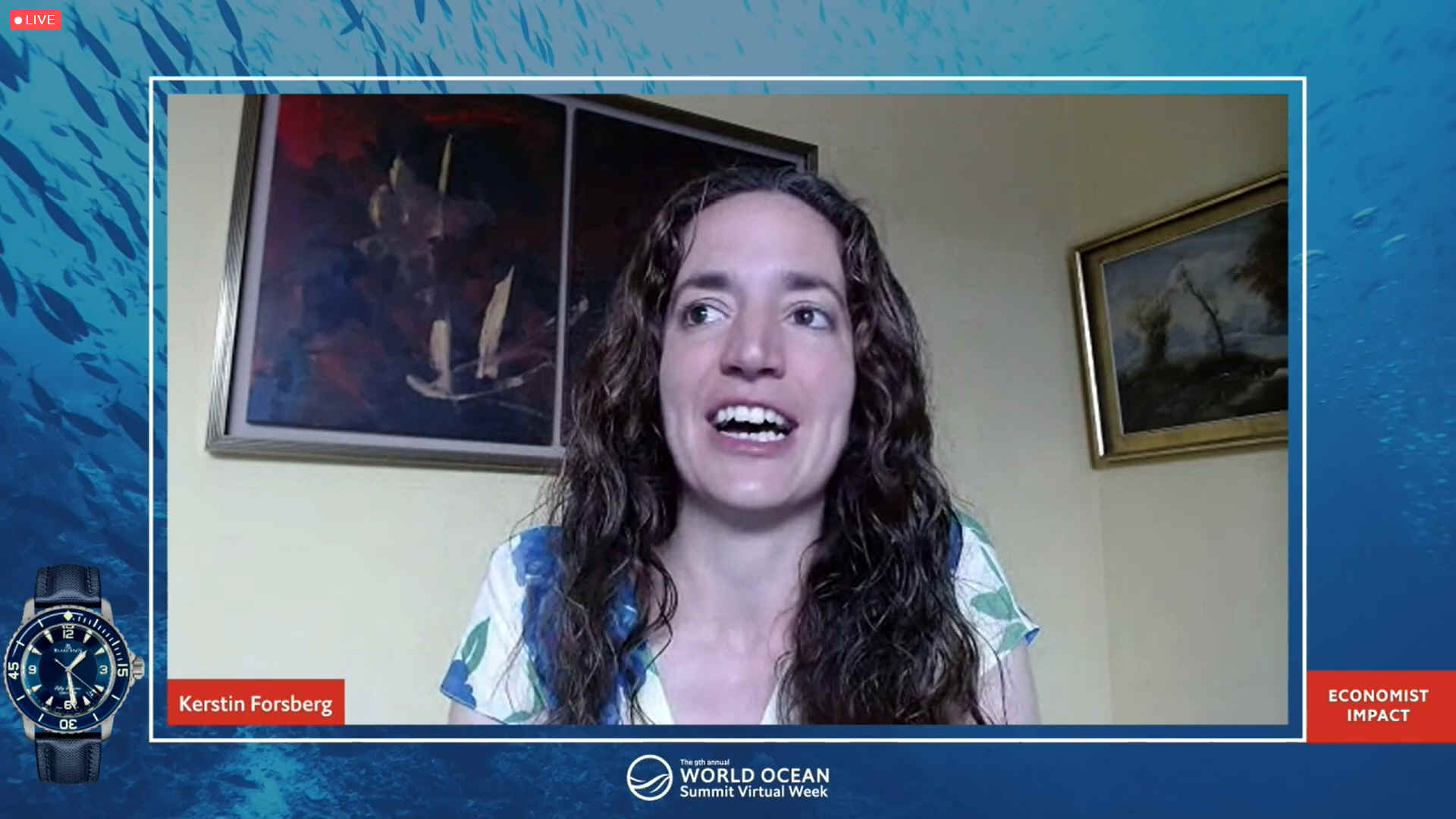 Kerstin Forsberg is a Peruvian conservation biologist and social entrepreneur. She is founder and director of Planeta Ocťano, a Peruvian non-profit organisation empowering coastal communities in marine conservation through research, education and sustainable development. Her efforts have included pioneering the conservation of giant manta rays in Peru, securing legal protection for critically endangered sawfish, and setting-up the Northern Peru Marine Educators Network, among others. She is a Rolex Awards for Enterprise Laureate, an Ashoka Fellow, and has been named as one of the 'World's Greatest Leaders' by Fortune. She serves on the World Economic Forumís Friends of Ocean Action, a group of ocean leaders fast-tracking ocean solutions, and the WEFís Global Future Council on Systemic Inequalities and Social Cohesion. She would like to see ocean literacy embedded in all parts of society, as being something we need to engage with.
z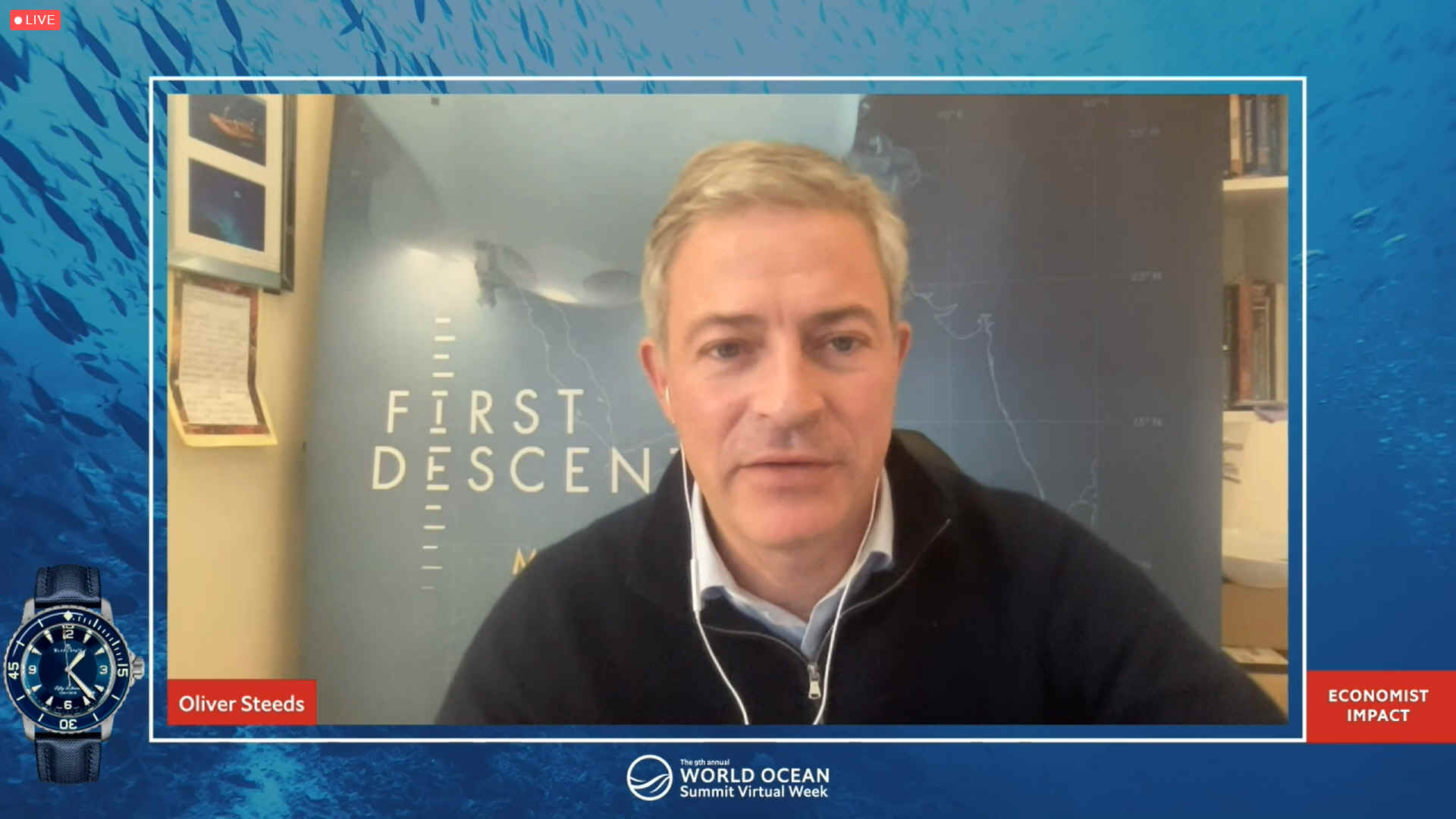 Oliver Steeds is chief executive and mission director of Nekton, whose mission is to accelerate scientific understanding of the ocean and its protection. Currently focused on the Indian Ocean, Nekton works with governments of ocean nations to catalyse change, supported by partners from academia, civil society and the media. Nektonís missions combine applied research to inform the designation of Marine Protected Areas, public engagement to amplify ocean awareness, and integrated knowledge-exchange programmes to ensure a legacy of long-term sustainable governance.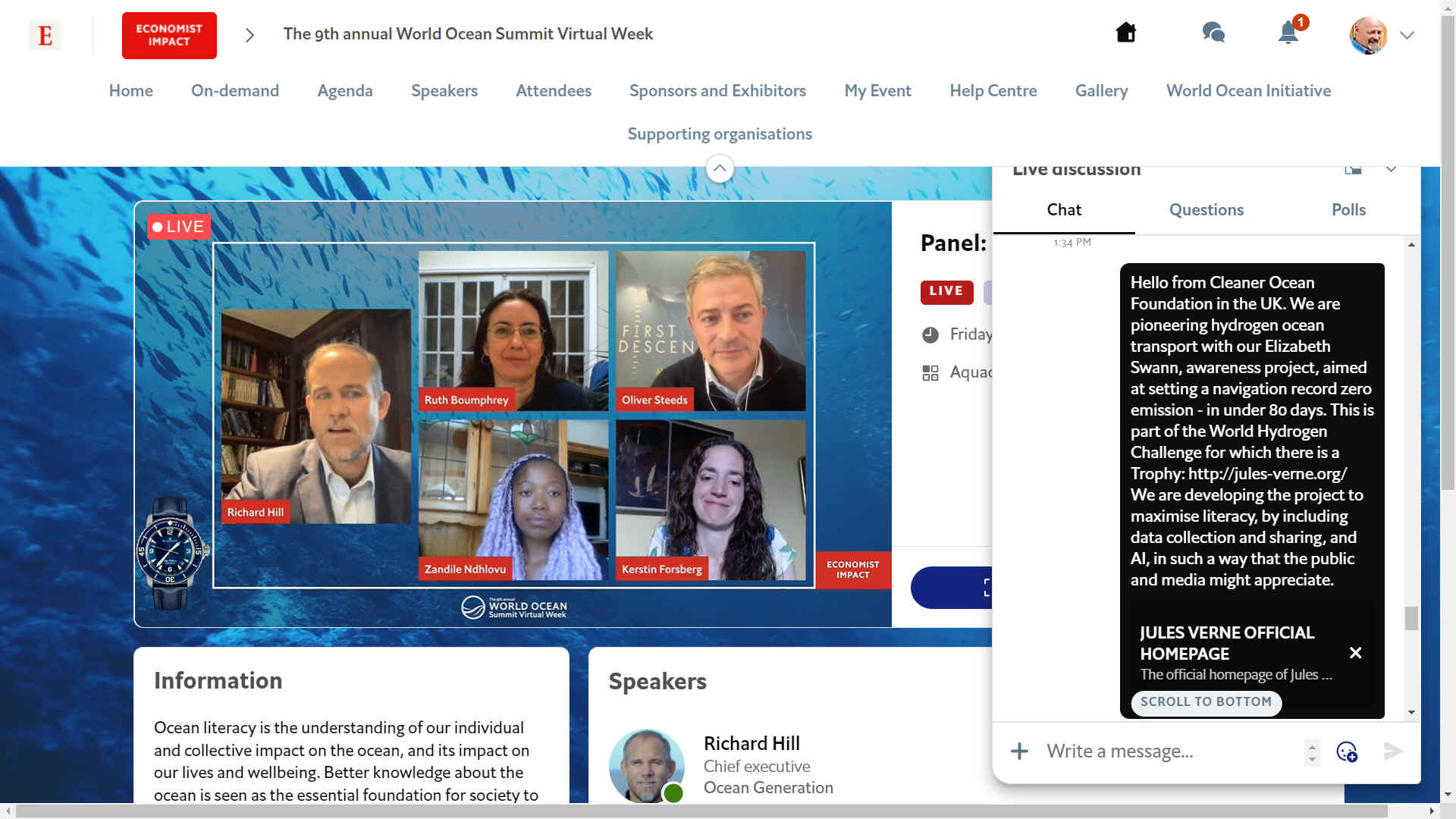 Hello from Cleaner Ocean Foundation in the UK. We are pioneering hydrogen ocean transport with our Elizabeth Swann, awareness project, aimed at setting a navigation record zero emission - in under 80 days. This is part of the World Hydrogen Challenge for which there is a Trophy: http://jules-verne.org/ We are developing the project to maximise literacy, by including data collection and sharing, and AI, in such a way that the public and media might appreciate. This is potentially the start of Formula Hydrogen, the ocean equivalent of F1 racing.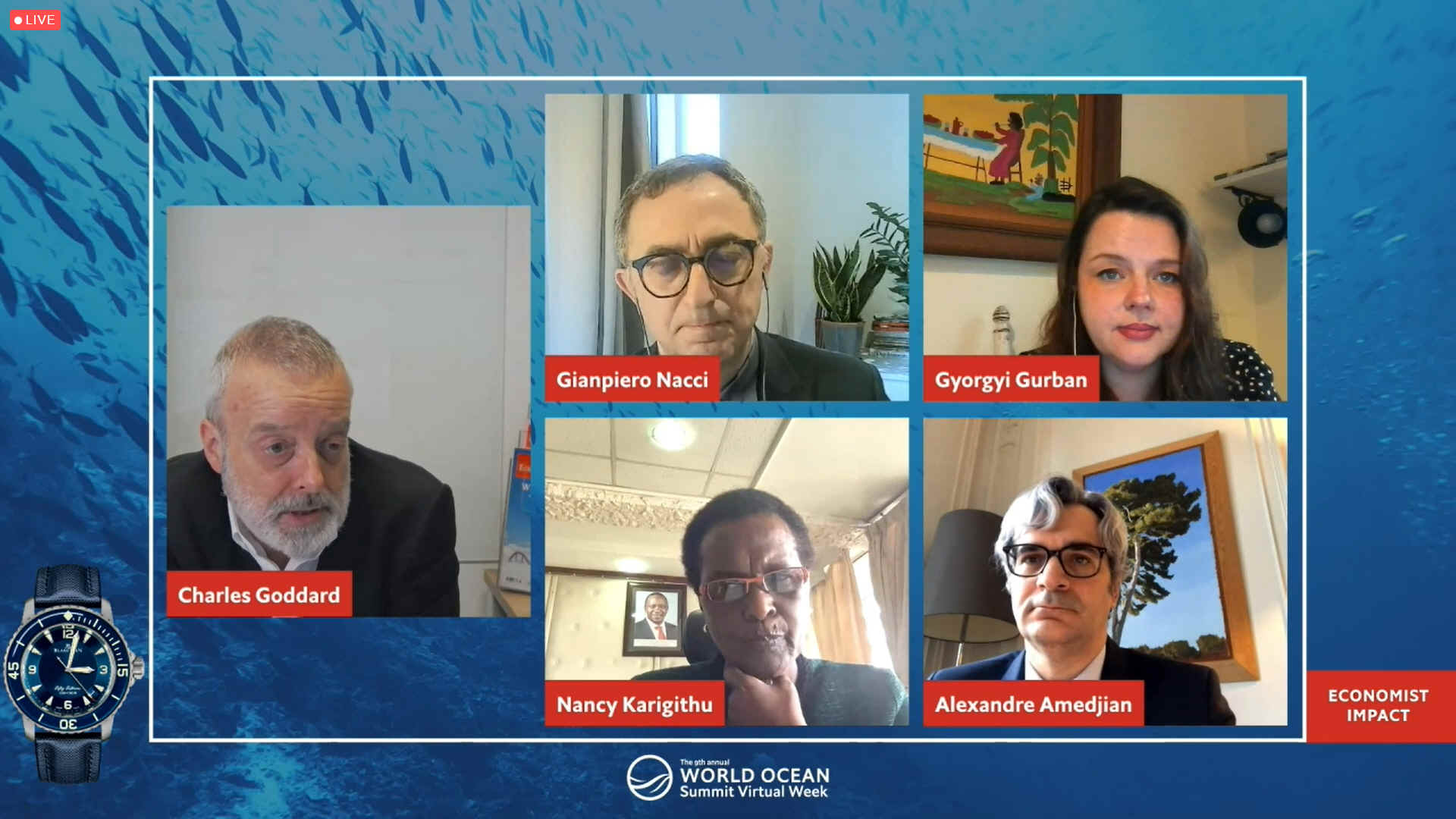 The panel of speakers Tuesday 1st March 2022, provided some very interesting aspects of financing the change to zero carbon shipping, where it is by no means clear what fuels will prevail, and how aggressive the IMO will be in setting targets. Concessional finance might include a tie in with carbon taxes and R&D innovation funding - or even scrappage.
z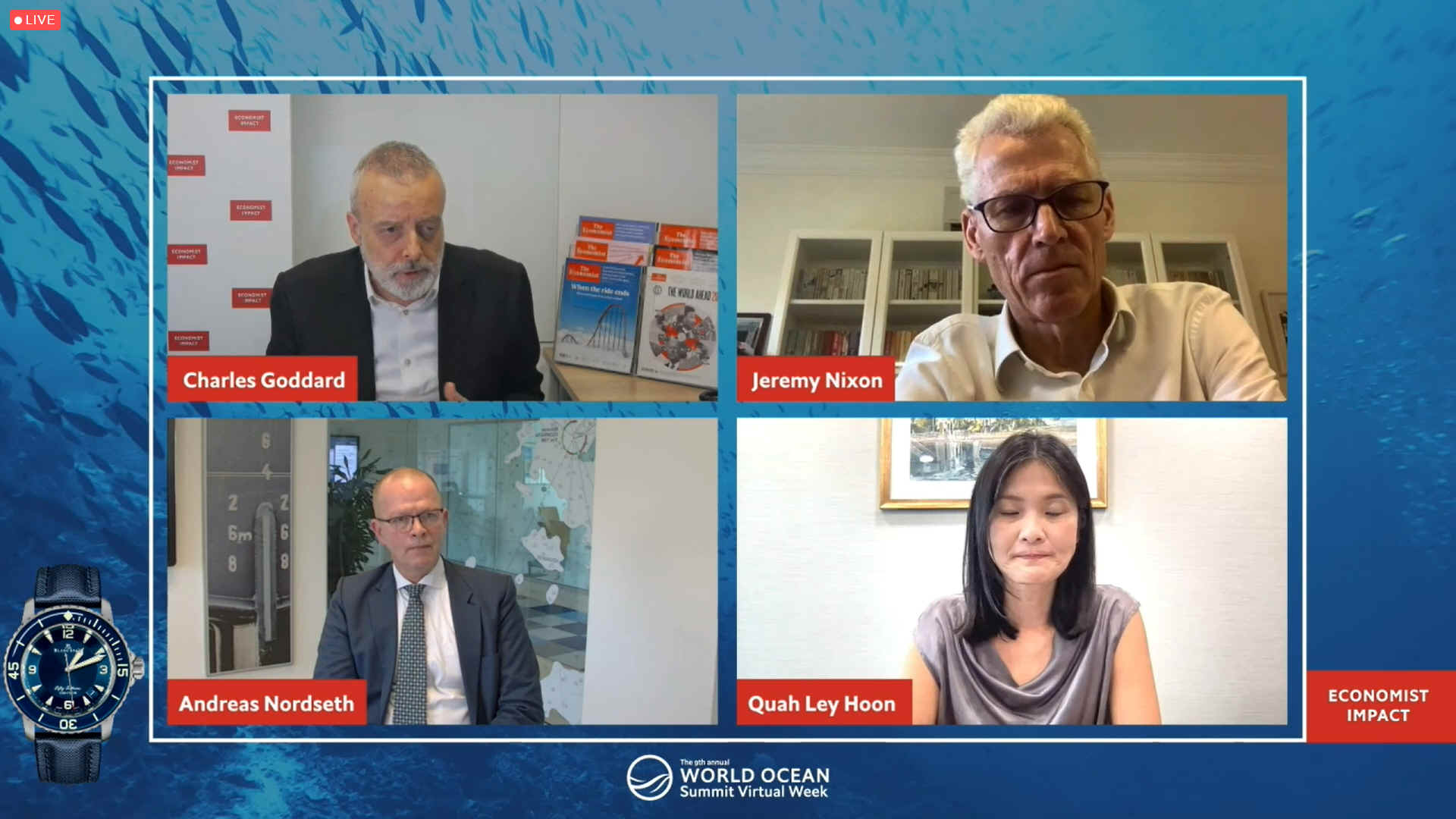 Charles Goddard imagines and builds the Groupís flagship initiatives, the purpose of which is to catalyse progress on key issues of the day. He works closely with partners on themes ranging from ageing and longevity to ocean health, focusing particularly on healthcare, the Anthropocene and the blue economy. Based in Hong Kong, Charles was previously editorial director, Asia, at the Economist Intelligence Unit, director of research in Asia, and managing director of the Economist Corporate Network, a peer network for senior executives. He is concurrently executive director of the Groupís World Ocean Initiative.
The 9th annual World Ocean Summit will feature six industry tracks focusing on:

1. shipping,
2. fishing,
3. aquaculture,
4. energy,
5. tourism, and
6. plastics.

This is the nub of a blue growth agenda, including deep sea mining and biotech.

Speakers provided reality-checks on how their industries are progressing towards 2030 targets, and what needs to happen next.

High-level plenary sessions will address cross-industry topics including ocean finance, ocean governance, and ocean restoration solutions. Speakers will discuss the finance gap, assess new technologies and highlight successful initiatives that are beginning to make an impact on ocean health.
CONTACTS

general enquiries: oceansummit@economist.com.

Marketing or PR event enquiries:

Naomi Grice
Marketing Manager
naomigrice@economist.com

Speaking Enquiries:

If you are speaking or you have an enquiry about speaking:
oceansummitspeakers@economist.com.

Sponsorship opportunities details about sponsoring and partnering.

Tatiana Der Avedissian
Email: tatianaderavedissian@economist.com
Tel: +44 (0) 739 560 4731

Alice Calvert
Email: alicecalvert@economist.com
Tel: +44 (0)795 6330 689