BRASKEM SA - PLASTICS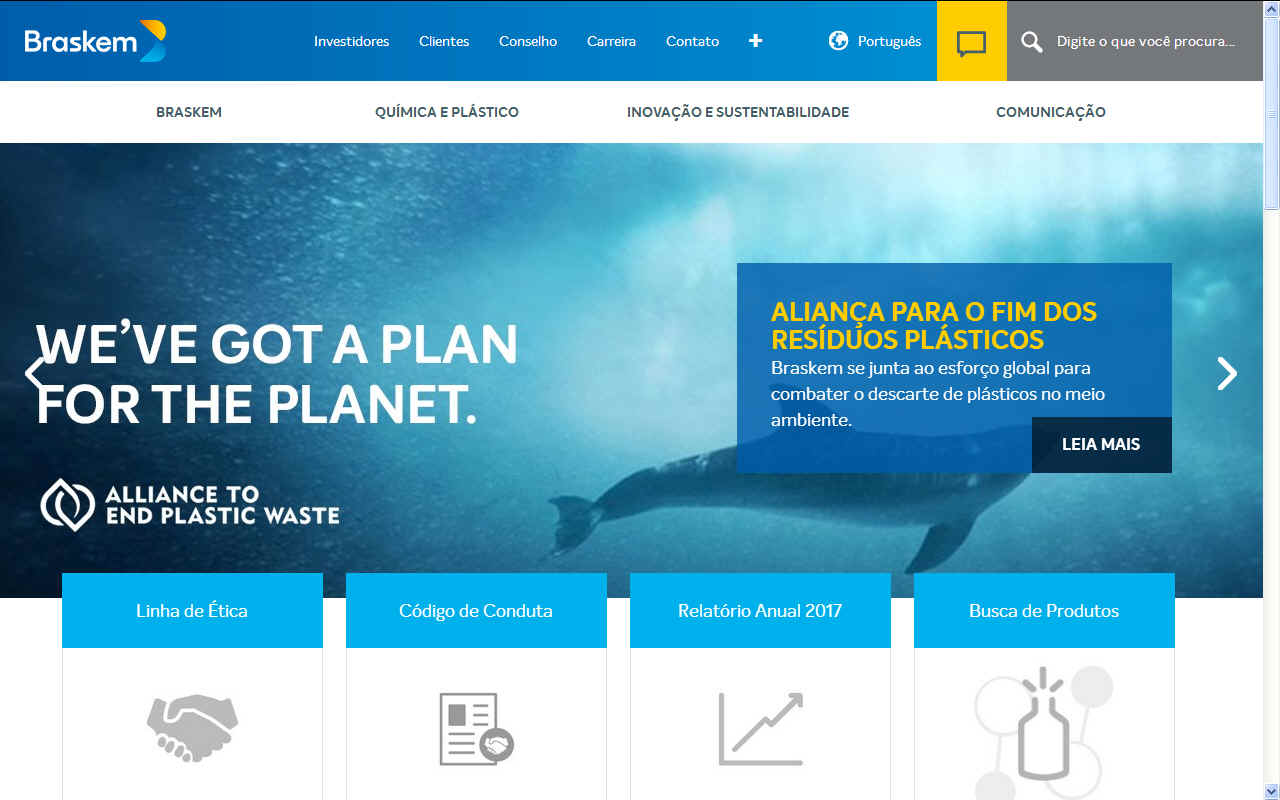 ACTIONS - Braskem is a signatory to the voluntary commitments of the Association of Plastic Manufacturers (PlasticsEurope), the American Chemistry Council (ACC), Asociación Nacional de la Industria Química (ANIQ) and Asociación Nacional de Industrias del Plástico (ANIPAC).
Braskem SA is the largest chemical and petrochemical company in South America. The company has as an objective to recycle 100% plastic by 2040, an admirable aspiration.
The company produces thermoplastic resins: polyvinyl chloride (PVC), polyethylene, and polypropylene, which are the base ingredients for a large number of fibers and plastic materials.
Braskem also manufactures aromatic and intermediate chemicals used in the production of nylons and other substances. Braskem was founded in 2002 and is headquartered in Sao Paulo, Brazil.

Braskem SA operates through four production divisions: (1) Petrochemicals Unit, (2) Vinyls and Chemicals, (3) Polyolefins, (4) Chemicals distribution, and (5) United States and Europe.

The Petrochemicals Unit handles the production of:
* Propylene butadiene
* Xylene
* Ethylene
* Toluene
* Benzene
* Cumene
* Diesel, gasoline and LPG
* Ancillary petroleum products

The Petrochemicals unit also supplies compressed air, electric energy and steam to other petrochemical plants in South America.

Vinyls and Chemicals

The Vinyls and chemicals unit produces caustic soda, PVC and chloride.

The Polyolefins unit is involved in the production of polyethylene and polypropylene for domestic and international markets.

The Chemicals Distribution unit is responsible for distributing intermediate and specialty chemicals, petroleum-based solvents and pharmacons to Braskem's customer base around the globe.

The United States and Europe unit is involved with polypropylene production through its American subsidiary, Braskem America and German subsidiary, Braskem Alemanha.


Looking to the future

Braskem's published global Sustainable Development strategy is based on three strategic pillars: increasingly more sustainable processes and resources; more sustainable product portfolio; and offering society, in partnership our client chains, solutions that enable everyone to enjoy an increasingly sustainable life.
They have updated their policies with the goal of becoming leaders in business contribution to Sustainable Development.

Thinking about the company's future and its growth opportunities, Braskem objectively analyzes its sustainability strategy, based on three pillars:

1. More sustainable processes and resources;
2. More sustainable products;
3. Solutions to ensure a more sustainable life for society.

Complementing these pillars are ten Braskem macro goals, which include the material topics of the company and its stakeholders. For each macro goal, strategic targets were set for 2020 and intermediate actions were established to ensure they are reached in the coming years.
We think that with such an approach that Braskem are acting positively to adapt to changing circumstances and potentially open to emerging technology in the cause.
The Circular Economy Quote:
"With a global vision focused on the future, Braskem, the largest resin producer in the Americas and the world's leading biopolymer producer, works every day to improve people's lives by creating sustainable solutions in chemistry and plastics.

Innovations in plastics are essential for enabling society to raise living standards and to advance sustainability through products that avoid waste and increase efficiency. For this reason, plastics are widely recognized as playing a crucial role in delivering a more sustainable future. With a unique combination of lightweight, low cost, and durability, plastics already contribute to reducing greenhouse gas emissions and to the more efficient use of natural resources such as energy and water.

Plastics also make critical contributions to agricultural productivity, food safety, and hospital hygiene. Plastics are used in a wide array of industries in routine applications. Because of their versatility and capacity for innovation, plastic materials also are invariably better suited for supporting innovative sustainable technologies.

Braskem recognizes that adequate management of the disposal of plastic waste is a growing global concern. For society to leverage the benefits that plastics offer, it is essential that they be recovered properly to avoid causing harm to our natural environments, including marine ecosystems.

Plastics must be used responsibly, discarded properly, and reused, recycled or recovered.

To ensure this, all of us must work together to promote conscientious consumerism and proper disposal and recycling. This is a complex issue that brings with it social and economic challenges. It is a topic that no one organization, industry or government can solve alone. Braskem is taking the first step to do our part through a new global commitment to the Circular Economy and we are inviting others to do the same."
Policies

To reinforce Braskem's actions, other stakeholders must be engaged. To achieve this, effective policies and partnership are needed.

Braskem urges policymakers and partners:

- To encourage political approaches that support and reward innovation, entrepreneurship and local solutions as the best way to foster technological advances and stimulate private investment;

- To adopt concrete targets and initiatives for recovering and reusing products and packaging, while recognizing that progress towards the sustainable circular economy will be gradual;

- To support collaboration among governments, communities, manufacturers, NGOs and consumers in meeting targets.

As a global player, Braskem undertakes a commitment to strengthen its contribution to sustainable development. Over time, progress on their eight fundamental issues could evolve, which would be reflected in their commitment.

The progress made in recycling and our actions will be reported in their annual reports. Through this voluntary commitment to the circular economy, they want to make clear that they are part of the solution by working alongside all stakeholders to transform the economy into a circular economy in which society's needs are met by more innovative and sustainable materials, processes and systems.
As we say, this companies objective to recycle 100% plastic by 2040 is an admirable aspiration. That coupled with their willingness to engage with other stakeholders to to forge policies to protect the natural world.
Contacts
Braskem SA HQ
Rua Lemos Monteiro, 120
Edifício Odebrecht São Paulo - Butantã
05501-050 - São Paulo, SP Brasil


| | | |
| --- | --- | --- |
| COMPANY A - Z | EMPLOYEES | $ BILLIONS |
| - | - | - |
| | 17,300 | 3.3 |
| | - | - |
| BASF: | 39,000 | 63.7 |
| | - | - |
| Borouge (Abu Dhabi Polymers Co Ltd): | 6,500 | 7.2 |
| | - | - |
| ChevronPhillips Chemical: | 5,000 | 13.4 |
| CNPC:( China National Petroleum Corp): | 1,470,190 | 326.0 |
| | 14,000 | 49.0 |
| | - | - |
| ENI S.p.A. Ente Nazionale Idrocarburi: | 33,000 | 61.6 |
| | 75,600 | 290.0 |
| | 2,800 | 5.0 |
| INEOS (Ineos Group AG): | 19,000 | 60.0 |
| | 16,700 | 7.9 |
| | 14,000 | 17.8 |
| | 13,000 | 33.0 |
| | - | - |
| Reliance Industries Ltd: | - | - |
| | - | - |
| | - | - |
| SABIC: (Saudi Arabia Basic Industries Corp) | 40,000 | 35.4 |
| | 249,000 | 314.4 |
| | - | - |
| | - | - |
We cannot do without plastics in our modern society. They are incredibly versatile, extending the capabilities of mankind. But plastic is getting bad press from a lack of recycling efficiency in many countries where significant quantities are being flushed out to sea via rivers and other coastal dumping.
There is nothing wrong with plastic if it is disposed of carefully. Oil derived plastics are a finite resource and non-renewable demanding special attention, as with the changeover from burning fossil fuels to renewables.
This gives us another good reason to develop a system for making the best use of plastic, and this includes recycling it way more effectively than before. We cannot afford to waste plastic that is in our oceans, and we are talking about at least 8 million tons a year of the stuff going out to sea.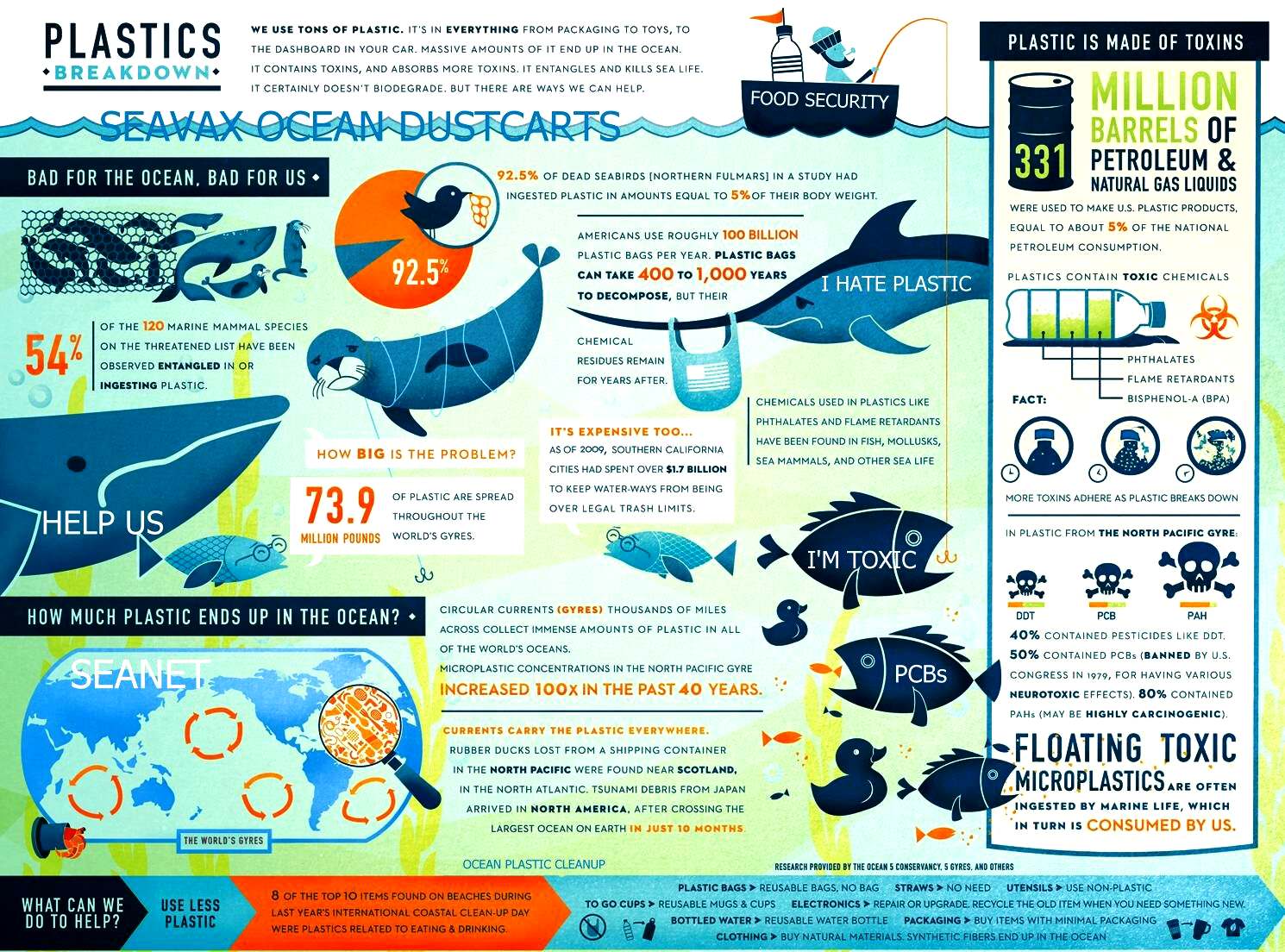 FAST FOOD SLOW DEATH - It's not just fast food, it is our exploitative society that is poisoning the planet, without thought for the consequences. We've been living at artificially low prices at the expense of killing other life on earth. Eat cheap now and suffer expensively later, with health services picking up the tab and costing the taxpayer more than if we'd dealt with ocean dumping up front. We are talking here about the consequences of eating toxic fish. Technically, it is possible to remove plastic from seawater. There are two projects currently trying to achieve this, the Ocean Cleanup Projects of Boyan Slat and his giant floating booms, and the Cleaner Ocean Foundation and SeaVax.
It's easy to dismiss plastics as cheap and nasty materials that wreck the planet, but if you look around you, the reality is that we depend on it. If you want cars, toys, replacement body parts, medical adhesives, paints, computers, water pipes, fiber-optic cables, and a million other things, you'll need plastics as well.
If you think we struggle to live with plastics, try imagining for a moment how we'd live without them. Plastic is pretty fantastic. We just need to be smarter and more sensible about how we make it, use it, and recycle it when we're done with it.
Most plastics are synthetic, they'd never spontaneously appear in the natural world and they're still a relatively new technology, so animals and other organisms haven't really had chance to evolve so they can feed on them or break them down.
Since a lot of the plastic items we use are meant to be low-cost and disposable, we create an awful lot of plastic trash. Put these two things together and you get problems like the Great Pacific Garbage Patch, a giant "lake" of floating plastic in the middle of the North Pacific Ocean made from things like waste plastic bottles.
How can we solve horrible problems like this? One solution is better public education. If people are aware of the problem, they might think twice about littering the environment or maybe they'll choose to buy things that use less plastic packaging.
Another solution is to recycle more plastic, but that also involves better public education, and it presents practical problems too (the need to sort plastics so they can be recycled effectively without contamination). A third solution is to develop bioplastics and biodegradable plastics that can break down more quickly in the environment.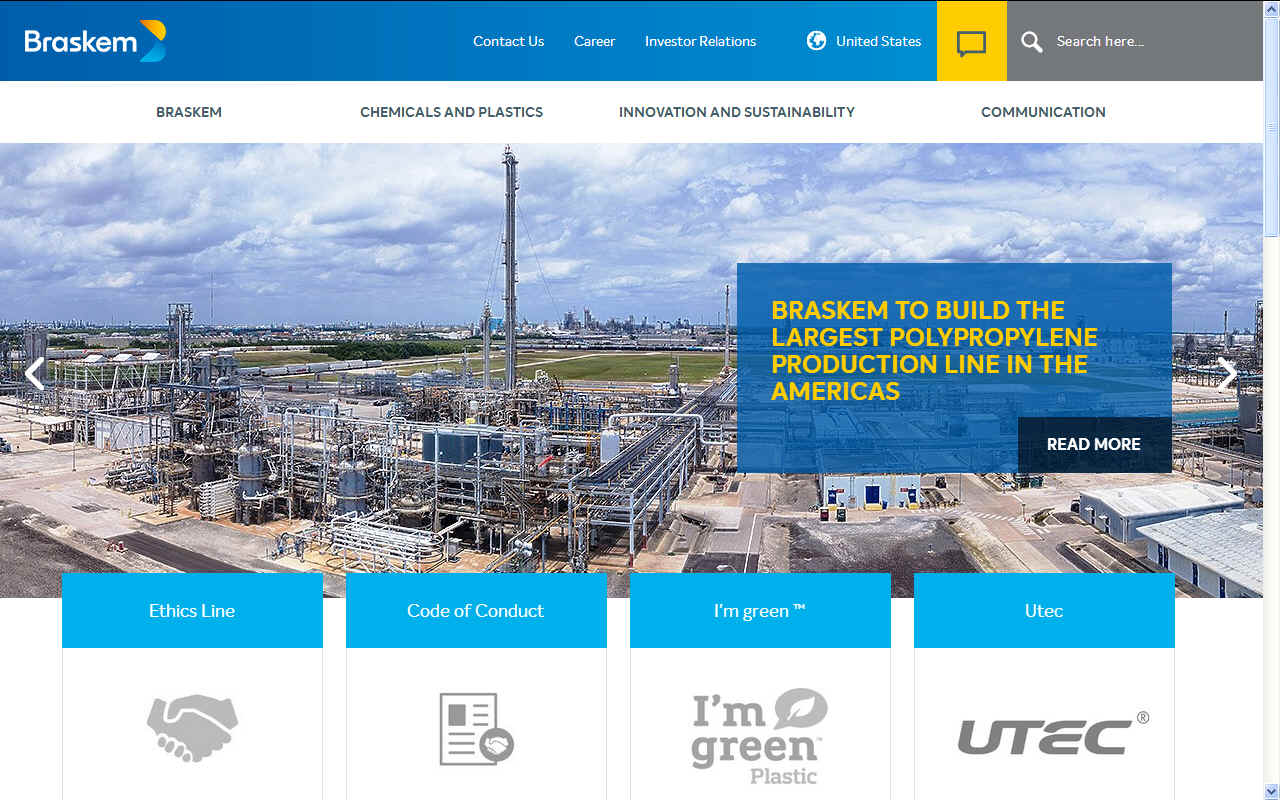 LINKS & REFERENCE
https://www.braskem.com/principal/circulareconomy
http://www.braskem.com.br/usa
https://www.braskem.com.br/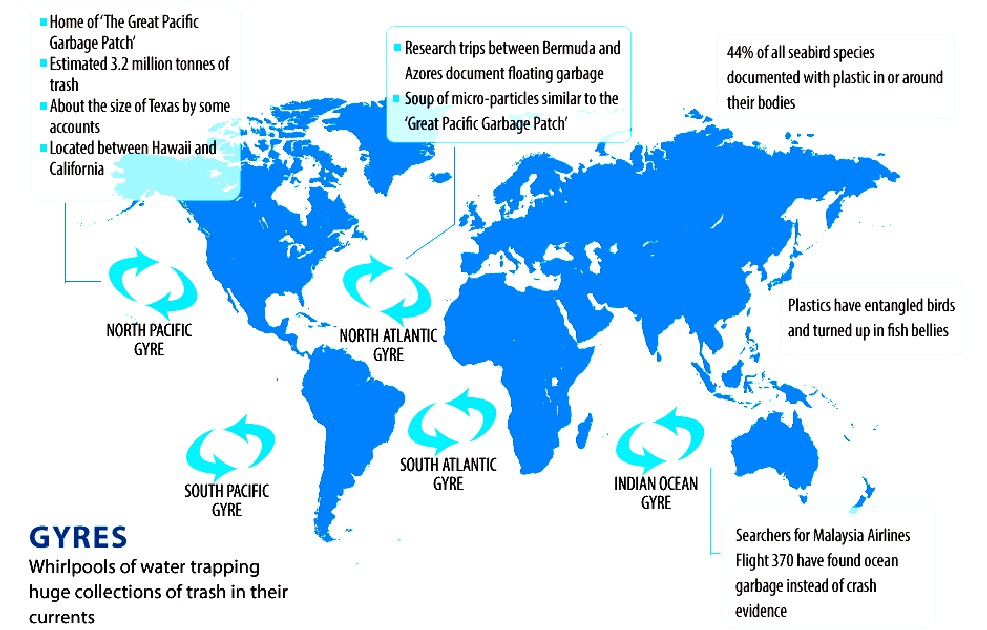 BUILD UP - Plastic has accumulated in five ocean hot spots called gyres, see here in this world map derived from information published by 5 Gyres. All that plastic just floating around is a huge waste of resources in a sustainable sense, where we should be aiming for a circular economy.
ABS - BIOMAGNIFICATION - CANCER - CARRIER BAGS - COTTON BUDS - DDT - FISHING NETS - HEAVY METALS - MARINE LITTER
MICROBEADS - MICRO PLASTICS - NYLON - PACKAGING - PCBS - PET - PETROLEUM - PLASTICS - POLYCARBONATE - POLYOLEFINS
POLYPROPYLENE - POLYSTYRENE - POLYTHENE - POPS - PVC - SHOES - SINGLE USE - SOUP - STRAWS - WATER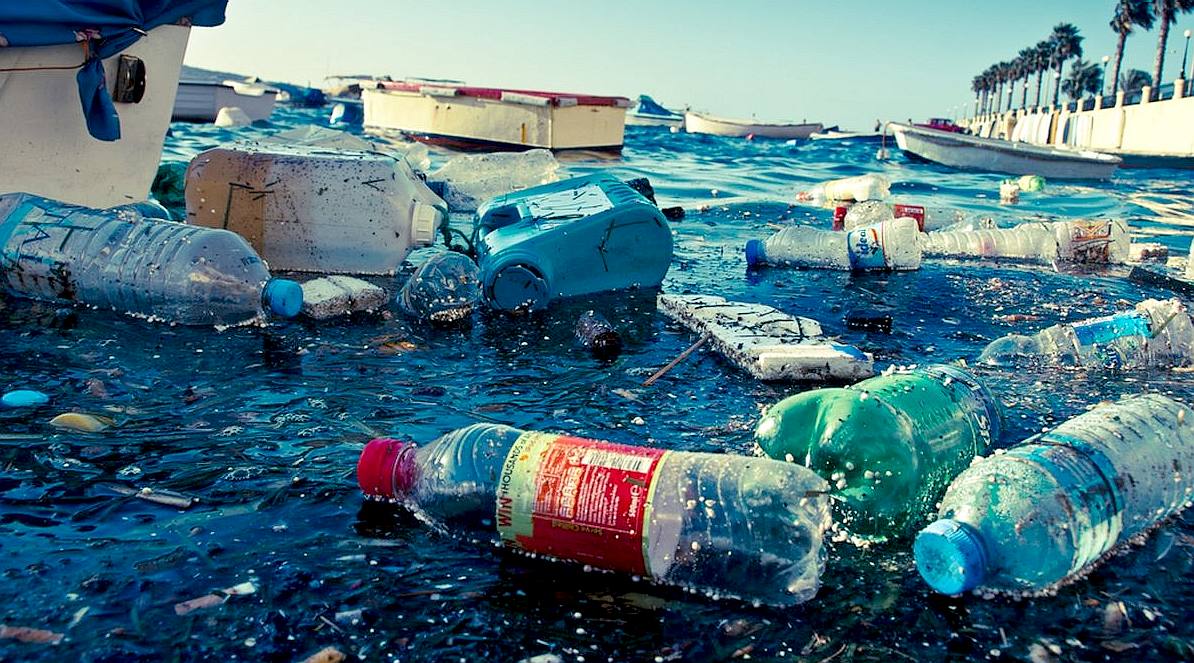 This website is provided on a free basis as a public information service. copyright © Cleaner Oceans Foundation Ltd (COFL) (Company No: 4674774) 2019. Solar Studios, BN271RF, United Kingdom. COFL is a company without share capital.