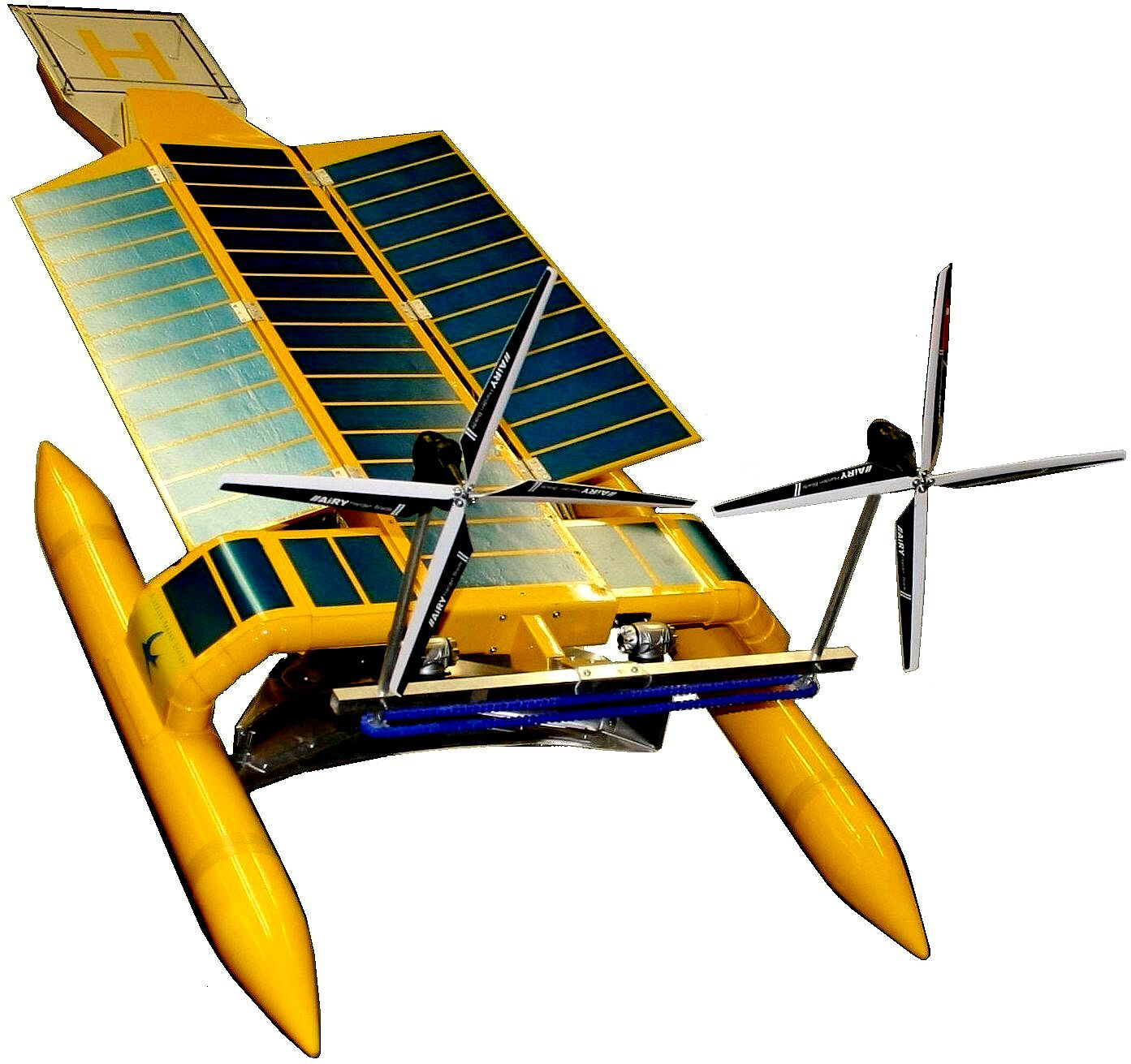 LITTER CLEANER - This 44m machine is designed to be operated in fleets to target ocean waste in blue water and in rivers. This present proposal is for a pilot derivation of the above machine, limited to around 16 meters in length, with an active cleaning head spanning 6.75 meters. This 1:20 model did not feature moveable wind turbines and the solar wings had limited angular movement. The proposed Pilot vessel will be around 7.5 times the size of this proof of concept machine.
This Horizon 2020 call is for proposals in the €6m region as a guide against a €13.2m budget. Historically, grant funders do not award grants over their guide, even where they may suggest otherwise.
We aim to develop a project tailored to the guide figure, though they say they will entertain higher bid projects.
We are forming a consortium with collaborative partners to lay the foundations and further develop means to remove historic accumulations of marine litter from identified hot spots, alongside a strategy to stem the tide of fresh build up. We are also open to joining other consortiums that may benefit from a machine such as we propose herein.
We want to assemble and work with experts in their field, who are willing to pull together as a team to advance the science of marine pollution, and a means of sustainable treatment(s), that we can all be proud of.
Our deadline for lodging this proposal (if we lead) is January 20 2020, Brussels time, with a limit on Expressions of Interest by December 9 2019 (please), after which we might not include work packages in any completed application. We would ask interested parties to help us meet this target to allow us time to do the proposed application justice. We appreciate that with calls like this it is sometimes difficult to choose between consortiums, especially those with leads of lesser experience of Euro bids.
Our strength is that we wish to develop a machine that ticks the EC's boxes. We are hopeful that with our expertise, allied with other experts in the field, that such a collaborative effort might be given the chance it deserves.
We propose to demonstrate the removal of marine litter to highlight how the environment may benefit by the recovery of plastics in marine litter, to enable estimates to be made as to corresponding impacts in terms of ecosystem and economic recovery. The demonstration will be based on a reduced size, SeaVax inspired vessel, in that any such deployment of cleaning machines needs to be carbon neutral if it is to be sustainable as per the SDG terms listed below.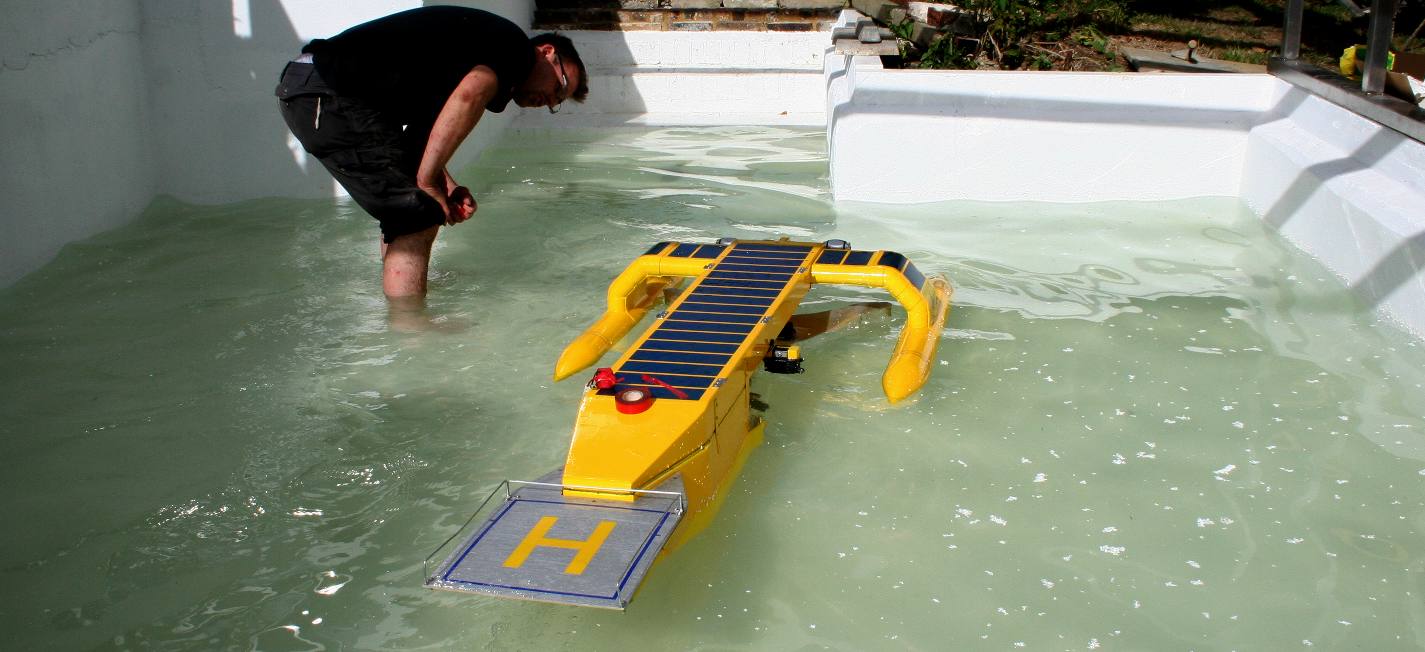 OPEN WATER TESTING - This is what SeaVax and our water basin looked like in 2016. Seen here is a 1:20 scale (proof of concept) model collecting plastic that was cast on the water to simulate marine litter. Eventually, these vessels would need to be of a size to cope with 8 - 12 million tons of plastic entering the sea every year, operating in numerically containable fleets to transport recovered plastic to land for recycling. That is until we find a replacement for plastic packaging, or adopt more efficient waste disposal schemes. Note that the water basin is open to the elements. See below for development past 2018. We are the only organization that has extracted micro plastics from water like this.
PROJECT AIMS (THE BOXES WE TICK):

The overall goal of this proposal is for the demonstration of a combination of sustainable technology integrated in a (versatile) 'selective filtration machine' that may be adapted to:
1. Clean the seafloor of marine litter in shallow areas to a depth of 8* meters;
2. Clean the surface of near shore waters and harbours of micro and macro marine litter up to a meter in size;
3. Clean the water column of historic micro and macro plastic accumulation to a depth of 3* meters;
4. Identify, or otherwise help to manage discovered ghost fishing nets that may be encountered.
5. Conduct a study over a period of several months by deploying the proposed Pilot cleaning machine (see details below under Design & Construction) at a suitable site to be able to assess the likely impact that such equipment may have in a broader context.
6. Use the proposed Pilot vessel and data from 5. to establish a baseline for up-scaling the concept with a view to tackling blue water accumulations in the 5 gyres.
7. Demonstrate the effectiveness of an automatic and remotely controlled machine capable of collecting plastics and other marine debris as per 1-3 above.
8. Ensure, insofar as practical, that the selective filtration machinery is capable of differentiating between biota and inanimate litter to minimize the environmental impact of cleaning operations.
9. Develop a plan to sort and recycle the collected marine litter in line with the Circular Economy objectives of the EU and UN and the developing plastics strategy.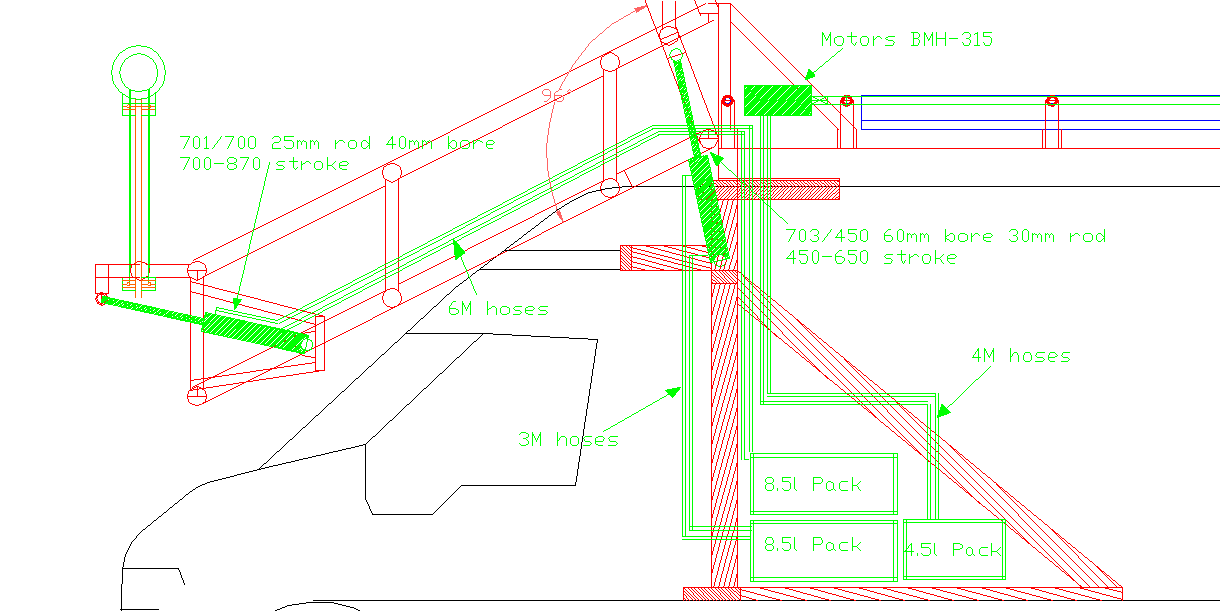 HYDRAULICS - This experimental rig from 2019 uses three double valve/solenoid dc power packs operating at 24 volts to supply four double acting hydraulic rams and two rotational motors. The rams are to move the mast and tilt mechanism, operating in balanced pairs, while the motors are to turn two solar panel arrays independently so as to be able to track the sun. Commercial sun tracking devices are available, but nothing to rotate an array from a base hinge to encompass such a wide angle variation - and folding of the arrays for storm protection at sea. For this part of the project we were not concerned with sun tracking, but needed to have the frame ready to accept such technology when we got to that stage. The dimensions of the mast and solar panel frames were used unchanged to develop a 12 meter craft on paper, seen below, simply cutting and pasting into a new CAD drawing.
PROJECT WORK PACKAGES - SELECTIVE FILTRATION MACHINE DESIGN & CONSTRUCTION A-Z:
A. To design a mobile platform of a moderate size that may support water filtration equipment and the storage of collected marine litter for transfer to recycling partners.
B. To design solar and wind apparatus for incorporation into/onto the mobile platform in A. to enable long endurance operations in a marine environment, also including a battery energy store by way of reserve capacity.
G. Tank testing of a 1:10 scale model of the proposed mobile platform for stability.
C. To design a 'filtration head' and marine litter collection and transport system for the effective harvesting and onboard storage of marine litter, to include a transfer system to land vehicles as may be needed for re-processing.
D. Fabrication of the 'filtration head' in C. and equipping with sensors to enable the machine to differentiate between biota and marine litter - and so apply the appropriate filtration apparatus.
3. PROGRAMMING
E. Programming of computers to interface with sensors in D. to control the marine litter collecting (head) machinery to automate the filtration functions, to include safeguards.
F. Testing of the 'filtration head' in controlled (test tank) conditions off board in scale and subsequently as full size versions taking the litter harvesting system to TRL5
H. The ocean is vast. We cannot afford to fish for litter in the wrong place or waste resources, but with the integration of two-way satellite communications using observations from space, we might identify patterns of litter accumulation, and use such information to refine harvesting operations via predictive software, (marine litter) monitoring and logging of quantities of collected marine litter at test locations. By this means the vast ocean expanses may be intelligently fished.
I. The construction of a mobile platform (vessel) at full scale for the installation of B. and C.
J. Installation of the solar and wind energy harvesting apparatus on the constructed platform in I., to include battery energy storage and management systems.
K. Installation of the marine litter harvesting apparatus on the platform in I.
L. Installation of motor drives, storage batteries, rudders, and other ship systems on I.
M. Installation of control sensors, navigation instruments and computers on I., to include wiring.
N. Other fitting out of I. by specialist subcontractors.
Integration of navigation and control hardware and software as part of onboard systems to be able to operate the platform remotely safely in drone mode with autonomous functions in terms of navigation, such as avoidance of other vessels and objects.
7. OPERATIONS
O. Launch of the mobile platform (vessel) in I.' to include shakedown trials including testing of navigation equipment, energy harvesting apparatus and other vessel systems.
P. Selection of a suitable site for trials of the marine litter collecting machine in I.
Q. Operation of the mobile platform to harvest marine litter and collect performance data, to include emptying/transfer of collected marine litter, taking the technology to TRL6
R. Analysis of collected marine litter and plastic for the recycling of harvested plastic by a dockside or other conveniently located land based facility and aligning such recovery of river and ocean waste with processing systems that are designed to recycle even hard to process plastics for conversion to medium/light oil products that in turn might replace crude oil derived materials in plastics manufacturing that can be re-used repeatedly, rather than used and disposed of, or made into lower quality products, per the current linear system of production and landfill, etc.
9. BUSINESS DEVELOPMENT MODEL FOR FORWARD FUNDING
S. Life Cycle Management assessment of the service life of such social assets for longevity against servicing in terms of costs/benefits aimed at food security and ocean conservation.
T. Developing a business (funding) model aimed at encouraging independent entrepreneurs, local authorities and international organizations.
U. Dissemination of the results obtained from the project, to include where practical, ocean awareness events.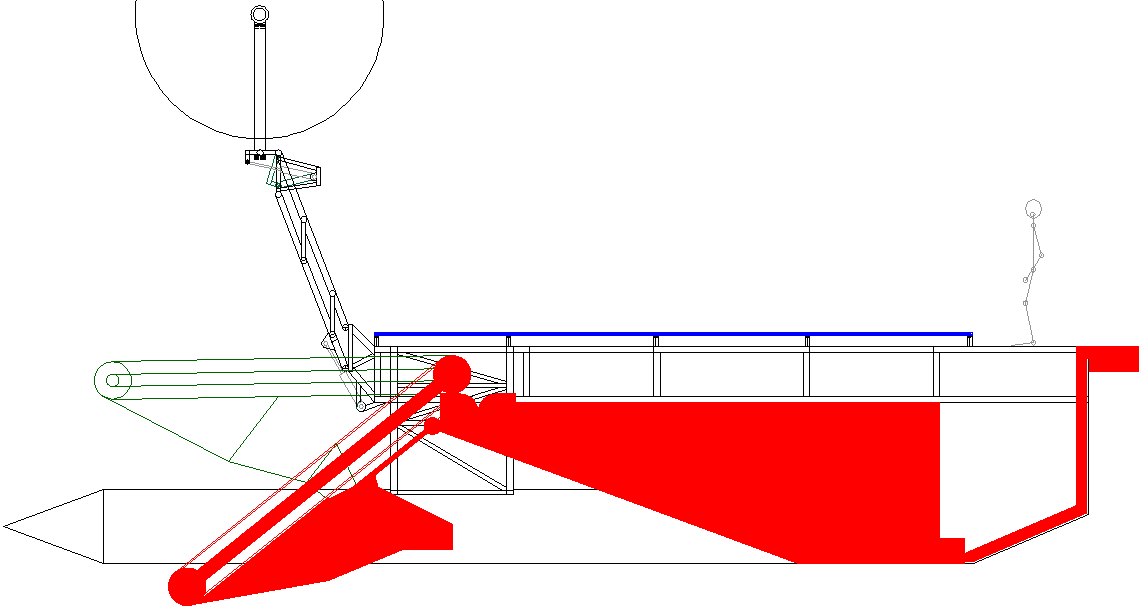 12M EVOLUTION OF A CONCEPT - From land vehicle to water vessel. In this diagram we see how a cleaning head at the operating end of this vessel (shown in red on the left) might be incorporated as part of a dedicated litter collecting machine. The mast dimensions are unchanged from the 'Ford Transit' experiment featured on this page below (and on other sites). The solar array frames are also unchanged, applied as multiples to increase panel area.
One essential element of any water based cleaning machine is to be able to position a mobile device where plastic is known to be a problem and monitor that position. For this, it would be an advantage to use programmed satellites to identify trends and accumulations of larger objects. The machines on the water would then be utilized to return data for verification purposes - as part of two-way development data streaming. This is a 12 meter vessel with a cubic meter payload. Please note that these drawings are Copyright © November 2019 Cleaner Ocean Foundation and Bluebird Marine Systems Ltd.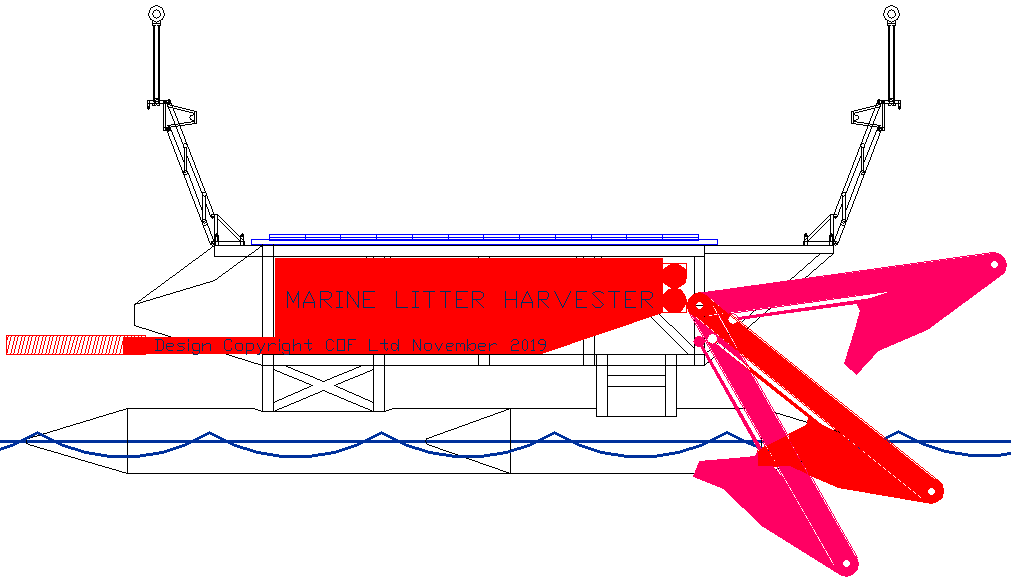 COMBINED HARVESTER - This diagram shows the storage chambers (@15m3), offloading tube extended for dockside transfers and the collector head at three different heights:
1. Raised out of the sea for transit, 2. Normal operations down to 1 meter, and 3. lowered for microplastic collection in rivers and shores. The storage chamber could be 20m3 and twenty tones. Please note that these drawings are Copyright © November 2019 Cleaner Ocean Foundation and Bluebird Marine Systems Ltd.

MARINE LITTER PICKER - The 16 meter vessel is seen here with the same cleaning head used on the 12m craft above, deployed to a depth of over 2.5 meters. A MultiVax can be configured to operate forwards or backwards - meaning that it is bi-directional to add to the versatility of the workboat as an ocean cleaning tool. The payload of this boat is 10 tons or fifteen cubic meters. The cleaning head may be lifted clear of the water for transit. This is an important feature of the design. By contrast, a full size SeaVax has a holding capacity of 150 m3. Please note that these drawings are Copyright © November 2019 Cleaner Ocean Foundation and Bluebird Marine Systems Ltd.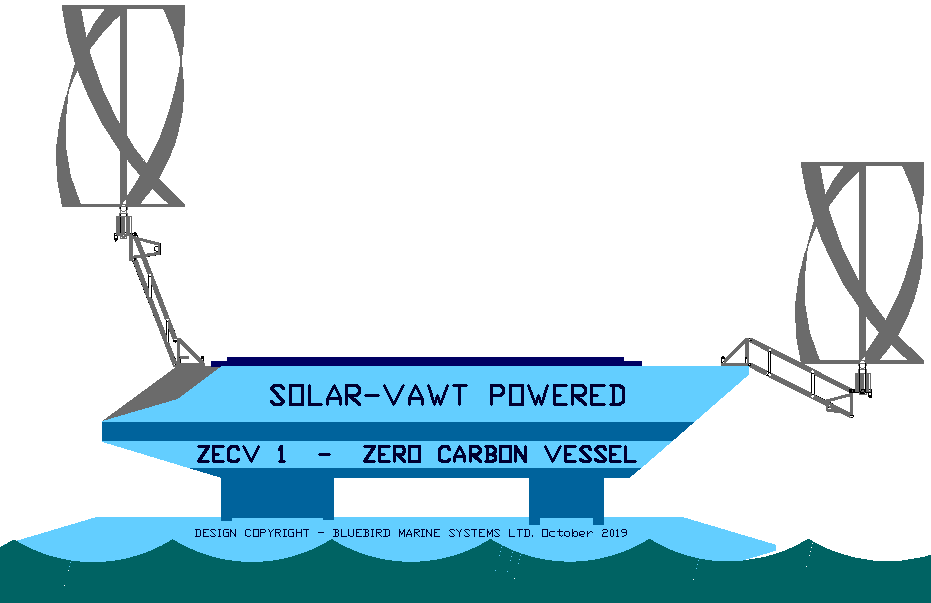 SOLAR VAWT COMBINATION - Swapping the horizontal 5kW wind turbines for vertical 10kW versions may be possible after development of the mast. This 16m (LWL) design features a collecting head approximately 6.75 meters wide. The machine is solar and wind powered for sustainable long endurance tours of duty. In this case featuring vertical axis wind turbines. The operating end of this machine in on the right in this configuration. In the diagram of the 12m transition (from land to sea) above the vessel is working in the opposite direction. It may be advantageous to target larger solids before they degrade into smaller particles to stem the accumulation of plastics in the gyres. After the implementation of such a strategy, ocean cleaning machines might be deployed to tackle historic accumulations. Please note that these drawings are Copyright © November 2019 Cleaner Ocean Foundation and Bluebird Marine Systems Ltd.
Cleaner Ocean Foundation Ltd is coordinating this bid with help from Bluebird Marine Systems in the free supply of services. The Foundation is assembling a European consortium of academics and businesses for this Project Proposal.
The UK coordination and project development team:
Danny Goldsmith: Naval architect
Nelson Kay: Coordination
Briggette Dusart: Administration
Lloyd Stebbings: Boat builder
Richard Whelan: Logistics
Jamie Hughes: IT & communications
Chris Close: Steerage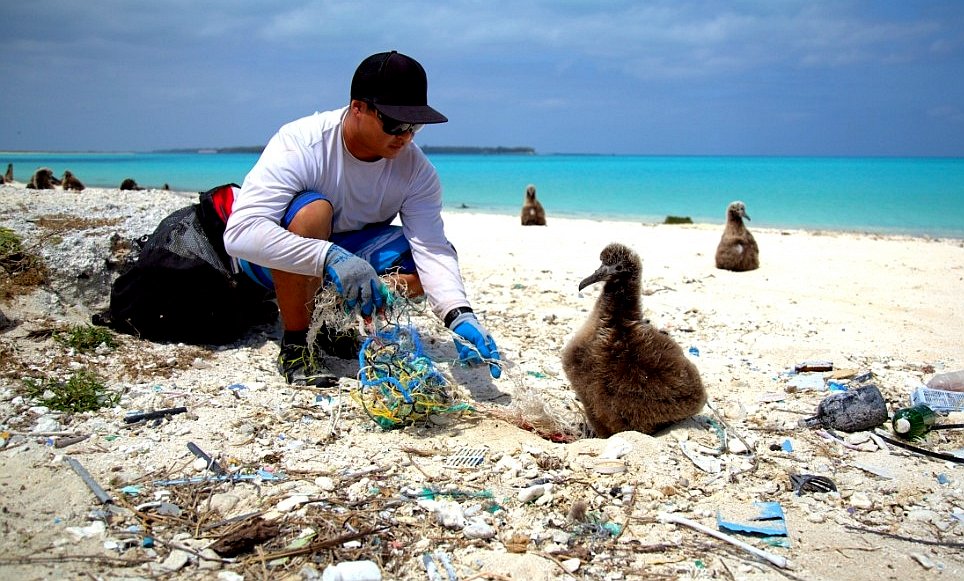 UPSETTING NATURE - Seabirds and marine mammals ingest marine plastic, suffering excruciating deaths in most cases as they expire from starvation, but also disturbing natural evolution and balance.
SHORT, MEDIUM & LONG TERM IMPACTS
In the short-term:
Such projects might support the implementation of the UN Nation's Decade of Ocean Science for Sustainable Development, and the needs of the Marine Strategy Framework Directive. The objective being to allow those proposing projects with potential to undertake the necessary development for evaluation purposes.
The proposed 'Pilot' vessel is to be designed to achieve removal of up to 90% of macro-plastic litter and a significant fraction of micro-litter in any geographical demonstration area, to reduce the clean-up cost to a local blue economy. This of course depends on currents and tides that may re-litter the chosen test area above local levels, beyond the capacity of a single Pilot machine. For this reason, marinas, harbours and small estuaries are considered to be suitable test areas.
The development of such machines increases the options for stakeholders where such choices are limited at the moment. When developed a wider availability of technologies that might more efficiently remove marine litter may benefit society as well as conserve marine life.
The presence of dedicated ocean close to shore cleaning machines could help raise the awareness of citizens about the importance of disposing of waste responsibly to avoid environmental damage and the high costs for the community (and eventually the tax payer instead of the polluter).
Environmental cleaning machines that meet the criteria are sure to contribute to the sustainable management and protection of marine and coastal ecosystems, helping avoid significant adverse impacts (UN SDG 14), that may well prove to be irreversible if left untended.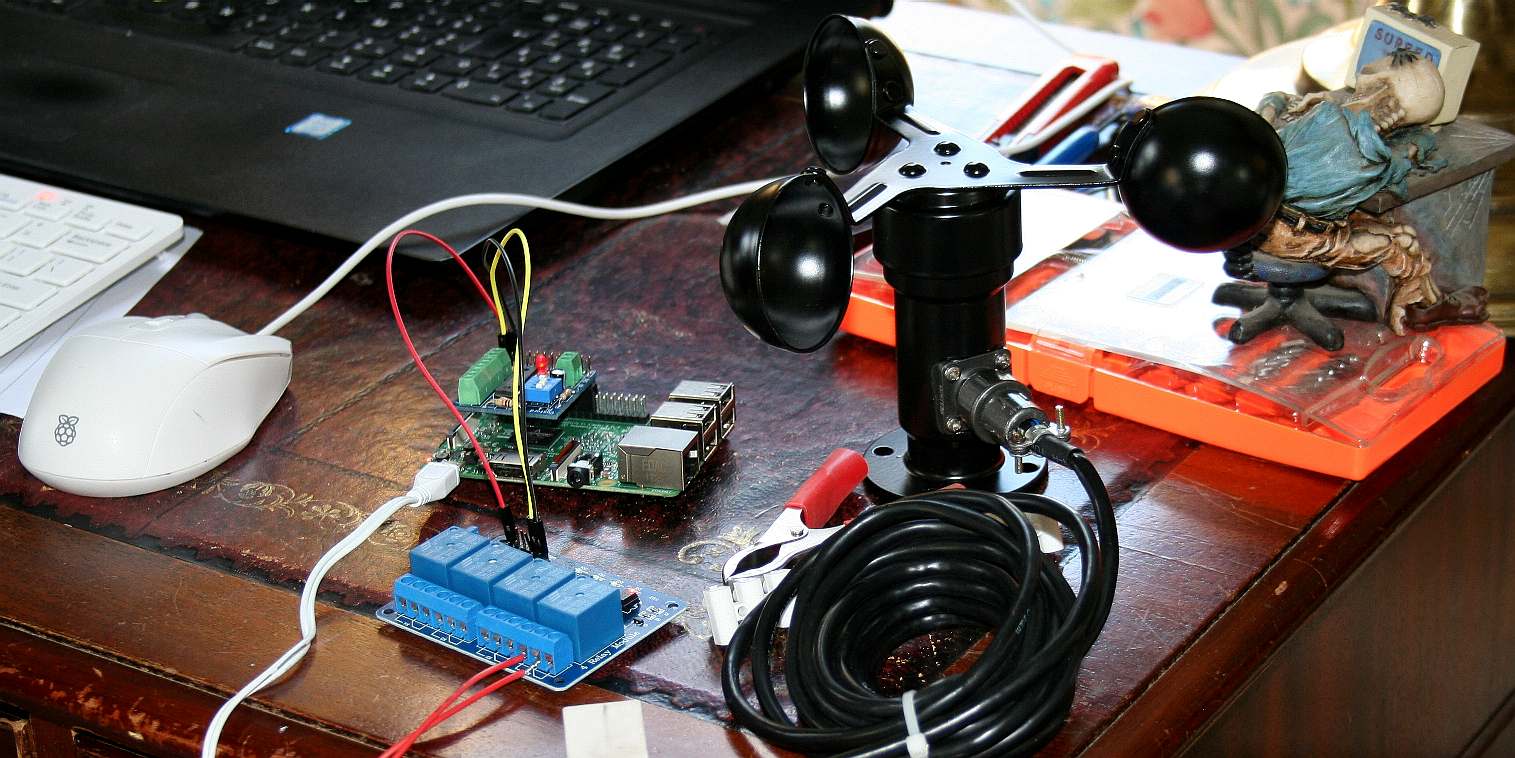 WEATHER STATION - Reading the environment is necessary to be able to trim the wind turbines and solar arrays. In one experiment a Raspberry pi is used to operate the hydraulics that position the wind turbines according to wind speed as read by this anemometer. Banks of relays trigger the solenoids in sequence to open and close the hydraulic valves for the lifting and lowering rams. Copyright © diagrams 29 April 2019. All rights reserved, Cleaner Ocean Foundation Ltd.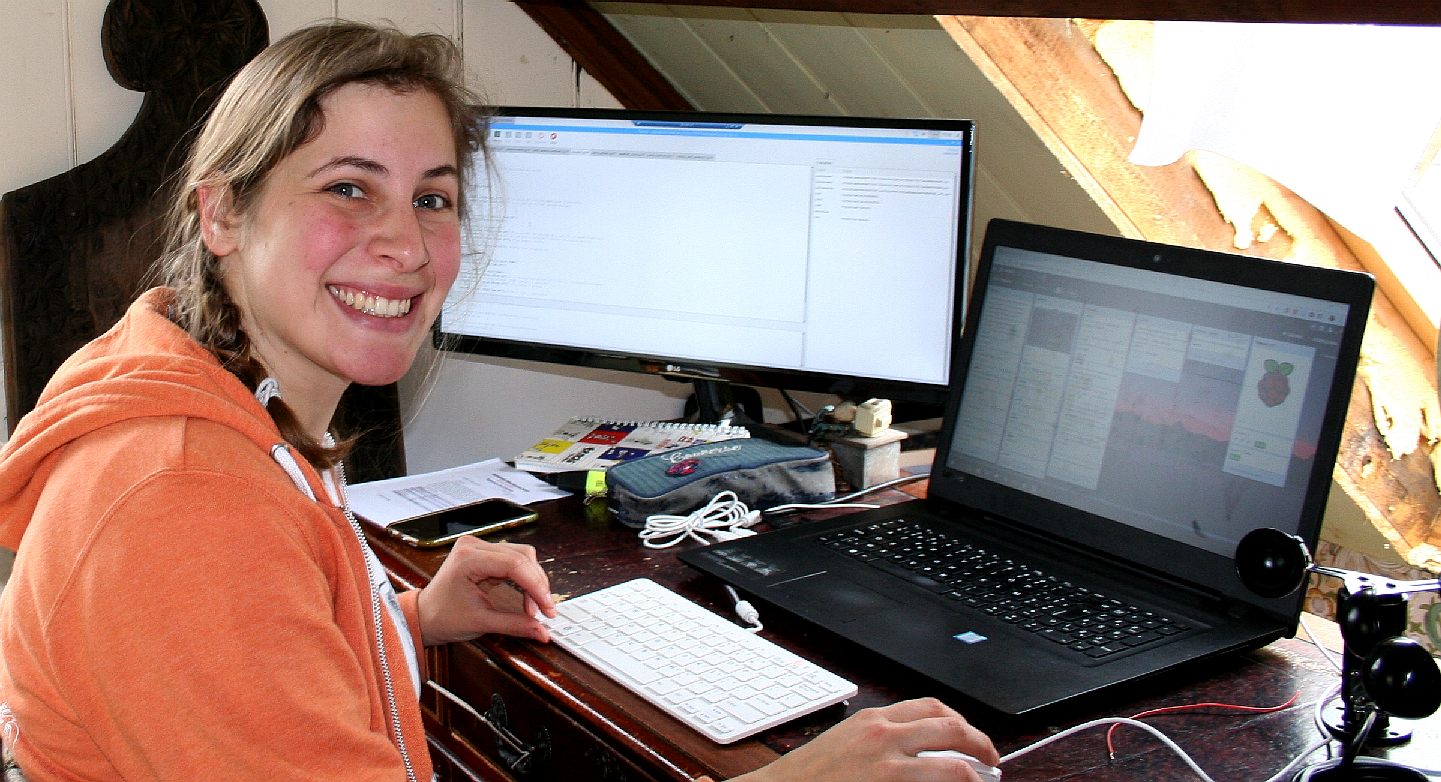 PROGRAMMING - It's a lot of hard work, building a program to read all the elements needed to control an energy harvesting station. Some code is available as free source, but most of what is needed to make a workable solution has to be custom written. A Belgian student is seen here working on coding for wind speed measurement sensors. She worked on site for 3 months, returning to Belgium to further develop a software model. Copyright © photograph 9 May 2019. All rights reserved, Cleaner Ocean Foundation Ltd.
In the mid-term:
It is hoped that with the availability of selective cleaning machines, of which one concept is described in this present proposal, that damage from marine litter to the local blue-economy and marine ecosystems services might be significantly reduced, to benefit biodiversity and in turn coastal tourism and food production.
If deployed at appropriate levels as described alongside other means of preventing unregulated discharges from sewers, rivers and waste outfalls, stakeholders might achieve up to 80% reductions of micro-plastics in shellfish or other locally important small marine animals, in treated areas. Once again, raising awareness of the damage that micro fibers are causing in consumers and manufacturers, is seen as being crucial to dealing with the problem.
Such developments are sure to increase scientific knowledge and thus the sharing of marine technology, taking into account the Intergovernmental Oceanographic Commission Criteria and Guidelines on the Transfer of Marine Technology, in order to improve ocean health (UN SDG 14).
Where the quantity of collected marine plastics will rise with routine deployment of cleaning machines, this should go hand-in-hand with methods to reuse the recovered resource in a way that meets the objectives of the European Strategy for Plastics in a Circular Economy.
The development of ocean cleaning machines in timely fashion, not limited to the present concept, might serve as a model to shorten the time span between research and innovation, and implementation of solutions to foster economic value in the blue economy.
In the context of data sharing, we have found that despite the requirement for openness in EC funded research that information is not as freely available as it might be, braking what might be achieved if there were for example a pool of knowledge. In the present proposal the Lead hopes to publish the results of any experiments with the aim of assisting those working and being trained to work within the blue economy, such as to contribute to knowledge of the distribution and fate of marine litter and microplastics.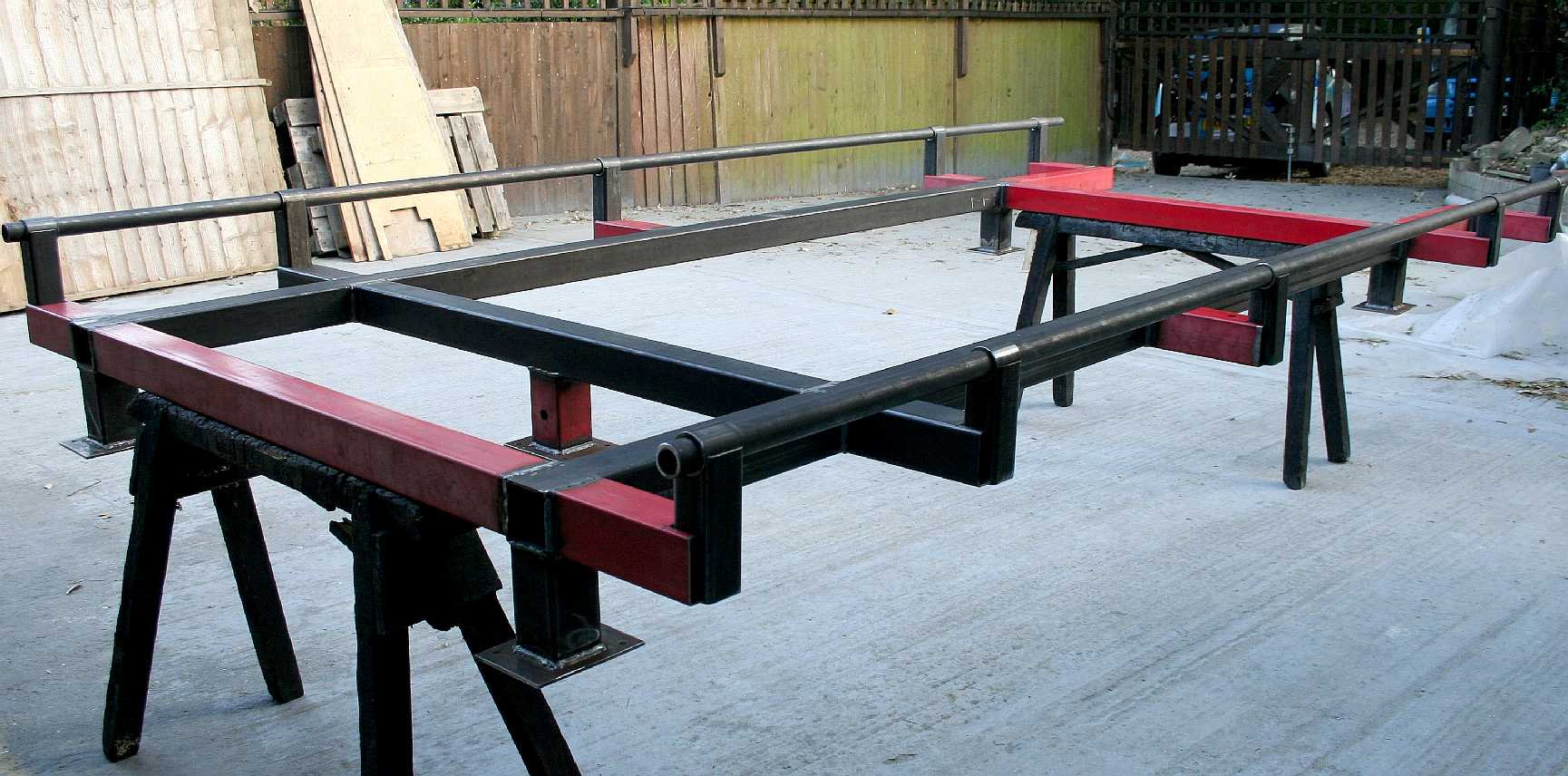 SOLAR ARRAY FRAME & HINGES - Bearing posts are seen here slotted into a central carrier frame to hinge the solar outriggers. This is exactly the same system as proposed for a pilot ocean cleaning machine - only the ocean going system would be several times this size to increase PV area, with beefier bearings and hinges - and the material would be a marine grade alloy such as 5083. Copyright photograph © 30-04-19 Cleaner Ocean Foundation Ltd, all rights reserved.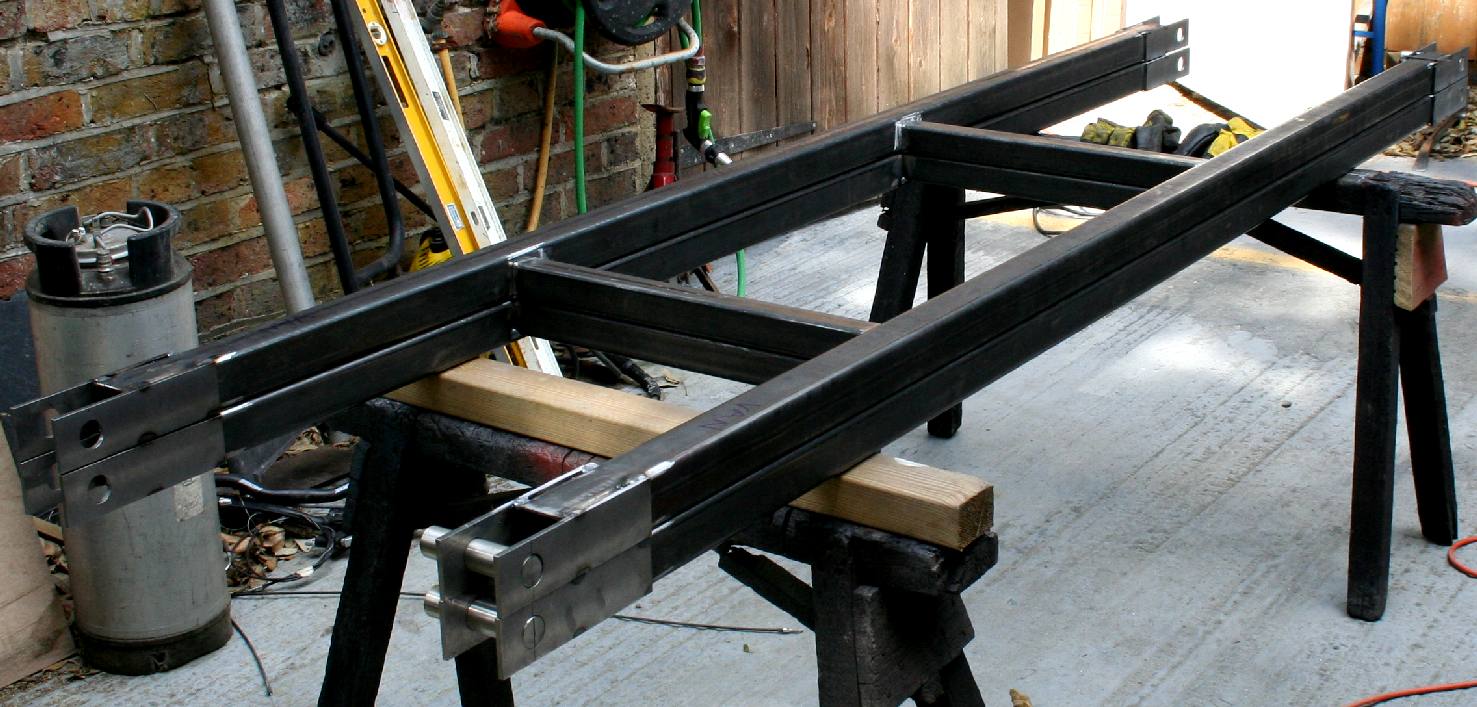 WIND TURBINE MASTS - These masts are the same size as those in the CAD drawings of the proposed pilot vessel. The difference for the ocean going version would be the construction material, where these steel items would be replaced with marine grade aluminum alloy and the whole structure re-stressed for the lighter material.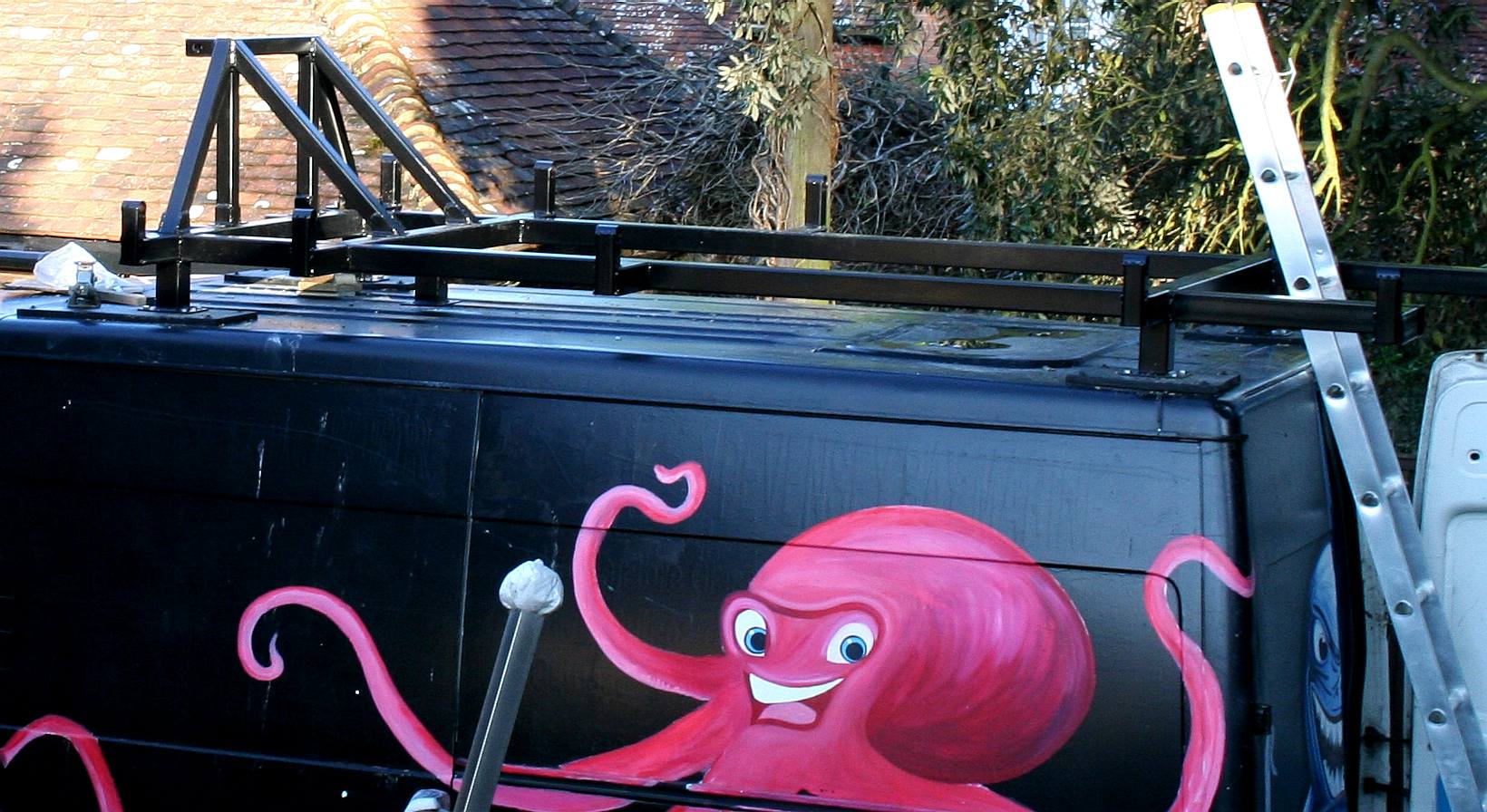 EXPERIMENTAL DONOR VEHICLE - An old Ford Transit was used as a mobile land vehicle, on which to conduct experiments. It would be part of the proposed project to keep this vehicle operational and complete the solar panel tracking mechanism, such that a simple transplant of the hydraulics and computer control might be implemented with upgrades were necessary.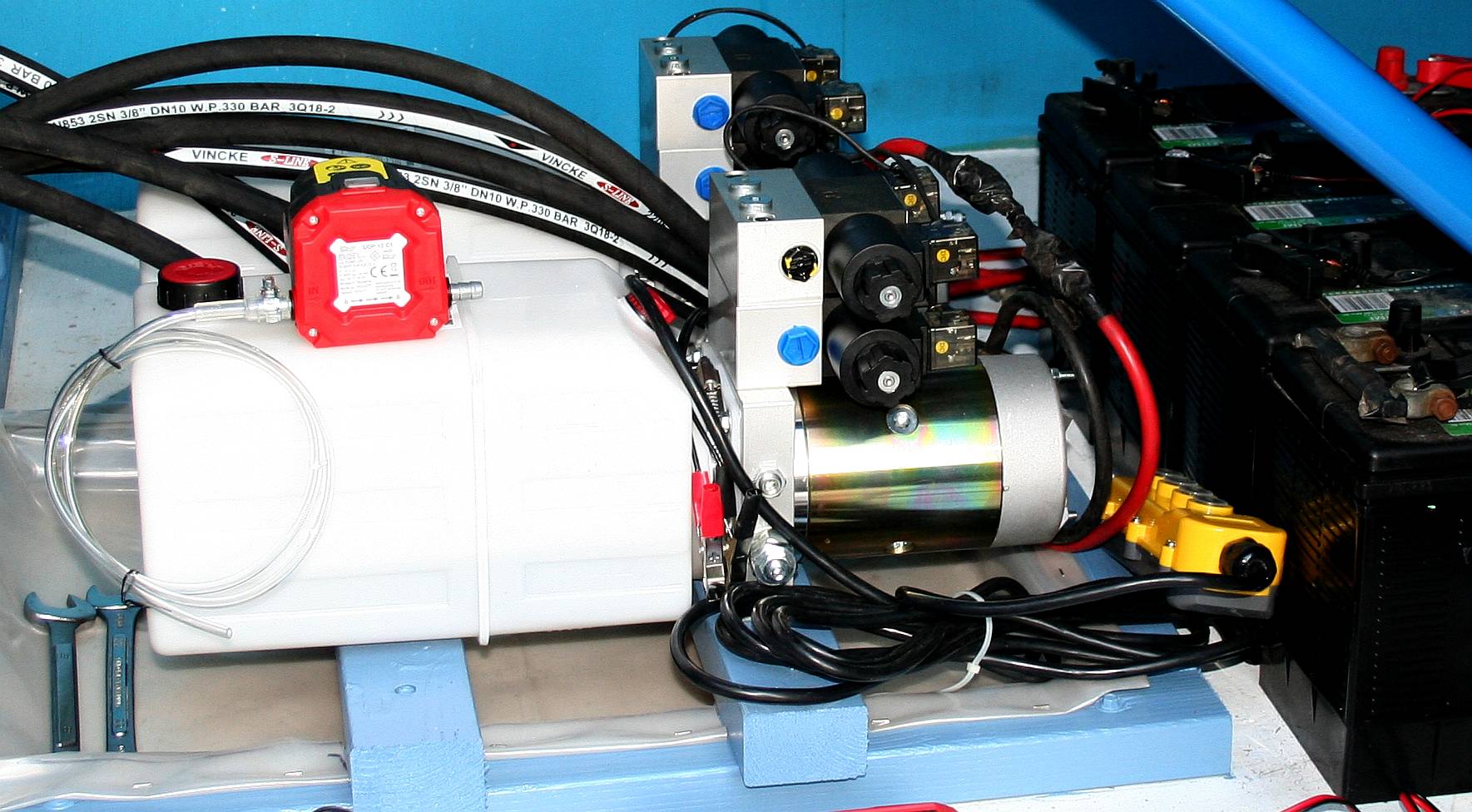 THE ACTUATORS - These are the hydraulic power packs that lift the wind turbines high above deck clutter and enable furling. Another similar power pack is to be used to rotate the solar wings to enable them to track and face the sun as much as is possible. The mast mechanism uses linear rams, whereas the arrays use rotary motors. Orientation of cleaning machines in any given geographical region is therefore important.
In the long run:
The deployment of fleets of machines with greater capacity might provide a means of achieving the 80% reduction of micro-plastics and plastics in non-migratory birds species that the EC are concerned with. Where plastic pollution is a global issue, deployment in isolation might not offer a solution. Deployment internationally via cooperation as to territories may achieve the desired reductions.
Locally, it is possible to deploy relatively low numbers of large cleaning machines to reduce macro and micro plastics. Specifically, this would be by targeting river estuaries.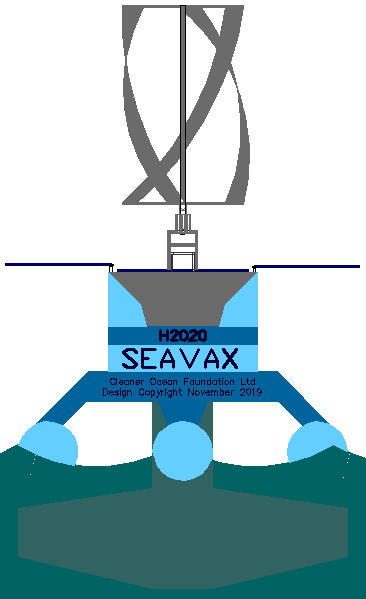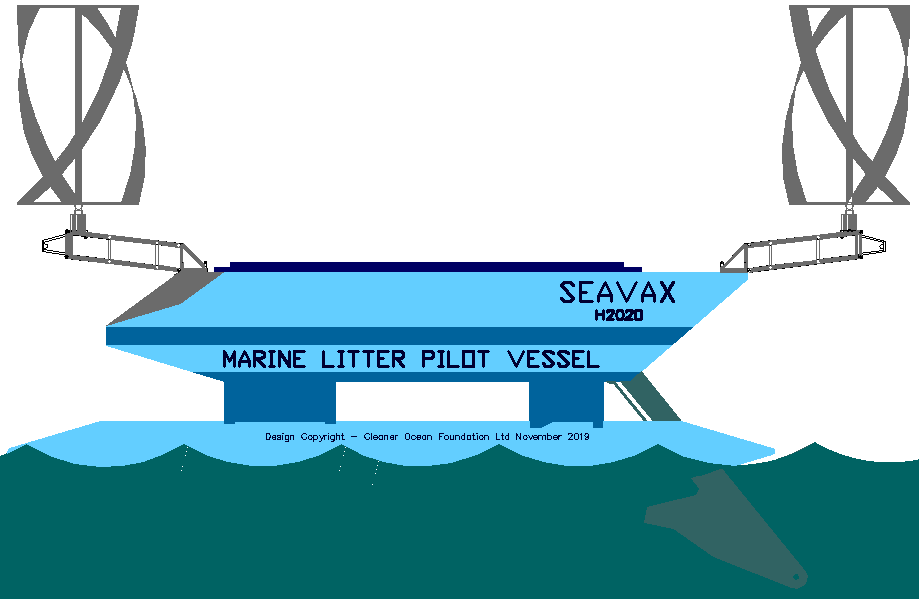 EFFICIENT - This machine has (on paper) a head that may be deployed to depths of 3 meters in normal (surface) operation, with a roving capacity to drop to 8 meters or more. Larger machines based on the concept may be designed to operate at greater depths. The energy harvesting mix is to be investigated, to compare proprietary horizontal wind turbines with a recently developed vertical axis machine potentially offering higher vector conversion efficiencies. Please note that these drawings are Copyright © November 2019 Cleaner Ocean Foundation and Bluebird Marine Systems Ltd.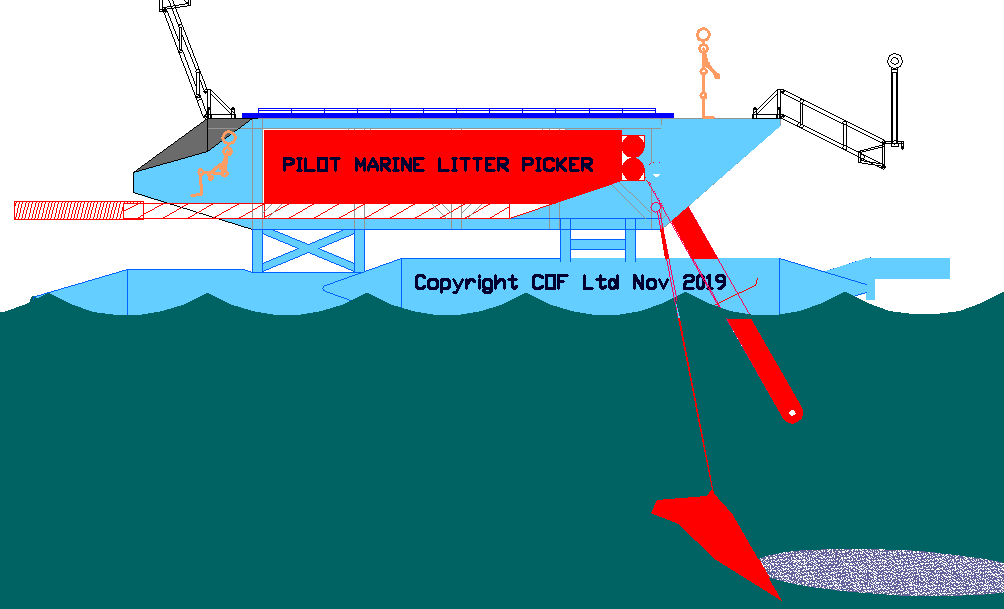 DEEP CLEAN - In this diagram we see the selective filter cleaning head lowered to a depth of 8 meters to deal with deeper micro plastics. Surface plastic may still be collected with the conveyor system. By this means surface and subsurface litter can be tackled. Copyright © diagrams 25 November 2019. All rights reserved, Cleaner Ocean Foundation Ltd.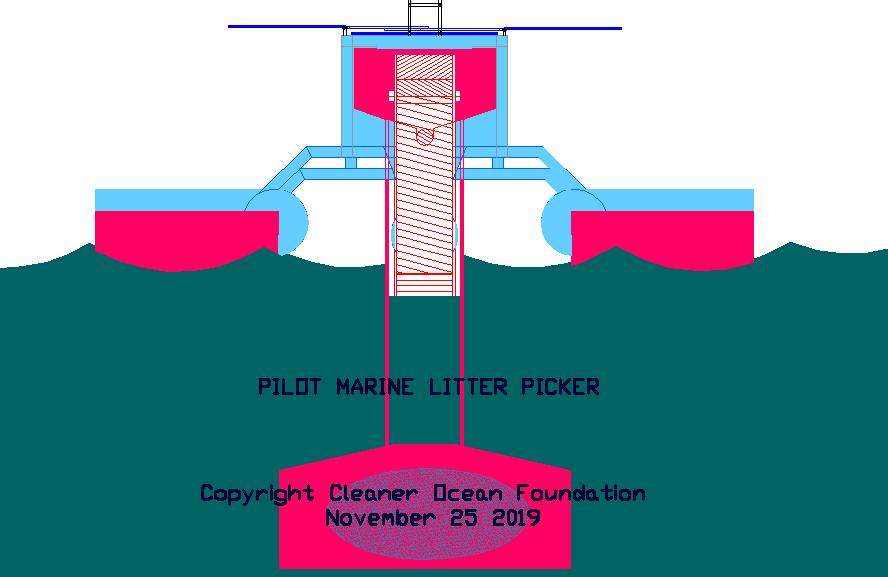 FRONT VIEW SUBSURFACE MODE - As with the diagram above, the Pilot litter picker is traveling towards the viewer - but here we see the filtration head lowered to harvest plastics in rivers or deeper in harbours and marinas. Copyright © diagrams 25 November 2019. All rights reserved, Cleaner Ocean Foundation Ltd.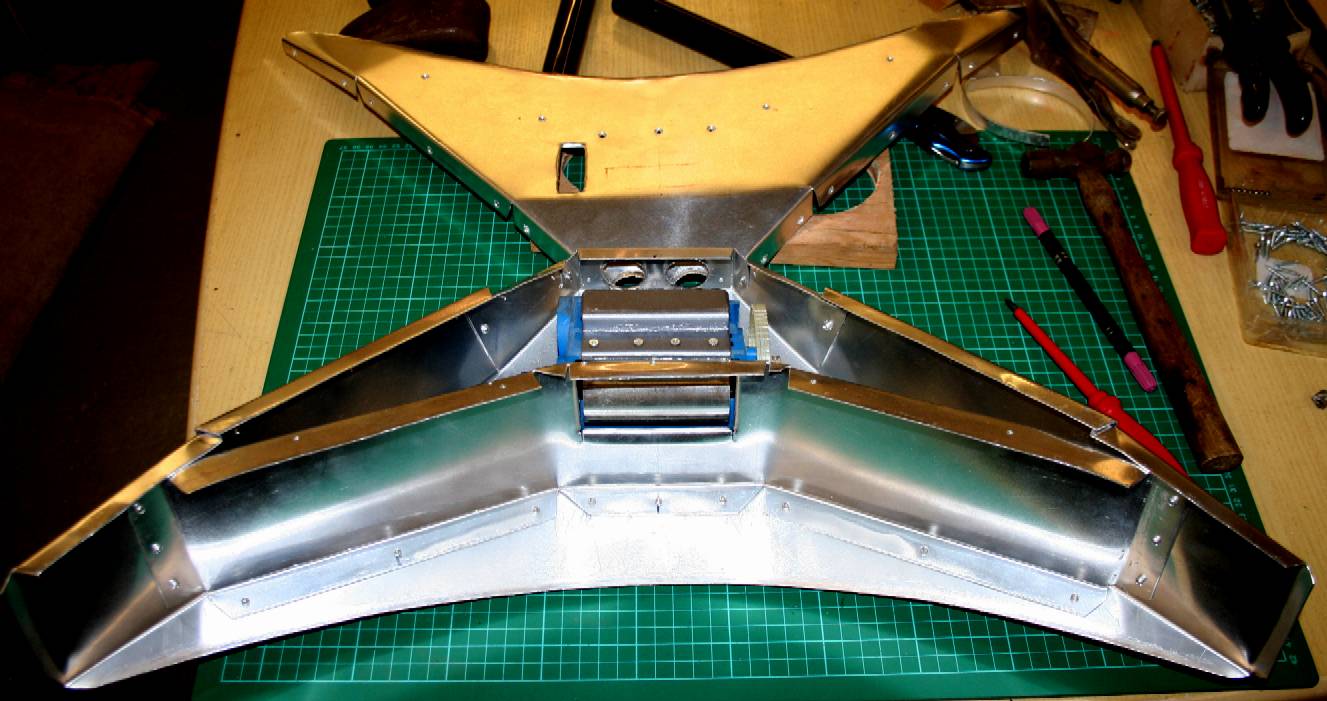 2016 TEST HEAD - Construction of an alloy collector head from early experiments showing the inline shredding filter that is to be replaced with a more efficient system as part of the proposed development - including scaling up. This component was only for macro and micro plastics of one size. The proposed pilot vessel will be able to cope with different sizes of small plastics, all the way up to large objects. The development of this concept to cope with micro and macro size particles is crucial to the effective operation of any water filtration machine. Otherwise, clean up operations could harm marine life. Hence, the need to be able to identify biota, such as not to harvest that while trawling for plastic. We are the only organization that has extracted micro plastics from water in volume.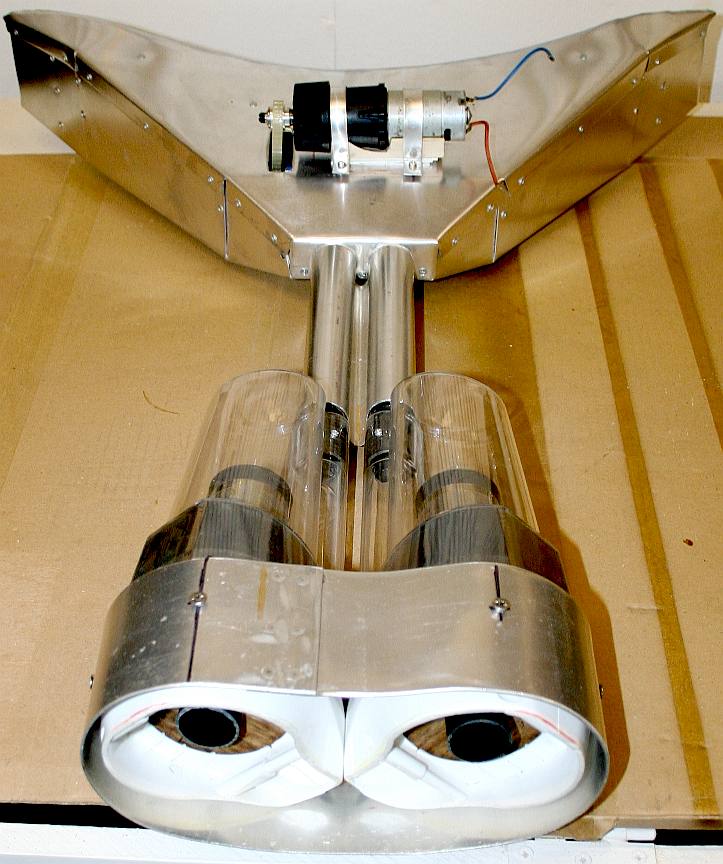 FILTRATION - The prototype alloy collector head and hydrocyclonic filters in series. Twin pumps (not shown) pulled water through the system as needed. This head was fitted to the proof of concept model at the top of this page for tank and other tests. There will be other filtration stages ahead of any version of this system, to include identification sensors, to deal with bigger plastic objects upfront, and prevent marine biota from entering the works, where plastic is the target.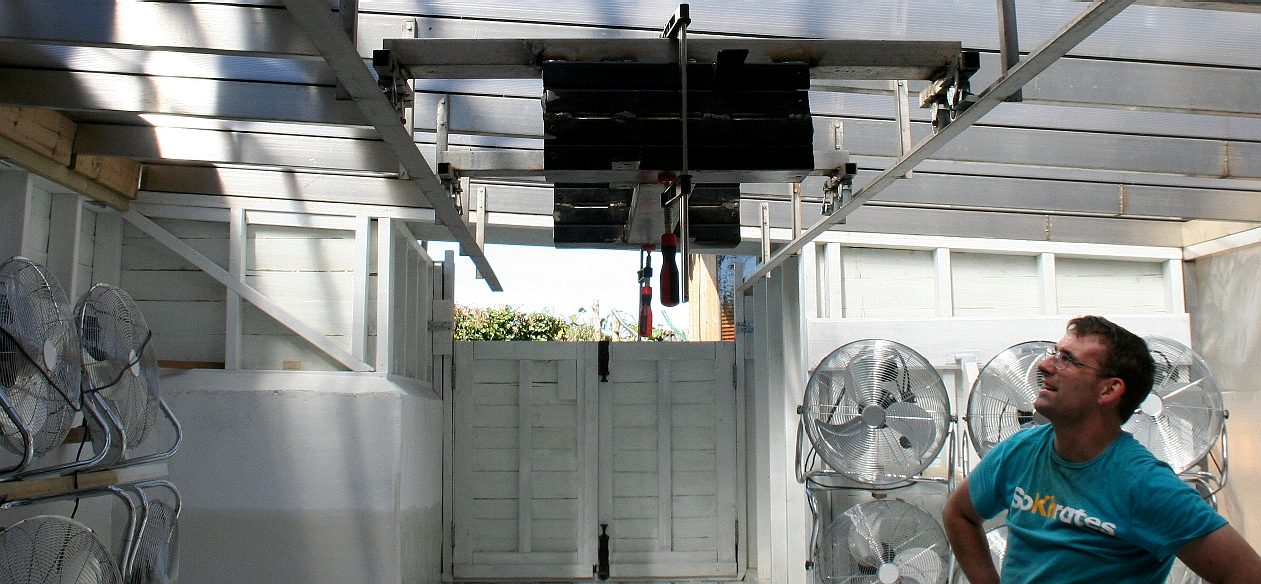 ENCLOSED WATER BASIN - We built a housing for the water tank, with an overhead gantry to deliver test models from the loading bulkhead (sluice gate) to the middle of the basin. We also fitted banks of fans to be able to simulate storm conditions for vessels that are wind and solar powered, in furled mode and in fully operational mode with turbines raised and solar wings deployed.
This tank is ideal for testing the variable filter head that is to be fitted to the proposed Pilot vessel. Copyright © photograph July 15 2018.

CONSORTIUM AGREEMENT

Members of the proposed consortium are required by EC rules to conclude an agreement (in principle) prior to the signature of the grant agreement in 2020. Before this stage the the partners will be expected to sign a Letter of Intent, setting out the basis for forward cooperation and and outline of their role in the project.
CONSORTIUM BUILDING PROGRESS
| | | | |
| --- | --- | --- | --- |
| No. | COUNTRY | DATE | STATUS |
| - | - | - | - |
| 1 | Belgium | - | TBC |
| 2 | Denmark | 13-11-19 | Confirmed partner |
| 3 | France | 19-11-19 | Confirmed partner |
| 4 | France | 05-11-19 | Pending |
| 5 | Greece | 14-11-19 | Pending |
| 6 | Greece 2 | 15-11-19 | Confirmed partner |
| 7 | Greece 3 | 20-11-19 | Confirmed in principle |
| 8 | Italy | 10-11-19 | Pending |
| 9 | Italy 2 | 14-11-19 | Pending |
| 10 | Italy 3 | 15-11-19 | Pending |
| 12 | Netherlands | 25-10-19 | Pending |
| 13 | Netherlands | 19-11-19 | Confirmed partner |
| 14 | Spain | 08-11-19 | Confirmed partner |
| 15 | Spain 2 | 07-11-19 | Confirmed partner |
| 16 | Spain 3 | 12-11-19 | Confirmed partner |
| 17 | Switzerland | 11-11-19 | Confirmed partner |
| 18 | Turkey | 05-11-19 | Confirmed partner |
| 19 | Turkey 2 | 14-11-19 | Pending |
| 20 | UK 1 | 28-10-19 | Present lead* & confirmed partner |
| 21 | UK 2 | 05-11-19 | Confirmed partner |
| 22 | UK 3 | 11-11-19 | Confirmed partner |
| 23 | UK 4 | 18-11-19 | Confirmed partner |
| 24 | UK 5 | 19-11-19 | Confirmed partner |
| 25 | UK 6 | 20-11-19 | Confirmed in principle |
| 26 | Slovenia | 27-11-19 | Confirmed partner |
NOTE: - We have sufficient partners to construct the Pilot Marine Litter Picker vessel, filtration head and energy harvesting system, including wireless remote navigation. We are still looking for medical and others in sensors, automation and object recognition. We will though need to limit the numbers for the sake of keeping the project containable. That means we could do with a partner on that front.
TECHNOLOGY SUPPLIERS
| | | |
| --- | --- | --- |
| No | COUNTRY | DESCRIPTION |
| - | - | - |
| 1 | Denmark | Optimal routing for wind/solar |
| 2 | France | Automation energy harvesting |
| 3 | UK | Engineering & design |
| 4 | Spain | Micro plastics |
| 5 | Turkey | Automation litter harvesting |
| 6 | Spain | Platform design |
| 7 | Greece | Naval architects |
| 8 | Germany | Commercialization finance |
| 9 | Netherlands | Remote navigation |
| 10 | Spain | Water treatment |
| 11 | Spain | Solar panel design |
| 12 | Portugal | Comms |
| 13 | Turkey | Energy management |
| 14 | UK | Plastic recycling |
| 15 | Switzerland | Friction reducing coatings |
| 16 | UK | Wind turbines |
| 17 | Spain | Solar energy systems |
| 18 | Spain | Object recognition |
| 19 | France | Earth observation prediction |
| 20 | UK | Litter harvesting machinery |
| 21 | Slovenia | Weather information |
| - | - | - |
| - | - | - |
OPEN DATA

Where relevant, our proposal will provide information on how the participants will manage the research data generated and/or collected during the project, to include details of what types of data the project is likely to generate and how this data might be exploited and preserved.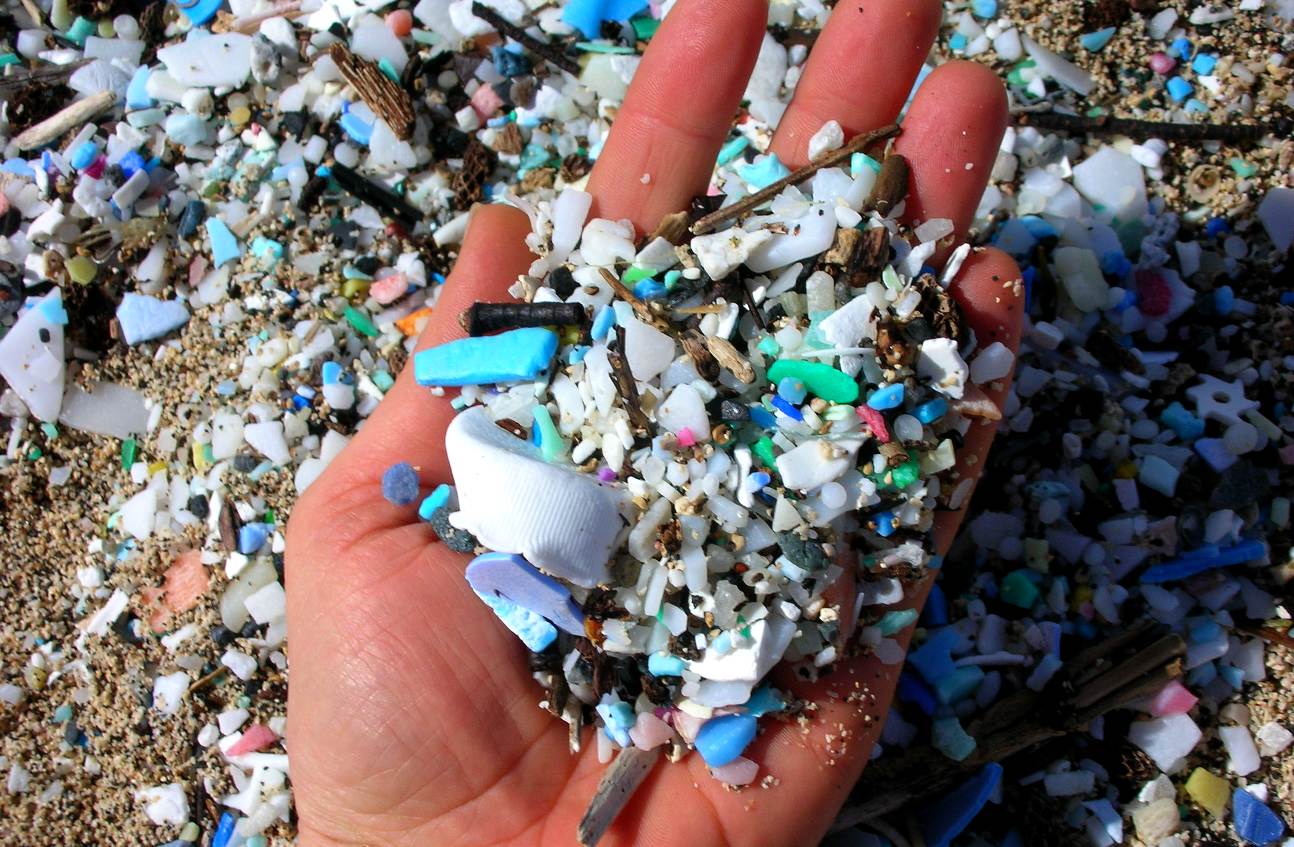 SUSTAINABILITY

This project ticks the United Nation's Sustainable Development Goals (SDGs):
SDG 2 – Zero Hunger;
SDG 6 – Clean Water and Sanitation;
SDG 8 – Inclusive and sustainable economic growth;
SDG 9 – Sustainable Industrialisation;
SDG 11 – Sustainable Cities and Communities;
SDG 12 – Responsible Consumption and Production;
SDG 13 – Climate Action;
SDG 15 – Life on Land.
FUNDING RATE INNOVATION ACTIONS (IA)
Projects may include limited research and development activities and the funding rate is 70% (except for non-profit legal entities, where a rate of 100% applies).
POLITICS
We remain hopeful that EU politicians and policy makers will want projects like this to run full term, but should the worst happen and Brexit* becomes an issue such as to cause any member to be forced to walk away from participation in their original role, then in that unfortunate situation the partners agree that the technology that they bring to the table leaves with them.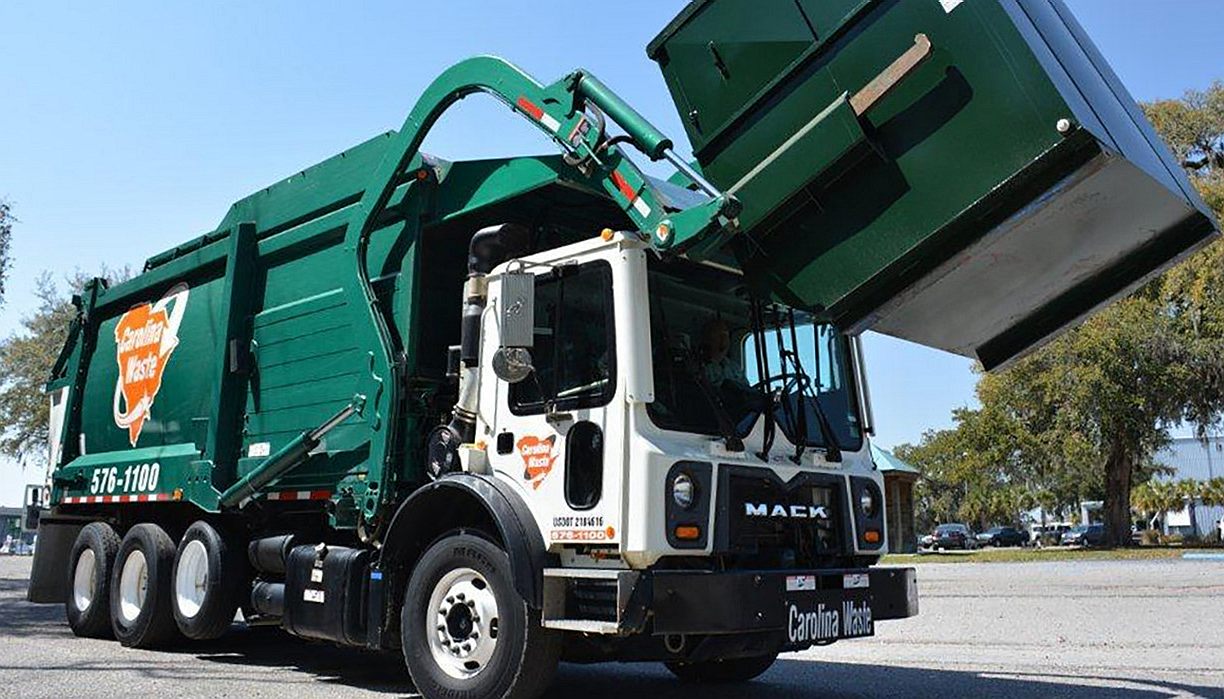 DOCKSIDE COLLECTIONS - For demonstration purposes (only) we might offload plastic to dockside containers using a re-purposed 2nd user waste truck at very low cost. Ideally, we'd be looking for recycling facilities close to where a MultiVax pilot machine comes into ports to offload.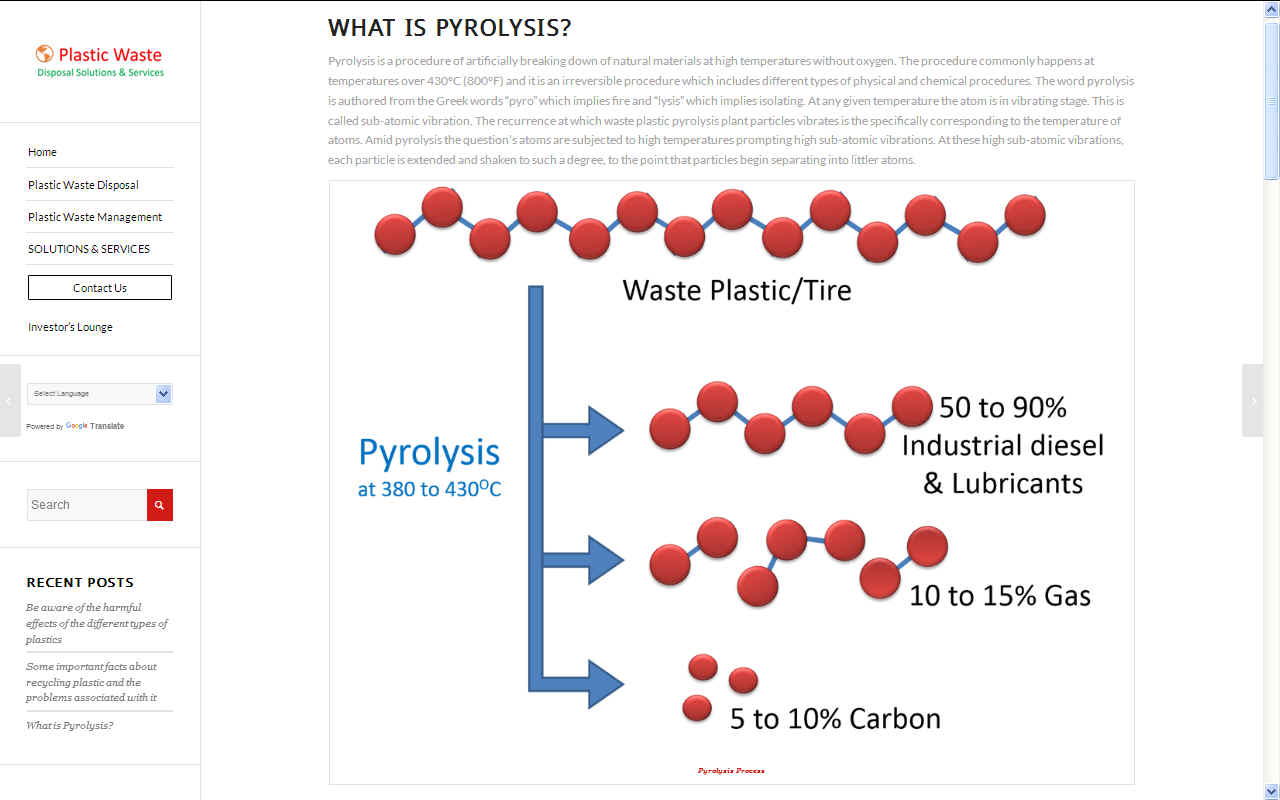 PYROLYSIS - An alternative is to transfer waste at sea to floating re-processing factory ships. But such development would be very costly and involve substantial investment (though a long-term objective perhaps), against close to dock facilities that are commercially available today and simply need to be located sympathetically - along with other recycling of plastics that lend themselves to re-use, such as PET.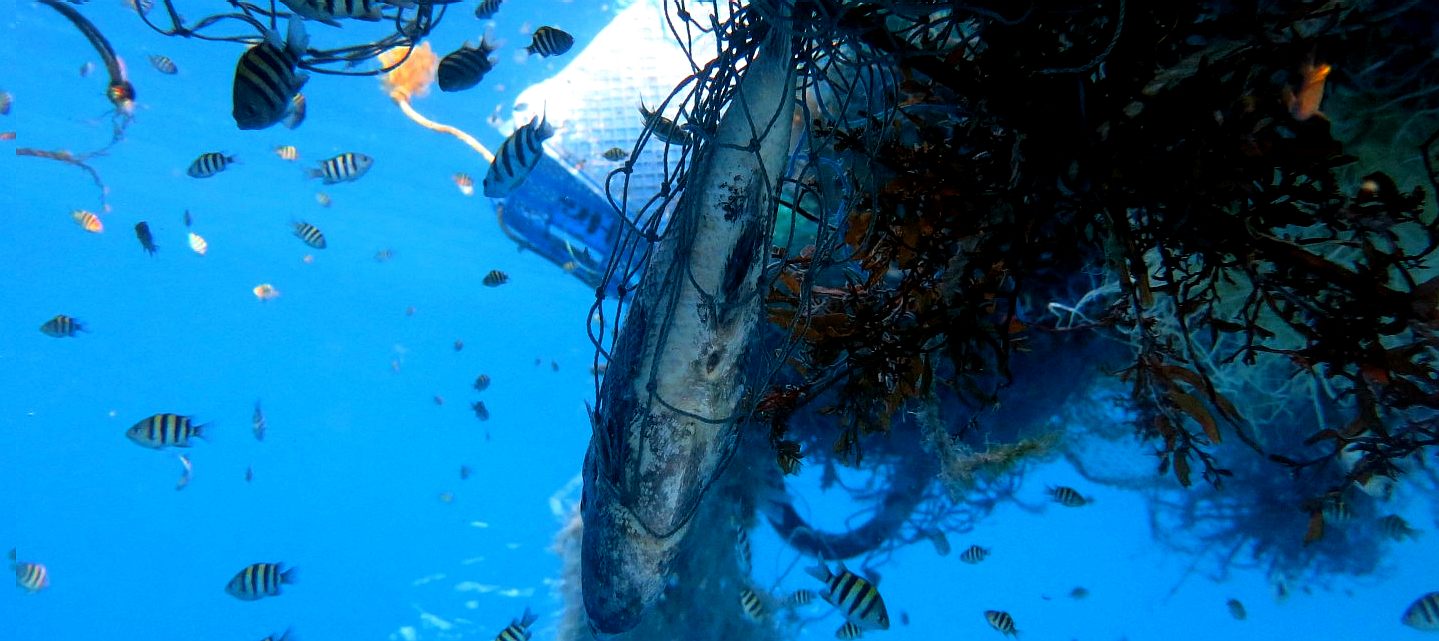 PROBLEM - From 2000 to 2012, the National Marine Fisheries Service reported an average of 11 large whales entangled in ghost nets every year along the US west coast. From 2002 to 2010, 870 nets were recovered in Washington (state) with over 32,000 marine animals trapped inside. Ghost gear is estimated to account for 10% of all marine litter.

According to the SeaDoc Society, each ghost net kills $20,000 worth of Dungeness crab over 10 years. The Virginia Institute of Marine Science calculated that ghost crab pots capture 1.25 million blue crabs each year in the Chesapeake Bay alone.

In May 2016, the Australian Fisheries Management Authority (AFMA) recovered 10 tonnes of abandoned nets within the Australian Exclusive Economic Zone and Torres Strait protected zone perimeters. One protected turtle was rescued.
ABS American Bureau of Shipping
LINKS & REFERENCE
http://mio-ecsde.org/sdg14-and-marine-litter-what-progress-has-been-made-in-the-mediterranean/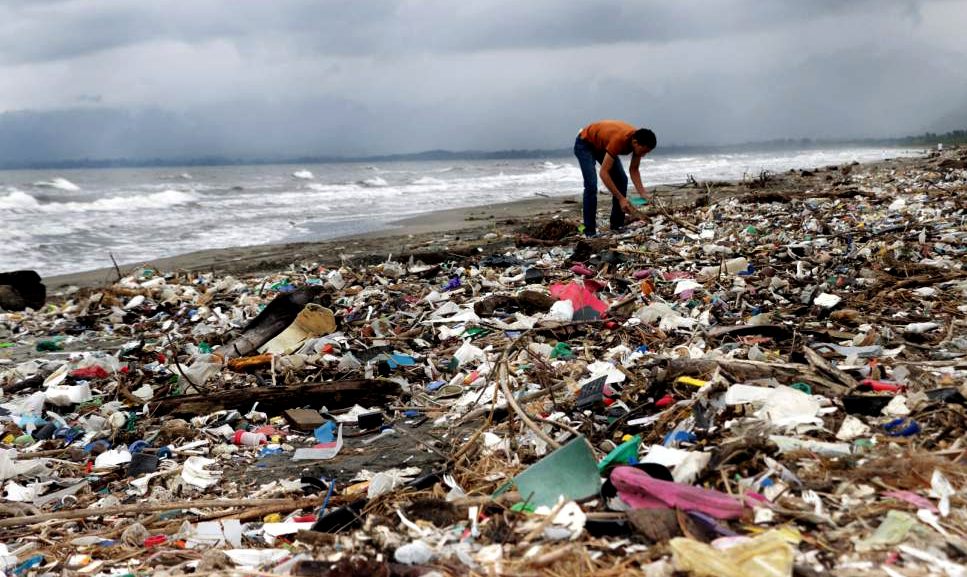 COASTAL TOURISM - Beaches like this all over the world tell the story, affecting coastal tourism and killing wildlife.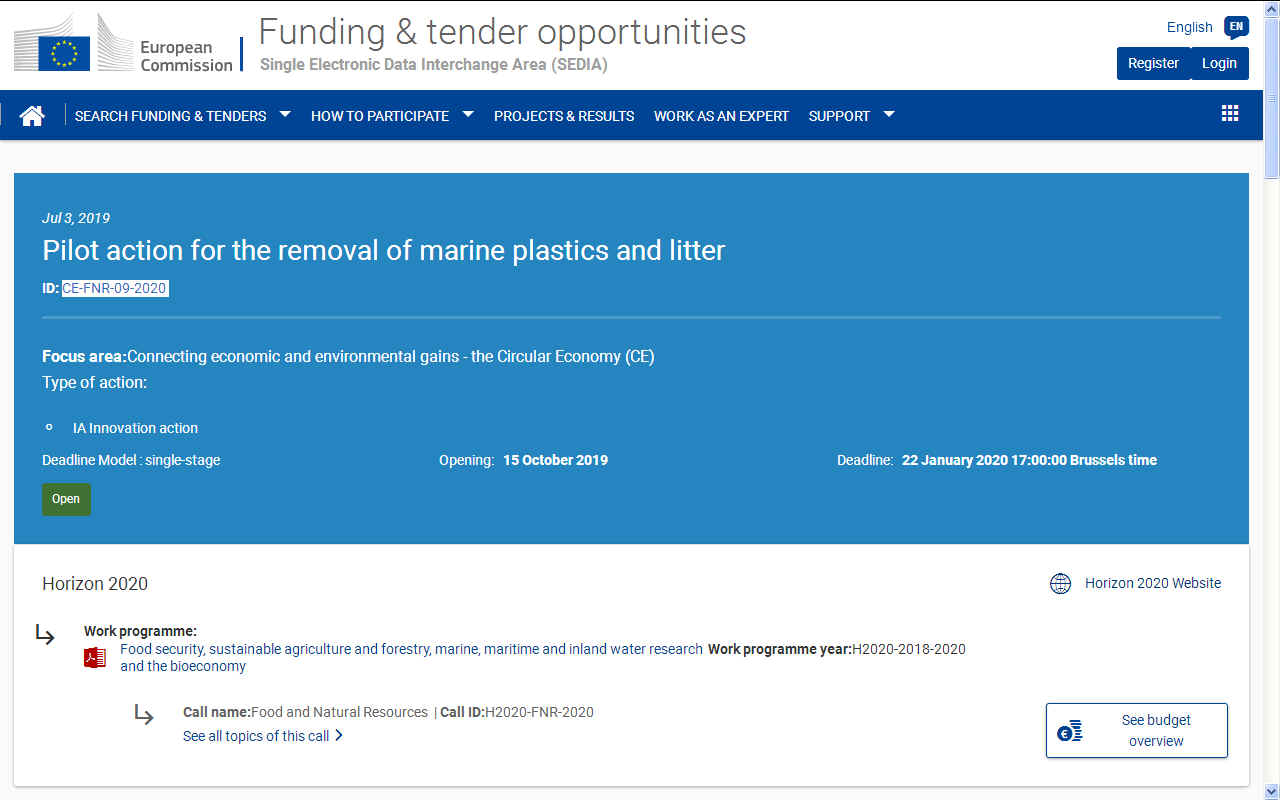 H2020 WORK PROGRAMME - Pilot action for the removal of marine plastics and litter. Cleaner Ocean Foundation Ltd would be interested in forming a consortium for this call and are currently seeking eligible collaborative partners within the EU. This is to further develop the SeaVax concept, to take it to TRL 6, funding permitting.