A conceptual autonomous energy harvesting rig was built full size and fitted to a Ford Transit van during the months of March and May 2019. This rig as seen in the CAD drawing below, is shown on the proposed Pilot SeaVax platform at the foot of this page.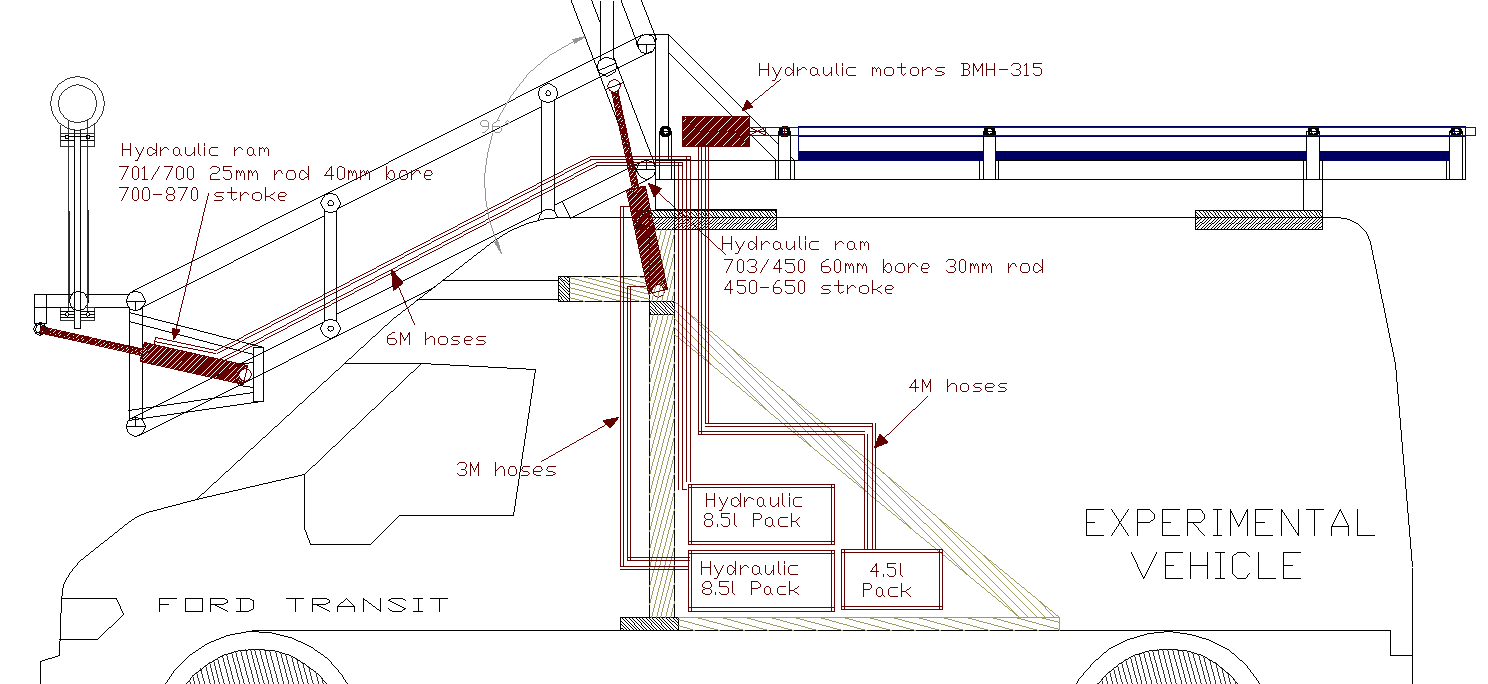 CAD DESIGN - Beginning in March and ending in May 2019, we designed an experimental rig to raise and lower wind turbines and get a feel for the hydraulics. The brief was to keep the project low cost (under £5,000) and that the rig should fit into and onto a standard LWB Ford Transit van - seen below. The rig included solar fold out wings that are to be tested in 2020, before fitting a slightly larger system to a prototype vessel - an example of which is the Pilot at the head of this page.
SOLAR ARRAY FRAME & HINGES - [LEFT] Bearing posts are seen here slotted into a central carrier frame to hinge the solar outriggers. This is exactly the same system as proposed for a pilot ocean cleaning machine - only the ocean going system would be several times this size to increase PV area, with beefier bearings and hinges - and the material would be a marine grade alloy such as 5083. Copyright photograph © 30-04-19 Cleaner Ocean Foundation Ltd, all rights reserved. WIND TURBINE MASTS - [RIGHT] These masts are the same size as those in the CAD drawings of the proposed pilot vessel. The difference for the ocean going version would be the construction material, where these steel items would be replaced with marine grade aluminum alloy and the whole structure re-stressed for the lighter material.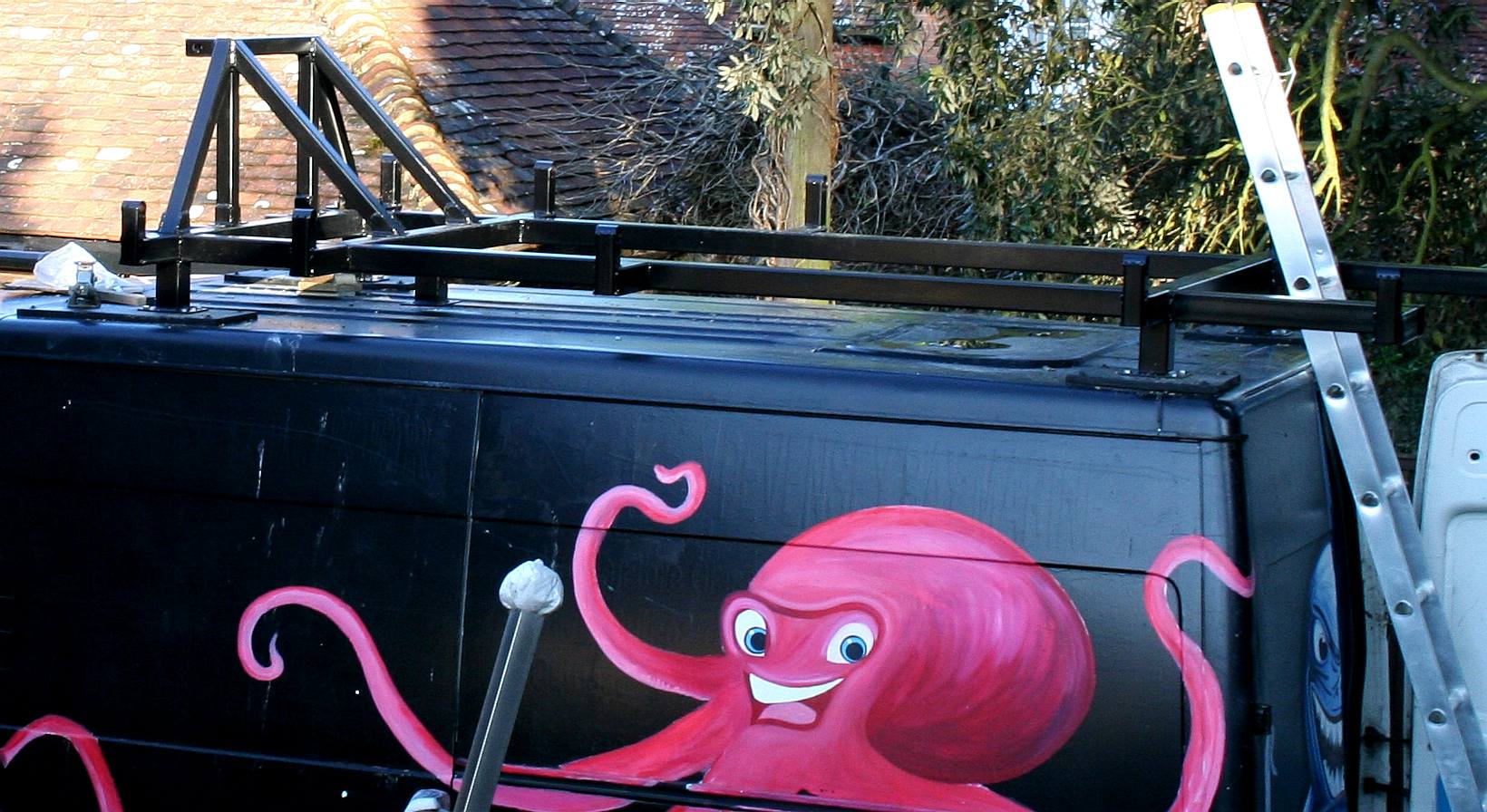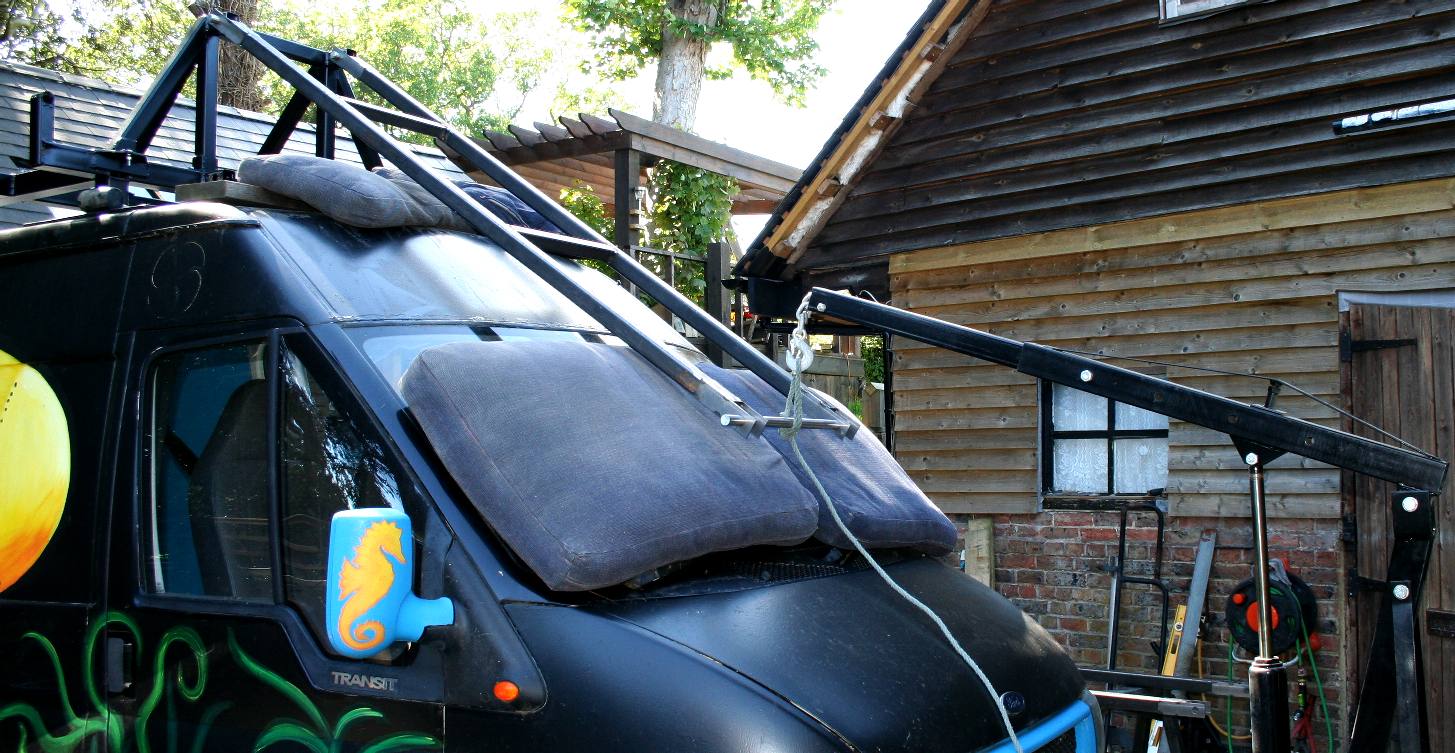 EXPERIMENTAL DONOR VEHICLE - An old Ford Transit was used as a mobile land vehicle, on which to conduct experiments. It would be part of the proposed project to keep this vehicle operational and complete the solar panel tracking mechanism, such that a simple transplant of the hydraulics and computer control might be implemented with upgrades were necessary.
THE ACTUATORS - These are the hydraulic power packs that lift the wind turbines high above deck clutter and enable furling. Another similar power pack is to be used to rotate the solar wings to enable them to track and face the sun as much as is possible. The mast mechanism uses linear rams, whereas the arrays use rotary motors. Orientation of cleaning machines in any given geographical region is therefore important.
PROGRAMMING - [LEFT] It's a lot of hard work, building a program to read all the elements needed to control an energy harvesting station. Some code is available as free source, but most of what is needed to make a workable solution has to be custom written. A Belgian student is seen here working on coding for wind speed measurement sensors. She worked on site for 3 months, returning to Belgium to further develop a software model. Copyright © photograph 9 May 2019. All rights reserved, Cleaner Ocean Foundation Ltd. WEATHER STATION - [RIGHT] Reading the environment is necessary to be able to trim the wind turbines and solar arrays. In one experiment a Raspberry pi is used to operate the hydraulics that position the wind turbines according to wind speed as read by this anemometer. Banks of relays trigger the solenoids in sequence to open and close the hydraulic valves for the lifting and lowering rams. Copyright © diagrams 29 April 2019. All rights reserved, Cleaner Ocean Foundation Ltd.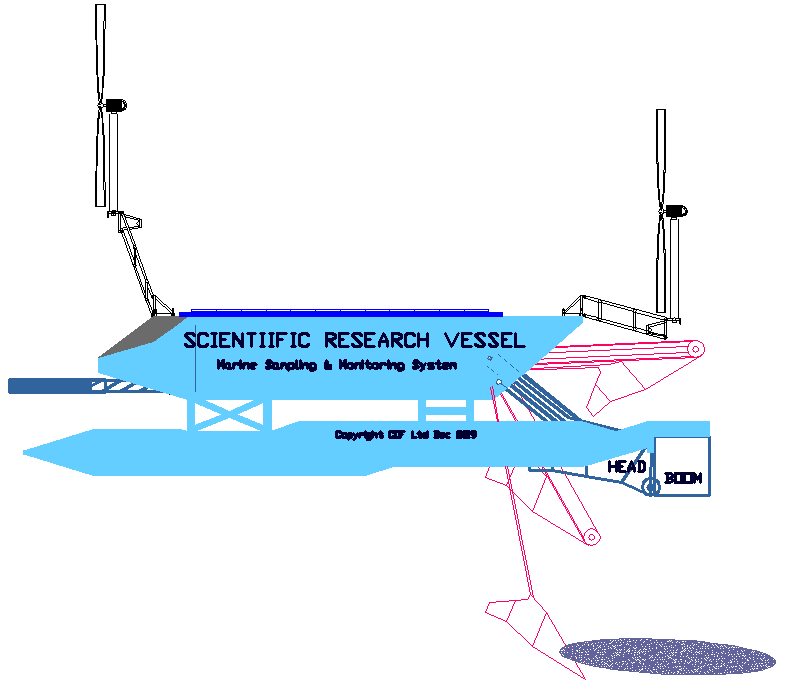 ZERO CARBON PERSISTENT MONITORING & RECOVERY - Machines like the proposed 17 meter Pilot SeaVax above could provide sufficient energy to sample the marine environment continuously, also able to transport the sensors and sampling equipment anywhere in the world without using fossil fuels. The head of this machine can be raised out of the water during transit, and lowered to 8 meters to sample microplastics near or on the seafloor or riverbeds - three example positions shown in red. It should be possible to design a head to travel to greater depths, but this will require additional R&D over and above that to achieve what is shown in principle.
NOTE: At the moment this is just a concept, without appropriate levels of funding for research and then for development & build, ZEV research vessels like this will never become a reality. It would be a mistake to think that with a drawing like that above, that the research to make it possible has already been done.
LINKS & REFERENCE
http://