The Ocean Symposium 2021 was an in-person/online fusion event! Featuring a cast of world class speakers, underwater films, and Youth Ambassador presentations - and a global audience via Zoom!

The Ocean Symposium 2021 - "Think Global, Act Local" was held on Saturday the 2nd of October, live from the stunning Durbar Hall at the Hastings Museum & Art Gallery.
The presentations included local and global science. You were invited to join them in-person or from anywhere in the UK or around the world live through Zoom! Tickets were sold out for attendance at the Durbar Hall. The speakers gave freely of their time, some traveling considerable distances - featured here in order of appearance.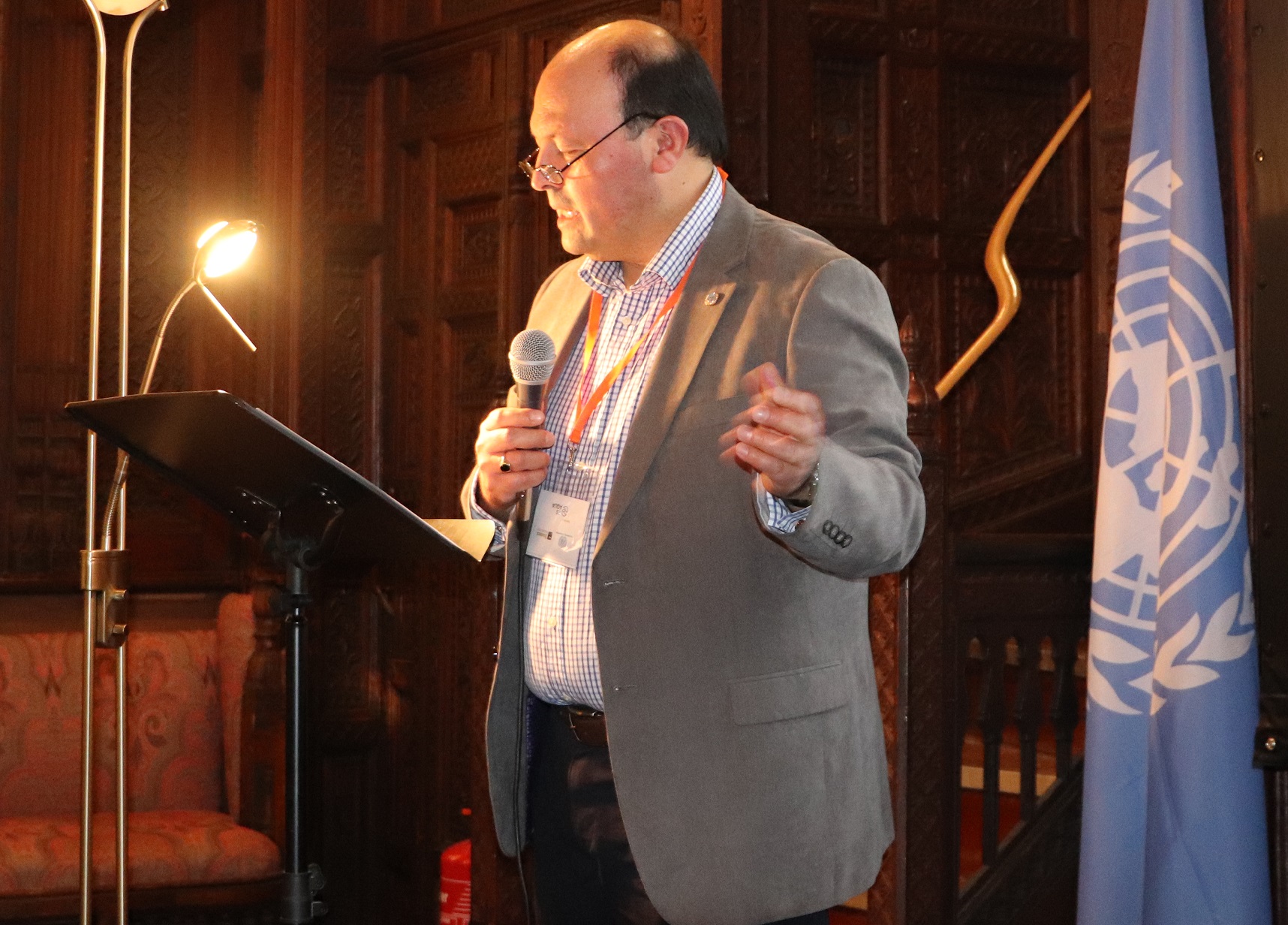 GONZALO ALVAREZ - The Chairman of the UNA O&C, was the master of ceremonies, coordinating the event with the generous assistance of Museum staff, who all contributed to make the event a success. The event was organized by Sussex Wildlife Trust and Youth Council members. Gonzalo is a marine biologist and tireless campaigner who inspires others to care about ocean life and the changing climate that is affecting most life in our seas, to their detriment.
'THINK GLOBAL, ACT LOCAL'

2021 is an important year for marine conservation with the United Nations launching the Decade of Ocean Science for Sustainable Development (2021 – 2030). This Decade will provide a common framework to ensure that ocean science can fully support countries' actions to sustainably manage the Oceans and more particularly to achieve the 2030 Agenda for Sustainable Development.

To link with and support the Decade, the United Nations Association (UNA), in collaboration with Sussex Wildlife Trust, hosted the Ocean Symposium 2021.

The UNA Oceans & Climate brought you exciting, world class speakers from Sussex and around the globe. The Symposium was designed to encourage people to 'Think Global, Act Local' about our Oceans, with talks on inspiring local projects, and from researchers further afield tackling global issues. There were also talks from youth voices bringing you their perspectives on marine conservation, and on ocean innovation, highlighting exciting technology which is helping to innovate marine research.

At this event the UNA O&C launched their 'Sussex Blue Charter.' We await details, having seen a taster.

The expert speakers responded to questions and answer sessions live at this impressive all-day event.


OPENING CEREMONY: Launch of the UN Decade of Ocean Science in the United Kingdom
The Mayor of Hastings - Cllr James Bacon was set to attend, but could not make it due to unforeseen circumstances. We were fortunate that Cllr Ruby Cox was able to come in at very short notice and say a few words about the work of Hastings Council in a world of climate turmoil. Thankyou to Hastings for their continued support.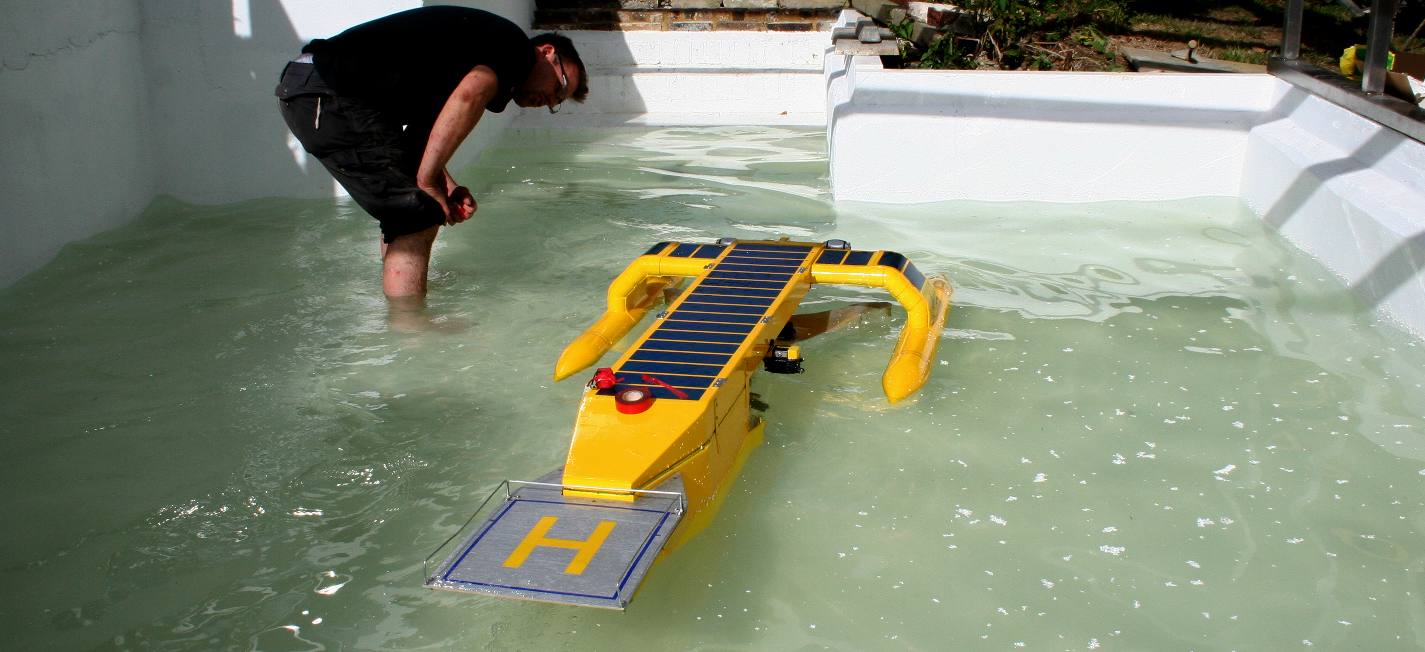 Nelson Kay - Cleaner Ocean Foundation/ Vice Chair UNA Climate & Oceans, gave some insight as to how the SeaVax project came about in 2015, as the result of an Australian solar engineer (friend) reading a patent specification for autonomous vessels and robotic fleet control, then making contact to say this tech and the associated 'Elizabeth Swann' vessel, was ideal to clean plastic from the oceans. It wasn't of course, requiring a complete redesign, but it got Bluebird Marine Systems on the case, where Nelson (as a volunteer conceptual designer) went from knowing almost nothing about marine plastic, to being an expert on seawater filtration in the intervening 5 years, and so the harm marine litter is causing. He went on to explain that building a prototype and test tank was nothing, compared to the lobbying that ensued seeking to raise funds as a not for profit. This is an ongoing campaign via awareness projects and strategic websites. Where the G20 (and European Union) had confirmed in correspondence, that they were unprepared to pay to clean up their mess. Brexit did not help. Nelson explained that everyone around the world was carrying on as if it did not matter if they continued with a high CO2 lifestyle, leaving it up to others to effect a cure, but that such attitude meant the planet continued to warm. For example, the UK is in the middle of a house building boom. Most of which are climate unfriendly homes built of bricks, not even with EV charging facilities - hence business as usual. When we need to adapt to survive. Nelson drives an electric i3, has installed solar conservatories at home as heating, builds in sustainable timber, and is fitting solar panels for 2022. He is a lobbyist for green hydrogen - for trucks and ships - and an advocate for sustainable housing, including fighting appeals all the way to the Secretary of State, with a track record of multiple wins. Nelson is an intellectual property specialist, aside from being a practical (hands on) engineer. Photo credit: Nelson Kay for Bluebird Marine Systems Ltd., © 2016 all rights reserved. You may download this picture for educational and personal use without obtaining permission from the Foundation or BMS.

MAYOR & DEPUTY MAYOR OF HASTINGS - Councillor James Bacon sent his apologies, with Councillor Ruby Cox (very bravely) standing in at the last minute, giving the audience some insight into the efforts Hastings Council are making to tackle climate change, having declared a climate emergency. Big thanks to the Deputy Mayor of Hastings. We hope they continue to embrace change, such as EV charging points in the town. Hastings is home to the world's largest beach launched fishing fleet. The fishermen tend to operate sustainably, but discarded netting and other detritus can be something of a problem in a town famous for fishing, and of course the battle that deposed King Harold.

SPEAKERS: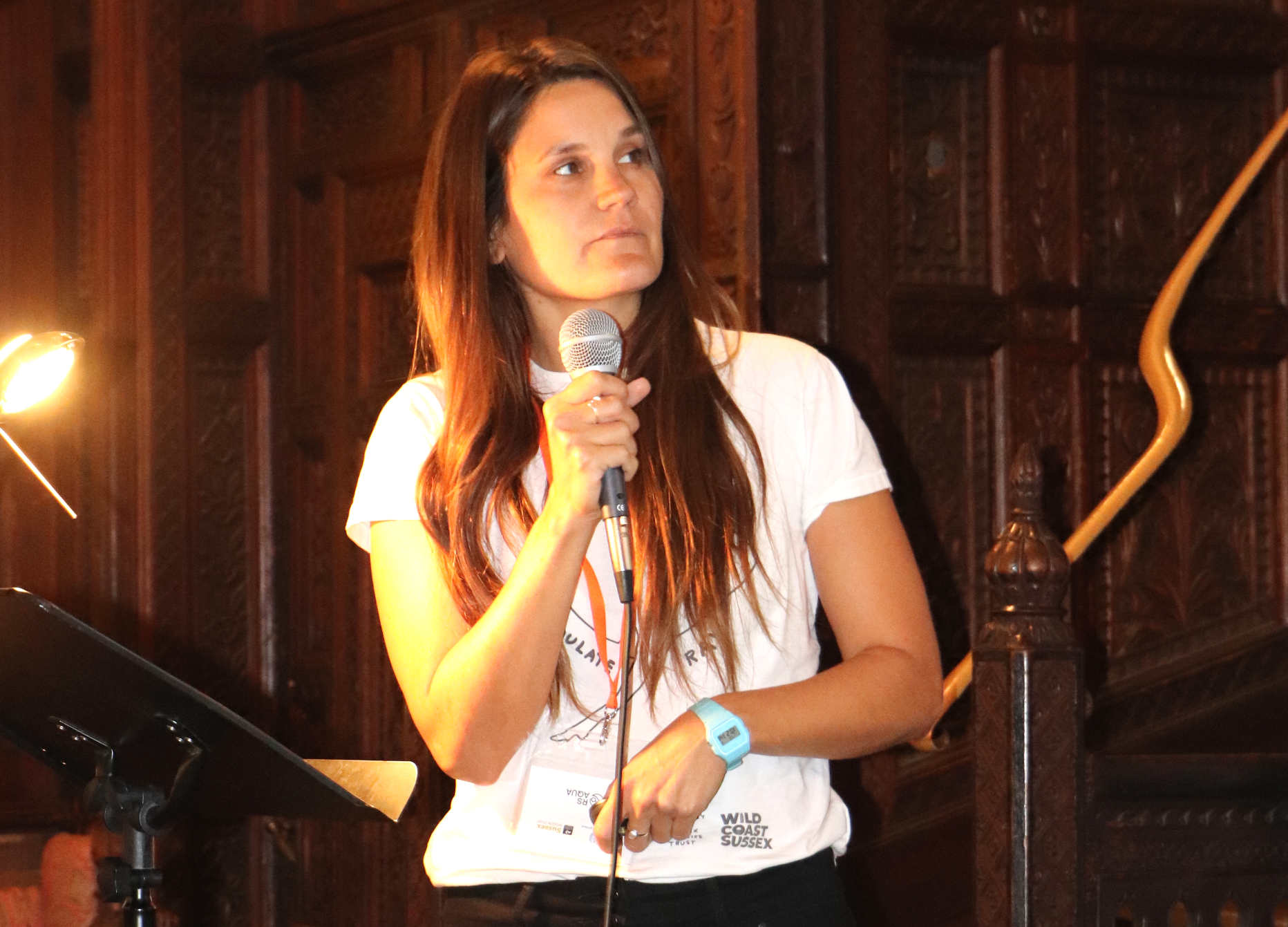 NIKKI HILLS - First up to the lectern, Nikki showed us films of the work of the Sussex Wildlife Trust in salvaging ghost fishing nets. Some of which were re-purposed by fishermen, others salvaged, recycled or burned. Her talk on the subject left us thinking of the staggering challenge recovering such submerged netting represents in terms of CO2. Worthwhile of course in conservation terms. So, a big well done to Nikki and the team of divers that undertake such works. Around 50% of ocean plastic is ghost fishing nets. It is a huge problem. The SeaVax machines are capable of harvesting, shredding and returning floating nets to a port for treatment. Nets that have been snagged on underwater obstacles, such as rocks and sunken ships, constitute more of a problem. Hence the Foundations 7Seven Point Plan, where tagging is mandatory, such as to be able to locate lost nets.


Nikki Hills - Project Manager, Sussex Wildlife Trust - Wild Coast Sussex project

DR CORINA CIOCAN - Gave us a brilliant presentation on the dangers of Glass Reinforced Plastic (GRP) boat hulls. The audience were shocked to see pictures of old fiberglass boats littering rivers and estuaries. And of course sunken vessels. The fact that shellfish and other marine life are ingesting glass micro fibres, as a result of the boat-building industry being relatively unregulated, is something that should be rectified. It was suggested that boats and yachts made of composite materials should have passports, such that their working life is monitored, and they are finally retired for destruction and where possible, recycling. Just as importantly, boatyards should be inspected for unauthorized discharges during the manufacturing process. Corina's work at Chichester harbour is well known, more or less a benchmark study, where other studies around the world have found similar results. Sometimes leading to shellfish beds being declared unfit for human consumption. Well done to the lecturer for giving her time to share this information with UNA supporters, and her persistence, where it appears policy makers may not be up to speed as to the harm leisure activities are causing. These are our views, not that of the speaker. The Foundation are of the view that if reliable monitoring and regulation is not implemented, that an outright ban of GRP as a boatbuilding material, should be introduced.


Dr Corina Ciocan FHEA, M.R.S.B., Senior Lecturer, Centre for Aquatic Environments, University of Brighton - "Marine micro plastic pollution in Sussex"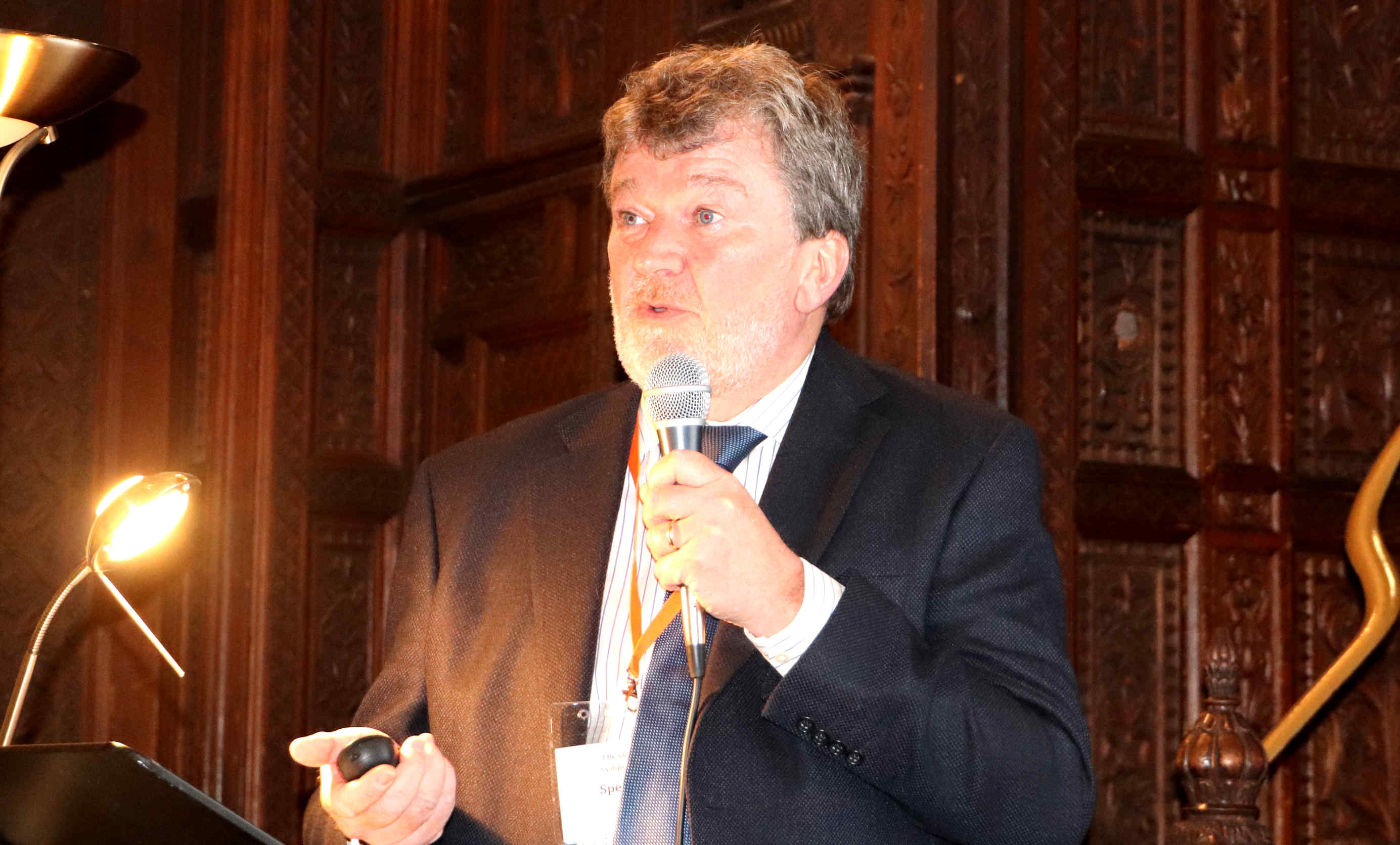 TIM DAPLING - Gave us a presentation of slides with many diagrams showing data that has been collected by the IFCA, explaining how conservation areas along the Sussex coast came into being. Questions from the Zoom audience about fishing boats spotted in the conservation area, suggested that although there is a designated no-go area, that some fishermen are straying into the areas where fishing is banned. An ongoing problem for the Conservation Authority. Great work Tim!
Event photo credits: Nelson Kay, for Cleaner Ocean Foundation Ltd., © 2nd October 2021 all rights reserved. You may download these pictures for educational purposes and personal use without obtaining permission from the Foundation.


Tim Dapling, Chief Fisheries & Conservation Officer, Sussex Inshore Fisheries and Conservation Authority - "Sussex IFCA's Nearshore Trawling Byelaw explained"

JEMMA SARGEANT - Attended the Our Isles and Oceans initiative as a delegate for the UNA C&O. Jemma presented pictures and a video of her experience aboard their sailing yacht, where she met Sir Robin Knox-Johnston. She is a 3rd year MScu Marine Biology student at the University of Southampton, focusing on global temperature trends and how climate change is affecting sea ice extent in the West Antarctic peninsular. She is a scuba diver, qualified to PADI advanced water level, having volunteer experience at Brighton Sea Life centre and a rehabilitation sanctuary in Bali. Jemma fielded questions from the audience. Nice one Jemma. https://ourislesandoceans.co.uk/


Jemma Sargeant - "Our Isles and Oceans experience" UNA Youth Ambassador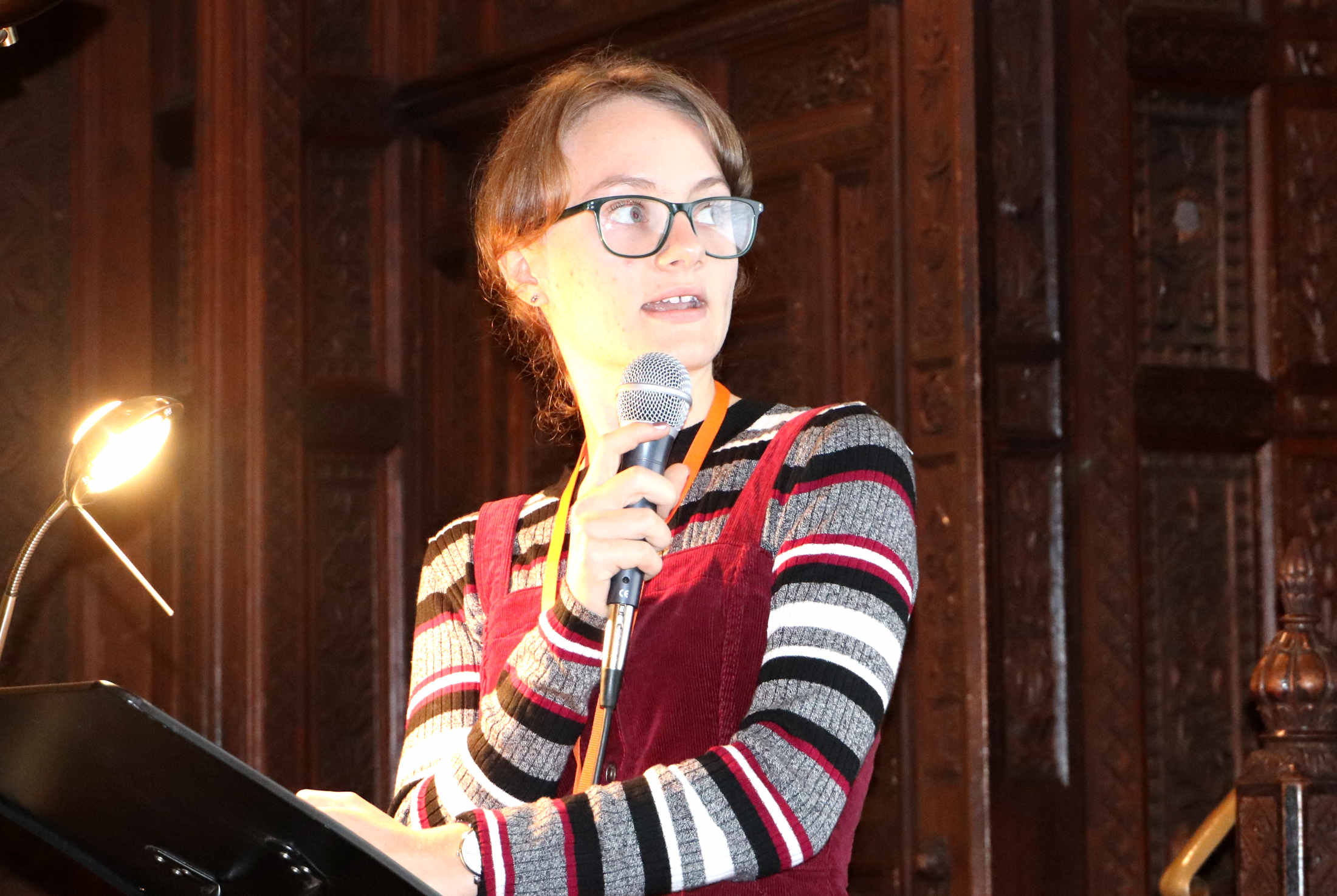 LARA HAUGE - The youngest speaker of the day, Lara is a Youth Ambassador for the UNA-C&O. She is just sixteen, and a member of the Seaford Environmental Alliance. Lara is keen to help other young people learn about the climate crisis, and to express their views, starting at school. She joined the Youth Council in 2021 with the aim of making information accessible, and to form networks to further such aims, moving towards a more sustainable future. We heard about the projects she has been involved in, including tree planting and dam building. Lara is also concerned as to 'Green-Washing,' where unscrupulous companies brand in such manner as to confuse the buying public into believing that their products are more eco than they actually are. This is a trade description and advertising standards issue. Well done to Lara for all her hard work.


Lara Hauge - UNA Youth Ambassador, Seaford Environmental Alliance.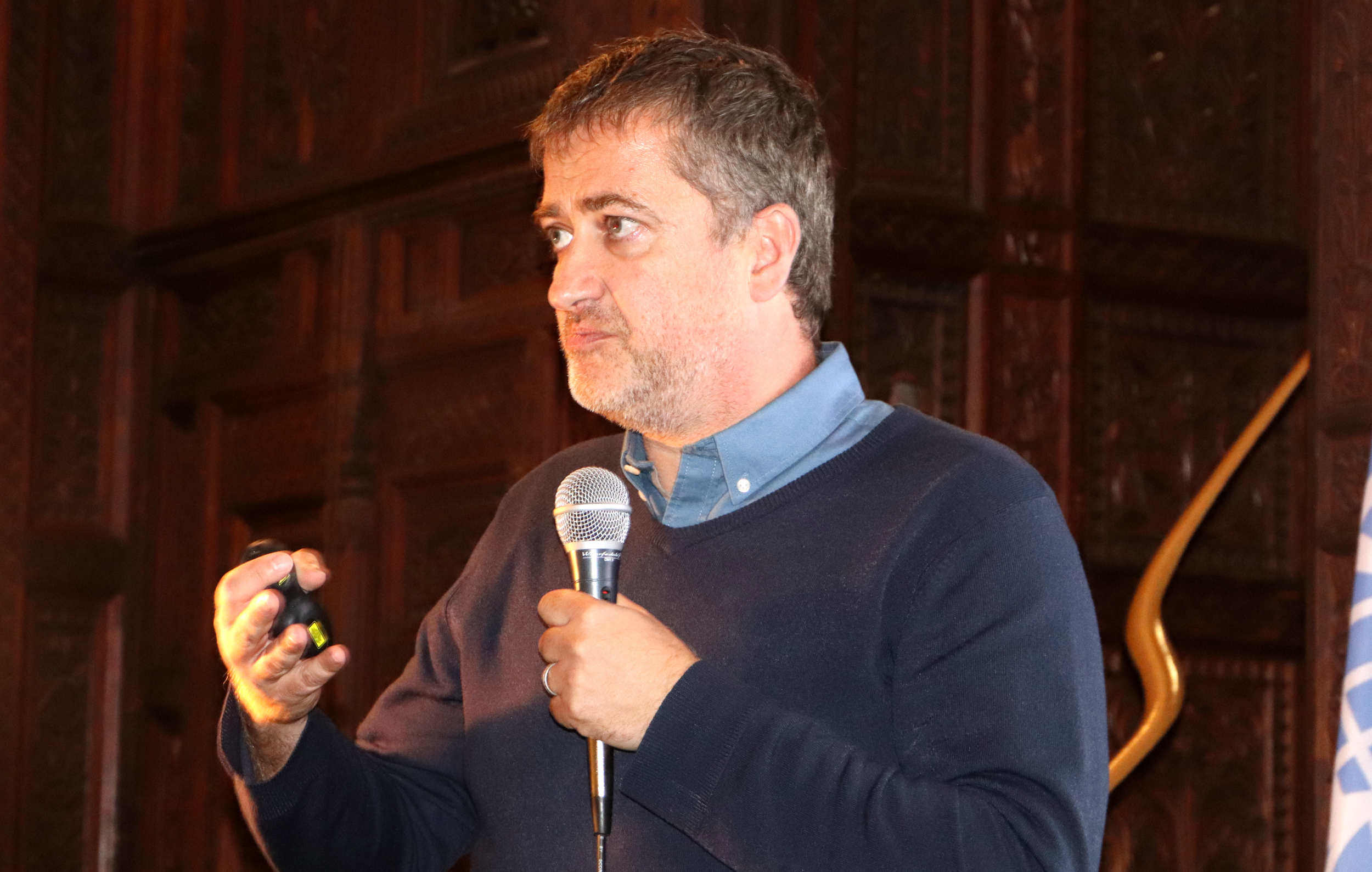 SIMON MORLEY - The work carried out in the Antarctic may seem a bit distant for most of us to comprehend the value to the United Kingdom. We were told that up to 100 UK staff man this far flung outpost, reducing to 20 or so in the winter. The area is protected via Treaty, such that no country may make a claim to ownership, with the signatories enforcing such terms. Monitoring of the ice mass and surrounding sea is important work that tells us a lot about the rate of climate change, and how this affects local fauna, most of which has evolved blood without hemoglobin to carry oxygen that does not freeze, having developed a natural anti-freeze. This slows the metabolic rate of the animals, but still allows some predators to hunt and catch prey. Most interesting and nicely presented. Thanks Simon.


Dr Simon Morley, Marine Biologist/ Senior Scientist, Rothera Research Station, Antarctica (British Antarctic Survey, Cambridge) - "Diving into Antarctic benthic ecosystems".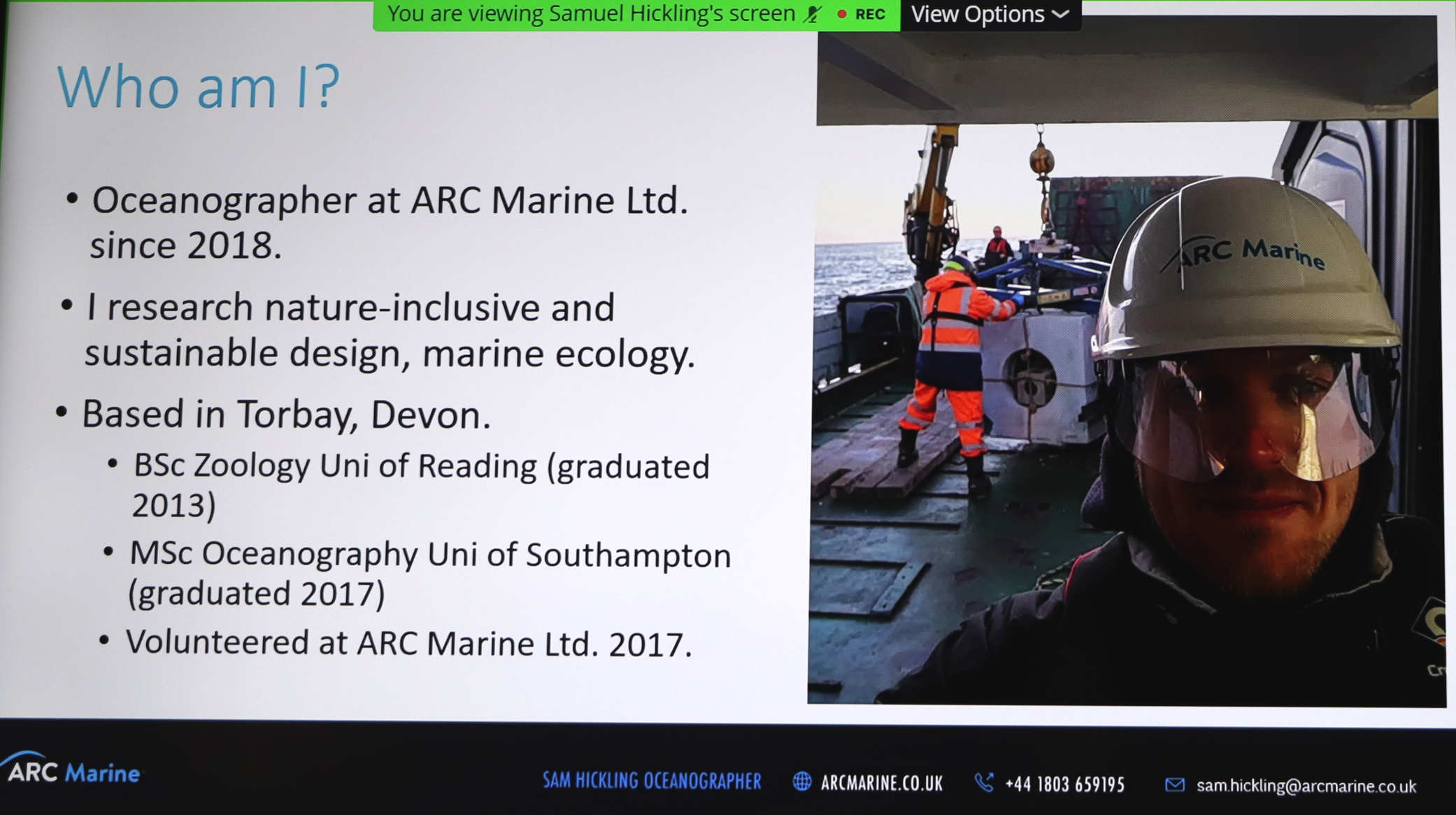 SAM HICKLING - ARC Marine is an eco-engineering company who aims is to accelerate reef creation and coastal protection. They take care to model scenarios and test products for maximum efficiency, with the result being some of the best protective installations available on the market today. Their Reef Cubes® are wholly owned & scientifically developed by ARC, protected by 2 worldwide utility patents. ARC claim their Cubes are carbon-neutral and a plastic-free solution for marine habitat restoration, using a patented Marine Crete® to ensure a safe, secure and sustainable deployment from marine friendly waste materials.

Sam Hickling MSc, Oceanographer at ARC Marine Ltd - "Marine innovation "

STEVE ALLNUTT - Showed us some of his splendid local underwater footage, all set to music. Steve is from Lancing, West Sussex. He has been monitoring kelp forests off the south coast of England for 25 years. They are among the most biodiverse environments on the planet, but they have been damaged by changing fishing habits and the dumping of sediment on the seafloor. Steve logs marine forests for his Sussex Underwater project. He is quoted as saying: "This year under lockdown had been a boom time for kelp. The sea's got time to rest and, like a meadow, the sea's got time to grow again and establish itself, and turn into a habitat that hasn't been seen in Sussex for years." Big thanks to Steve for sharing his work.

Steve Allnutt - Sussex Underwater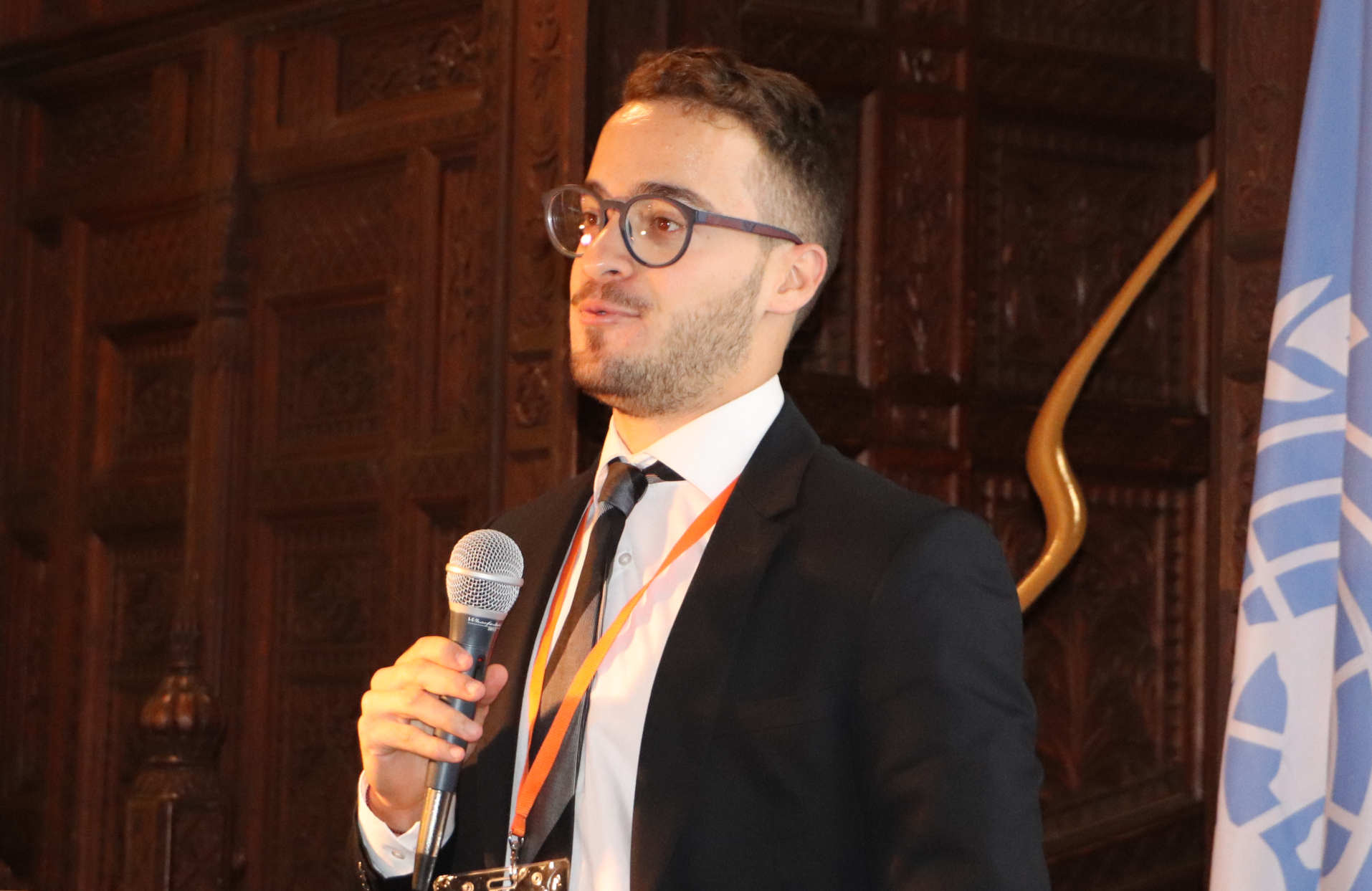 MICHELE IVON - Is a resident of Gran Canaria and a member of the UNA C&O youth council. He is concerned as to global warming, where temperatures have risen about 0.09ºC per decade since 1944 in the two capital islands (Gran Canaria and Tenerife), and since 1970 this figure has changed towards a 0.17ºC raise per decade. These increases are already affecting the whole social, economic and environmental aspects of the islands. He says that you might not have the political power to enact policy change, but you do have a voice to be heard. So speak up. We are very grateful to Michele for making the time to attend this UNA event. He is an example to us all. We heard you loud and clear. Keep up your good work.

Michele Ivone-Formica Rodriguez - "Marine conservation in Gran Canaria" - UNA Youth Council
OLIVER STERNO - Is a tireless campaigner, helping to keep the beaches at Eastbourne clean. Not stopping there, he extended his efforts to include schools cleaning up the parks of litter, and then sought to persuade locals to reduce their carbon footprint with various initiatives. In December 2019, Eastbourne was awarded the status of being a 'Plastic Free Community.' Plastic Free Eastbourne collaborates with the local council, authorities, schools, some environmental organisations, and local businesses to all support their mission - to reduce single use plastic and continue our work to make Eastbourne Plastic Free. This included a Refill campaign to rid us of single use plastic water bottles. Well done Oliver. We don't know where you get the energy from.

Oliver Sterno, Plastic Free Eastbourne - campaign to keep beaches and parks clean and reduce single use plastic.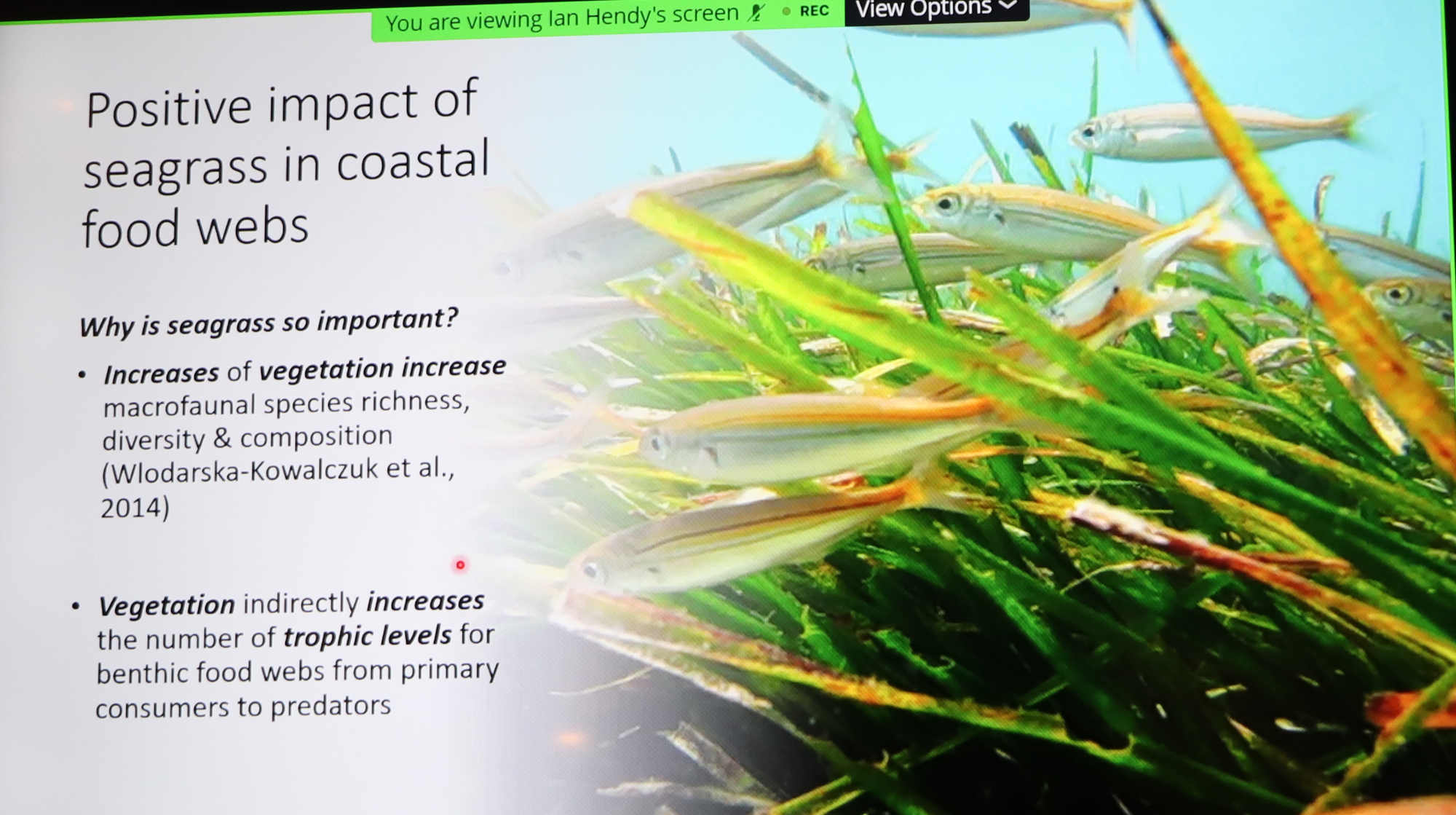 IAN HENDY - Joined us via video link. He gave a very informative presentation about trophic levels of marine flora in different locations around the world. Thankyou Dr Hendy.
Dr Ian Hendy - Senior Lecturer, Institute of Marine Sciences, University of Portsmouth/ Centre for Blue Governance - "Climate-driven golden tides are reshaping coastal communities in Quintana Roo, Mexico"
NATHAN HUNT & PHOEBE CHADWICK - The UNA O&C were very grateful to RS Aqua for sponsoring this event. They had a stand in the adjoining hall where some of their marine equipment was on display. Among other well known users, their equipment is on the IBM Mayflower AI ocean monitoring trimaran, that is currently undergoing tests in and off the coast at Plymouth. We were particularly impressed with their tracking micro chips, that seem to have unlimited uses and not a bad range and operational lifetime. Their presentation was by way of an effective double act. Most impressive and a big thankyou to them both for both attending and helping support the work of the UNA Oceans and Climate.


Nathan Hunt & Phoebe Chadwick, RS Aqua Ltd. Speakers - "Cutting Edge Marine Technology and Ocean Science"


The event was held at the Hastings Museum and Art Gallery in Hastings, Sussex, United Kingdom. There were options to attend the event in person or to join in streamed live online via Zoom. The event started at 10:00am, running a little over 16:40pm, despite a little disturbance from someone in the gallery : )
Hastings Museum & Art Gallery
Bohemia Road
Hastings, East Sussex
TN34 1ET
OCEAN SYMPOSIUM 2019 - From left to right, Nelson Kay, Chris Close, Councillor Nigel Sinden (former Mayor of Hastings), and Ryan Dusart (junior member of Cleaner Ocean Foundation). Photo credit: Cleaner Ocean Foundation Ltd., © all rights reserved. You may download these pictures for educational purposes and personal use without obtaining permission from the Foundation.
The general consensus is that seafood is becoming more toxic as fauna soak up carcinogens, from ingesting plastics, potentially raising cancer rates in humans and overburdening our health services.
Eventually, it is thought that whaling may have to be re-instated to make up for lost fish protein. A sad situation if it ever comes to that.