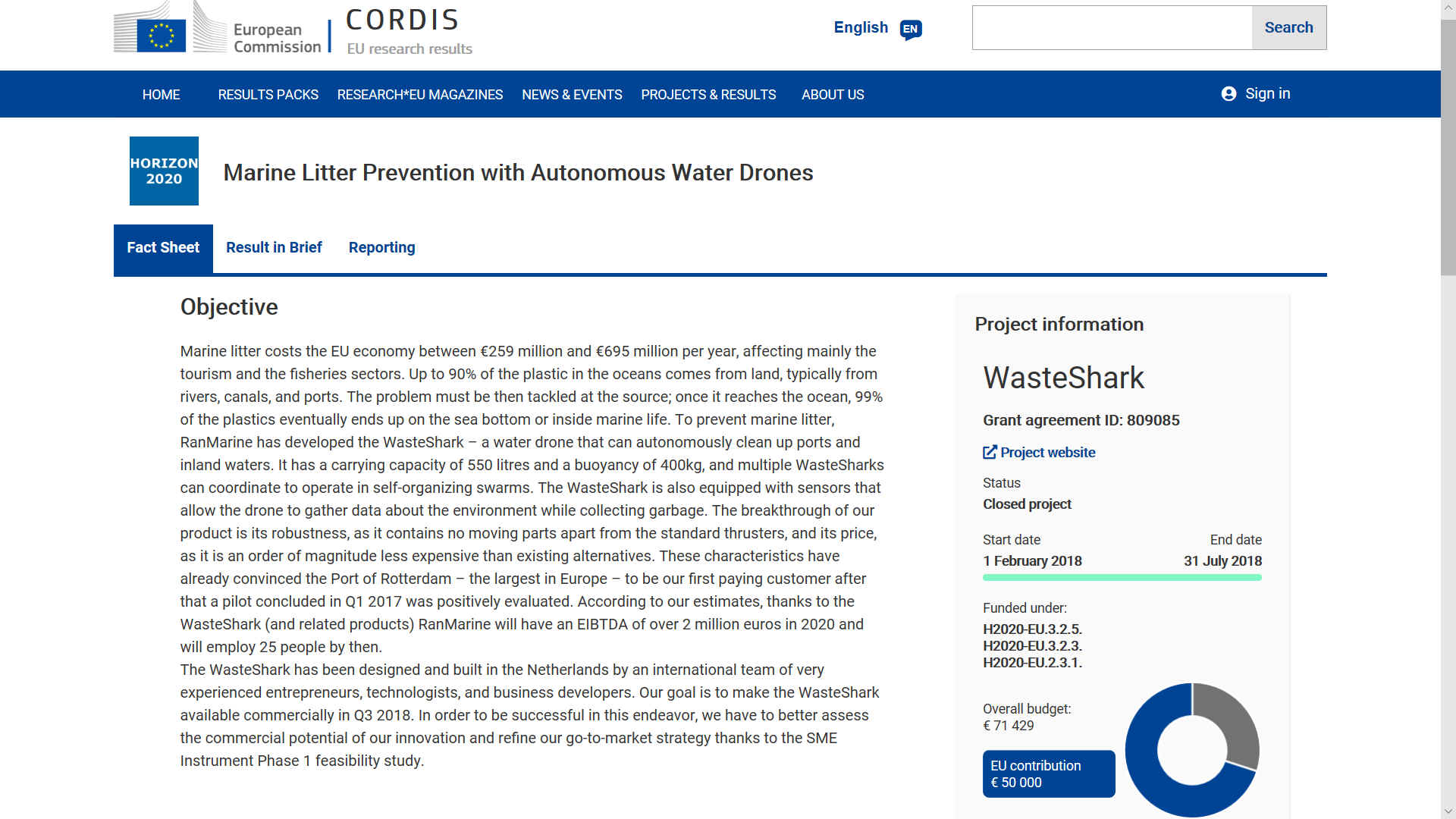 AUTONOMOUS WATER DRONES - Now every city in the world can have a self-organising swarm of autonomous robots, swimming round the clock to monitor and maintain water health.

The WasteShark™ is an aquadrone that removes unwanted plastic, trash and alien/pest flora from our waters. The DataShark™ is a learning machine continually collecting data about the marine environment.
Marine litter consists of items that have been made or used by people and deliberately discarded or unintentionally lost into the sea and on beaches, including such materials transported into the marine environment from land by rivers, draining or sewage systems or winds (Marine Strategy Framework Directive - Task Group 10, Report Marine litter, JRC/IFREMER/ICES, April 2010). Marine litter can be larger pieces of plastics, e.g. from bottles, bags or fishing gear or degraded to micro-particles.
Marine litter costs the EU economy between €259 million and €695 million per year, affecting mainly the tourism and the fisheries sectors. Up to 90% of the plastic in the oceans comes from land, typically from rivers, canals, and ports, as it is carried to the seas and oceans.
Once is the oceans, plastic congregates in giant swirling masses called gyres, where due to the effect of sunlight and waves, it is broken down into smaller pieces, until is becomes microplastic.
The problem must be then tackled at the source; once litter reaches the ocean, 99% of the plastics eventually ends up on the sea bottom or inside marine life. To prevent marine litter, RanMarine has developed the WasteShark – a water drone that can autonomously clean up ports and inland waters. It has a carrying capacity of 550 litres and a buoyancy of 400kg, and multiple WasteSharks can coordinate to operate in self-organizing swarms.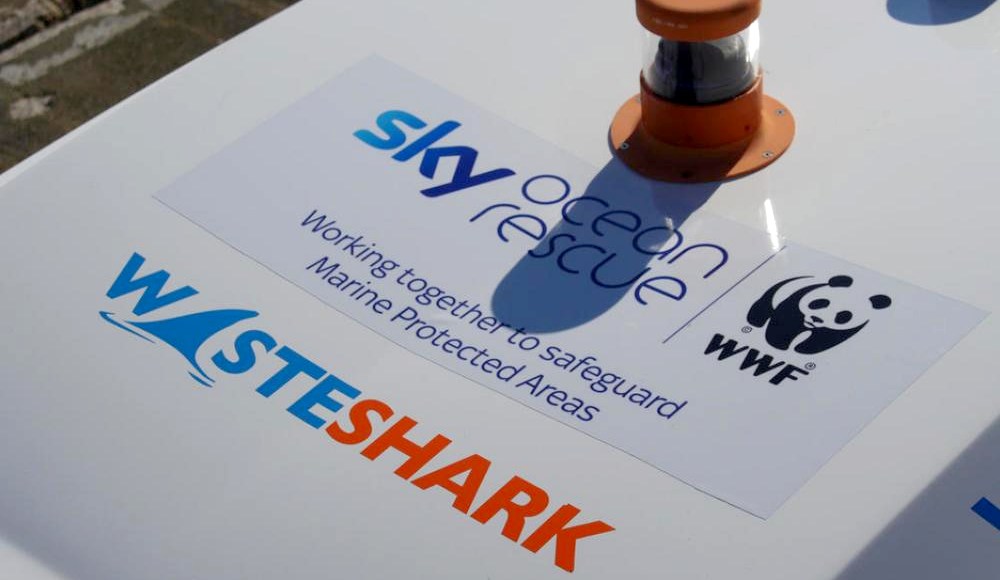 The WasteShark is also equipped with sensors that allow the drone to gather data about the environment while collecting garbage.
The breakthrough of the product is its robustness, as it contains no moving parts apart from the standard thrusters, and its price, as it is an order of magnitude less expensive than existing alternatives.
These characteristics have already convinced the Port of Rotterdam – the largest in Europe – to be our first paying customer after that a pilot concluded in Q1 2017 was positively evaluated. According to our estimates, thanks to the WasteShark (and related products) RanMarine will have an EIBTDA of over 2 million euros in 2020 and will employ 25 people by then.
The WasteShark has been designed and built in the Netherlands by an international team of very experienced entrepreneurs, technologists, and business developers. Our goal is to make the WasteShark available commercially in Q3 2018. In order to be successful in this endeavor, we have to better assess the commercial potential of our innovation and refine our go-to-market strategy thanks to the SME Instrument Phase 1 feasibility study.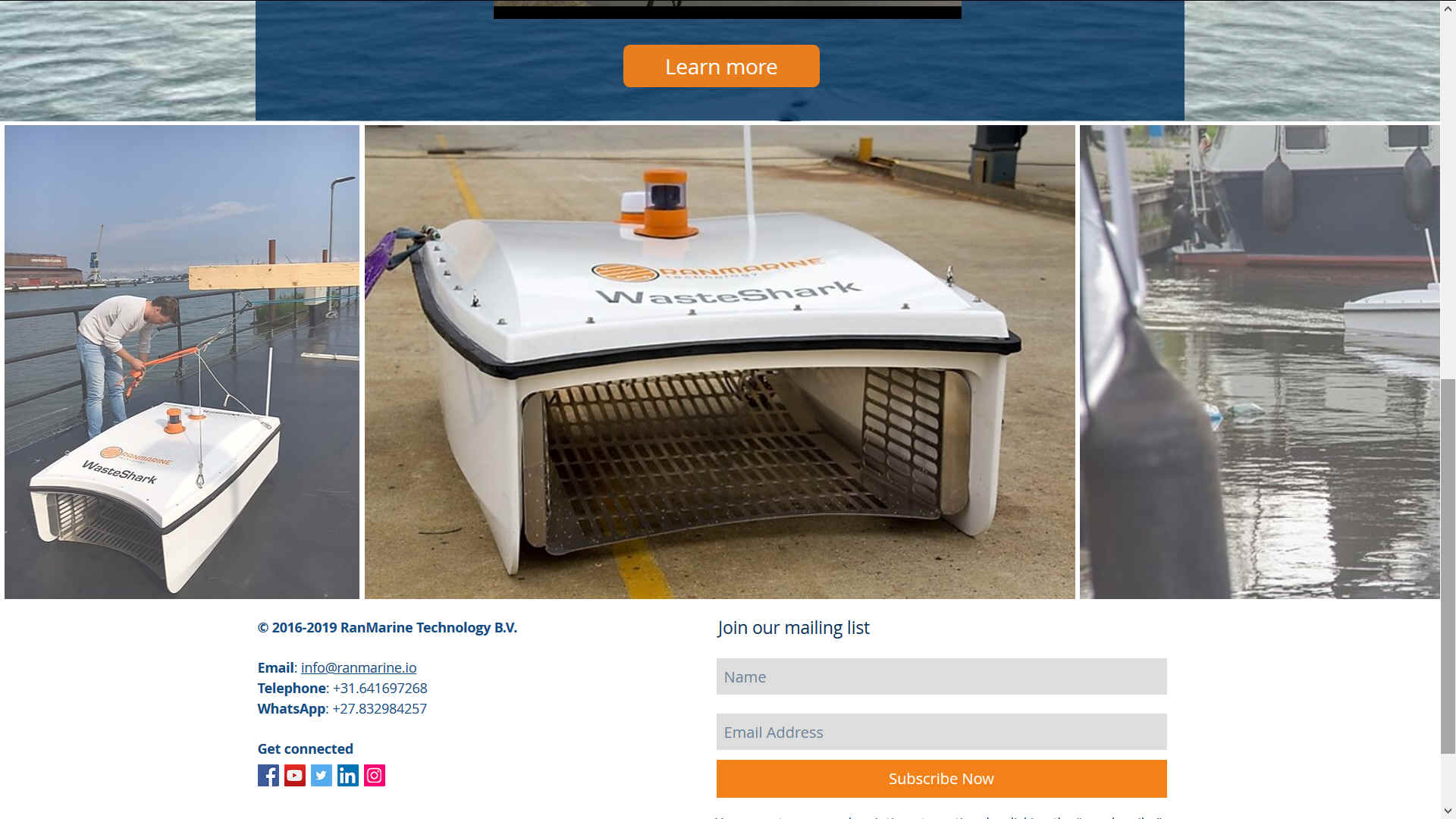 H2020-EU.3.2.5. - Cross-cutting marine and maritime research
The aim is to increase the impact of Union seas and oceans on society and economic growth through the sustainable exploitation of marine resources as well as the use of different sources of marine energy and the wide range of different uses that is made of the seas.
Activities shall focus on cross-cutting marine and maritime scientific and technological challenges with a view to unlocking the potential of seas and oceans across the range of marine and maritime industries, while protecting the environment and adapting to climate change.
A strategic coordinated approach for marine and maritime research across all challenges and priorities of Horizon 2020 will also support the implementation of relevant Union policies to help deliver key blue growth objectives.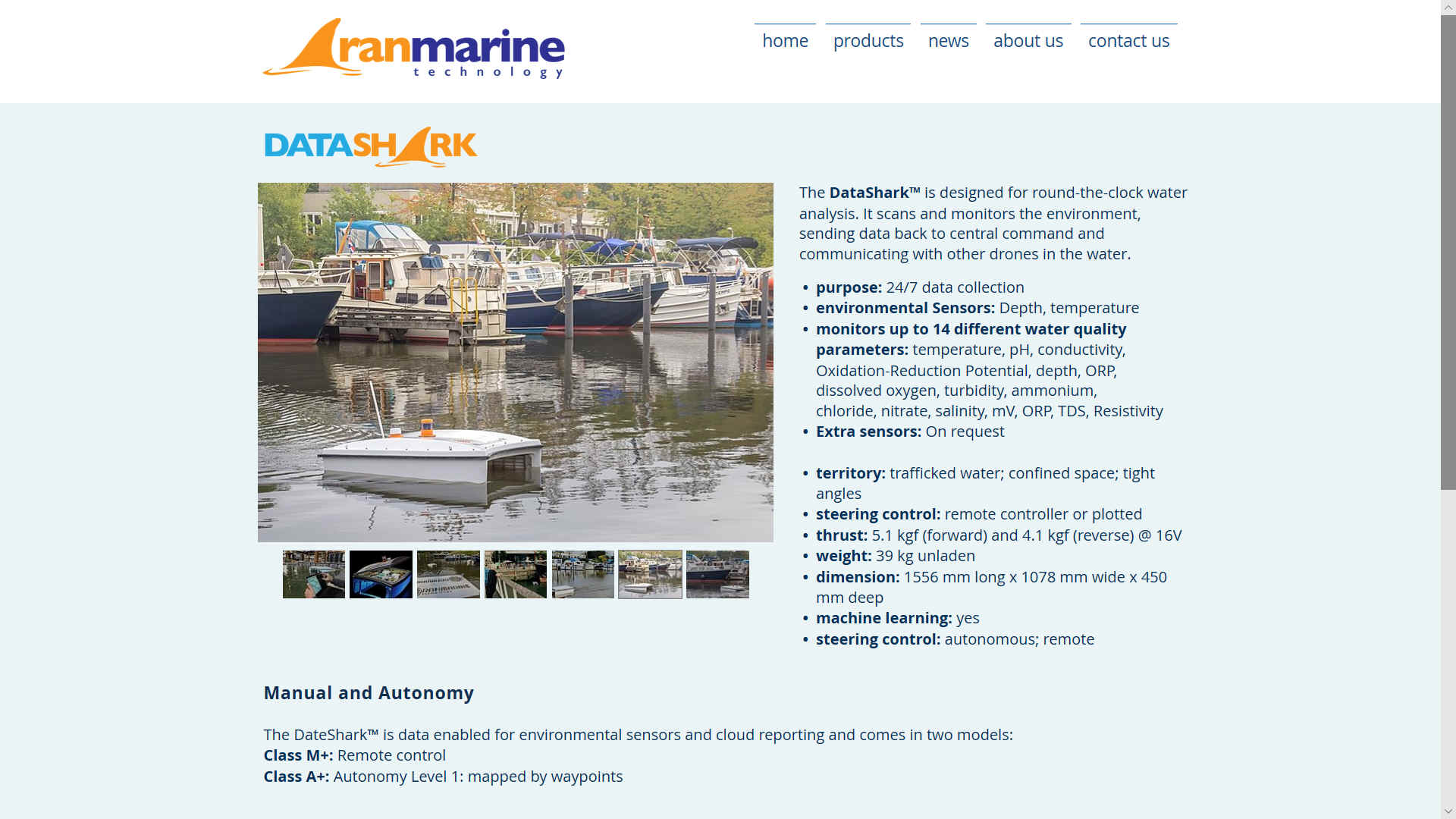 DATA SHARK

The DataShark™ from Ranmarine is designed for round-the-clock water analysis from battery power. It scans and monitors the environment, sending data back to central command and communicating with other drones in the sheltered waters it is designed to work in.
purpose: 24/7 data collection
environmental Sensors: Depth, temperature
monitors up to 14 different water quality parameters: temperature, pH, conductivity, Oxidation-Reduction Potential, depth, ORP, dissolved oxygen, turbidity, ammonium, chloride, nitrate, salinity, mV, ORP, TDS, Resistivity
Extra sensors: On request
​
territory: trafficked water; confined space; tight angles
steering control: remote controller or plotted
thrust: 5.1 kgf (forward) and 4.1 kgf (reverse) @ 16V
weight: 39 kg unladen
dimension: 1556 mm long x 1078 mm wide x 450 mm deep
machine learning: yes
steering control: autonomous; remote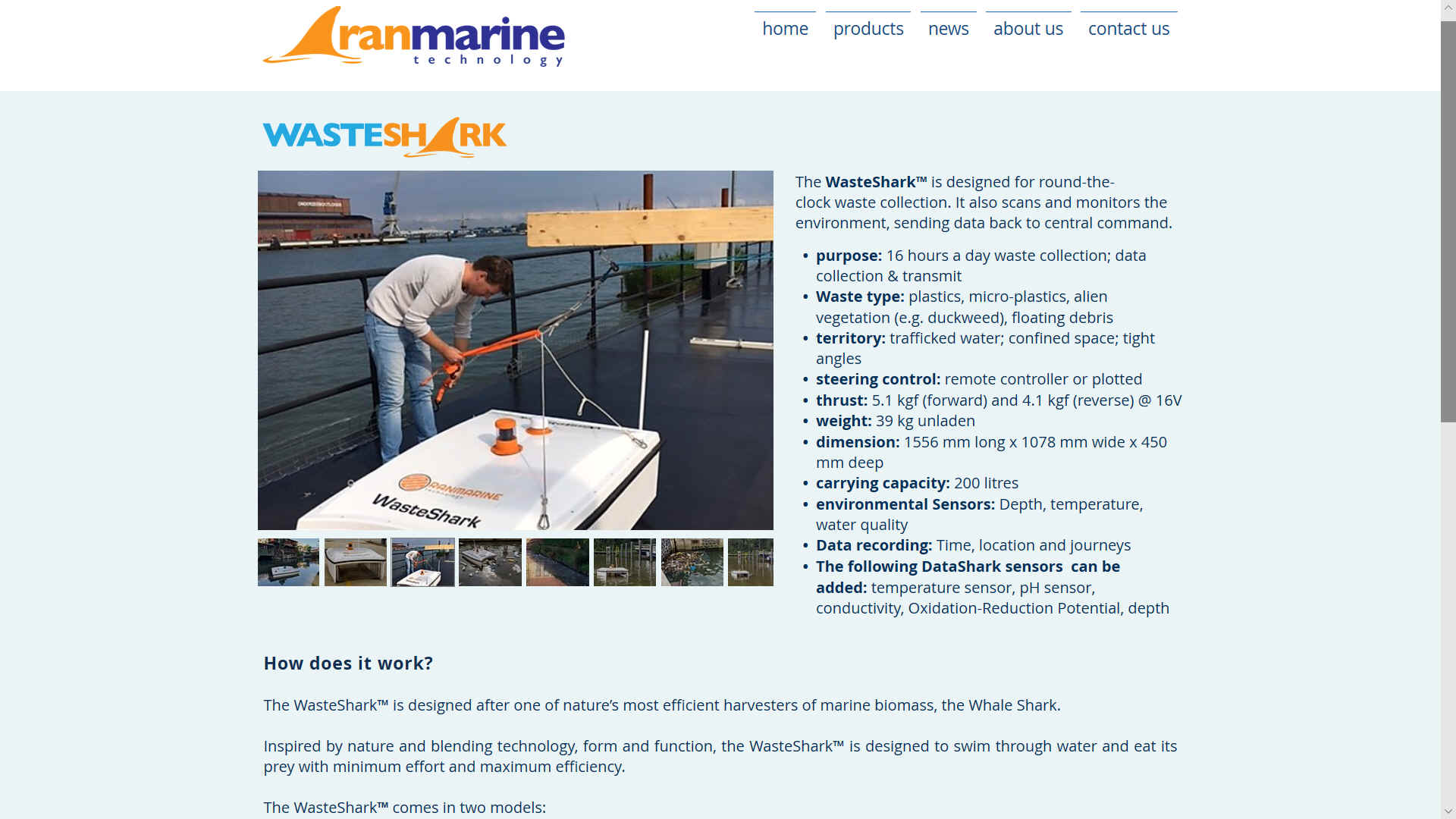 Eight million tonnes of plastic are dumped in the oceans each year, with catastrophic consequences for wildlife. 90% of the world's sea birds have fragments of plastic in their stomachs, while up to 80% of mussels taken from a number of British beaches were found to contain microplastics.
SPECIFICATIONS
The WasteShark™ is designed for round-the-clock waste collection. It also scans and monitors the environment, sending data back to central command. The compact vessel can roam for up to eight hours on one charge. It's programmed with GPS points to ensure that it covers hotspots where waste gathers, and its path can be programmed and monitored remotely. Along with removing waste, the WasteShark can collect important data about the marine environment.

purpose: 16 hours a day waste collection; data collection & transmit
Waste type: plastics, micro-plastics, alien vegetation (e.g. duckweed), floating debris
territory: trafficked water; confined space; tight angles
steering control: remote controller or plotted
thrust: 5.1 kgf (forward) and 4.1 kgf (reverse) @ 16V
weight: 39 kg unladen
dimension: 1556 mm long x 1078 mm wide x 450 mm deep
carrying capacity: 200 litres
environmental Sensors: Depth, temperature, water quality
Data recording: Time, location and journeys
The following DataShark sensors can be added: temperature sensor, pH sensor, conductivity, Oxidation-Reduction Potential, depth

How does it work?

The WasteShark™ is designed after one of nature's most efficient harvesters of marine biomass, the Whale Shark.

Inspired by nature and blending technology, form and function, the WasteShark™ is designed to swim through water and eat its prey with minimum effort and maximum efficiency.
The WasteShark™ comes in two models:

- Class M: Manual operation: remote controlled.

- Class A: Autonomy Level 1: mapped by waypoints.

+ option for both models:

Class M+ and A+: Data enabled for environmental sensors and cloud reporting.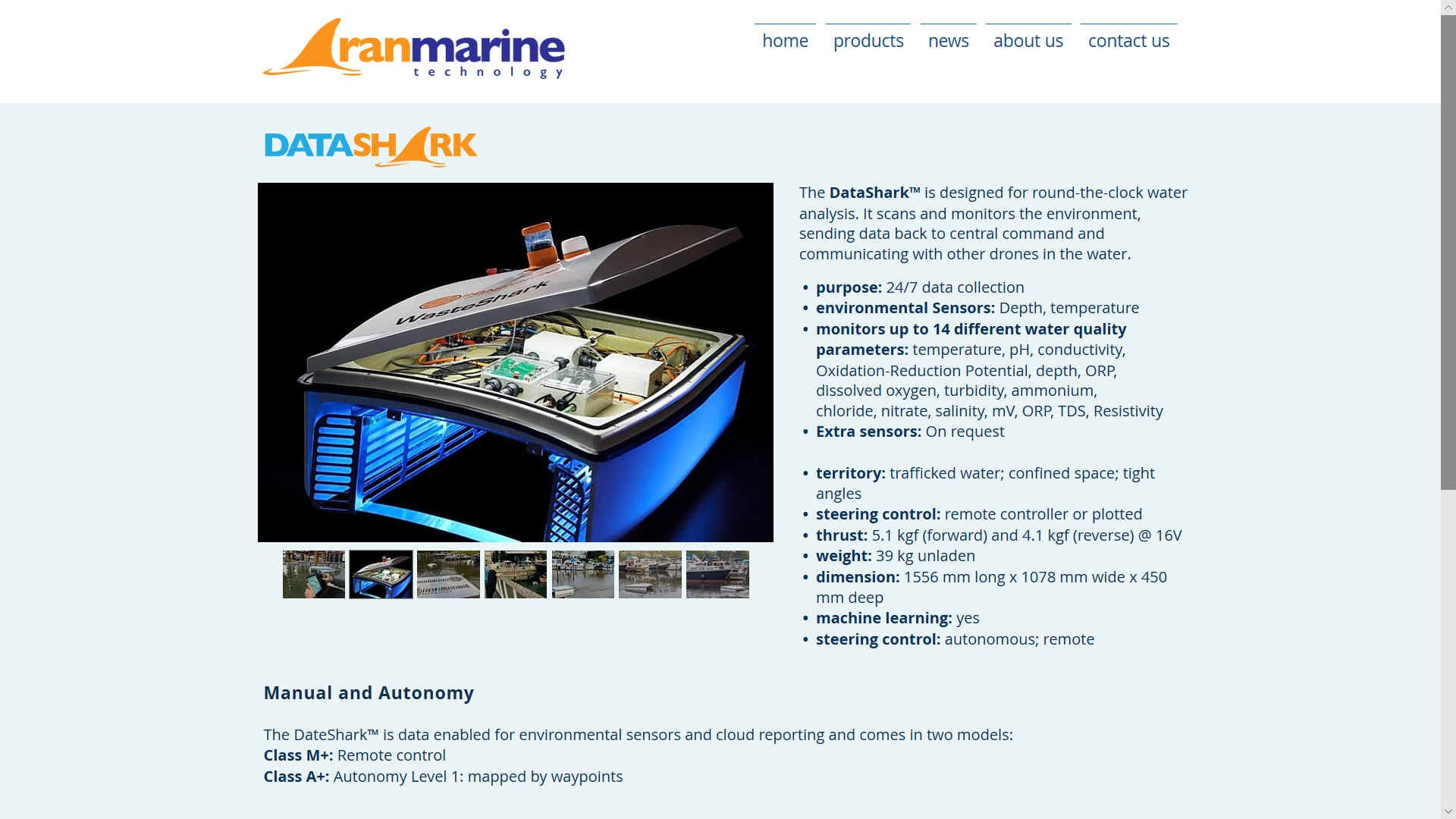 AUTONOMY - The Waste and Data sharks can be either manually operated as drones, or operate from mapped waypoints when it executes the navigation program - bit like an autopilot.
CONTACTS

Email: info@ranmarine.io
Telephone: +31.641697268
WhatsApp: +27.832984257
FACTS & FIGURES

A recent study led by the Five Gyres Institute has estimated that more than 5 trillion plastic pieces weighing over 250000 tons are floating in the world's oceans.

Marine litter is present in all marine habitats, including the deepest areas of ocean and in sites as remote from the land as the Charlie-Gibbs Fracture Zone across the Mid-Atlantic Ridge, as suggests a study led by the University of Azores.

Up to 90% of marine litter comes from land. A recent study led by the University of Georgia estimated that in 2010, 275 million tons of plastic waste was generated by 192 coastal countries, with 4.8 to 12.7 million tons entering the ocean.

Negative impacts of marine litter also relate to animal entanglement in plastic wires or net or to ingestion of plastic. A study led by IMARES showed that 94% of investigated Dutch Fulmars contained one or more plastic particles in their stomach; and about 52% contained more than the critical level of 0.1 gram plastic

It is estimated that 640.000 tons of fishing gear are lost, abandoned or discarded annually (Issue paper from the Berlin Conference on marine litter)

Removing beach litter costs municipalities in UK approximately €18 million each year removing beach litter - a 37% increase in cost over the past 10 years and in the Netherlands and Belgium approximately €10.4 million per year (Issue paper from the Berlin Conference on marine litter).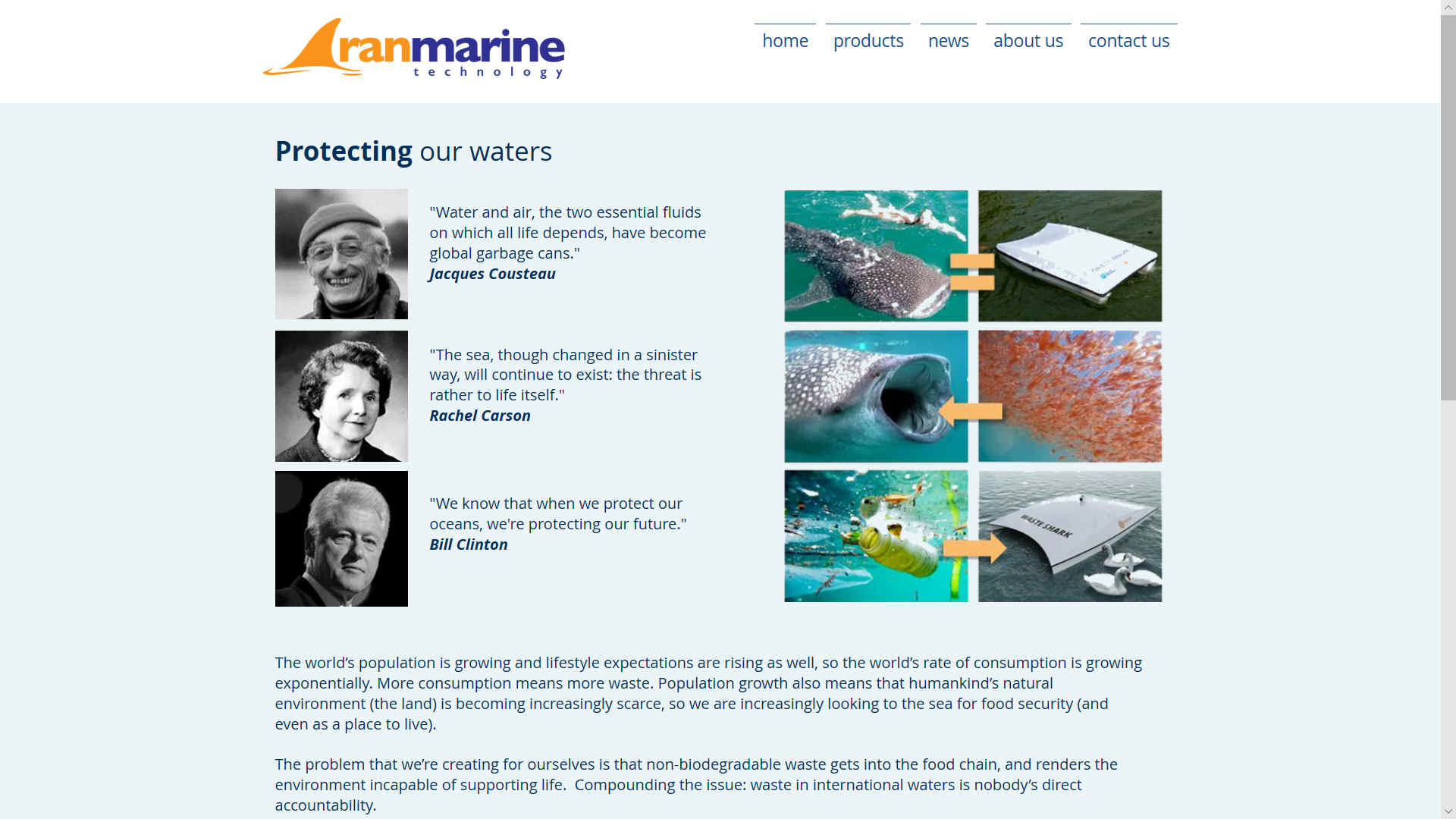 The WasteShark can roam for up to eight hours on one charge. It's programmed with GPS points to ensure that it covers hotspots where waste gathers, and its path can be programmed and monitored remotely. Along with removing waste, the WasteShark can collect important data about the marine environment.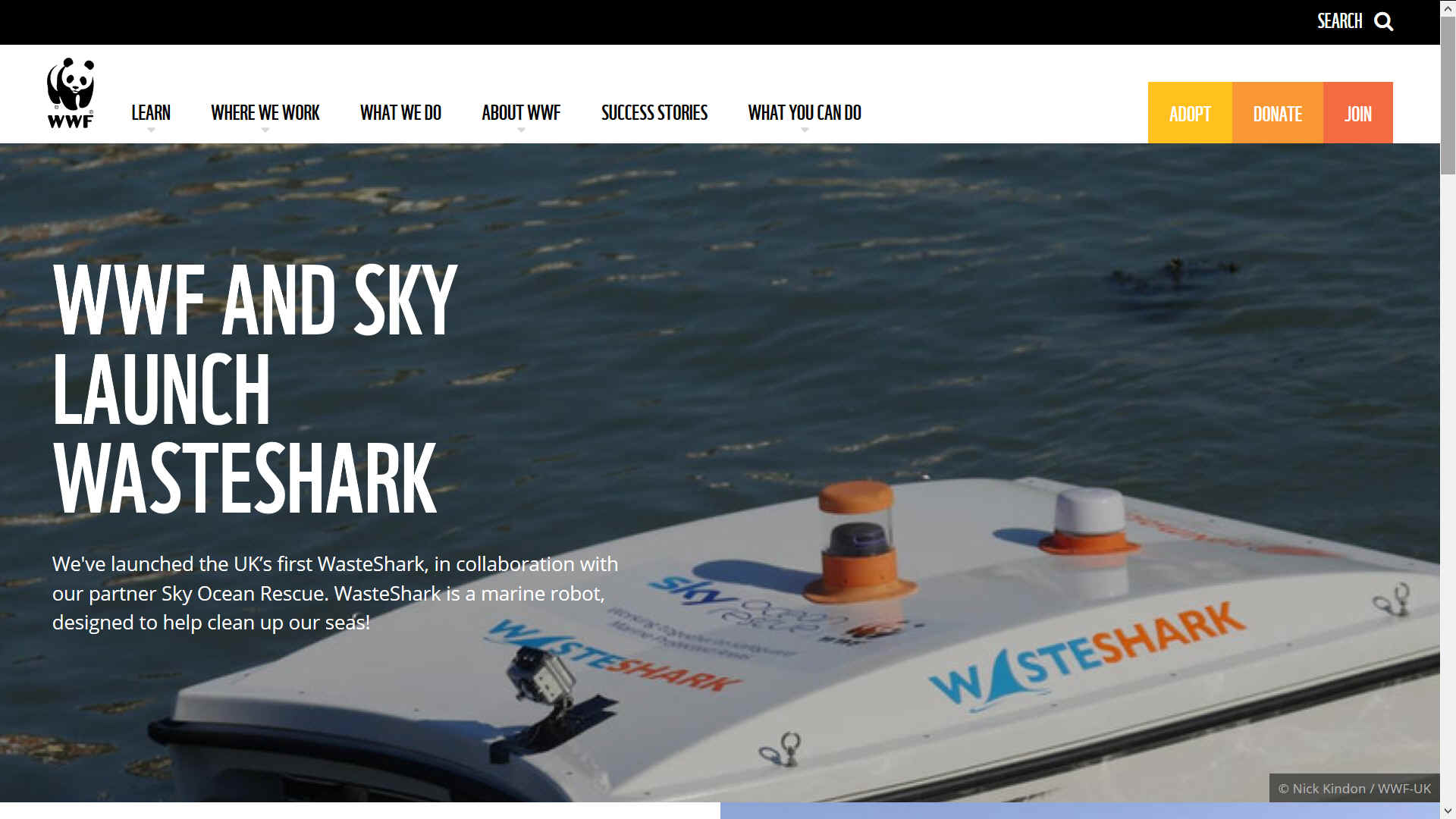 PARTNERSHIP - WWF and Sky Ocean Rescue have launched an autonomous marine robot in north Devon to help clear Ilfracombe harbour of waste. The WasteShark® will be roaming through distances of up to 5km of water, capturing plastics, microplastics, oils and other pollutants. If used five days a week the WasteShark can collect in excess of 15 tonnes of waste a year, with the plastic recycled to make products.

This is the first time that a WasteShark has been used in the UK, following successful launches in five countries. The WasteShark, which is created by RanMarine Technology, is the world's first marine robot designed specifically to eat waste and collect data. It is designed to be harmonious with the environment. As it navigates the water the WasteShark emits no carbon, produces no noise or light pollution, and poses no threat to wildlife.

WASTE SHARK IN ACTION - Through their work with Sky Ocean Rescue the WWF are launching the WasteShark, to improve the health of our seas. This includes Marine Protected Areas (MPAs,) which, though designated for their environmental importance, face threats from a number of issues, including plastic pollution.

Ilfracombe Harbour is within a MPA that is home to diverse species, it boasts some of UK's most incredible and beautiful wildlife - including grey seals and pink sea fan corals. Collecting waste in the harbour prevents it damaging the immediate area and from being taken out to sea by the tide and threatening the important wildlife in surrounding MPAs.

lfracombe is a seaside resort and civil parish on the North Devon coast, England, with a small harbour surrounded by cliffs.

Until the mid-19th century Ilfracombe's economy was based around maritime activities: importing lime and coal from Wales; fishing for herring; and international trade, including to West Africa and the West Indies. In George III and the Regency period the town, population then 1800, was home to many navy personnel – four admirals, numerous captains, and other commissioned and non-commissioned sailors.

The town gradually developed into a tourist resort served by ferries along the Bristol Channel. The opening of the railway accelerated this development. The population grew until the First World War, then stabilised at 9,200, now 11,000. The economy suffered throughout the 1960s as UK holiday patterns changed, and suffered further through the closure of the railway line in 1970.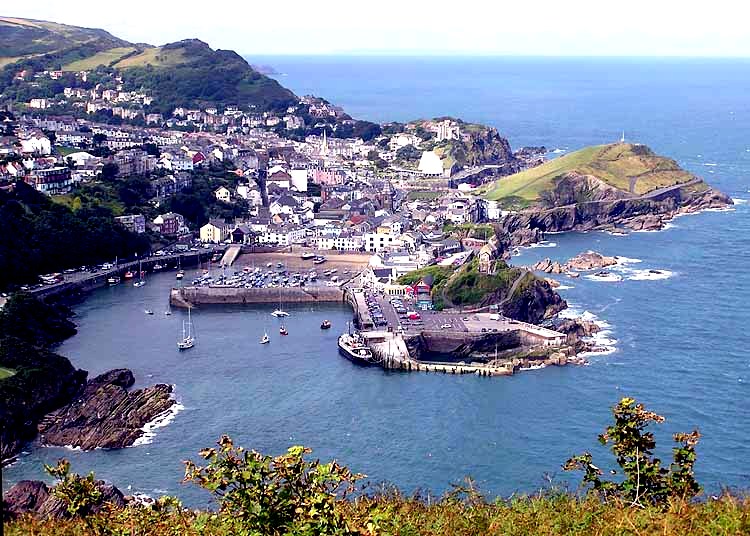 From 2001 there was an economic regeneration programme led by the Ilfracombe & District Community Alliance MCTI, a community interest company designed to encourage social entrepreneurship. After widespread community consultation this programme developed a community economic strategy for the next twenty years published in 2005. The town council working with and North Devon District Council is formulating plans for the town's economic and physical structures. Proposed developments are: the enhancement of the harbour area; A large extension (500 dwellings) to the town on high ground to the south. There is long term development of the derelict bus station site based on plans developed by Terence O'Rourke; and the creation of better youth support and recreation facilities at the Larkstone eastern side of the harbour area.

A seasonal passenger ferry, operated by MS Oldenburg, runs from the harbour to Lundy Island. Pleasure boats, including MV Balmoral and PS Waverley, operate cruises from Ilfracombe, including crossings to Porthcawl. However, due to rising fuel costs these services are under threat. A catamaran-based ferry service from Ilfracombe to Swansea was proposed, however this service has not commenced, reportedly because adequate landing and berthing facilities in Swansea have not been forthcoming.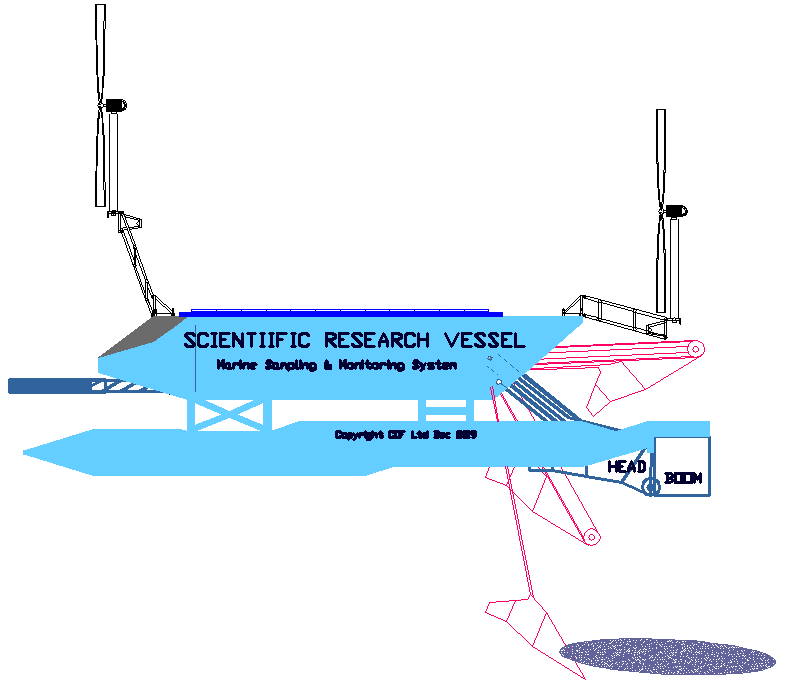 PERSISTENT MONITORING - Machines like the Pilot SeaVax could provide sufficient energy to sample the marine environment continuously in volume, also able to transport the sensors and sampling equipment anywhere in the world without using fossil fuels. The head of this machine can be raised out of the water during transit, and lowered to 8 meters to sample microplastics near or on the seafloor or riverbeds - example positions shown in red. It should be possible to design a head to travel to greater depths, but this will require additional R&D over and above that to achieve what is shown in principle.
NOTE: At the moment this is just a concept, without appropriate levels of funding for research and then for development, ZEV research vessels like this will never become a reality. It would be a mistake to think that with a drawing like that above, that the research to make it possible has already been done.

LINKS & REFERENCE
http://www.marlisco.eu/
https://www.marinelittersolutions.com/projects/marine-litter-marlisco/
http://ec.europa.eu/environment/marine/pdf/9-Task-Group-10.pdf
http://www.marine-litter-conference-berlin.info/userfiles/file/Issue%20Paper_Final%20Version.pdf
http://www.sciencemag.org/content/347/6223/768.abstract
http://www.marelitt.eu/
https://www.wwf.org.uk/updates/wwf-and-sky-launch-wasteshark-marine-robot
https://cordis.europa.eu/project/id/809085
https://www.ranmarine.io/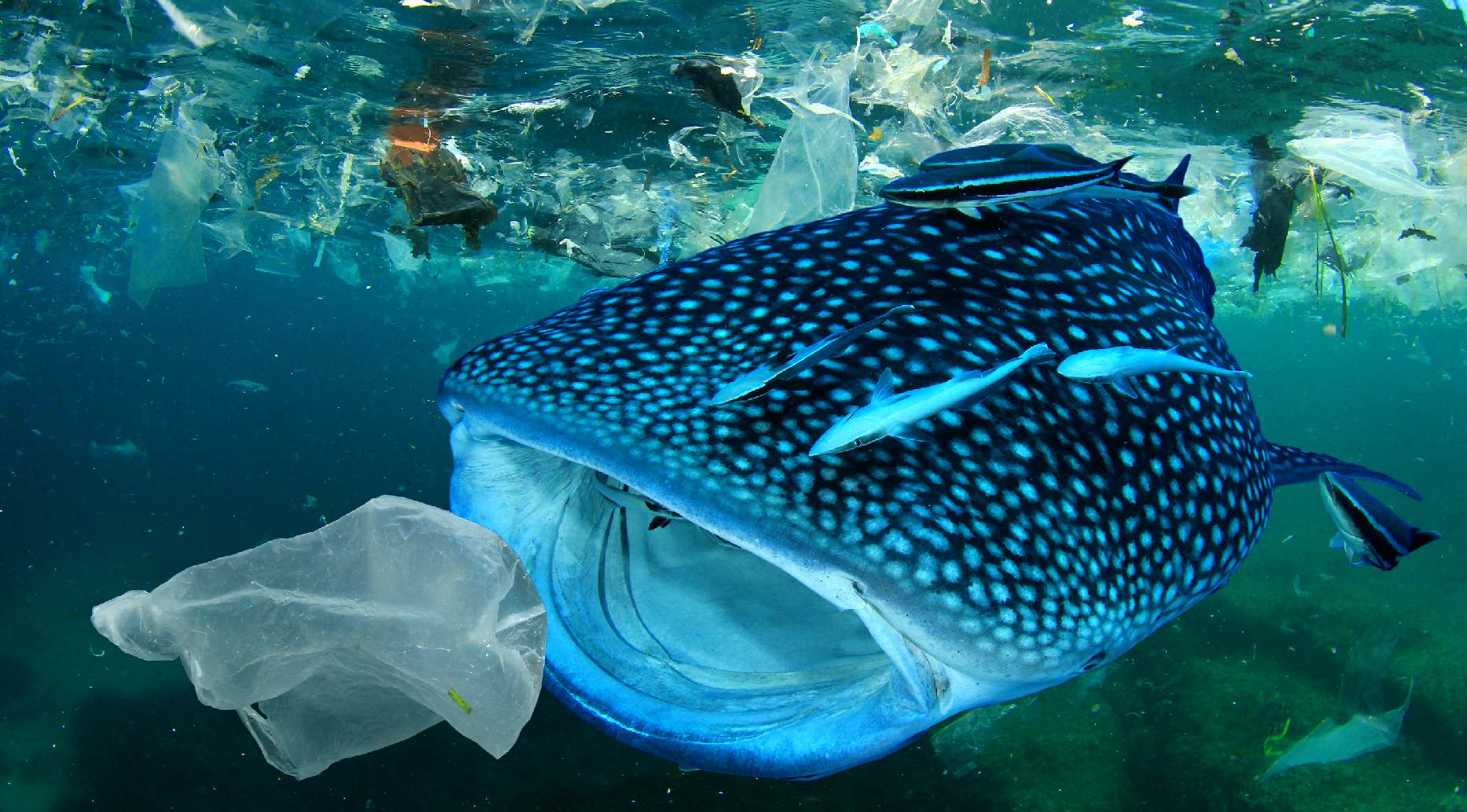 WHAT DRIVES US - It is pictures like this whale shark swimming in garbage that it is about to ingest that makes our blood boil. What are we doing, letting a situation like this develop? The fish eat the plastic and we eat the toxic fish. We are slowly poisoning ourselves and our world.