LEBRETON 2017 - Mass of river plastic flowing into oceans in tonnes per year. River contributions are derived from individual watershed characteristics such as population density, mismanaged plastic waste (MPW) production per country and monthly averaged runoff. The model is calibrated against river plastic concentration measurements from Europe, Asia, North and South America.
Laurent Lebreton MSc is an oceanographer from Raglan, New Zealand now in Wellington. He was the lead oceanographer for a study by the Ocean Cleanup Foundation and lead author of the study.

The 2017 survey estimates that the mass of plastic contained there is four to 16 times larger than previously supposed, and it is continuing to accumulate because of ocean currents and careless humans both onshore and offshore.

The team used two planes and 18 boats to assess the ocean pollution, concluding that the Great Pacific Garbage Patch, is "increasing exponentially."

Laurent is quoted as saying: "We wanted to have a clear, precise picture of what the patch looked like,"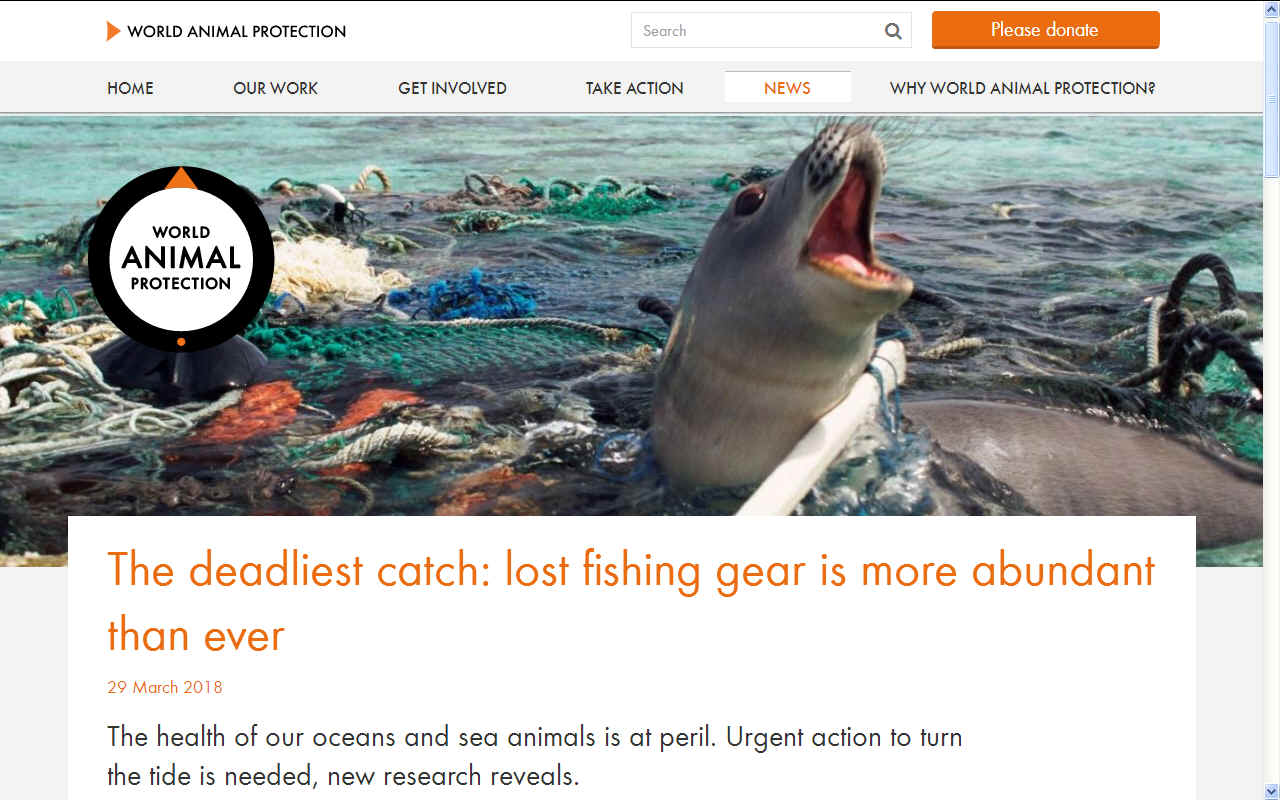 LEBRETON, L. C. M. et al. - RIVER PLASTICS EMISSION TO WORLD'S OCEANS JUNE 2017
According to this study the top 20 polluting rivers were mostly located in Asia (Table 1) and accounted for more than two thirds (67%) of the global annual input while covering 2.2% of the continental surface area and representing 21% of the global population.
The top 122 polluting rivers (4% of total landmass surface area and 36% of global population) contributed for >90% of the plastic inputs with 103 rivers located in Asia, eight in Africa, eight in South and Central America, and one in Europe.

Estimated plastic releases from Asian rivers represented 86% of the total global input. A considerably high-population density combined with relatively large MPW production rates and episodes of heavy rainfalls, resulted in this dominant contribution from the Asian continent, with an estimated annual input of 1.21 (range 1.00–2.06) million tonnes per year.
This model predicted that the Chinese Yangtze River is the largest contributing catchment, with an annual input of 0.33 (range 0.31–0.48) million tonnes of plastic discharged into the East China Sea, followed by the Ganges River catchment, between India and Bangladesh, with a computed input of 0.12 (range 0.10–0.17) million tonnes per year.
The combined input of the Xi, Dong and Zhujiang Rivers in China all flowing into the South China Sea at the Pearl River delta, was estimated at 0.106 (range 0.091–0.169) million tonnes per year, placing the greater catchment into third position.

Indonesia was also identified as a major contributor on the Asian continent, with four Javanese rivers being of particular concern. The Brantas, Solo, Serayu and Progo Rivers respectively emitting an estimated 38,900 (range 32,300–63,700), 32,500 (range 26,500–54,100), 17,100 (range 13,300–29,900) and 12,800 (range 9,800–22,900) tonnes of plastics per year.

The rest of the world shared the remaining 14% of river plastic mass input, with 7.8% coming from Africa with 109,200 (range 85,700–192,000) tonnes per year, 4.8% from South America with 67,400 (range: 52,700–119,000) tonnes per year, 0.95% from Central and North America with 13,400 (range: 8,880–28,200) tonnes per year, 0.28% from Europe with 3,900 (range: 2,310–9,320) tonnes per year, and the remaining 0.02% from the Australia-Pacific region with 300 (range: 193–707) tonnes per year.
In West Africa particularly, the Cross River with 40,300 (range 33,800–65,100) tonnes per year, the Imo River with 21,500 (range: 17,500–35,100) tonnes per year and the Kwa Ibo River with 11,900 (range: 9,300–20,800) tonnes per year all appeared in the list of the twenty most polluting river catchments.
In South America, we estimated an annual input of 38,900 (range 32,200–63,800) tonnes per year coming from the Amazon River, the largest river on earth by water discharge, with tributaries in Peru, Columbia, Ecuador and Brazil. Also in South America, we predicted a significant contribution from the Magdalena River in Columbia with 16,700 (range 12,900–29,500) tonnes per year entering the Gulf of Mexico.
Lebreton, L. C. M. et al. River plastic emissions to the world's oceans. Nat. Commun. 8, 15611 doi: 10.1038/ncomms15611 (2017).

The authors declare that the main data supporting the findings of this study are available within the article and its Supplementary Information. Global model inputs and outputs for lower, midpoint and upper estimates and for the 40,760 catchments considered in this study have been deposited in geospatial vector data format for geographic information system (GIS) software on figshare with the identifier doi:10.6084/m9.figshare.4725541.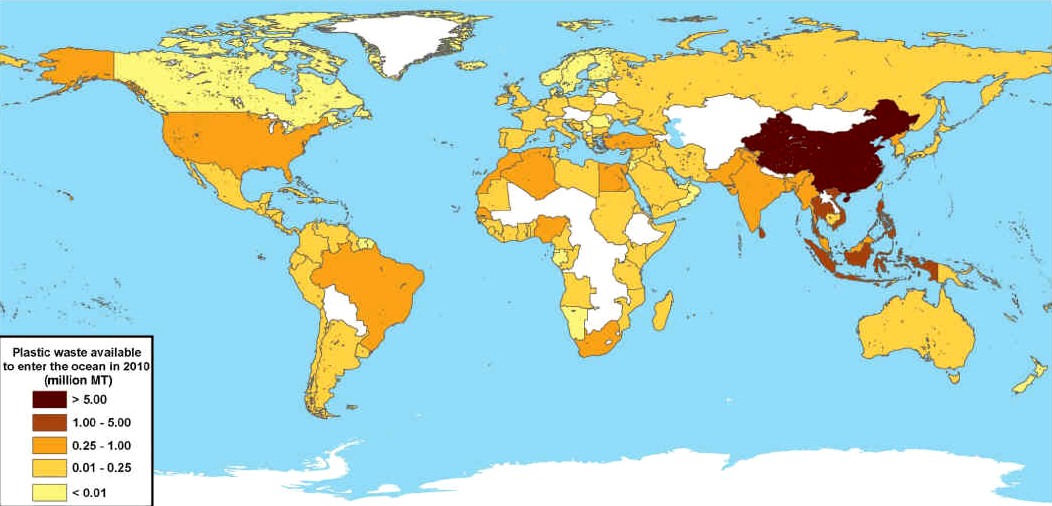 JAMBECK 2010 - Global map with each country shaded according to the estimated mass of mismanaged plastic waste [millions of metric tons (MT)] generated in 2010 by populations living within 50 km of the coast. 192 countries were considered. Countries not included in the study are shaded white.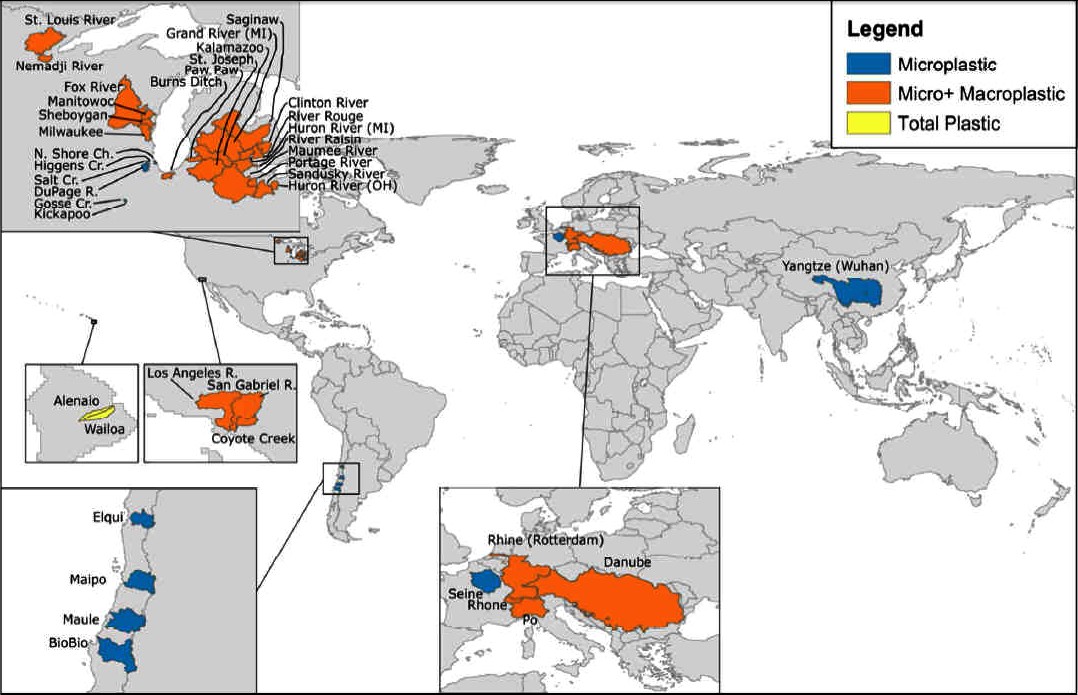 SCHMIDT OCT 2017 - A substantial fraction of marine plastic debris originates from land-based sources. Rivers potentially act as a major transport pathway for all sizes of plastic debris.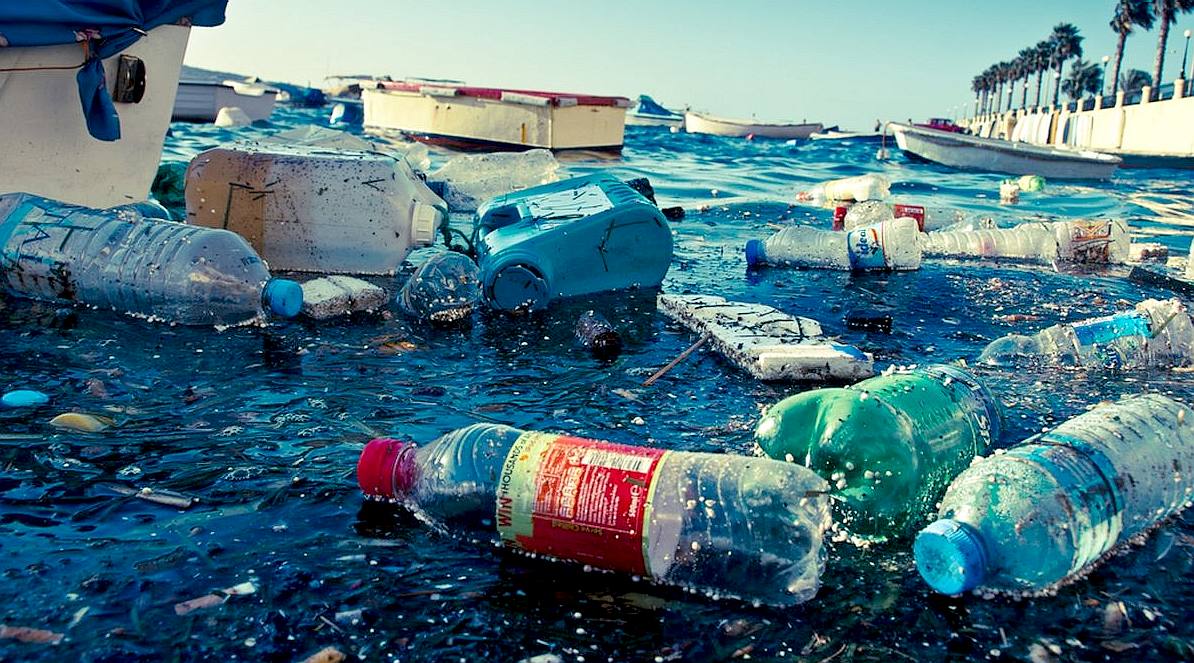 FAST FOOD SLOW RECOVERY - If we all work together we can significantly impact on scenes like this. We have been enjoying the benefits of plastic without ensuring that this durable medium does not unduly affect marine life. Unfortunately, retrospective measures will take longer to achieve equilibrium, but we must act now if we want to prevent more plastic than fish in the sea by 2050. Fortunately, many of the top producers are now looking at circularizing with a view to preventing ocean waste, such as the Alliance to End Plastic Waste.
LINKS & REFERENCE
https://www.worldanimalprotection.org.nz/news/deadliest-catch-lost-fishing-gear-more-abundant-ever
https://www.sciencealert.com/great-pacific-garbage-patch-increased-16-times-what-does-look-like
https://tt.linkedin.com/in/laurent-lebreton-68365666