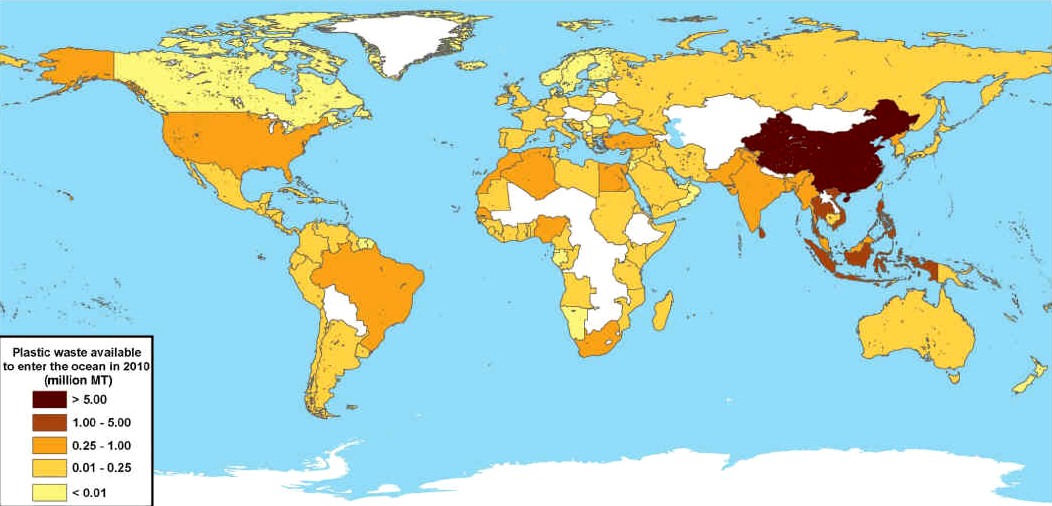 JAMBECK 2010 - Global map with each country shaded according to the estimated mass of mismanaged plastic waste [millions ofmetric tons (MT)] generated in 2010 by populations living within 50 km of the coast. 192 countries were considered. Countries not included in the study are shaded white.
Jenna Jambeck is an award-winning explorer, associate professor, and director at the University of Georgia.
She has been conducting research on solid waste issues for over 20 years with related projects on marine debris since 2001.
She also specializes in global waste management issues and plastic contamination. Her work on plastic waste inputs into the ocean published in Science magazine has been recognized by the global community and translated into policy discussions by the Global Ocean Commission, in testimony to U.S. Congress, in G7 and G20 Declarations, and the United Nations Environment Programme.
Jenna conducts public environmental diplomacy as an International Informational Speaker for the U.S., including multiple global programs of speaking events, meetings, presentations to governmental bodies, and media outreach around the world.
In 2014, Jenna sailed across the Atlantic Ocean with 13 other women in eXXpedition to sample land and open-ocean plastic and encourage women to enter STEM disciplines.
She is co-developer of the mobile app Marine Debris Tracker, a tool that continues to facilitate a growing global citizen science initiative that has documented the location of over 1 million litter and marine debris items removed from our environment throughout the world.
EDUCATION
Ph.D., Environmental Engineering Sciences, University of Florida, 2004
M.E., Environmental Engineering Sciences, University of Florida, 1998
B.S., Environmental Engineering Sciences (with honors), University of Florida, 1996
CONTACT JENNA
Telephone: 706-542-6454

Email: jjambeck@uga.edu
Riverbend Research Center South, Room 103
220 Riverbend Road
Athens, Georgia 30602
United States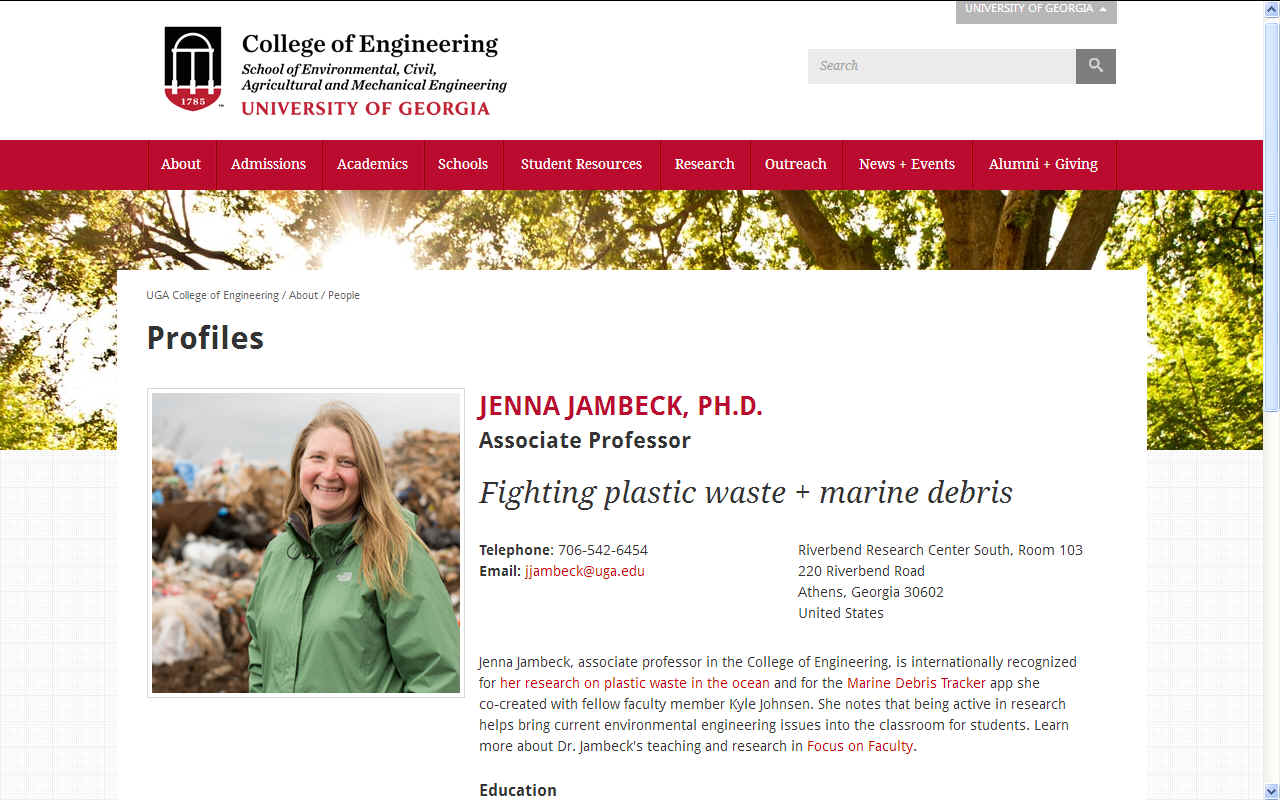 JENNA R JAMBECK et al. - MARINE POLLUTION STUDY ON 2010 DATA PUB. 2015
Estimates of the mass of plastic waste carried by particular waterways range from <<1 kg per day (Hilo, HI) to 4.2 MT (4200 kg) per day (Danube River) (10, 11). Because of their dependence on local watershed characteristics, these results cannot be easily extrapolated to a global scale.

The researchers presented a framework to calculate the amount of mismanaged plastic waste generated annually by populations living within 50 km of a coast worldwide that can potentially enter the ocean as marine debris. For each of 192 coastal countries with at least 100 permanent residents that border the Atlantic, Pacific, and Indian oceans and the Mediterranean and Black seas, the framework includes: (i) the mass of waste generated per capita annually; (ii) the percentage of waste that is plastic; and (iii) the percentage of plastic waste that is mismanaged.

They estimated that 2.5 billionMT of municipal solid waste was generated in 2010 by 6.4 billion people living in 192 coastal countries (93% of the global population).

Ocean estimates represent only plastics that are buoyant in seawater (mainly polyethylene and polypropylene), in 2010 those resins accounted for 53% of plastic production in North America and 66% of plastic in the U.S. waste stream (4, 18). Because no global estimates exist for other sources of plastic into the ocean (e.g., losses from fishing activities or at-sea vessels, or input from natural disasters), we do not know what fraction of total plastic input our land-based waste estimate represents.

The amount of mismanaged plastic waste generated by the coastal population of a single country ranges from 1.1MTto 8.8millionMT per year, with the top 20 countries' mismanaged plastic waste encompassing 83% of the total in 2010.

Total annual waste generation is mostly a function of population size, with the top waste-producing countries having some of the largest coastal populations.

Sixteen of the top 20 producers are middle-income countries, where fast economic growth is probably occurring but waste management infrastructure is lacking (the average mismanaged waste fraction is 68%). Only two of the top 20 countries have mismanaged fractions <15%; here, even a relatively low mismanaged rate results in a large mass of mismanaged plastic waste because of large coastal populations and, especially in the United States, high per capita waste generation.

It is estimated that the planet will not reach a global "peak waste" before 2100. Our waste will continue to grow with increased population and increased per capita consumption associated with economic growth, especially in urban areas and developing African countries (see supplementary materials).

Historically, waste management by burying or burning waste was sufficient for inert or biodegradable waste, but the rapid growth of synthetic plastics in the waste stream requires a paradigm shift.
Long-term solutions will likely include waste reduction and "downstream" waste management strategies such as expanded recovery systems and extended producer responsibility.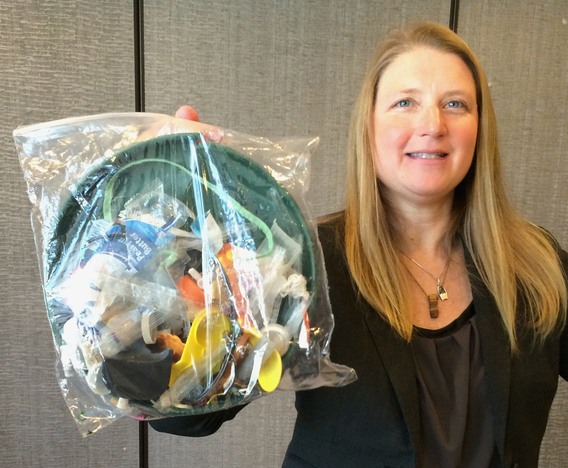 AUTHORS:
Jenna R. Jambeck, College of Engineering, College of Engineering, University of Georgia, 412 Driftmier
Engineering Center, Athens, GA 30602, USA.
Roland Geyer, Bren School of Environmental Science and Management, University of California, Santa Barbara, CA 93106, USA.
Chris Wilcox, Oceans and Atmosphere Flagship, Commonwealth Scientific and Industrial Research Organization, Castray Esplanade, Hobart, Tasmania 7000, Australia.
Theodore R. Siegler, DSM Environmental Services, Windsor, VT 05089, USA.
Miriam Perryman, College of Engineering, University of Georgia, 412 Driftmier Engineering Center, Athens, GA 30602, USA.
Anthony Andrady, Department of Chemical and Biomolecular Engineering, North Carolina State University, Raleigh, NC 27695, USA.
Ramani Narayan, Department of Chemical Engineering and Materials Science, Michigan State University, East Lansing, MI 48824, USA.
Kara Lavender Law, Sea Education Association, Woods Hole, MA 02543, USA.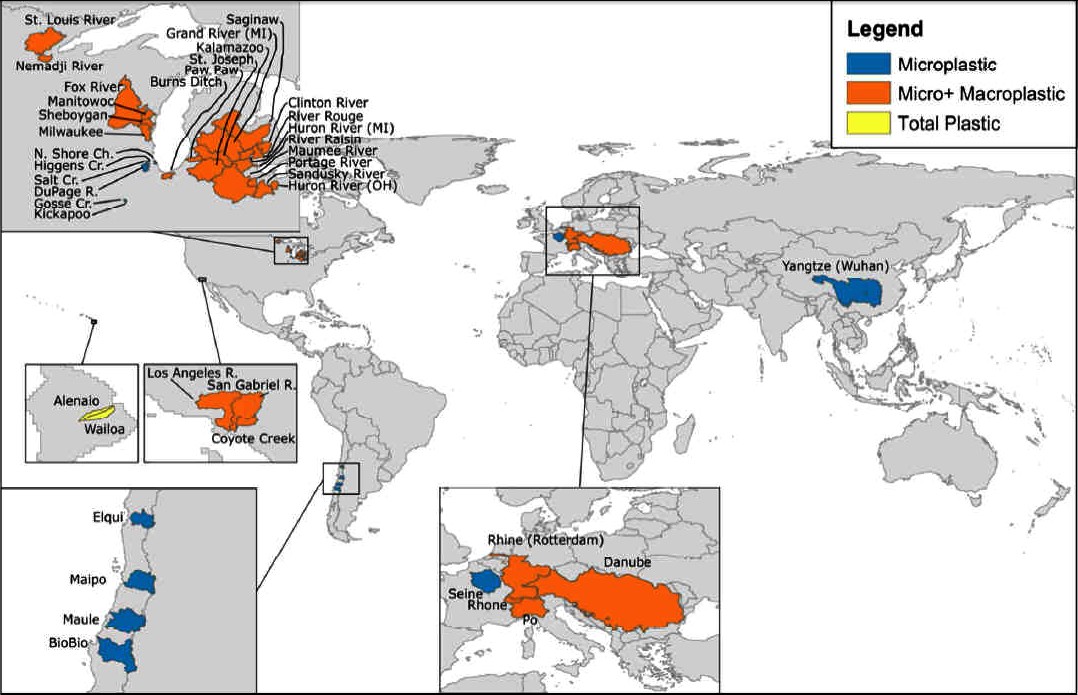 SCHMIDT OCT 2017 - A substantial fraction of marine plastic debris originates from land-based sources. Rivers potentially act as a major transport pathway for all sizes of plastic debris.
300 MILLION TONS
Every year the world, produces 300 million tonnes of plastics, and 8.8 million tonnes of these are dumped into the oceans. That's about 40 billion plastic bottles, 100 billion single-use plastic bags, and 522 million personal care items.

Disturbingly, 270,000 tonnes of these plastics are merely floating around on the ocean surface. That is more than 5 trillion individual pieces when broken down, excluding the millions of microplastic particles.
Approximately 700 marine species are in danger of extinction because of plastic pollution.
If you know a seriously polluted river, or one that should be a candidate on a bigger list, please contact Cleaner Ocean Foundation.
The rivers noted, added to hundreds of other lesser contributors feed the five ocean gyres.

LEBRETON 2017 - Mass of river plastic flowing into oceans in tonnes per year. River contributions are derived from individual watershed characteristics such as population density, mismanaged plastic waste (MPW) production per country and monthly averaged runoff. The model is calibrated against river plastic concentration measurements from Europe, Asia, North and South America.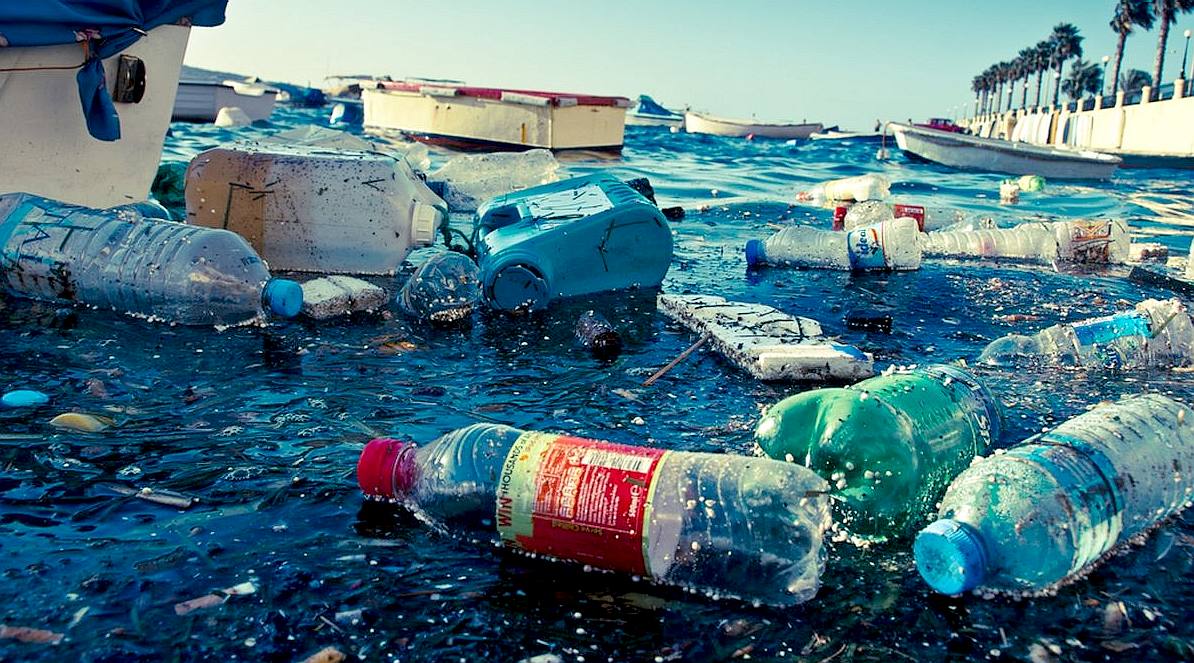 FAST FOOD SLOW RECOVERY - If we all work together we can significantly impact on scenes like this. We have been enjoying the benefits of plastic without ensuring that this durable medium does not unduly affect marine life. Unfortunately, retrospective measures will take longer to achieve equilibrium, but we must act now if we want to prevent more plastic than fish in the sea by 2050. Fortunately, many of the top producers are now looking at circularizing with a view to preventing ocean waste, such as the Alliance to End Plastic Waste.
LINKS & REFERENCE
http://jambeck.engr.uga.edu/
http://www.engineering.uga.edu/people/profile/jenna-jambeck-ph.d
https://www.nationalgeographic.org/find-explorers/jenna-romness-jambeck